Digital video recorder Gazer

F

121:

review and testing
The first impression is very important for many of us. If the product is at first sight is not pleased, it is very difficult to re-attract the attention. Viewed mid-range DVR Gazer F121 drew our attention due to a very compact size. And we have some question: "Is its functionality enough for such dimensions? Will it provide quality fixation of situation on the roadway?" And these aspect will be described in today's review.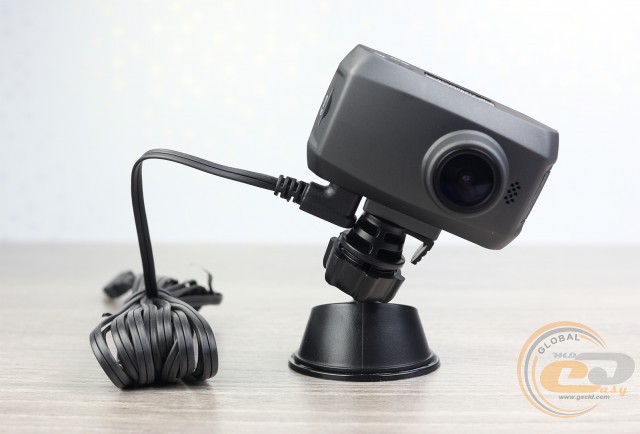 The specs:
Model

Gazer F121

Image sensor

−

Effective pixel quantity, MP

12

Matrix dimensions

1/3"

Modes of recorded video

1920 х 1080 @ 30 fps

1920 х 1080 @ 25 fps

1280 х 720 @ 30 fps

1280 х 720 @ 25 fps

848 х 480 @ 60 fps

848 х 480 @ 50 fps

320 х 240 @ 120 fps

Formats of recorded video

MP4 (codec H.264)

Viewing angles, °

160

Lens aperture

f/2.8

Video recording

Yes (max resolution − 2560 х 1440)

Noise recording

Yes

GPS module

No

Shock sensor

Yes

Motion sensor

Yes

Record activation

Automatic, manually, according shock sensor, according motion sensor

LCD-display, in

1,5

Type of supported memory card

microSD, microSDHC

Capacity of supported memory card, GB

32

Built-in memory (capacity, MB)

Yes (512)

Built-in battery (capacity, mА·h)

Yes (−)

External interfaces

1 x mini-USB

1 x HDMI

Additional capabilities

Supply set contains two types of mounting and memory cards microSDHC with capacity of 8 GB; connection of external GPS-module

Relative humidity, %

−

External temperature,°С

+5...+40

Dimensions, mm

69 x 43 x 24

Weight, g

59

Producer website

Product page
Package and content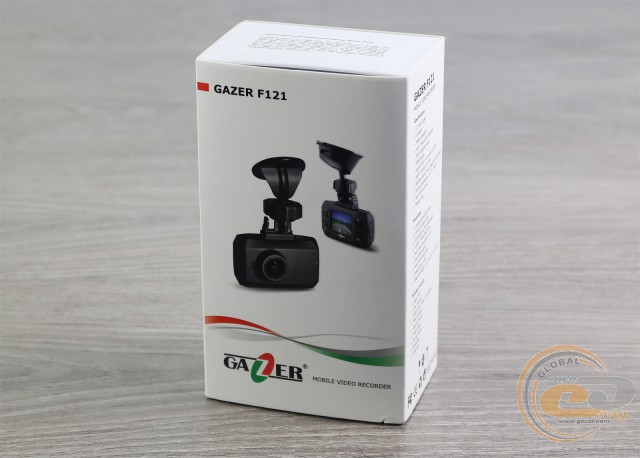 DVR Gazer F121 comes in a colorful box cardboard, which provides protection from shock and possible mechanical damages. The package has a good informative aspect. In addition to photos of the device, there can also be found a description of its main features, and a list of technical specifications.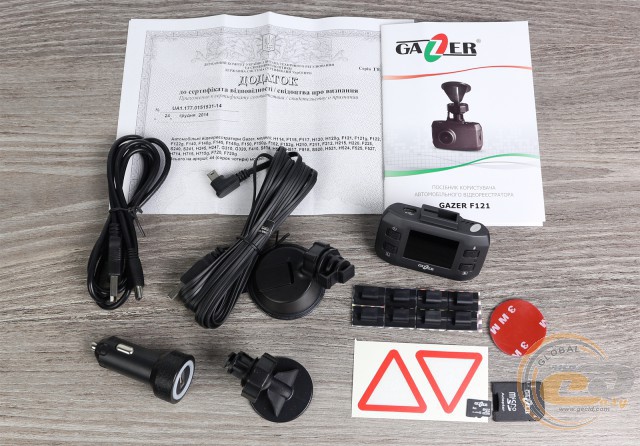 DVR includes the following components:
bracket with suction cup to fix the device on the windshield;

bracket and double sided tape to mount the device on the dashboard, or another part of the interior of the car;

a set of clamps for fixing the cable;

car charger;

two cables mini-USB↔USB;

memory card microSDHC (Class 10) 8GB with adapter to format SD;

user manual;

two stickers on the glass;

a copy of the certificate of UkrSEPRO.
In due time, the model Gazer F525 pleased with impressive set of delivery, but here it is even exapnded. Moreover, all these components really enhance the functionality of Gazer F121 and make it more versatile.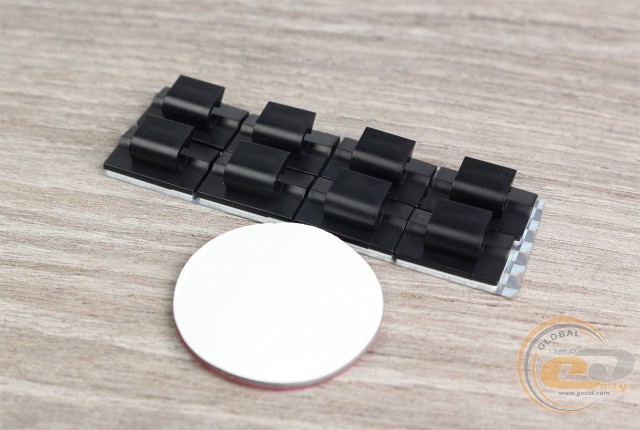 Do note a set of clamps for cables. It costs a penny, but it easy solves the problem with floppy cord.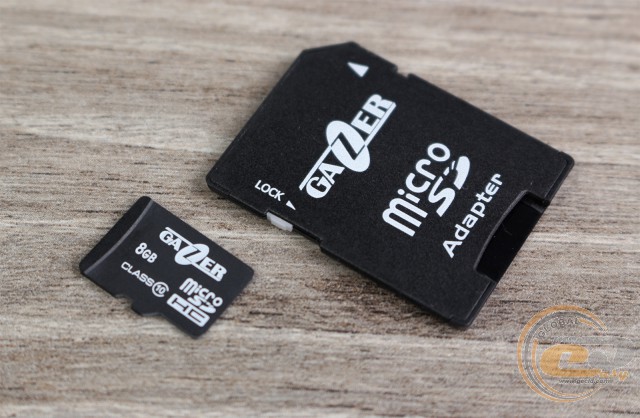 Or another example - memory card microSDHC 8GB, which allows to start full operation of the recorder immediately after purchase.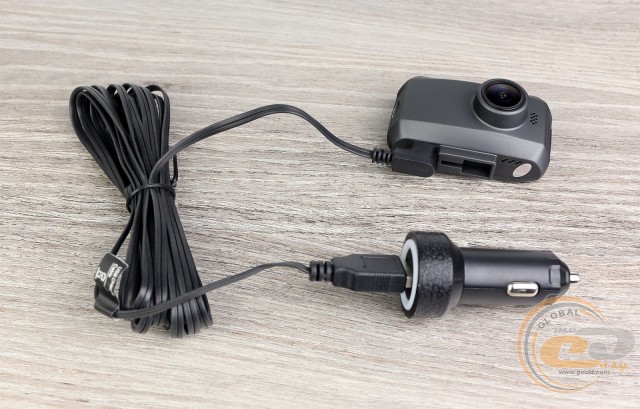 And, of course, do not forget about the charger, or rather, of its construction. It is done in the form of a conventional cigarette lighter unit (input voltage – 12/24 V, output – 5 V), but in contrast to similar solutions, it has on the end connector USB. Thus, if necessary, it can also be used to charge other devices or gadgets. By the way, USB-power cable is flat and it will be convenient to hide behind interior.
Design and operation features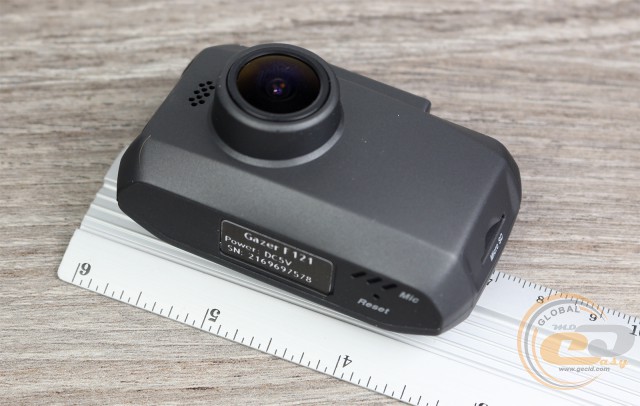 Gazer F121 is the most compact DVR ever visited our testlab. Its size is only 69 x 43 x 24 mm and weighs less than 59 g. Nevertheless, the assembly quality is good: a thick plastic; the panel is well treated and fit tightly to each other; large gaps are absent.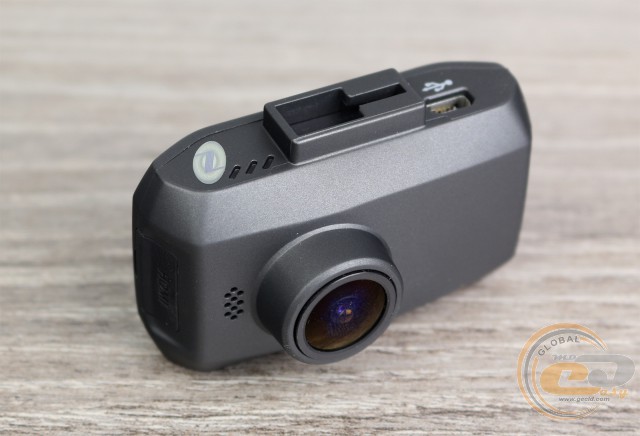 The novelty is not claimed to be design solution, as evidenced by its angular shape and the lack of glossy linings. But in our opinion much more important factor is the reliability and practicality in operation than appearance.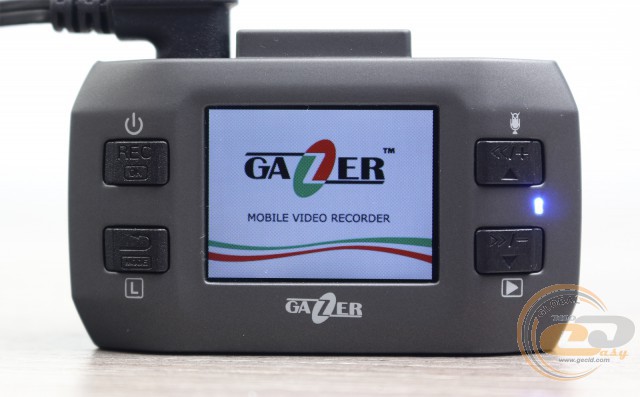 Due to such dimensions of the body manufacturer had to make certain sacrifices. In particular, "under the knife" is the screen - its size was reduced from 2.4"or 2.7" to a modest 1.5". The convenience of management of DVR has no complaints. The four buttons for navigating menus and call different "hot" functions are large in size and are located relatively far from each other. Thus, the configuration of Gazer F121 or change the recording mode will be carried out "on the fly", without removing the unit from the bracket.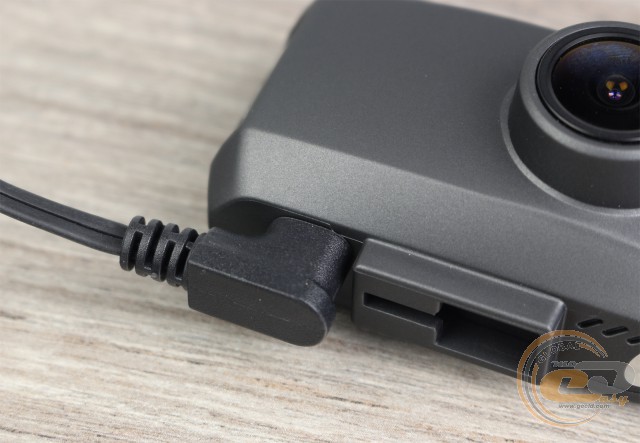 Access to the connectors on the body is also quite easy: a slot for inserting a memory card, interface HDMI and mini-USB input are located at different ends of it.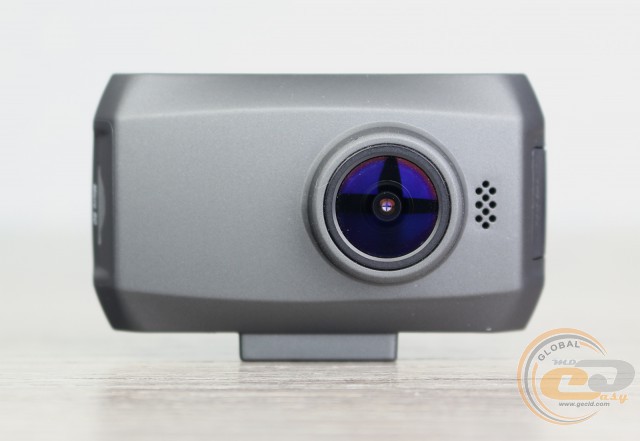 The product uses the 6-piece wide-angle optics (160°) on the basis of glass lenses. Receiving part is 12-megapixel sensor recording video at a maximum resolution of 1920 x 1080 at 30 fps. The disadvantages of the lens contain bulging out lens that increases the chance of damage. The case also has a built-in speaker and microphone for audio recording and playback, respectively. Looking ahead, we say that these two nodes perfectly cope with its tasks.
The basic process of recording and saving the video takes place cyclically. While in case of necessity it can be started manually. Also, recording automatically begins with a sensor overload (G-Sensor), which tracks the car's acceleration along three axes. This activates the protection of the video from being overwritten, thereby ensuring data integrity in critical situations.
Model Gazer F121 is equipped with a built-in battery, which allows to use it in standalone mode outside the car, and provides operation of the device in the "parking" mode (recording starts only when there is some movement).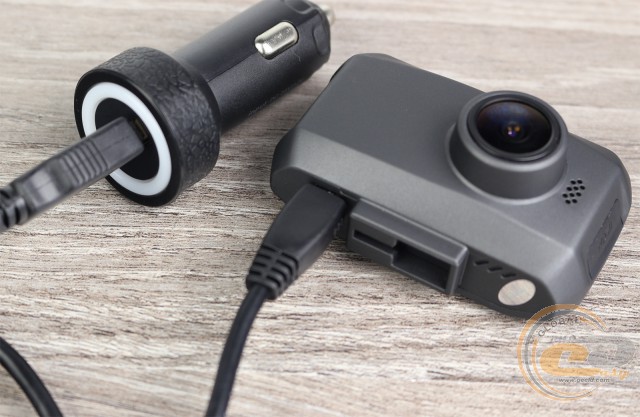 Another advantage Gazer F121 over their classmates is the presence of built-in memory. Even if its capacity is small, only 512 MB (available only 467 MB), but you always have a backup drive, which, if necessary, you can save the most valuable videos.
It is recommended to use an external memory card standard microSD or microSDHC. The maximum amount can reach 32 GB. From personal experience we recommend to use of high-speed solution at least of class 6. Note that the memory card with capacity 8 GB from supplied set corresponds to class 10. In practice, the speed of copying of internal memory was about 10 MB/s, and from the outside (microSDHC) - 8 MB/s.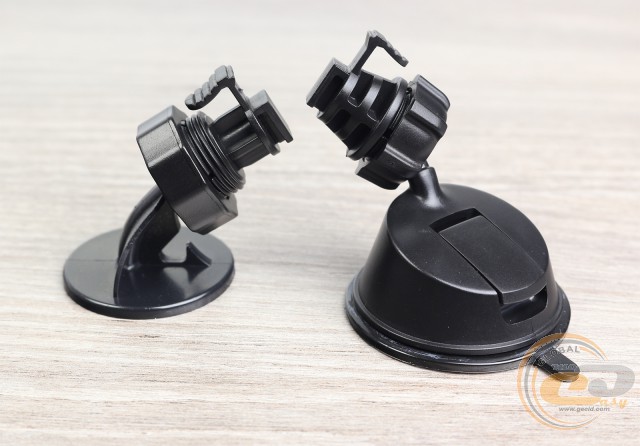 To mount the product inside the car there are two types of holders: a suction cup (pictured right) and two-way tape (pictured left). Both are equipped with movable hinges at the end, whereby Gazer F121 can be easily configured to space the most optimal way for the user, and in case of need to change its position.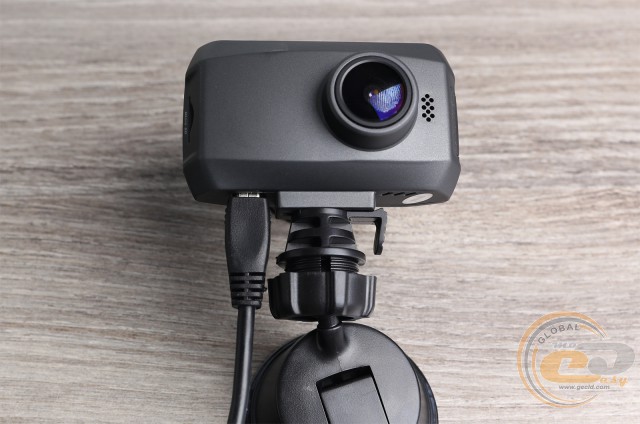 In addition, the DVR is located directly next to the rotary mechanism, so it should not have parasitic vibrations and rocking while driving on a bad road. In our opinion, the bracket with suction cup is appropriate to use when installing the device on the windshield.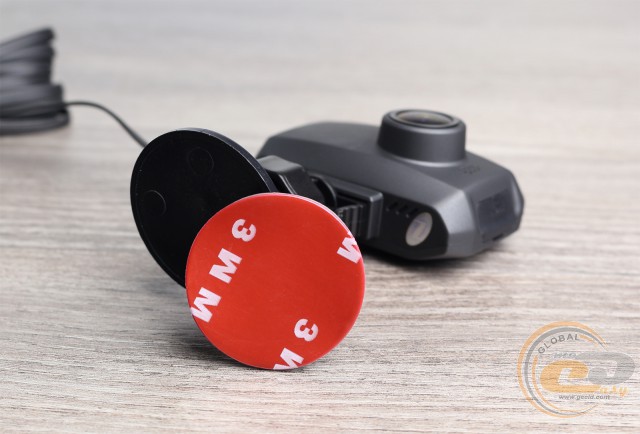 Attaching on the basis of double-sided tape will come in handy when Gazer F121 will need to be placed on the dashboard or elsewhere in the car. By the way, especially for this type you can automatically rotate the picture. That is, you will have a natural image not "upside down".
Социальные комментарии Cackle