Case be quiet! SILENT BASE 800: review and testing
The German company Listan GmbH & Co. KG, better known under the brand be quiet, did not deal with the production of case for a long time. Of course, this brand includes power supply units, fans and CPU coolers, but an appropriate place for all of these components had to look for among the assortment of other manufacturers. And one day it was decided to correct this unfortunate omission. And the company be quiet! had released the case be quiet! SILENT BASE 800.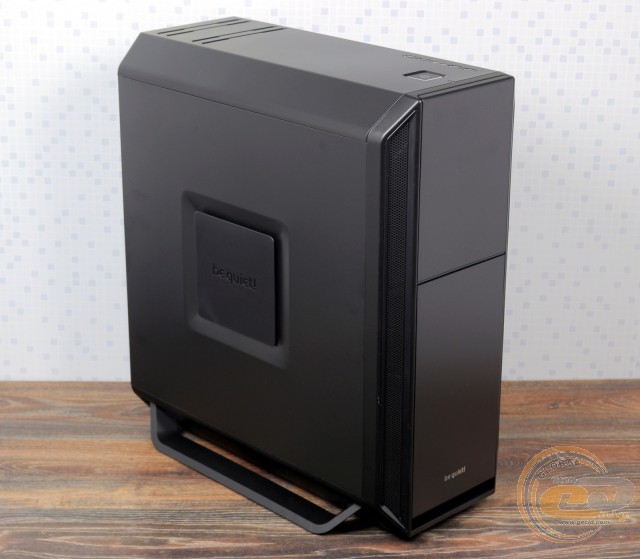 The novelty is released in the most popular brand black color. It is designed for installing full-size ATX-boards, large CPU coolers, a great number of disk drives and graphics cards up to 410 mm. And, of course, the case includes three brand fans, which should ensure proper efficiency at a comfortable level of noise. Let's move from theory to practice and learn this remarkable creation.
The specs:
Producer and model

be quiet! SILENT BASE 800 Black (BG001)

Case dimension-type

Middle Tower

Supported form-factors of motherboards

ATX / microATX / Mini-ITX

Color

Black (options with orange and silver inserts are available)

Bays

3 х 5,25" (external)

7 х 3,5" (internal)

4 х 2,5" (internal)

Expansion card slots

7

Max length of video card (our measurement)

Including installed modules

290 mm (295 mm)

Without modules

400 mm (410 mm)

Max height of CPU cooler (our measurement)

170 mm (187 m)

Max length of PSU

Including bottom fan

160 mm

Excluding bottom fan

290 mm

Dimensions

2 x USB 3.0

2 x USB 2.0

2 х audio jacks

Preset fans

Front panel

2 х 140-mm

(be quiet! Pure Wings 2, 1000 rpm)

Back panel

1 х 120-mm

(be quiet! Pure Wings 2, 1500 rpm)

Possibility to install fans

Front panel

2 х 140-mm

Back panel

1 х 120-mm

Top panel

2 х 140-mm / 2 х 120-mm

Left panel

1 х 120-mm

Bottom panel

1 х 140-mm / 1 х 120-mm

PSU

No

Materials

Front and top panel

ABS-plastic

Chassis

0,66 mm steel

Side panels

0,8 mm steel

Case dimensions

Including stands

559 х 266 х 495 mm

Excluding stands

542 х 230 х 495 mm

Weight (net)

9,31 kg

Producer website
Package and delivery set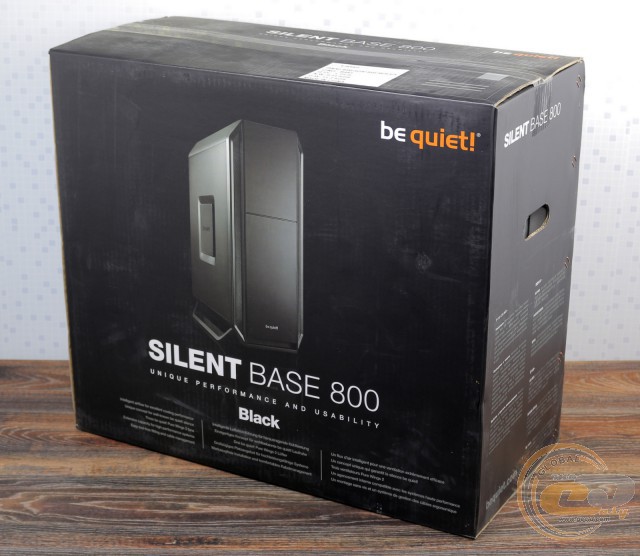 Black, orange and white colors are proprietary options of brand be quiet!. It is not surprising that they are present on the case package, which is made of cardboard and contains quality printing. Here you can estimate the appearance of new item, and get basic information about it in nine languages.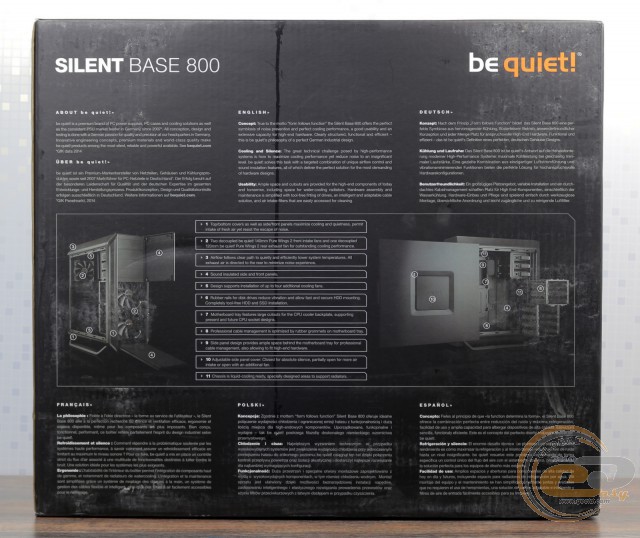 For example, here is a combination of efficient cooling and good sound insulation, the ability to install several components without the use of screws, the availability of space for hidden cable management and a number of air filters. And for fans of overclocking here is the possibility of mounting a water cooling system.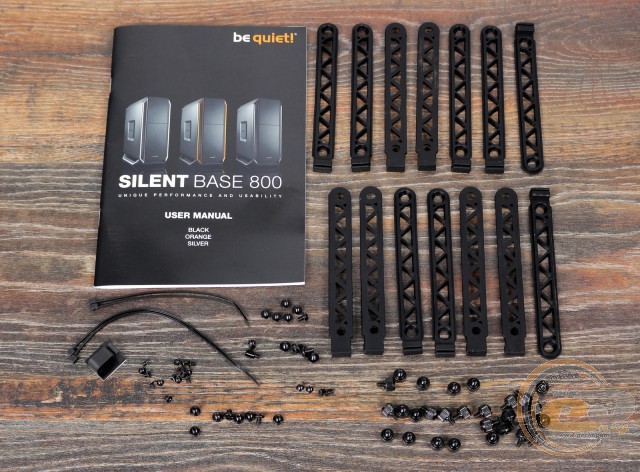 Packaging of the test body is quite extensive and includes the following components:
set of screws and a pair of racks for installation of the motherboard;
set of screws to fix the power supply and drives;
4 ties for wires (a pair of long and short);
plastic holder for easy cable management;
14 slides for the installation of seven 3.5-inch drives;
manual.
As you can see, the manufacturer made sure that the buyer can easily install a large number of drives, as well as convenient to lay power cables used.
By the way, on the cover of the complete guide you can see all three variants of color execution of the case: with silver and orange accents or completely black.
Appearance
Despite the use of only black color, be quiet! SILENT BASE 800 will attract attention. Interest is provided by original form of the front and top panels, and the design of the sidewalls and legs. We have great original in many respects.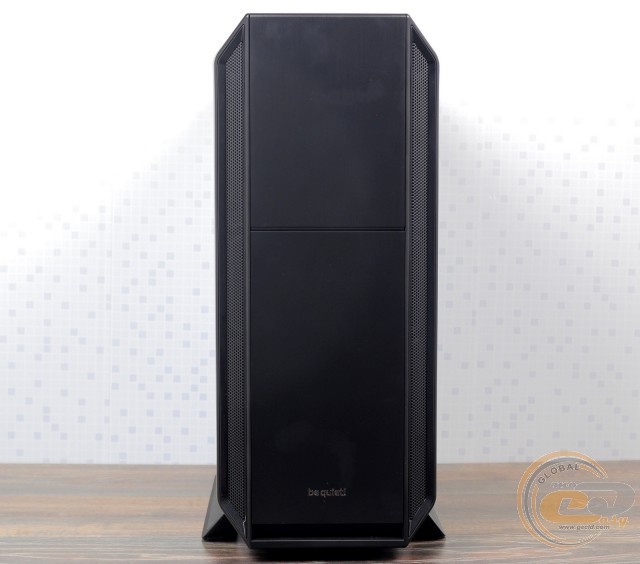 Thus, the front panel at first glance may seem quite solid, but in fact it consists of two doors. The sides feature grating that play not only decorative role. Although from this point of view, their use seems to be quite reasonable.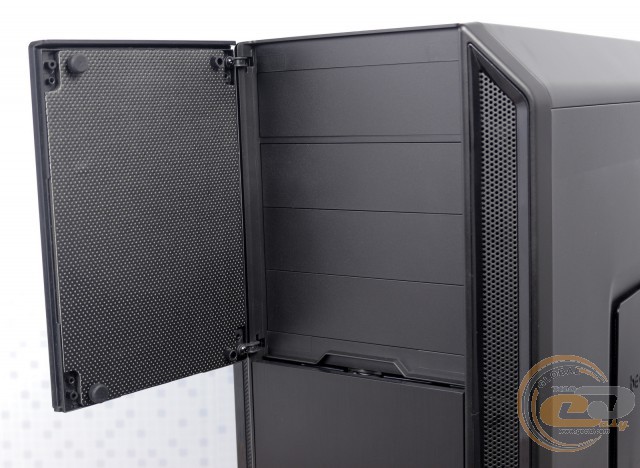 Behind the top door there are three compartments for 5.25-inch devices (first top performs a decorative role). It is fixed by magnets and characterized by a sound-absorbing insert, so the noise in case the rotation of the disc in the optical drive should be minimal.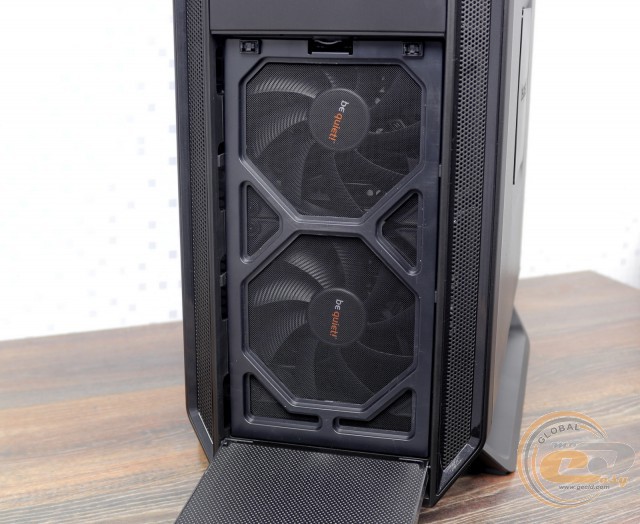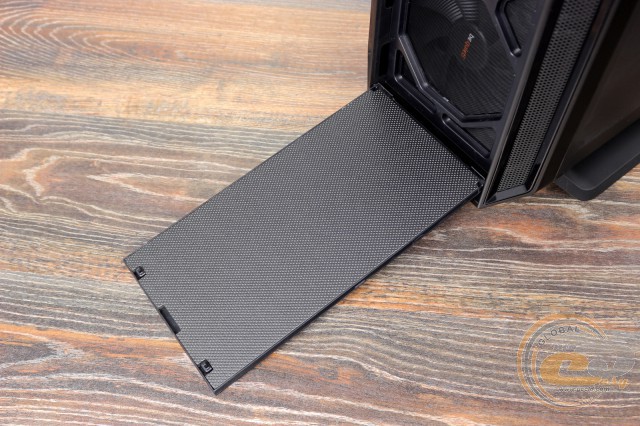 The second door is located below and is also equipped with an acoustic protection. This time it mutes the sound of rotating fans.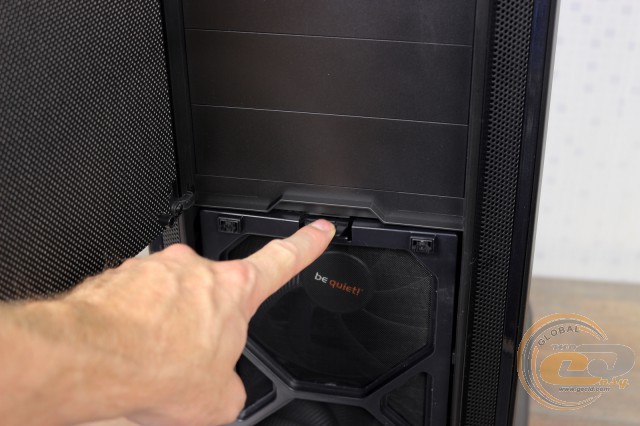 Frame with a dust filter ( 290 x 150 mm) is removed flick of a finger. The filter clears the cool air coming through vertical perforated grille on both sides of the front panel.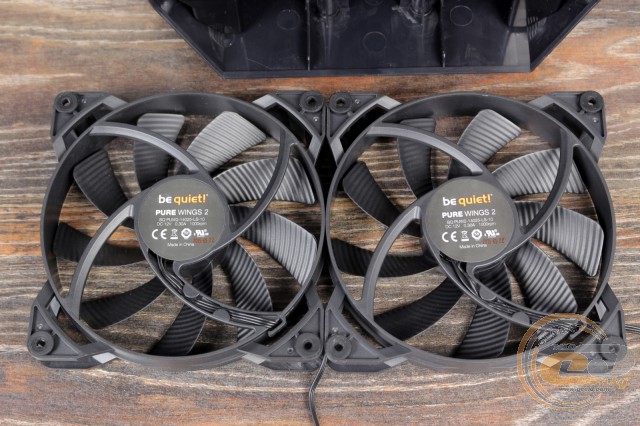 Active air intake into the body be quiet! SILENT BASE 800 is provided by two 140-mm fans be quiet! Pure Wings 2 (BQ PUW2-14025-LS-10), rotating at a speed of 1000 rpm. They differ in the original form of the blade and the presence of anti-vibration fixing pads.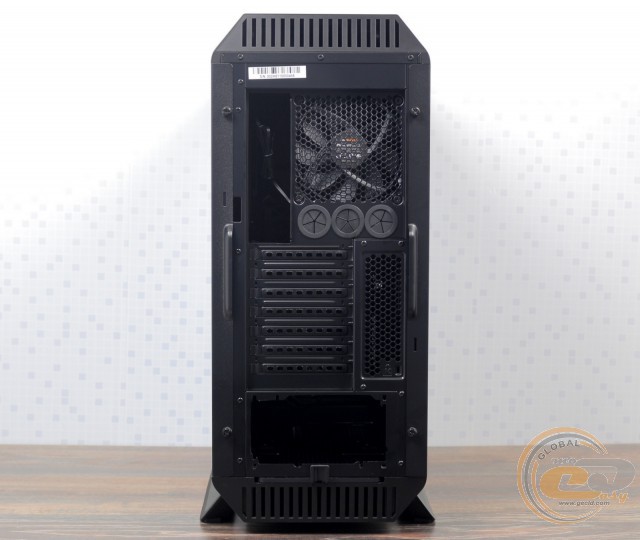 Preheated air is discharged through the back panel using a 120 mm fan. Under it there are three holes for water cooling hoses, and lower you can find traditional seven slots for expansion cards. Here, they are covered by removable plugs, each is screwed with shaped heads. At the bottom there is a seat for the power supply, and under it there are seen opening for lower tunnel for cool air and cooling source. Exactly the same tunnel and is used under the top plate.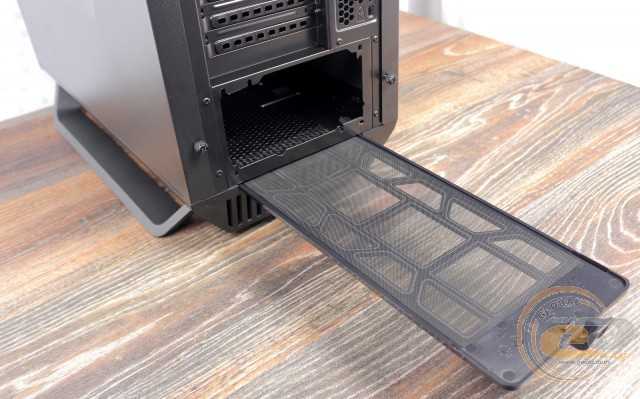 Plastic hook allows you to remove the lower air filter, which cleans the air from the power supply and the adjacent fan (if it is installed). So its regular service does not cause any difficulties.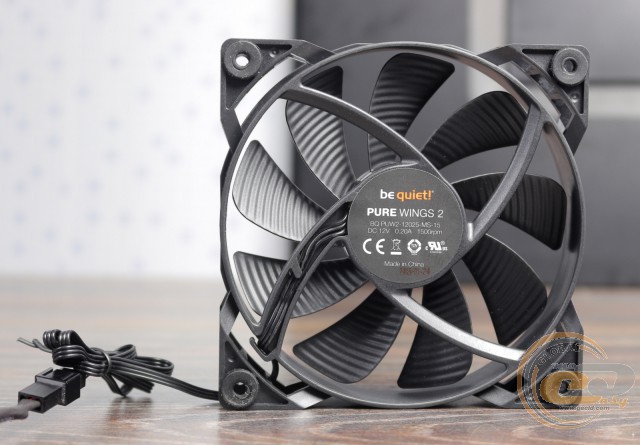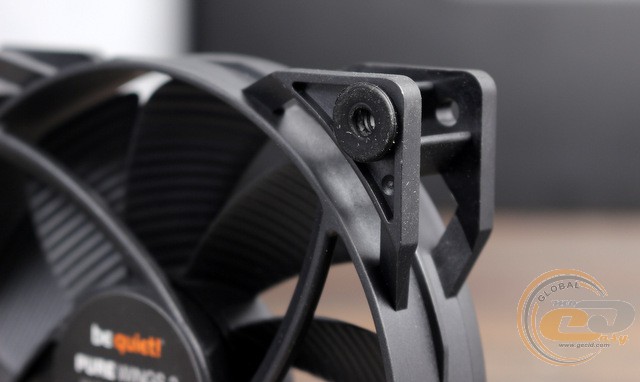 The rear fan is represented by a model be quiet! Pure Wings 2 (BQ PUW2-12025-MS-15), which is also characterized by the presence of anti-vibration pads at the corners and aerodynamic shape of the blades.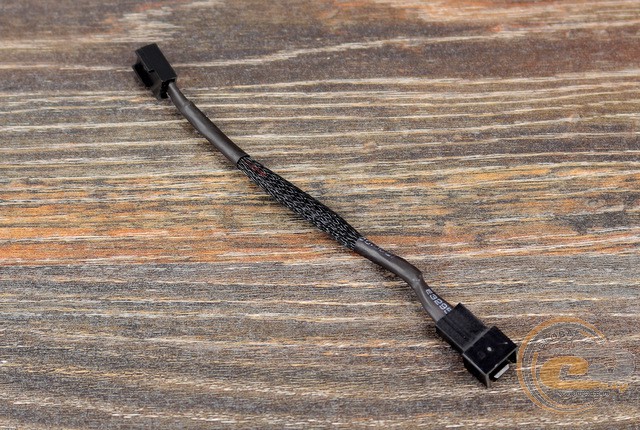 The maximum speed of the propeller is 1,500 rpm, and the use of the complete adapter reduces it to more comfortable 1150 rpm.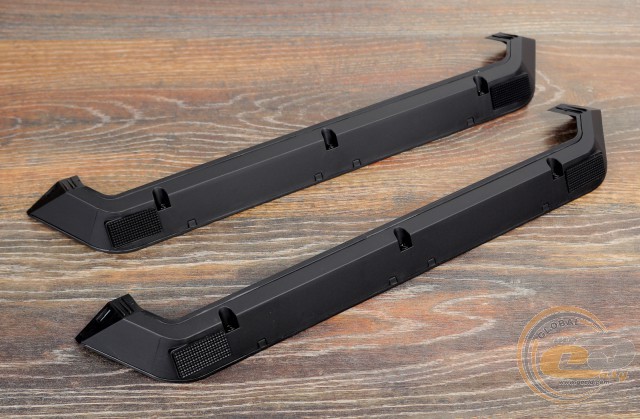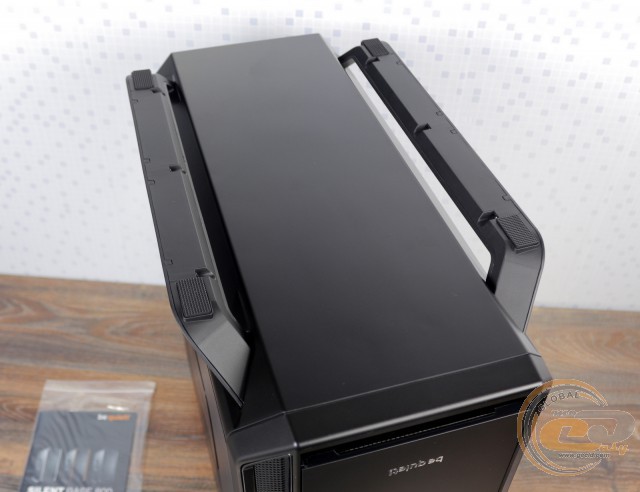 As support be quiet! SILENT BASE 800 uses two plastic strips lengthwise. These functional elements of the exterior are removable, but they are easily and completely securely mounted on the body itself. Placed on them rubber inserts have dimensions 33 x 18 mm, while they provide a safety surface on which is placed the system unit.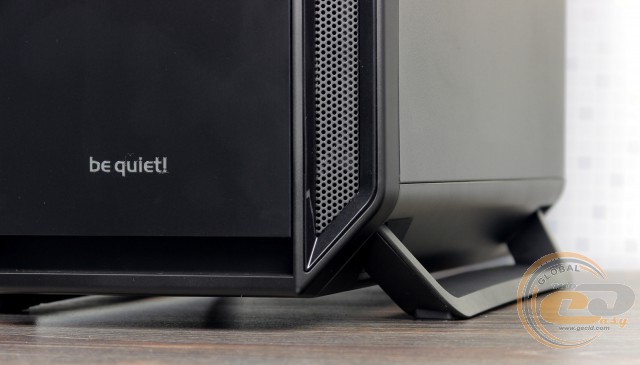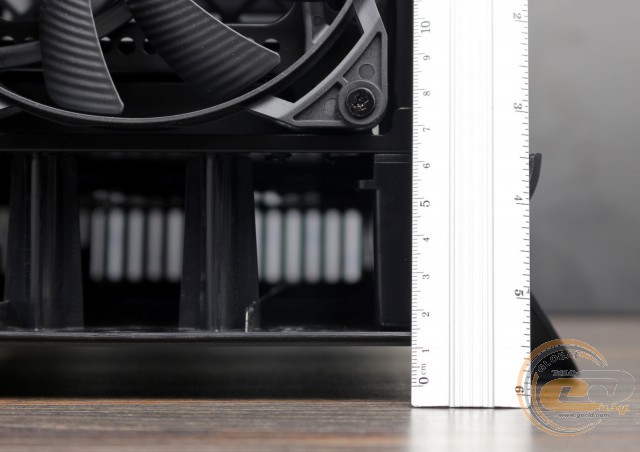 Supports lift body over the floor. Unlike many other models, it is quite possible to put on nappy carpet, as ventilation at the bottom is used to supply cool air. Its height is approximately 5 cm, and cool air flows through the vertical holes located on the back side.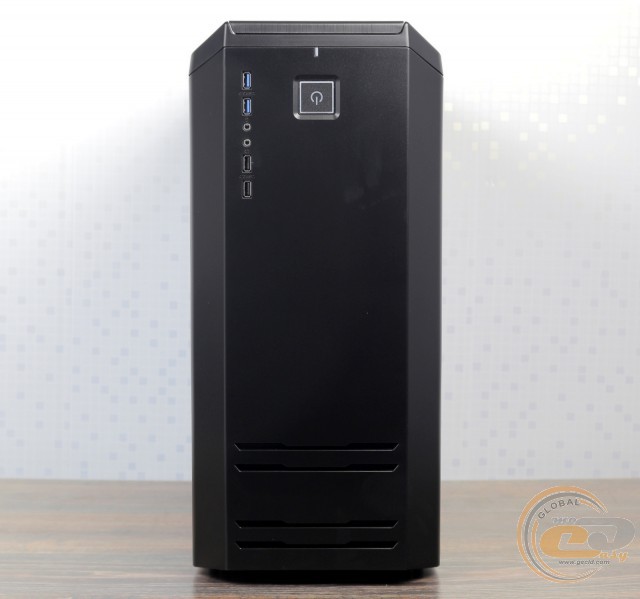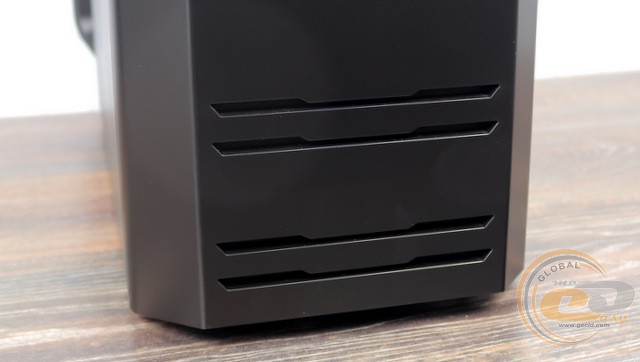 A top panel has the same principle of construction. It uses a perforation at the rear side where the heated air will be removed outside the case. Like the front panel, it is quite firmly secured with latches.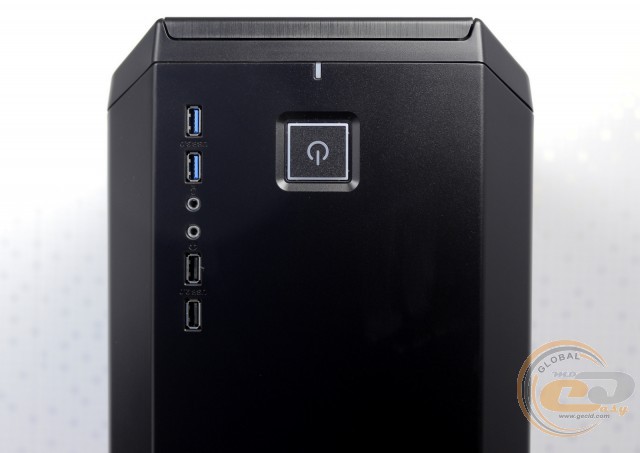 Here you can find external interfaces provided by a set of two USB 3.0, two USB 2.0 and a pair of audio jacks for connecting a microphone and headphones.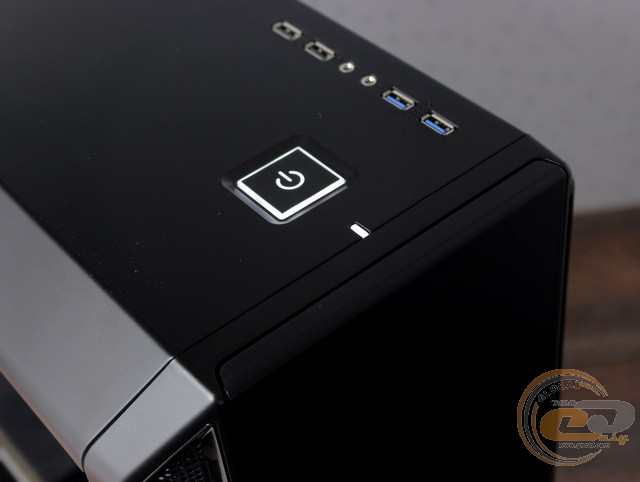 Near you can find the power button and hard drive activity light, which has a pleasant and moderately bright white glow. By the way, the latter also serves as a reset button.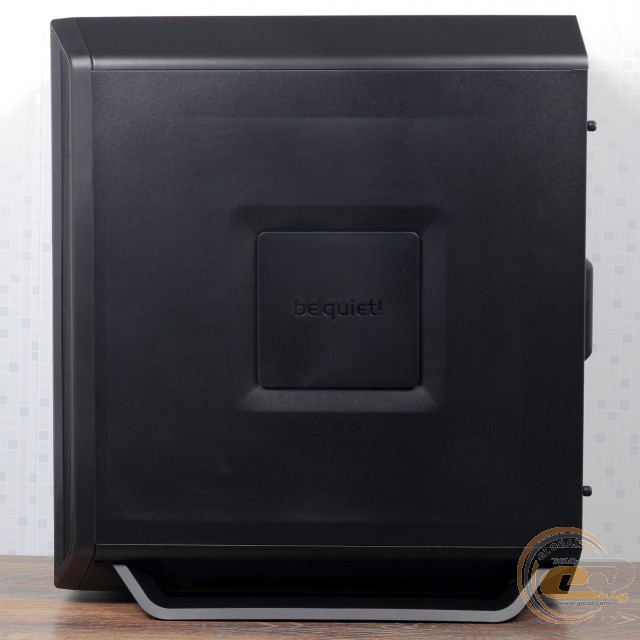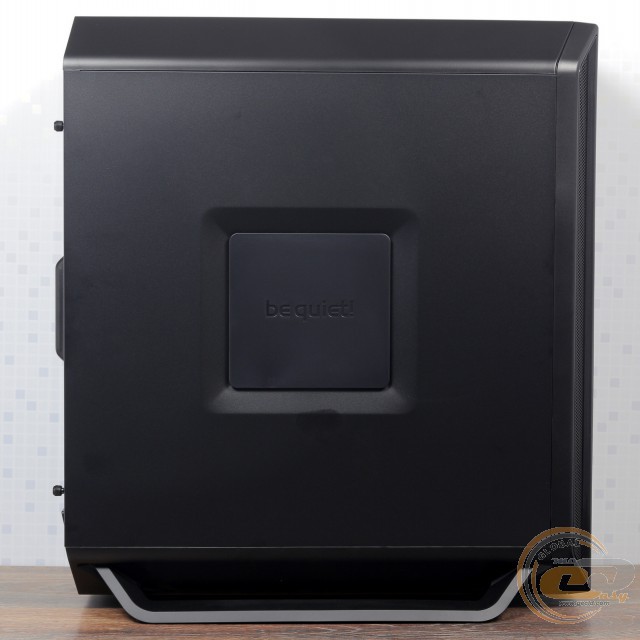 The case be quiet! SILENT BASE 800 is characterized by an interesting side view through a beveled top, bottom and front. But also the sidewalls are quite distinctive (there are also versions with clear acrylic window). So, in the center there are square plugs, but a seat to 120-mm fan is available only on the left side.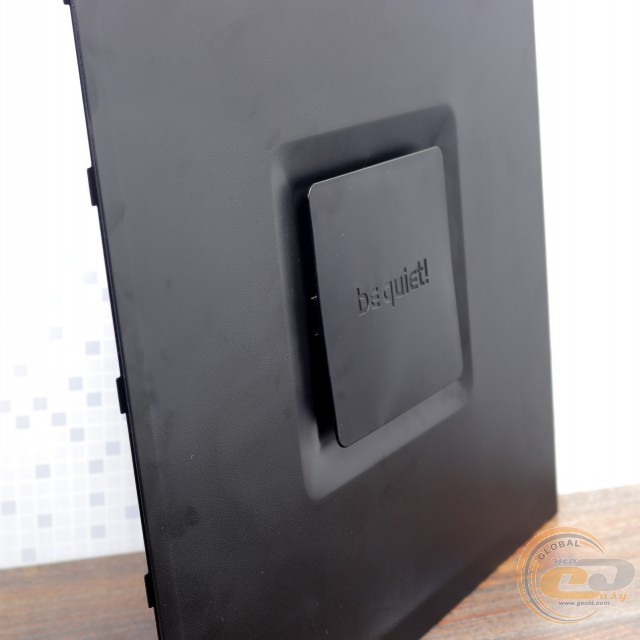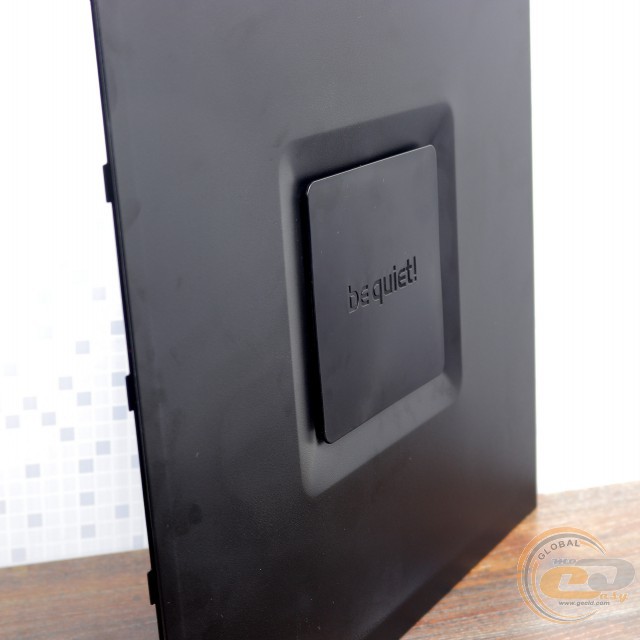 Plugs have three positions: fully closed, half-open and intermediate. Thus, you can choose the most appropriate mode or even remove them.
Sidewalls are attached by screws with shaped heads, and vertical protrusions are used for their easy removal. The edges of the panels are bent at 180°, which is well reflected in their degree of rigidity.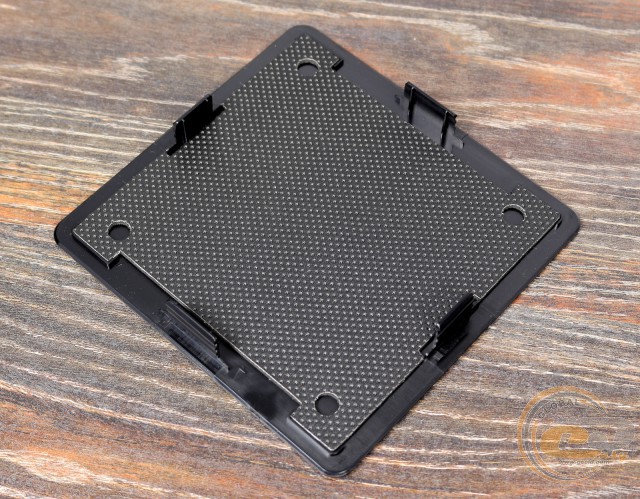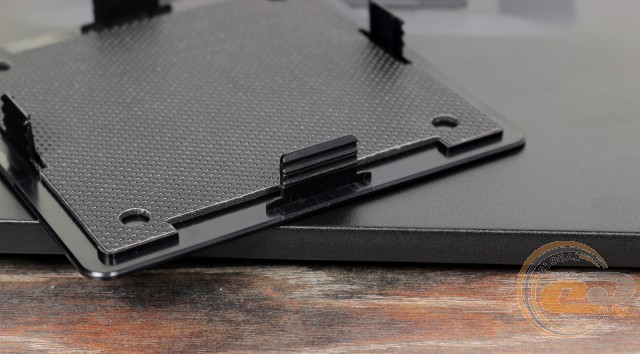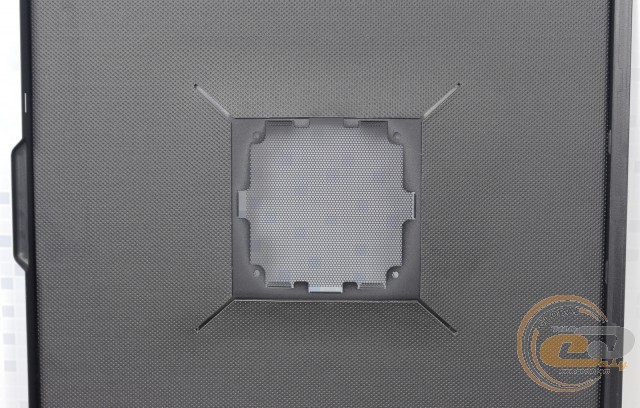 The side covers, as well as the rest of the inner surface of the sidewall feature layer of sound-absorbing material. Air supply ports are equipped with removable air filters with meshes.
Internal device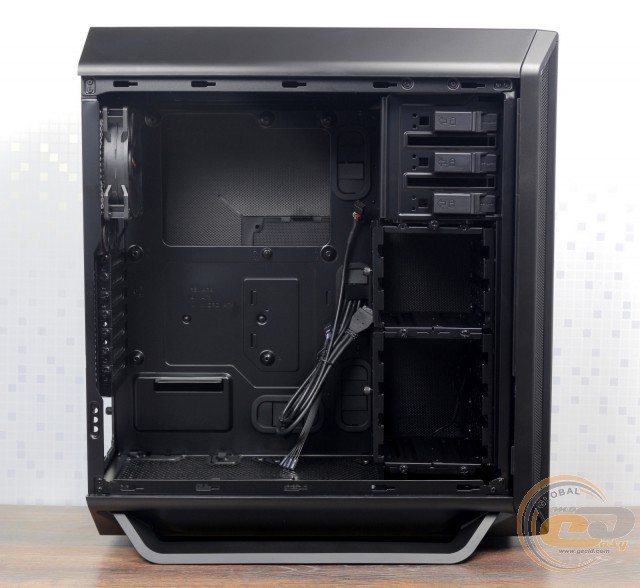 The chassis and all metallic elements of be quiet! SILENT BASE 800 are covered with a black matt paint, so they are perfectly combined with external panels, including plastic. In case of removed end cap you can draw attention to the high position of the switch.
As you can see, the delivery set includes only two racks for installation of the motherboard. In other places it is carried out directly to the mounting tray, but to existing elevations on it with the screw holes.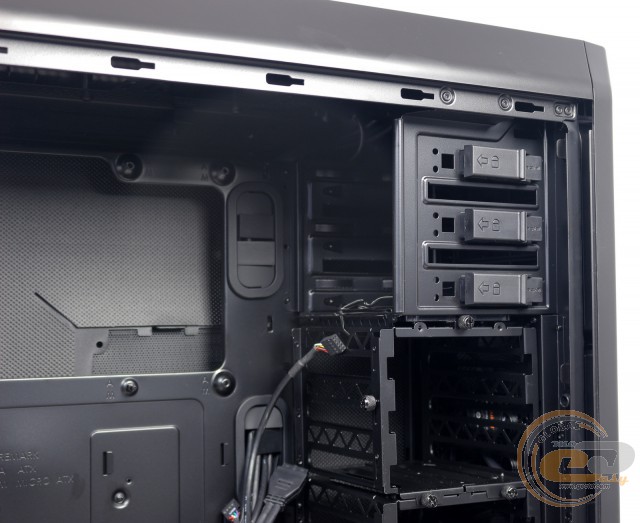 Slots for 3.5 and 2.5-inch drives, and optical drives, and other devices that require installation of 5.25-inch bays are on the right. For the last the fastening is provided by plastic clamps.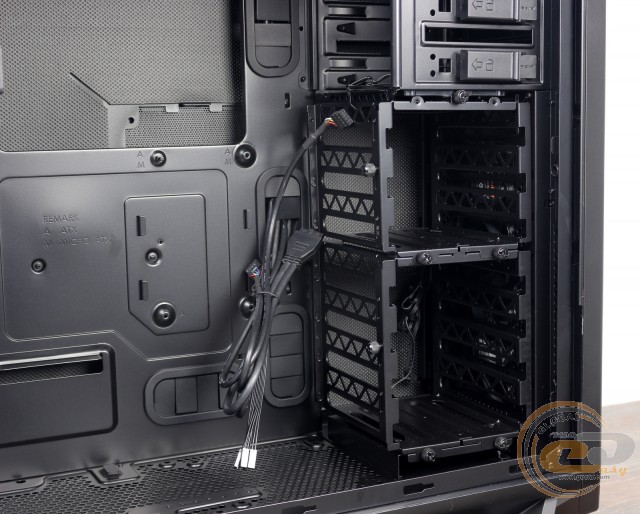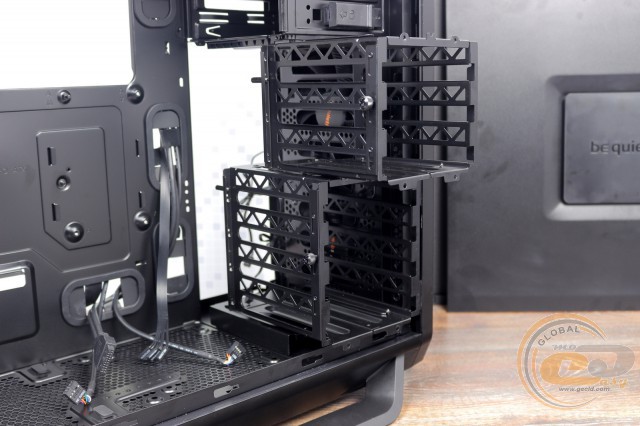 There are two detachable modules to install the drives: top can house three drives, and the bottom is intended for four devices. Of course, they can be interchanged or used in any convenient configuration. When you install two modules video cards is limited by the length of 295 mm, and their removal allows you to place even in the case of 400-mm overall solutions.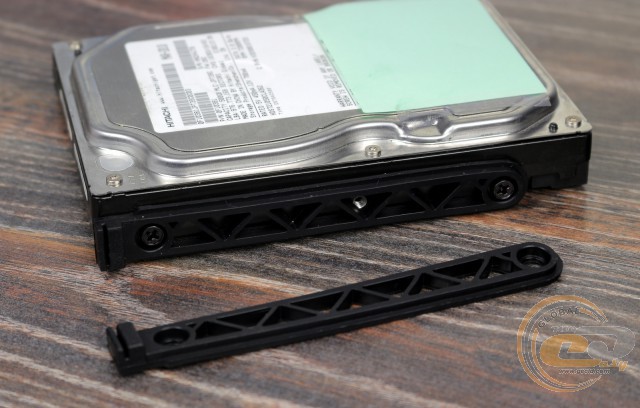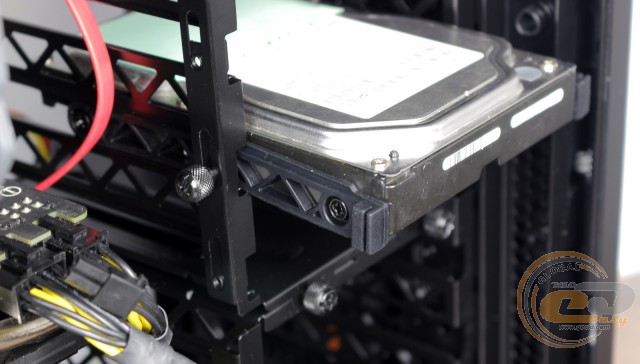 Installation of drives in inside the modules be quiet! SILENT BASE 800 is realized by means of the slides, which are attached to the drive by complete screws. In future they can be easily removed and installed without the use of additional tools. All slots for 3.5-inch drives are equipped with softening silicone inserts that absorb vibration.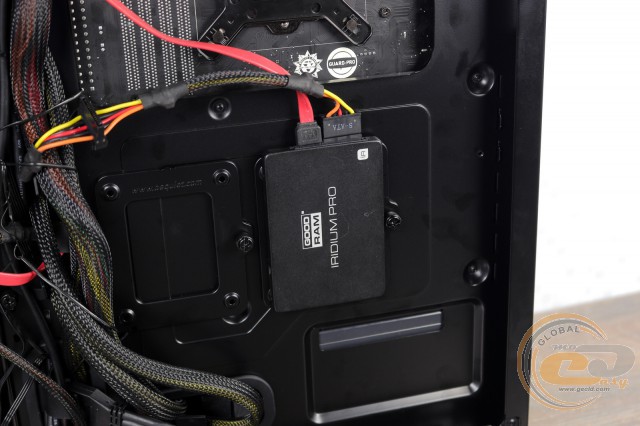 Both modules can accommodate one 2.5-inch drive, which is attached with screws to the top of each of them. Sports for another two 2.5 inch drives are located on the back side of the pallet. Thanks to the balanced design the install and removal is realized without removing the motherboard.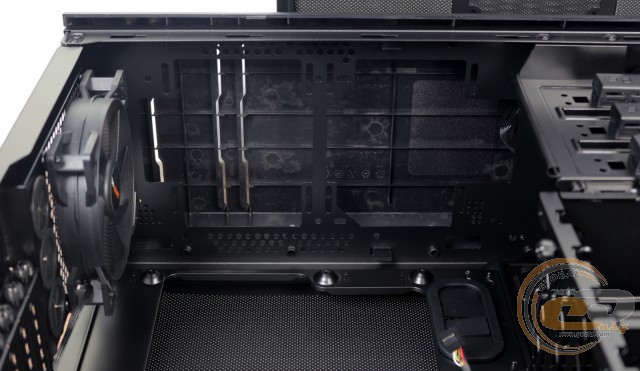 The top panel of the case allows you to install two 140 or 120 mm fans to remove the hot air out of a PC. Also you place the radiator of water cooling system with length of up to 280 mm.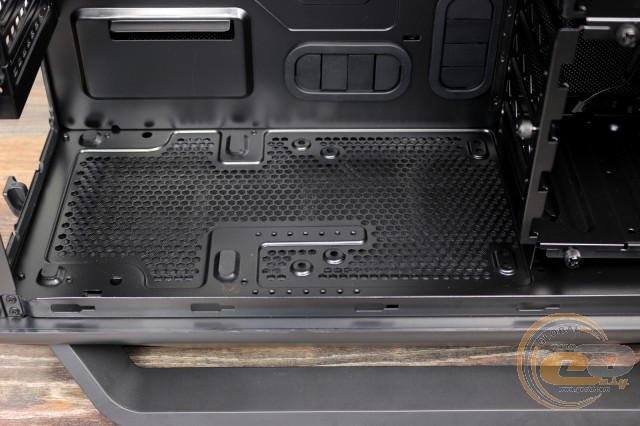 The bottom of the case is reserved for the installation of power supply and 140 or 120 mm fan. When using the last the maximum length of the power supply will be limited to 160 mm. In case of fan absence this value is increased to 290 mm.
At the spot of power supply installation the manufacturer has carefully arranged four pads that reduce vibration transmitted to the body.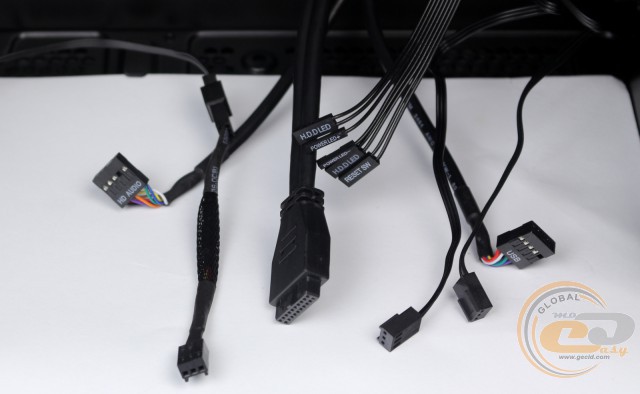 A set of cables to connect the front panel includes a connector HD Audio (wiring length is 670 mm) connectors for buttons Power/Reset and LED-indicators (520 mm), as well as cables for connecting ports USB 3.0 and USB 2.0 (670 and 650 mm respectively). Three 3-pin connectors and cable length of 550 mm is sufficient for easy connection of complete fans.
Building the system be quiet! SILENT BASE 800 is realized without any difficulties and complications. It is provided the availability of space for laying cables for motherboard tray. A cutout in the upper part allows you to install and remove the overall cooling system without dismantling the main board.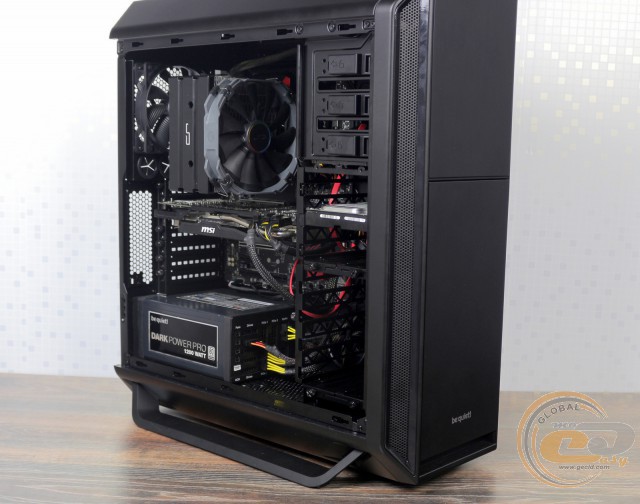 Inside you can easily place not only the overall video card and power supply, but also the powerful processor cooler up to 187 mm. Consequently, the majority of coolers available on the market will be suitable for this model.
The structure features a very good rigidity, all parts fit well, and the gaps and backlash are absent. The same can be said about the quality of edging.
Социальные комментарии Cackle