Case Thermaltake Core V21: review and testing
It is not a secret that the most popular are solutions in form factor Tower over the market for computer cases. In fact, they are very practical for daily use, but for lovers of extraordinary design it becomes more difficult to invent something truly original within a certain size. Naturally, for users who use a computer as a working tool and an important element of the interior, it would be desirable to have not only practical and functional, but also attractive system unit. Therefore, different manufacturers gradually bring to market own cases in a form close to the cube (Cube Case). They differ by greater width due to some changes in the layout, but traditionally in this case the manufacturer is possible to reduce the dimensions. For example, shifting the power supply from the bottom to the side compartment. Or placing the system board horizontally, which is particularly important for models designed for compact circuit boards.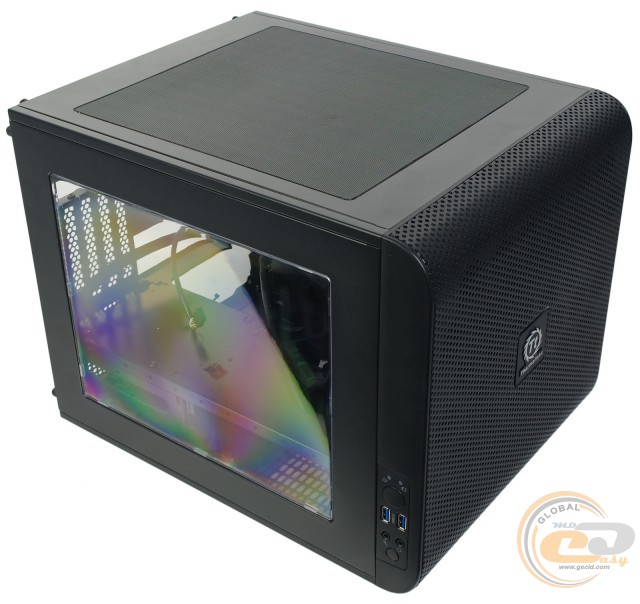 And the hero of this review, the case Thermaltake Core V21 belongs to such category. Novelty has a number of distinctive features that will be described in today's review. First of all let's look at the characteristics of the test case, since the spec contains a lot of interesting information.
The specs:
Producer

Thermaltake

Model

Core V21 (CA-1D5-00S1WN-00)

Case type

Cube Case (Micro Case)

Motherboard form-factor

Mini-ITX / microATX

Color

Black

Compartements

3 х 3,5/2,5 in (inner)

3 х 2,5 in (inner)

Expansions card slots

5

Max length of graphics card

350 mm

Max height of CPU cooler

185 mm

Max length of power unit

200 mm

Sockets

2 x USB 3.0

2 х audio ports (headphones, microphone)

Fans

Preset:

Installation possibility:

Front panel – 1 х 200-mm / 2 х 140-mm / 2 х 120-mm
Top panel – 2 х 140-mm + 2 х 120-mm / 4 х 120-mm
Side panel- 2 х 140-mm / 2 х 120-mm
Back panel - 1 х 140-mm / 1 х 120-mm
Bottom panel – 2 х 120-mm

Radiators

Installation possibility:

Front panel – 1 х 240-mm / 1 х 180-mm
Top panel – 1 х 240-mm + 1 х 280-mm / 2 х 240-mm / 1 х 180-mm
Side panel - 1 х 240-mm / 1 х 280-mm
Back panel - 1 х 120-mm

Preset fan

Dimensions

200 х 200 х 30 mm

Rotation speed

800 rpm

Noise level

13 dB

Voltage

12 V

Current strength

0,42 А

Power unit

No

Material

Front panel: plastic

Chassis: steel thickness 1,05 mm

Side panels: steel thickness 0,97 mm

Case dimensions

336 х 320 х 424 mm

Weight (net)

6,5 kg

Producer website
Package and content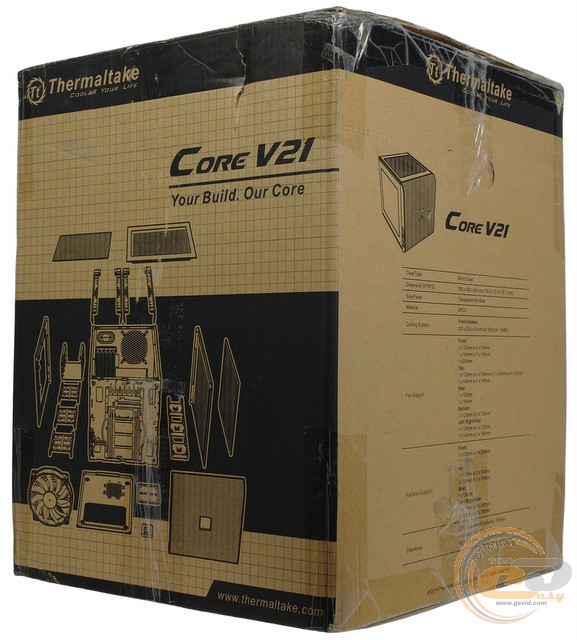 The novelty comes in a conventional two-color cardboard box, which has a good informational content. Thus, here is a detailed specification, image of the device in state with removed panels and other internal components, as well as description some features of this device in 12 languages :
availability of preset fan with diameter of 200 mm;
the presence of 6 drive bays with modular construction;
support for standard ATX power supplies, and water cooling systems, including models of own assembly;
availability of high-speed ports USB 3.0.
The case is placed between two foam forms that are fixed firmly and protected during transportation.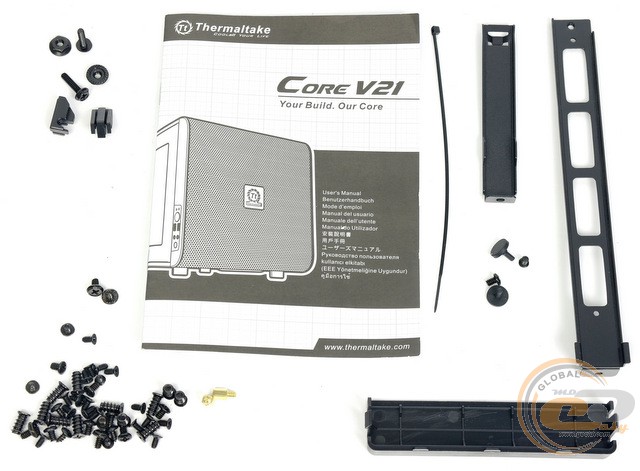 Package includes all the necessary elements to build the system, as well as some additional:
screws and rack to install the motherboard and drives fixation;
two metal panels and screws to secure the power supply;
plastic cover on the rear panel;
screws and gaskets for the installation of two similar cases at each other;
wire holders;
manual.
This package can be described as good. The only missed thing in the box is the system speaker for outputting audio signals, allowing to detect a fault occurs.
Design
Case Thermaltake Core V21 is a very nice "box", which certainly will be a decoration of any interior. A transparent sidewall will demonstrate to your relatives and friends the ensemble of used parts. In this case, it will be useful to think about components with LED backlight. Let's look at the exterior of the tested case in more detail, as it contains a lot of interesting and original elements.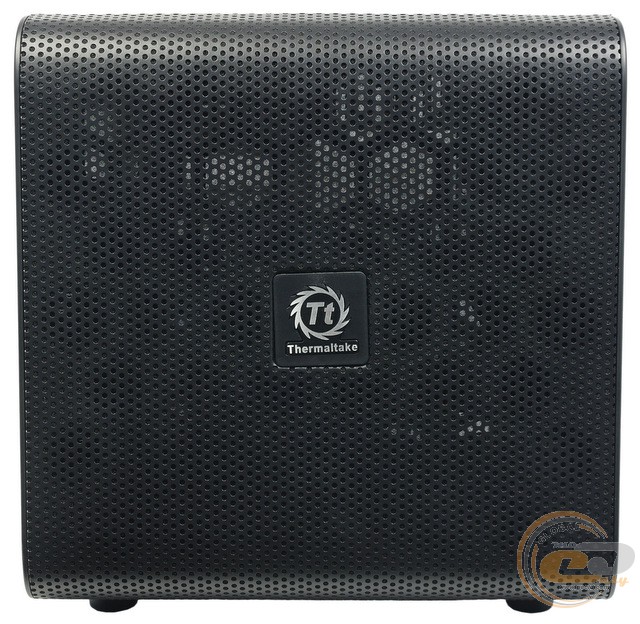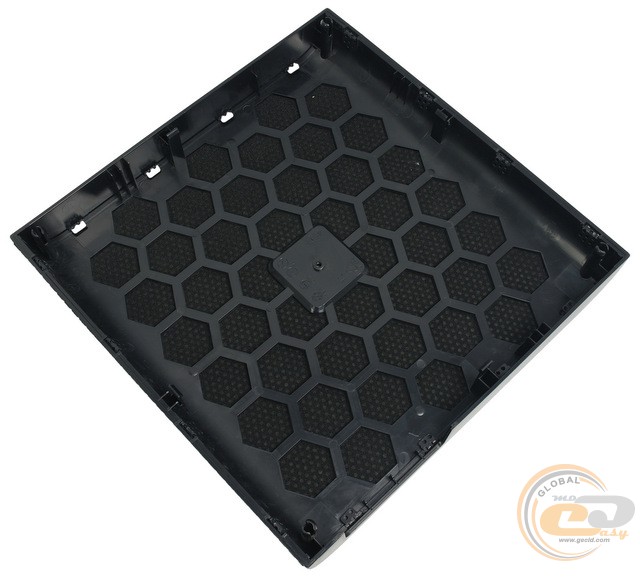 Front panel of Thermaltake Core V21 combines a nice appearance and good practicality: the front panel has a fine metal mesh, and you can notice large hex slotted plastic parts. Between is a fixed dust filter, taking care of the cleanliness inside the unit. Size of blown area is 29 x 26 cm. The panel is secured with the usual plastic latches, while it is easy to remove and install into place. By the way, the concept of "into place" in this new product does not correspond to the usual meaning for it. The fact that some elements may be used in different locations or different way, allowing the owner to adjust the body under test own preferences.
For example, the front panel has a square shape, which allows to turn it in a convenient way. This is extremely important, given that the side parts are have USB ports and audio jacks. So you can choose between placing to the left, right or top to allow the most convenient way to adjust it to your workplace.
As can be seen, a bay for an optical drive or an external card reader is not available. This fact is worth considering when buying, but remember that you can always use a portable version of the device that is connected via USB-connector.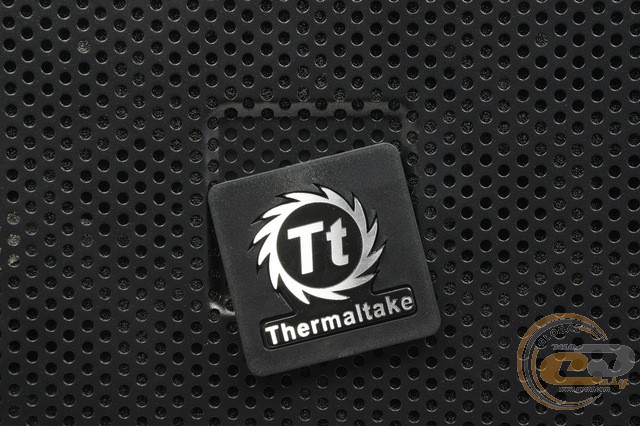 Since Thermaltake logo has a square shape and is attached with a magnet, it also takes a correct position, regardless of the orientation of the front wall.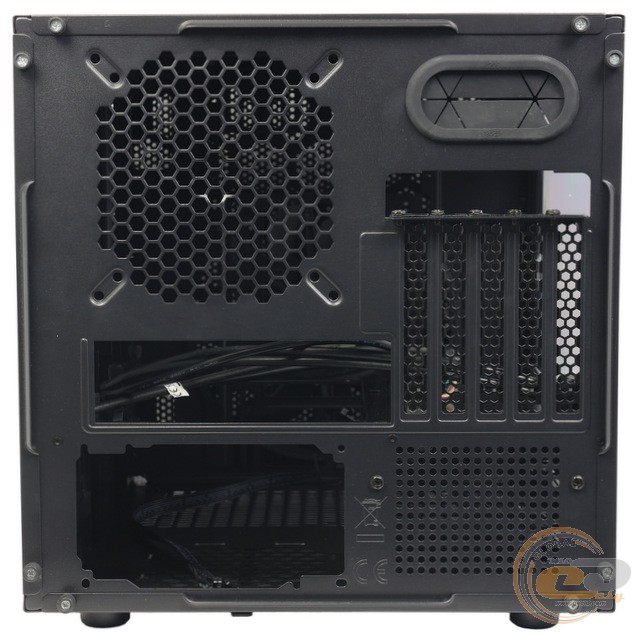 The back panel of the case, as well as the remaining part is covered with a black matt paint. It is very practical, as withstands to the appearance of fingerprints. This view allows you to see the division into two parts. At the bottom there is a PSU and drives, and the top is designed for motherboard with all components mounted on it.
Near the seat for the power supply is a perforated area, behind which it is possible to installed drive size 3.5 or 2.5 inches. Above them, in parallel to the floor, will be posted Mini-ITX / microATX motherboard. Over it is the place to install 140/120-mm fan and dual hole for the output of water cooling system hoses.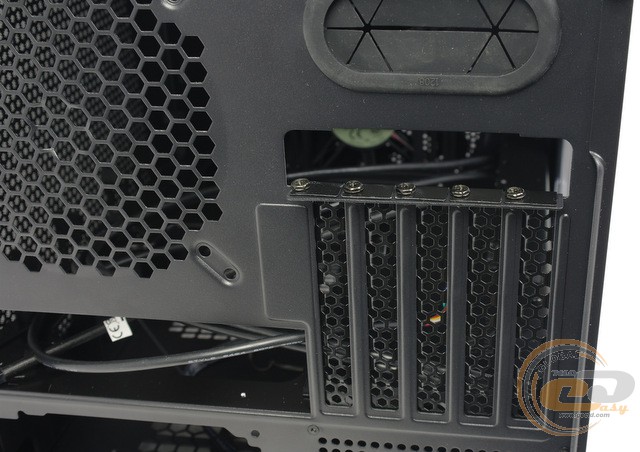 The novelty has 5 slots for expansion cards. Configuration is well thought out, since when buying a microATX motherboard with the ability to install two graphics cards the case provide the right amount of graphics card, even if you have to use the slot PCIe located at the bottom. Of course, it is a double-slot model. Expansion cards fixing is classic and is fixed with screws.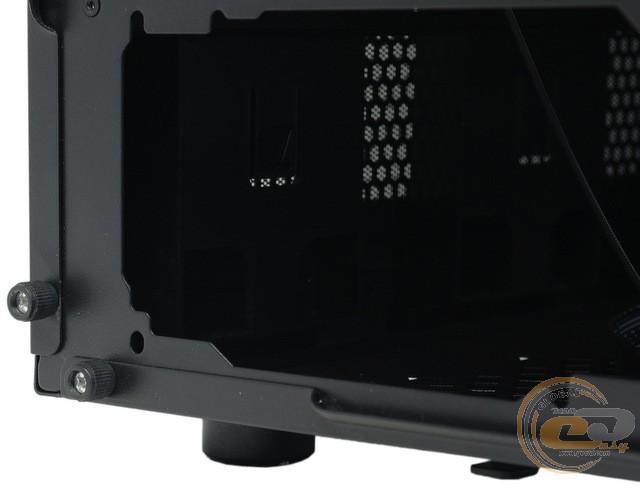 Top, bottom and side panels of Thermaltake Core V21 are removable and attached with screws with embossed plastic heads. Of course, it is a convenient solution to quickly reconfigure the case according own taste. Walls are easily removable by standard way - their shift toward the back of the case.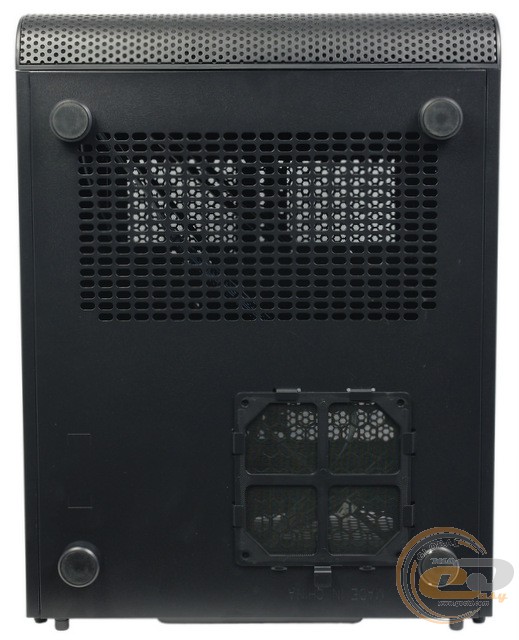 The bottom side of the new item is characterized by a large perforated area (24 x 12.5 cm) closer to the front part of it. A similar area, but smaller (9.5 x 9.5 cm) is placed under the power supply.
It is covered with a dust filter, which can be easily removed for cleaning the accumulated dust after a long time.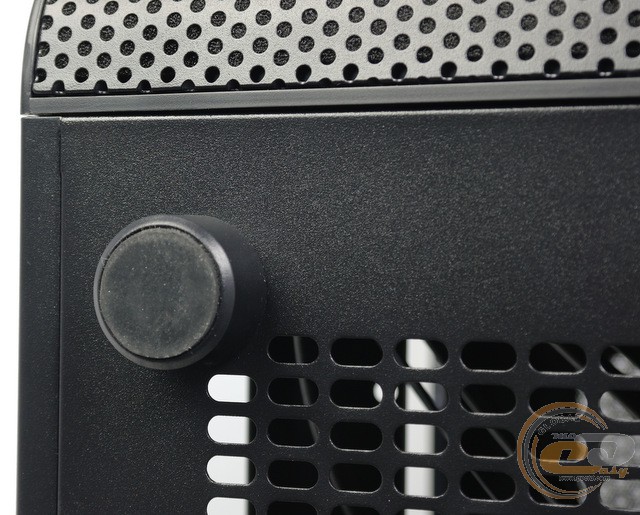 The product has the plastic legs height of 17 mm. This indicator would be sufficient to provide the necessary air flow to the power supply. Application of rubber allows smooth out the vibrations produced during operation of the system unit and to avoid damaging the surface.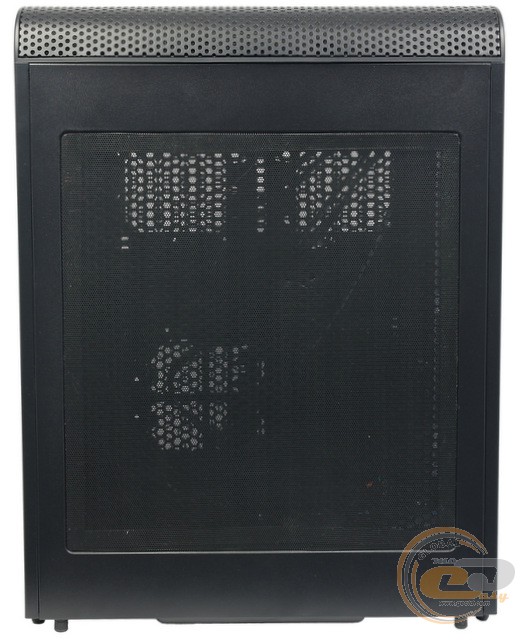 The top panel is a steel sheet with the perforation in the form of a honeycomb (25.5 x 24 cm).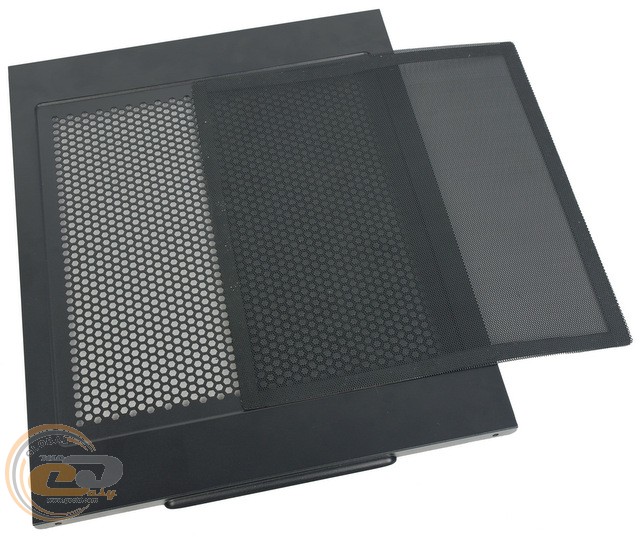 At the same time here is a dust filter that is fastened with mounted magnets.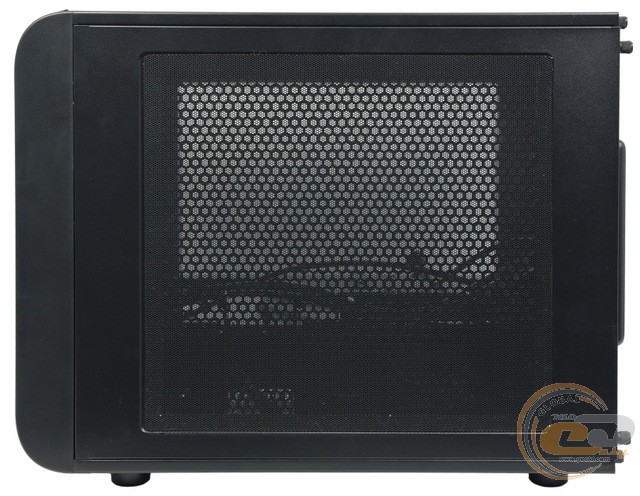 Similar design has the right side panel. Consequently, a large amount of cool air that must ensure good thermal performance of components will flow even through the wall of the case. Dust filters will provide cleanness of components.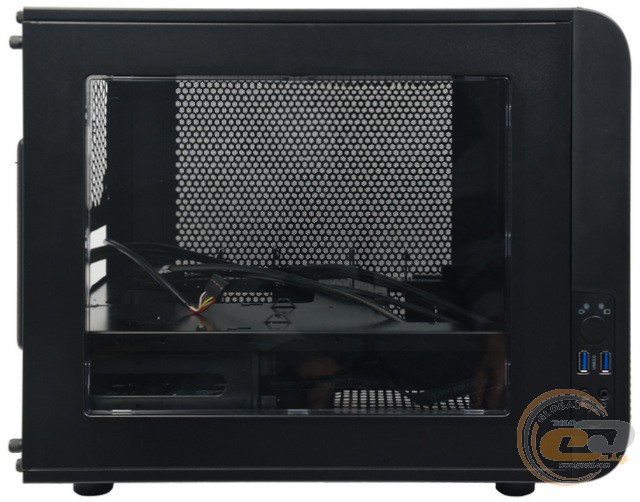 But the left wall Thermaltake Core V21 has no perforations. Instead, here there is a transparent side window of 23 x 29 cm, showing the beauty located inside the components. So your system unit can turn into modding the original project.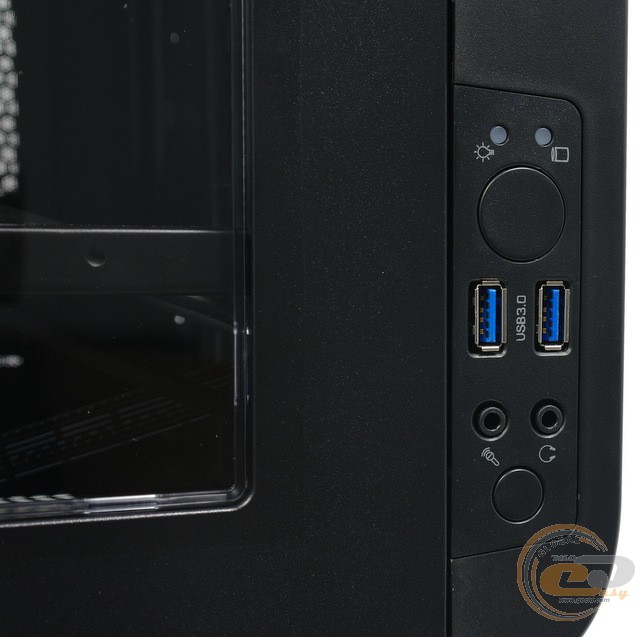 The side part of the front panel contains usual power/reset buttons, 2 audio sockets and 2-port USB 3.0.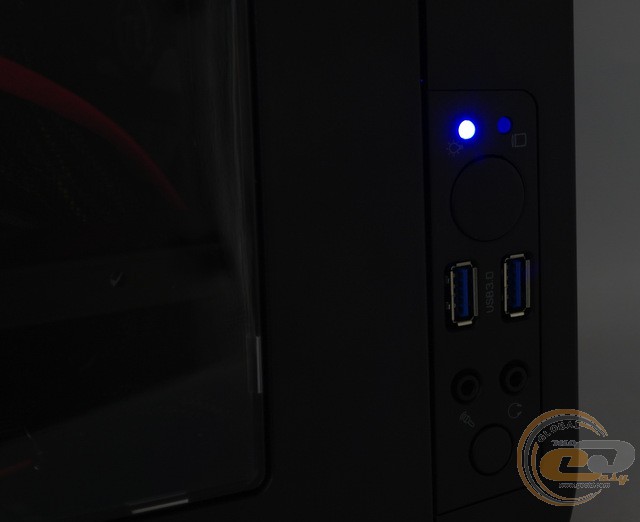 Also there is placed two LEDs which provide information on the state of the PC and the drive activity. They are bright enough, but they are quite comfortable and glow in the dark. Right indicator is red, but because of the near placement of the blue LED it seems raspberry.
Internal device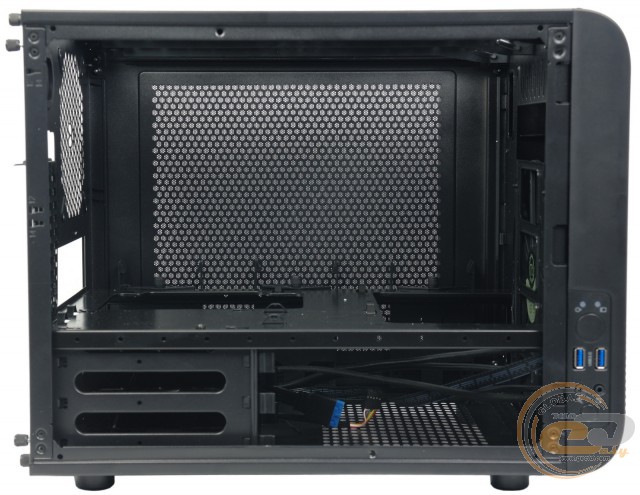 We have already noted the division of the body into two parts: the upper, which has horizontally placed tray of system board, and lower reserved for PSU and drives. Interestingly, the flexibility allows to experiment with variations of its application. The fact that the top, bottom and side panels have identical dimensions.
Accordingly, you can install them in any convenient manner. For example, transparent can be a right or the top wall. And since the lower panel is also removable, then "bottom of the case" is a rather relative term, since the bottom is exactly where you set the wall with legs. So if you want to have the vertical position of the motherboard nothing will disturb you. And, of course, do not forget about the front panel, which also allows you to set it any way you like without sacrificing ergonomics.
We will consider a novelty in its standard configuration, that is, with a horizontal board.
Near the PSU basket there are three 3.5-inch drives. They are fixed in a non-screw way, but for greater reliability you can use additional screws. 2.5-inch models are attached only by means of screws and corresponding openings in the bottom. The basket is good fixed, but there is a small gap.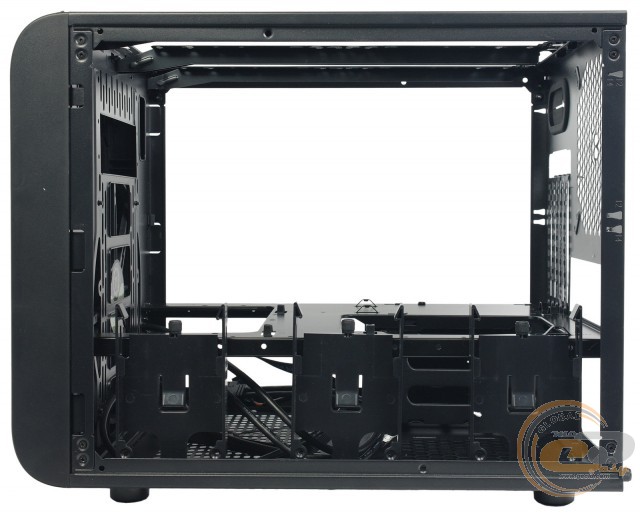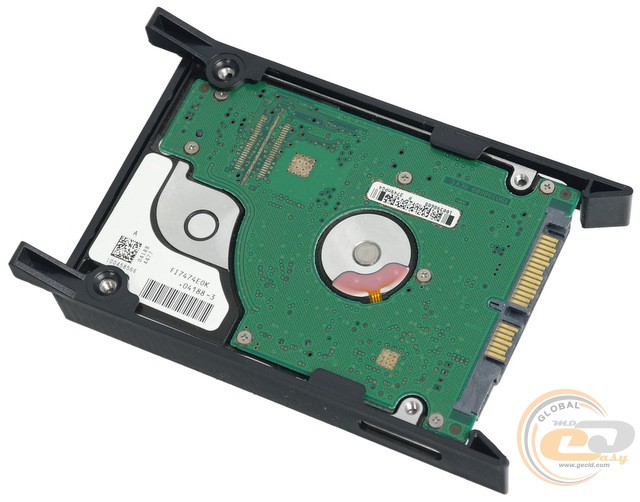 To install only 2.5-inch drives there are three plastic trays arranged along the right side of the wall. They are easily removed, and the drives are mounted without the aid of tools. Although there is a possibility of additional fixation with screws.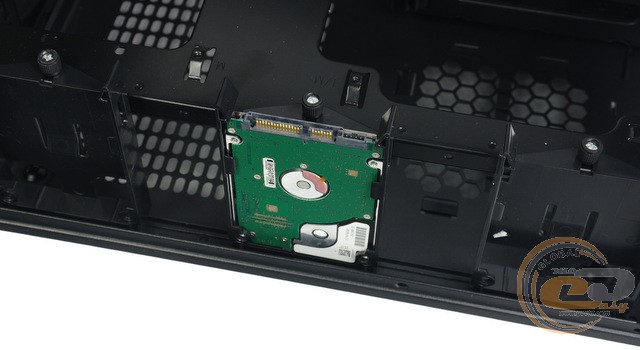 The trays are attached to the body with screws with curly heads. So you won't have problems with removing or replacing them, even in the absence of the necessary tools.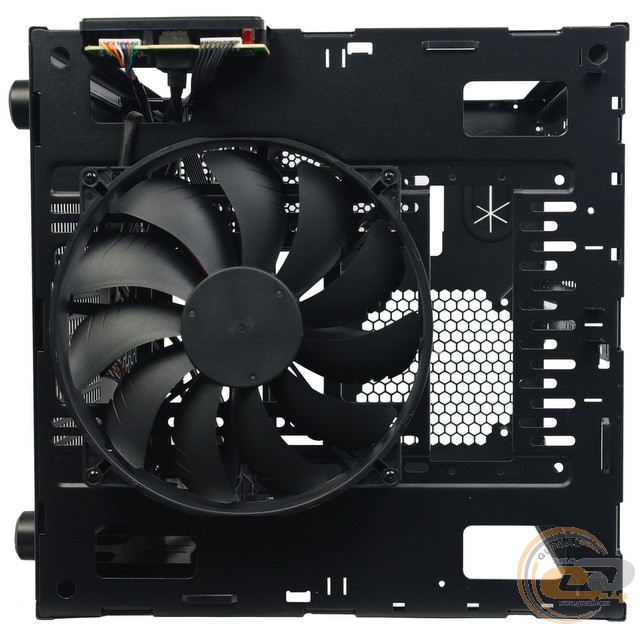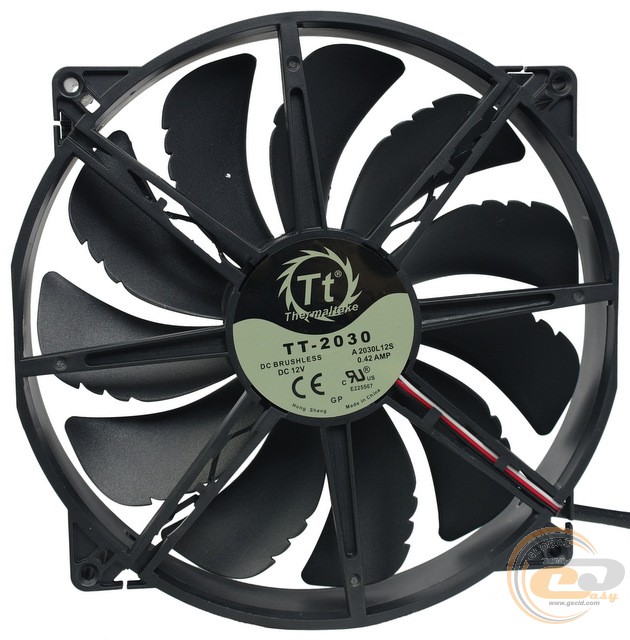 Under the front panel there is a fan TT-2030 (A 2030L12S) with diameter of 200 mm and thickness of 30 mm, very reminiscent of the model Thermaltake Pure 20. It is characterized by a special form of blades, providing the maximum pressure of the air flow at low speeds (800 rpm) and low noise level.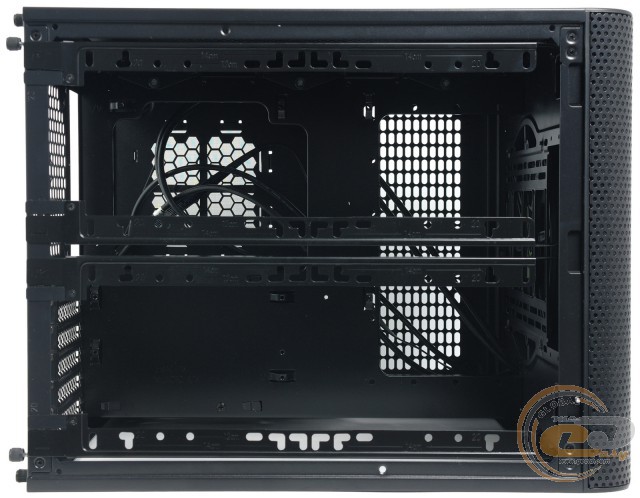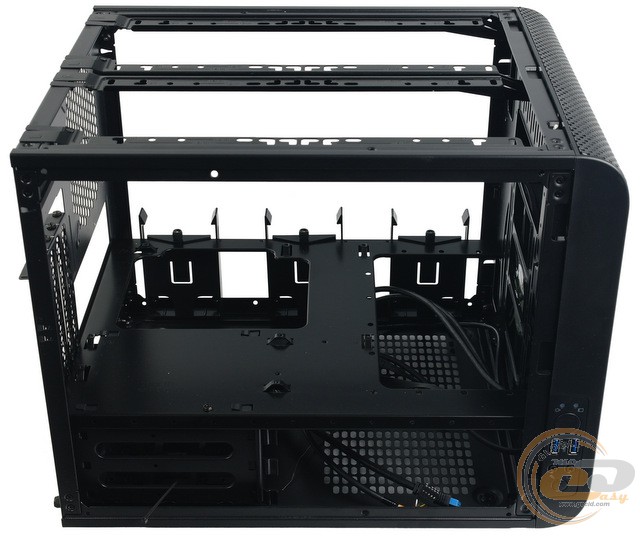 For the installation of an extra 140 or 120 mm fan there is a seat at the rear part. Also there are four brackets for fans or water cooling system radiators. By default they are placed under the upper panel, but if necessary they can be mounted on the sides of the case. The guides have labels that inform what holes need to use when installing the radiator fans or one or the other size. And, of course, they can always be easily removed (secured by means of magnets), if other means of ventilation should be sufficient to ensure low temperature characteristics of the used components.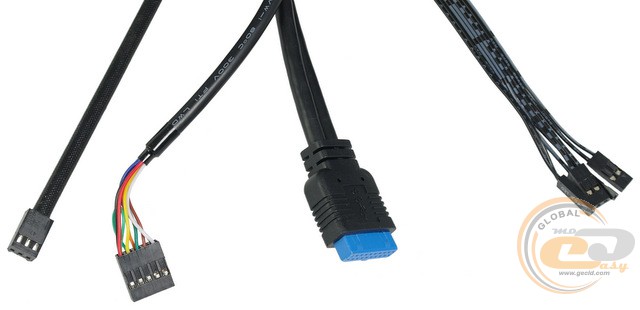 Set of cables to connect the front panel is standard. Here is Block HD Audio, connectors to connect buttons power / reset, and LED-indicators, as well as cable to connect the ports USB 3.0.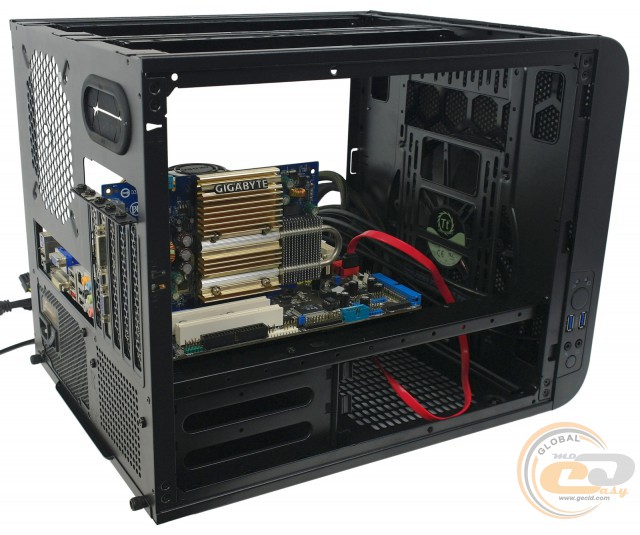 Installation of the system into the body Thermaltake Core V21 runs simply and conveniently due to extensive interior space. Initially set the power supply. This action requires the removing of the bottom panel. Note that place of fastening the power supply does not have any components designed to reduce generated vibrations. After installing the power supply and return panel into place we continue to mount other components. Due to the non-standard layout the new product has too much space for them. So, here is a CPU cooling system with height of 185 mm and graphics adapters with length of 350 mm (188 and 365 mm, respectively, according to our own measurements). The first figure can be increased to 200 mm when removing the brackets for additional fans. So when choosing a video card and CPU cooling system you have the ability to install any components that you would just like to see the inside of your system unit.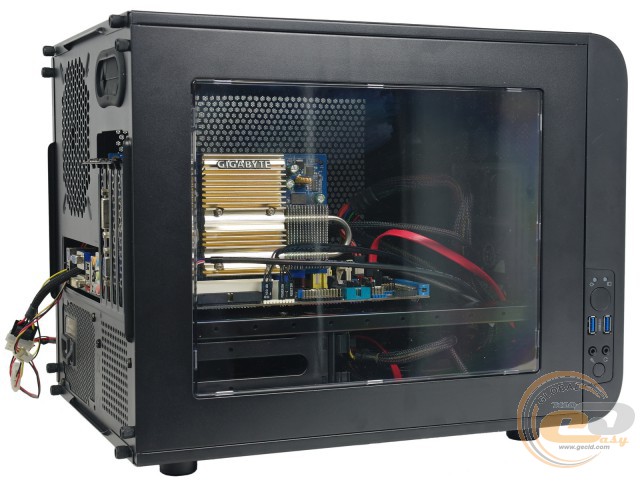 Assembled system looks very nice. And yet, we advise to select components with LED backlight to admire inner beauty PC can in the dark.
Социальные комментарии Cackle