Thermaltake ExtremeSpeed 3.0

External

Drive Enclosure:

review and testing
Step-by-step an interface USB 3.0 is sneaked into the life of an ordinary PC user. Now, many people can not imagine how to live without such a high-speed connector. After all, flash drives and external hard drives refused "bottleneck" in the form of USB 2.0 with a small theoretical bandwidth of 480 Mb/s. Of course, not all users already enjoy the benefit of USB 3.0, and it is quite understandable, since, until recently not all motherboards and laptops have this connector. Now, however, its application can be seen in the budget desktop solutions based on the best available chipsets AMD A68H and Intel H81. But if you follow the motherboard market, you probably noticed that often low cost options don't have inner pads for connecting USB 3.0 connectors on the front panel. Because of this the user has to choose: either to use the front rapidly ports USB 2.0, or feel uncomfortable when devices are connected to high-speed connectors on the rear panel.
On the other hand, not all new cases are equipped with standard front ports USB 3.0. Therefore, with the appropriate motherboard, the buyer is looking for the possibility of implementing high-speed ports on the front panel of the system unit in another way.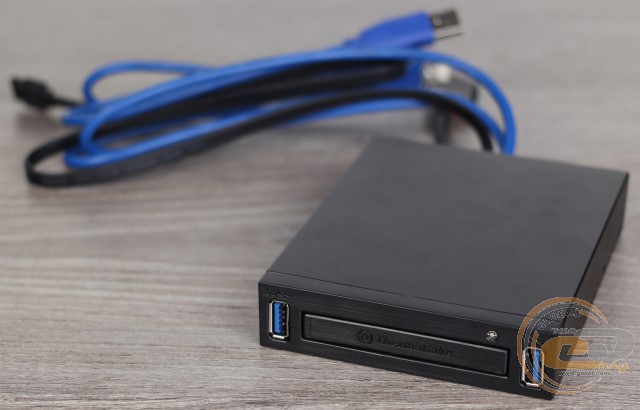 For example, front-end ports can be put using fan control or card readers equipped with the appropriate connectors USB 3.0. Or you can use the external panel Thermaltake ExtremeSpeed 3.0. Its peculiarity is the fact that USB 3.0 connectors are not connected to the internal block on the system board, but to the ports on the back panel. Thus, even the available models of motherboards can be used in the appropriate manner.
Another nice feature of this solution, and for some the main reason for its choice is the availability of the connector to install a 2.5-inch device (HDD and SSD). Thus, you can easily use the media with your own data and operating systems, and eventually removing the drive to be installed in a laptop, use another PC, safe keeping, etc. Let's now move on to the practice, and take a closer look to the functionality of the tested solution.
The specs:
Producer and model

Thermaltake ExtremeSpeed 3.0
(AC0018)

Bay format to install the panel, in

3,5

Form-factor of supported devices, in

2,5

Supported interfaces

SATA 3.0, 2.0, 1.0

USB 3.0

Power cable

4-pin

Material

SECC-steel

Color

Black

Dimensions, mm

126 х 101 х 25

Weight, g

293

Producer website

Thermaltake
Product page
Design and package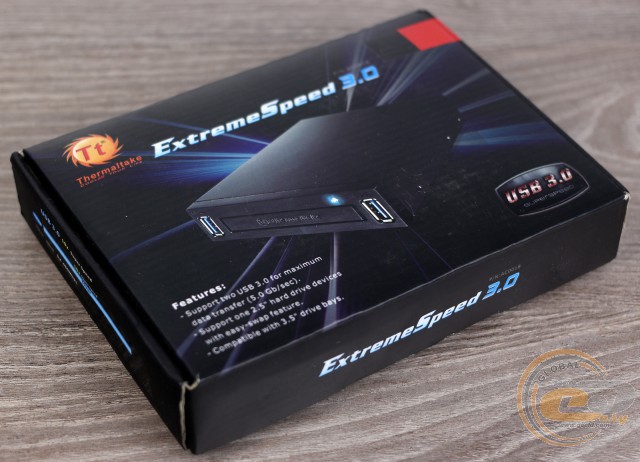 The product comes in a cardboard box, made in dark colors, and can boast of a good information content. Thus, the front side of it prodivds an idea of inside device by applying its images. In addition, it is possible to find the name of the panel (Thermaltake ExtremeSpeed 3.0), used nterfaces ( twoUSB 3.0, with a capacity of up to 5 Gb/s), the type of supported drive (2.5-inch SATA-drive) and requirements for case (presence free external 3.5-inch drive bay).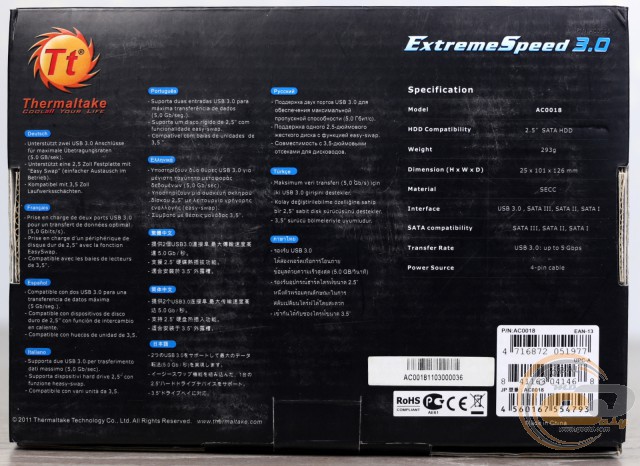 The reverse side of the package contains the same information in 12 languages. In addition, here is a detailed table of specifications, as well as the country of the device production (China).


One of the sidewalls of the box shows us a 10-fold advantage in the interface USB 3.0 bandwidth as compared to its precursor USB 2.0. The second provides information on the presence of LED-indicator of device, as well as on the types of cables used to connect the panels.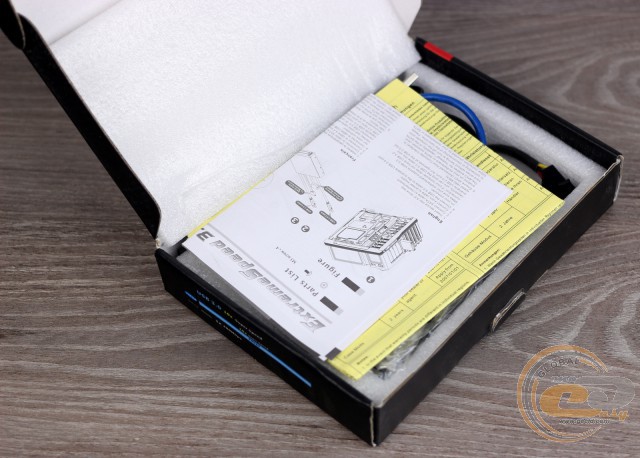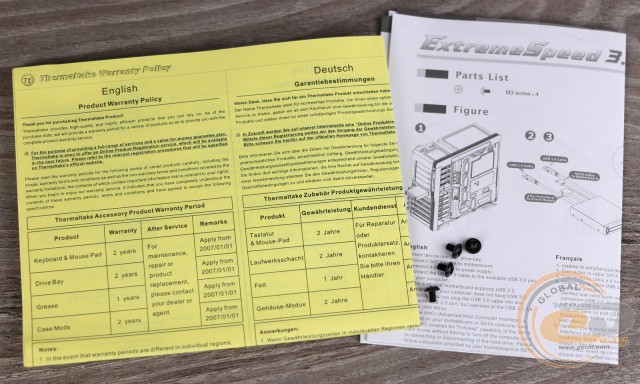 New product with connected cables is hidden to inside form. The package also contains the installation manual, warranty brochure and four screws used to attach the panel to the PC case.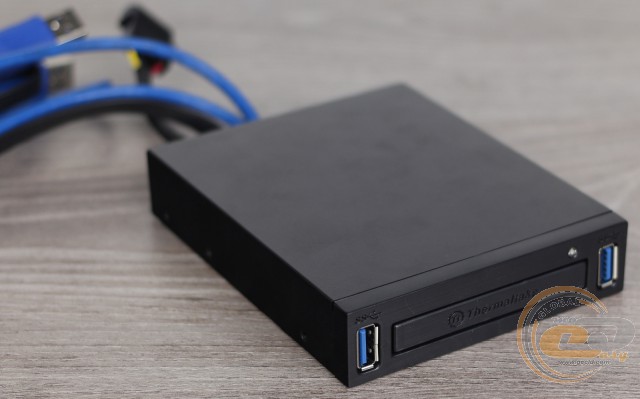 Model Thermaltake ExtremeSpeed 3.0 has a nice appearance thanks to a practical matt black color. If necessary, it may well be used as an external device.

On the front we can see two ports USB 3.0, placed in opposite ends. This arrangement has the great advantage over option when connectors are close. In this case, the installation of overal device may make it impossible to use the second. Between the ports is a rectangular cap with the logo and the inscription «Thermaltake», covering the bay for a 2.5-inch drive. Over it you can find a LED-indicator.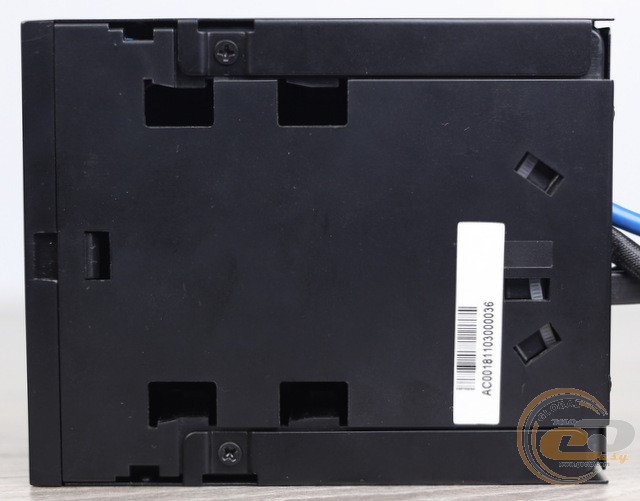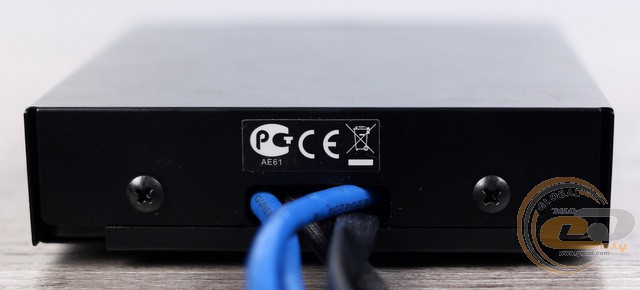 Other panels are devoid of any functional elements. On the sidewall you can find the holes for mounting screws, and on the bottom and back wall - two screws that provide access to internal content.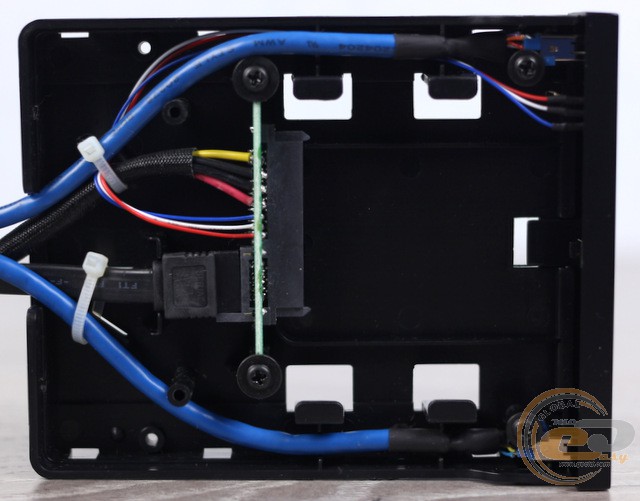 Inside everything is very plain. There are no additional controllers or converters: the cables come directly from USB-port, a SATA-device is connected to a small rectangular board. The last has cable SATA, 4-pin peripheral power plug and the three wires for LED-display.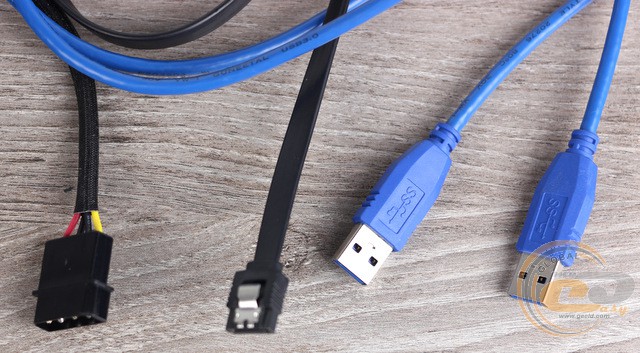 The lengths of the cables of the panel Thermaltake ExtremeSpeed 3.0 in most cases is enough for easy connection. For example, the SATA cable has a length of 60 cm (measured from the outlet of the pocket), slightly more than in the usual cables, bundled with the motherboard (on average 42-48 cm). Cables for connecting the USB ports are even longer - 75 cm and their thickness is 4.4 mm. The shortest is 4-pin peripheral connector, placed in a protective sheath. Its short length of 10 cm is caused by the fact that such a measure should be sufficient to connect the new item to the connector adapter.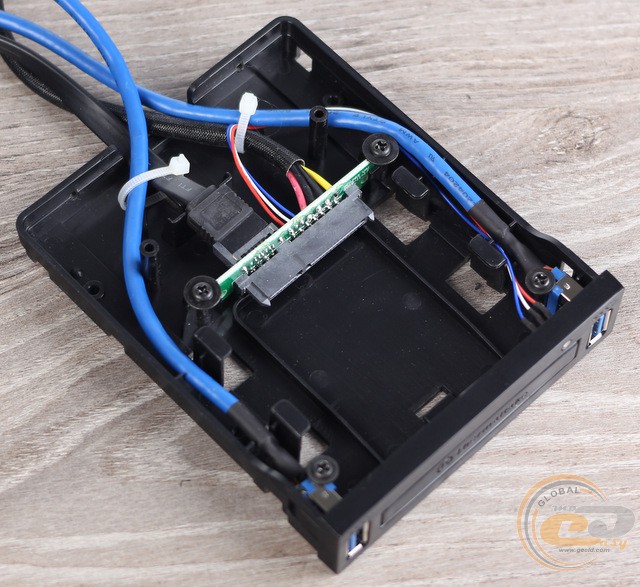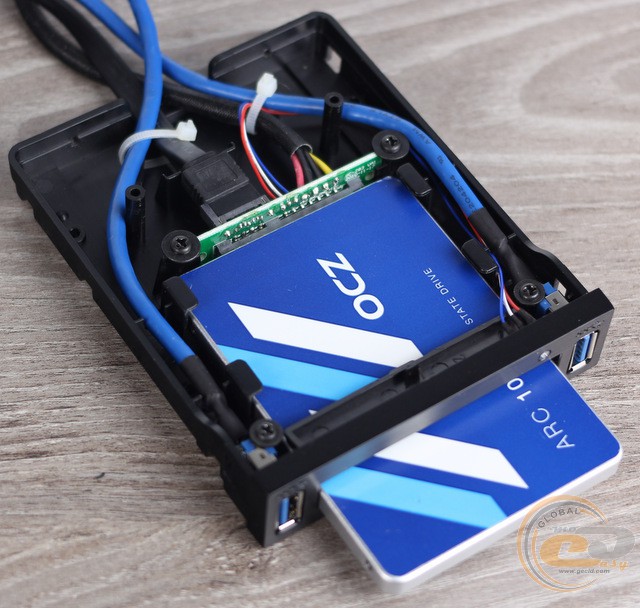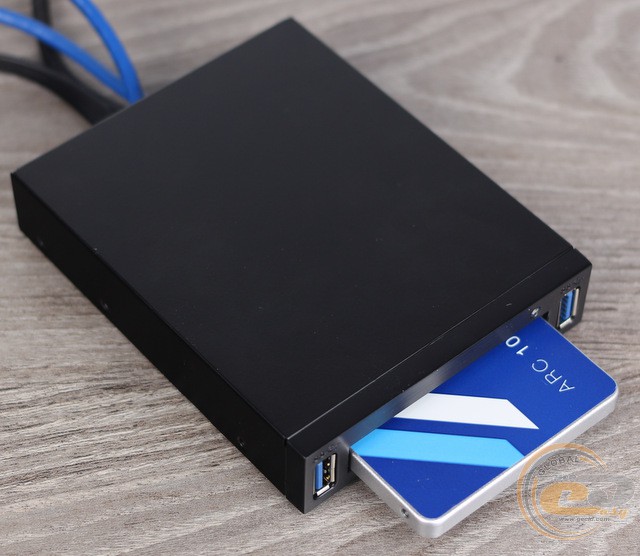 Installation doesn't provide any difficulties or features that deserve special attention. As can be seen, one-third of the connected drive is protruded from the bay, making it easy to remove the drive.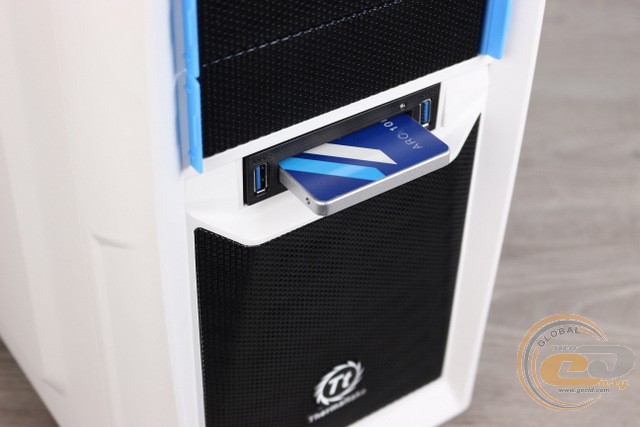 Although the panel is in a black color, it has quite a distinct look when installed in a white body, but in this case do note the presence of black inserts. On the other hand, the tested product won't be loud colored or draw undue attention.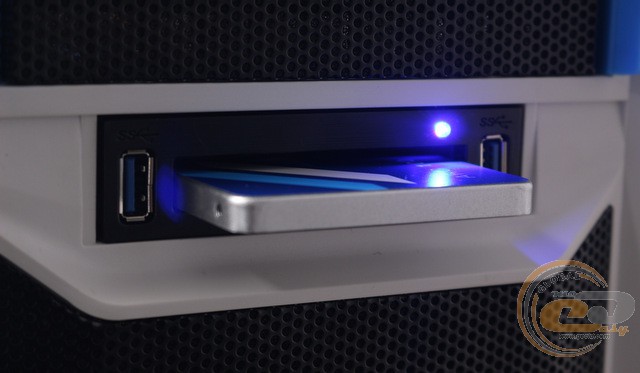 Used indicator has the blue glow that at night can distract the user. When you connect the SSD it flached constantly. But when you connect only USB-devices LED is inactive, which is quite logical, if you remember the layout of the interior panel.
Testing
The following test bench was used to test the hermaltake ExtremeSpeed 3.0:
| | |
| --- | --- |
| Motherboard | ASRock Fatal1ty Z97X Killer (Intel Z97, Socket LGA1150, DDR3, ATX) |
| CPU | Intel Core i7-4770K (Socket LGA1150, 3,5 GHz, L3 8 МB) |
| CPU cooler | Scythe Kama Angle Rev.B |
| RAM | 2 x DDR3-1333 1024 MB Kingston PC3-10600 |
| Graphics card | AMD Radeon HD 6970 2 GB GDDR5 |
| Hard disk | Seagate Barracuda 7200.12 ST3500418AS, 500 GB, SATA-300, NCQ |
| SSD-drive | OCZ ARC 100, 240 GB |
| Flash drive | Kingston HyperX Fury 64GB |
| PSU | Seasonic X-660 Gold (SS-660KM Active PF), 650 W, 120 mm Fan |
| OS | Microsoft Windows 7 64-bit |
SSD-drive connection to SATA-interface
Test package

Test

Connection type

ASRock Fatal1ty Z97X Killer +Thermaltake ExtremeSpeed 3.0

ASRock Fatal1ty Z97X Killer

Difference, %

AS SSD, Copy-Benchmark v.1.7.4739.38088

ISO

226,59

213,16

6,3%

Program

166,67

171,92

-3,1%

Game

185,64

180,3

3,0%

EVEREST 5.50

Linear Read (Begin) MB/s

512,3

526,1

-2,6%

Linear Read (Middle) MB/s

512,3

527

-2,8%

Linear Read (End) MB/s

512,3

526,1

-2,6%

Buffered Read, MB/s

508,9

508,9

0,0%

Average Read Access, ms

0,03

0,03

0,0%

CrystalMark 0.9

HDD points

42069

42019

0,1%

PCMark'05

HDD Marks

67452

70851

-4,8%

Intel NAS PT 1.7.1

avg, MB/s

342,80

330,6

3,7%

CrystalDiskMark 3.0.3

Read Seq

426,3

420,9

1,3%

Write Seq

433,5

432,9

0,1%

Read 512K

358,6

363,4

-1,3%

Write 512K

436,8

436,5

0,1%

Average difference

-0,2%
Flash-drive connection to USB 3.0 interface
Test package

ASRock Fatal1ty Z97X Killer +Thermaltake ExtremeSpeed 3.0

ASRock Fatal1ty Z97X Killer

Difference, %

EVEREST 5.50

Linear Read, average, MB/s

197,7

196,4

0,7%

Random Read, MB/s

208,8

214

-2,4%

HD Tune Pro 4.50

Average Read, MB/s

194,4

199,8

-2,7%

Copying Files

Maximum Read, MB/s

187,8

186,8

0,5%

Maximum Write, MB/s

141,3

137

3,1%

CrystalDiskMark 3.0.3

Read Seq

203,6

202

0,8%

Write Seq

111,8

111,4

0,4%

Read 512K

144,6

144,6

0,0%

Write 512K

1,114

1,13

-1,4%

Average difference

-0,1%
Applied during testing SSD and USB-drives were tested in two modes: connected directly to the motherboard and connected to it by a panel Thermaltake ExtremeSpeed 3.0.
As you can see, speed characteristics of connected to the panel devices do not differ from the results obtained with the direct connection to the system board. Therefore, the length of the cables will not affect the speed of connected devices. The average difference was 0.1-0.2%, which is quite possible to explain the error of measurement. Therefore, even during connection of high-speed SATA and USB-drives, their potential is not limited.
Социальные комментарии Cackle