CPU cooler Noctua NH-L9x65: review and testing
Those customers who build computers in small cases probably can share own experiences and talk about how the market of compact component is different from a familiar range of the components in traditional sizes. Of course, when using the integrated graphics core and boxed cooler in most cases you won't have any difficulties. But when it comes to the use of more efficient components, or upgrading an existing system, the situation is more complicate. For example, the selection of the CPU cooler. In a limited height space it is often impossible to install even a Tower-solution of small size, so you have to look for the appropriate model. Most of them are low cost models that have a low performance. But the compact CPU cooling systems include more efficient models with low background noise and high efficiency.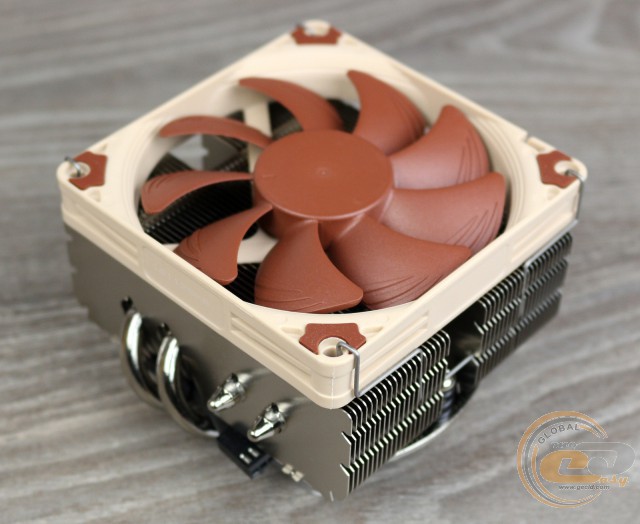 An example of this is concept is the cooler Noctua NH-L9x65. Despite relatively small size, it can cool very powerful processors. The main feature of the new item is its low height (65 mm) and compact size (95 x 95 mm), which ensures compatibility with all neighboring slots or connectors. How such an implementation is successful and real capabilities of new item will be described in detail in this review.
The specs
Producer and model

Noctua NH-L9x65

Support for CPU sockets

AMD Socket AM2 / AM2+ / AM3 / AM3+ / FM1 / FM2 / FM2+

Intel Socket LGA1156 / LGA1155 / LGA1150 / LGA2011-0 / LGA2011-3

Max TDP of supported processors, W

AMD

100

Intel

140

Heat pipes

Material

Nickel plated copper

Quantity

4

Diameter, mm

6

Radiator material

Aluminum

Thermal interface

Thermal paste Noctua NT-H1 in syringe

Fan model

Noctua NF-A9x14 PWM

Fan supply voltage, V

12

Power current, А

0,21

Consumed capacity, W

2,52

Max fan rotation speed, rpm

Without L.N.A.

2500

With L.N.A.

1800

Min fan rotation speed, rpm

600

Noise level, dB

Without L.N.A.

23,6

With L.N.A.

14,8

Power socket

4-pin

Air flow, m3/h (CFM)

Without L.N.A.

57,5 (33,8)

With L.N.A.

40,8 (24)

Fan dimensions, mm

92 х 92 х 14

Bearing

SSO2

Mean time before failure, h

150 000

Dimensions, mm

Without fan

95 х 95 х 51

With fan

95 х 95 х 65

Wight, g

Without fan

340

With fan

413

Warranty, years

6

Producer website
Package and content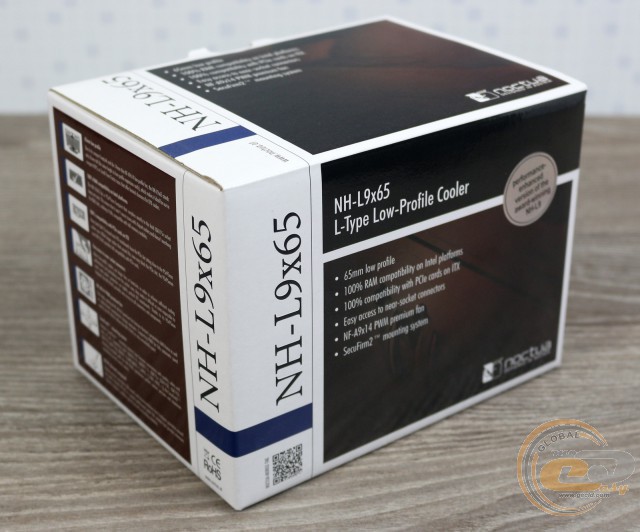 Colorful printing of box allows accurately determine the manufacturer of the device. The package has a detailed description of the cooler Noctua NH-L9x65, providing the potential buyer an opportunity to explore the smallest features of the product. Thus, the front side tells us that inside the box is a low-profile device having the following advantages:
65mm low profile - height of only 65 mm allows to use a cooler in a series of compact cases;
100% RAM compatibility - full compatibility to memory modules of any height;
100% compatibility with PCIe cards on ITX - the manufacturer guarantees that the new product would not cover the slots for expansion cards;
easy access to near-socket connectors - use of the cooler does not complicate access to the near-CPU sockets;
NF-A9x14 PWM premium fan - a high-quality low-profile fan Noctua NF-A9x14 PWM is used for active cooling;
SecuFirm2 mounting system - a proprietary mounting system SecuFirm2 provides excellent compatibility with a variety of platforms, allowing to install the cooler without any difficulties.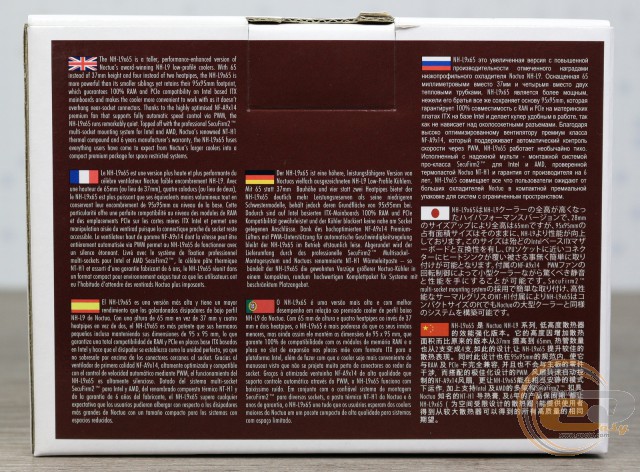 The other side describes some more details about the new product. According to the information, it is a larger version of the cooler Noctua NH-L9, which has received a number of prestigious awards during several years. The height of the cooler has been increased from 37 to 65 mm, and has doubled the number of used heat pipes. At the same time the square profile of 95 x 95 mm provides excellent compatibility with neighboring slots, which is especially important in compact Boards Mini-ITX. There is also support to designated PWM speed control of the fan, which has a positive effect on the acoustic performance. And, of course, there are two features of designed for coolers Noctua: the availability of a complete high-performance thermal compound Noctua NT-H1 and a 6-year warranty.
One of the sidewall duplicated list of benefits of Noctua NH-L9x65, describing them in detail in English. The second provides a comprehensive specification of the device and lists the components of the kit.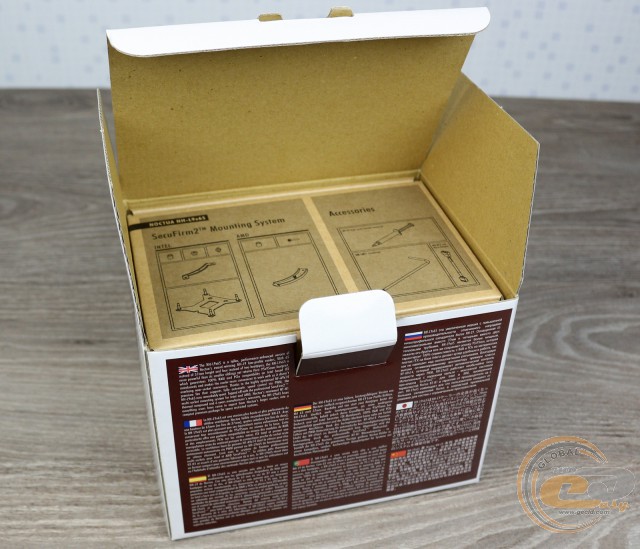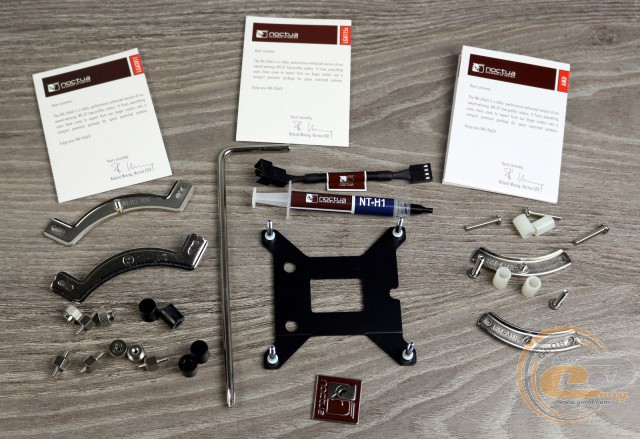 Components are stored in plastic bags and carefully placed out in two cardboard boxes. They include all the necessary components and useful auxiliary components that are very useful under certain conditions. Delivery set includes the following items:
reinforcement plate for the platform Intel;
metal fasteners for different platforms;
set of racks, screws and nuts;
screwdriver;
thermal compound Noctua NT-H1 in the syringe;
adapter to reduce speed (LNA);
metal logo Noctua;
installation guide on different platforms (AMD, Intel LGA115x and LGA2011).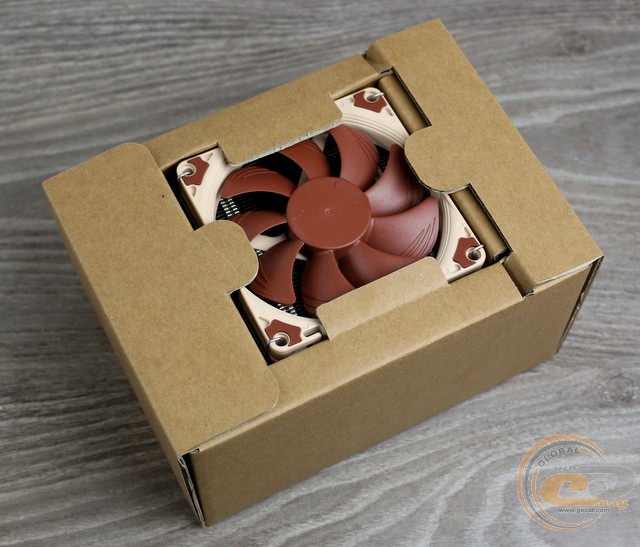 The cooler is placed inside a cardboard damper that properly copes with its main task - to ensure the safety of the device.
Design and structure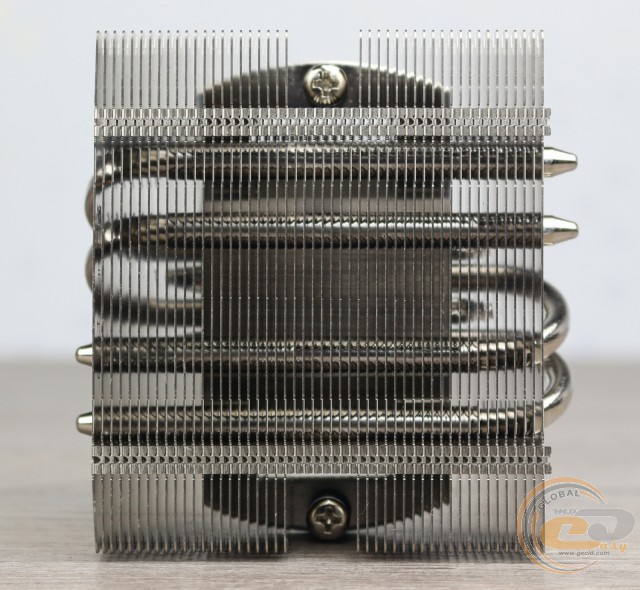 In contrast to the Tower-solutions, radiator Noctua NH-L9x65 is placed horizontally, that is connected with the need to ensure a low height of the cooler. The design includes 4 heat pipes with a diameter of 6 mm, which have 50 aluminum plates. They have a thickness of 0.45 mm and are arranged at a distance of 1.2 mm from each other.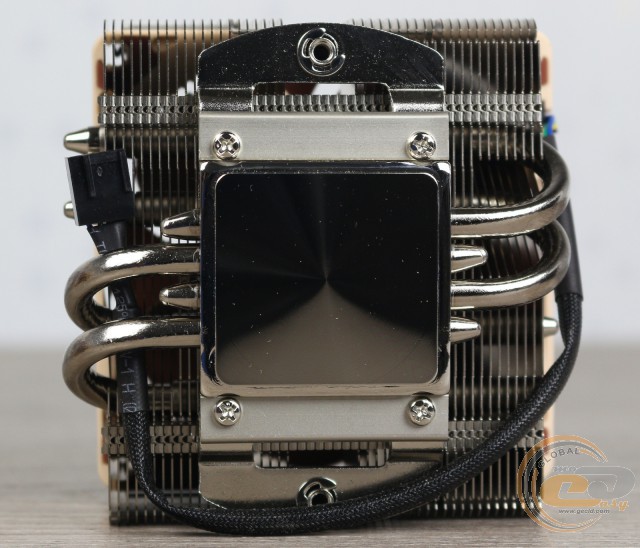 Copper heat sink with size of 38 x 40 mm and pipes is covered with a layer of nickel to prevent oxidation. From two sides you can find brackets with spring-loaded screws used to install the new item on the system board.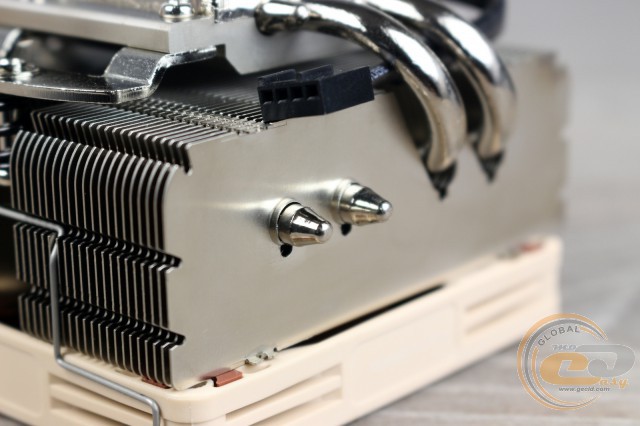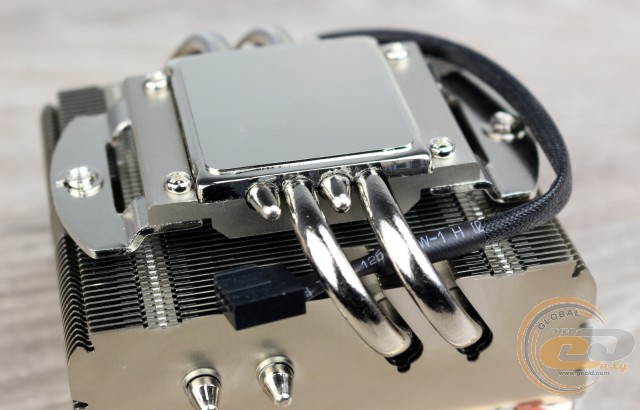 Pipes alternately pierce the base to provide a uniform heat distribution throughout the heat sink. They are soldered at the base for better thermal conductivity.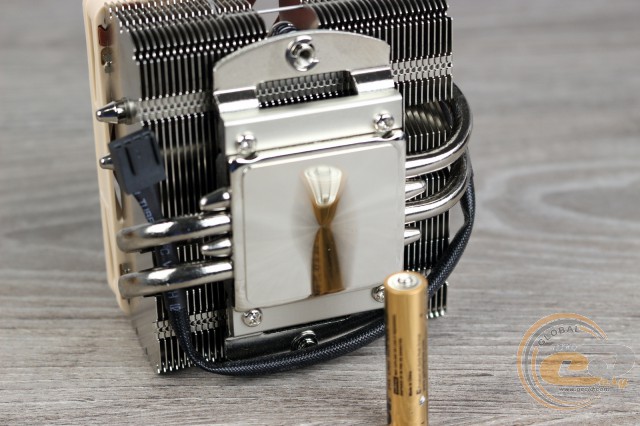 Polishing of heat sink has a high quality, but it differs from the classical approach in other models of coolers, as the foundation has more curved shape.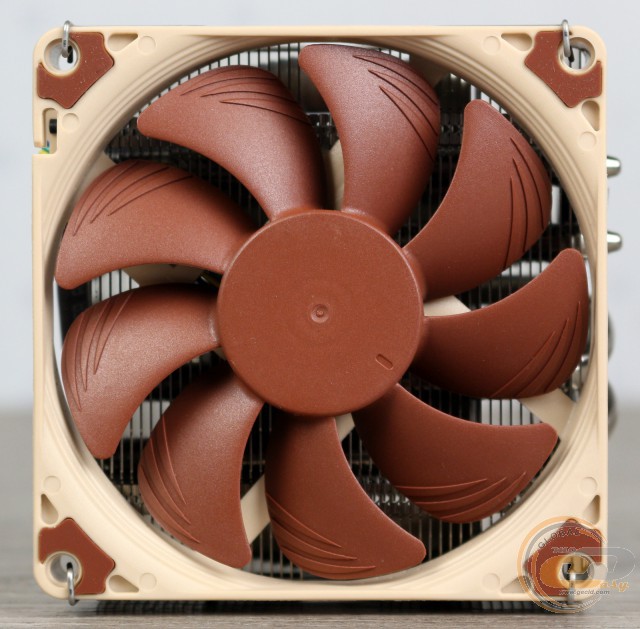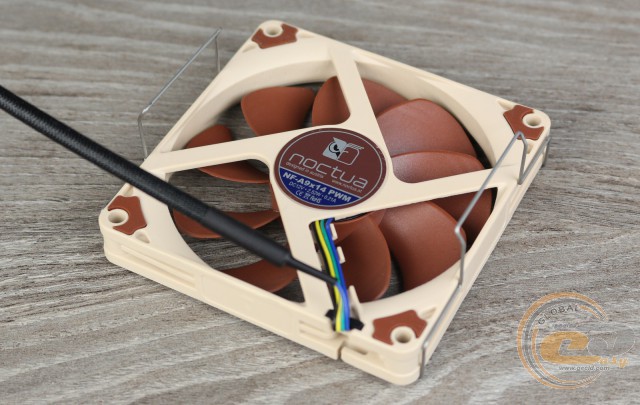 Active air movement is provided by a low-profile 92-mm fan Noctua NF-A9x14 PWM with height of 14 mm. Its figures are slightly different from the fan available in retail sales. Thus, the maximum rotation speed was increased from 2200 rpm to 2500 rpm. This feature is explained very simply: the manufacturer has decided to increase the maximum cooling efficiency by selecting the only possible way without increasing the size of the cooler.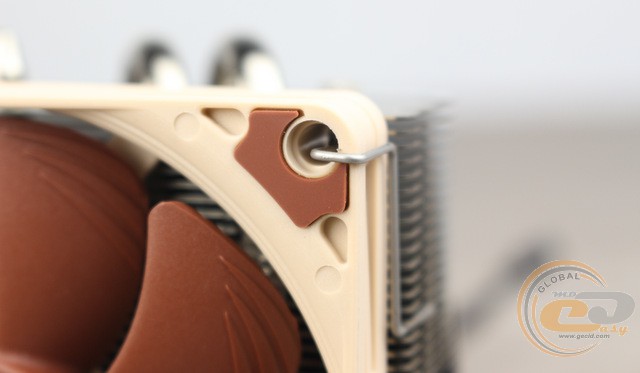 Fan Noctua NF-A9x14 PWM has several advantages. They include the use of self-stabilizing bearings of the second generation (SSO2) that ensures impressive MTBF at a level of 150000 hours. Also note the use of Advanced Acoustic Optimisation (AAO) technology which includes three components, positively affecting the noise level. Another interesting feature of this solution is the technology Flow Acceleration Channels, the essence of which is the presence of specific channels that allow to reduce the noise of the air flow and improve the efficiency of the fan. More information about these features you can learn from the corresponding review.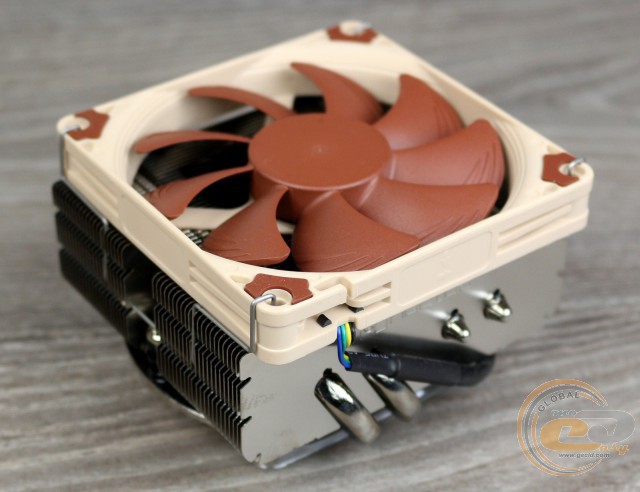 The fan is attached to the radiator with two metal clips that provide a good clamping force. Assembled product has a pleasant and recognizable appearance.
Социальные комментарии Cackle