CPU Intel Celeron G1840: review and testing
Earlier we have introduced you a budget CPU Intel Celeron G1820. According to our tests, it proved to play good in the role of building affordable home or office computer. At that time it could be supplemented by gaming configuration with a discrete midrange graphics card.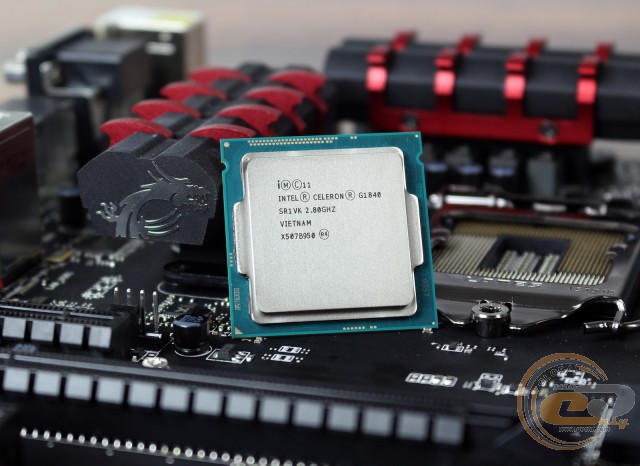 This same material will focus on dual-core Intel Celeron G1840, which is included in the same line and is characterized by high frequency of 100 MHz of processor cores. We will have to learn how it will behave in today's applications and games, given the fact that many new items have been optimized for four thread computing.
The specs:
Model

Intel Celeron G1840

Marking

SR1VK

CPU socket

Socket LGA1150

Basic clock frequency, MHz

2800

Max clock frequency with Intel Turbo Boost 2.0, MHz

-

Multiplier (nominal/in turbo mode)

28 / -

Basic frequency of system bus, MHz

100

L1 cache, КB

2 х 32 (data memory)

2 х 32 (instruction memory)

L2 cache, КB

2 х 256

L3 cache, КB

2048

Microarchitecture

Intel Haswell

Code name

Intel Haswell

Quantity of cores/threads

2/2

Instruction support

MMX, SSE, SSE2, SSE3, SSSE3, SSE4.1, SSE4.2, EM64T, VT-x

Max calculated power, W

53

Max temperature (TCASE), °C

72

Manufacturing process, nm

22

Support for instruction and technologies

Intel VT-x, SLAT, Intel 64, Intel Idle States, Intel SpeedStep, Intel Thermal Monitoring, Intel Secure Key

Built-in memory controller

Max memory capacity, GB

32

Memory type

DDR3 / DDR3L

Max frequency, MHz

1333

Quantity of memory channels

2

Built-in graphics core Intel HD Graphics

Nominal GPU clock frequency, MHz

350

Dynamic GPU clock frequency, MHz

1050

Max capacity of video memory in graphics subsystem, GB

1,7

Quantity of supported displays

3

Support of instructions and technologies

Intel Quick Sync Video, Intel Wireless Display, Intel Clear Video HD

Producer website

Product page
Package, delivery set and design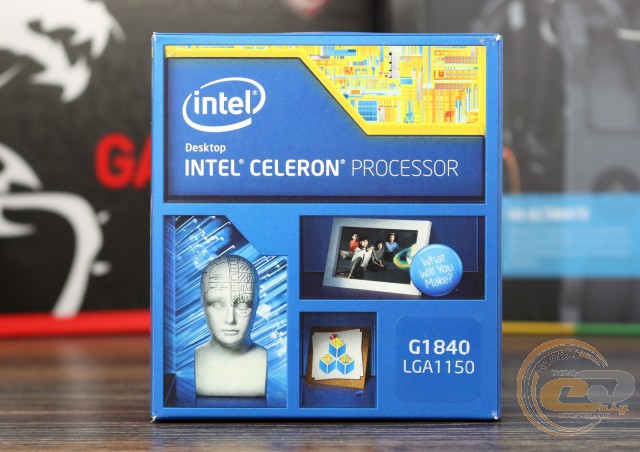 Processor Intel Celeron G1840 comes in a standard blue carton box. There are several colored illustrations and CPU model name on its front side.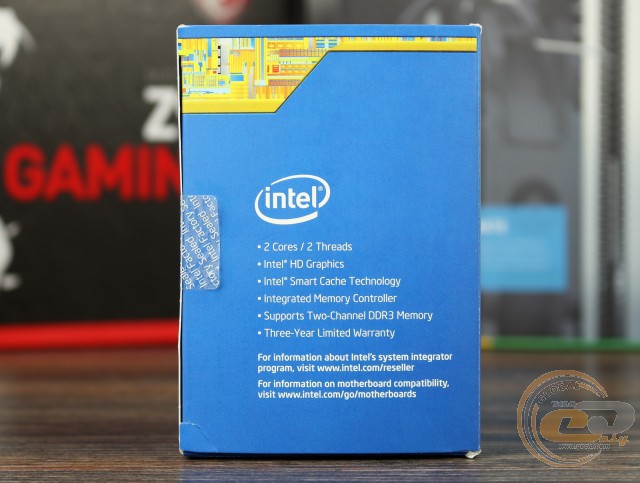 The side face of the box contains a list of the main features of the processor:
presence of two cores operating in two-threaded mode;
support for the graphics subsystem Intel HD Graphics;
support for technologies Intel Smart Cache;
presence of an integrated memory controller;
support for memory Dual Channel DDR3 and DDR3L;
support for the limited warranty period of three years.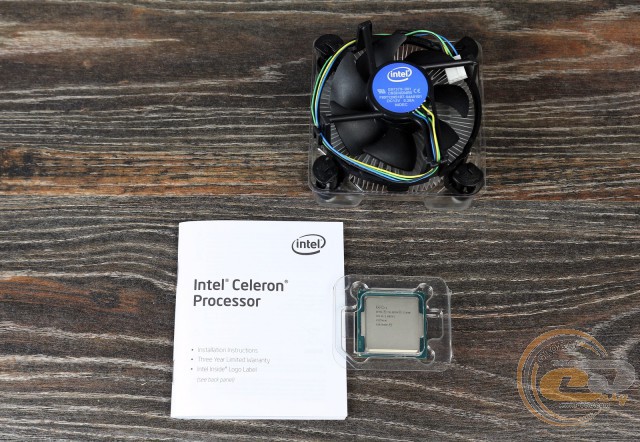 The package Intel Celeron G1840 includes:
cooling system;
Quick Start Guide;
warranty certificate;
sticker on the computer case.
This kit is fully consistent with the majority of sets CPUs from Intel. It contains a list of the minimum required components to start the building of the system (as it begins with the installation of the CPU into the socket of the motherboard).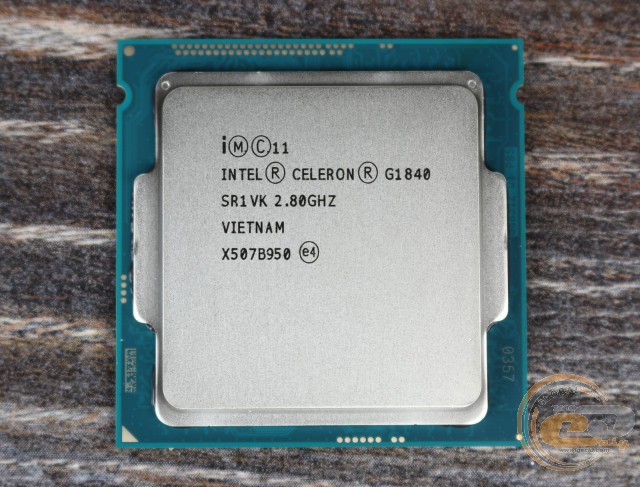 The main body contains the CPU marking about its rated speed and the country of production (Vietnam).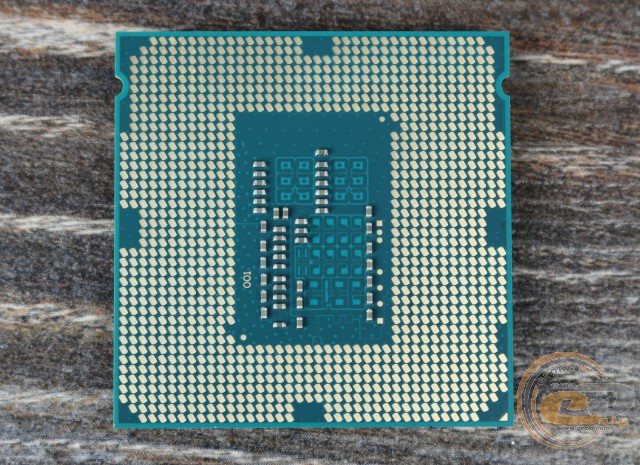 The reverse side of the body CPU contains a standard set of contacts for the connector Socket LGA1150.
Cooling system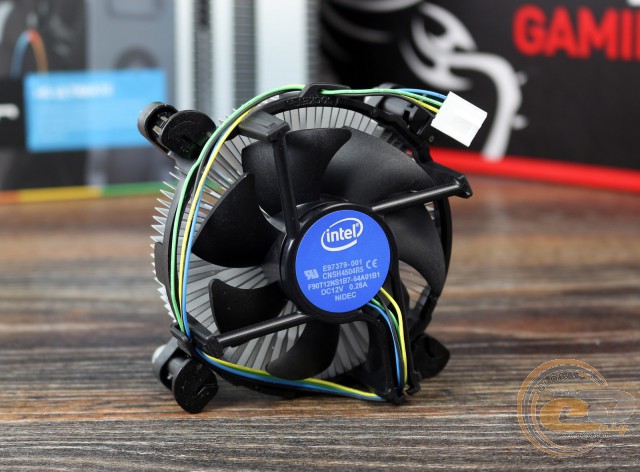 The package includes a cooling system Intel E97379-001, consisting of small round radiator and axial fan (12 V and 0.28 A) from the company Nidec.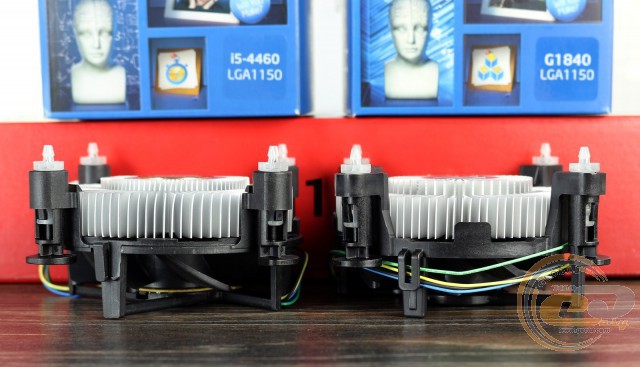 As can be seen, the cooling system has a similar compact dimensions as the version of the processor Intel Core i5-4460. Its connection to the motherboard is realized by means of a standard four-contact connector. This provides support for controlling the rotational speed of the blades by PWM method.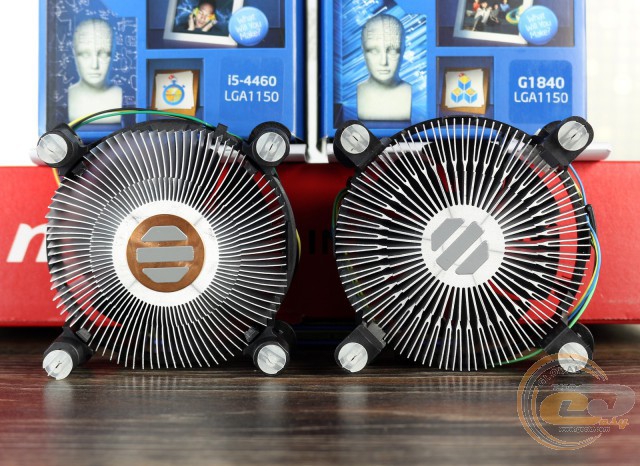 The main difference between the two lies in the absence of copper area in the center and in a more complex form of aluminum radiator blades.
Performance analysis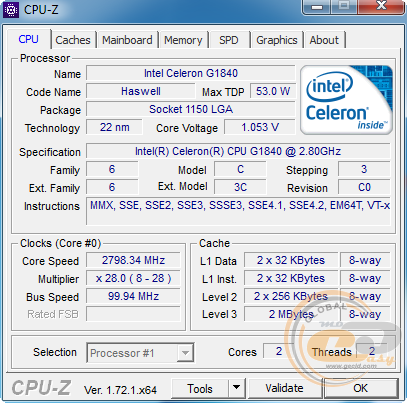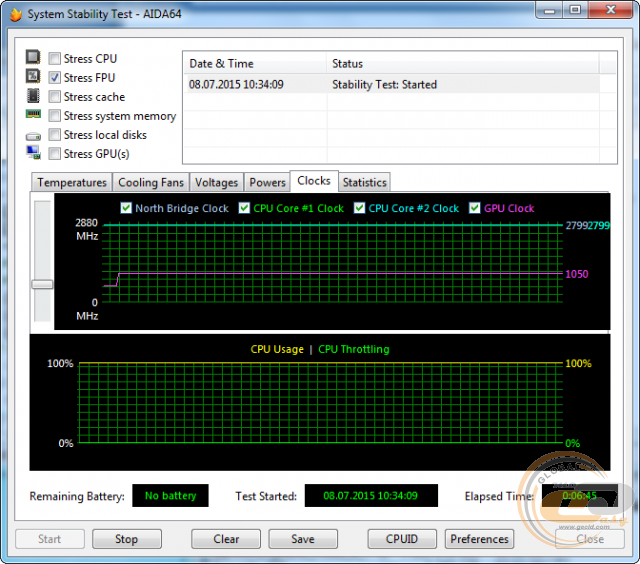 Intel Celeron G1840 is equipped with two processor cores that operate in two-threaded mode. In the nominal state their speed is 2800 MHz with multiplier "x28", and a reference frequency 100 MHz. Since technology Intel Turbo Boost 2.0 is not supported by the CPU data, even after prolonged load its clock frequency does not exceed the designated level.
Under continuous load using tests AIDA64 and MSI Kombustor, CPU voltage was varied from 1,051 to 1,053 V.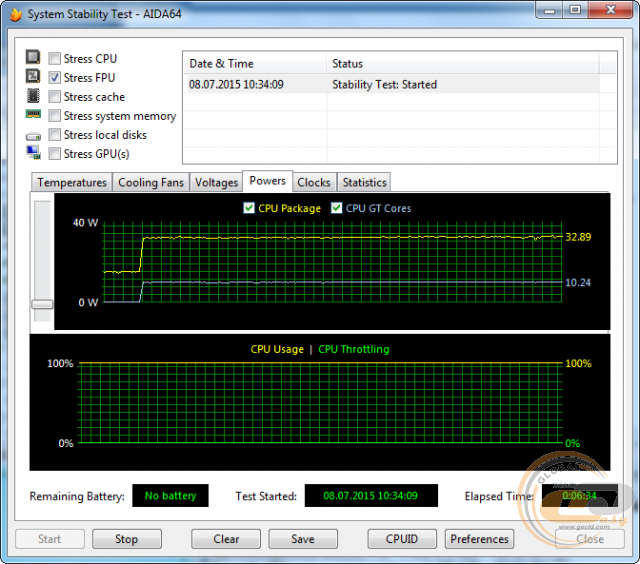 During operation these stress tests CPU consumed about 32.89 W.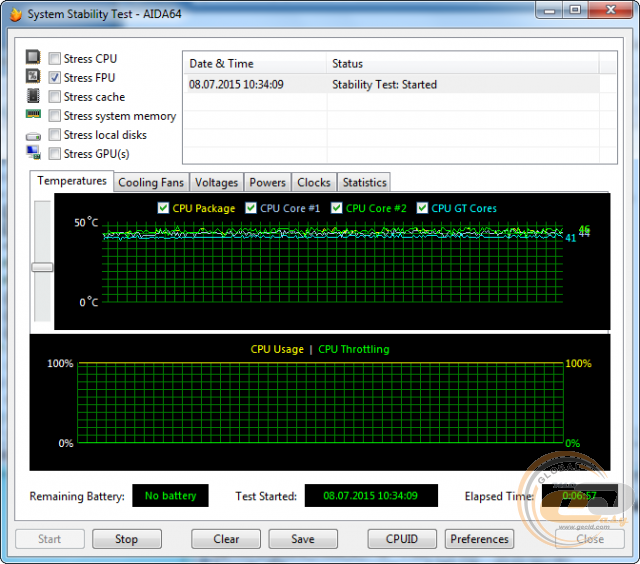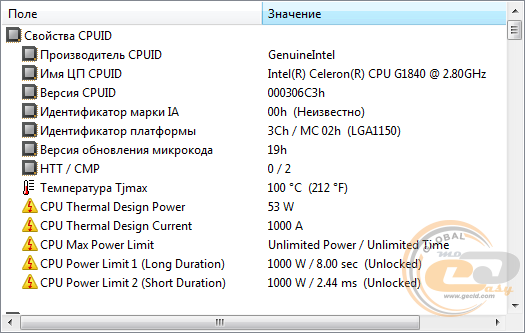 All tests were realized using a bench cooling systems, and temperature of Intel Celeron G1840 did not exceed 46°C. Taking into account that the maximum allowable temperature of the model is 100°C (according to the program AIDA64), fixed result is quite comfortable.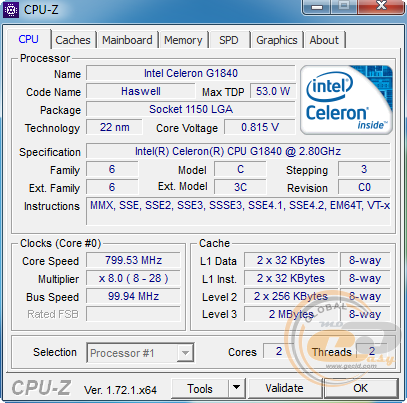 After transition to an idle state, CPU clock frequency dropped to 800 MHz with multiplier "x8" and voltage 0.815 V.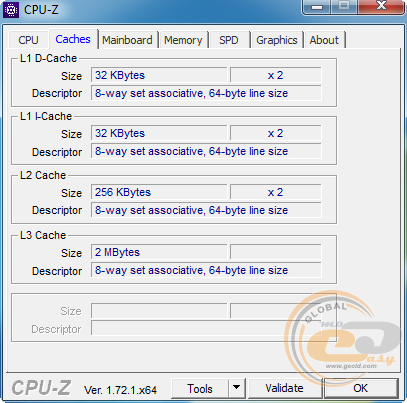 Distribution of cache memory Intel Celeron G1840 performed as follows:
32 KB of L1 cache per core with 8 channels reserved for associative data caching, and the same is used for instructions caching;
256 KB of L2 cache per core with 8 channels of associativity;
2 MB of shared L3 cache with 8 channels of associativity.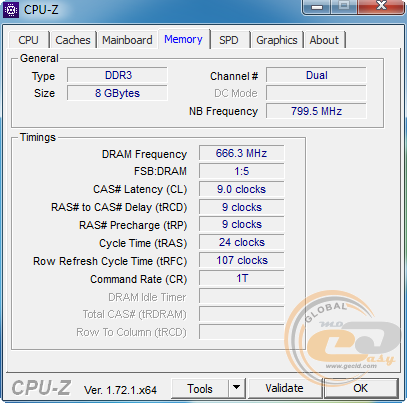 Integrated memory controller supports modules for DDR3 and DDR3L with effective frequency 1333 MHz and supply voltage of 1.5 V. The maximum amount of memory should not exceed 32 GB.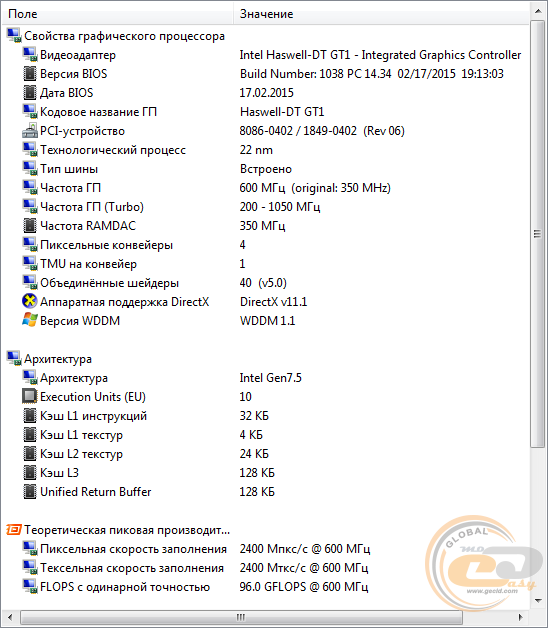 There is a built-in graphics core Intel HD Graphics, which in nominal mode is clocked at 350 MHz, and dynamic of 1050 MHz.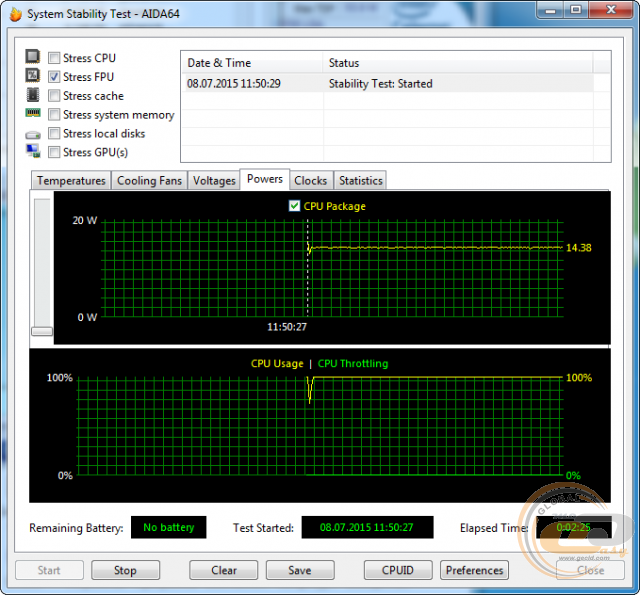 Installation of the graphics card allowed us to estimate the power consumption only of processor cores, without integrated graphics. According to the program AIDA64, it is an average of 14.38 W.
Социальные комментарии Cackle