Motherboard ASUS AM1I-A: review and testing
ASUS has continued to expand the lineup of motherboards for the platform AMD AM1, which is primarily designed to build the most affordable and energy-efficient PCs. One of the key ideas of this platform is a relatively small set of the final cost of the processor and motherboard from $ 65 to $ 95 (depending on the used APU model). Also note that processors intended for AMD AM1 are made in the design of SoC. They include not only computers, but also the graphics core and a number of controllers that eliminated the need for a separate set of system logic as well as the need to buy a discrete graphics card.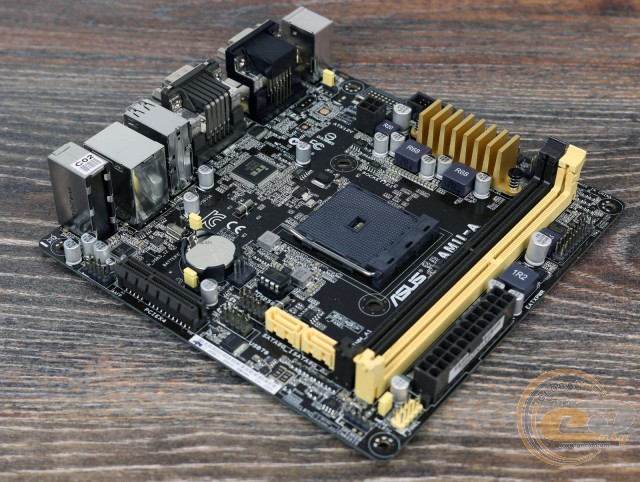 More information about platform AMD AM1 is available the reviews of the processors AMD Athlon 5350 and motherboard MSI AM1I, and we will proceed to the ASUS AM1I-A that is a compact solution in size Mini-ITX, with an average cost of about $ 35 - 40.
The specs:
Producer

ASUS

Model

AM1I-A (rev 1.02)

CPU socket

Socket AM1

Supported processors

AMD Athlon / AMD Sempron

Memory frequency

1600 / 1333 / 1066 MHz

Memory support

2 x DDR3 DIMM-slots with memory support up to 32 GB

Expansion slots

1 x PCI Express 2.0 x4

Disk subsystem

Controller SATA into APU supports:

2 x SATA 6 Gb/s

LAN

1 x Realtek RTL8111GR (10/100/1000 Мb/s)

Sound subsystem

Codec Realtek ALC887

2 / 4 / 5.1 / 7.1-channel sound

Power

24-pin ATX connector

4-pin ATX12V connector

Fans

1 x CPU fan connector (4-pin)

1 x system fan connector (4-pin)

Extenral I/O

1 х DVI-D

1 x D-Sub

1 x HDMI

1 x LAN (RJ45)

2 x USB 3.0

4 x USB 2.0

1 x COM

3 x audio jack

2 х PS/2

Internal I/O

2 x USB 2.0, each with support of two USB USB 2.0

2 x SATA 6 Gb/s

1 х TPM

1 х COM

1 х LPT

1 x connector of audio output to front panel

1 x set of front panel connectors 1 x S/PIDIF Out

1 x CMOS

BIOS

UEFI AMI BIOS

64 Мb Flash ROM, PnP, DMI2.0, WfM2.0, SM BIOS 2.5, ACPI 2.0a

Packaging

user manual

warranty card

disk with drives and documents

2 x SATA cables

1 х interface panel plug

Form-factor, dimensions

Mini-ITX

170 х 170 mm

Producer website

ASUS
Updated versions of BIOS and drives are available at support page
Package and content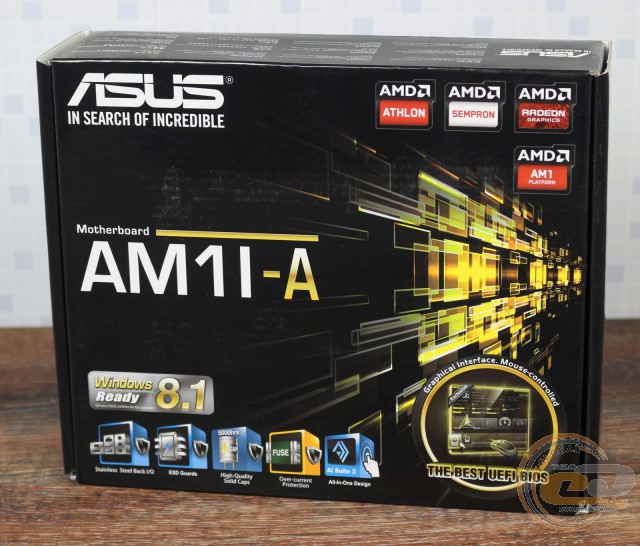 Motherboard ASUS AM1I-A comes in a fairly compact cardboard box decorated with high-quality color printing in a corporate style. On the front side, in addition to the names of the manufacturer and model of the device you can find information about the presence of chips for ESD and over-current protection, and support for user-friendly interface UEFI BIOS and Windows 8.1.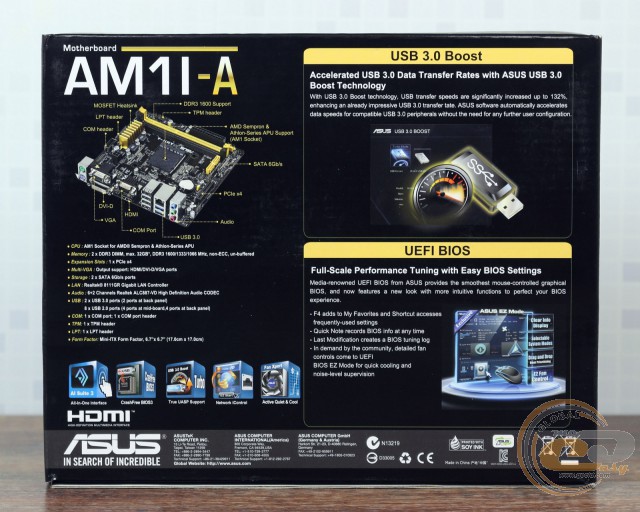 On the reverse side of the package there is an image of the motherboard, its brief technical specification, as well as a list of supported technologies and features:
ASUS USB 3.0 Boost – support for protocol UASP is used to speed interface USB 3.0.
AI Suite 3 is bundled proprietary software that allows you to fine-tune a number of system settings without entering the BIOS.
ASUS Fan Xpert is intelligent system fan control, allowing to achieve efficient cooling with minimal noise.
Network iControl bundled allows in real-time to monitor PC activity, and set access to network resources priority to the each program.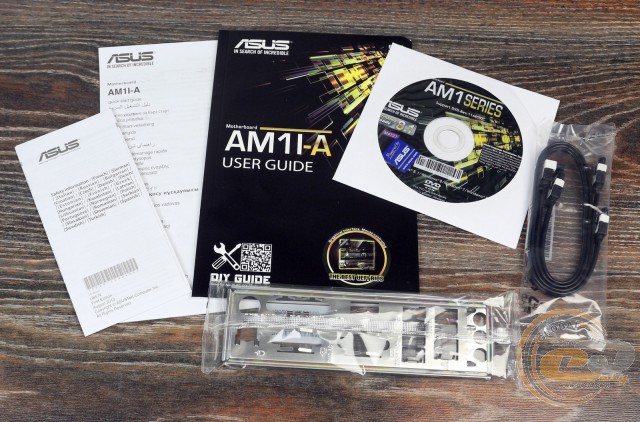 Scope of delivery device includes only the most necessary, namely interface panel plug, two SATA cables, CD with software and user manual.
Design and features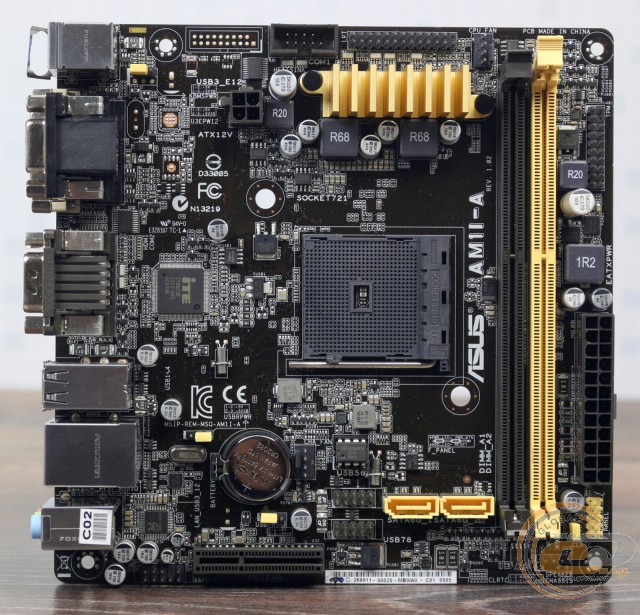 New product is made on the dark brown printed circuit board in the format Mini-ITX (170 x 170 mm) and uses the familiar colors of ASUS. Due to the absence of the chipset and the small number of elements, all components are located at a sufficient distance from each other for convenience of assembly, despite the compact dimensions of the board.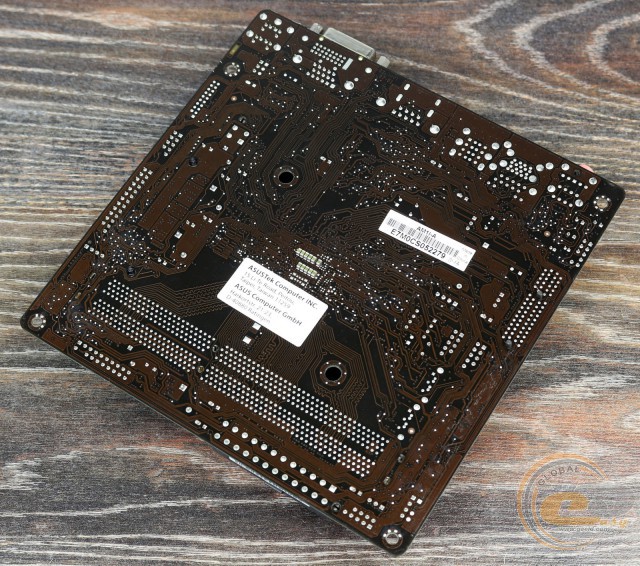 Since the processors of family AMD Kabini have very low TDP and there is not a need to install overall cooling systems, it is logical that at the back side doesn't have the base plate of the CPU socket.

In the lower left corner of the printed circuit board you can find connection module of the audio connectors on front panel, jumper to clear the CMOS and connection module of the front panel. Additionally, we note two pads to activate the ports USB 2.0. Total board supports eight ports USB 2.0: four internal and four on the interface panel. As for USB 3.0, two corresponding ports on the interface panel are also implemented by the controller integrated into processor.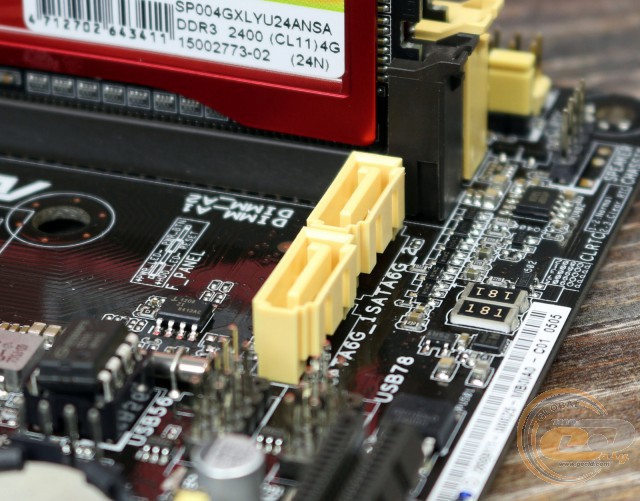 The possibility of organizing a disk subsystem is presented two ports SATA 6 Gb/s arranged perpendicular to the surface of the board. Both interfaces are functioning thanks to the integrated controller.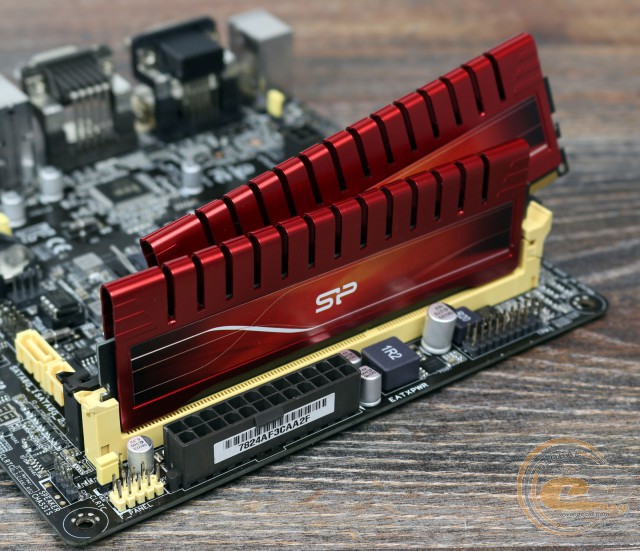 The tested model is equipped by two DIMM-slots for memory modules of DDR3 standard that are equipped with latches from one side. Modules operating at frequencies up to 1600 MHz in the nominal mode are supported.
Despite the stated support for 32 GB of RAM, the actual maximum amount is no more than 16 GB due to lack of modules more than 8 GB. However, this is more than enough to handle all the tasks set by the user prior to entry-level systems. Separately, we recall that RAM controller integrated into processor supports only single-channel mode of installed modules.
Also note connector TPM on the right side that is used for connecting module of cryptographic protection.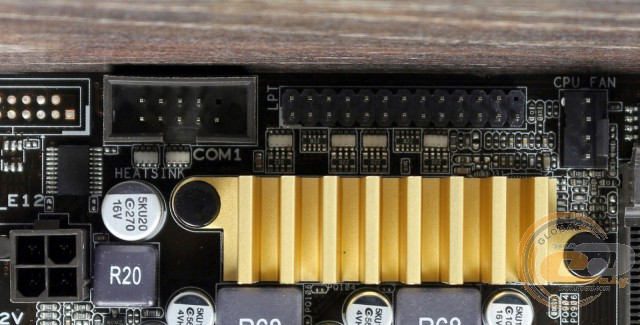 In the top part we found ports COM and LPT, as well as the CPU cooler connection socket.
Processor power supply is performed via 2-phase scheme for computational cores and additional joints. The transformer is based on PWM controller Richteck RT8179B. The circuitry is made by high quality components such as: solid Japanese capacitors and chokes with ferrite core. Basic 24-pin and additional 4-pin connectors are use for power feeding.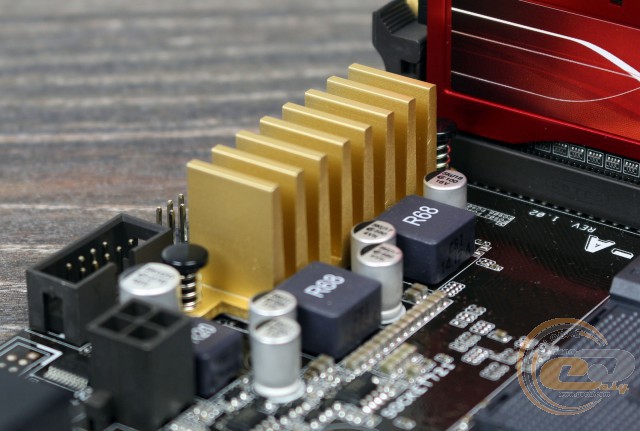 As the motherboard is not equipped with chipset, its cooling system consists of one aluminum radiator, which provides heat dissipation from the elements of the processor power subsystem. The following temperature was fixed during testing:
Radiator of FETs - 44,1°C (during overclocking - 52,2°C);
chokes of power system - 47,2°C (during overclocking - 54,1°C).
Demonstrated results tell us that the pre-installed cooling system copes with its direct duties.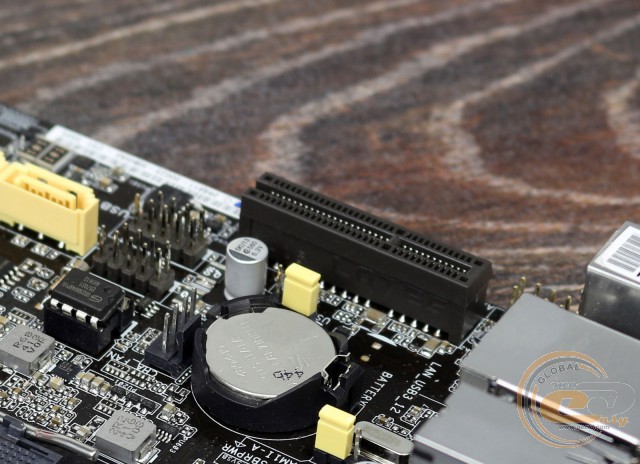 To extend the functionality of the product user has one slot PCI Express 2.0 as the platform AMD AM1 is positioned as a solution for entry-level assembly where the graphics component is provided by the processor with integrated graphics core.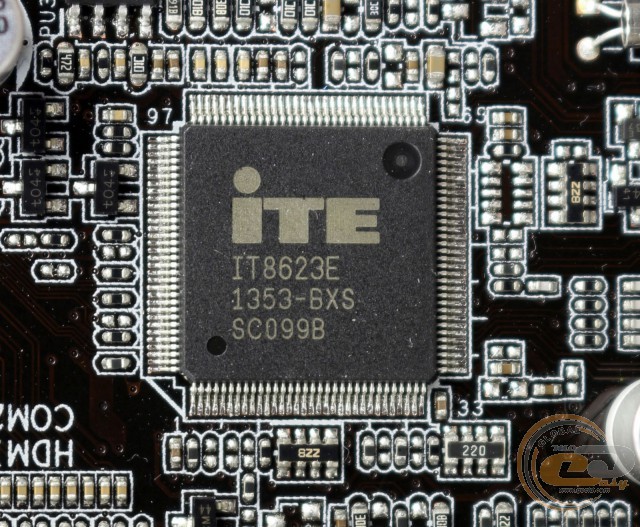 COM and LPT ports are implemented by the chip ITE IT8623E.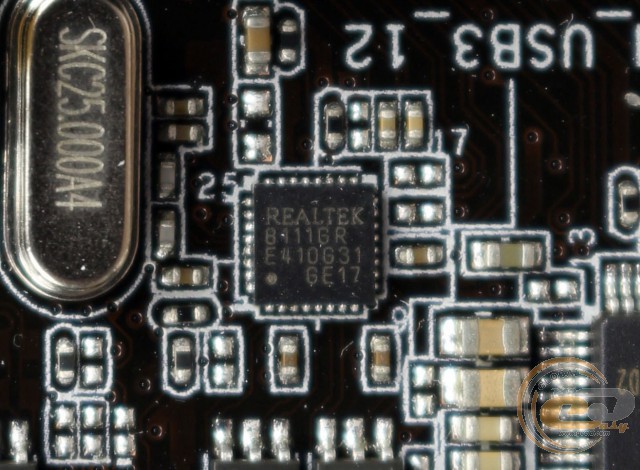 To support network connections there is a gigabit LAN-controller Realtek 8111GR. A proprietary tool Network iControl helps manage network resources.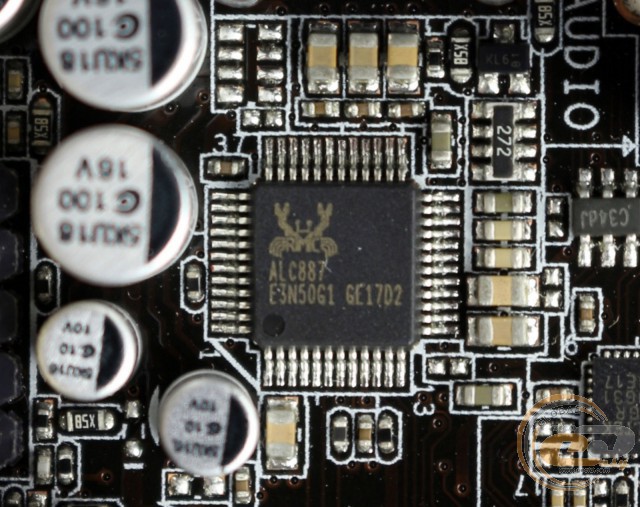 Sound subsystem of model is based on the 8-channel codec Realtek ALC887 which supports audio formats 2/4/5.1/7.1.

Interface panel of the model contains the following ports:
1 x HDMI;
1 x DVI-D;
1 x D-Sub;
1 х COM;
2 x PS/2;
1 x LAN (RJ45);
2 x USB 3.0;
4 x USB 2.0;
3 x audio jacks.
A layout of interface panel can be called quite decent for an affordable motherboard, due to the presence not only a good set of video outputs, but also modern ports USB 3.0. Note support for connecting peripherals with PS/2 and COM. Additional LPT and COM ports can be realized by internal connectors. The features mean not the most convenient connection of multi-channel speakers.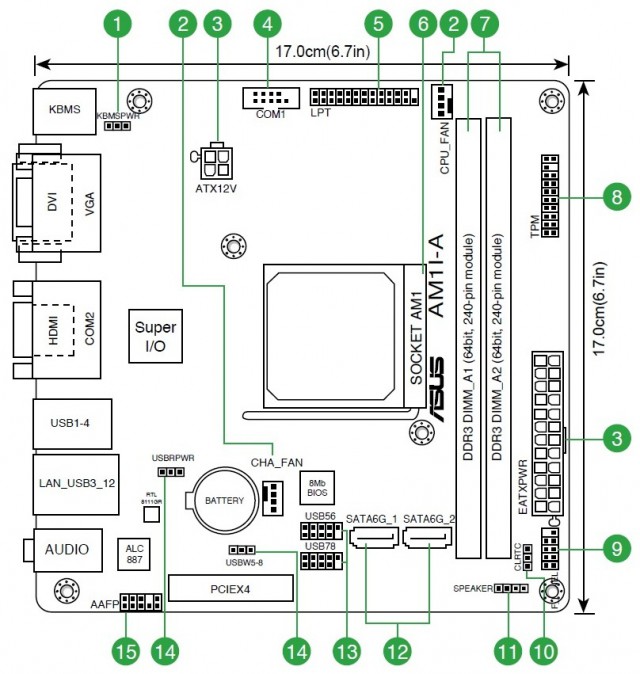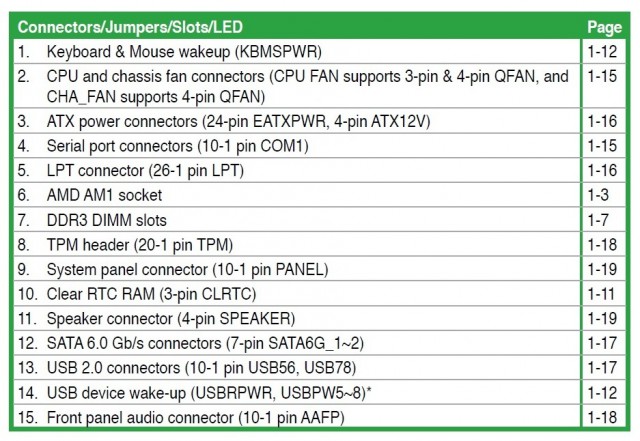 The possibility of organizing the cooling system inside the body of the ASUS AM1I-A very standard. There are two 4-pin fan connectors, one of which serves to cool the CPU, while the other is intended for the system fan.
UEFI BIOS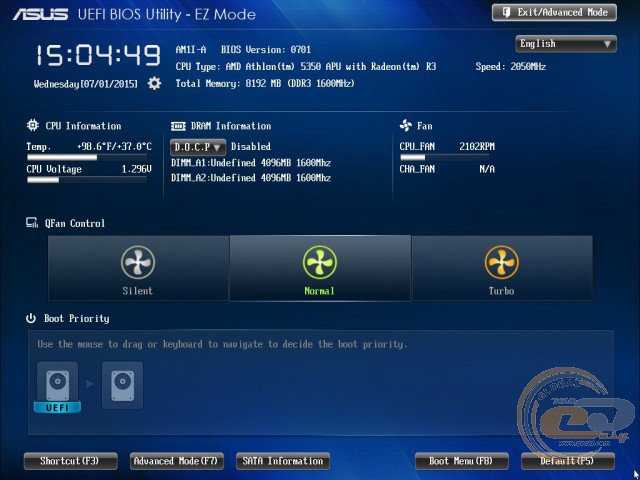 Motherboard ASUS AM1I-A uses modern preloader GUI based on UEFI. The mode «EZ Mode» displays monitor temperature and voltages on the CPU. Also, you can immediately see the version of the BIOS, processor model and the capacity of installed RAM. Fine-tuning is available in section «Advanced Mode».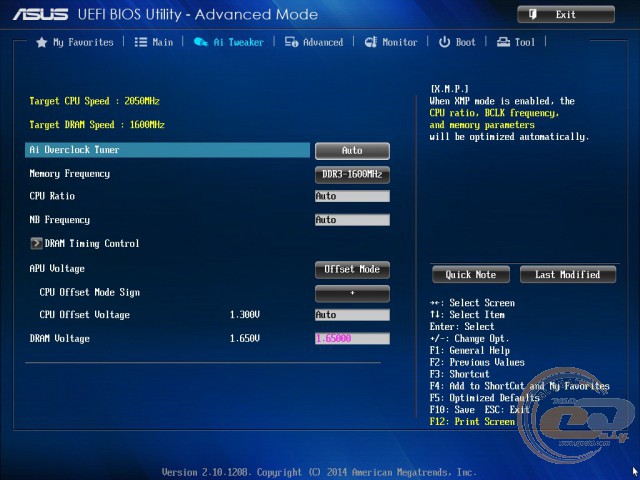 All settings associated with overclocking are located in the tab «Ai Tweaker».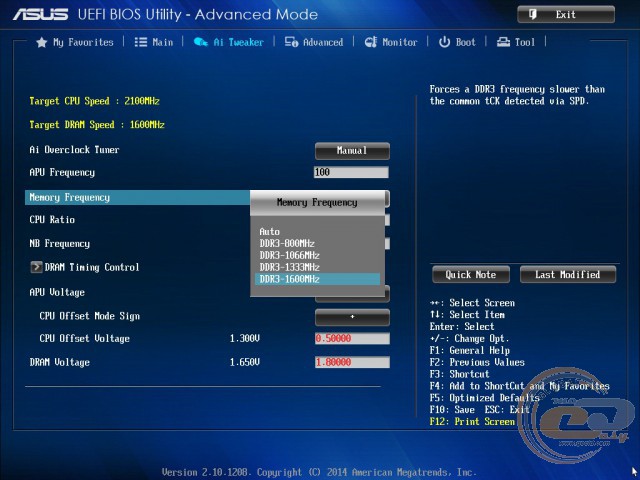 Memory frequency multiplier allows you to set the speed of the connected modules in the range of 800 to 1600 MHz.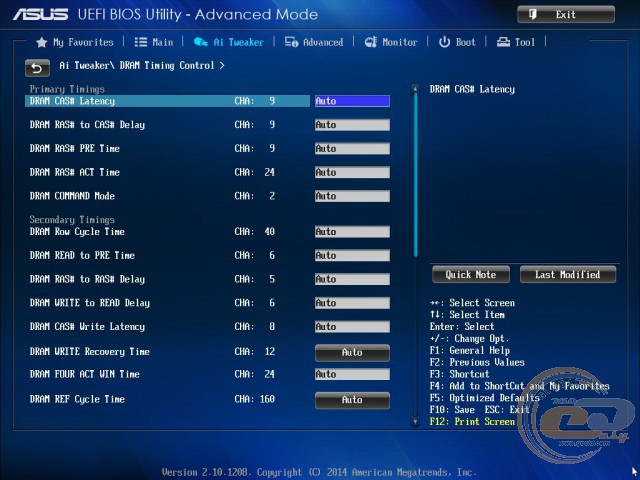 Also, if necessary, you can access the memory timings adjustments.
Settings required for acceleration and optimization of the system are summarized in the following table:
| | | | |
| --- | --- | --- | --- |
| Parameter | Menu | Range | Step |
| System bus frequency | APU Frequency | 90,00 – 300,00 | 1 |
| Chipset frequency | NB Frequency | 400 – 6300 | 100 |
| CPU multiplier | CPU Ratio | 8 – MAX | 1 |
| | CPU Voltage Frequency | 200 − 350 | 50 |
| RAM frequency | System Memory Multiplier | 800 – 1600 | |
| RAM timing | Timing Settings | CAS Latency, RAS to CAS Delay, RAS Pre Time, RAS ACT Time, COMMAND Mode, Row Cycle Time, READ to PRE Time, RAS to RAS Delay, WRITE to READ Delay, CAS Write Latency, WRITE Recovery Time, FOUR ACT WIN Time, REF Cycle Time | |
| The tolerance of the set CPU voltage | CPU Offset Voltage | 0,00625 – 0,50000 | 0,00625 |
| RAM voltage | DRAM Voltage | 1,18500 – 1,80000 | 0,00500 |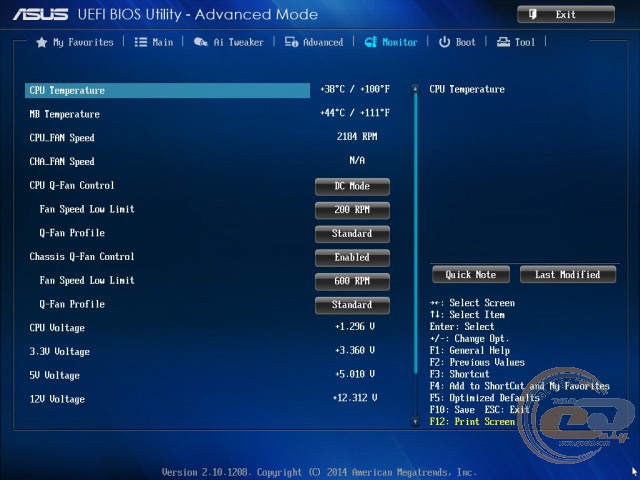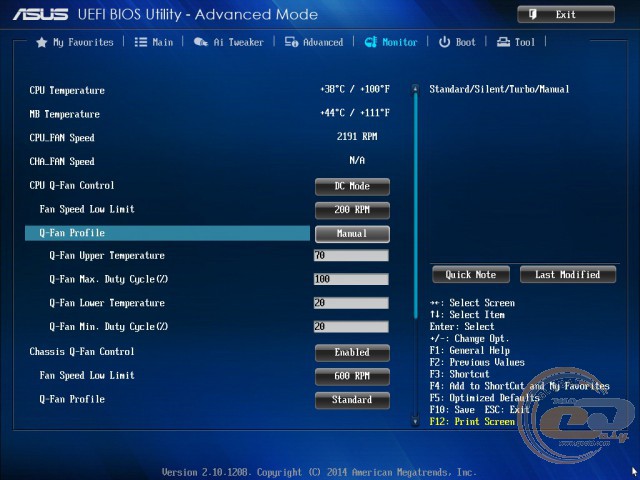 The tab «Monitor» offers access to monitor the CPU temperature and the rotation speed of the installed fans. Additionally you can monitor the CPU core voltage and power lines +12V, +5V and +3.3V.
Unfortunately, the ability to monitor the supply voltage of memory modules is not realized. We should also mention the possibility of taking screenshots in the BIOS.
Социальные комментарии Cackle