Motherboard ASUS B85M-GAMER: review and testing
The lineup of motherboards ASUS Gamer includes more affordable solutions for gamers than a series ASUS ROG. We have met with almost all models in the series, namely: ASUS Z97-PRO GAMER, ASUS H97-PRO GAMER, ASUS B85-PRO GAMER and ASUS H81-GAMER. Therefore today we have ASUS B85M-GAMER - one of the most affordable motherboards of this lineup (after ASUS H81-GAMER).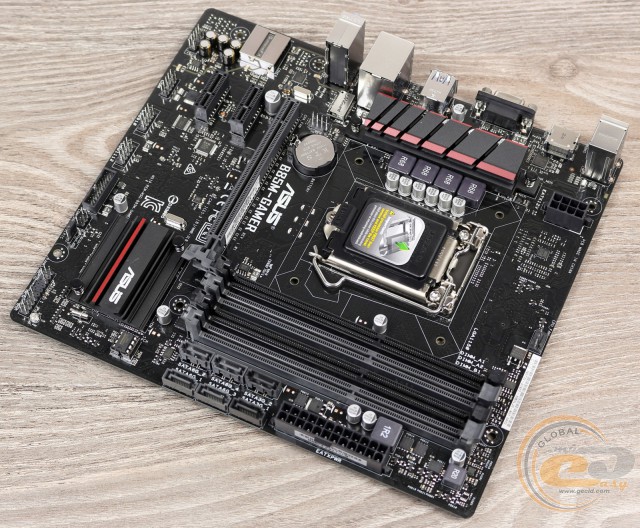 It offers very decent equipment, including a high quality audio subsystem based on the codec SupremeFX and high network controller from Intel. Of course, due to the use is not very functional, but more accessible chipset Intel B85, the product lost interfaces SATA Express and M.2, which have the older models, but to build a cheap gaming system it is not critical. And now we offer go to the review in more detail and explore all its features.
The specs:
Producer

ASUS

Model

B85M-GAMER (rev 1.01)

Chipset

Intel B85

Integrated processor

Socket LGA1150

Supported CPUs

Intel Core i7 / Core i5 / Core i3 / Pentium / Celeron 4th gen

Memory frequency

1600 / 1333 / 1066 MHz

Memory support

4 x DDR3 DIMM-slots with memory support up to 32 GB

Expansion slots

1 x PCI Express 3.0 x16

2 x PCI Express 2.0 x1

Disk subsystem

Intel B85 chipset supports:

4 x SATA 6 Gb/s

2 x SATA 3 Gb/s

LAN

1 x Intel WGI218V (10/100/1000 Мb/s)

Sound subsystem

Codec SupremeFX

8-channel sound

S/PDIF Out

Power

24-pin ATX connector

8-pin ATX12V connector

Fans

1 x CPU fan connector (4-pin)

1 x system fan connectors (4-pin)

Cooling

Aluminum radiator on chipset

Aluminum radiator on sybsystem power elements

Extenral I/O

1 x HDMI

1 x D-Sub

1 x LAN (RJ45)

2 x USB 3.0

2 x USB 2.0

3 x audio jack

2 х PS/2

Internal I/O

1 x USB 3.0 с each with support of two USB 3.0 (19-pin)

2 x USB 2.0, each with support of two USB 2.0

4 x SATA 6 Gb/s

2 x SATA 3 Gb/s

1 х COM

1 x CMOS

1 x connector of audio output to front panel

1 x set of front panel connectors 1 x S/PIDIF Out

BIOS

64 Mb Flash ROM UEFI AMI BIOS

PnP, ACPI 4.0a, SM BIOS 2.8, DMI 2.7, WfM 2.0

Packaging

user manual

warranty card

disk with drives and documents

2 x SATA cables

1 х interface panel plug

Form-factor, dimensions

microATX

233 х 206 mm

Producer website

ASUS
Updated versions of BIOS and drives are available at support page
Package and content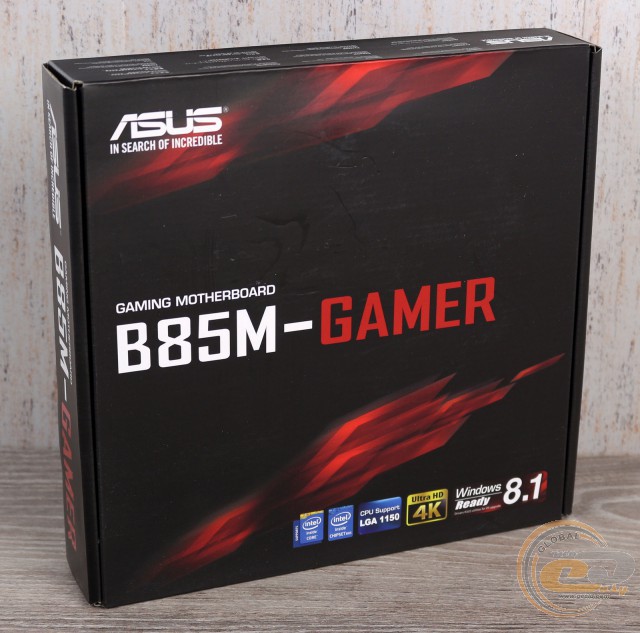 Motherboard ASUS B85M-GAMER comes in a cardboard box with traditional branding of the series ASUS Gamer in black and red colors. On the front side, in addition to the name of the manufacturer and model of the device, you can pay attention to a series of logos at the bottom, showing the support of the operating system Windows 8.1, as well as the possibility of the output of the display with a resolution of 4096 x 2160 pixels (4K Ultra HD).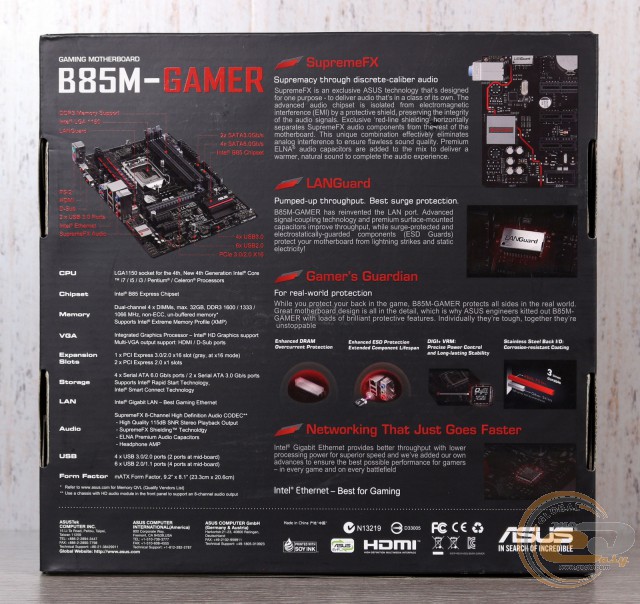 On the reverse side of the box, in addition to the image of the motherboard as well as a short list of its characteristics, it is possible to pay attention to the support of a number of technologies:
SupremeFX preset audio codec offers support for eight channel sound and provides audio playback with a signal/noise ratio at the level of 115 dB. In order to avoid interference caused by electromagnetic interference, there is a shielded audio codec technology, and to ensure maximum audio quality audio capacitors ELNA are used. Also note the presence of an amplifier TI R4580I with support of headphones with an impedance of 300 Ohms.
LANGuard - LAN port uses a special protection to help prevent damage to the system due to static discharge or during a thunderstorm.
Enhanced DRAM Over-current Protection - special fuses protect the memory modules from the damage caused by the increased power of current or short circuit.
Stainless Steel Back I/O - interface panel is made of stainless steel coated with chromium oxide. It has a high resistance to oxidation, making it three times more susceptible to breakage.
Enhanced ESD Protection – there are special fuses for added protection against electrostatic discharges.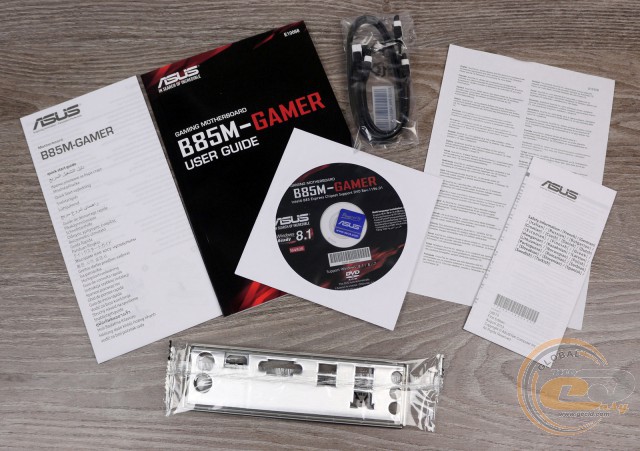 The box of the ASUS B85M-GAMER contains a standard set of accessories:
CD with drivers and utilities;
user manual;
two SATA cables;
interface panel plug.
Design and features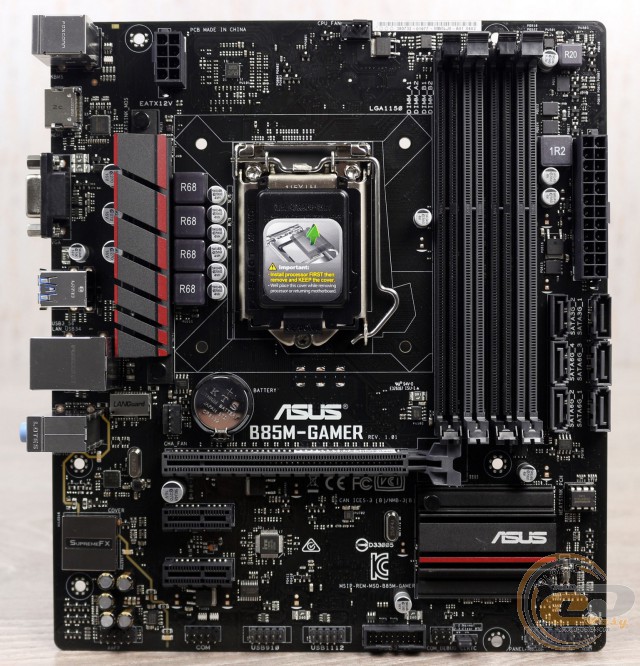 As well as all the previously reviewed model of series ASUS Gamer, new product is made on black PCB in the format microATX. It has slightly non-standard dimensions (233 x 206 mm), and has stylish design in black and red colors.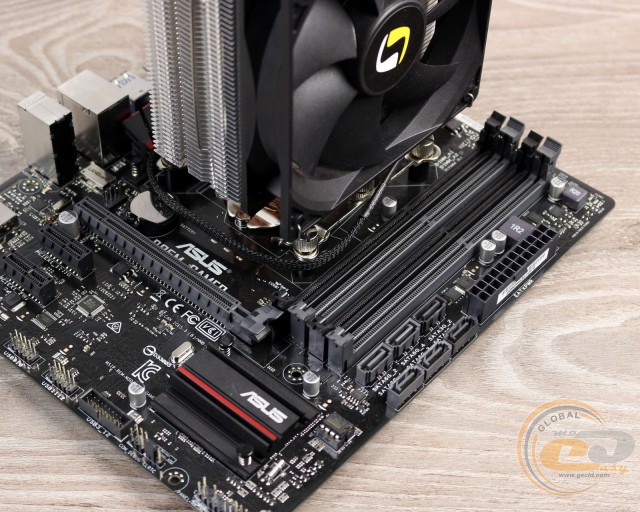 Because of reduced width, on the right side of the PCB you won't find mounting holes, which means that you should observe some caution when connecting the main power supply and drives, as excessive force may damage the board.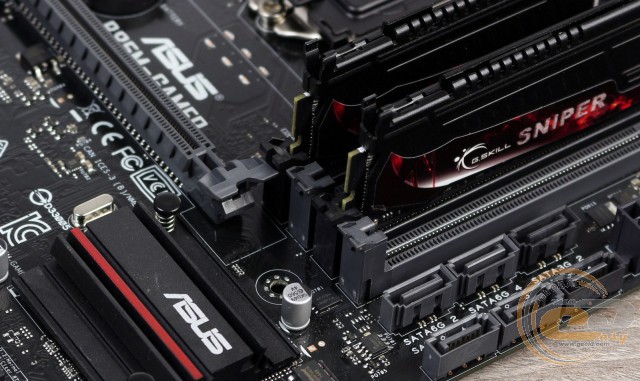 For the rest, note quite competent layout. For example, for convenience of assembly of DIMM-slots latches are equipped only on one side, and SATA-ports won't be overlapped by expansion cards of any length.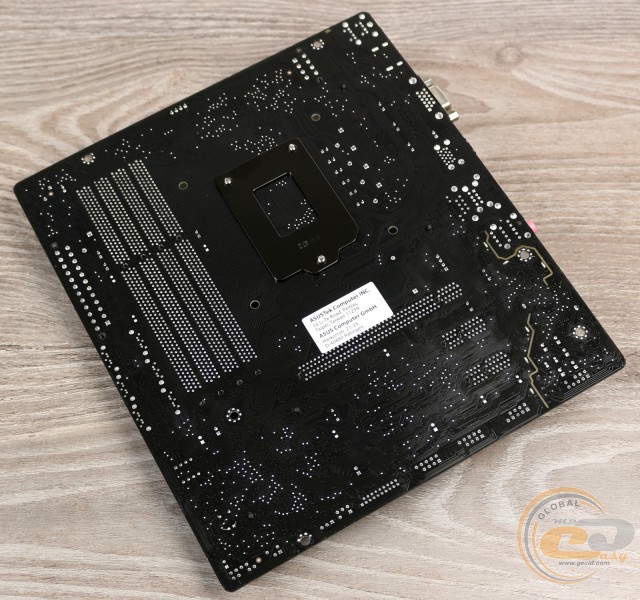 Looking at the back of the motherboard you can find not only the usual back plate of the socket, but the plastic clip for fastening of both radiators.

At the bottom of the board there are the following connectors: front panel audio leading-in socket, CMOS, port COM, as well as front panel connection module. Also here are two modules for connection of additional interface USB 2.0 and one for USB 3.0. Total number of USB 2.0 sockets is six: four are internal and two on the interface panel. As for USB 3.0, there are four: two external and two internal.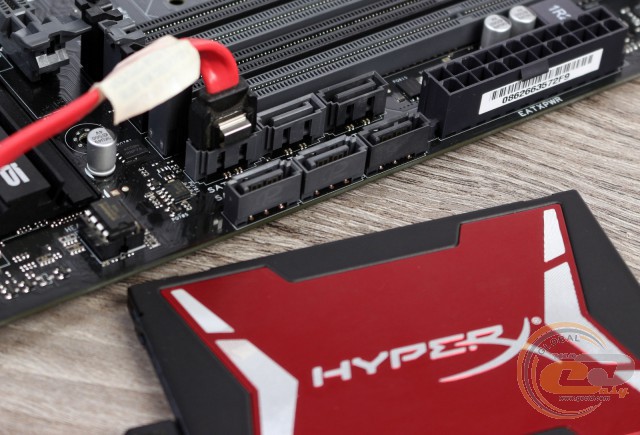 The possibility of organizing a disk subsystem is presented four ports SATA 6 Gb/s and two SATA 3 Gb/s. All connectors are functioning thanks to a set of system logic.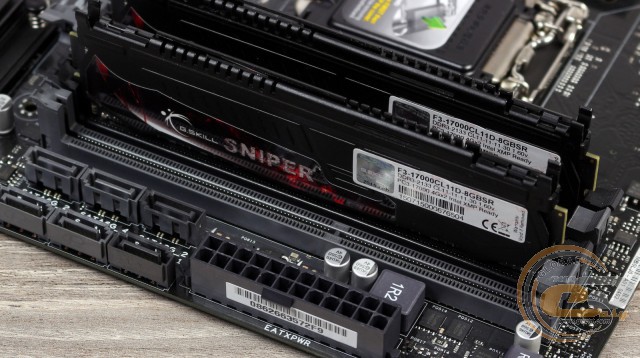 The tested model is equipped by four DIMM-slots for memory modules of DDR3 standard that are equipped with latches one sides. The RAM can operate in dual channel mode. Modules operating at frequencies from 1333 up to 1600 MHz in the nominal mode are supported. The maximum amount of memory can be up to 32 GB, which is enough for almost any task.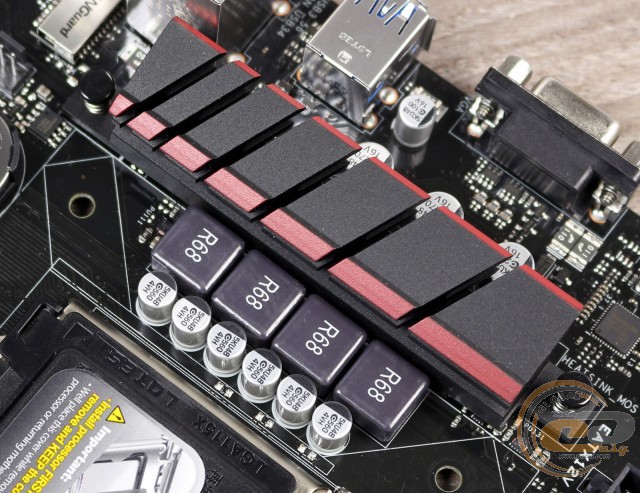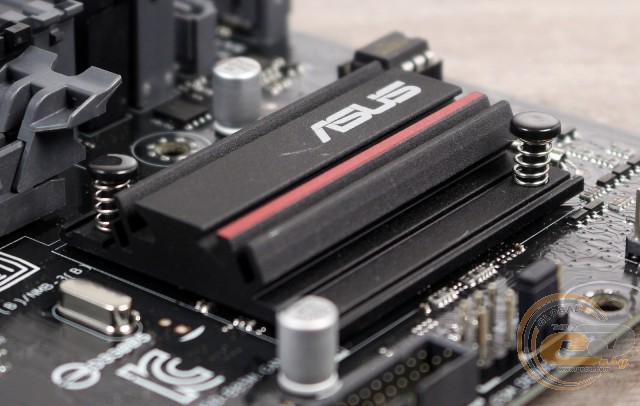 Cooling system of the product includes two aluminum radiators: one removes heat from chipset Intel B85 and the second covers processor power elements. In the process of testing the following temperature indices were fixed:
cooling radiator of chipset – 36.8°C (during overclocking 37.6°C);
cooling radiator for processor power elements – 53.8°C (during overclocking 60°C);
chocks of processor power subsystem – 65.4°C (during overclocking 71.3°C).
These results clearly indicate the higher efficiency of the cooling system, indicating the proper selection of materials and design.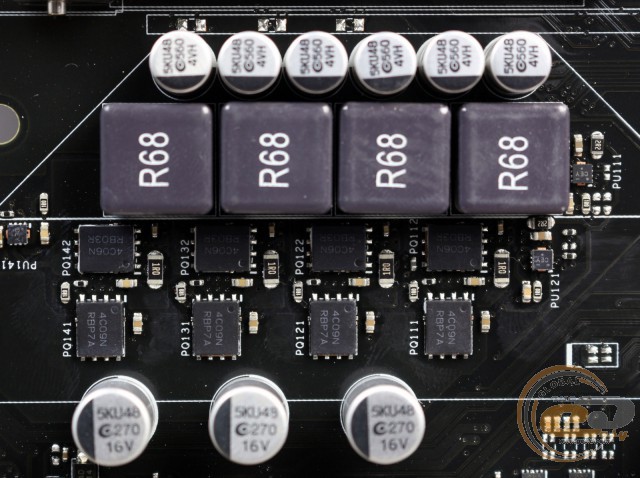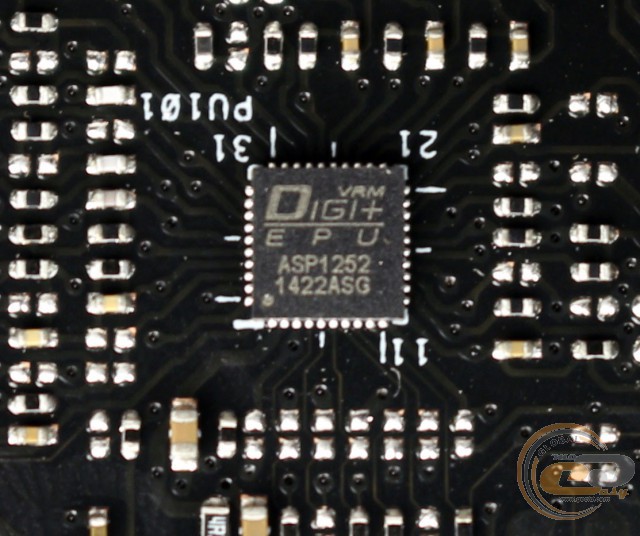 Processor power supply is performed via 4-phase scheme for computational cores and additional joints. The transformer is based on PWM controller ASP1252 with integrated subsystem of power consumption control DIGI+ VRM. The circuitry is made by high quality components such as: solid capacitors with increased lifetime and chokes with ferrite core. Basic 24-pin and additional 8-pin connectors are use for power feeding.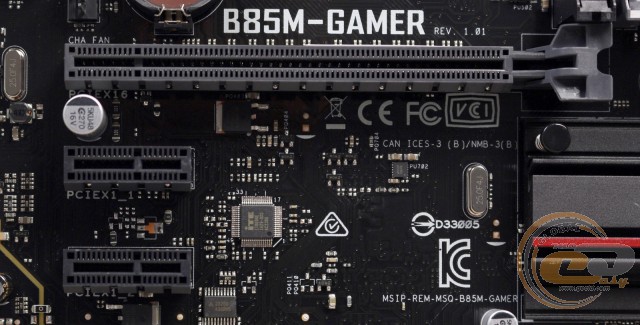 To extend the functionality of the product user has three slots:
PCI Express 3.0 x16;
PCI Express 2.0 x1;
PCI Express 2.0 x1.
As you can see, the novelty involves the installation of only one graphics card in a single slot PCI Express 3.0 x16, which is connected to the processor and uses all 16 lines of the standard PCI Express 3.0.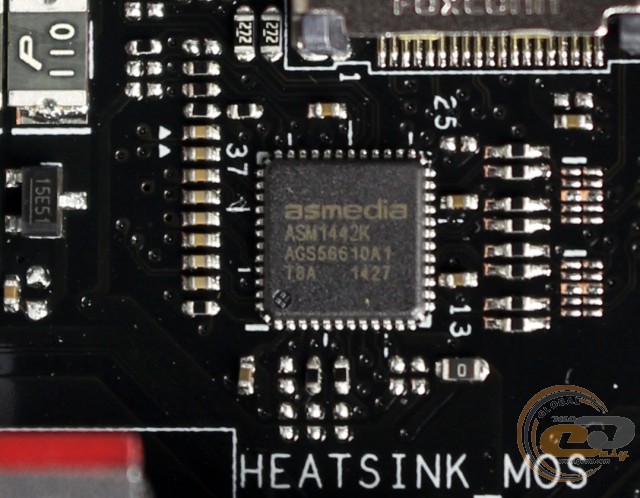 If you decide to take advantage of the integrated graphics core, it features interfaces HDMI and D-Sub, navigated by the chip ASMedia ASM1442K.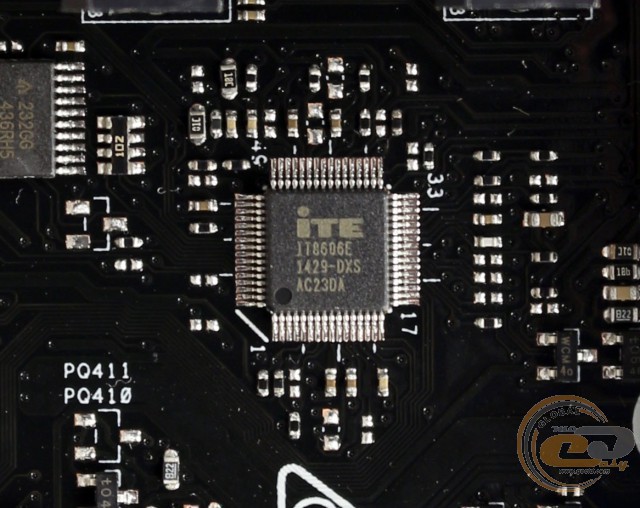 Multi I/O capabilities are based on chip ITE IT8606E which controls the operation of the system fans, ports COM and PS/2, as well as provides the monitoring.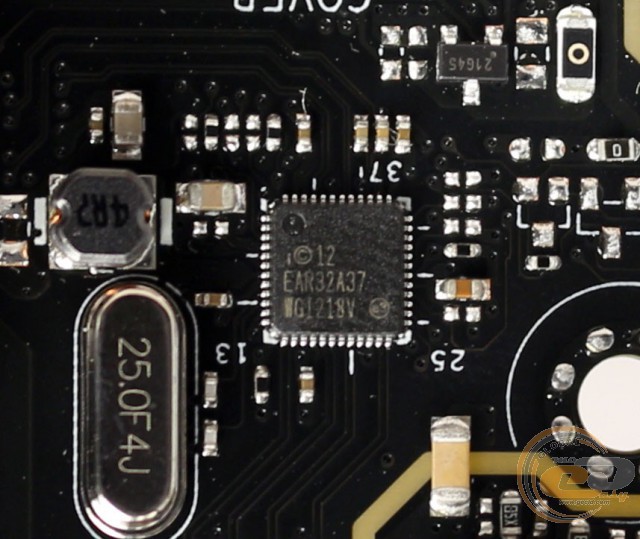 To support network connections there is a gigabit LAN-controller Intel WGI218V.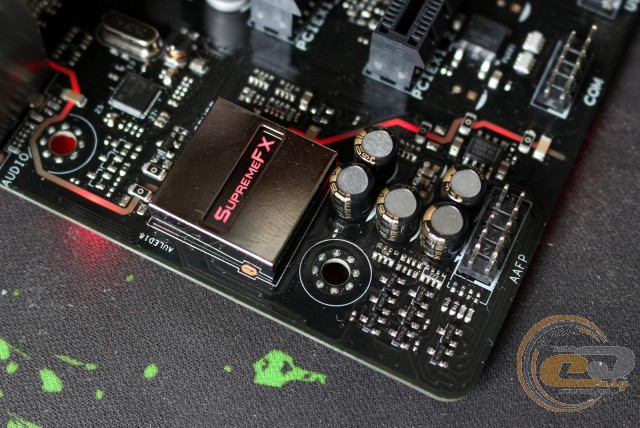 Sound subsystem of model is based on the 8-channel HAD-codec SupremeFX which supports audio formats 2/4/5.1/7.1. It uses amplifier TI R4580I to support headphones with an impedance of 300 Ohms and high audio capacitors ELNA. The codec is protected from electromagnetic interference special case.

Interface panel of the model contains the following ports:
1 x HDMI;
1 x D-Sub;
2 x PS/2;
1 x LAN (RJ45);
2 x USB 3.0;
2 x USB 2.0;
3 x audio jacks.
In our view, this arrangement is quite decent, as it has a sufficient number of USB ports and two video outputs (including HDMI to output the display with a resolution of 4096 x 2160 pixels (4K Ultra HD)). You can also put the COM port on the rear panel using the appropriate connector on the PCB. Some problems can be caused by inconvenient connection of multichannel speakers.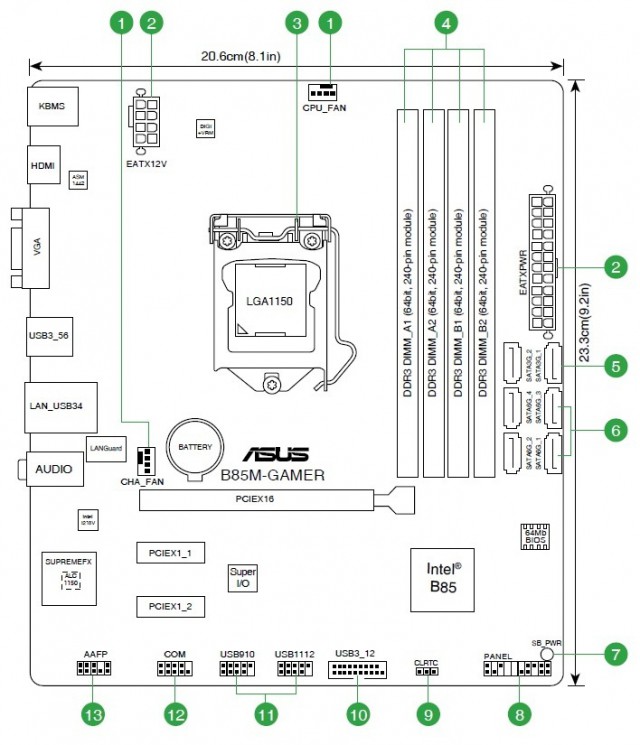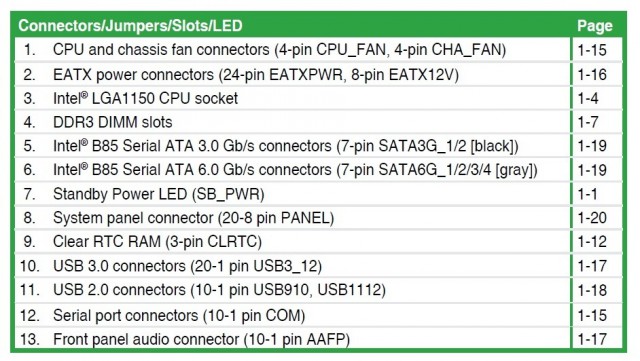 The possibility of organizing the cooling system inside the body of the ASUS B85M-GAMER is very standard. There are two 4-pin fan connectors, one of which serves to cool the CPU, while the other is intended for the system fan.
UEFI BIOS
Motherboard uses modern preloader based on graphics interface UEFI. It offers two main scenarios of usage.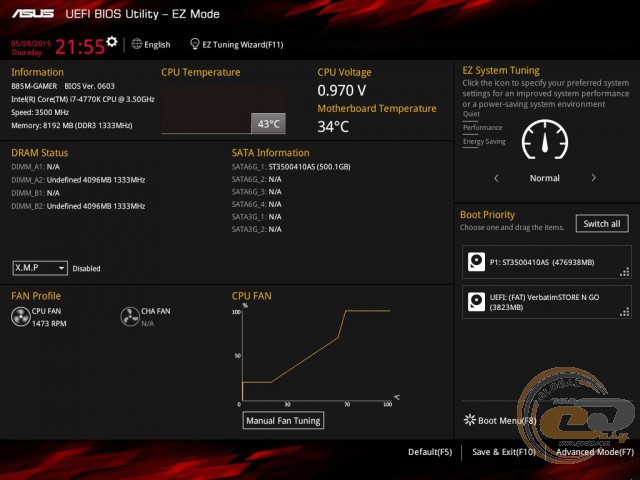 "EZ Mode" where all the necessary settings are grouped on one screen.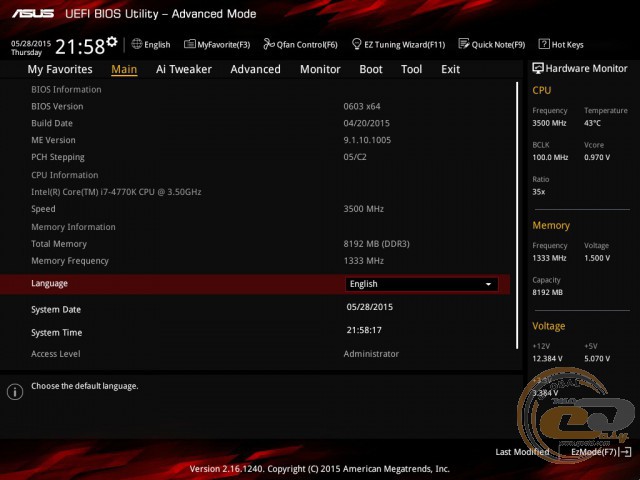 Or used "Advanced Mode" where all settings should be done manually.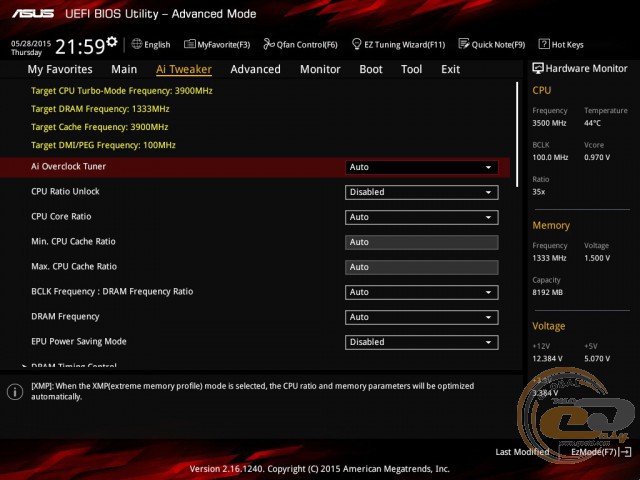 All overclocking settings can be found in "Ai Tweaker" section.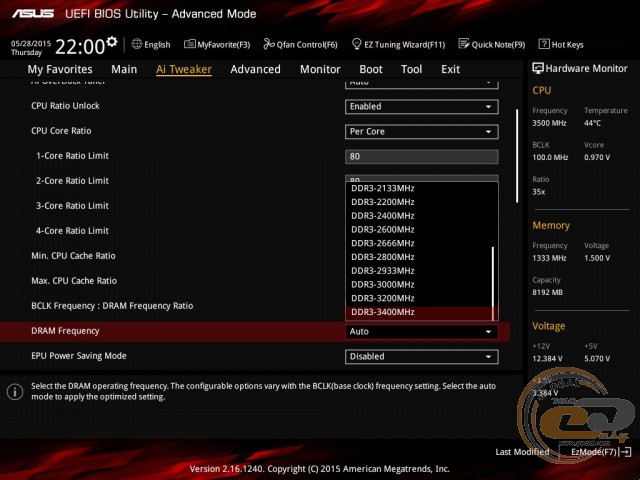 Frequency multiplier allows to set module connection speed within 800-3400MHz.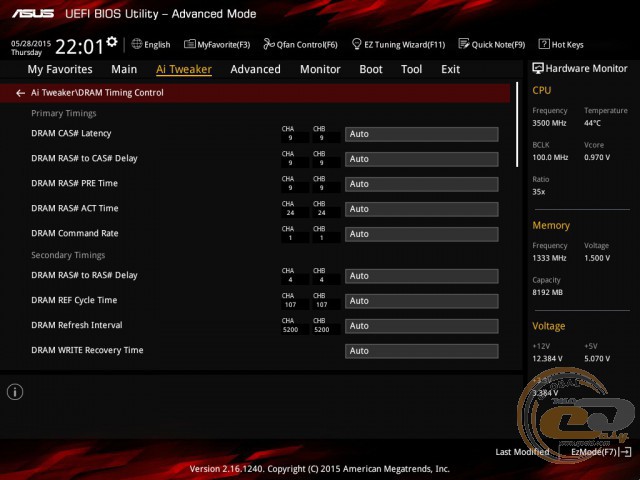 If necessary you can get the access to memory delay adjustments.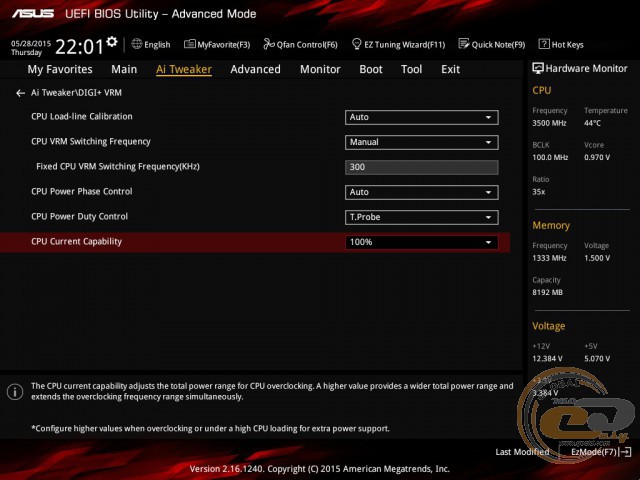 To increase stability during overclocking you can use a digital control power system DIGI+ VRM. Adjustments required to overclock and optimize the system:
| | | | |
| --- | --- | --- | --- |
| Parameter | Menu | Range | Step |
| RAM frequency | Memory Frequency | 800 − 3400 | |
| RAM timing | DRAM Timing | CAS Latency, RAS to CAS, RAS PRE Time, RAS ACT Time, DRAM COMMAND Mode, RAS to RAS Delay, REF Cycle Time, Write Recovery Time, READ to PRE Time, FOUR ACT WIN Time, WRITE to READ Delay, Write Latency | |
| | Min. CPU Cache Ratio Limit | 8 – MAX | 1 |
| | Max CPU Cache Ratio Limit | 8 – MAX | 1 |
| PWM controller frequency of processor power converter | Fixed CPU VRM Switching Frequency(KHz) | 300 – 500 | 50 |
| | Long Duration Package Power Limit | 1 – 4096 | 1 |
| | Package Power Time Window | 1 - 127 | 1 |
| | Short Duration Package Power Limit | 1 - 4096 | 1 |
| | CPU Integrated VR Current Limit | 0,125 – 1023,875 | 0,125 |
| | Power Current Slope | Auto, Level -4 – Level 4 | |
| | Power Current Offset | Auto, -100% − 100% | 12,5 % |
| | Power Fast Ramp Response | 0,00 – 1,50 | 0,001 |
| | Power Saving Level 1 Threshold | 0 – 80 | 1 |
| | Power Saving Level 2 Threshold | 0 – 50 | 1 |
| | Power Saving Level 3 Threshold | 0 – 30 | 1 |
| | CPU Core Voltage Override | 0,001 – 1,920 | 0,001 |
| | CPU Cache Voltage Override | 0,001 – 1,920 | 0,001 |
| | CPU System Agent Voltage Offset | 0,001 – 0,999 | 0,001 |
| | CPU Analog I/O Voltage Offset | 0,001 – 0,999 | 0,001 |
| | CPU Digital I/O Voltage Offset | 0,001 – 0,999 | 0,001 |
| CPU Input Voltage | CPU Input Voltage | 0,800 – 2,700 | 0,010 |
| RAM Voltage | DRAM Voltage | 1,20000 – 1,92000 | 0,00500 |
| Chipset Voltage | PCH Core Voltage | 0,70000 – 1,10000 | 0,01250 |
| | PCH VLX Voltage | 1,20000 – 2,00000 | 0,01250 |
| | DRAM CTRL REF Voltage | 0,39500 – 0,63000 | 0,00500 |
| | DRAM DATA REF Voltage on CHA | 0,39500 – 0,63000 | 0,00500 |
| | DRAM DATA REF Voltage on CHB | 0,39500 – 0,63000 | 0,00500 |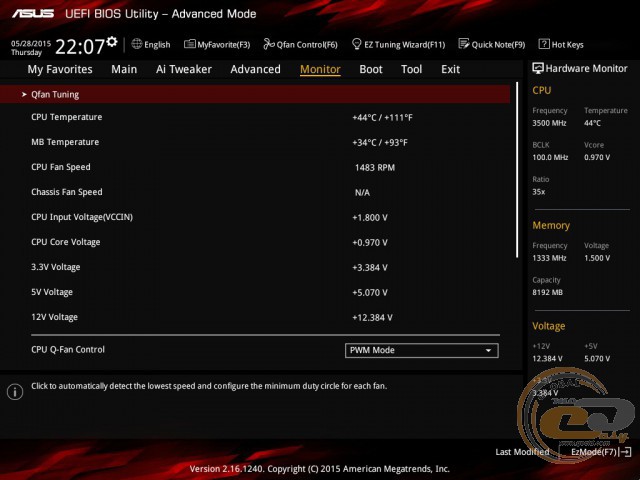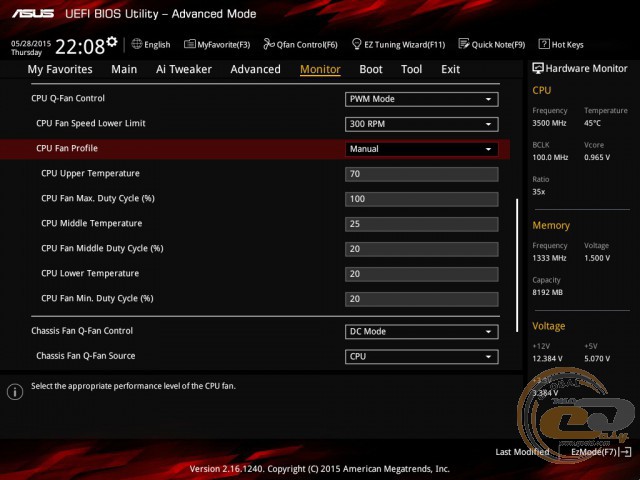 The section «Monitor» opens access for monitoring the temperature of the CPU and chipset. Also you can monitor the voltage on the rails +12V, +5V and +3.3V using any other section as this information is often displayed on side panel.
Социальные комментарии Cackle