Motherboard ASUS H81-PLUS: review and testing
Motherboard ASUS H81-PLUS is one of the entry-level solutions from the company ASUS. It offers a wide list of benefits: affordable price, the traditionally high quality of performance and the element base, support for modern interfaces, as well as a number of other improvements and proprietary technologies.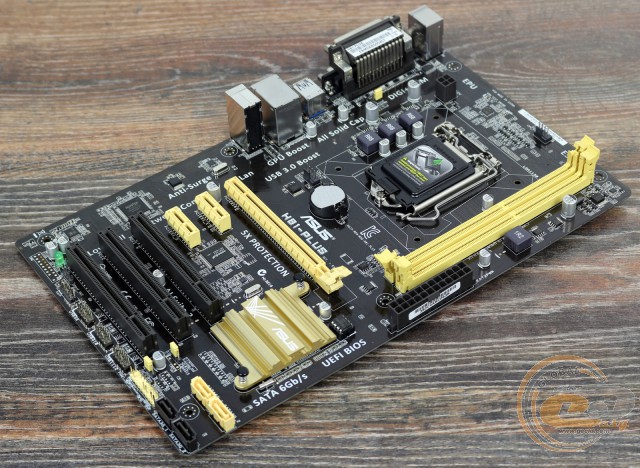 It is based on youngest chipset (Intel H81), which is accompanied the low final cost at $ 70 - 75. Let's look at a more detailed specifications of motherboard ASUS H81-PLUS:
Producer

ASUS

Model

H81-PLUS (rev 1.03)

Chipset

Intel H81

CPU socket

Socket LGA1150

Supported CPUs

Intel Core i7 / Core i5 / Core i3 / Pentium / Celeron 4th gen

Memory frequency

1600 / 1333 / 1066 MHz

Memory support

2 x DDR3 DIMM-slots with memory support up to 16 GB

Expansion slots

1 x PCI Express 2.0 x16

2 x PCI Express 2.0 x1

3 x PCI

Disk subsystem

Intel H81 chipset supports:

2 x SATA 6 Gb/s (yellow)

2 x SATA 3 Gb/s (dark-brown)

LAN

1 x Realtek 8111G (10/100/1000 Mb/s)

Sound subsystem

Codec Realtek ALC887

8-channel sound

Power

1 х 24-pin ATX connector

1 х 4-pin ATX12V connector

Fans

1 x CPU socket (4-pin)

1 x system fan connector (4-pin)

Cooling

Aluminum radiator on chipset

Extenral I/O

1 x D-Sub

1 x COM

1 x LPT

1 x LAN (RJ45)

2 x USB 3.0

2 x USB 2.0

3 x audio jacks

2 х PS/2

Internal I/O

3 x USB 2.0, each with support of two USB 2.0

2 x SATA 6 Gb/s

2 x SATA 3 Gb/s

1 x connector of audio output to front panel

1 x S/PIDIF Out

1 x set of front panel connectors

1 x CMOS

BIOS

64 Mb Flash ROM UEFI AMI BIOS

PnP, ACPI 2.0a, SM BIOS 2.7, DMI 2.0, WfM 2.0

Packaging

user manual

warranty card

disk with drives and documents

2 x SATA cables

1 х interface panel plug

Form-factor, dimensions

ATX

305 х 188 mm

Producer website

ASUS
Updated versions of BIOS and drives are available at support page
Package and content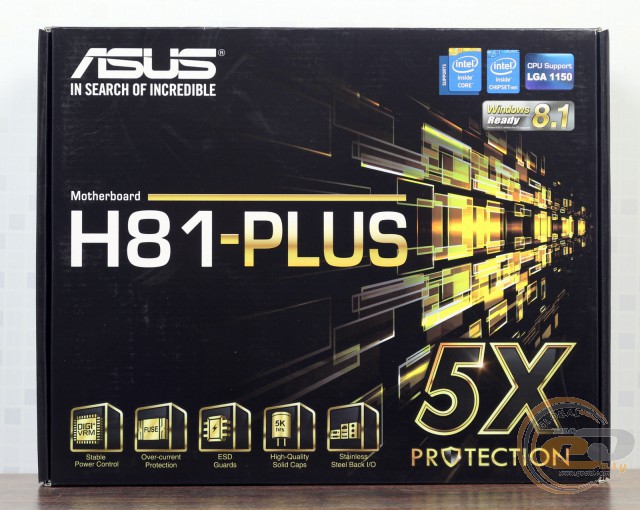 Motherboard ASUS H81-PLUS comes in the familiar cardboard box decorated with the graphic printing in the corporate style. A key element of the design of the front panel, in addition to the names of the manufacturer and model of the device is the logo for technology ASUS 5X Protection. Additionally, you can pay attention to the support of the operating system Windows 8.1.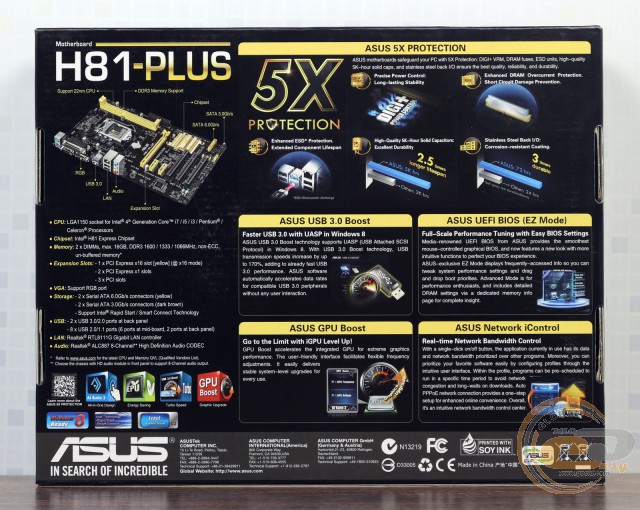 On the reverse side of the package you can find the image of the tested model, a brief technical characteristics, as well as key features and benefits:
ASUS 5X Protection involves the use of digital power subsystem ASUS DIG + VRM, the protection of external interfaces, and memory modules from over current and short-circuit current, high-quality solid capacitors with a lifetime of 5000 hours at 105°C, steel interface panel with increased resistance to the corrosive processes and chips for ESD protection.
ASUS USB 3.0 Boost - supports protocol UASP is used to speed USB 3.0 interface.
AI Suite 3 – proprietary software, that allows to fine-tune a number of system settings without entering the BIOS.
ASUS Network iControl – using included software you can monitor PC activity, and install each program, priority access to network resources.
ASUS GPU Boost - automatic overclocking technology is integrated into the processor graphics.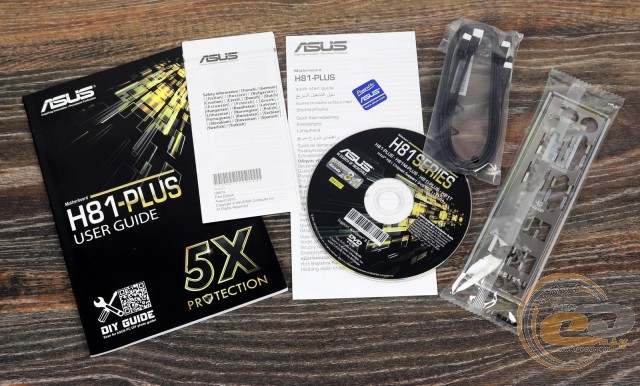 The box with the ASUS H81-PLUS has a quite standard accessories for low-cost model:
CD with drivers and utilities;
user manual;
two SATA cables;
interface panel plug.
Design and features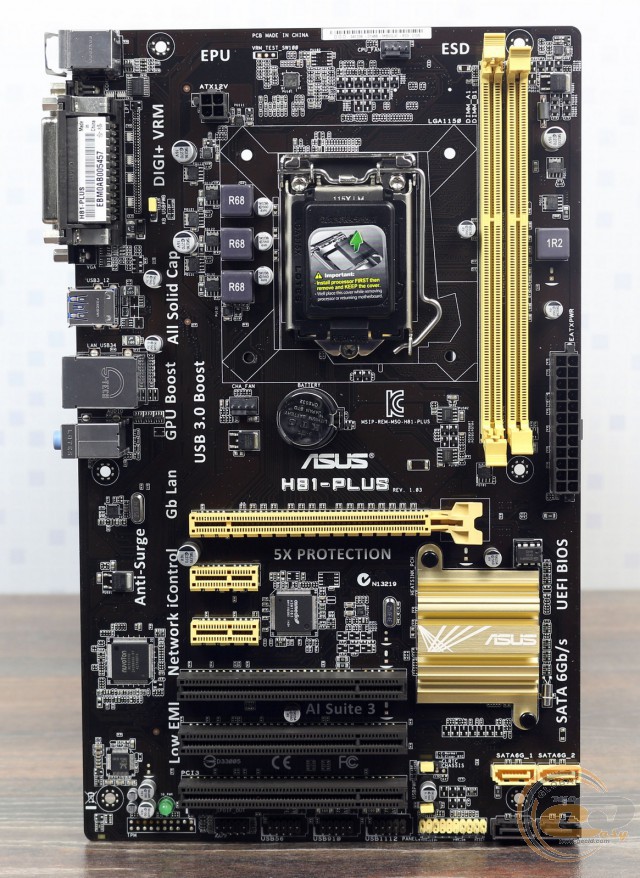 The test model is realized on a dark brown printed circuit board in ATX format with non-standard dimensions (305 x 188 mm). Bright colors in its design bring are provided by expansion slots, painted in yellow color, which makes the image of the motherboard more interesting.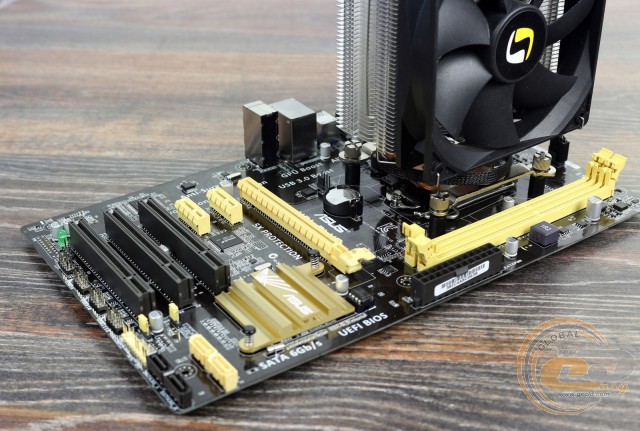 The arrangement of on-board elements is at a high level. Also note that all of the ports are located at the optimal positions, closer to the edges of the PCB.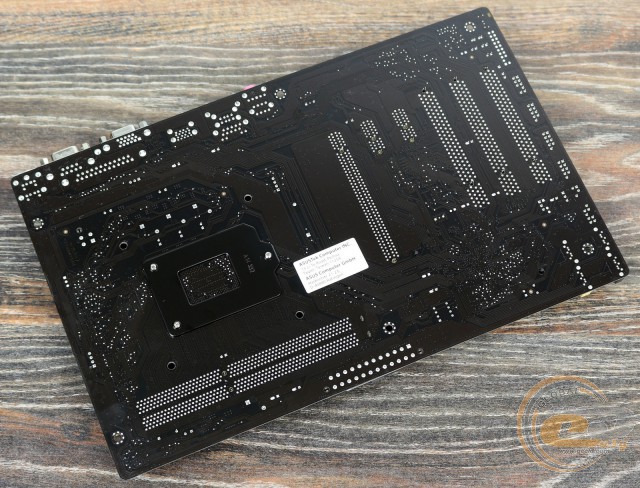 On the reverse side of the PCB you can draw attention to the standard base plate of the socket, as well as the fact that the chipset heatsink is attached with plastic clips.

At the bottom of the board there are the following connectors: front panel audio leading-in socket, S/PDIF Out, CMOS, as well as front panel connection module. Also here are two modules for connection of additional interface USB 2.0. Total number of USB 2.0 sockets is six: four are internal and two on the interface panel. As for USB 3.0, its quantity is two and both of them are external. All ports operate due to chipset.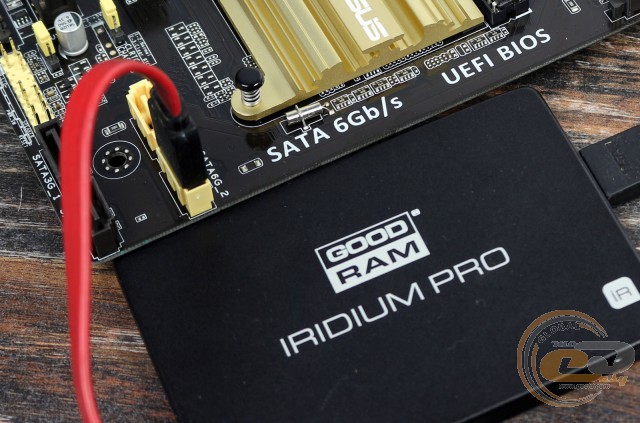 The possibility of organizing a disk subsystem is presented two ports SATA 6 Gb/s (yellow) and two SATA 3 Gb/s (dark brown). All connectors are functioning thanks to a set of system logic.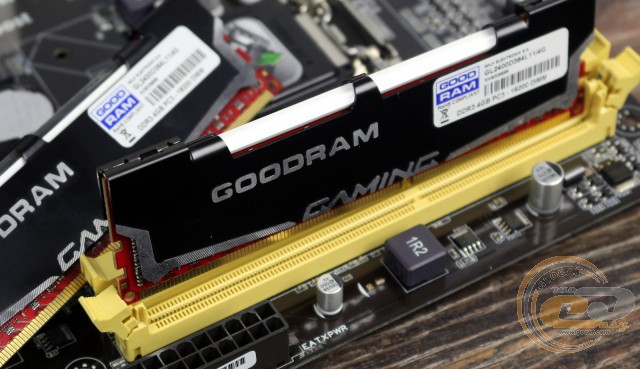 The tested model is equipped by two DIMM-slots for memory modules of DDR3 standard that are equipped with latches from both sides. Modules operating at frequencies from 1066 up to 1600 MHz in the nominal mode are supported. The maximum amount of memory can be up to 16 GB, which is enough for almost any task.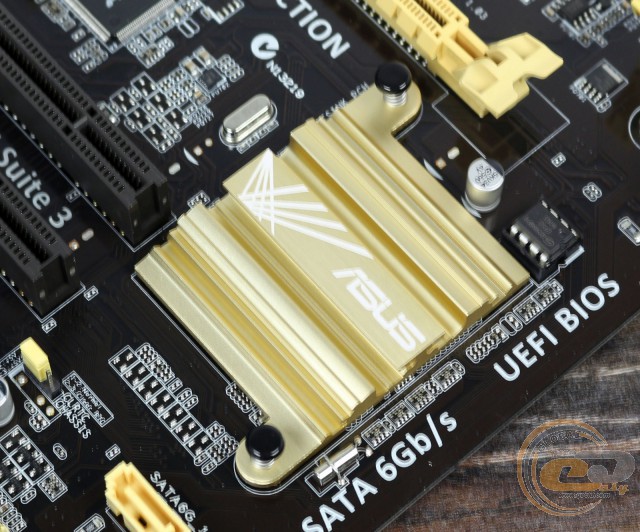 Cooling system of the product includes one aluminum radiator that removes heat from chipset Intel H81. In the process of testing the following temperature indices were fixed:
cooling radiator of chipset – 39.7°C (during overclocking 40°C);
field-effect transistors of processor power subsystem –82.1°C (during overclocking 90.5°C);
chocks of processor power subsystem – 66.2°C (during overclocking 72.4°C).
As you can see, the chipset cooling is implemented at the appropriate level. But a high temperature of elements on the power subsystem indicates the need for additional cooling in case of overclocking experiments.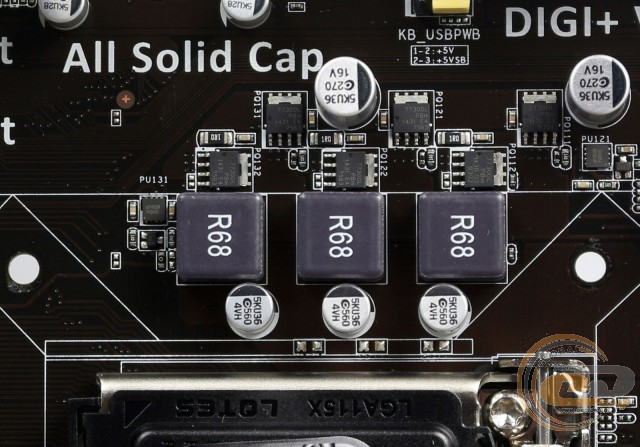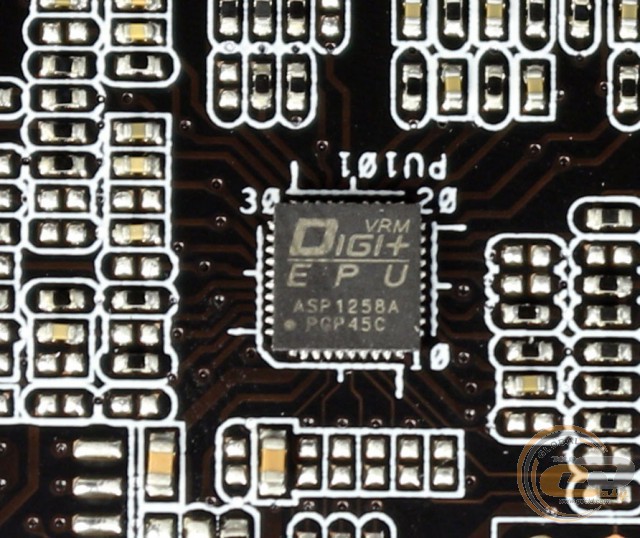 Processor power supply is performed via 3-phase scheme for computational cores and additional joints. The transformer is based on PWM controller ASP1258A. The circuitry is made by high quality components such as: solid capacitors with increased lifetime and chokes with ferrite core. Basic 24-pin and additional 4-pin connectors are use for power feeding.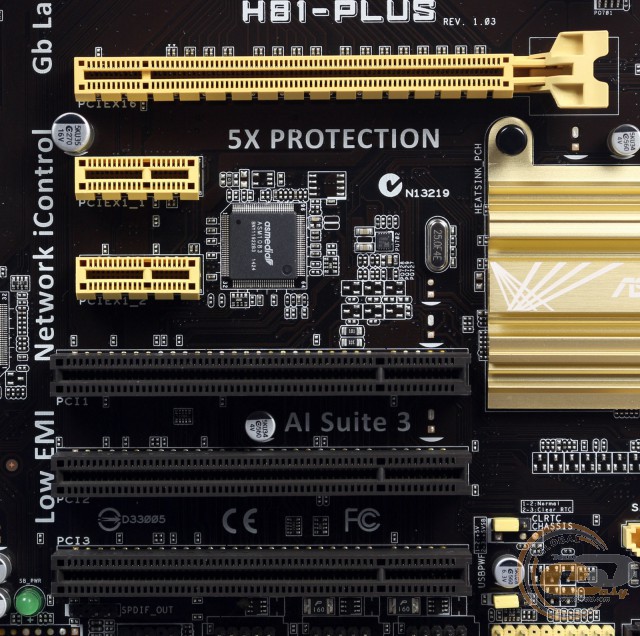 To extend the functionality of the product user has six slots:
PCI Express 2.0 x16;
PCI Express 2.0 x1;
PCI Express 2.0 x1;
PCI;
PCI;
PCI.
It is expected that the board offers the possibility of installing only one video card in a single slot PCI Express x16, which is connected to the processor and always uses all 16 lines of the standard PCI Express 2.0. Intel H81 chipset does not support any distribution lines between the slots or work with the standard PCI Express 3.0. However, this is not a critical disadvantage, since the difference between PCI Express 3.0 and PCI Express 2.0 will not lead to a noticeable drop in performance level.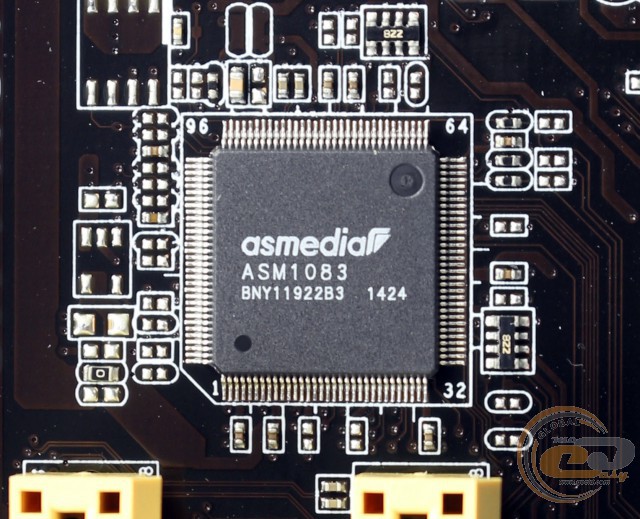 Since the chipset Intel H81 does not support bus PCI, the operation of the three respective connectors is realized by bridge PCIE-PCI based on the controller ASMedia ASM1083.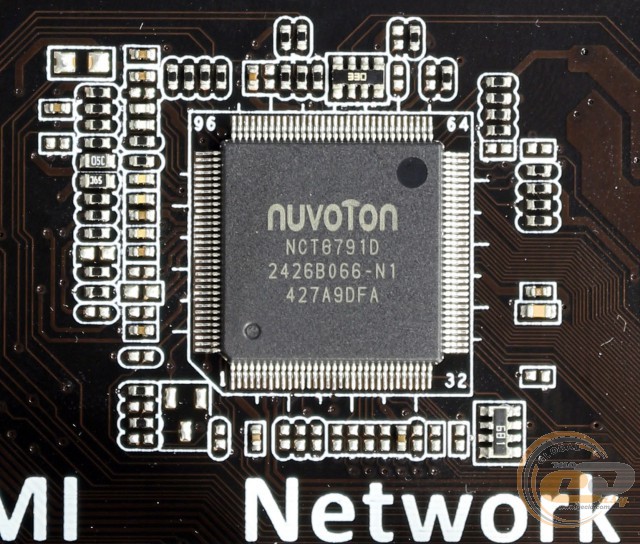 Multi I/O capabilities are based on chip NUVOTON NCT6791D which controls the operation of the system fans, ports COM, LPT and PS/2, as well as provides the monitoring.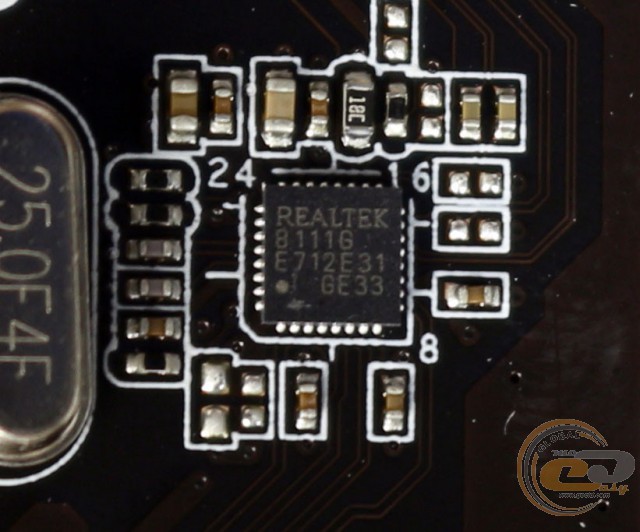 To support network connections there is a gigabit LAN-controller Realtek 8111G. A proprietary tool Network iControl helps manage network resources in real-time.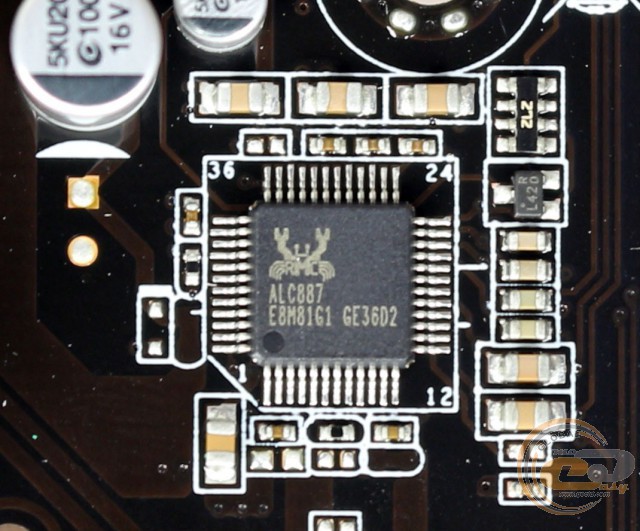 Sound subsystem of model is based on the 8-channel codec Realtek ALC887 which supports audio formats 2/4/5.1/7.1.

Interface panel of the model contains the following ports:
1 x LPT;
1 x COM;
1 x D-Sub;
2 x PS/2;
1 x LAN (RJ45);
2 x USB 3.0;
2 x USB 2.0;
3 x audio ports.
A similar arrangement can be described as sufficient, especially if you plan to build office system, as it offers a basic number of ports USB, as well as support for COM and LPT. As for features, note uncomfortable connection of multichannel speakers and the lack of digital video interfaces.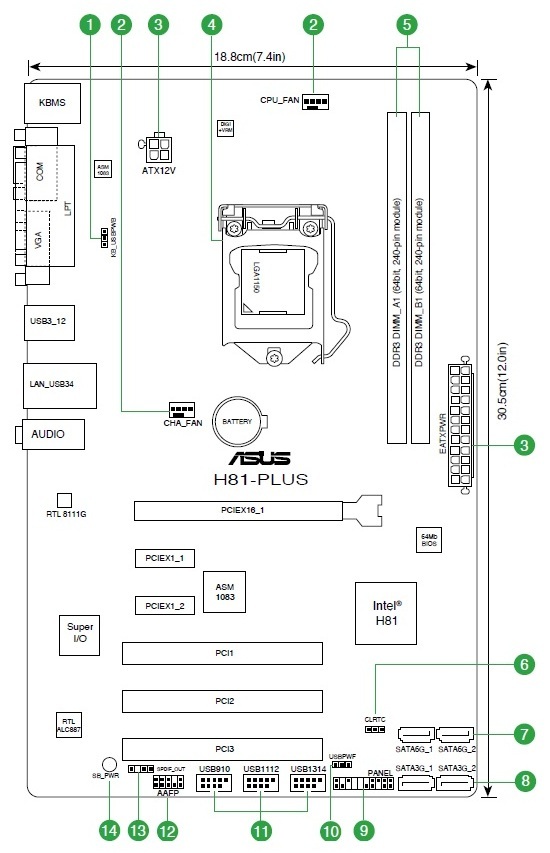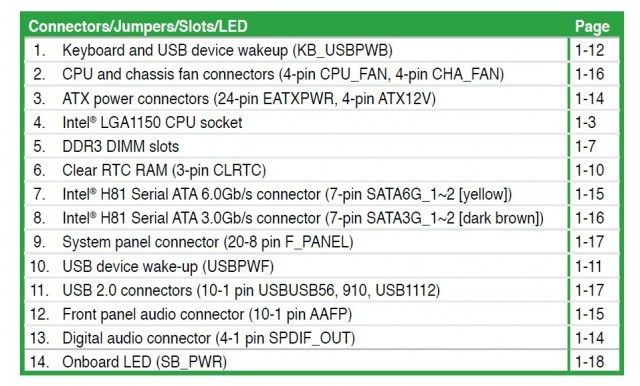 ASUS H81-PLUS has minimal capabilities for organizing the cooling system inside the body. Here are two 4-pin fan connectors, one of which serves to cool the CPU, while the second is designed for system fan.
UEFI BIOS
Motherboard uses modern preloader based on graphics interface UEFI, to adjust them is possible via mouse. It offers two main scenarios of usage.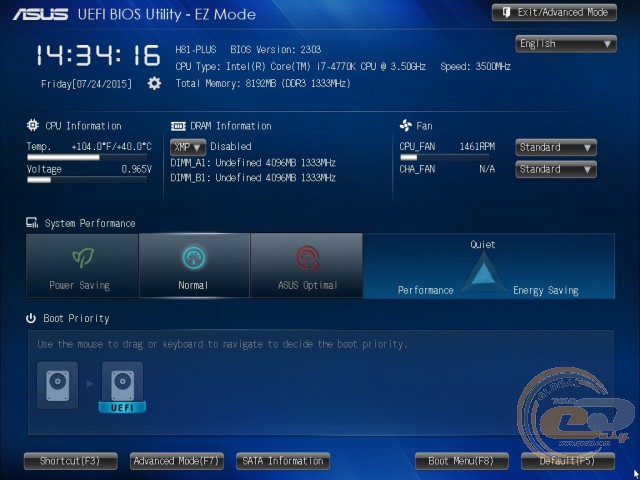 "EZ Mode" where all the necessary settings are grouped on one screen.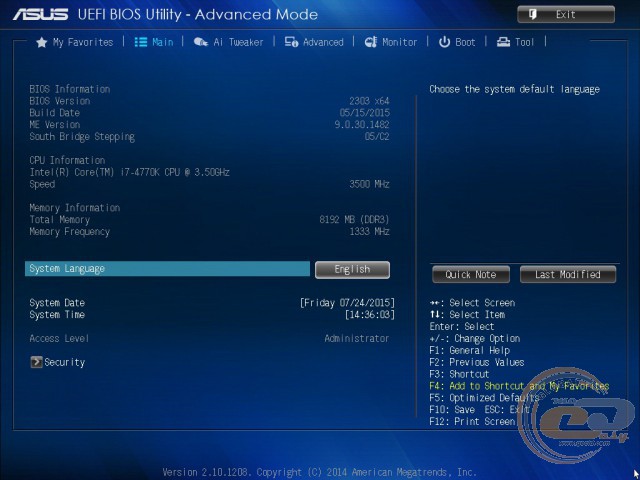 Or used "Advanced Mode" where all settings should be done manually.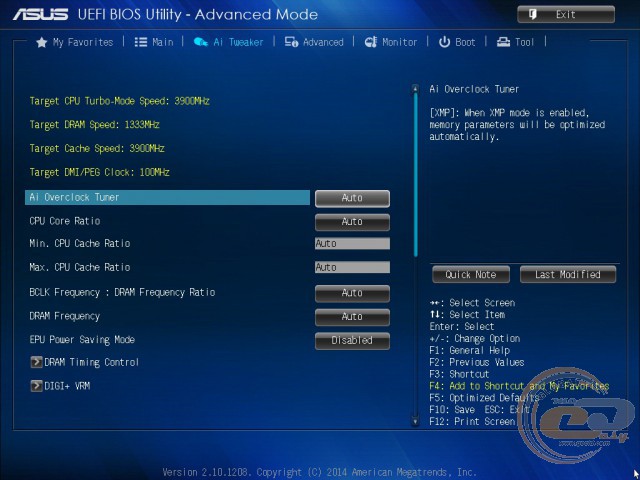 All overclocking settings can be found in "Ai Tweaker" section.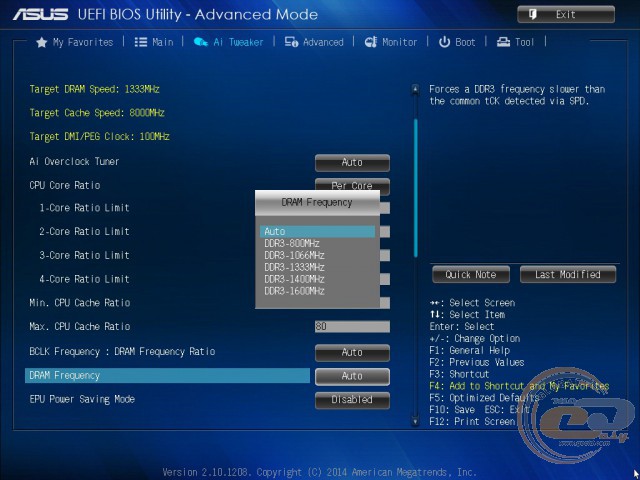 Frequency multiplier allows to set module connection speed within 800-1600 MHz.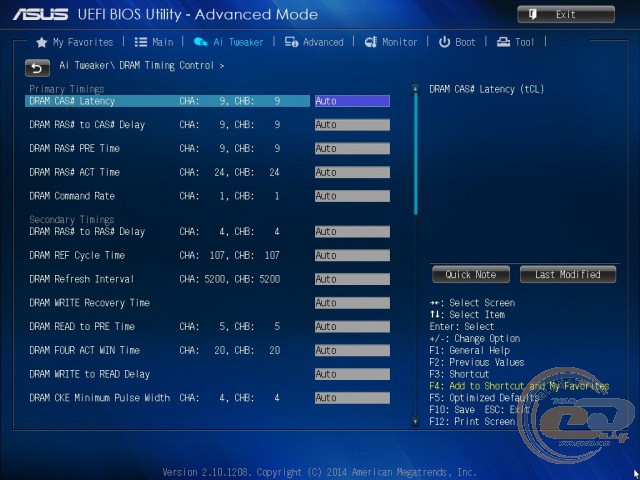 If necessary you can get the access to memory delay adjustments.
Adjustments required to overclock and optimize the system:
| | | | |
| --- | --- | --- | --- |
| Parameter | Menu | Range | Step |
| RAM frequency | Memory Frequency | 800 − 1600 | |
| RAM timing | DRAM Timing | CAS Latency, RAS to CAS, RAS PRE Time, RAS ACT Time, DRAM COMMAND Mode, RAS to RAS Delay, REF Cycle Time, Write Recovery Time, READ to PRE Time, FOUR ACT WIN Time, WRITE to READ Delay, Write Latency | |
| | Min. CPU Cache Ratio Limit | 8 – MAX | 1 |
| | Max CPU Cache Ratio Limit | 8 – MAX | 1 |
| | Long Duration Package Power Limit | 1 – 4096 | 1 |
| | Package Power Time Window | 1 – 127 | 1 |
| | Short Duration Package Power Limit | 1 – 4096 | 1 |
| | CPU Integrated VR Current Limit | 0,125 – 1023,875 | 0,125 |
| | Power Current Slope | Auto, Level -4 – Level 4 | |
| | Power Current Offset | Auto, -100% – 100% | 12,5 % |
| | Power Fast Ramp Response | 0,00 – 1,50 | 0,001 |
| | Power Saving Level 1 Threshold | 0 – 80 | 1 |
| | Power Saving Level 2 Threshold | 0 – 50 | 1 |
| | Power Saving Level 3 Threshold | 0 – 30 | 1 |
| | CPU Core Voltage Override | 0,001 – 1,920 | 0,001 |
| | CPU Cache Voltage Override | 0,001 – 1,920 | 0,001 |
| | CPU System Agent Voltage Offset | 0,001 – 0,999 | 0,001 |
| | CPU Analog I/O Voltage Offset | 0,001 – 0,999 | 0,001 |
| | CPU Digital I/O Voltage Offset | 0,001 – 0,999 | 0,001 |
| | CPU Input Voltage | 0,800 – 2,700 | 0,010 |
| | DRAM CTRL REF Voltage | 0,39500 – 0 63000 | 0,00500 |
| | DRAM DATA REF Voltage on CHA | 0,39500 – 0,63000 | 0,00500 |
| | DRAM DATA REF Voltage on CHB | 0,39500 – 0,63000 | 0,00500 |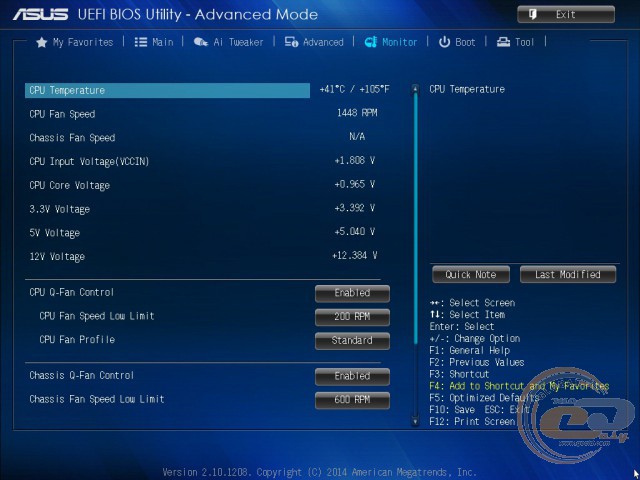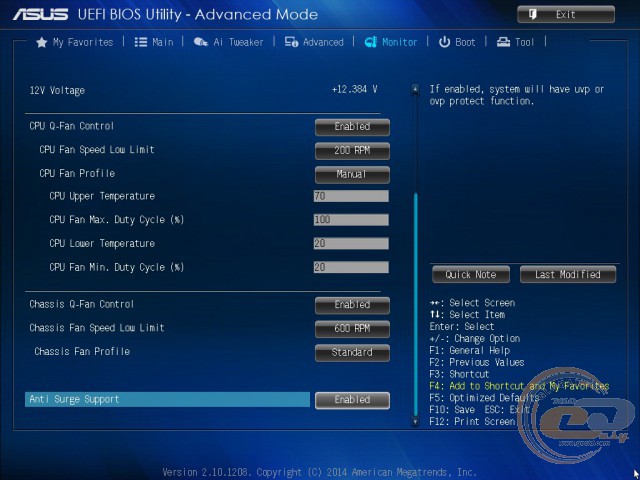 The section «Monitor» opens access for monitoring the temperature of the CPU, as well as the voltage on the rails +12V, +5V and +3.3V. It is possible to set a lower threshold of CPU fan speed or select one of the profiles.
Социальные комментарии Cackle