Motherboard ASUS H97-PLUS: review and testing
The hero of this review, the motherboard ASUS H97-PLUS takes a place of relatively affordable and high-quality traditional model with good equipment in a product line of the Taiwanese company. For the sake of reducing its ultimate cost of the manufacturer used not flagship chipset Intel Z97, but more moderate chipset Intel H97.
The advantages of the tested model include support for three video outputs, interface M.2, as well as quantity of ports USB 3.0 and SATA 6 Gb/s enough for everyday use. Let's move to the review of the product and find out how much it can offer to its customers.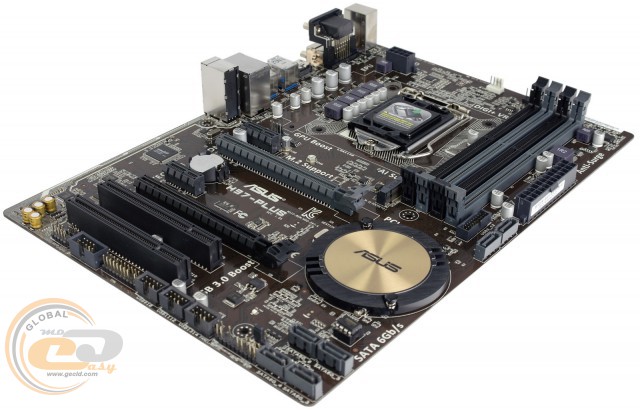 The specs:
Producer

ASUS

Model

H97-PLUS (rev 1.05)

Chipset

Intel H97

CPU socket

Socket LGA1150

CPUs supported

Intel Core i7 / Core i5 / Core i3 / Pentium / Celeron of 5th and 4th gen: Intel Haswell, Intel Haswell Refresh, Intel Devil`s Canyon, Intel Broadwell

Memory frequency

1600 / 1333 MHz

Memory support

4 x DDR3 DIMM- slots with support of memory up to 32 GB

Expansion slots

1 x PCI Express 3.0 x16 (CPU)

1 x PCI Express 2.0 x16 (PCH)

x16

x16+x4

2 x PCI Express 2.0 x1

2 x PCI

Memory frequency

Intel H97 chipset supports:

1 x M.2 (M.2 2260, M.2 2280)

6 x SATA 6 Gb/s

RAID 0, RAID 1, RAID 5, RAID 10

LAN

1 x Realtek 8111GR (10/100/1000 Мb/s)

Sound subsystem

Codec Realtek ALC887

8-channel sound

S/PDIF Out

Power connectors

24-pin power socket ATX

8-pin power socket ATX12V

Fans

1 x CPU fan connector (4-pin)

2 x system fan connectors (4-pin)

Cooling

Aluminum radiator on chipset

Aluminum radiator on power elements

External I/O

1 x HDMI

1 x DVI-D

1 x D-Sub

1 x LAN (RJ45)

4 x USB 3.0

2 x USB 2.0

3 x audio jacks

2 х PS/2 (for mouse and keyboard connection)

Internal I/O

1 x USB 3.0 with support of two USB 3.0 (19-pin)

3 x USB 2.0 with support of two USB 2.0

1 х socket TPM

1 x socket COM

1 x connector of audio output to front panel

1 x S/PDIF out

1 x set of front panel connectors 1 х S/PDIF Out

1 x CMOS

BIOS

64 Mb Flash ROM UEFI AMI BIOS

PnP, ACPI 5.0, SM BIOS 2.8, DMI 2.7, WfM 2.0

Form-factor

User's manual

Warranty card

CD with drivers and documentation

2 x SATA cables

1 х interface panel plug

Dimensions

ATX

305 х 218 mm

Producer website

ASUS
Updated versions of BIOS and drives are available at support page
Packaging and content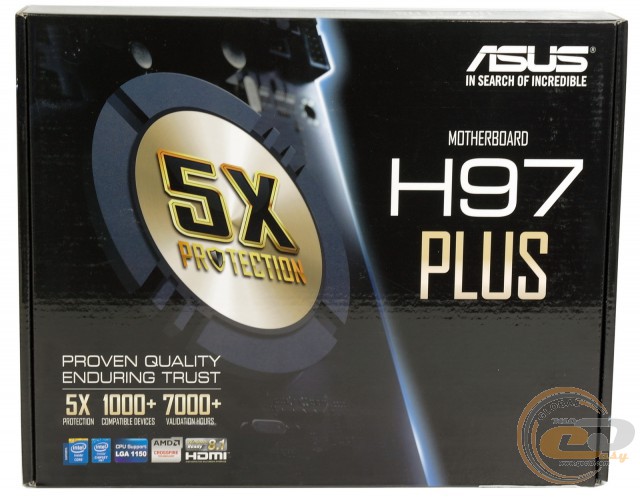 Packing of motherboard ASUS H97-PLUS is designed as a standard cardboard box, decorated in corporate style. A key design element of the front side is the image of well known to us radiator of round shape, which has the notice of technology ASUS 5X Protection. Additionally, you can pay attention to the logo of the manufacturer, technology AMD CrossFireX, video output HDMI, and the operating system Windows 8.1.
Do note that ASUS motherboards are tested for compatibility with more than 1,000 different components, such as processors, memory modules, graphics cards, and others. A figure 7000+ indicates the total number of hours of testing samples before their release for sale.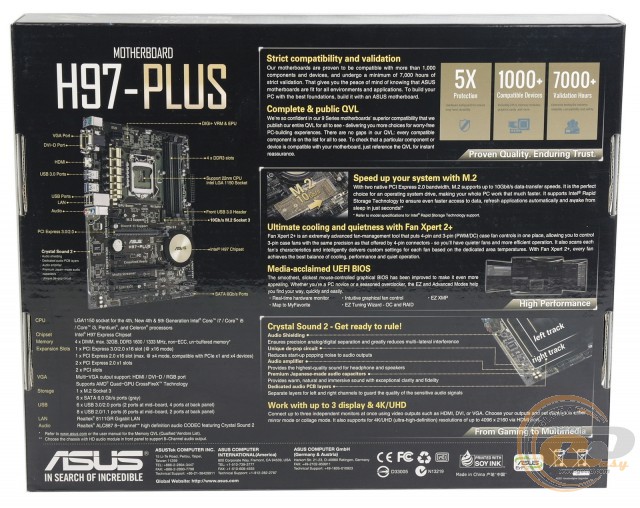 The reverse side of the package contains the image of the test new product, its brief specifications, as well as key features and benefits:
ASUS 5X Protection involves the use of digital power subsystem ASUS DIGI+ VRM, protect internal components against overcurrent and short-circuit current, high-quality solid capacitors with a lifetime of 5000 hours at 105°C, the steel interface panel with a high resistance to corrosion and chips for ESD protection.
M.2 –product is equipped with interface M.2, which has a capacity of up to 10 Gb/s.
Fan Xpert 2+ is intelligent system fan control, allowing to achieve effective cooling of the computer at an optimal level of noise.
Crystal Sound 2 - preset audio codec Realtek ALC887 which uses a special amplifier TI R4580I, offers support for eight-channel sound. In order to avoid interference caused by electromagnetic interference, a special screening technology Audio Shielding is applied. To maximize the sound high quality Japanese audio capacitors of company Nichicon are used. In addition, the left and right audio channels are performed on different layers of the PCB that allows to minimize crosstalk.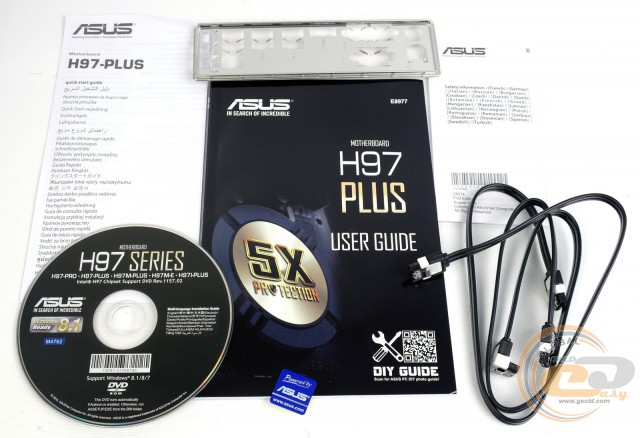 In the box with the ASUS H97-PLUS we found quite standard for low-cost model set of accessories:
CD with drivers and utilities;
User Guide;
two SATA cables;
the interface panel plug.
Design and features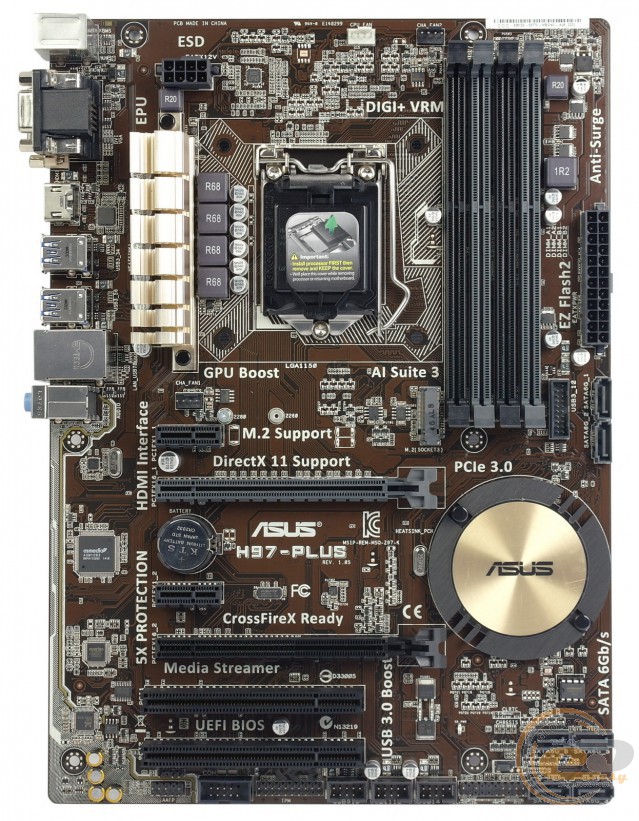 New product is made in the traditional dark brown ATX PCB with a bit of a non-standard width (305 x 218 mm). Due to this feature, the right side of the PCB does not have mounting holes. This will require the user a little more care when connecting the drive, given the perpendicular arrangement of ports SATA.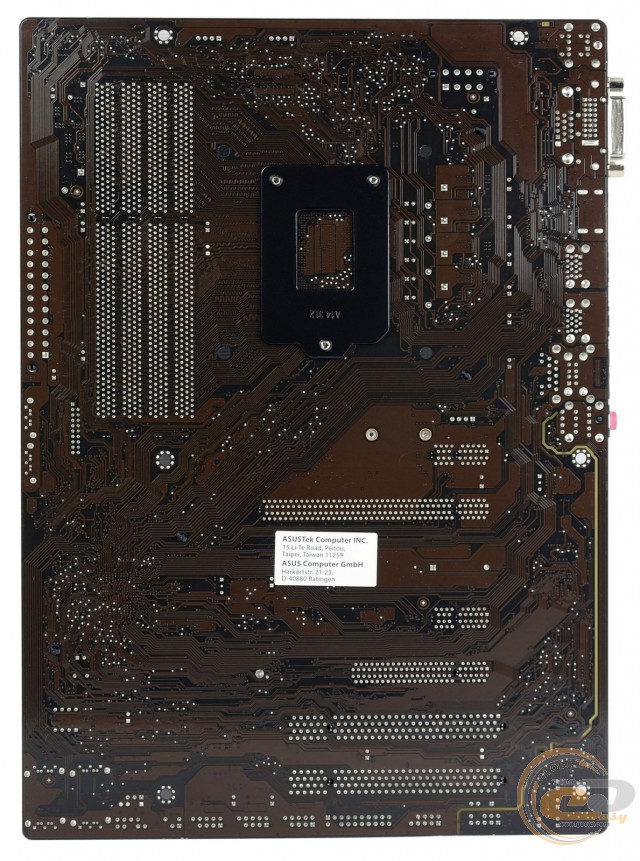 Looking at the back side of ASUS H97-PLUS, it may be noted not only the usual base plate of the socket, but the fact that both radiators are secured with plastic clips.

At the bottom of the board there are the following connectors: front panel audio leading-in socket, S/PDIF out, COM and TPM ports and front panel connection module. Also here are three modules for additional ports USB 2.0. Total number of USB 2.0 sockets is eight: six internal and two on the interface panel.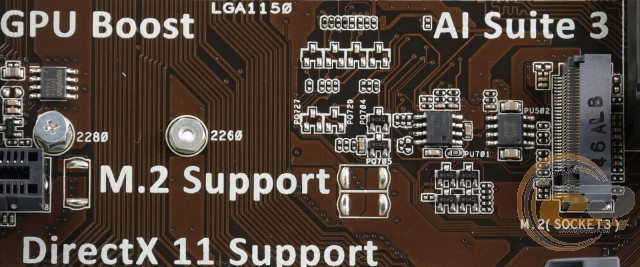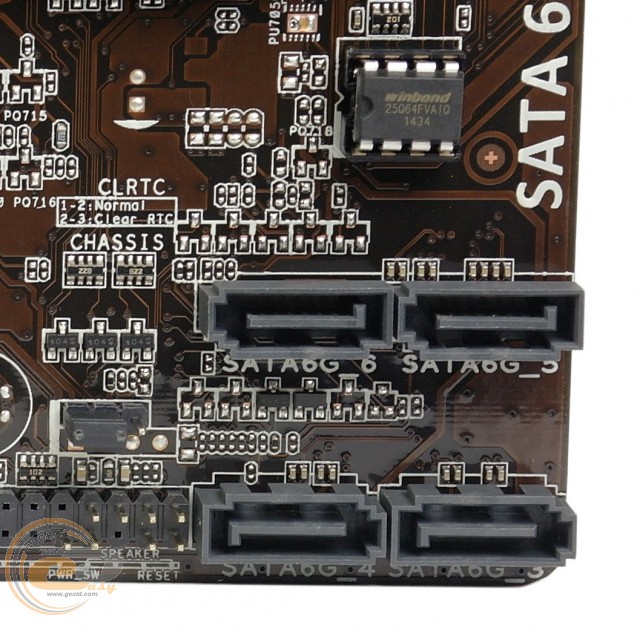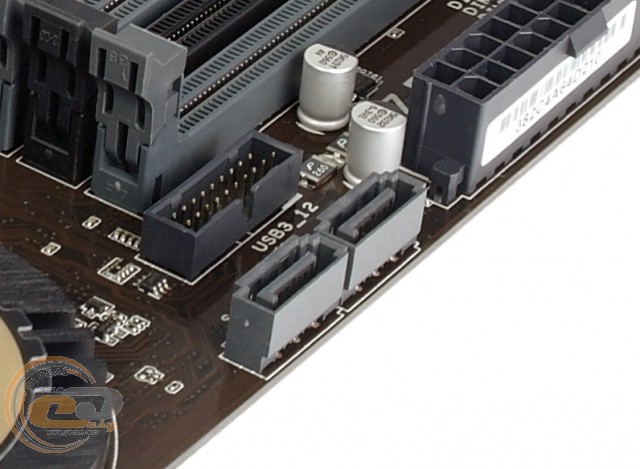 The possibility of organizing a disk subsystem is presented by socket M.2 (SSD drives M.2 2260 and M.2 2280 are supported) and six ports SATA 6 Gb/s. There is support for arrays SATA RAID 0, RAID 1, RAID 5, and RAID 10. All interfaces are implemented by the chipset.
Due to the lack of free chipset line interface M.2 shares bandwidth with two SATA 6 Gb/ s (in the scheme «SATA6G_5» and «SATA6G_6»), respectively, and their simultaneous use is not possible.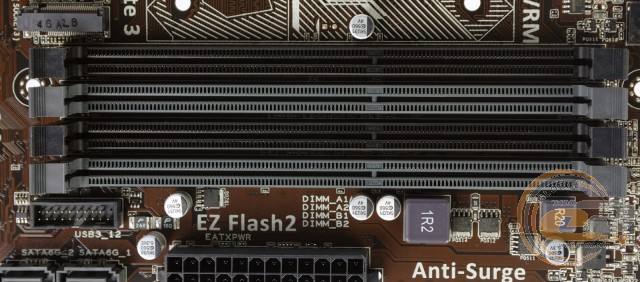 Main board ASUS H97-PLUS is equipped with four DIMM-slots for memory modules DDR3, which are equipped with latches on one side. RAM can operate in dual channel mode. To implement it the modules must be installed either in the first and third or second and fourth slots. Modules operating at frequencies from 1333 to 1600 MHz in nominal mode are supported. Maximum memory capacity may be up to 32 GB which is enough for almost any tasks.
Additionally note the module for connecting remote panel with ports USB 3.0. The total number is six: four external and two internal. All of them are realized by chipset.
Cooling system of the product includes two aluminum radiators: one is used for heat removal from chipset Intel H97, while the other covers power elements of the CPU.
In the process of testing the following temperature indices were fixed:
radiator for chipset cooling – 39.5°C;
radiator for power elements of the CPU cooling – 43.3°C.
The obtained results clearly show a high efficiency of cooling system, indicating the proper selection of materials and design.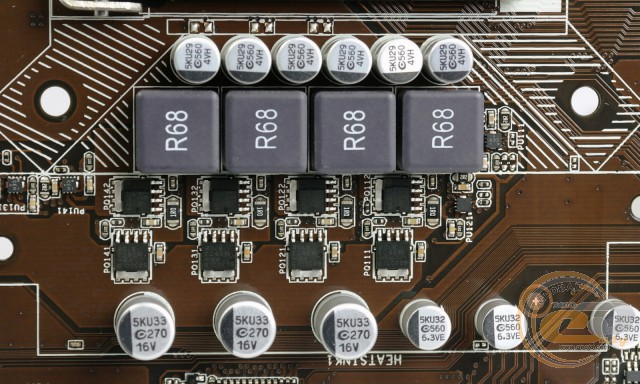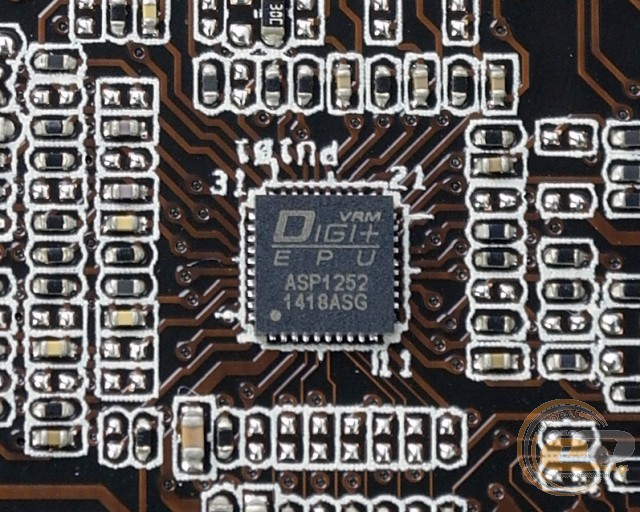 Processor power supply is performed via 4-phase scheme for computational cores and additional joints. Converter is based on a digital PWM controller ASP1252 with integrated power consumption control subsystem DIGI+ VRM. All power components of CPU have high reliability level: Nichicon GT solid capacitors, as well as chokes with ferrite core. Basic 24-pin and additional 8-pin connectors are use for power feeding.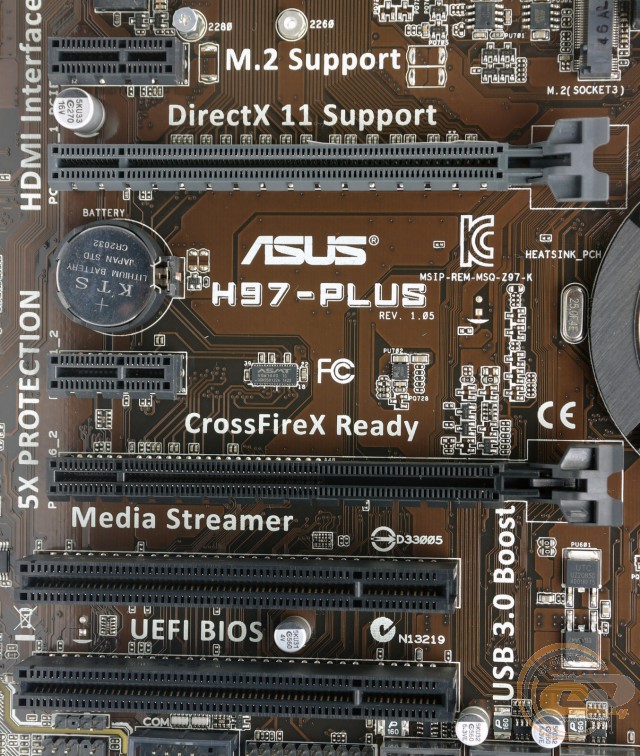 To extend the functionality the motherboard ASUS ASUS H97-PLUS has six slots:
PCI Express 2.0 x1;
PCI Express 3.0 x16 (х16 mode);
PCI Express 2.0 x1;
PCI Express 2.0 x16 (х4 mode);
PCI;
PCI.
Despite the presence of two expansion slots for graphics cards, as well as support for technology AMD CrossFireX, the product is most prone to install only one graphics accelerator, because the scheme of distribution lines x16+ x4 when you install a pair of graphics cards is not the most optimal for realizing the potential of this bunch.
Also note that the connector PCI Express 2.0 x16 shares lines with slots PCI Express 2.0 x1, so by default it operates in mode x2.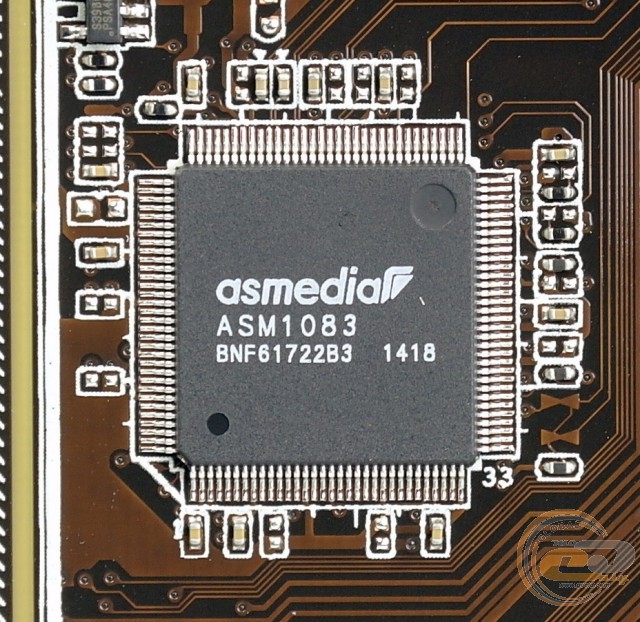 Since the chipset Intel H97 doesn't support bus PCI, the functioning of the two respective slots is implemented by the bridge PCIE-PCI, based on the controller ASMedia ASM1083.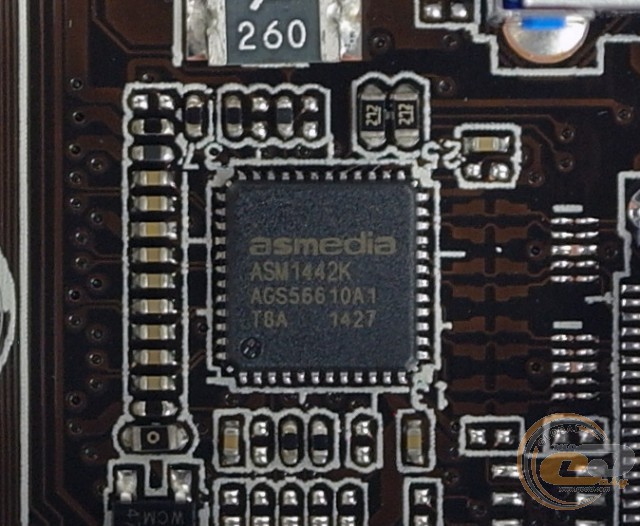 If you decided to take advantage of the integrated graphics core, you have three video outputs: HDMI, DVI-D and D-Sub, navigated by the chip ASMedia ASM 1442K.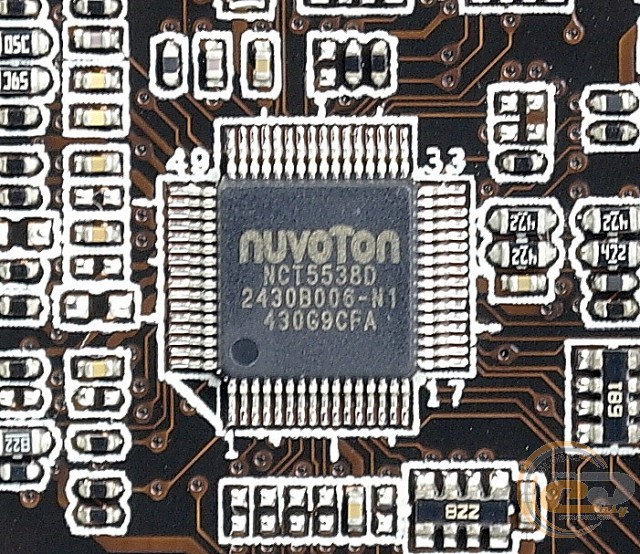 Multi I/O capabilities are based on NUVOTON NCT5538D chip which controls the operation of system fans, ports COM and PS/2 and provides the monitoring.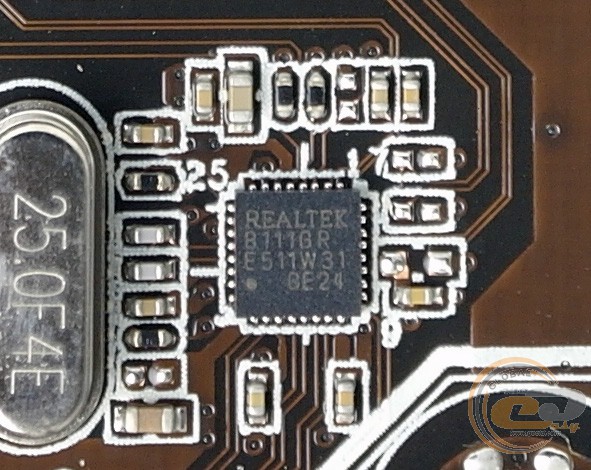 To support network connection there is gigabit LAN-controller Realtek 8111GR.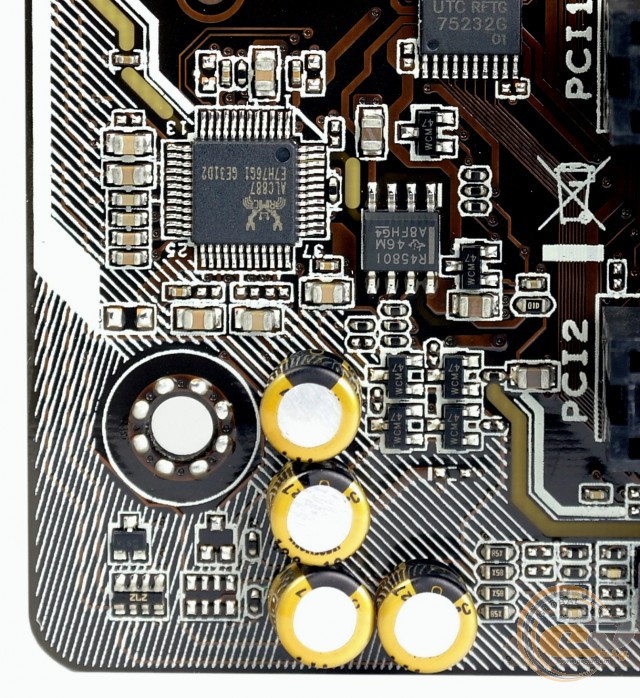 Sound subsystem is based on HAD codec of 8-channel sound Realtek ALC887 that supports 2/4/5.1/7.1 sound systems and has several proprietary features (concept Crystal Sound 2).

Interface panel of ASUS H97-PLUS model contains the following ports:
1 x HDMI;
1 x DVI-D;
1 x D-Sub;
2 x PS/2 for mouse and keyboard connection;
1 x LAN (RJ45);
4 x USB 3.0;
2 x USB 2.0;
3 x audio jacks.
This layout can be considered as very successful, since it has a the required number of video ports, a sufficient number of ports USB, as well as the ability to use periphery with interface PS/2. Also it is possible to put COM port to the rear panel of the PC using the internal connector. Separately we note support video output HDMI with support for output image resolution of 3840 x 2160 pixels (4K Ultra HD). However, in the case multimedia system, some users may be disappointed by inconvenient connection of multi-channel speakers.
The possibilities of organizing the cooling system inside the body from ASUS H97-PLUS are pretty standard. There are three 4-pin fan connectors, one of which is used for the CPU cooling system, while the other two are designed for system fans.
UEFI BIOS
Model uses modern preloader based on UEFI. To provide the setting is possible via mouse control. It proposes two main scenario of the usage.
"EZ Mode" where all required settings are grouped in one screen and overclocking is realized by "EZ Tuning Wizard".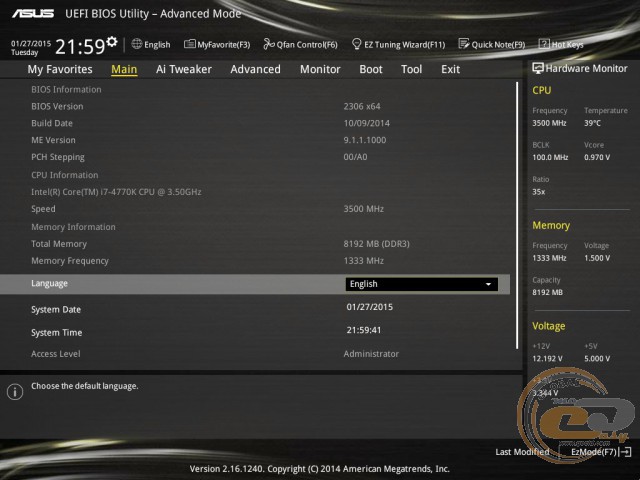 Or standard "Advanced Mode" where all settings should be done manually.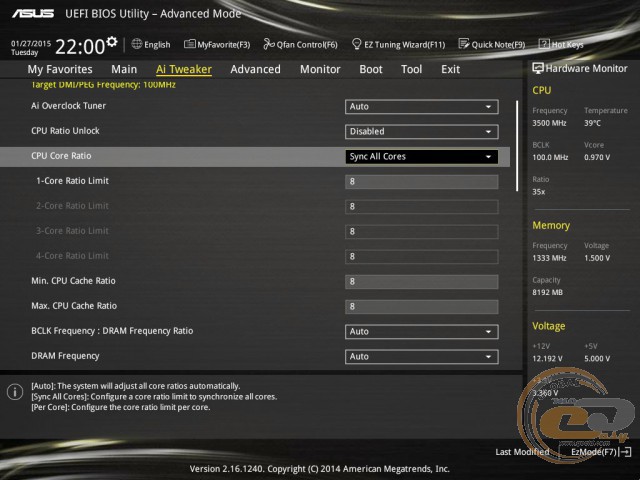 All overclocking parameters are in section "Ai Tweaker".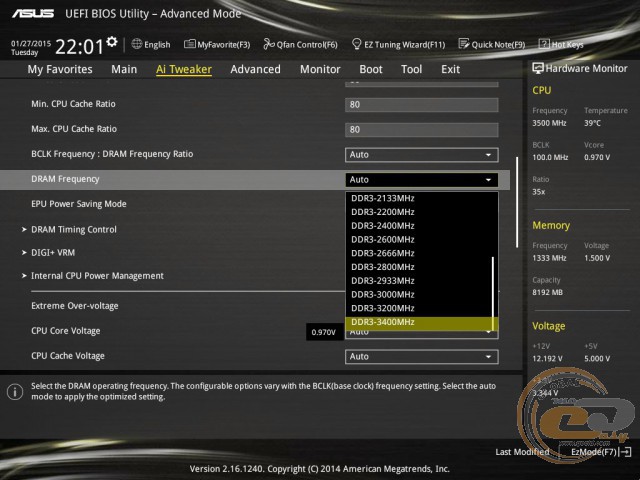 Frequency multiplier allows to set module connection speed within 800-3400MHz, but in practice it was limited by value of 1600 MHz.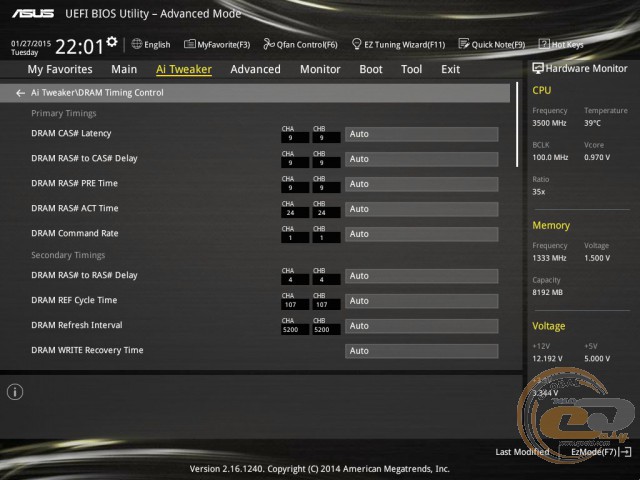 If necessary you can get the access to memory latency adjustments.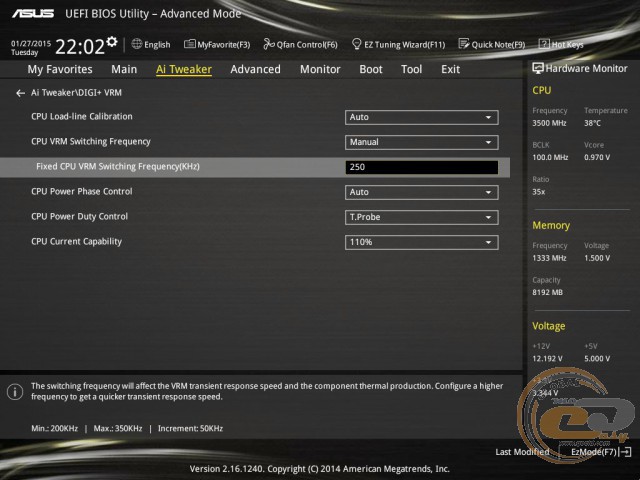 Top increase the stability during overclocking you can use settings of digital power subsystem DIGI+VRM.
Adjustments required to overclock and optimize the system:
Parameter

Menu

Range

Step

RAM frequency

Memory Frequency

3400, 3200, 3000, 2933, 2800, 2666, 2600, 2400, 2200. 2133, 2000, 1866, 1800,

1600, 1400, 1333, 1066, 800

RAM timing

DRAM Timing

CAS Latency, RAS to CAS, RAS PRE Time, RAS ACT Time, DRAM COMMAND Mode, RAS to RAS Delay, REF Cycle Time, Write Recovery Time, READ to PRE Time, FOUR ACT WIN Time, WRITE to READ Delay, Write Latency

Min. CPU Cache Ratio Limit

8 – MAX

1

Max CPU Cache Ratio Limit

8 – MAX

1

Operation frequency of PWM-controller in CPU power converter

Fixed CPU VRM Switching Frequency(KHz)

300 – 500

50

Long Duration Package Power Limit

1 – 4096

1

Package Power Time Window

1 - 127

1

Short Duration Package Power Limit

1 - 4096

1

CPU Integrated VR Current Limit

0,125 – 1023,875

0,125

Power Current Slope

Auto, Level -4 – Level 4

Power Current Offset

Auto, -100% - 100%

12,5 %

Power Fast Ramp Response

0,00 – 1,50

0,001

Power Saving Level 1 Threshold

0 – 80

1

Power Saving Level 2 Threshold

0 – 50

1

Power Saving Level 3 Threshold

0 – 30

1

CPU Core Voltage Override

0,001 – 1,920

0,001

CPU Cache Voltage Override

0,001 – 1,920

0,001

CPU System Agent Voltage Offset

0,001 – 0,999

0,001

CPU Analog I/O Voltage Offset

0,001 – 0,999

0,001

CPU Digital I/O Voltage Offset

0,001 – 0,999

0,001

CPU input voltage

CPU Input Voltage

0,800 – 2,700

0,010

RAM voltage

DRAM Voltage

1,185 – 1,800

0,00500

Chipset voltage

PCH Core Voltage

0,735 – 1,500

0,01250

PCH VLX Voltage

1,185 – 2,135

0,01250

DRAM CTRL REF Voltage

0,39500 – 0,63000

0,00500

DRAM DATA REF Voltage on CHA

0,39500 – 0,63000

0,00500

DRAM DATA REF Voltage on CHB

0,39500 – 0,63000

0,00500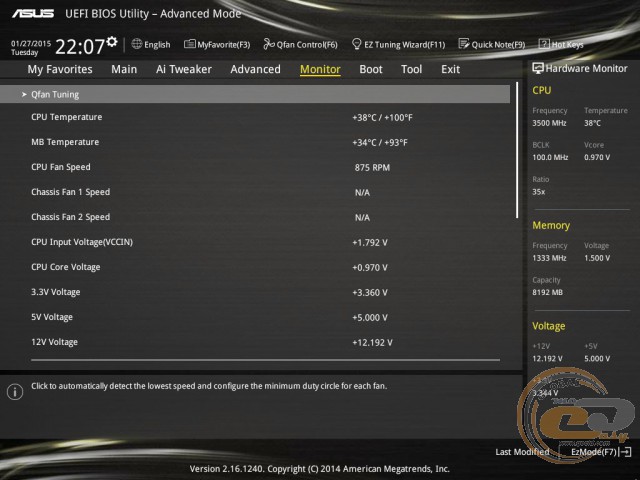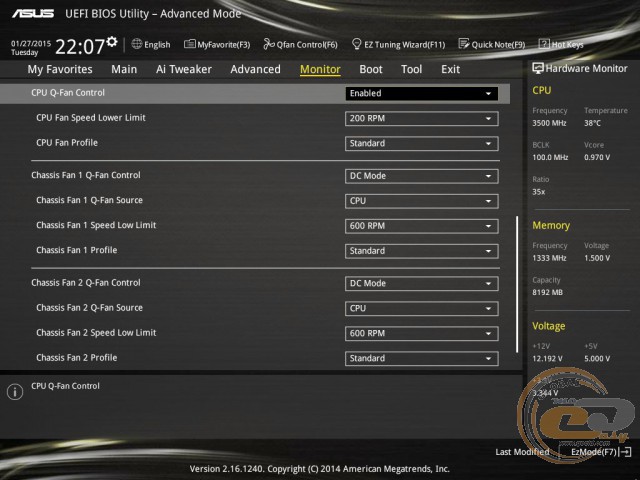 "Monitor" section provides the access to information about temperature of CPU and chipset. In order to monitor voltage on power lines +12V, +5V and +3,3V is possible from any section since this information is displayed on the right side panel. Also it is possible to take screenshots in BIOS.