ASUS M5A97 PLUS motherboard: review and testing
The hero of this review the model ASUS M5A97 PLUS, first of all should interest fans of inexpensive but reliable motherboards designed to work in tandem with the family of processors AMD Phenom II, AMD Athlon and AMD FX. With a cost of about $ 85, ASUS M5A97 PLUS deserves the right to take the place in the system unit to your PC thanks to the support of many relevant features. Let's look at it in more details to learn whether the theory is different from the reality in this case. And first of all let's learn the specification.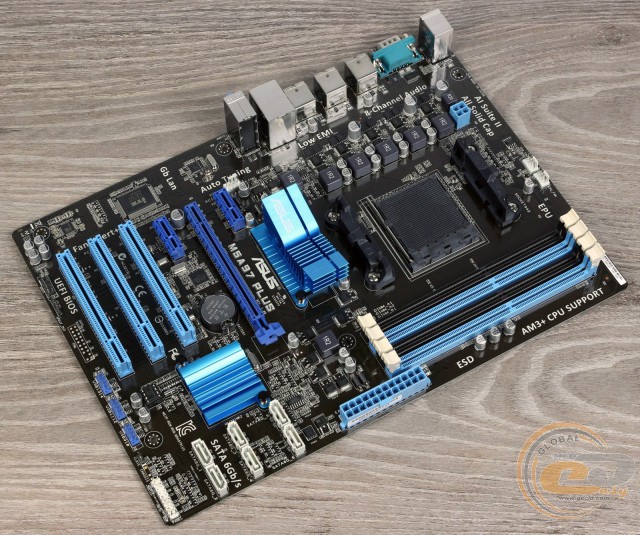 The specs:
Producer

ASUS

Model

M5A97 PLUS (rev 1.0)

Chips of north and south bridges

AMD 970 + AMD SB950

CPU socket

AMD Socket AM3+

CPUs supported

AMD Phenom II / AMD Athlon II / AMD Sempron / AMD FX

Memory frequency

2133* / 1866 / 1600 / 1333 / 1066 MHz

(*OC)

Memory support

4 x DDR3 DIMM-slots with support of memory up to 32 GB

Expansion slots

1 x PCI Express 2.0 x16

2 x PCI Express 2.0 x1

3 х PCI

Disk subsystem

AMD SB950 supports:

6 x SATA 6 Gb/s

RAID 0, RAID 1, RAID 5, RAID 10

LAN

1 x Realtek 8111F (10/100/1000 Мb/s)

Sound subsystem

Codec Realtek ALC887

8-channel sound

S/PDIF Out

Power

24-pin power socket ATX

4-pin power socket ATX12V

Fans

1 x CPU fan connector (4-pin)

2 x system fan connectors (4-pin)

Cooling

Aluminum radiators of north bridge

Aluminum radiators of south bridge

External I/O

1 x LAN (RJ45)

8 x USB 2.0

1 х COM

3 x audio jacks

2 х PS/2 (mouse and keyboard connection)

Internal I/O

3 x USB 2.0, each with support of two USB 2.0

6 x SATA 6 Gb/s

1 x S/PDIF Out

1 x connector of audio output to front panel

1 x set of front panel connectors

1 x CMOS

BIOS

64 Mb Flash ROM UEFI AMI BIOS

ACPI 2.0a, SM BIOS 2.7, PnP, DMI 2.0

Packaging

user manual

warranty card

disk with drives and documents

2 x SATA cables

1 х interface panel plug

Form-factor,

dimensions

ATX

305 х 216 mm

Producer website

ASUS
Updated versions of BIOS and drives are available at support page
Package and content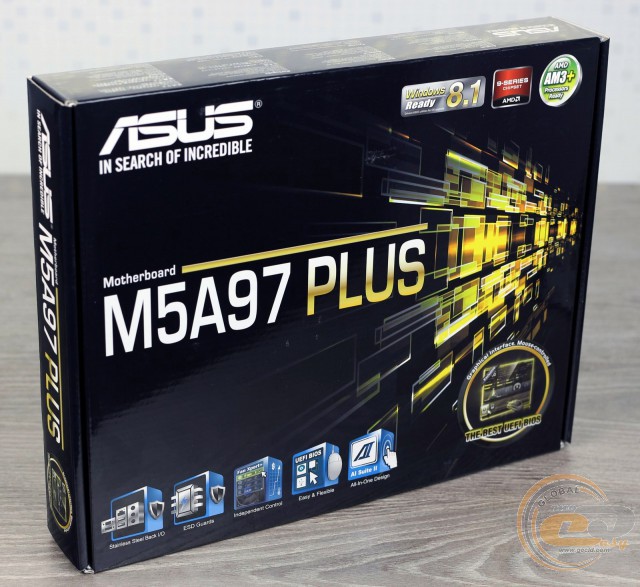 Motherboard ASUS M5A97 PLUS comes in a cardboard traditional box. Its decor is typical of ASUS, namely dark and yellow shades. The front side has the note about the interface UEFI BIOS, chipset for protection against electrostatic discharge, reinforced design of interface board and a number of proprietary software products. Additionally, you can pay attention to the logo of the manufacturer.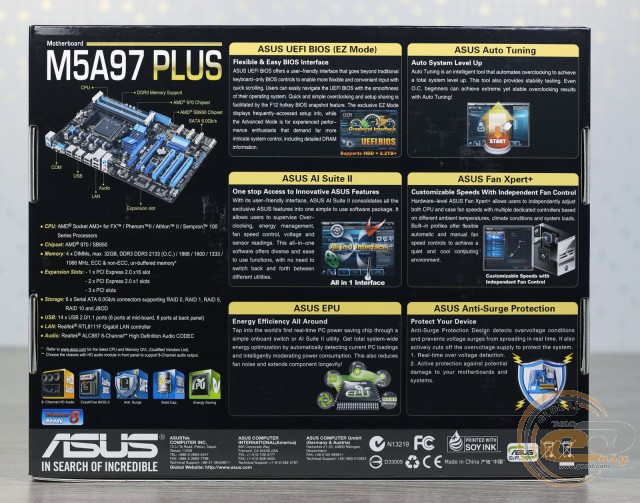 On the reverse side of the box, in addition to images and brief features, you can find a description of the key advantages, namely:
ASUS EPU - motherboard is equipped with an intelligent energy processor (Energy Processing Unit - EPU), which significantly increases the efficiency of the power system.
Fan Xpert+ - intelligent system of fan control, allowing to achieve an efficient cooling with minimal noise.
AI Suite II – a proprietary software, with which you can fine-tune a number of system settings without entering the BIOS.
Auto Tuning - automatic overclocking by pressing a button in the bundled software.
Also do note a special attention about the use of reference reliable solid-state capacitors.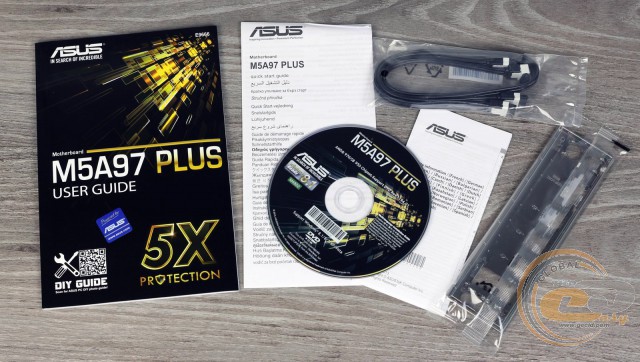 Package of ASUS M5A97 PLUS includes only the most necessary accessories:
CD with drivers and utilities;
user Guide;
two SATA-cables;
interface board plug.
Design and features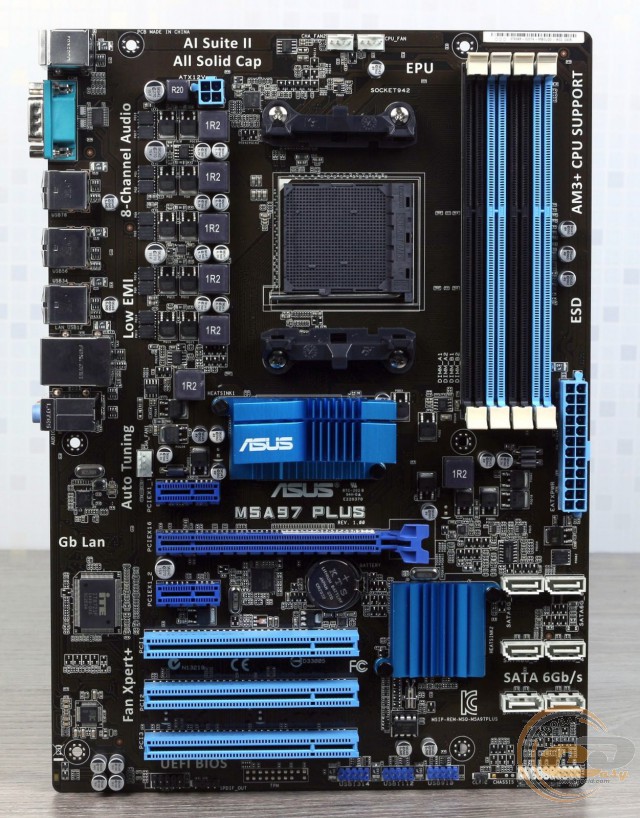 Motherboard ASUS M5A97 PLUS is made in the format ATX (305 x 216 mm) on the PCB is. Dark tone of circuit board is combined with blue and shades in the design, so the novelty looks more interesting.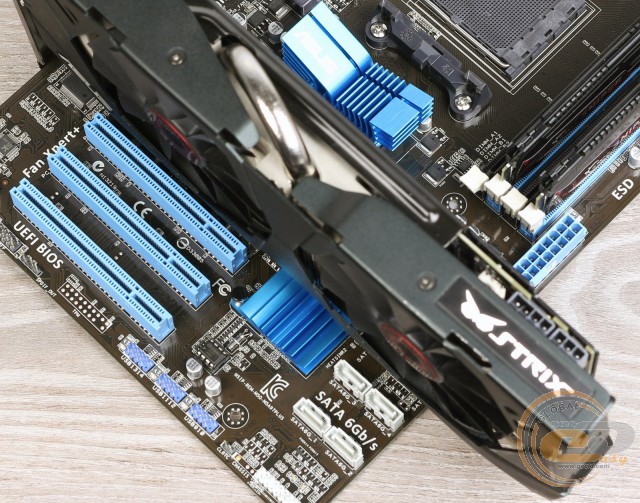 Speaking about the layout and ease of assembly, it is worth noting a few nuances. Firstly, the absence of mounting holes on the right side of the PCB, which together with the perpendicular arrangement of the SATA ports require a greater caution when connecting the drives, as well as the main power cable. Secondly, when you install a graphics card with dual-slot cooler the access to two SATA ports will be closed. If you plan installation of three slot video adapter, you will not be able to take advantage of four interfaces SATA 6 Gb/s.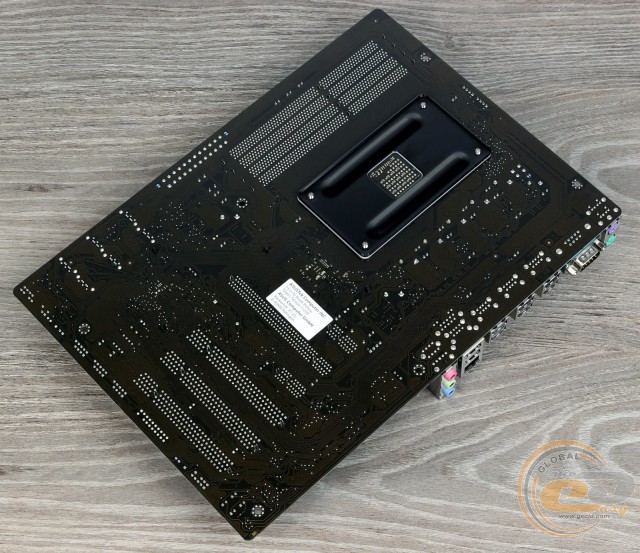 The reverse side of the PCB has only the base plate of the socket. And both the radiators are fixed with plastic spring clips.

At the bottom of the board there are the following connectors: front panel audio leading-in socket, S/PDIF Out, CMOS and front panel connection module. Also here are three modules for additional USB 2.0 ports. Total number of USB 2.0 sockets is fourteen due to the south bridge: six internal and eight on the interface panel.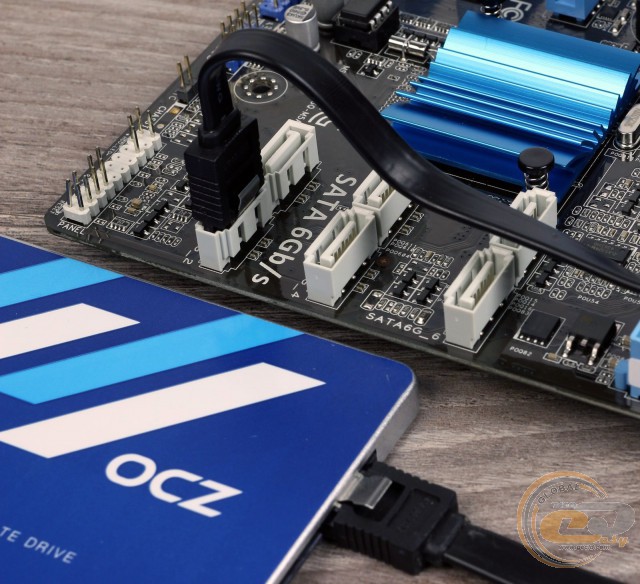 The possibility of organizing a disk subsystem is presented by six ports SATA 6 Gb/s that has the support for arrays RAID 0, RAID 1, RAID 5 и RAID 10. All interfaces are realized by south bridge AMD SB950.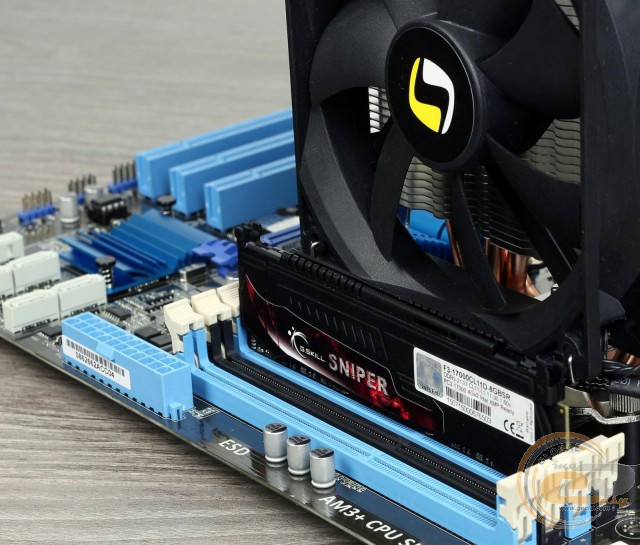 Main board ASUS M5A97 PLUS is equipped with four DIMM-slots for memory modules DDR3, which are equipped with clamps on both sides. RAM can operate in dual-channel mode. The modules should be installed either into first and third or second and fourth slot. Modules operating at frequencies from 1333 to 1866 MHz in nominal mode and up to 2133 MHz in overclocked mode are supported. Maximum memory capacity may be up to 32 GB which is enough for all tasks.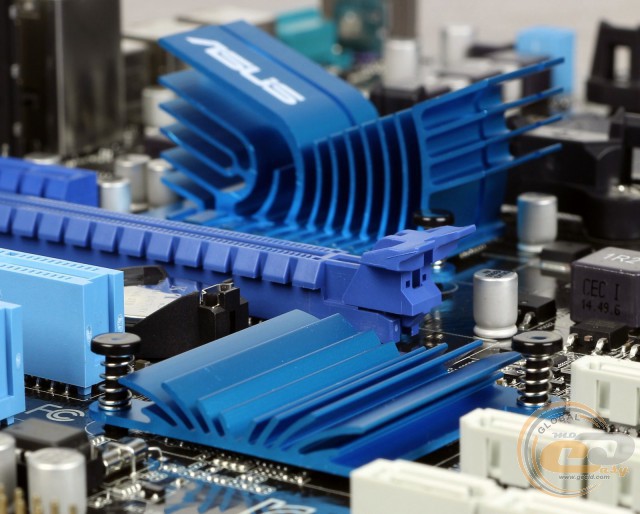 Cooling system of the product includes two aluminum radiators: the first covers north bridge AMD 970, while the second cools the south bridge AMD SB950. In the process of testing the following temperature indices were fixed:
radiator for south bridge AMD SB950 cooling – 36.1°C;
radiator for north bridge AMD 970 cooling – 48.7°C;
field effect transistors for CPU power subsystem – 57.1°C;
chokes of CPU power subsystem – 53.2°C.
These results confirm the effectiveness of the cooling system. However, you should not test the power system in overclocking experiments, because its components do not have passive cooling radiators.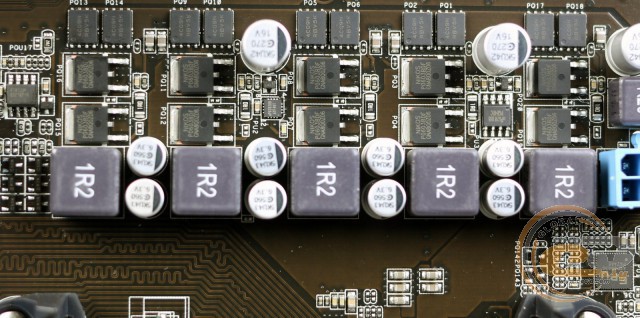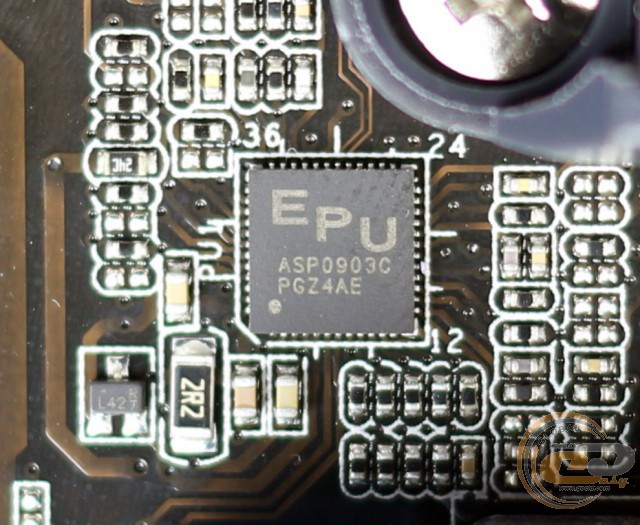 Processor power supply is performed via 4+1-phase scheme for computational cores and additional joints. Converter is based on a digital PWM controller ASP0903С which is used as EPU to improve energy effectiveness of the whole system. All power components of CPU have high reliability level: solid capacitors, as well as chokes with ferrite core. Basic 24-pin and additional 4-pin connectors are use for power feeding.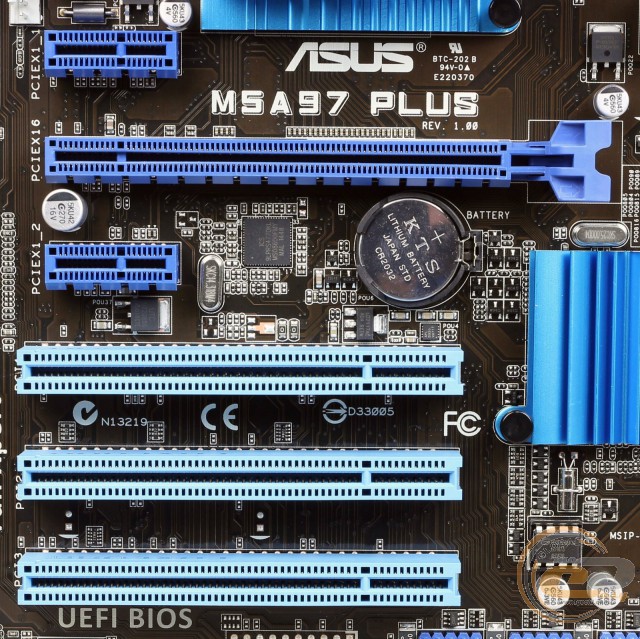 To extend the functionality the motherboard ASUS M5A97 PLUS has six slots:
PCI Express 2.0 x1;
PCI Express 2.0 x16;
PCI Express 2.0 x1;
PCI;
PCI;
PCI.
As we see, there is the possibility to install only one video card that is not critical for the model.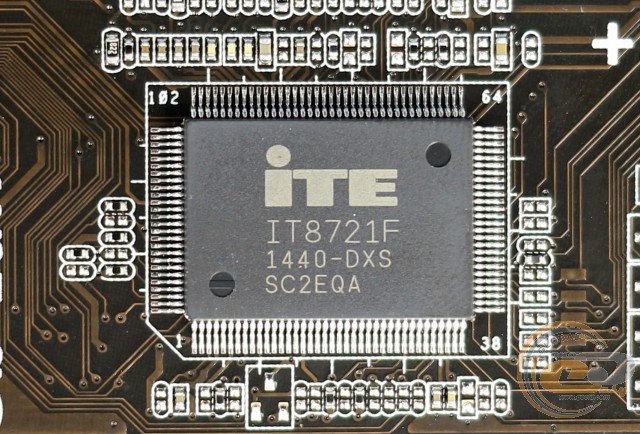 Multi I/O capabilities are based on ITE IT8721F chip which controls the operation of system fans, ports COM and PS/2 and provides the monitoring.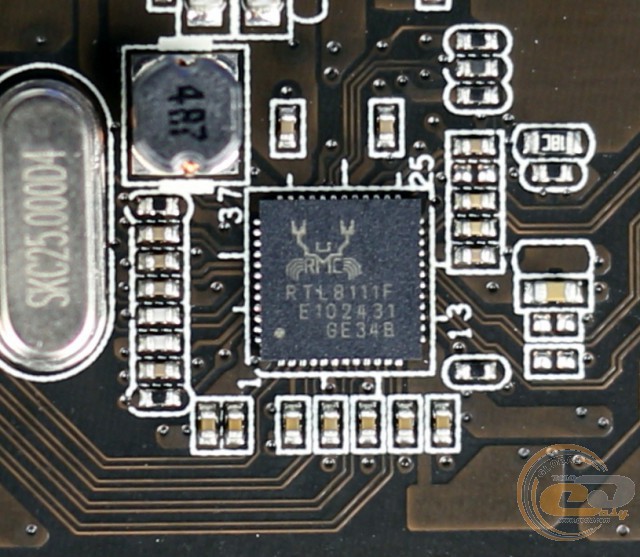 To support network connection there is gigabit LAN-controller Realtek 8111F.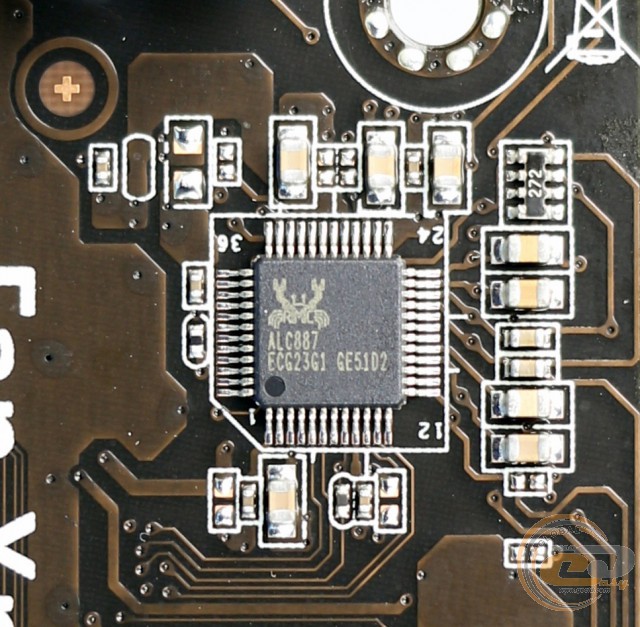 Sound subsystem is based on HAD codec of 8-channel sound Realtek ALC887 that supports 2/4/5.1/7.1 sound systems.

Interface panel of ASUS M5A97 PLUS model contains the following ports:
2 x PS/2 (for mouse and keyboard);
1 x LAN (RJ45);
8 x USB 2.0;
1 x COM;
3 x audio jacks.
Interface panel has standard features. The advantages include a large number of ports USB 2.0, support for interface COM, as well as two PS/2. The disadvantages contain the lack of USB 3.0, as well as inconvenient connection of multichannel speakers.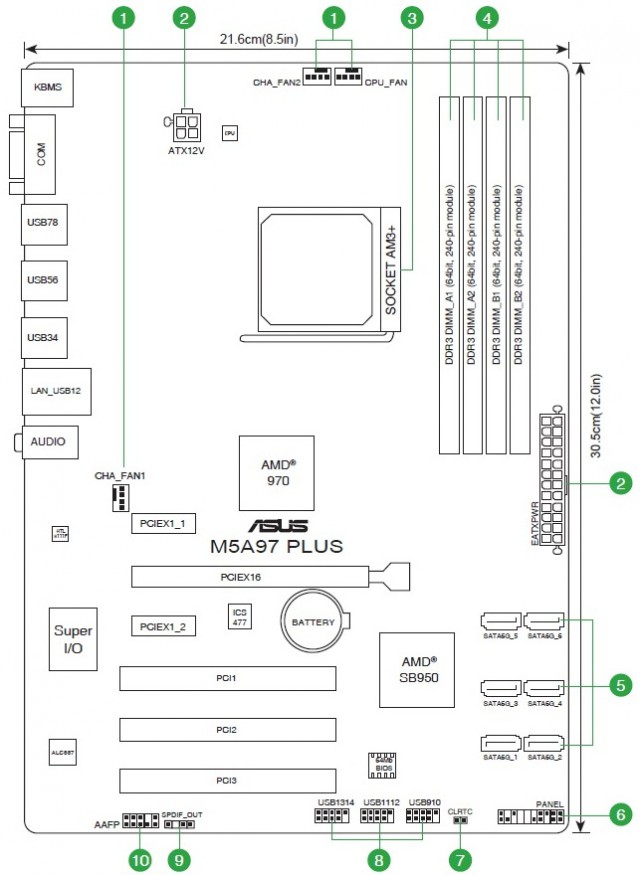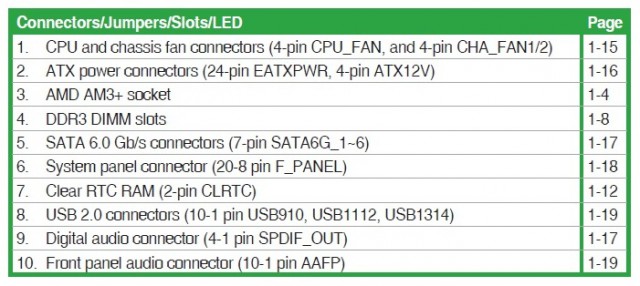 Motherboard ASUS M5A97 PLUS has three 4-pin fan connectors: one is used to power the cooling system of the processor, while the other two are for connecting system fans.
UEFI BIOS
Model uses modern preloader based on UEFI. To provide the setting is possible via mouse control. It proposes two main scenario of the usage.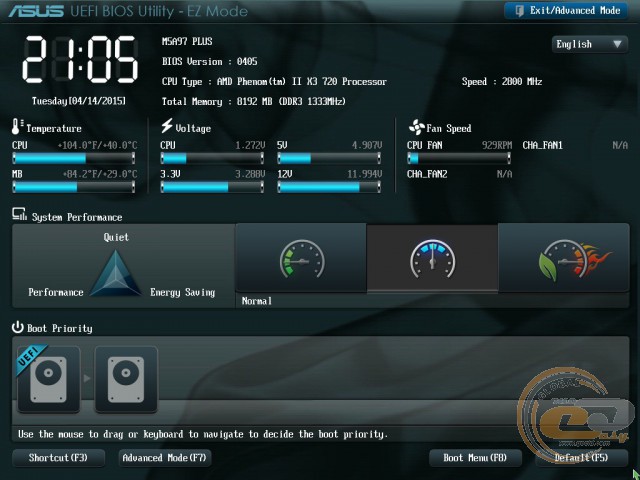 "EZ Mode" mode where all required settings are grouped in one screen.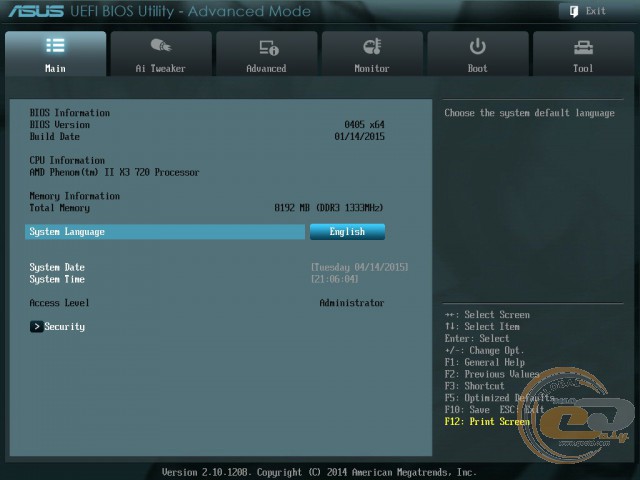 Or standard "Advanced Mode" mode where all settings should be done manually.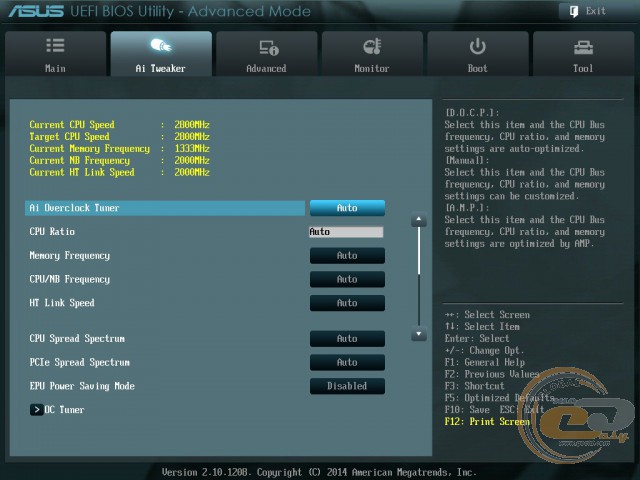 All overclocking parameters are in section "Ai Tweaker".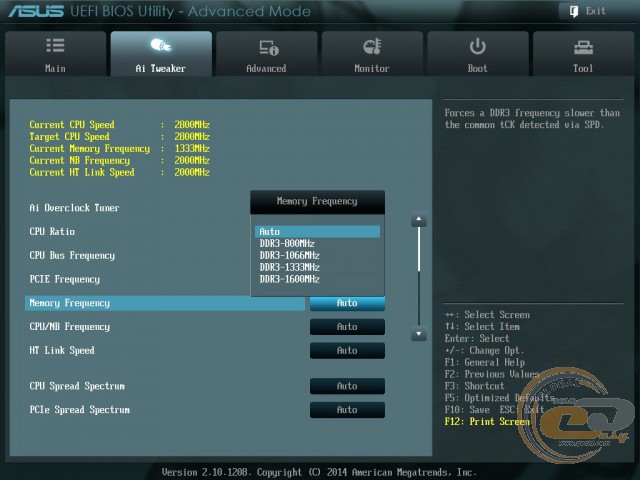 Frequency multiplier allows to set module connection speed within 800-1600 MHz for applied processor. If you are installing the model of series AMD FX, a number of available values will increase.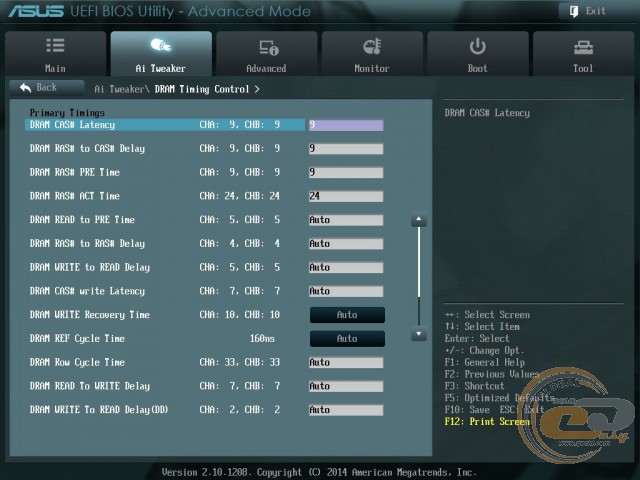 If necessary you can get the access to memory latency adjustments.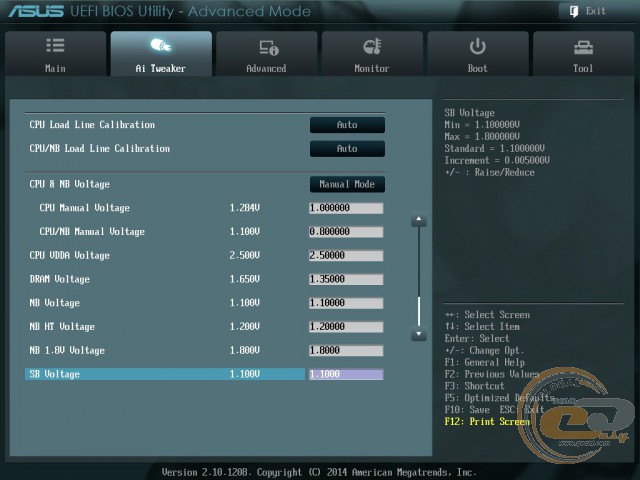 Top increase the stability during overclocking you can use voltage settings for key components.
Adjustments required to overclock and optimize the system:
| | | | |
| --- | --- | --- | --- |
| Parameter | Menu | Range | Step |
| RAM frequency | Memory Frequency | 800, 1066, 1333, 1600, 1866, 2133 | |
| CPU multiplier | CPU Ratio | 4,0 – 35,0 | 0,5 |
| Bus PCI Express frequency | PCI Express Frequency | 100 – 150 | 1 |
| | CPU Bus Frequency | 100 – 600 | 1 |
| Bus frequency processor – north bridge | CPU/NB Frequency | 1400, 1600, 1800, 2000, 2200, 2400, 2600, 2800, 3000, 3200 | |
| HT bus frequency | HT Link Speed | 800, 1000, 1200, 1400, 1600, 1800, 2000 | |
| RAM timing | DRAM Timing Control | CAS, RAS to CAS, RAS PRE Time, RAS ACT Time, READ to PRE Time, RAS to RAS, WRITE to READ Delay, CAS WRITE Latency, WRITE RECOVERY Time, REF CYCLE Time, ROW CYCLE Time, READ to WRITE Delay, WRITE to READ Delay(DD), WRITE to WRITE Timing, READ to READ Timing, Refresh Rate, Command Rate | |
| CPU voltage | CPU Manual Voltage | 1,000000 – 1,800000 | 0,006250 |
| Bus frequency processor – south bridge | CPU/NB Manual Voltage | 0,800000 – 1,600000 | 0,006250 |
| | CPU VDDA Voltage | 2,200000 – 2,800000 | 0,006250 |
| RAM voltage | DRAM Voltage | 1,200000 – 2,200000 | 0,005000 |
| NB Voltage | NB Voltage | 1,100000 – 1,250000 | 0,006250 |
| NB HT Voltage | NB HT Voltage | 1,200000 – 1,400000 | 0,006250 |
| NB 1.8V Voltage | NB 1.8V Voltage | 1,8000 – 2,1000 | 0,005000 |
| SB Voltage | SB Voltage | 1,1000 – 1,8000 | 0,005000 |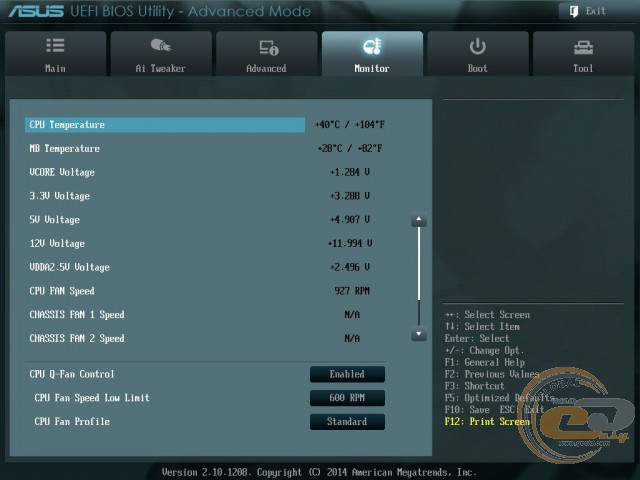 "Monitor" section provides the access to information about temperature of CPU, fan rotation speed and monitor voltage on power lines +12V, +5V and +3,3V. Also it is possible to take screenshots.
Социальные комментарии Cackle