Motherboard ASUS SABERTOOTH X99: review and testing
The success of the lineup ASUS TUF (The Ultimate Force) indicates that the motherboard with a high level of reliability and protection proved to be in high demand, so they are very popular. Taking into account this fact, we were not surprised that the company ASUS decided to expand the series ASUS TUF by model based on chipset Intel X99, focused for enthusiasts.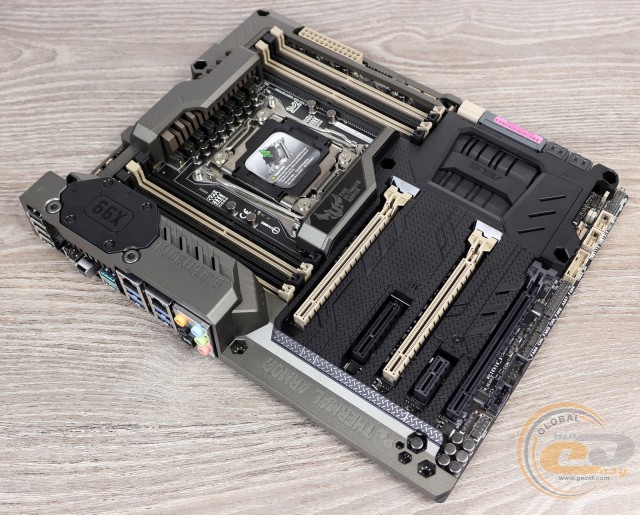 The motherboard ASUS SABERTOOTH X99 will be described in today's review. At an average cost of about $ 450, it has a number of proprietary features and benefits that will be described latter.
The specs:
Producer

ASUS

Model

SABERTOOTH X99 (rev 1.1)

Chipset

Intel X99

CPU socket

Socket LGA2011-v3

Supported CPUs

Intel Core i7-5000 (family Intel Haswell-E)

Memory frequency

2133 / 2400 MHz

Memory support

8 x DDR4 DIMM-slots with memory support up to 64 GB

Expansion slots

3 x PCI Express 3.0 x16

40 lines

28 lines

х16

х16+х16

х16+х16+х8

х16

х16+х8

х16+х8+х4

1 х PCI Express 2.0 x4 (in mode x2)

1 х PCI Express 2.0 x1

Disk subsystem

Intel X99 chipset supports:

1 х M.2 (M.2 2242, M.2 2260, M.2 2280, M.2 22110)

8 x SATA 6 Gb/s

1 x SATA Express (compatible with 2 x SATA 6 Gb/s)

RAID 0, RAID 1, RAID 5, RAID 10

LAN

1 x Intel WGI218V (10/100/1000 Мb/s)

1 x Realtek 8111GR (10/100/1000 Мb/s)

Sound subsystem

Codec Realtek ALC1150

8-channel sound

S/PDIF Out

Power

1 х 24-pin ATX connector

1 х 8-pin ATX12V connector

1 x 4-pin ATX12V connector

Fans

3 x CPU fan connectors (4-pin)

4 x system fan connectors (4-pin)

5 х sockets for connection of additional fans (4-pin)

Cooling

Aluminum radiator on chipset

Aluminum radiator on subsystem power elements connected by heat pipe

Extenral I/O

2 x LAN (RJ45)

4 x USB 3.0

2 x USB 3.1

4 x USB 2.0

1 х TUF Detective

5 x audio jacks

1 х optical S/PDIF Out

1 x button «USB BIOS Flashback»

Internal I/O

2 x USB 3.0, each with support of two USB 3.0 (19-pin)

2 x USB 2.0, each with support of two USB 2.0

8 x SATA 6 Gb/s

1 x SATA Express, compatible with two SATA 6 Gb/s

1 х M.2

1 х socket TPM

1 х socket COM

1 x connector of audio output to front panel

1 x set of front panel connectors

1 x S/PDIF Out

1 х button «MemOK!»

1 х module TB_HEADER

1 х thermal sensor socket

1 x socket DRCT

1 х adapter Clear CMOS

BIOS

AMI UEFI BIOS

128 Мb

PnP, DMI 2.7, WfM 2.0, SM BIOS 2.7, ACPI 5.0

Packaging

user manual

warranty card

disk with drives and documents

1 х set ASUS Q-Connectors

6 x SATA cables

1 x bridge 2-Way NVIDIA SLI

1 х set of plugs for ports and expansion slots

1 х fan of cooling system ASUS Thermal Armor

1 х set of thermal sensors

1 х interface panel plug

Form-factor, dimensions

ATX

305 х 244 mm

Producer website

ASUS
Updated versions of BIOS and drives are available at support page
Package and content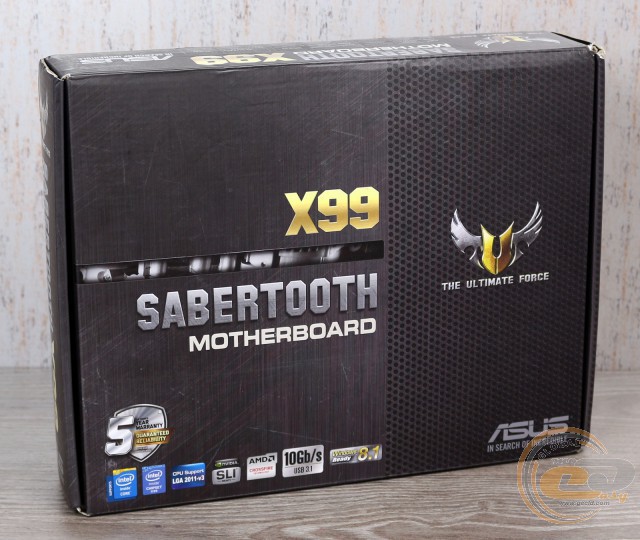 Motherboard ASUS SABERTOOTH X99 is shipped in a high-quality cardboard box with dark color printing. Its design is quite restrained and austere. The front side contains the name of the board and the manufacturer and the logo of series ASUS TUF (The Ultimate Force). Also note the presence of the logo indicating five-year warranty, which is common to all motherboards in this series.
In the lower part there are references to support for Windows 8.1, technologies NVIDIA SLI and AMD CrossFireX, as well as the presence of USB 3.1 interface with a bandwidth of 10 Gb/s.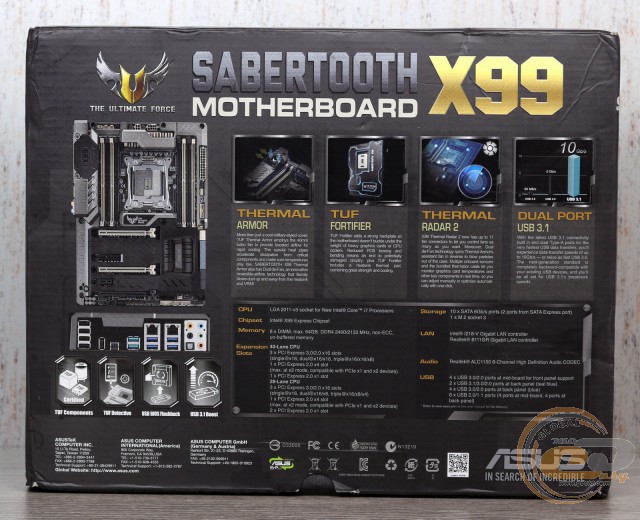 The reverse side has an image of the motherboard, its interface panel and the main features. At the top you can find the key benefits ASUS SABERTOOTH X99:
ASUS Thermal Armor is special cooling system which includes a protective case covering almost the entire PCB, and a fan directing air flow inside the case for more effective heat removal from core components and elements.
ASUS TUF Fortifier - the back side of the motherboard has a special reinforcement plate, which prevents damage to the PCB during installation of overall board and use of cooling systems. Moreover, it contributes to further removal of heat.
ASUS Thermal Radar 2 - due to the large number of temperature sensors, as well as the presence of the auxiliary temperature sensors, the user receives full information about the current state of the system.
DUAL PORT USB 3.1 - the interface panel of the motherboard has two port USB 3.1 Type-A with a capacity of 10 Gb/s.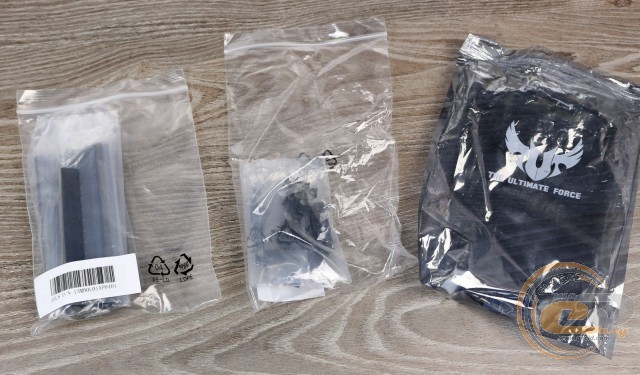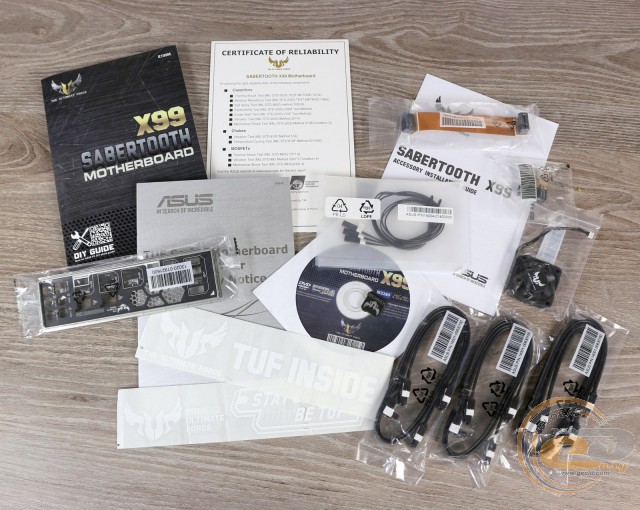 In addition to the usual disk with software the box with the ASUS SABERTOOTH X99 contains user manual and plug the interface board and the following items:
Six SATA cables;
certificate of quality;
set of plugs for the expansion slots;
set ASUS Q-Connectors, which greatly simplifies the process of connecting the PC front panel;
set of temperature sensors;
cooling fan ASUS TUF Thermal Armor;
bridge NVIDIA SLI.
Design and features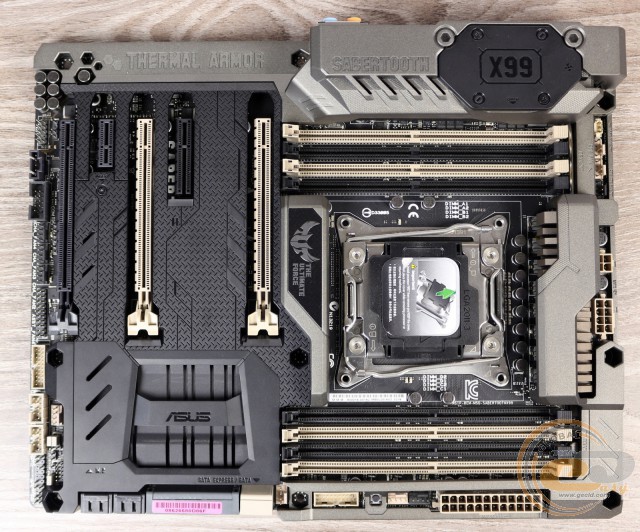 The motherboard is made on a black ATX board. Its surface is almost completely hidden from view by a special casing, which not only performs protective function, but also directs the air flow generated by the fan on the key components of the power subsystem.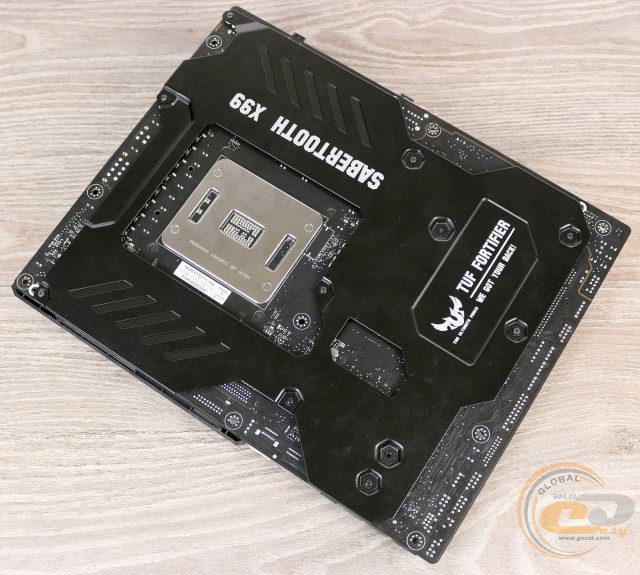 On the reverse side you can find a massive base plate, designed to increase rigidity and prevent a possible fracture of the PCB due to the installation of the overall cooling system or a massive graphics. In addition, it serves as a heat sink, providing a removal of excess heat.

At the bottom of the board there are the following connectors: front panel audio leading-in socket, S/PDIF Out, ports COM and TPM, three sockets for system fan, sockets to connect supplied thermal sensors, module TB_HEADER to realize interface Thunderbolt, socket DRCT (allow to connect additional button for BIOS entering and put ir on the front side of the case) as well as front panel connection module. Also here are three modules for connection of ports USB: two USB 2.0 and one for USB 3.0. Total number of USB 2.0 sockets is eight: four are internal and four on the interface panel. As for USB 3.0, there are also four: four external and two internal operated due to set of system logic, while two additional external sockets are realized by controller ASMedia.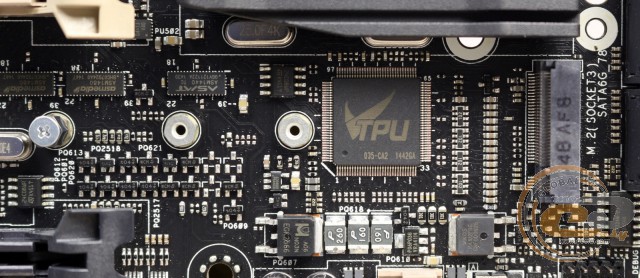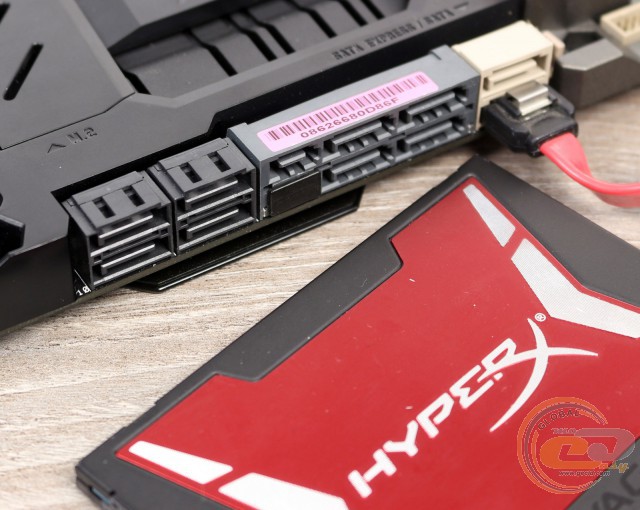 The possibility of organizing a disk subsystem is presented socket M.2 (SSD-drives M.2 2242, 2260, 2280 and 22110 are supported), eight ports SATA 6 Gb/s and one SATA Express which is compatible with two SATA 6 Gb/s. There is a support for arrays SATA RAID 0, RAID 1, RAID 5 and RAID 10.
Due to lack of available chipset lines, one slots PCI Express 3.0 x16 (on the scheme «PCIEX16_3») shares the bandwidth with interface M.2, and thus their simultaneous use is not possible.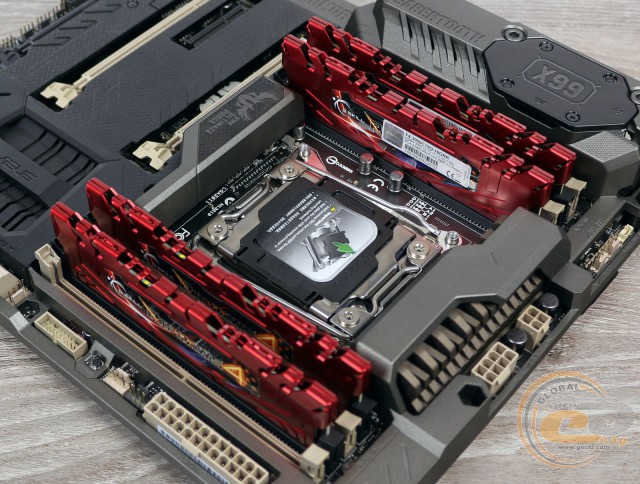 ASUS SABERTOOTH X99 is equipped with eight DIMM-slots for RAM modules of standard DDR4, which are equipped with latches on one side. RAM can operate in four channel mode. For the implementation of one of the multi-channel mode, the module must be installed according one of the following schemes.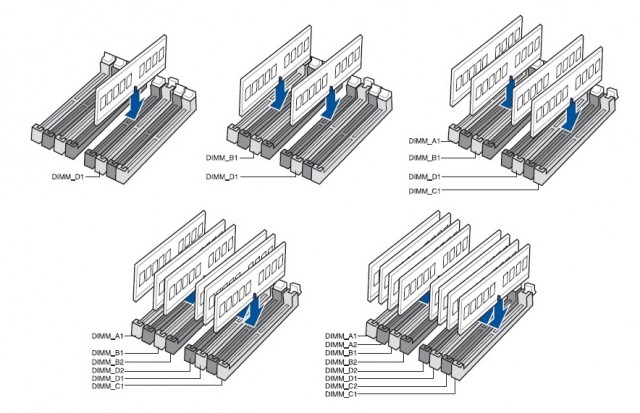 Modules operating at frequencies up to 2400 MHz. The maximum amount of memory can be up to 64 GB, which is enough for any task.
Note button «MemOK!» arranged on the right side of the PCB. It allows you to automatically pick up the necessary parameters of the RAM to the successful launch of the system, and a second connector for connecting the remote panel with ports USB 3.0.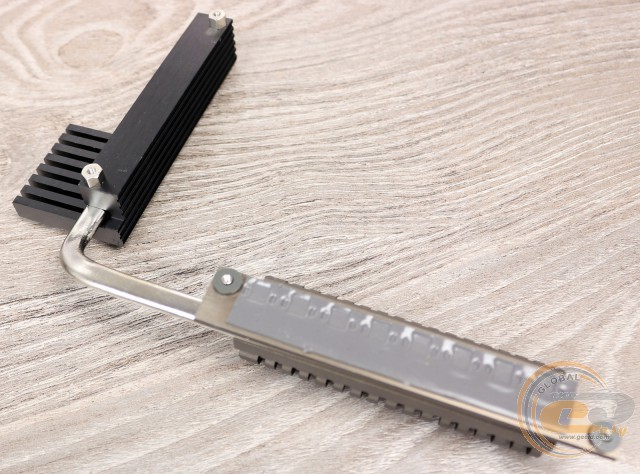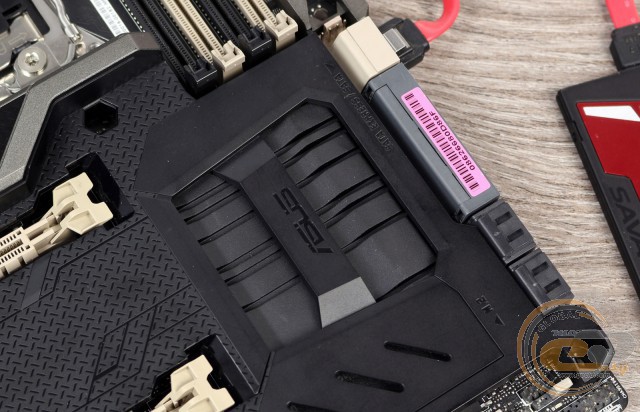 The cooling system of a novelty consists of three main aluminum radiators: one carries out the removal of heat from the chipset Intel X99, while the other two (nickel-plated heat pipe) cover elements of processor power subsystem. In the process of testing including connected additional fan the chipset heat sink was warmed up to 37,7°C, which gives hope for higher overclocking potential.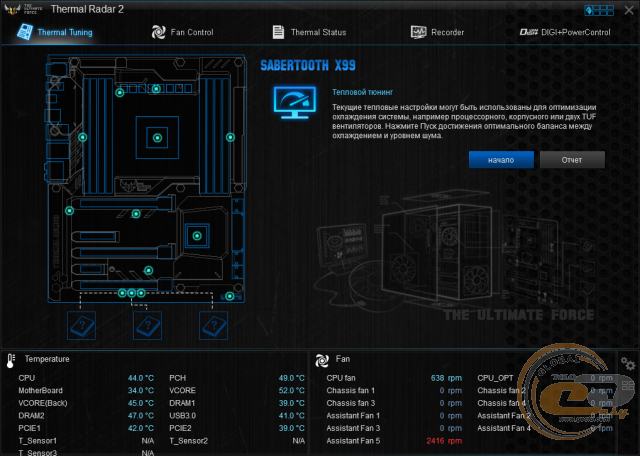 Motherboard ASUS SABERTOOTH X99 provides information with ten built-in temperature sensors and three additional that can be installed on any component. Monitoring of the data is carried out by the utility ASUS Thermal Radar 2. The following results were obtained:
| | | | |
| --- | --- | --- | --- |
| Sensor | Excluding additional fan, °C | Including fan on maximum speed, °C | Temperature difference, °C |
| CPU | 51 | 50 | -1 |
| Motherboard | 30 | 29 | -1 |
| Vcore(back) | 55 | 49 | -6 |
| Vcore | 59 | 55 | -4 |
| USB | 37 | 35 | -2 |
| DRAM | 37 | 36 | -1 |
| DRAM 2 | 47 | 41 | -6 |
| PCH | 44 | 44 | 0 |
| PCIE1 | 37 | 37 | 0 |
| PCIE2 | 34 | 34 | 0 |
As you can see, the installation of the complete fan positively effects on key components located near thanks to the competent organization of air flows inside the case.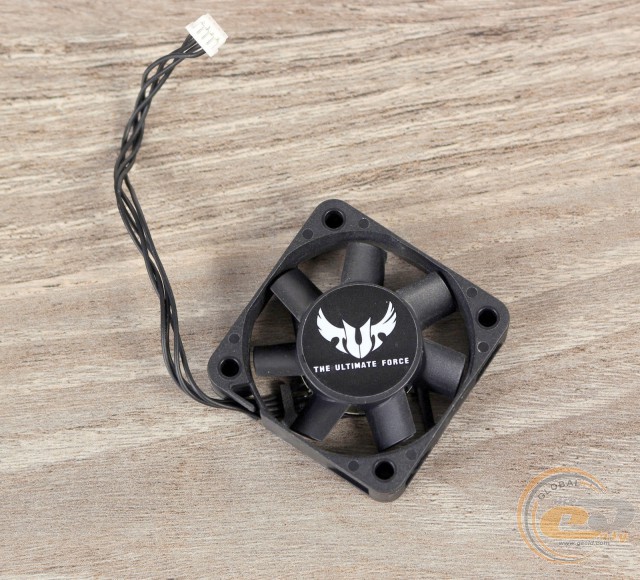 Maximum speed of the fan was 6400 rpm. Complete utility ASUS Thermal Radar 2 allows you to optimize the cooling system through the automatic configuration of connected fans. After completion of this procedure, it run at a speed of 2420 rpm.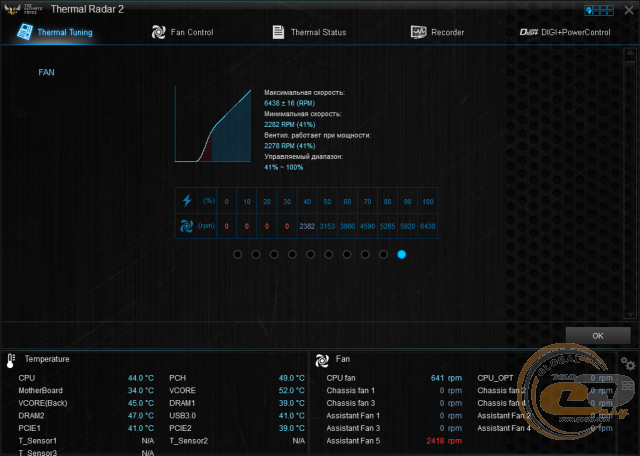 The noise level at the maximum rotational speed of the blades (6400 rpm) was an average and clearly distinguishable in the silent system. However, at a frequency of 4200 rpm the noise is reduced below the average, and it is poorly distinguishable from the other components. Accordingly in case of speed at 2420 rpm it is silent.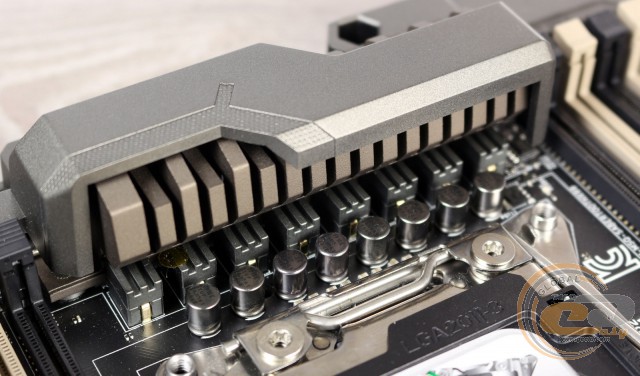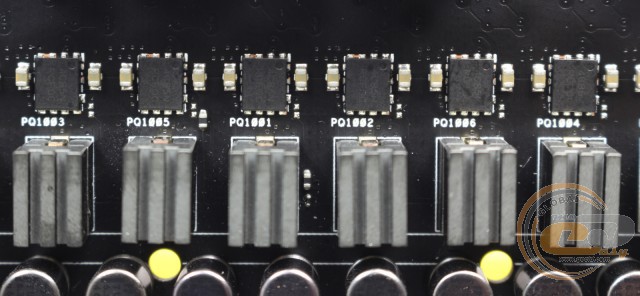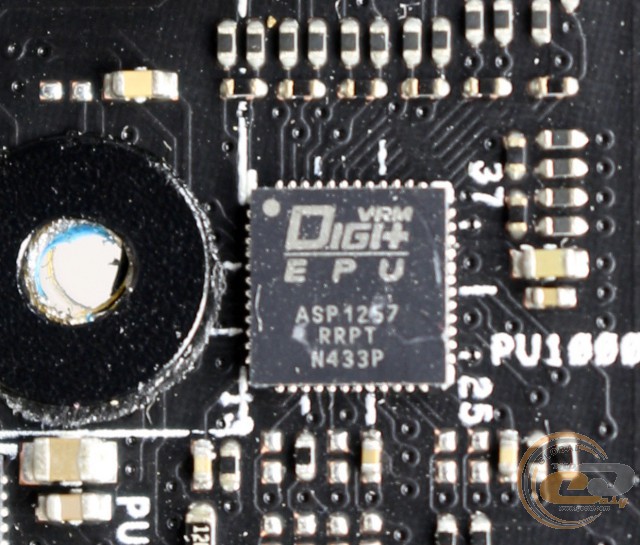 Питание процессора осуществляется по усиленной 8-фазной схеме для вычислительных ядер и дополнительных узлов. Сам преобразователь основан на цифровом ШИМ-контроллере ASP1257 со встроенной подсистемой управления энергопотреблением DIGI+ VRM.
Processor power supply is performed via 8-phase scheme for computational cores and additional joints. The transformer is based on PWM controller ASP1257 with integrated subsystem of power consumption control DIGI+ VRM. The circuitry is made by high quality components such as: solid capacitors TUF 10K Ti-Caps with increased 5 time lifetime and extended operating temperature range (20%), MOS transistors TUF MOSFET with low level of open channel resistance and improved chokes TUF New Alloy Chokes with low temperature and increased reliability. Basic 24-pin and two additional 8 and 4-pin connectors are use for power feeding.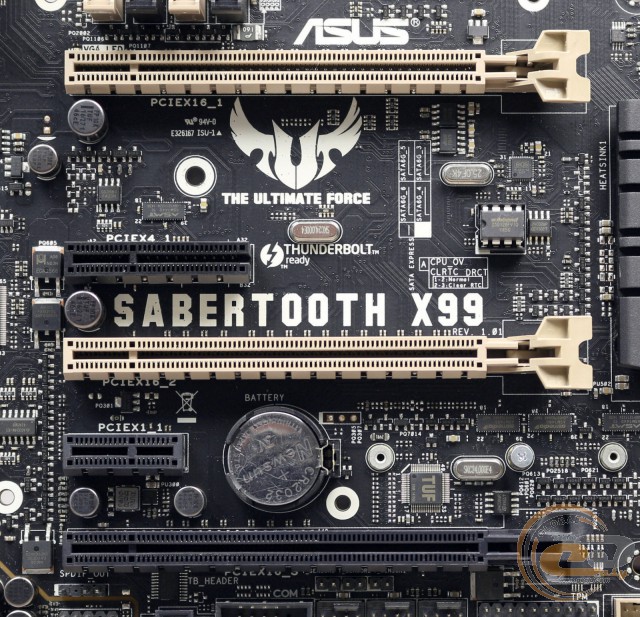 To extend the functionality of the product user has five slots:
PCI Express 3.0 x16 («PCIEX16_1», mode х16);
PCI Express 2.0 x4 («PCIEX4_1», mode x2);
PCI Express 3.0 x16 («PCIEX16_2», mode х16 or х8);
PCI Express 2.0 x1 («PCIEX1_1»);
PCI Express 3.0 x16 («PCIEX16_3», mode х8 or х4);
In this case we are dealing with a very interesting implementation of slots, which depends on the model of the installed processor.

If you are using a CPU with the support of 40 lines PCI Express 3.0, the installed graphics cards will work according one of the above schemes.

If you have CPU with support for only 28 lines PCI Express 3.0, the scheme of their distribution between graphics adapters will look as indicated above.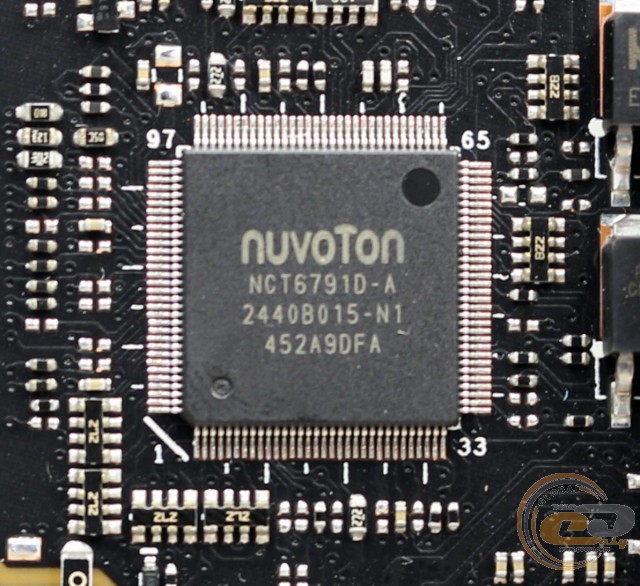 Multi I/O capabilities are based on chip NUVOTON NCT6791D-A which controls the operation of the system fans, port COM, as well as provides the monitoring.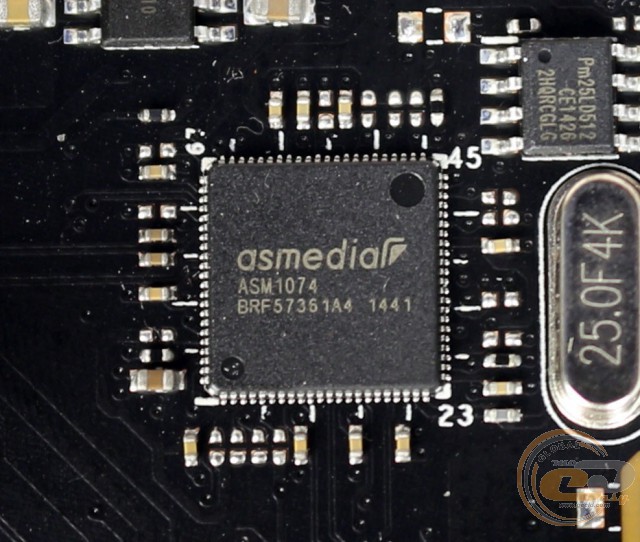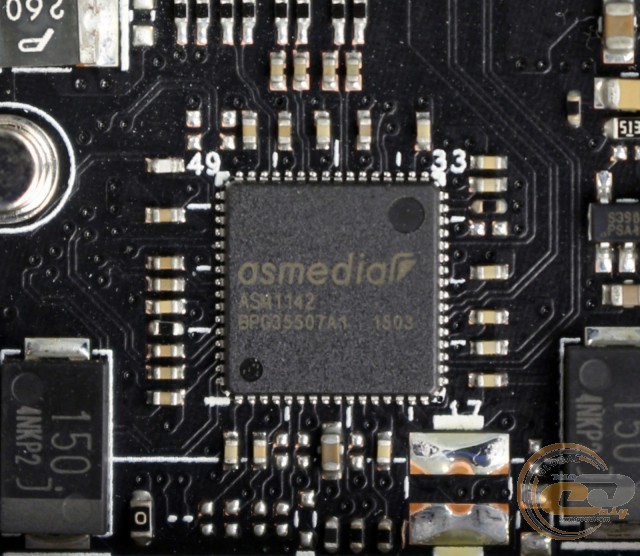 The operation of two USB 3.0 and two USB 3.1 Type-A ports on the interface panel is realized with the help of chips ASMedia ASM1074 and ASMedia ASM1142 respectively.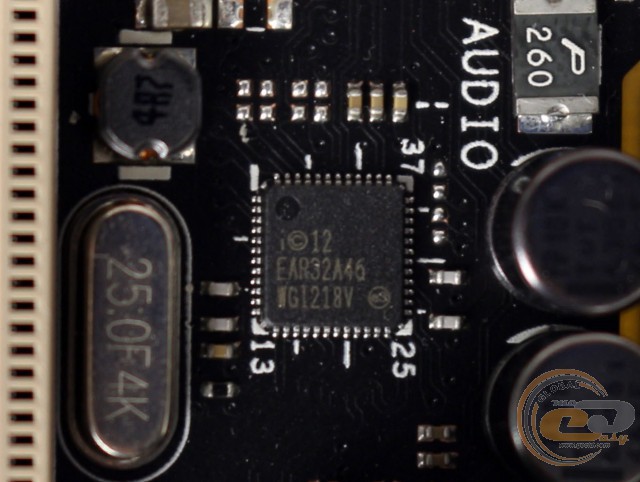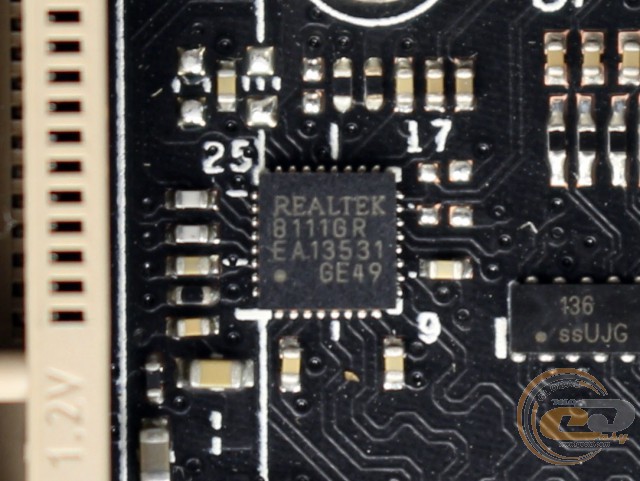 To support network connections there are two gigabit LAN-controllers: Intel WGI218V and Realtek 8111GR. The distribution of network resources and prioritization of traffic is realized by proprietary utility TurboLAN.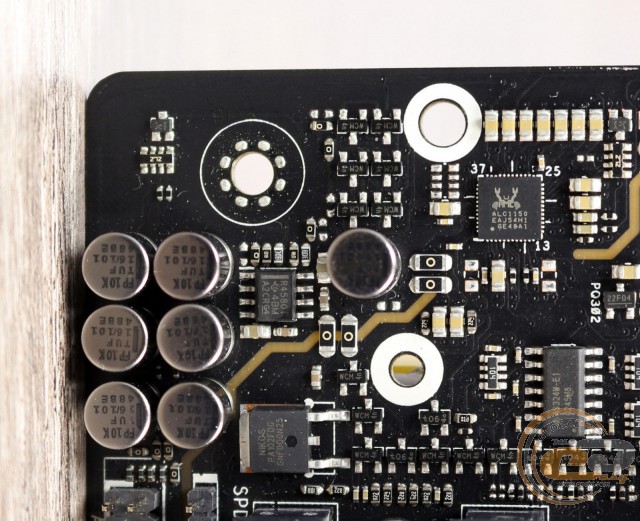 Sound subsystem of model is based on the 8-channel HAD-codec Realtek ALC1150which supports audio formats 2/4/5.1/7.1 and has design TUF AUDIO. It presupposes the existence of a special audio amplifier TI R4580I and Japanese audio capacitors to improve the quality of the reproduced sound. The area of the PCB with the sound path is shielded by a protective strip. Moreover, right and left audio channels are located on separate layers of the PCB.

Interface panel of the model contains the following ports:
2 x LAN (RJ45);
2 x USB 3.1;
4 x USB 3.0;
4 x USB 2.0;
1 x TUF Detective;
1 х optical S/PDIF out;
1 х button «USB BIOS Flashback»;
5 x audio jacks.
A similar layout interface panel can be considered as excellent, as it provides the user with a large number of ports USB (including two high-speed USB 3.1 Type-A with with a capacity of 10 Gb/s) optical audio output and two LAN ports, and provides a convenient connection of multi-channel acoustics. Note convenient update of firmware BIOS from a USB flash drive using the appropriate button and the ability to display the COM port on rear panel using the pads on the PCB.
Port TUF Detective is designed to connect your smartphone or tablet, which is transformed into a remote monitoring of key system parameters, troubleshooting, and power management of PC.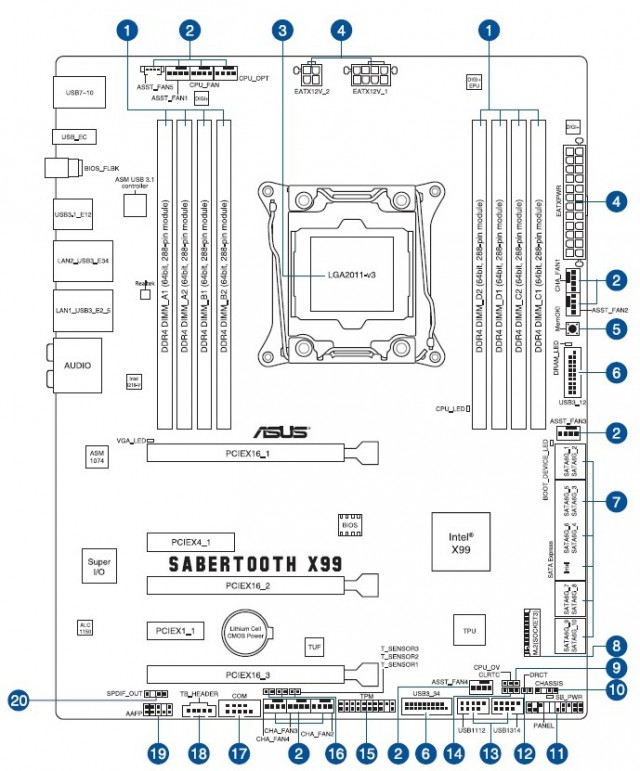 ASUS SABERTOOTH X99 has very wide possibilities for organizing the cooling system inside the body. There are twelve 4-pin fan connectors, three of which are used for cooling the CPU, four are designed for system fans and another five are used for auxiliary fans.
Социальные комментарии Cackle