ASUS X99-S motherboard: review and testing
ASUS has already introduced the extensive line of motherboards based on the top chipset Intel X99. The last product visited our lab was the motherboard ASUS X99-PRO. These solutions are designed specifically for processors of family Intel Haswell-E, such as previously tested Intel Core i7-5960X Extreme Edition. Based on this ligament you can build incredibly powerful computing systems for gaming, overclocking or solve complex practical tasks.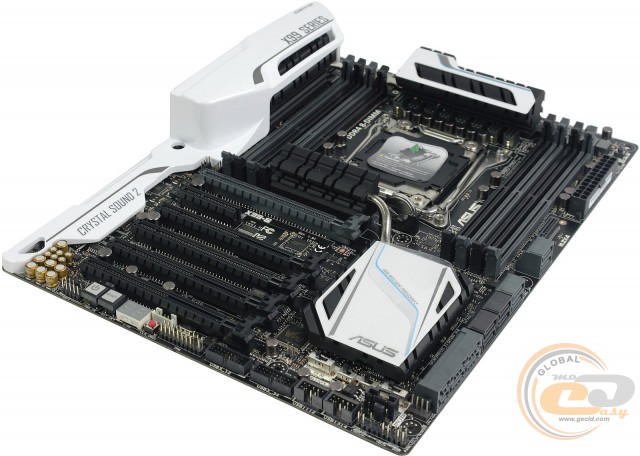 New motherboard ASUS X99-S which will be discussed in this material has an expanded set of internal interfaces. There is a full set of computer keys on the PCB as well as a number of switches and functional elements specifically designed for overclocking. Do note a very good set of slots for expansion cards, advanced disk subsystem and eight slots for RAM of format DDR4.
The specs:
Producer

ASUS

Model

X99-S

Chipset

Intel X99

CPU socket

Socket LGA2011-v3

CPUs supported

Intel Core i7 Extreme of Intel Haswell-E

Memory frequency

2133 / 2400* / 2666* / 2800* / 3000* / 3200* MHz

(*OC)

Memory support

8 x DDR4 DIMM- slots with support of memory up to 64 GB

Expansion slots

5 x PCI Express 3.0 x16

40 lines

28 lines

х16

х16+х16

х16+х16+х8

х16+х8+х8+х8

х8+х8+х8+х8+х8

х16

х16+х8

х8+х8+х8

x8+x8+x8+x1+x1

1 х PCI Express 2.0 x4

Disk subsystem

Intel X99 chipset supports:

1 х M.2 x4 Socket 3 (M.2 2242, M.2 2260, M.2 2280)

8 x SATA 6 Gb/s

2 x SATA Express (compatible with 4 x SATA 6 Gb/s)

Support of arrays RAID 0, RAID 1, RAID 5 and RAID 10

LAN

1 x Intel WGI218V (10/100/1000 Мb/s)

Sound subsystem

2 / 4 / 5.1 / 7.1-channel HD Audio based on codec Realtek ALC1150

Power connectors

24-pin power socket ATX

8-pin power socket ATX12V

Fans

2 x CPU fan connectors (4-pin)

4 x system fan connectors (4-pin)

1 x external fan connectors (5-pin)

Cooling

Aluminum radiators on chipset connected by heat pipe with auxiliary radiator

Aluminum radiators on power elements connected by heat pipe among each other

External I/O

1 x button «USB BIOS Flashback»

8 x USB 3.0

2 x USB 2.0

1 x LAN (RJ45)

1 x optical S/PDIF out

5 x audio ports

Internal I/O

2 x USB 3.0 with support of two USB 3.0 (19-pin)

2 x USB 2.0 each with support of two USB 2.0

1 х socket TPM

1 x connector of audio output to front panel

1 x S/PDIF Out

1 x set of front panel connectors

1 х button «MemOK!»

1 x button «Power»

1 x button «Reboot»

1 x button «CMOS reset»

1 x diagnostic LED-indicator

1 х module Thunderbolt

1 х switch «EZ XMP»

1 х thermal sensor switch

1 x switch «TPU»

1 x switch «EPU»

1 x switch «SLI/CFX»

1 x socket DRCT

1 x CPU/DRAM Overvoltage

BIOS

128 Мb UEFI AMI BIOS, ACPI 5.0, PnP, SM BIOS 2.7, DMI 2.7, WfM 2.0

Form-factor

ATX

Dimensions

305 x 244 mm

Producer website

Product page

Updated versions of BIOS and drives are available at support page
Packaging and content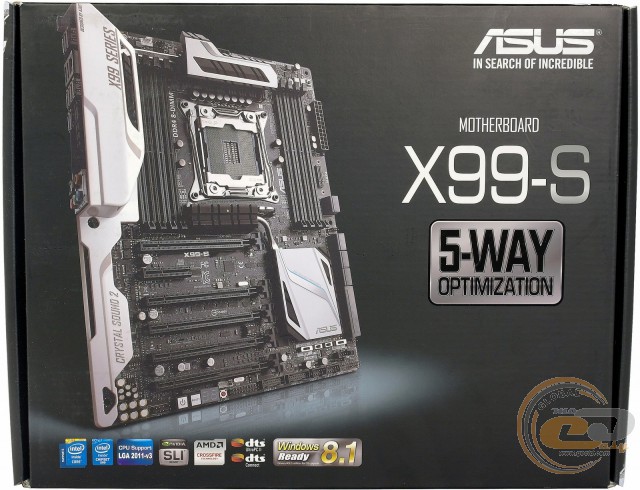 ASUS X99-S is sold in large and stylish cardboard package of black with a matte finish. Its front side is decorated with an image of the system board, as well as the manufacturer's logo and the model name. Below there are some technologies that support innovation: AMD CrossFireX, NVIDIA SLI, DTS Connect and DTS UltraPC II. Also here is full compatibility with the operating system Microsoft Windows 8.1.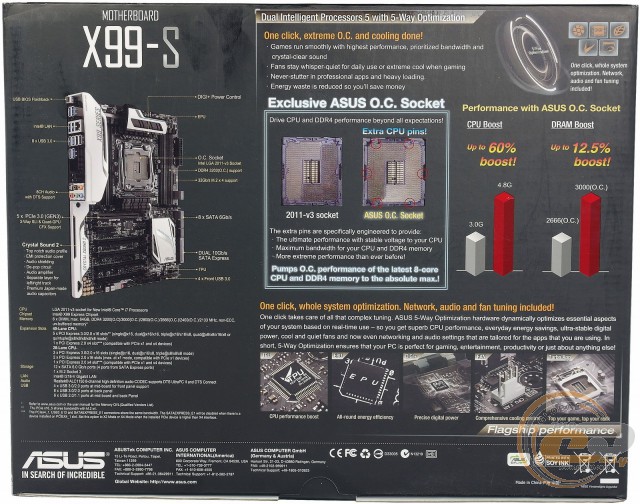 On the back side the box has a diagram depicting the key components of the motherboard and a list of its characteristics. There is the more detailed description of the main features of the new item.
First of all, this is a firm design Dual Intelligent Processors 5 with 5-Way Optimization, which includes special chips Energy Processing Unit (EPU) and TurboV Processing Unit (TPU). The first works in tandem with the power system DIGI+ VRM and is designed to optimize energy consumption in real time. The second is responsible for the dynamic increase in processor performance under heavy load (when running demanding applications or games).
Another advantage of the new motherboards from ASUS based on chipset Intel X99 is an improved processor socket ASUS OC Socket. It differs from a standard Socket LGA2011-v3 by a large number of contact legs. Auxiliary contacts are used to improve the stability at maximum load and during overclocking, as well as to increase bandwidth for data exchange with memory DDR4.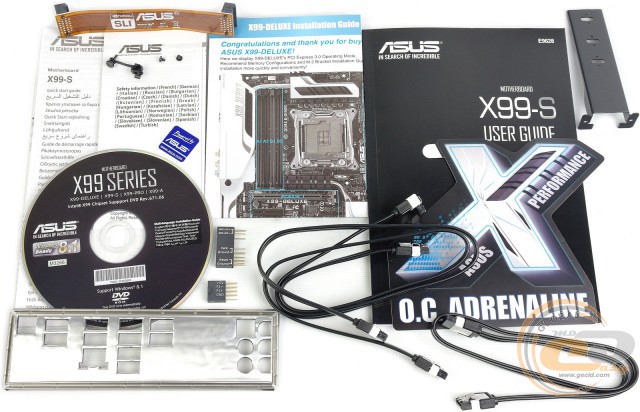 Supplied set of motherboard ASUS X99-S includes:
three SATA cables;
set of ASUS Q-Connectors;
plug of the interface board ASUS Q-Shield;
bridge 2-Way NVIDIA SLI;
strap M.2 X4 bracket;
CD with software and drivers;
sticker on the computer case;
set of documentation.
As can be seen, the kit includes a variety of useful additions. We want to draw attention to useful accessory M.2 X4 bracket. Since the SSD-drive M.2 is mounted in a vertical position, there is a special attachment to a metal strap to protect it from damage. It has holes for fixing devices of formats M.2 2242, M.2 M.2 2260 and 2280.
Design and features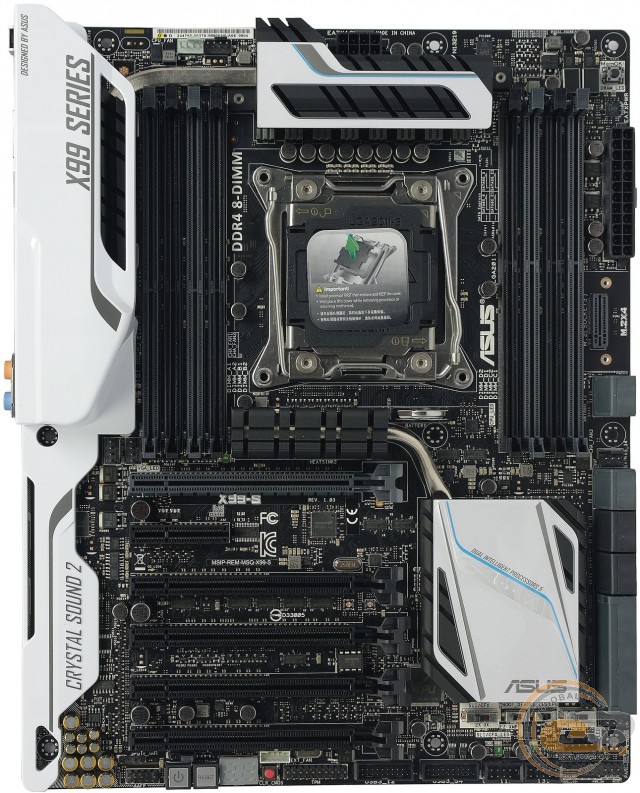 The model is made on a black ATX board (305 x 244 mm). White trim on the radiators and the interface panel gives it an attractive appearance, which resembles the shape of racing cars. The board almost does not have a free space, because almost every square inch is posted by connector or functional element. According to this parameter the product fully justifies its place in the flagship series, because it has a maximum functionality.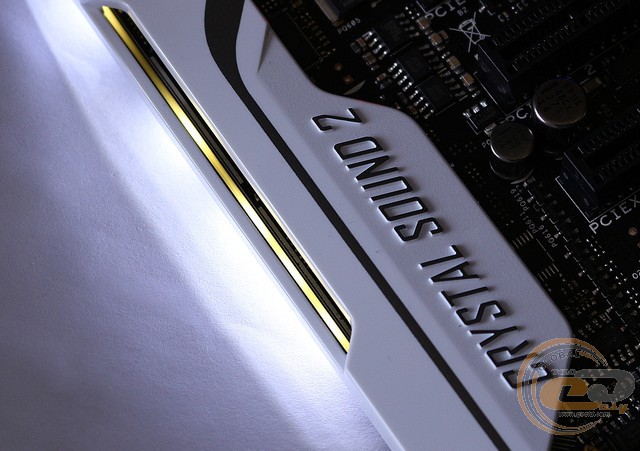 Along the edges of the PCB you can find a LED strip. It will look good in the computer case with a transparent side window.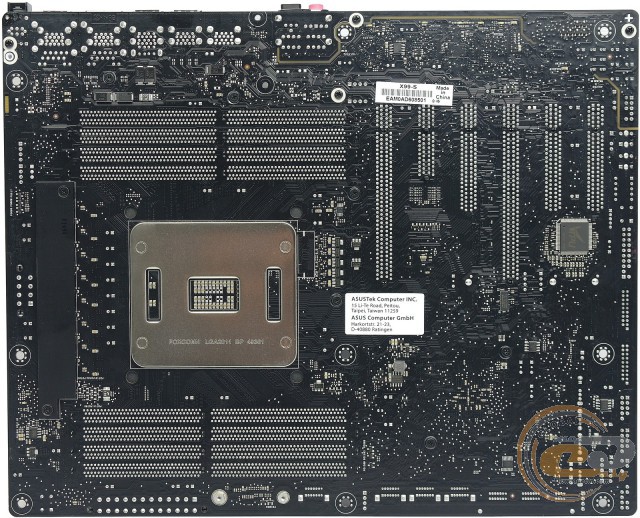 The reverse side of the PCB has a metal plate manufactured by Foxconn, firming the CPU socket and allows you to set an overall cooling system. Next to it there is a small radiator covered by several elements of the power subsystem. Also, there is a chip TPU, which we mentioned earlier.

At the bottom of the board there are the following connectors: front panel audio leading-in socket, power and reboot buttons, diagnostic LED-indicator, CMOS reset, 5-pin socket for connection of external fan and port TPM. To the right there are four modules for USB ports: two for USB 2.0 and two for USB 3.0. Also here is a module of front panel connection, fourth socket for system fan and module for interface Thunderbolt.
Here are six ports USB 2.0 (two external and four internal) and four internal ports USB 3.0. But eight external USB 3.0 interfaces operate with the help of the additional controller.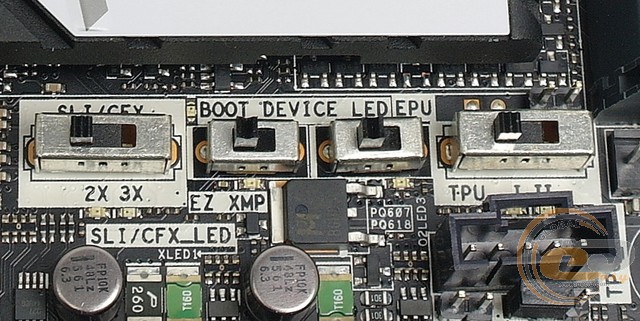 Slightly above next to the second chip TPU, there are four switches. The first («SLI/CFX») is designed to switch between modes AMD CrossFireX and NVIDIA SLI. The second («EZ_XMP») activates the selected XMP-profile of RAM. The third tumbler («EPU») activates power-saving features of the chip EPU. The fourth switch («TPU») has three positions. It can activate the automatic overclocking by increasing the frequency of the system bus and the CPU multiplier or using only one multiplier increase.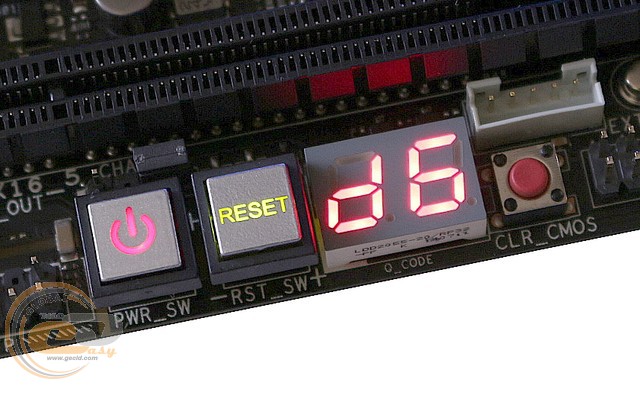 Separately we note that the power and restart buttons, as well as diagnostic LED-indicator are illuminated during operation of the computer.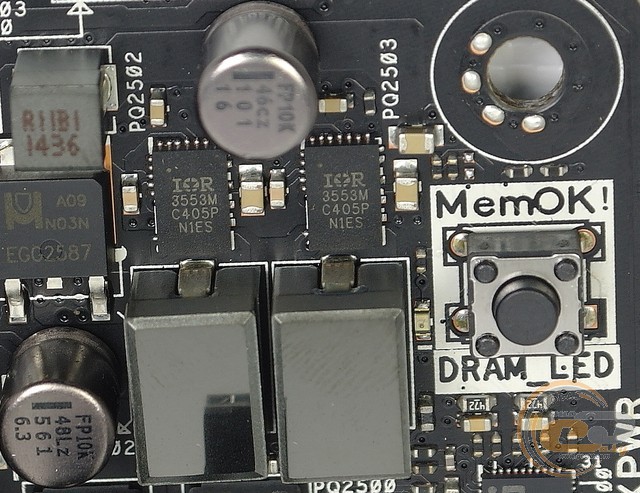 In the upper right corner of the PCB you can find a button memory modules diagnostic «MemOK!», which allows you to automatically choose the optimum frequency for the successful launch of the memory system.

Disk subsystem consists of eight SATA 6 Gb/s and two SATA Express ports, each is compatible with two SATA 6 Gb/s. Additionally, there is a vertical connector M.2 Socket 3 with a maximum capacity of up to 32 Gb/s, supporting the installation of drives M.2 2242, M.2 2260 and M.2 2280. Also worth mentioning is that even the controller Intel H99 cannot to provide support such a large number of connectors, so one of the ports SATA Express is running under an additional controller of ASMedia.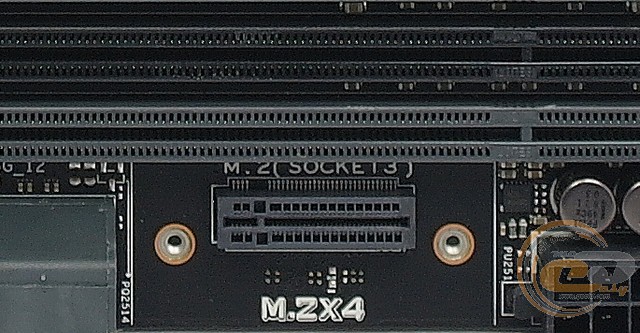 There are a number of limitations, due to the lack of free chipset lines. Thus, the fifth slot PCI Express 3.0 x16 («PCIE_X16_5» according to the instructions) shares the bandwidth with interface M.2 x4 PCIe 3.0. When you install this drive and three graphics cards the graphics accelerators will work under the scheme x8+x8+x8. If your processor supports only 28 lines PCI Express 3.0, then the slot «PCIE_X16_5» can to use only one line.
The second nuance concerns to the slot PCI Express 2.0 x4 («PCIE_X4_1»). It shares bandwidth with dual-port USB 3.0 («USB3_E12») and the first connector SATA Express («SATAEXPRESS_E1»). When you install an expansion card this SATA Express is disabled.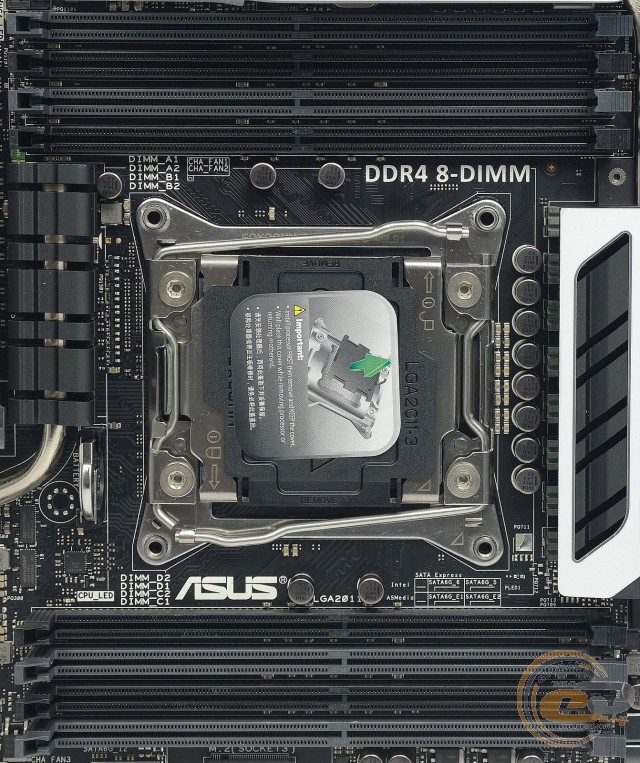 Motherboard ASUS X99-S is equipped with eight slots for RAM of standard DDR4 with frequency from 2133 to 3200 MHz. For convenience of building, the connectors include latches only for one side. Four-channel mode RAM and the maximum amount of 64 GB are supported.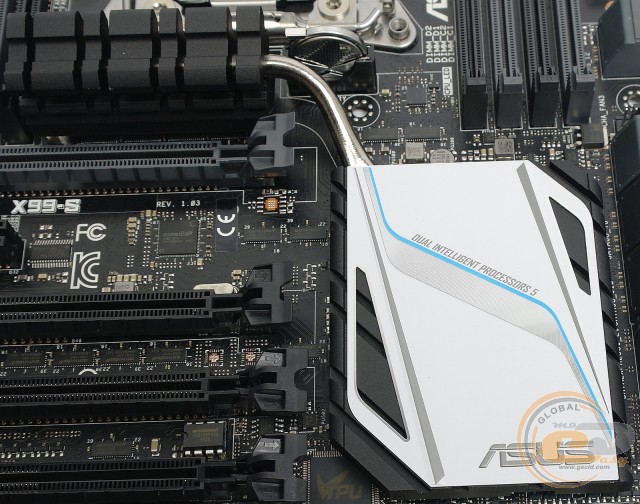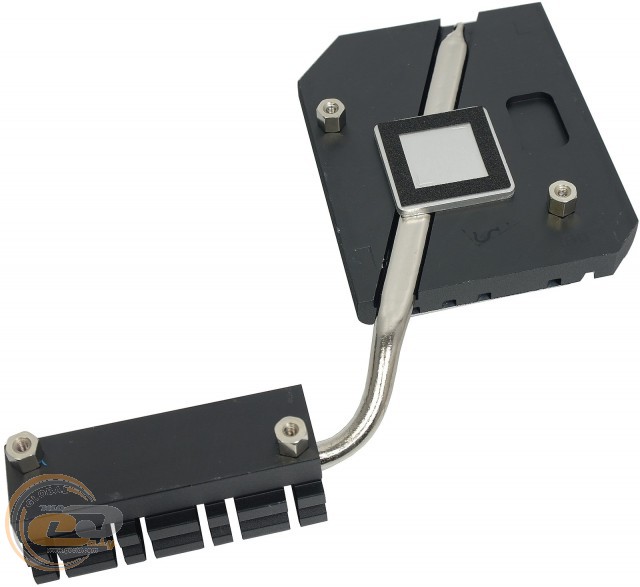 The cooling system consists of four aluminum radiators painted in black color. The first two are connected by nickel-plated heat pipe and designed to remove and dissipate heat from chipset Intel X99. They showed a very good efficiency, since their temperature during operation did not exceed 37,5°C.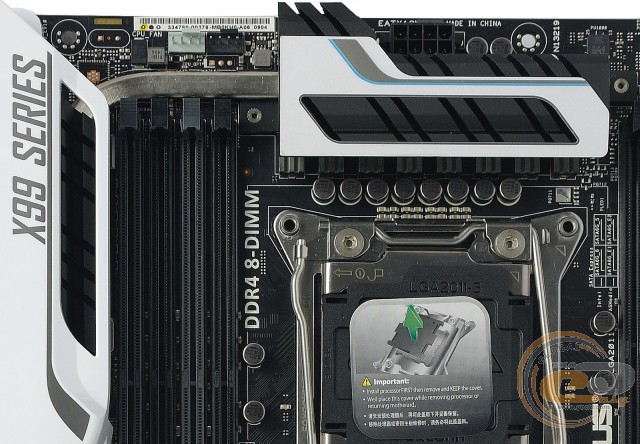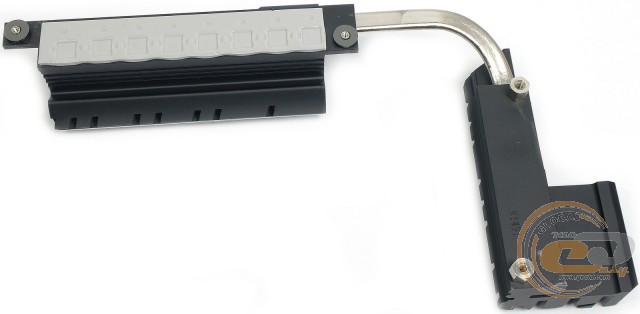 The other two are connected to the heat pipe, but they are used to remove excess heat from the power system elements. At full load the temperature of the top of the radiator was around 43,6°C and lower - did not exceed 38,7°C. These indicators are also very low and indicate a large margin of safety for even extreme overclocking.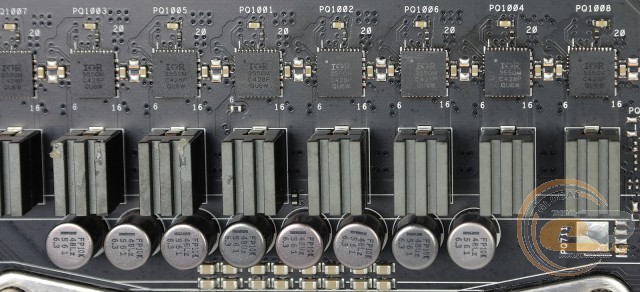 The power subsystem of processor is configured according to enhanced 8-phase scheme and running by digital PWM controller DIGI+ VRM ASP1257. It uses high quality components: solid capacitors with increased service life, ferrite chokes and chips IR3550 with current carrying capacity of 60 A. All this is aimed at improving the stability of a given node even in the face of significant overclocking. And thanks to the support of technology Energy Processing Unit (EPU) the optimization of power consumption of the entire system is realized. The main 24-pin and additional 8-pin connectors are applied for the power supply.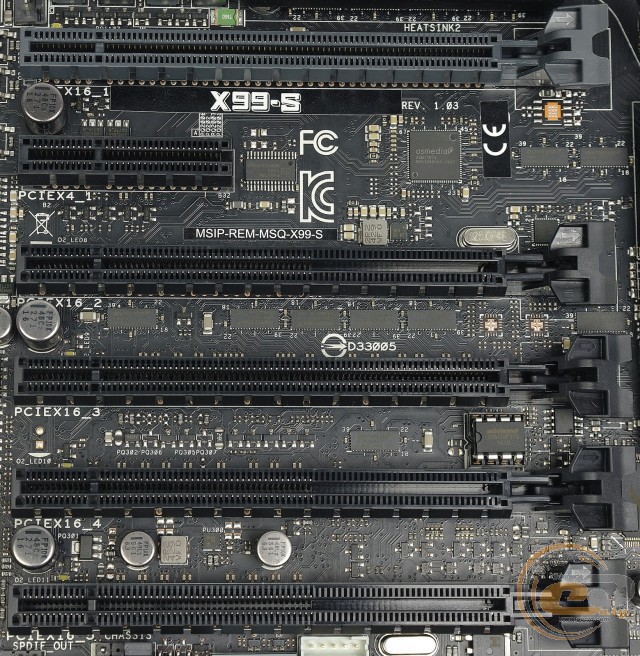 Motherboard ASUS X99-S is equipped with six slots for expansion cards, the configuration of which corresponds to the previously tested motherboard ASUS X99-DELUXE:
PCI Express 3.0 x16 («PCIE_X16_1», mode х16 or х8);
PCI Express 2.0 x4 («PCIE_X4_1»);
PCI Express 3.0 x16 («PCIE_X16_2», mode х8);
PCI Express 3.0 x16 («PCIE_X16_3», mode х16, х8 or х1);
PCI Express 3.0 x16 («PCIE_X16_4», mode х8);
PCI Express 3.0 x16 («PCIE_X16_5», mode х8 or х1).
Distribution of lines occurs depending on the installed CPU. If your CPU supports 40 lines PCIe, then you can create a productive scheme of two (x16 + x16) or even three (x16 + x16 + x8) graphics card. The implementation of the scheme with four (x16 + x8 + x8 + x8) or even five (x8 + x8 + x8 + x8 + x8) adapters is prevented not only by a limited number of lines, but also the need to replace all the cooling systems of the graphics accelerators by the single-slot models (for example the configuration using water cooling system).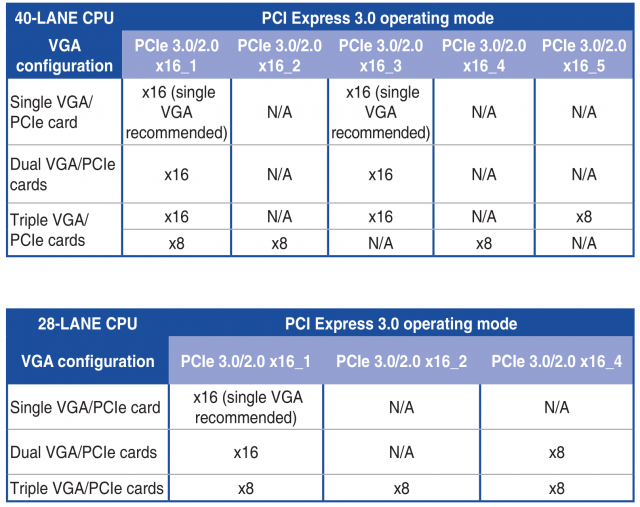 If your processor supports only 28 lines, the full potential can reveal only by a single graphics card configuration, since only a single slot PCI Express 3.0 will run in mode x16. However, even in such circumstances, the configurations 2-Way and 3-Way AMD CrossFireX and NVIDIA SLI will show a good level of performance, using 8 lines on the connector.
As for the slot PCI Express 2.0 x4, it is better not to use it, leaving resources for the disk subsystem, or apply for other expansion card, such as a sound card.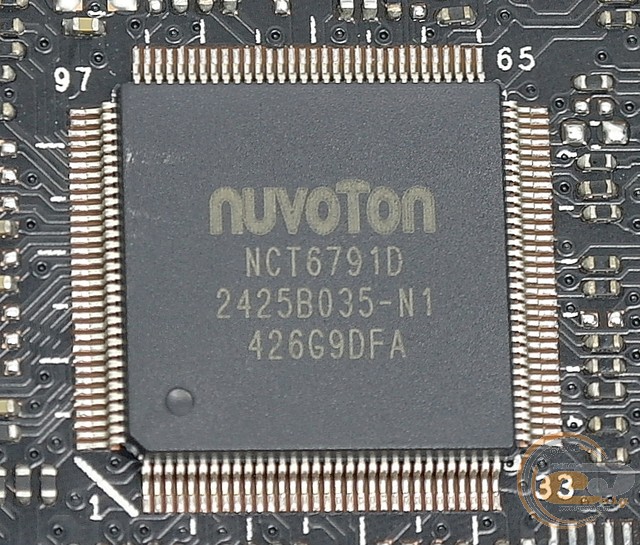 Now let's examine in detail the appointment of additional controllers. Chip NUVOTON NCT6791D acts as a Multi I/O, and is responsible for monitoring and fan control.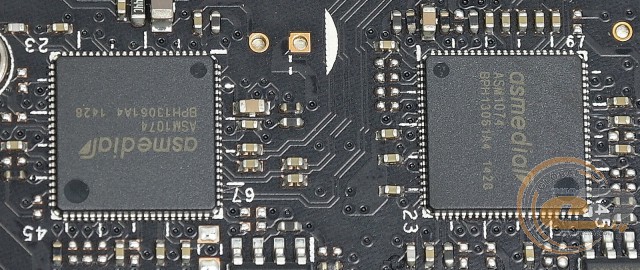 Operation of eight USB 3.0 ports on the interface panel is provided with two controllers ASMedia ASM1074.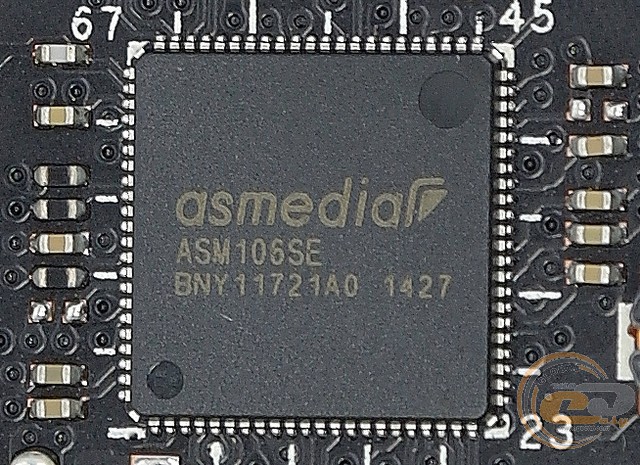 As mentioned earlier, for the operation of the second port SATA Express controller ASMedia ASM106SE is used.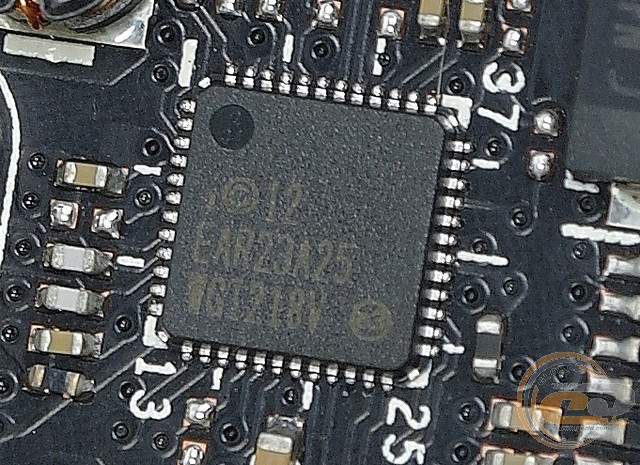 Gigabit LAN-controller Intel WGI218V provides network connections. Due to the proprietary utility Turbo LAN it is possible to set the priority of the distribution of traffic for each application.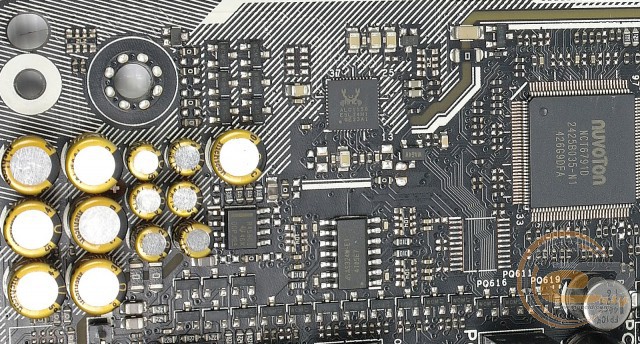 The sound subsystem is based on an 8-channel HDA-codec Realtek ALC1150. It corresponds to the original concept of Crystal Sound 2. This implies the use of a separate headphone amplifier and speakers (Texas Instruments R4580I), as well as Japanese audio capacitors. A special insulating strip is used to protect motherboard against noise and interference from other components. And to deal with crosstalk left and right audio channels are wired on separate layers PCB.

The interface panel of the motherboard ASUS X99-S has such connectors:
1 x button «USB BIOS Flashback»;
8 x USB 3.0;
2 x USB 2.0;
1 x LAN (RJ45);
1 x Optical S / PDIF out;
5 x audio ports.
Special attention is given to button «USB BIOS Flashback». It allows you to update or restore BIOS from an external USB-drive with a single click. The system may not have processor and RAM. This may very well help out in case of failure or unsuccessful firmware, and allows you to quickly update the firmware if you want to replace the CPU by model of the new generation.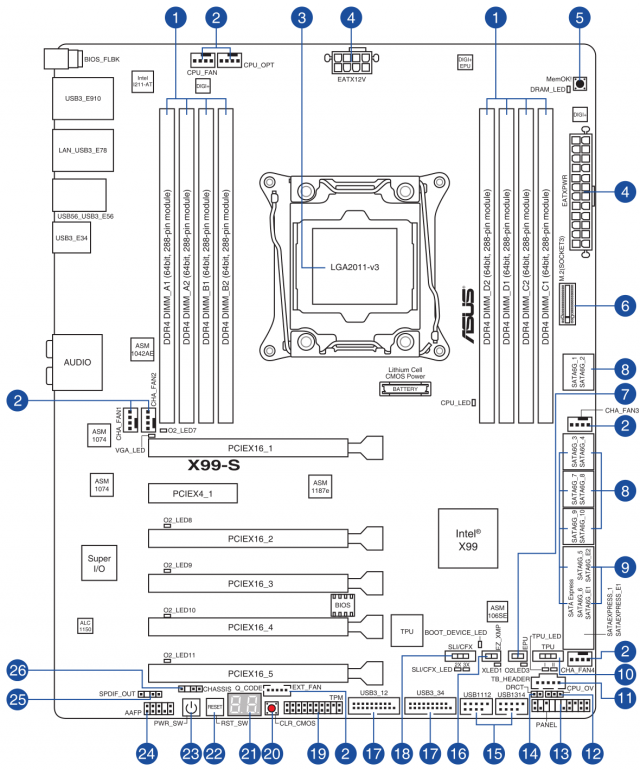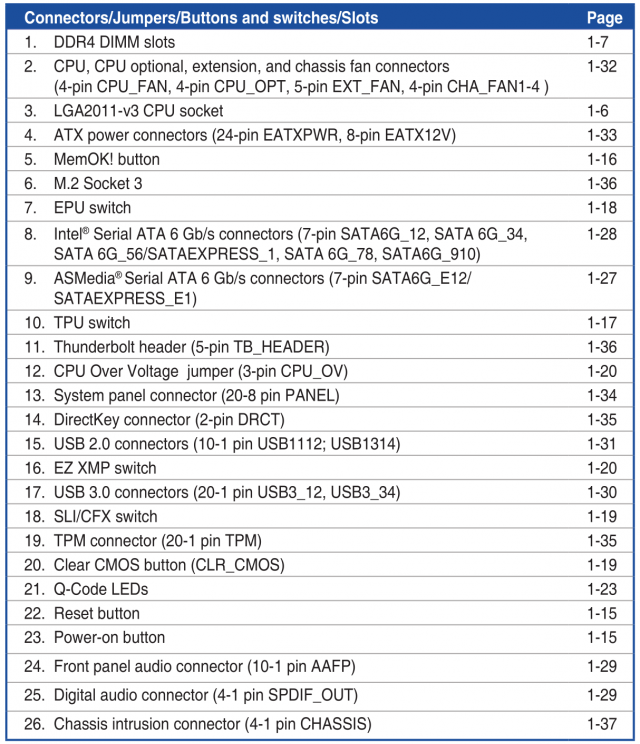 The cooling system includes six 4-pin connectors: two for blowing processor and four for connecting case fans. All of them support speed control of blades by PWM method. Also there is a 5-pin connector for an external fan.
UEFI BIOS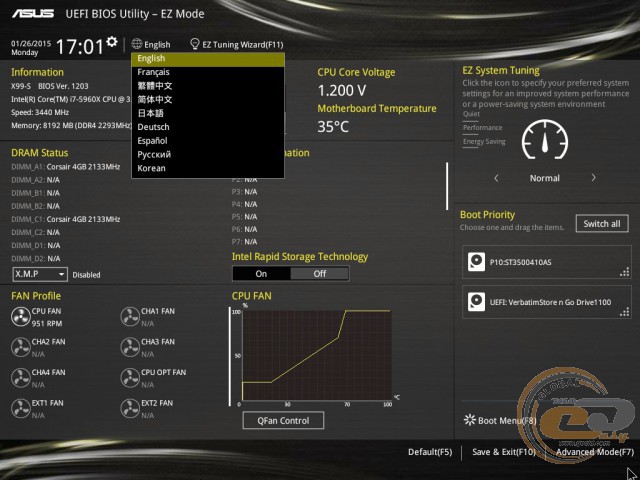 Motherboard ASUS X99-S is equipped with modern preloader UEFI BIOS. Proprietary shell stands concise interface, mouse support and a variety of settings with visual icons.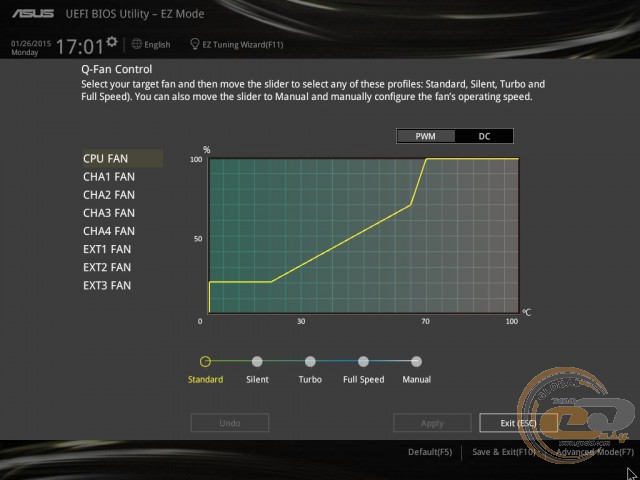 Using the main screen you can quickly make changes in the system. For example, you can quickly access the tool Q-Fan Control for setting the rotation of each installed fan.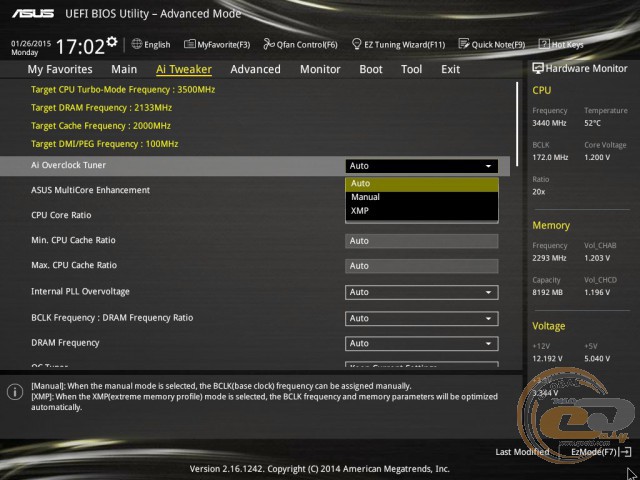 The section «Ai Tweaker» contains almost all settings related to the overclocking. In particular here you cano change the settings of the CPU.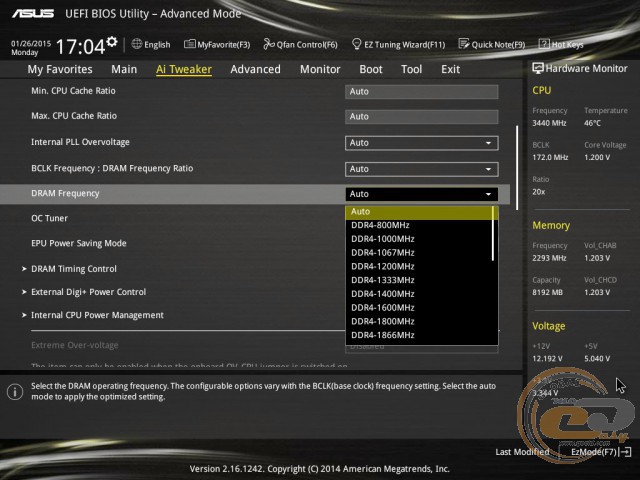 Also there are tools for installing the operating frequency of RAM.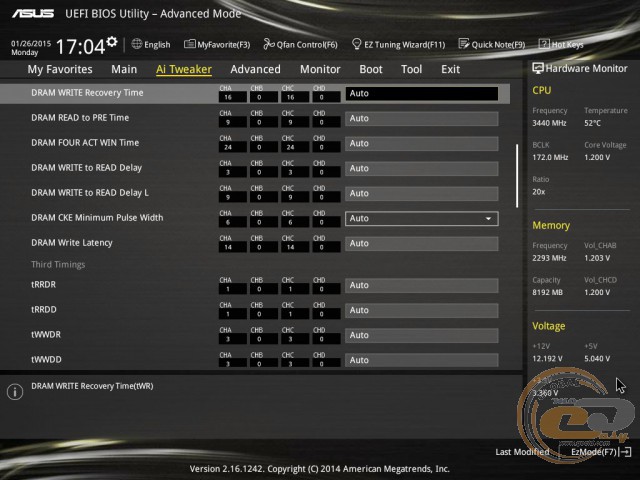 Additionally you can make adjustment of delay memory, which can be very useful when performing acceleration.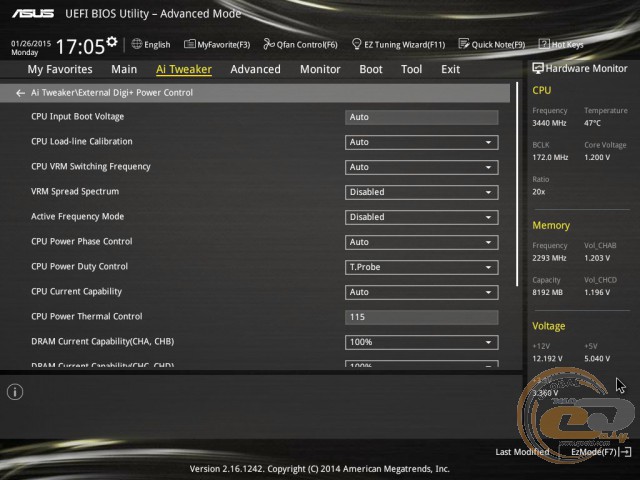 Changes of the power system DIGI+ VRM can be useful when performing extreme overclocking, in case of a significant pressure increase.
Settings required for acceleration and optimization of the system are summarized in the table below:
| | | | |
| --- | --- | --- | --- |
| Parameter | Menu | Range | Step |
| RAM frequency | Memory Frequency | 800 - 4000 | |
| RAM timing | DRAM Timing | CAS Latency, RAS to CAS, RAS PRE Time, RAS ACT Time, DRAM COMMAND Rate, RAS to RAS Delay, REF Cycle Time, Refresh Interval, Write Recovery Time, READ to PRE Time, FOUR ACT WIN Time, WRITE to READ Delay, Minimum Pulse Width, Write Latency | |
| | BCLK Frequency | 80 – 300 | 0,1 |
| | Initial BCLK Frequency | 80 – 300 | 0,1 |
| | Min. CPU Cache Ratio | 12 – MAX | 1 |
| | Max CPU Cache Ratio | 12 – MAX | 1 |
| Operation frequency of PWM-controller in CPU power converter | Fixed CPU VRM Switching Frequency(KHz) | 300 – 600 | 50 |
| | CPU Input Boot Voltage | 0,800 – 2,700 | 0,010 |
| | CPU Current Capability | 100% – 140% | 10% |
| | CPU Power Thermal Control | 115 – 136 | 1 |
| | DRAM Current Capability | 100% – 140% | 10% |
| | Fixed DRAM Switching Frequency(KHz) | 300 – 550 | 50 |
| | Long Duration Package Power Limit | 1 – 4095 | 1 |
| | Package Power Time Window | 1 - 127 | 1 |
| | Short Duration Package Power Limit | 1 – 4095 | 1 |
| | CPU Integrated VR Current Limit | 0,125 – 1023,875 | 0,125 |
| | CPU Core Voltage Override | 0,001 – 1,920 | 0,001 |
| | CPU Cache Voltage Override | 0,001 – 1,920 | 0,001 |
| | CPU System Agent Voltage Offset | 0,001 – 0,999 | 0,001 |
| CPU input voltage | CPU Input Voltage | 0,800 – 2,700 | 0,010 |
| RAM voltage | DRAM Voltage | 0,800 – 1,900 | 0,010 |
| | PCH Core Voltage | 1,20000 – 1,80000 | 0,00625 |
| | PCH I/O Voltage | 1,20000 – 2,20000 | 0,00625 |
| | VCCIO CPU 1,05V Voltage | 0,70000 – 1,80000 | 0,00625 |
| | VCCIO PCH 1,05V Voltage | 0,70000 – 1,80000 | 0,00625 |
| | VTTDDR Voltage | 0,20000 – 1,00000 | 0,00625 |
| | PLL Termination Voltage | 0,200000 – 1,797684 | 0,006602 |
| | PLL Reference Offset Value | 12 – 20 | 1 |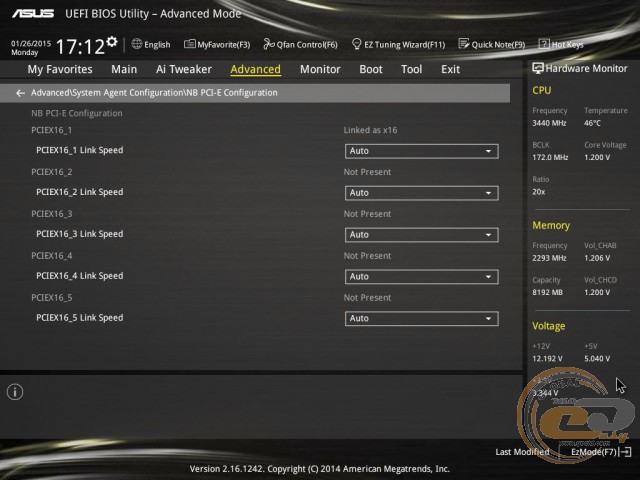 Using the tab «Advanced» you can customize the operation of each slot for expansion cards.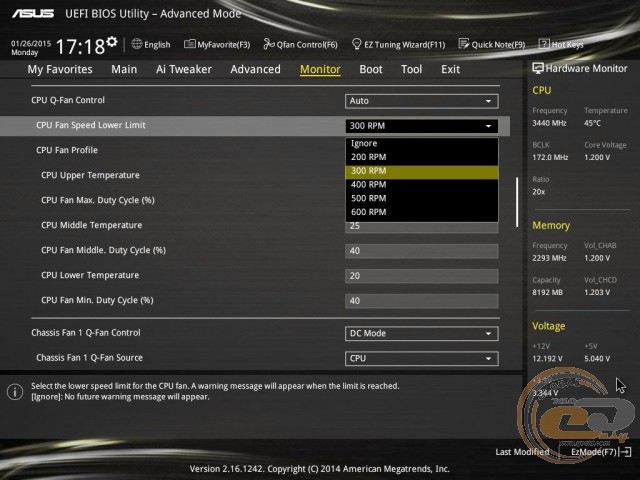 Another important section «Monitor» allows you to change the fan speed, and monitor the indications of the key components. They include data on the frequency, temperature, voltage and CPU multiplier, as well as the capacity, frequency and voltage of RAM. Additionally you can see the status of the supply lines + 3.3V, + 5V and + 12V. The same information is duplicated in the other tabs using the right side of the Hardware Monitor.