MotherboardGIGABYTE GA-78LMT-USB3: review and testing
Motherboard GIGABYTE GA-78LMT-USB3 is not a novelty, because it is based on Northbridge AMD 760G presented in early 2009. It was originally intended to replace AMD 740G for the platform Socket AM2/AM2+, but later was adapted for the following connectors Socket AM3/AM3+. The main feature of AMD 760G is the presence integrated graphics core AMD Radeon HD 3000 clocked at 350 MHz compatible with DirectX 10. It supports a maximum resolution of 1920 x 1200 and is intended for the needs of the multimedia, as can not provide an acceptable performance in modern games.
As for GIGABYTE GA-78LMT-USB3, it is an affordable and compact model to build entry-level systems. At the time of writing its cost was about $70. Let's take a look at the detailed characteristics.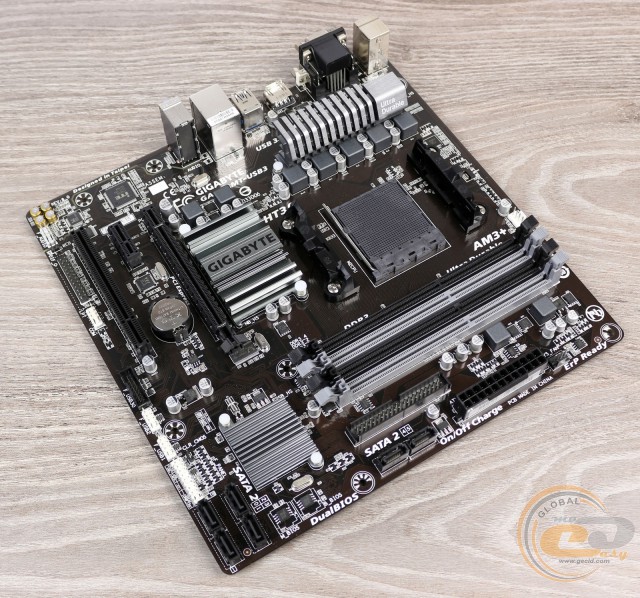 The specs:
Producer

GIGABYTE

Model

GA-78LMT-USB3 (rev 6.0)

Chipset of North and South bridges

AMD 760G + AMD SB710

Processor socket

AMD Socket AM3/AM3+

Supported CPUs

AMD Phenom II / AMD Athlon II / AMD Sempron / AMD FX

Memory frequency

1600* / 1333 / 1066 MHz

(*OC)

Memory support

4 x DDR3 DIMM-slots with memory support up to 32 GB

Expansion slots

1 x PCI Express 2.0 x16

1 x PCI Express 2.0 x1

1 х PCI

Disk subsystem

AMD SB710 supports:

6 x SATA 3 Gb/s

1 x IDE support of two ATA 133/100/66/33

RAID 0, RAID 1, RAID 10, JBOD

LAN

1 x Realtek 8111F (10/100/1000 Мb/s)

Sound subsystem

Codec Realtek ALC892

2/4/5.1/7.1-channel sound

S/PDIF Out

Power

24-pin power socket ATX

8-pin power socket ATX12V

Fans

1 x CPU fan connector (4-pin)

1 x system fan connector (4-pin)

Cooling

Aluminum radiator of processor power subsystem elements

Aluminum Radiator of North bridge

Aluminum Radiator of South bridge

Extenral I/O

1 x LAN (RJ45)

1 х DVI-D

1 x HDMI

1 x D-Sub

4 x USB 2.0

2 x USB 3.0

3 x audio jacks

1 х PS/2 (for mouse or keyboard connection)

Internal I/O

1 x USB 3.0 with support of two USB 3.0 (19-pin)

2 x USB 2.0, each with support of two USB 2.0

6 x SATA 3 Gb/s

1 x IDE

1 x COM

1 x LPT connector

1 x S/PDIF Out

1 x connector of audio output to front panel

1 x set of front panel connectors

1 x CMOS

BIOS

2 х 32 Mb AWARD BIOS

ACPI 1.0b, SM BIOS 2.4, PnP 1.0а, DMI 2.0

Packaging

user manual

warranty card

disk with drives and documents

2 x SATA cables

1 х IDE cable

1 х interface panel plug

Form-factor, dimensions

microATX

244 х 244 mm

Producer website

GIGABYTE
Updated versions of BIOS and drives are available at support page
Package and content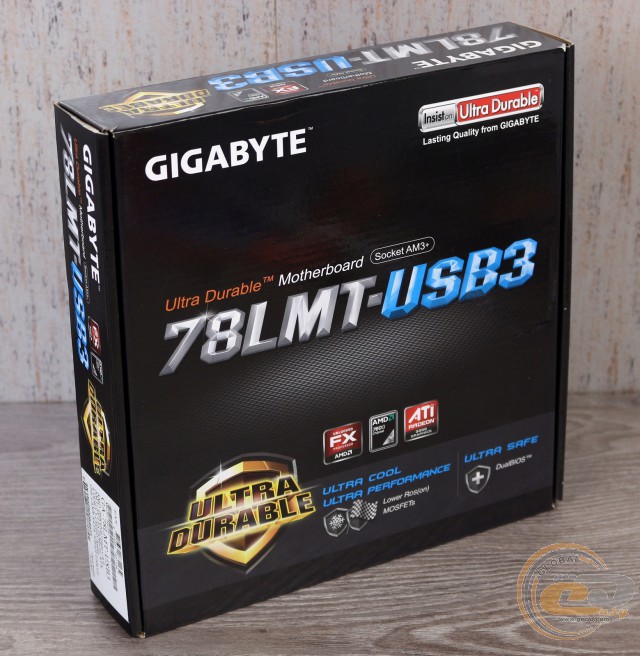 Motherboard GIGABYTE GA-78LMT-USB3 comes in a cardboard box, decorated with qualitative printing in a corporate style. The first attention is paid to the model and the manufacturer, as well as the presence of integrated graphics core AMD Radeon HD 3000 and the support of processors AMD FX. Slightly below there is a logo of branded concept Ultra Durable which includes the following features:
Ultra Cool & Perfomance - the CPU power circuit uses high-performance field effect transistors with low on-resistance (Low RDS (on)) and long-life solid capacitors.
Ultra Safe - this model is equipped with an additional protection of ports USB and LAN ESD. Each LAN and USB port is paired with a special protective filter that is able to withstand severe electrostatic discharge, which protects the system against voltage surges, even during a storm. Also here is the presence of protective circuits, safeguard internal components from overvoltage, and an improved installation of fiberglass-based, thus reducing the negative impact of moisture.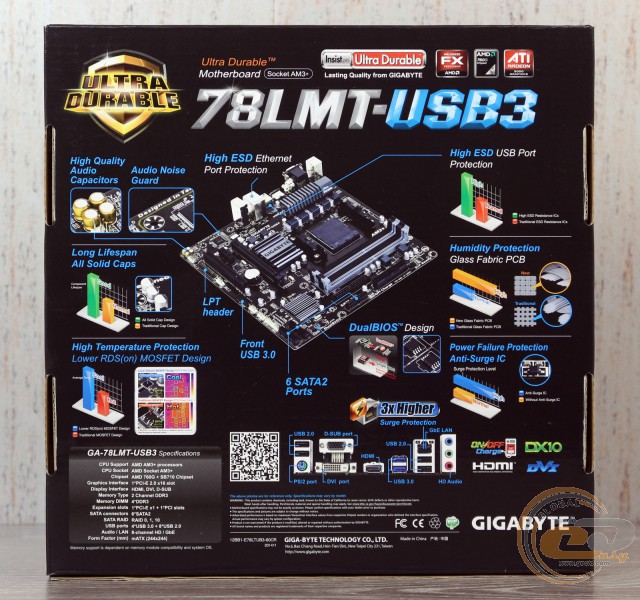 On the reverse side you can find a major schematic view of the configuration of the motherboard and interface panel. Also there is a short list of characteristics of the device and the mention of other key advantages of new item:
area of the PCB with soldered sound system is shielded with a special metal strip;
use of high-quality audio capacitors of Nippon Chemicon ARE;
support of interfaces COM, LPT, and USB 3.0;
special technology GIGABYTE On/Off Charge allows charge your media devices even when the PC is off.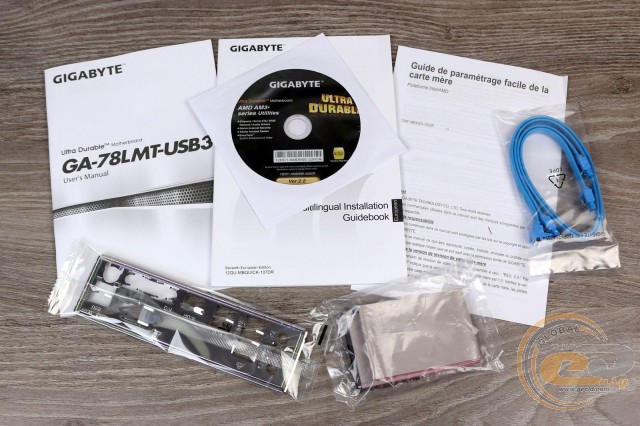 Scope of delivery includes only the most necessary, namely interface panel plug, two SATA cables, IDE cable, CD with software and user manual.
Design and features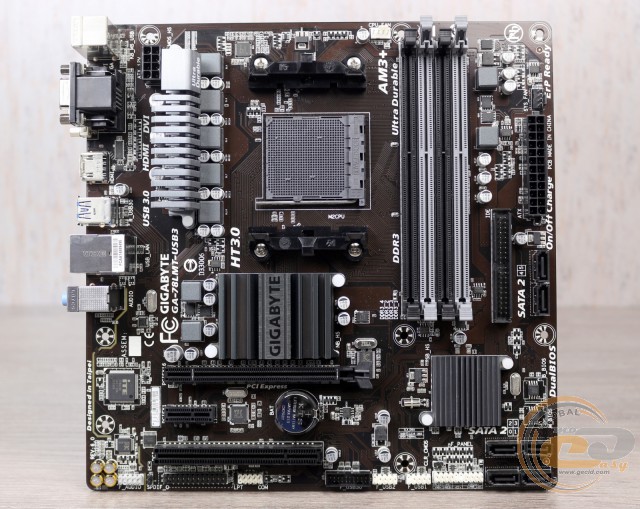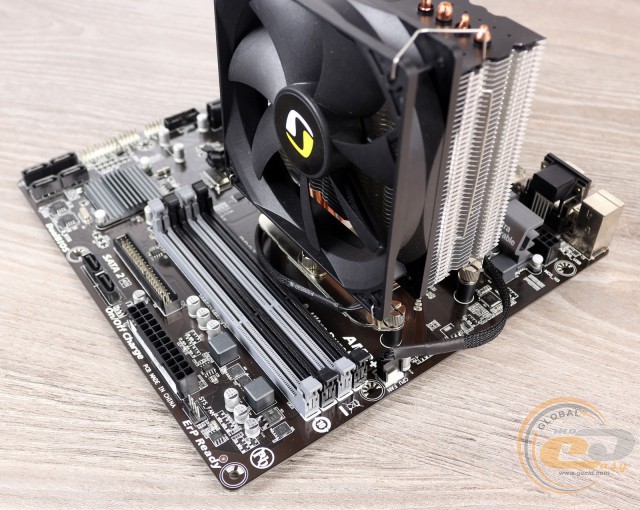 GIGABYTE GA-78LMT-USB3 is made on dark brown microATX PCB (244 x 244 mm), which is combined with dark gray radiators. All on-board elements are on the best places and the only feature is the absence of the mounting hole in the lower right corner. Therefore we recommend to have some caution when connecting the drive to the perpendicular arrangement of ports SATA 3 Gb/s.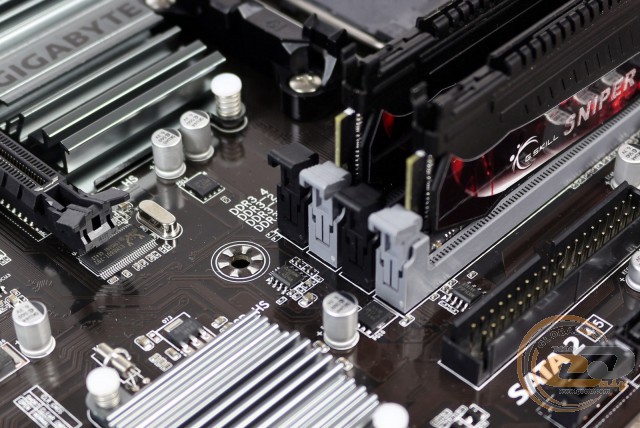 Do note the manufacturer's care about the convenience of operation of the motherboard. For example, DIMM-slots are equipped with latches on both sides, but the installed graphics card will not interfere with replacing the memory modules as connectors are located at a sufficient distance from each other.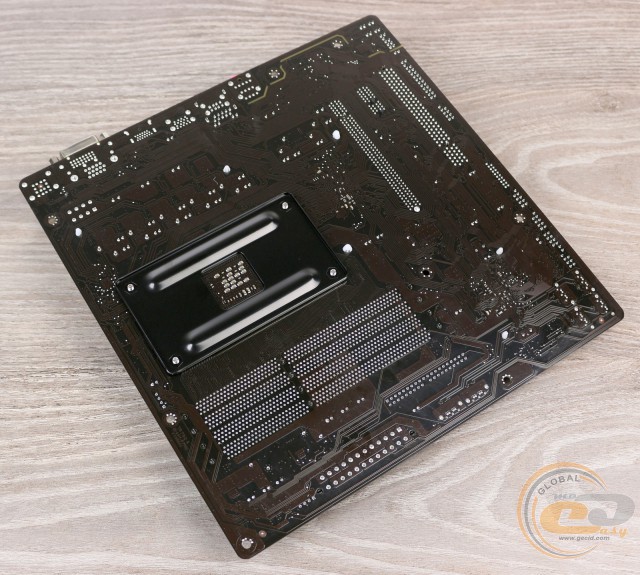 The reverse side has the standard base plate of the socket and plastic fastening clips of the radiator.

At the bottom of the board there are the following connectors: front panel audio leading-in socket, S/PDIF out, ports COM and LPT, CMOS, as well as front panel connection module. Also here are two modules for connection of additional interfaces USB 2.0 and one USB 3.0. Total number of USB 2.0 sockets is eight: four are internal and four on the interface panel. As for USB 3.0, there are four: two internal and two on interface panel. All of them are implemented by the controller VIA VL805.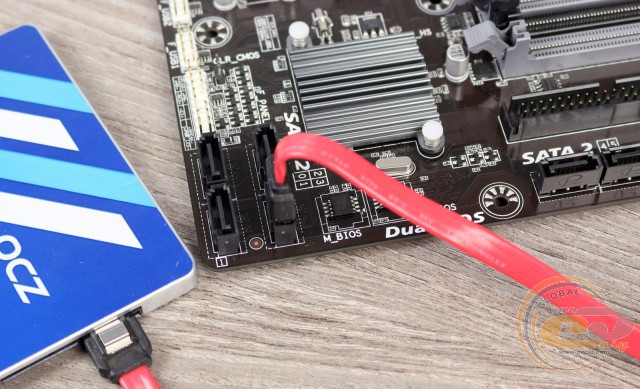 The possibility of organizing a disk subsystem is presented six ports SATA 3 Gb/s arranged perpendicular to the surface of the board, and one IDE, which supports the connection of two devices. There is support for arrays SATA RAID 0, RAID 1, RAID 10 and JBOD.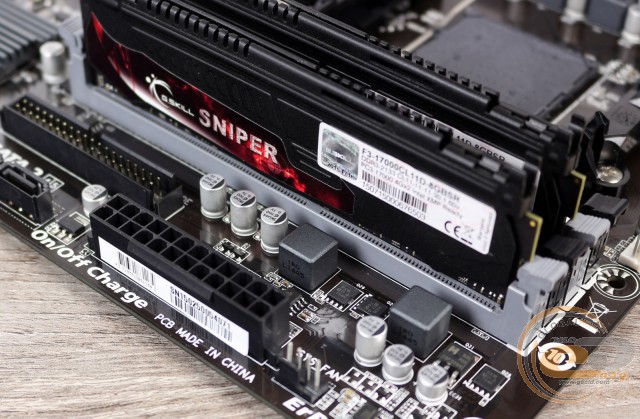 The tested model is equipped by four DIMM-slots for memory modules of DDR3 standard that are equipped with latches from both sides. The RAM can operate in dual channel mode. Modules operating at frequencies up to 1333 MHz in the nominal mode and up to 1600 MHz in overclocked mode are supported. The maximum amount of memory can be up to 32 GB, which is enough for almost any task.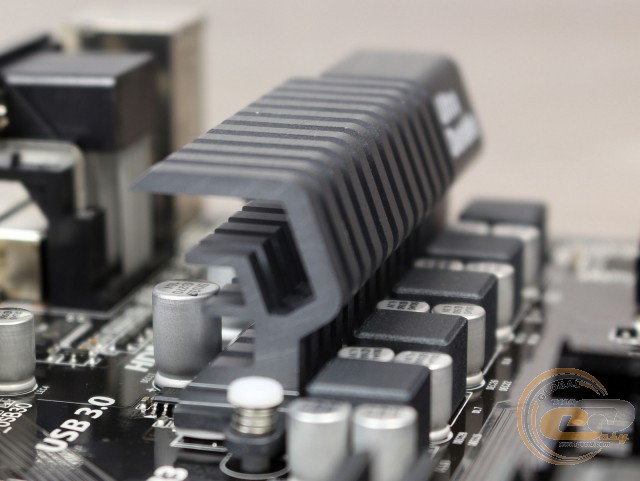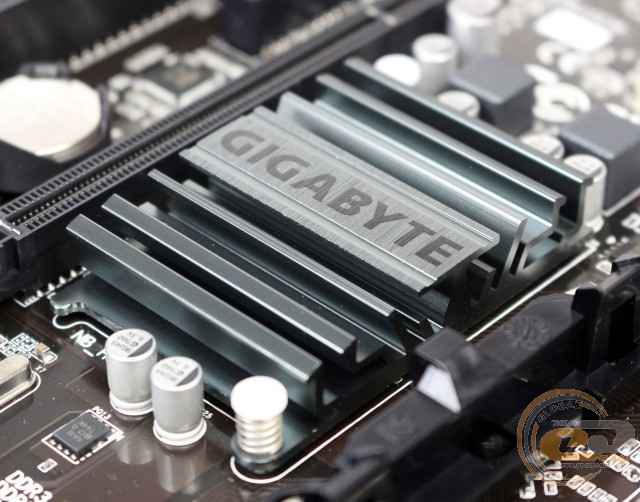 Cooling system of the product includes three aluminum radiators: the first covers the North Bridge AMD 760G, the second is responsible for cooling the processor components, while the third cools South bridge AMD SB710. In the process of testing the following temperature indices were fixed:
radiator for South bridge AMD SB710 cooling – 39.9°C;
radiator for North bridge AMD 760G cooling – 54.5°C;
radiator for cooling of processor power elements – 45,1°C.
The results confirm the effectiveness of preset cooling system. Demonstrated results tell us that the key components are not subjected to the overheating, as there is still a substantial reserve to the critical temperature.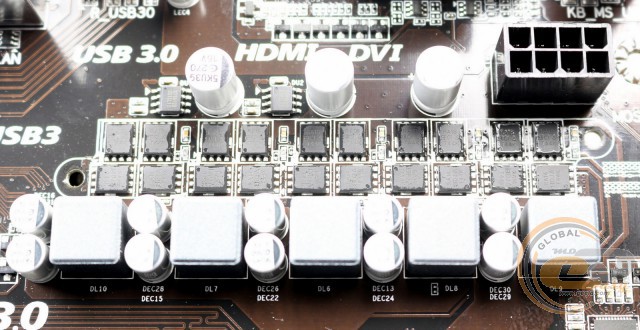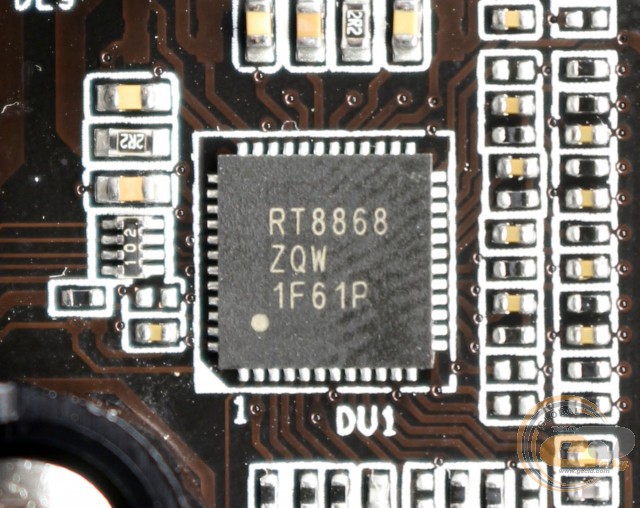 Processor power supply is performed via 4+1-phase scheme for computational cores and additional joints. The transformer is based on PWM controller RT8868. The circuitry is made by high quality components such as: solid capacitors, MOS transistors with low resistance of open channel and chokes with ferrite cores. Basic 24-pin and additional 8-pin connectors are use for power feeding.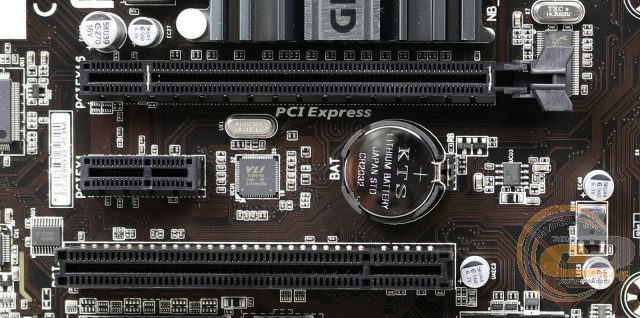 To extend the functionality of the product user has three slots:
PCI Express 2.0 x16;
PCI Express 2.0 x1;
PCI.
As you can see, there is a possibility of installing only one video card, which is enough for an entry-level. Also note that when connecting a video card with dual-slot cooling system, you will have free access to only one PCI slot, which means that if you want to install a discrete sound card, you will be limited to models with interface PCI.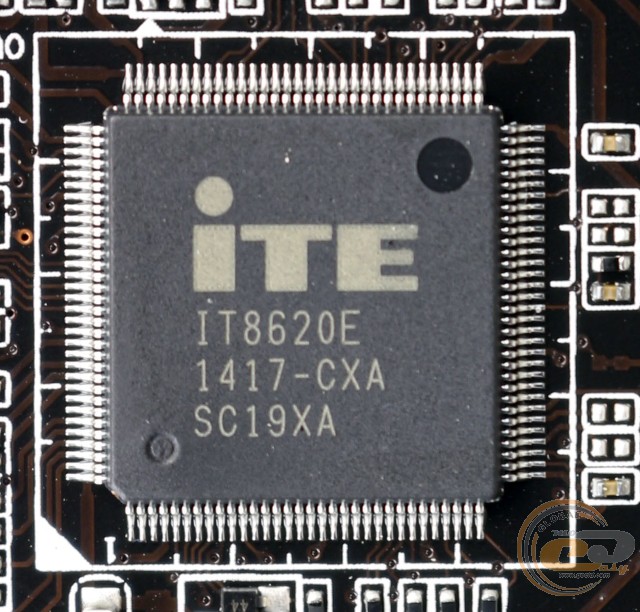 Multi I/O capabilities are based on chip ITE IT8620E which controls the operation of the system fans, COM, LPT and PS/2 ports, as well as provides the monitoring.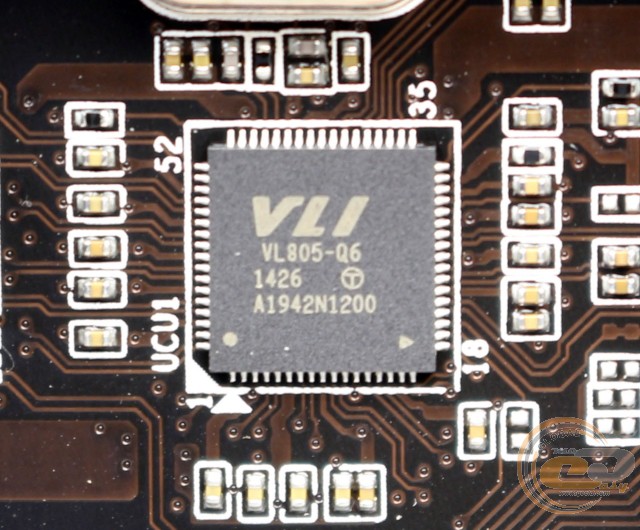 Four USB 3.0 ports are implemented using the controller VIA VL805.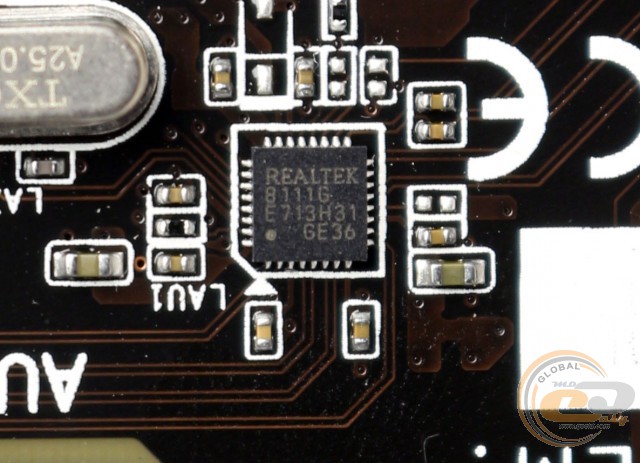 To support network connections there is a GB LAN-controller Realtek 8111G.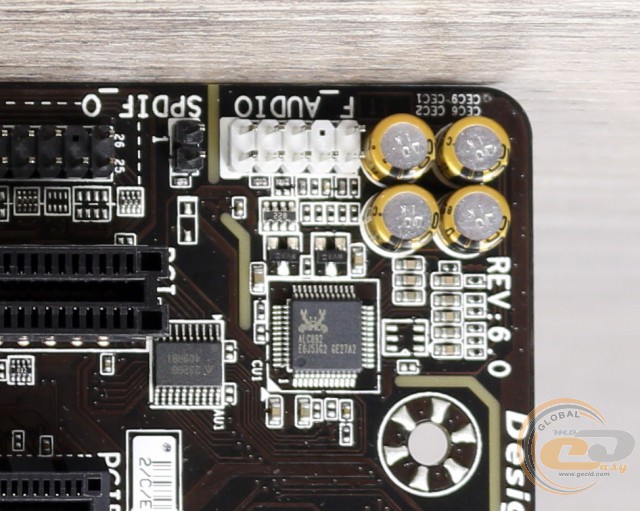 Sound subsystem of model is based on the 8-channel codec Realtek ALC892 which uses high-quality audio capacitors Nippon Chemicon ARE.

Interface panel of the model contains the following ports:
1 x D-Sub;
1 х DVI-D;
1 x HDMI;
1 x LAN (RJ45);
2 x USB 3.0;
4 х USB 2.0;
1 х PS/2 (for mouse and keyboard);
3 x audio jacks.
Note number of ports USB, the presence of three video outputs, including a modern digital HDMI, as well as the possibility to put ports COM and LPT on the rear panel using the appropriate pads on the surface of the board. The features include inconvenient connection of multichannel speakers, where you need to use the audio ports on the front panel or the audio signal through the interface HDMI.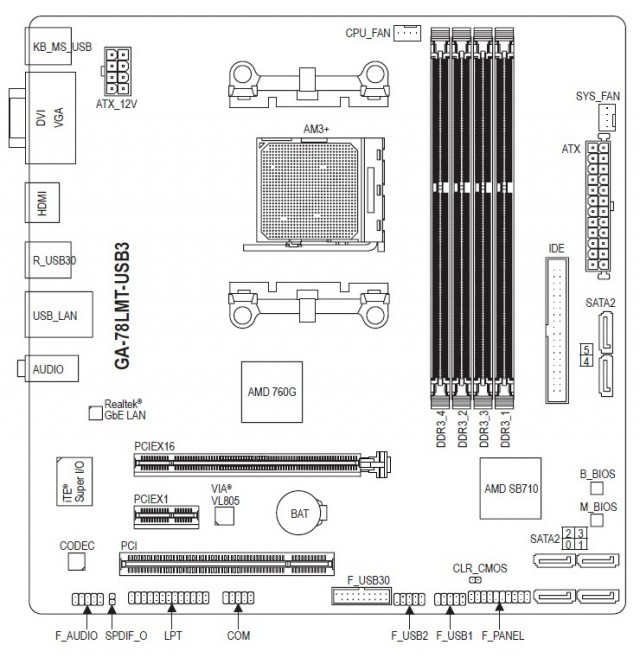 The possibility of organizing the cooling system inside the body of the GIGABYTE GA-78LMT-USB3 is very standard. There are two 4-pin fan connectors, one of which serves to cool the CPU, while the other is intended for the system fan.
UEFI BIOS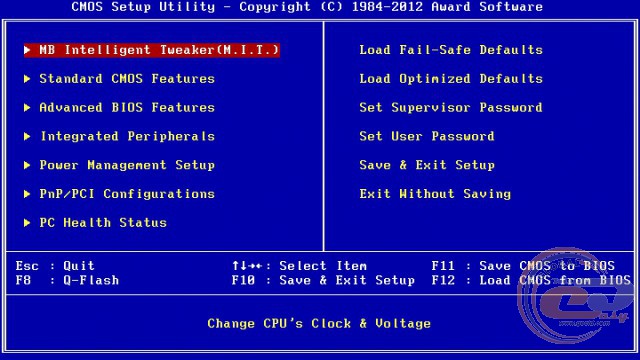 Model GIGABYTE GA-78LMT-USB3 is equipped with irrelevant BIOS version based on microcode AWARD. In addition it has two chips BIOS (Technology GIGABYTE DualBIOS), which will keep the operation of the system in the event of damage to the main chip.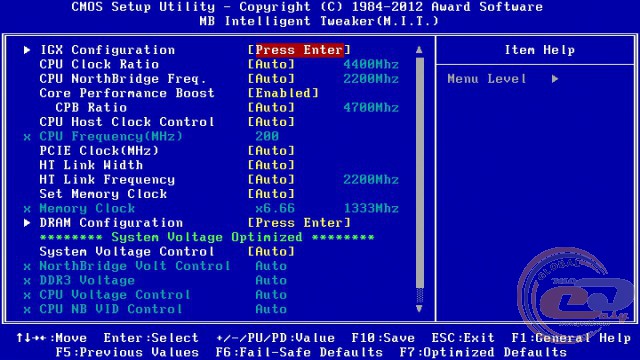 Most of the settings related to changes in frequency of the CPU, integrated graphics core and RAM are grouped under «MB Intelligent Tweaker» («M.I.T.»).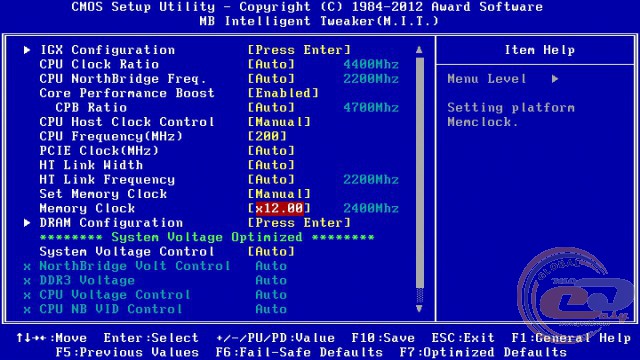 Multiplier allows you to set the frequency of the memory modules as part of the 667 MHz to 2400 MHz.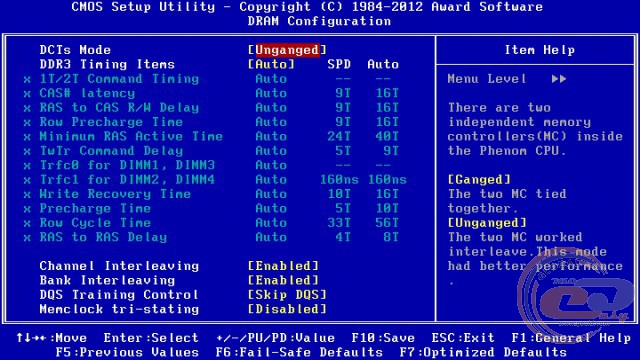 If necessary the section "DRAM Configuration" can provide the access to settings of memory latency.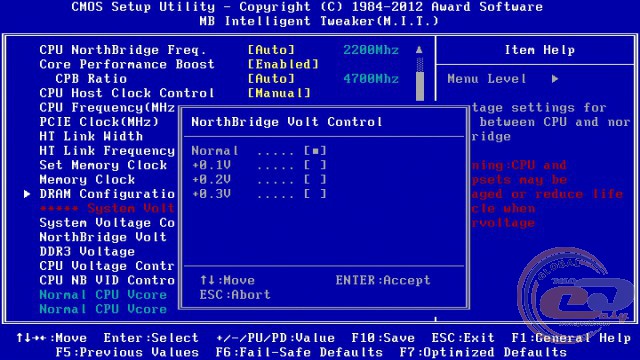 Also there is ability to fine tune of voltages on basic components of system.
Adjustments required to optimize the system:
| | | | |
| --- | --- | --- | --- |
| Parameter | Menu | Range | Step |
| CPU multiplier | CPU Clock Ratio | 7 – MAX | 0,5 |
| RAM frequency | System Memory Multiplier | 667 – 2400 | |
| | VGA Core Clock | 200 − 2000 | 1 |
| | CPU NorthBridge Frequency | 5 − 20 | 1 |
| | CPB Ratio | 4 − 35 | 0,5 |
| | CPU Frequency | 200 − 500 | 1 |
| | PCIE Clock | 100 − 150 | 1 |
| | HT Link Frequency | 1 − 13 | 1 |
| | NorthBridge Voltage Control | +0,1 − +0,3 | |
| RAM voltage | DDR3 Voltage | 1,500 – 1,900 | |
| CPU voltage | CPU Voltage Control | 1,5000 – 1,8000 | |
| | CPU NB VID Control | 1,1250 – 1,4250 | |
| RAM timing | Timing Control | CAS, tRCD, tRP, tRAS, tRRD, tWTR, tWR, tWTP, tWL, tRFC, tRTP, tFAW | |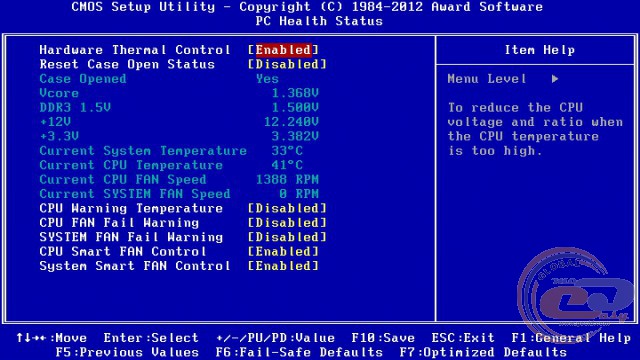 The section «PC Health Status» opens access for monitoring the temperature of the processor and chipset, as well as speed of installed fans. Additionally you can monitor the voltage at the processor core, memory modules and power supply rails +12V and +3.3V.
Социальные комментарии Cackle