Motherboard GIGABYTE GA-990FXA-UD3: review and testing
If you think the platform Socket AM3+ outdated, irrelevant and unsuful, the motherboard GIGABYTE GA-990FXA-UD3, which we will be discussed in this review will try to prove you otherwise. It is made in ATX format and is designed to work in conjunction with the processor family AMD Phenom II, AMD Athlon, and AMD FX.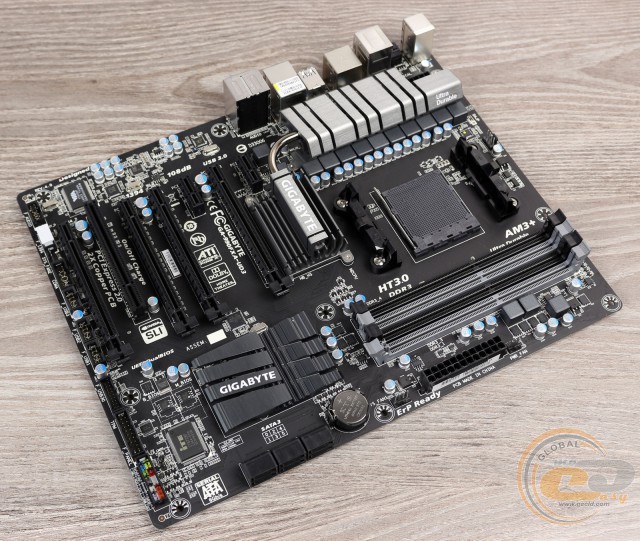 GIGABYTE GA-990FXA-UD3 is designed on the basis of the flagship chipsets AMD 990FX and AMD SB950, so in the first thing it is positioned as the basis for gaming, overclocking or efficient system with a set of relevant features. 8+2 phase power subsystem, powerful cooling system, support for multi-graphics bonds AMD CrossFireX and NVIDIA SLI - all this is offered at an estimated cost of only $140. Let's take a closer look of the features of GIGABYTE GA-990FXA-UD3, and its correspondence to requirements of 2015 year.
The specs:
Producer

GIGABYTE

Model

GA-990FXA-UD3 (rev 4.0)

Chipset of North and South bridges

AMD 990FX + AMD SB950

Processor socket

AMD Socket AM3+

Supported CPUs

AMD Phenom II / AMD Athlon II / AMD Sempron / AMD FX

Memory frequency

2000* / 1866 / 1600 / 1333 / 1066 MHz

(*OC)

Memory support

4 x DDR3 DIMM- slots with memory support up to 32 GB

Expansion slots

2 x PCI Express 2.0 x16

x16

x16+x16

2 x PCI Express 2.0 x4

2 x PCI Express 2.0 x1

1 х PCI

Disk subsystem

AMD SB950 supports:

6 x SATA 6 Gb/s

RAID 0, RAID 1, RAID 5, RAID 10, JBOD

LAN

1 x Realtek 8111F (10/100/1000 Мb/s)

Sound subsystem

Codec Realtek ALC889

8-channel sound

S/PDIF Out

Power

24-pin power socket ATX

8-pin power socket ATX12V

Fans

1 x CPU fan connector (4-pin)

3 x system fan connectors (2 x 4-pin and 1 x 3-pin)

Cooling

Aluminum radiator of processor power subsystem elements connected with North bridge radiator

Aluminum Radiator of South bridge

Extenral I/O

1 x LAN (RJ45)

8 x USB 2.0

2 x USB 3.0

2 х eSATA

1 x IEEE 1394a

6 x audio jacks

1 х S/PDIF Out

1 х PS/2 (for mouse or keyboard connection)

Internal I/O

1 x USB 3.0 each with support of two USB 3.0 (19-pin)

3 x USB 2.0, each with support of two USB 2.0

6 x SATA 6 Gb/s

1 x socket COM

1 x socket TPM

1 x socket IEEE 1394a

1 x S/PDIF Out

1 x connector of audio output to front panel

1 x set of front panel connectors

1 x CMOS

BIOS

2 х 32 Mb Flash ROM UEFI AMI BIOS

ACPI 2.0a, SM BIOS 2.6, PnP 1.0а, DMI 2.0

Packaging

user manual

warranty card

disk with drives and documents

4 x SATA cables

1 x bridge 2-Way NVIDIA SLI

1 х interface panel plug

Form-factor, dimensions

ATX

305 х 244 mm

Producer website

GIGABYTE
Updated versions of BIOS and drives are available at support page
Package and content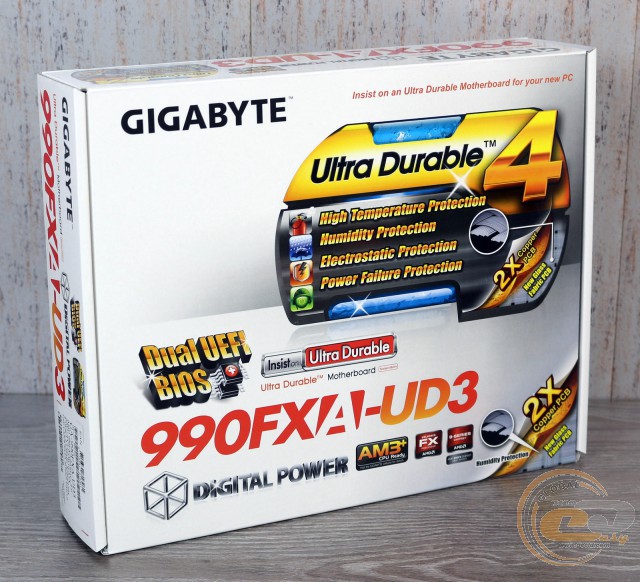 Motherboard GIGABYTE GA-990FXA-UD3 comes in the traditional cardboard box with bright printing. When you look at the packaging first of all you will notice the name of model and manufacturer, as well as the logo of branded concept Ultra Durable 4, which includes the following features:
improved protection from moisture;
protection against electrostatic discharges;
voltage swing protection;
protection against overheating of key elements of the power subsystem;
use of double amount of copper in some tracks of the PCB.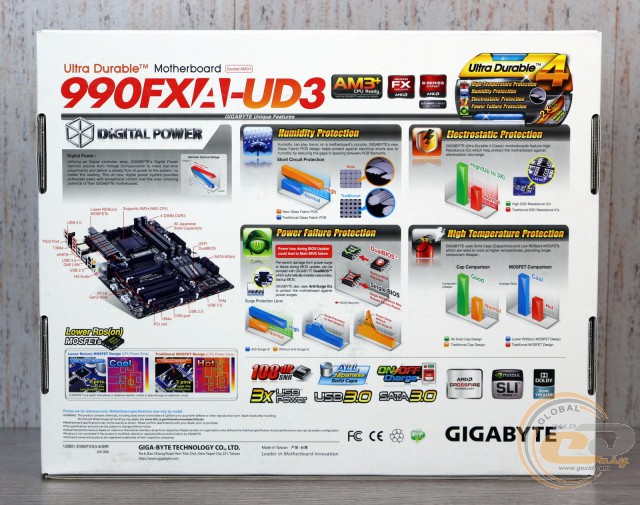 Looking at the opposite side of the box, it is possible to note a schematic representation of the motherboard, and a more detailed description of the concept Ultra Durable 4. The lower part indicates about the use of reliable solid state capacitors and high field effect transistors with a low-resistance channel (Low RDS (on)), presence of ports USB 3.0 and the SATA 3.0, as well as support for technologies GIGABYTE ON/OFF Charge, AMD CrossFireX and NVIDIA SLI.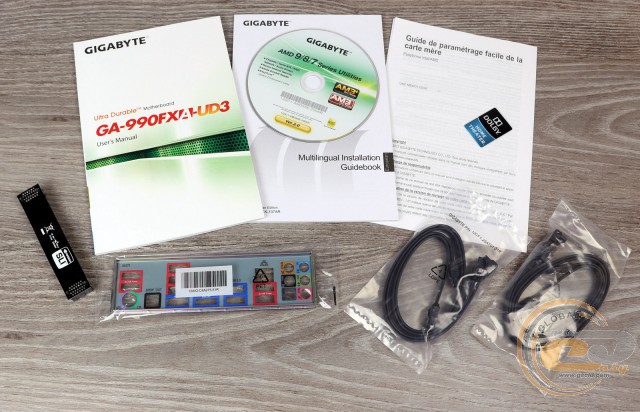 Scope of delivery includes interface board plug, four cables SATA, CD with software and user's guide as well as a nice bonus in the form of bridge 2-Way NVIDIA SLI.
Design and features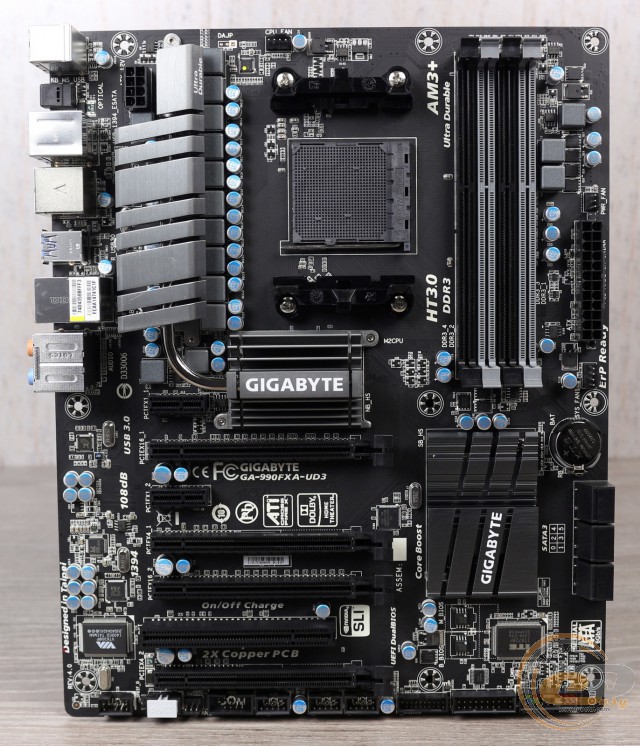 GIGABYTE GA-990FXA-UD3 is made in the format ATX (305 x 244 mm) on the black PCB. The dark tone of the printed circuit board is combined with radiators of steel color, so the model looks very elegant and discreet.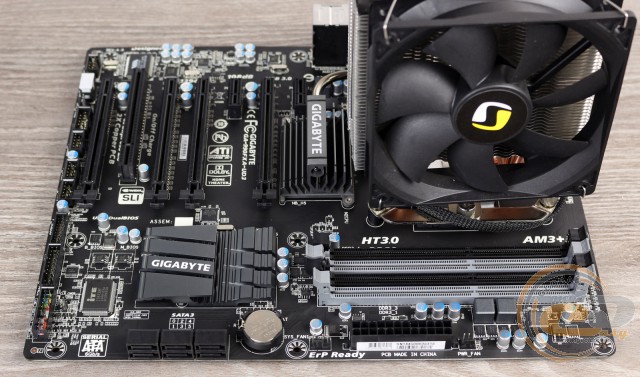 The layout of on-board components is at a very high level, so you won't face any inconvenience during building the system.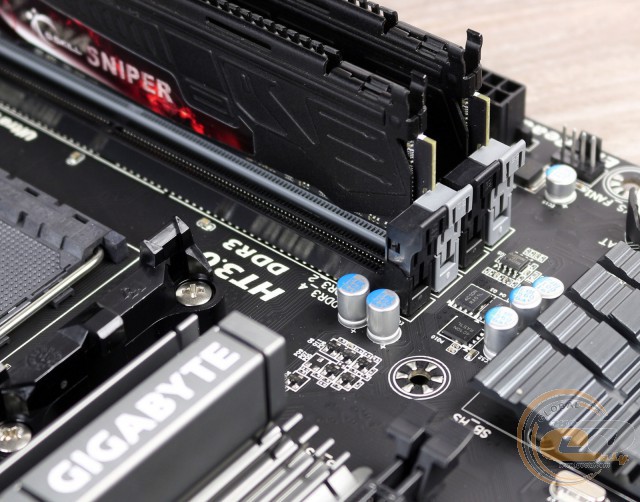 For example, installed video card does not interfere with the connection and disconnection of memory modules, despite the fact that the DIMM-slots are equipped with latches on both sides. The same can be said about the disk subsystem: even the longest expansion cards will not block access to ports SATA 6 Gb/s, as the connectors are installed parallel to the PCB.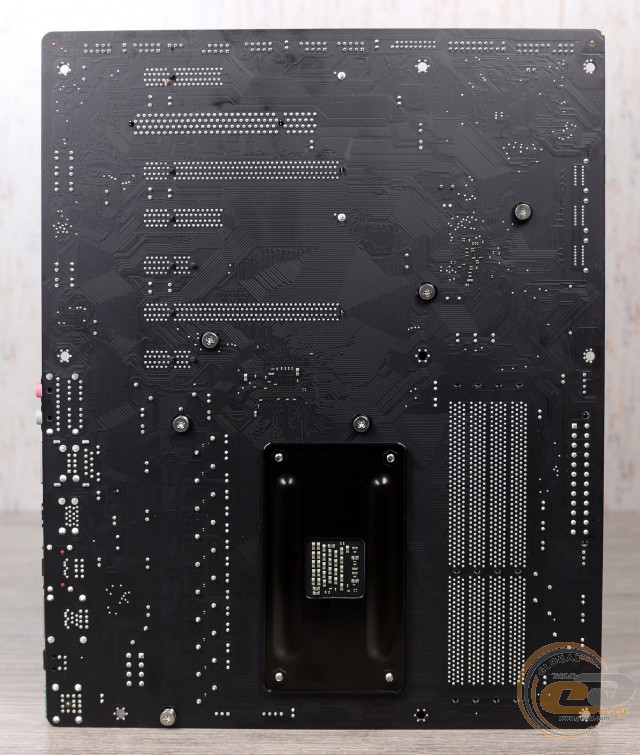 On the reverse side of the PCB you can find a standard base plate of the socket and the screws that secure the three radiator of cooling system that ensures the reliability of their holding and the necessary down force.

At the bottom of the board there are the following connectors: front panel audio leading-in socket, S/PDIF out, ports COM, TPM and IEEE 1394а, CMOS, as well as front panel connection module. Also here are three modules for connection of additional interfaces USB 2.0 and one USB 3.0. Total number of USB 2.0 sockets is fourteen due to south bridge: six are internal and eight on the interface panel. As for USB 3.0, there are four: two internal and two on interface panel. All of them are implemented by the controller VIA VL805.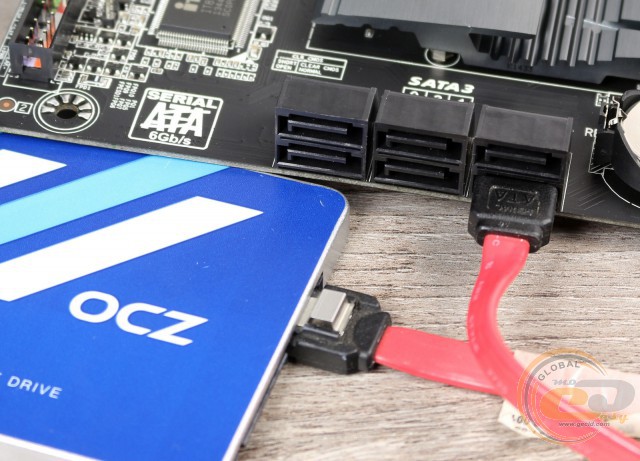 The possibility of organizing a disk subsystem is presented six ports SATA 6 Gb/s. All of them are functioning thanks to south bridge AMD SB950. There is support for arrays RAID 0, RAID 1, RAID 5 and RAID 10.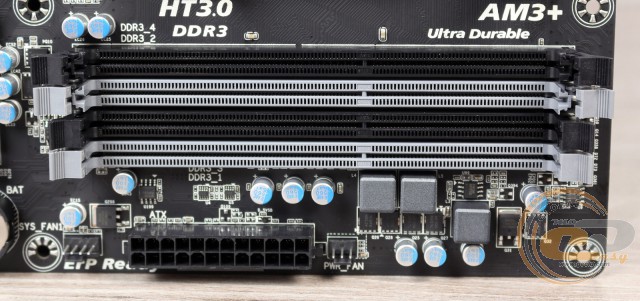 The tested model is equipped by four DIMM-slots for memory modules of DDR3 standard that are equipped with latches from both sides. The RAM can operate in dual channel mode. Modules operating at frequencies from 1333 MHz to 1866 in the nominal mode and up to 2400 MHz in overclocked mode are supported. The maximum amount of memory can be up to 32 GB, which is enough for almost any task.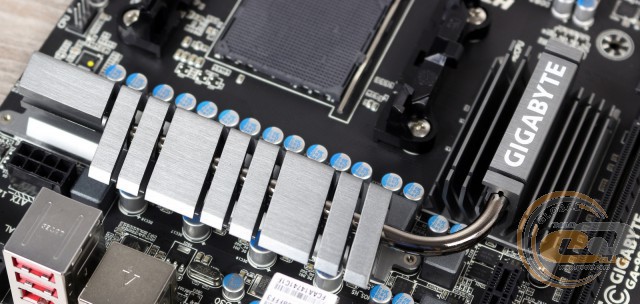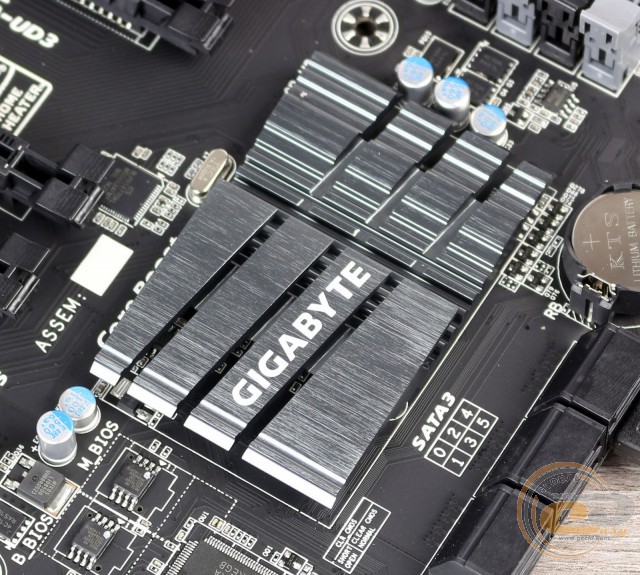 Cooling system of the product includes three aluminum radiators: the first covers the North Bridge AMD 990FX, and is connected with a heat pipe with radiator, responsible for cooling the FETs, while the third cools South bridge AMD SB950. In the process of testing the following temperature indices were fixed:
radiator for South bridge AMD SB950 cooling – 38°C;
radiator for field transistors cooling – 77.5°C
The results confirm the effectiveness of preset cooling system.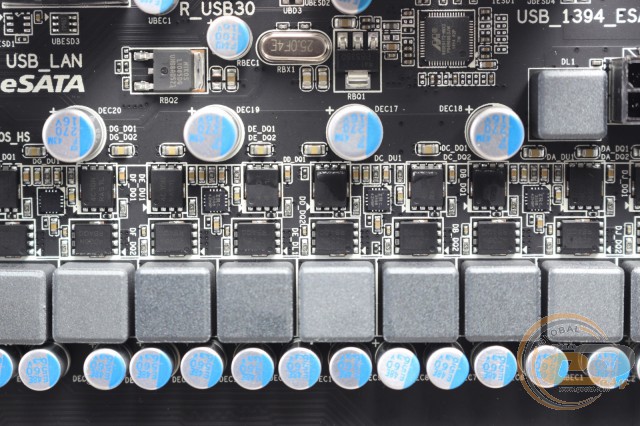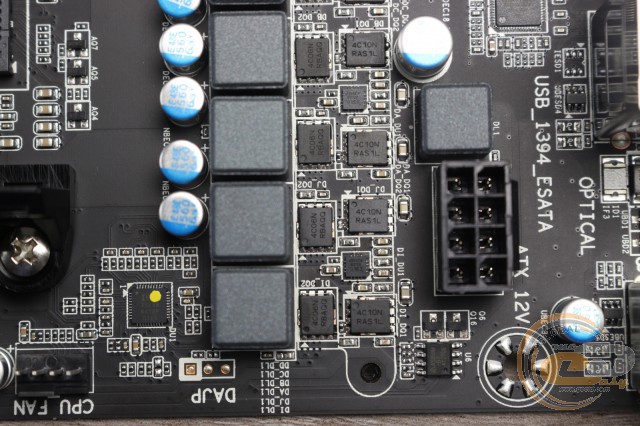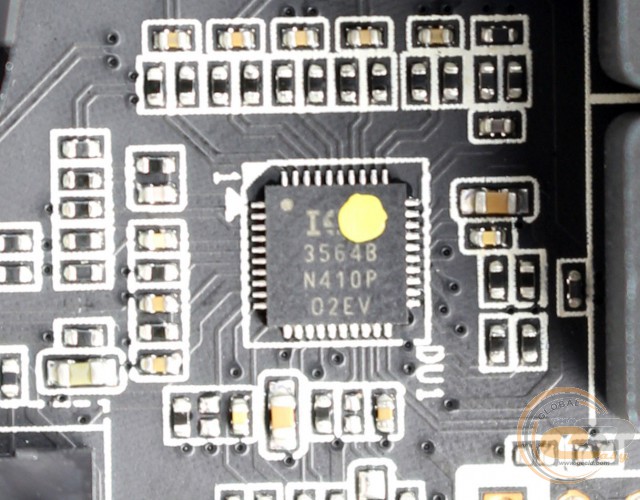 Processor power supply is performed via 8+2-phase scheme for computational cores and additional joints. The transformer is based on PWM controller IR3564B. The circuitry is made by high quality components such as: solid capacitors, MOS transistors with low resistance of open channel and chokes with ferrite cores. Basic 24-pin and additional 8-pin connectors are use for power feeding.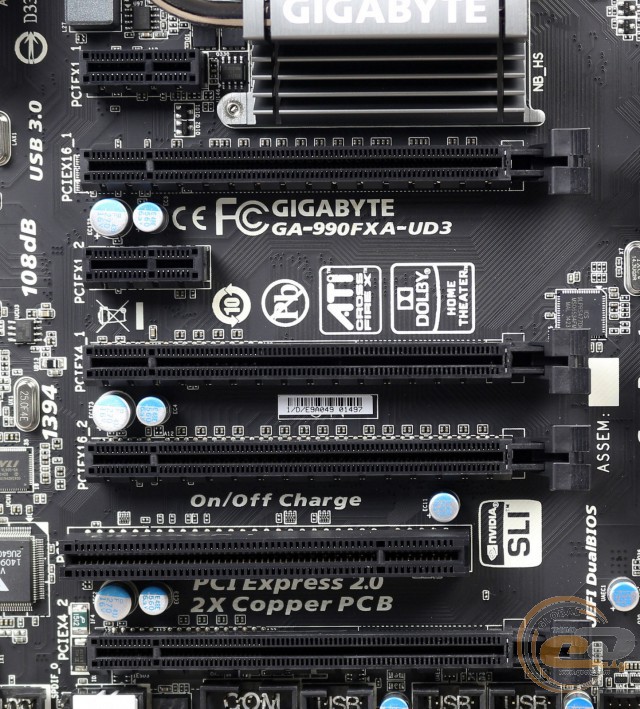 To extend the functionality of GIGABYTE GA-990FXA-UD3 user has seven slots:
PCI Express 2.0 x1;
PCI Express 2.0 x16;
PCI Express 2.0 x1;
PCI Express 2.0 x4;
PCI Express 2.0 x16;
PCI;
PCI Express 2.0 x4.
The presence of two slots PCI Express 2.0 x16, working in a mode x16+x16, and support for technologies 2-Way NVIDIA SLI and AMD CrossFireX provide an opportunity to organize a powerful graphics subsystem of a pair of graphics cards. In this case graphics cards can be fitted with three slot cooling system, and you will still have access to one connector PCI Express 2.0 x1.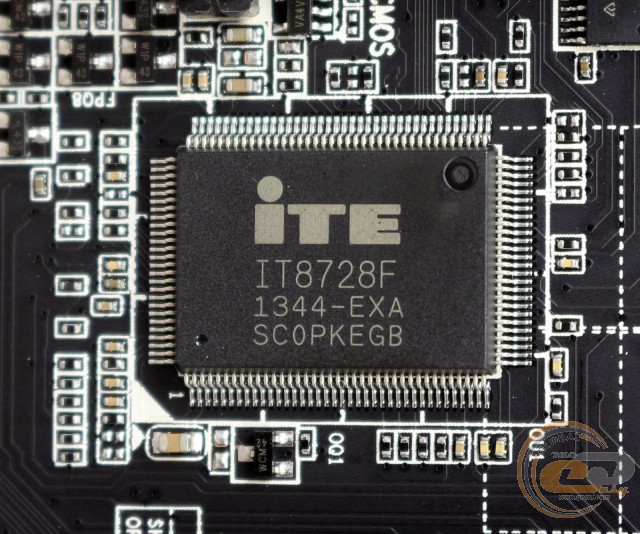 Multi I/O capabilities are based on chip ITE IT8728F which controls the operation of the system fans, COM and PS/2 ports, as well as provides the monitoring.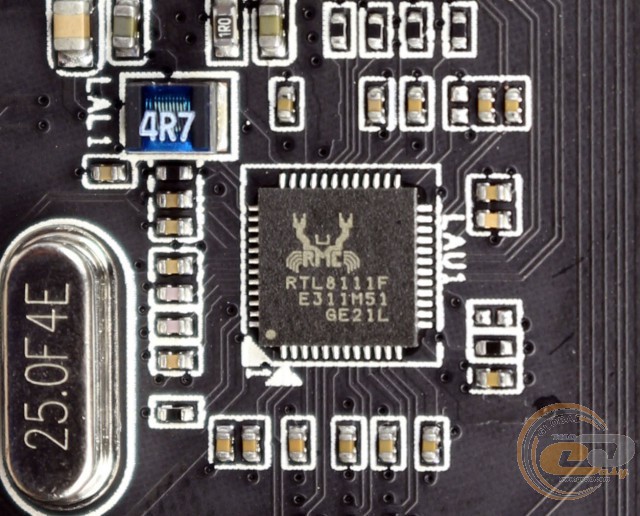 To support network connections there is a GB LAN-controller Realtek 8111F.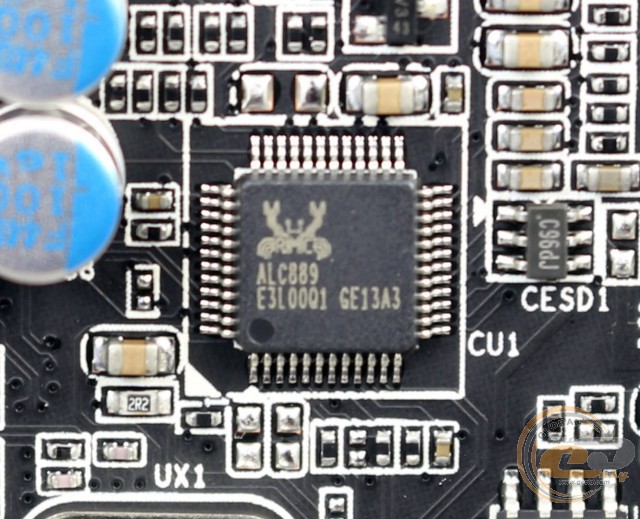 Sound subsystem of model is based on the 8-channel codec Realtek ALC889 which supports 2/4/5.1/7.1 audio systems. It has the support of technology Dolby Home Theater, which is designed to improve the quality of the content.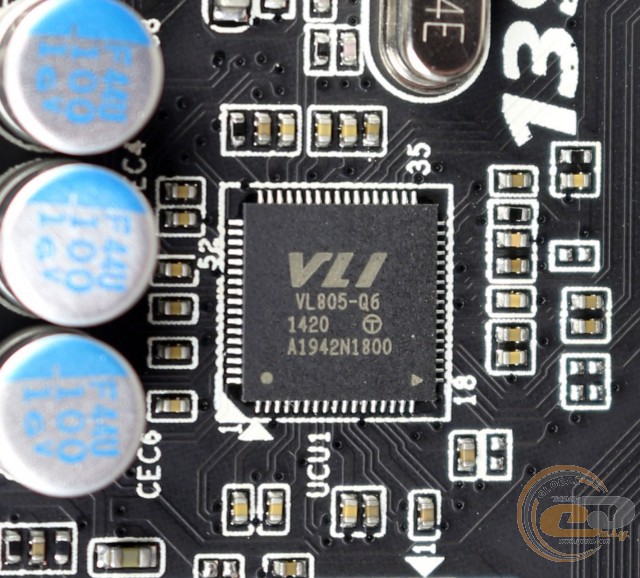 Four USB 3.0 ports are implemented using chip VIA VL805.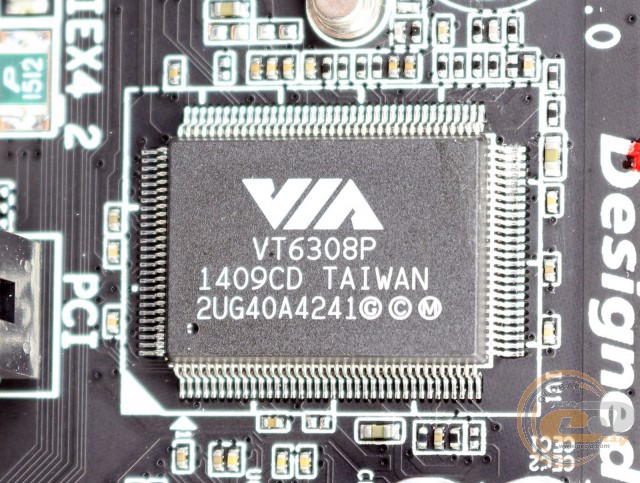 VIA VT6308P controller is responsible for the two ports IEEE 1394a.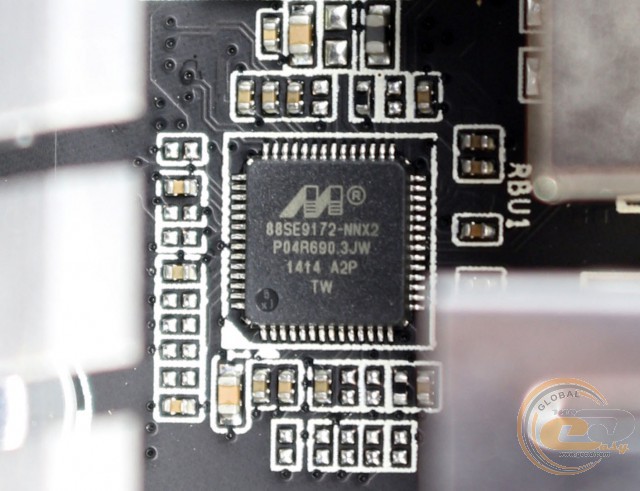 Two eSATA ports on the interface panel are implemented by the controller Marvell 88SE9172.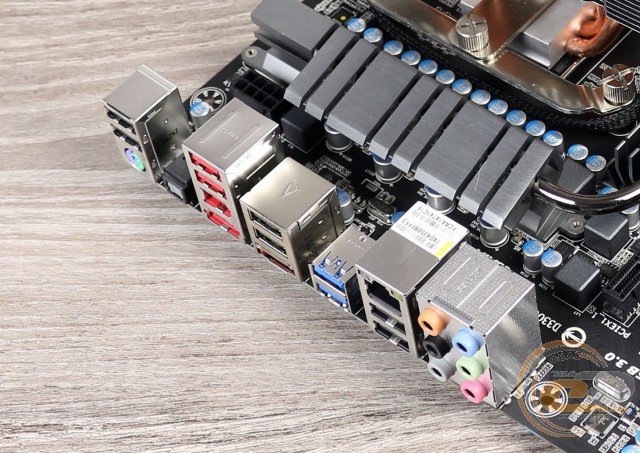 Interface panel of the model contains the following ports:
1 x PS/2 (for mouse and keyboard);
1 x LAN (RJ45);
8 x USB 2.0;
2 x USB 2.0;
2 х eSATA 6 Gb/s;
1 x IEEE 1394a;
1 х S/PDIF Out;
6 x audio jacks.
Excellent set of ports on the interface panel, which includes a large number of interfaces USB, as well as connectors eSATA and IEEE 1394a. Note a convenient connection of multi-channel speakers and the opportunity to place port COM to the rear panel with the appropriate module on the PCB.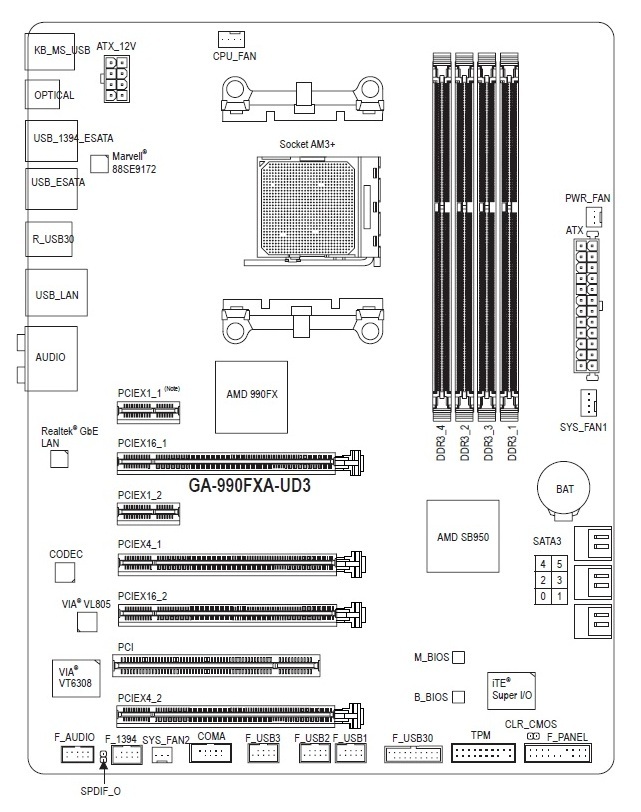 Motherboard GIGABYTE GA-990FXA-UD3 has four fan connectors: one is used to supply the cooling system of the processor, while the other three are applied for connecting system fans.
Социальные комментарии Cackle