Motherboard GIGABYTE GA-F2A78M-HD2: review and testing
Looking at the specifications of the motherboard GIGABYTE GA-F2A78M-HD2, which will be discussed in this review, it is possible to make a preliminary conclusion that it offers a very nice combination of compact microATX size, affordable cost (about $ 65 at the time of reviewing) and the traditional GIGABYTE high-quality performance. And its target audience, in our opinion is the users who want to build a compact multimedia PC or average home system with a single graphics card and processor of series AMD Kaveri or solutions rulers AMD Trinity / Richland.
Let's take a look at the detailed specs.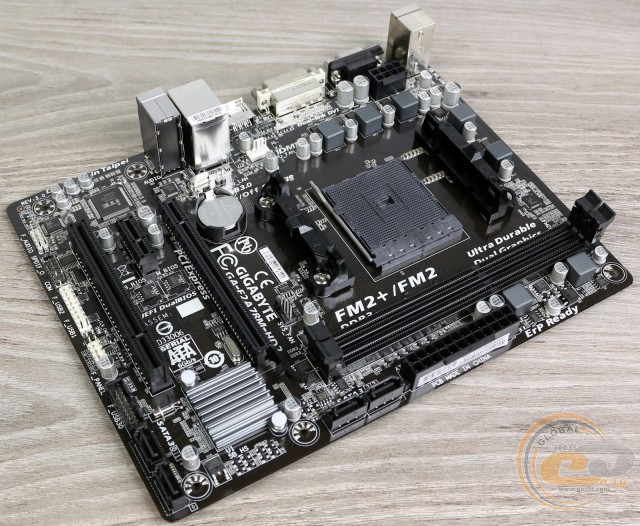 The specs:
Producer

GIGABYTE

Model

GA-F2A78M-HD2 (rev 3.0)

Chipset

AMD A78

CPU socket

Socket FM2+

Supported CPUs

AMD A / AMD Athlon

Memory frequency

2400* / 2133 / 1866 / 1600 / 1333 MHz

(*OC)

Memory support

2 x DDR3 DIMM- slot with memory support up to 64 GB

Expansion slots

1 x PCI Express 3.0 x16

1 x PCI Express 2.0 x1

1 x PCI

Disk subsystem

AMD A78 chipset supports:

4 x SATA 6 GB/s

RAID 0, RAID 1, RAID 10, JBOD

LAN

1 x Realtek 8111F (10/100/1000 Мb/s)

Sound subsystem

Codec Realtek ALC887

2/4/5.1/7.1-channel sound

S/PDIF Out

Power

24-pin ATX main power connector

4-pin ATX12V power connector

Fans

1 x CPU fan connector (4-pin)

1 x system fan connector (4-pin)

Cooling

Aluminum radiator on chipset

Extenral I/O

1 х DVI-D

1 x D-Sub

1 х HDMI

1 x LAN (RJ45)

2 x USB 3.0

2 x USB 2.0

3 x audio jacks

1 х PS/2 (mouse or keyboard)

Internal I/O

2 x USB 2.0 each with support of two USB 2.0

1 x USB 3.0 each with support of two USB 3.0

1 х COM

1 x connector of audio output to front panel

1 x S/PDIF Out

1 x set of front panel connectors

1 x CMOS

BIOS

2 х 64 Мb UEFI BIOS

PnP 1.0а, DMI2.7, SM BIOS 2.7, ACPI 5.0, WfM 2.0

Packaging

User's manual

Warranty card

Disk with drivers and utilities

2 x SATA cables

1 х interface panel plug

Form-factor, dimensions

microATX

226 х 174 mm

Producer website

GIGABYTE
Updated versions of BIOS and drives are available on support page
Package and content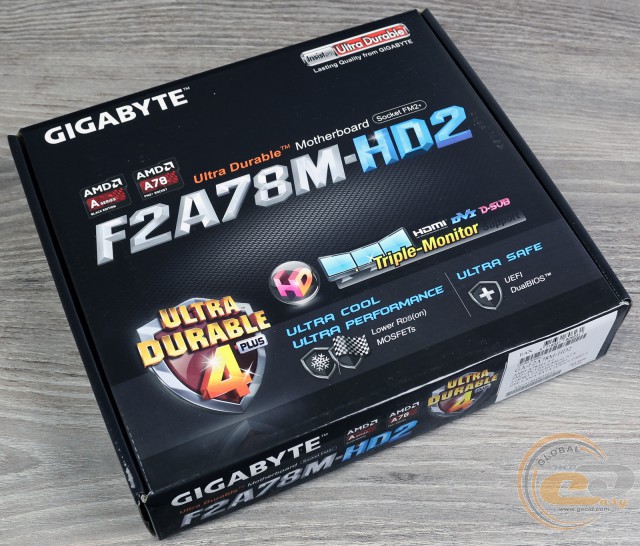 Package of the product is made of thick cardboard and decorated with quality printing in dark colors. The front side, in addition to the usual names of the manufacturer and model of the device, contains a big logo of branded concept Ultra Durable 4 Plus, which includes the following features:
Cool & Performance - power circuits use high field-effect transistors with low on-resistance Low RDS (on), as well as durable solid capacitors.
Safe - this model is equipped with two chips with firmware BIOS (main and reserve), which will allow you to avoid a visit to the service center in case of damage to the main chip. Do note the presence of additional protection of ports USB and LAN ESD. Each LAN and USB-port works in conjunction with a special protective filter that is able to withstand electrostatic discharge, which protects the system from power surges, even during a thunderstorm. Also, do not forget about the increased protection against moisture and overvoltage.
One of the main advantages of the new product id the support to connect three monitors, and there are three video outputs (HDMI, DVI-D and D-Sub).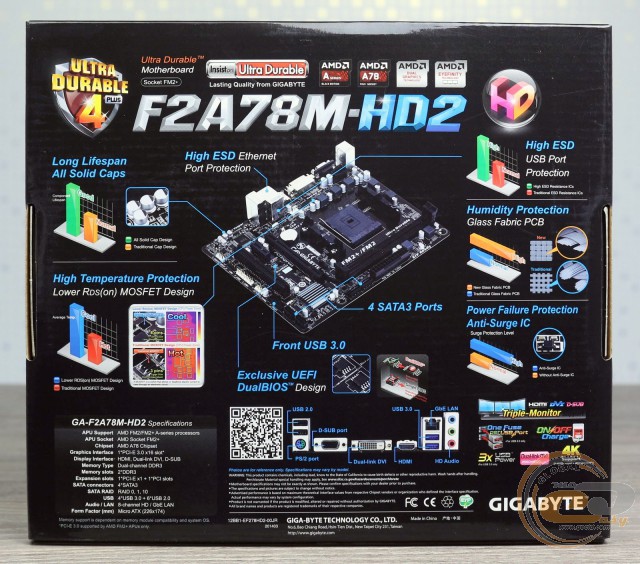 The back side contains a schematic representation of the motherboard and interface panel, and continues the description of the above-mentioned key advantages.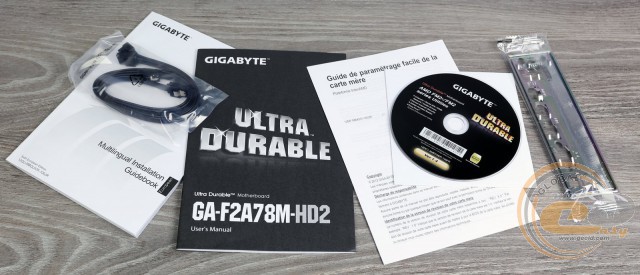 The box with the test model, in addition to the disk with the software and the interface board plug contains two cables SATA, which is quite expected for affordable solution.
Design and features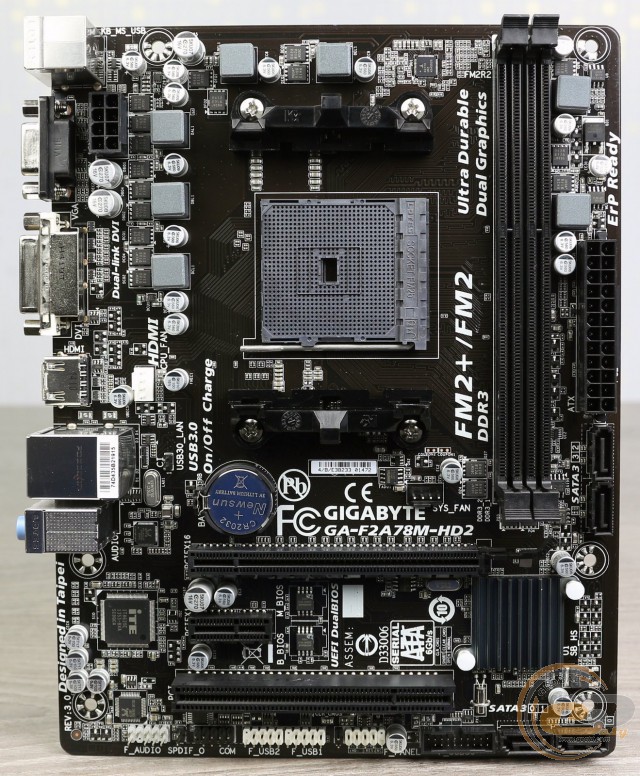 Motherboard GIGABYTE GA-F2A78M-HD2 is made on the dark brown circuit board in the format microATX (226 x 174 mm). Do note a good approach to the design of appearance: despite its relatively affordable price, the novelty looks quite discreet and stylish.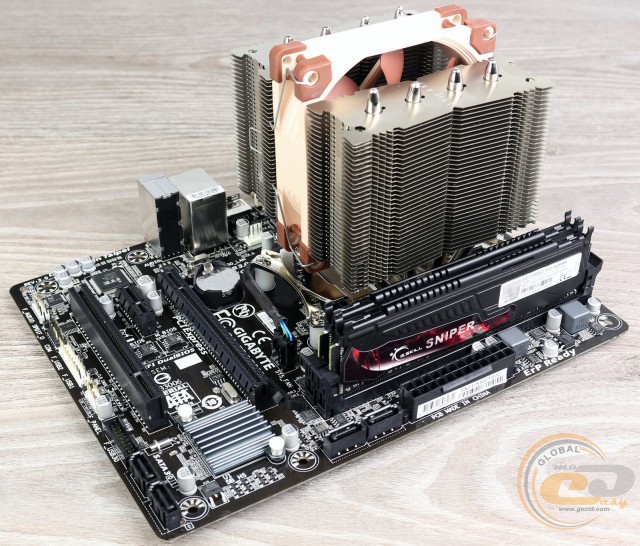 As for the on-board elements layout, all ports and connectors are located on the best places, so you will not have problems with the build system based on the new item.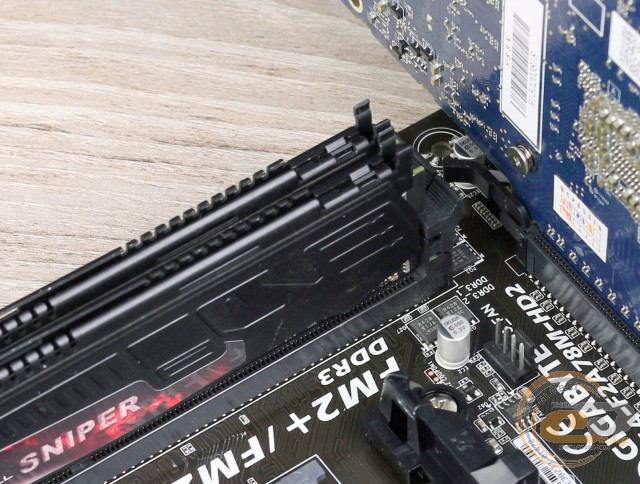 As you can see, the manufacturer made sure that the installed graphics card does not interfere with install and remove memory modules, despite the fact that the DIMM-Slots are equipped with latches on both sides.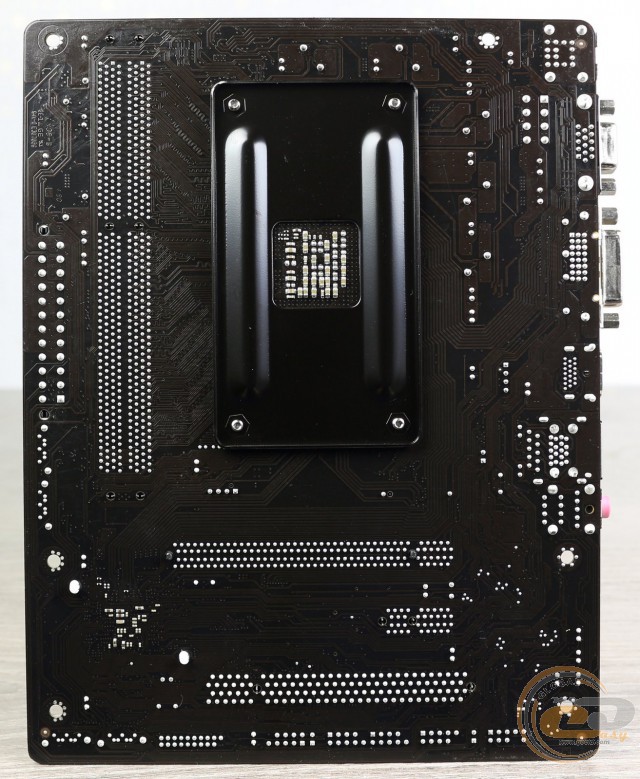 Looking at the back side of new item, you can pay attention to the standard base plate of the CPU socket, as well as the fact that the chipset heatsink is attached to the plastic clips.

At the bottom of the board there are the following connectors: front panel audio leading-in socket, S/PDIF Out, COM, CMOS, as well as two modules to connect interfaces USB 2.0 and one for USB 3.0, as well as front panel connection module . Total number of USB 2.0 sockets is six: four are internal and two on the interface panel. The quantity of USB 3.0 ports is four: two external and two internal. All sockets operate due to the chipset AMD A78.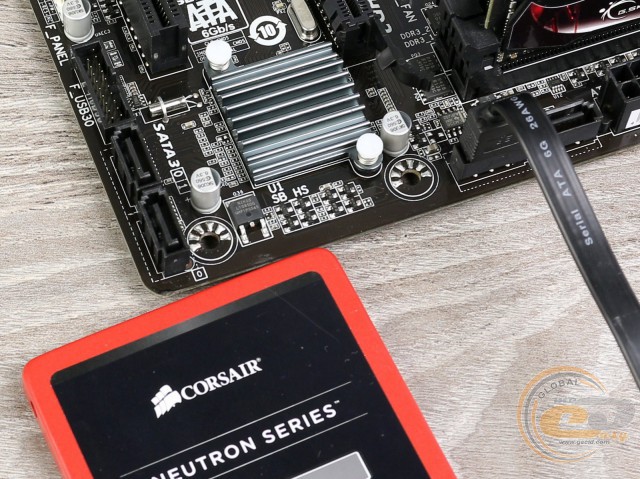 The organization of disk subsystem is presented by four SATA 6 Gb/s ports. All of them operate due to chipset. There is a support for arrays SATA RAID 0, RAID 1, RAID 10 and JBOD.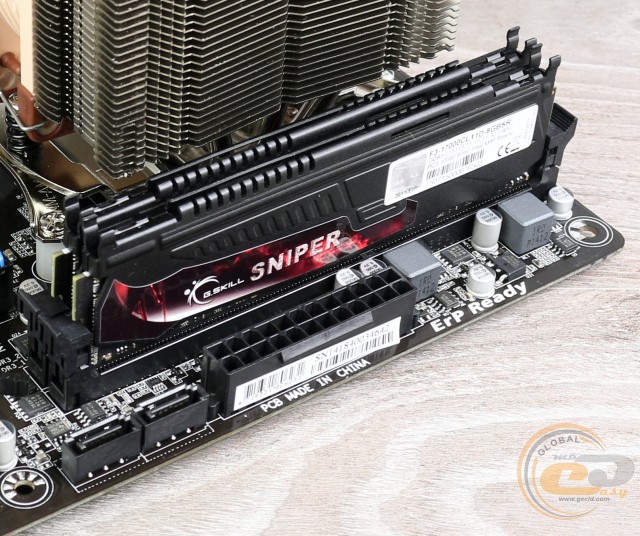 The tested model is equipped by two DIMM-slots for memory modules of DDR3 standard that are equipped with latched on both sides. RAM can operate in dual channel mode. Modules operating at frequencies from up to 2133 MHz in the nominal mode and up to 2400 in overclocked are supported.
Despite the stated support for 64 GB of RAM, the actual maximum amount will not exceed 16 GB due to the absence of modules larger than 8 GB.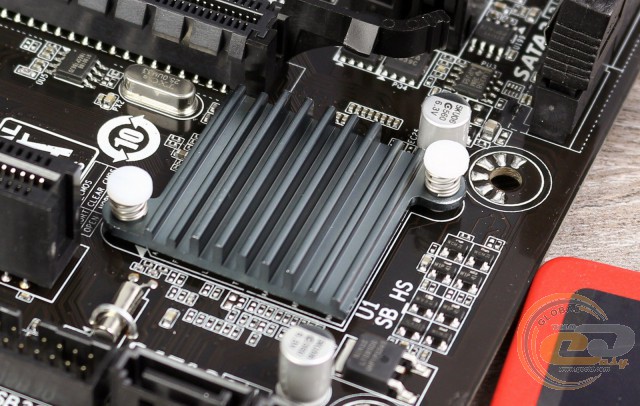 Cooling system of the product includes one aluminum radiator that provides heat removal from chipset AMD A78. In the process of testing the following temperature indices were fixed:
radiator for chipset cooling – 53.1°C;
chokes for power subsystem – 48.4°C;
field-effect transistors of power subsystem – 56.8°C.
Despite the relatively small effective area of the radiator, demonstrated results tell us that its copes with cooling the circuits.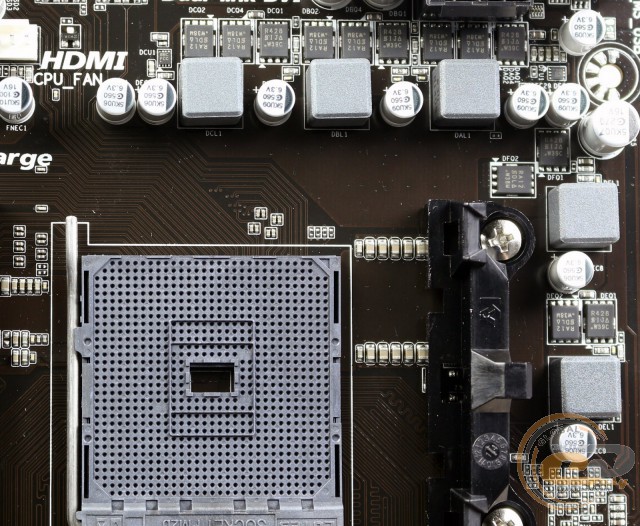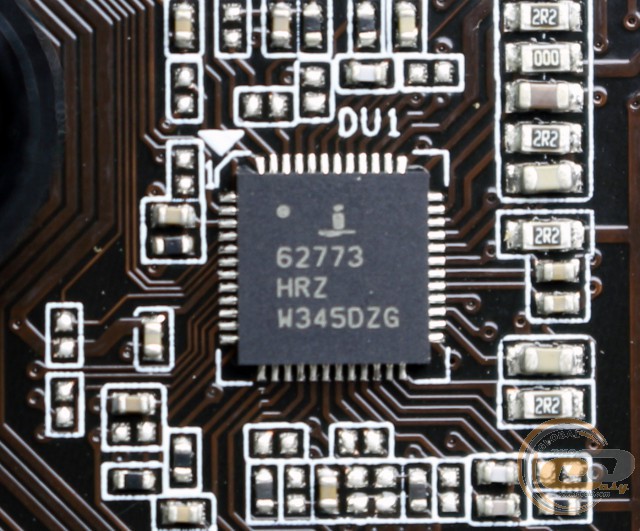 Processor power supply is performed via 5-phase scheme for computational cores and additional joints. The transformer is based on PWM controller Intersil 62773. The circuitry is made by high quality components: solid capacitors, MOS transistors with low on-channel and chocks with ferrite core. Basic 24-pin and additional 8-pin connectors are use for power feeding.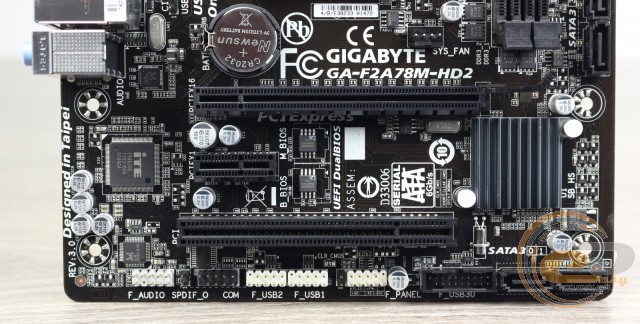 To extend the functionality of MSI A68HM-P33 user has three slots:
PCI Express 3.0 x16 (mode х16);
PCI Express 2.0 x1;
PCI.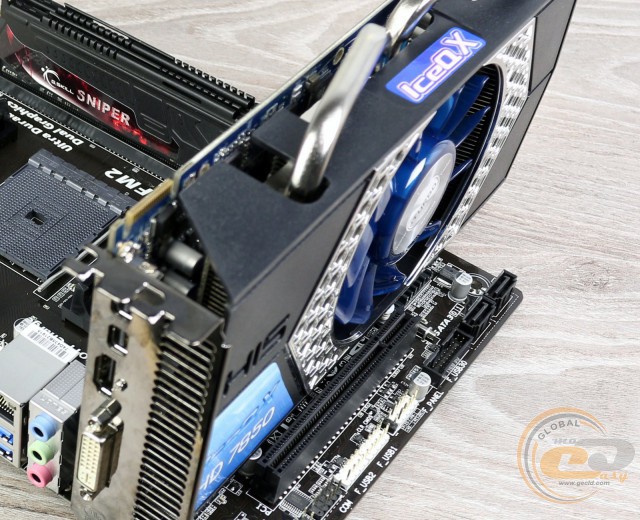 As you can see, if you install a graphics card with dual-slot cooling system, you will have only free slot PCI.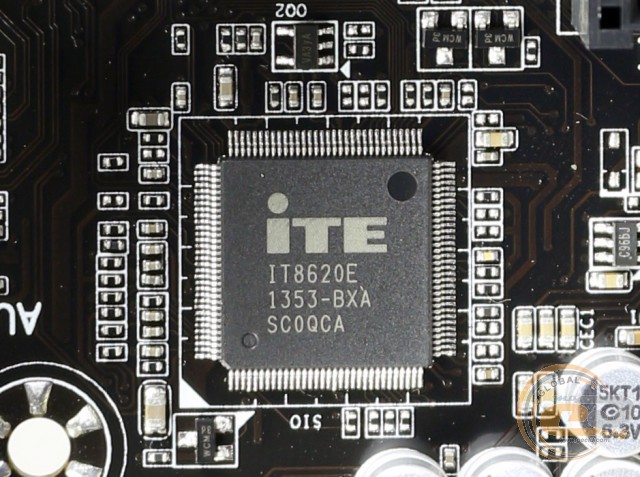 Multi I/O capabilities are based on chip ITE IT8620E which controls the operation of the system fans, COM and PS/2 ports, as well as provides the monitoring.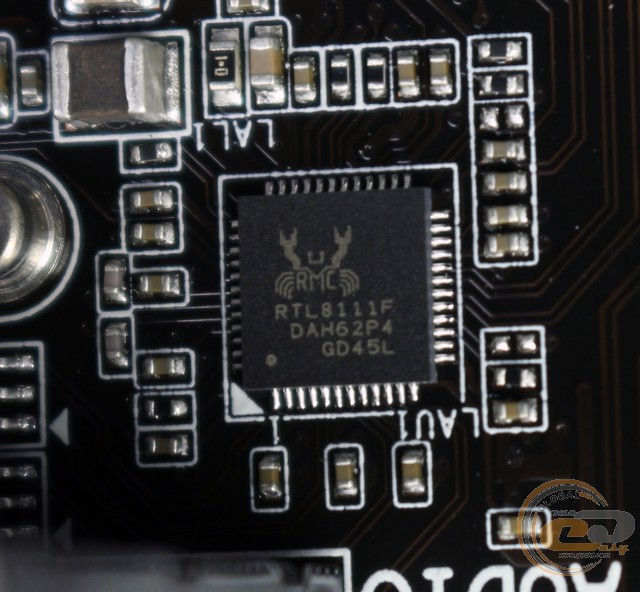 To support network connections there is a Gigabit LAN-controller Realtek 8111F.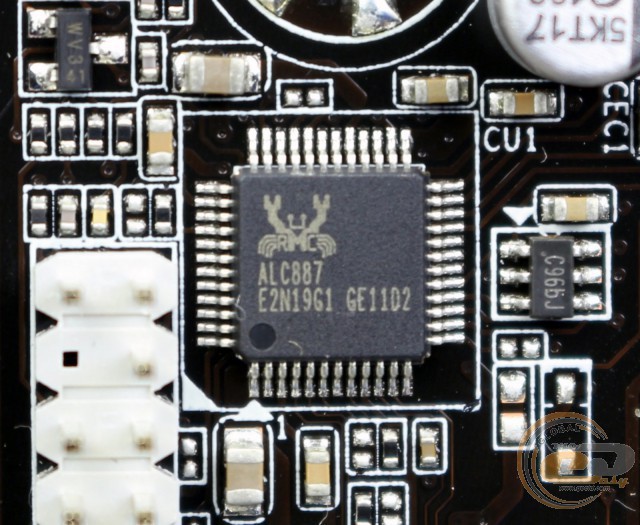 Sound subsystem of model is based on the 8-channel codec Realtek ALC887 which supports 2/4/5.1/7.1 audio systems.

Interface panel of the model contains the following ports:
1 x LAN (RJ45);
2 x USB 3.0;
2 x USB 2.0;
1 x HDMI;
1 x DVI-D;
1 x D-Sub;
1 x PS/2 for mouse and keyboard connection;
3 x audio jacks.
Configuration of interface panel has the support for ports USB 3.0, as well as three video outputs, including digital HDMI and DVI-D. Also do note the possibility of placement of COM port on the interface of the PC using the appropriate connector on the PCB. The features contain only inconvenient connection of the multichannel speakers, where you need to use the audio outputs on the front panel.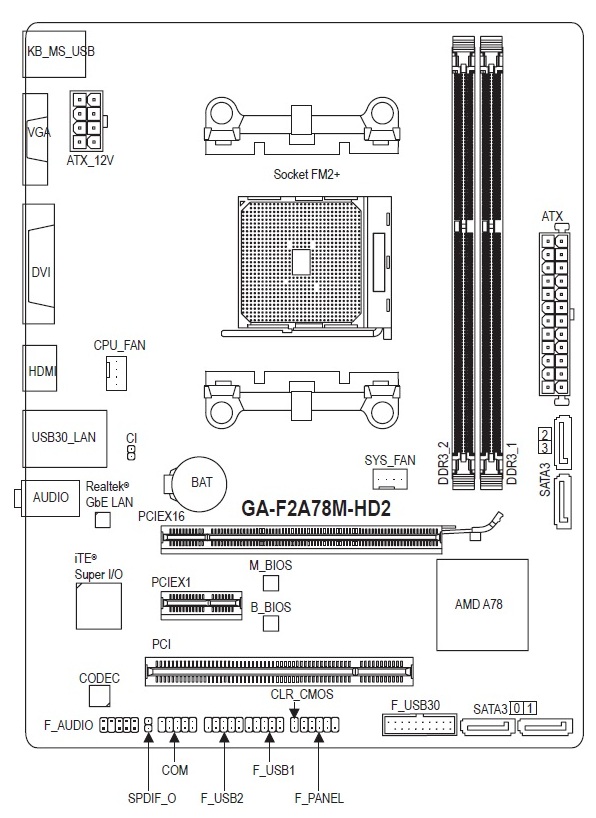 The possibilities of organizing the cooling system inside the body of GIGABYTE GA-F2A78M-HD2 are quite standard for microATX solutions. Here are two 4-pin fan connectors, one of which is used for the CPU cooling, while the other is for the system fan.
Социальные комментарии Cackle