GIGABYTE GA-J1900M-D3P motherboard: review and testing
We have already introduced you to the motherboard GIGABYTE GA-J1900N-D3V in format Mini-ITX, equipped with a quad-core SoC-processor Intel Celeron J1900. It prodided good results as a basis to build a silent office or multimedia computer with low power consumption.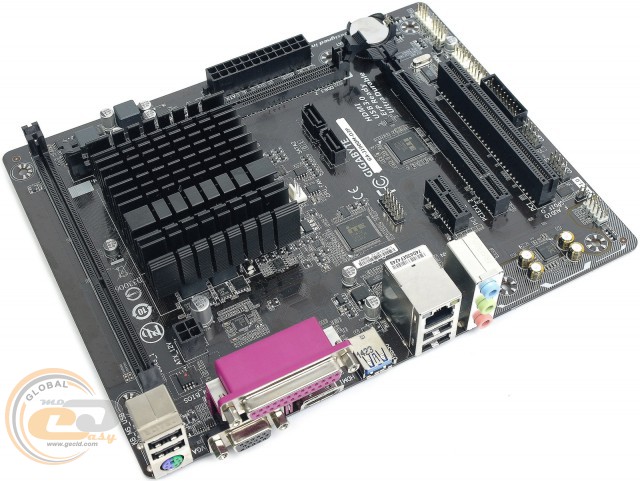 In this material we will introduce you a new product GIGABYTE GA-J1900M-D3P. It is made in microATX form factor and equipped with three slots for expansion cards. In this case, there are two full-size slots for memory modules of type DDR3L or DDR3.
The specs:
Producer

GIGABYTE

Model

GA-J1900M-D3P

CPU socket

Socket BGA1170

Integrated processor

Intel Celeron J1900 (4 х 2,00 − 2,41 GHz)

GPU

Intel HD Graphics: core frequency – 688 MHZ (max up to 854 MHz); video memory is collected from RAM

Memory frequency

1333 MHz

Memory support

2 x DDR3/DDR3L DIMM-slot with memory support up to 8 GB in dual channel mode

Expansion slots

1 x PCI Express x1

1 x PCI Express x16 (in mode x1)

1 x PCI

Disk subsystem

2 x SATA 3 Gb/s

LAN

1 x Realtek RTL8111G (10/100/1000 Мb/s)

Sound subsystem

8-channel HD Audio based on codec Realtek ALC887

Power

24-pin ATX main power connector

4-pin ATX12V power connector

Fans

1 x CPU fan connector (3-pin)

1 x system fan connector (4-pin)

Cooling

Aluminum radiator on processor

Extenral I/O

1 x PS/2 (mouse and keyboard)

1 x LPT

1 x D-Sub

1 x HDMI

1 x LAN (RJ45)

1 x USB 3.0

4 x USB 2.0

3 x audio ports

Internal I/O

2 x USB 2.0 each with support of two USB 2.0

2 х COM

1 x S/PDIF Out

1 x TPM

1 x CMOS

1 x connector of audio output to front panel

1 x set of front panel connectors

BIOS

64 Мb AMI UEFI BIOS, PnP 1.0a, DMI 2.7, WfM 2.0, SM BIOS 2.7, ACPI 5.0

Packaging

microATX

Form-factor, dimensions

226 x 180 mm

Producer website

Updated versions of BIOS and drives are available on support page
Package and content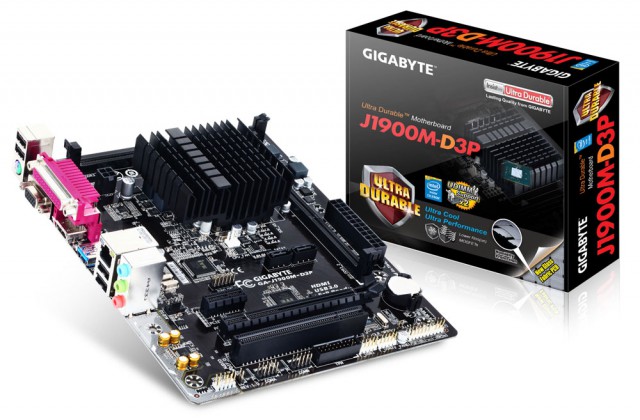 For testing we received version of the motherboard without package and supplied set. But, according to information from the official site, its box is approx the same as that are used together with other models of motherboards of GIGABYTE in this form factor.
According to information posted on the official website, GIGABYTE GA-J1900M-D3P has the following features:
an integrated energy-efficient processor Intel Celeron J1900;
sound system, complete with high-quality audio capacitors Nippon Chemicon ARE and special bar for protection against noise and interference;
improved method of laying fiber in the manufacture of printed circuit board, which increases protection against dampness and moisture;
electrostatic discharge and overvoltage protection;
consistent with the concept GIGABYTE Ultra Durable, which implies the existence of high-quality solid capacitors with increased service life and field-effect transistors with low on-resistance.
Design and board features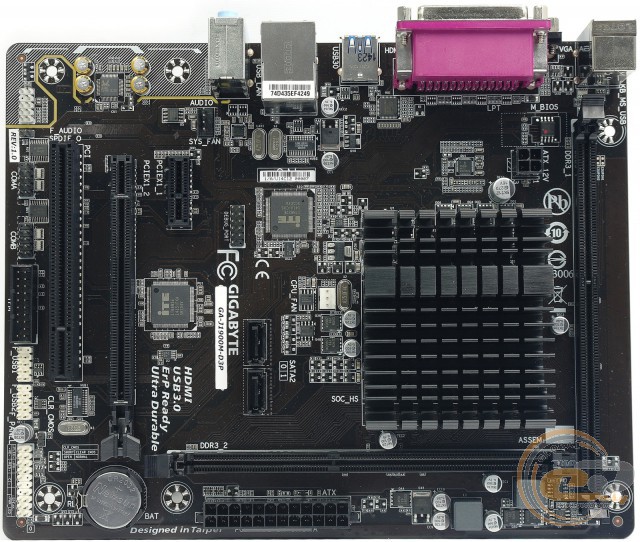 Model GIGABYTE GA-J1900M-D3P is made on a dark brown microATX board (226 x 180 mm). Its internal connectors, slots and cooling radiator are painted in black color. All connectors are placed quite successfully. Some discomfort may occur only during installation of the second module of RAM as its latch is located next to the slot for expansion card. In any case, this need will arise infrequently and only in that case, if you set an overall expansion card.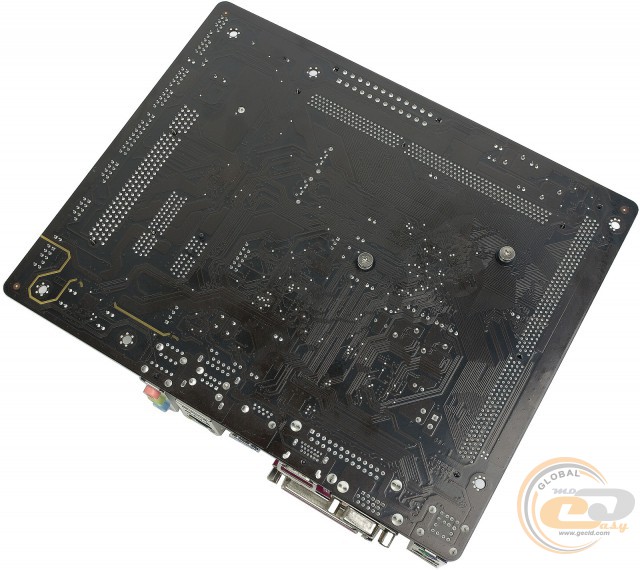 The reverse side of the PCB contains only the protective strip of the audio subsystem and securing the processor heatsink.

At the bottom of the board there are the following connectors: front panel audio leading-in socket, S/PDIF Out, two sockets COM, socket TPM and two modules for connection of additional interfaces USB 2.0 and CMOS, as well as front panel connection module. Total number of USB 2.0 sockets is eight: four are internal and four on the interface panel.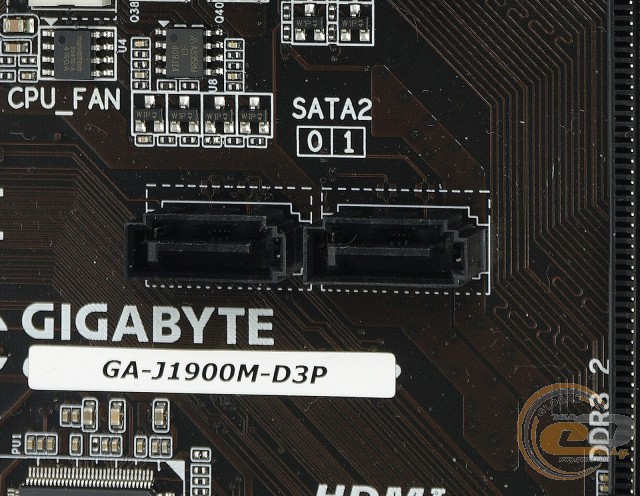 Disk subsystem of GIGABYTE GA-J1900M-D3P consists of two ports SATA 3 Gb/s. They are located away from the other components. Cable connecting to it should not cause any problems.


The tested model is equipped by two DIMM-slots. They support modules of standard DDR3 and DDR3L with frequency of 1333 MHz providing operation in dual-channel mode. The maximum capacity of RAM is 16 GB, which is more than enough for a simple office or multimedia PC. However, the used processor Intel Celeron J1900 guarantees support only 8 GB of memory.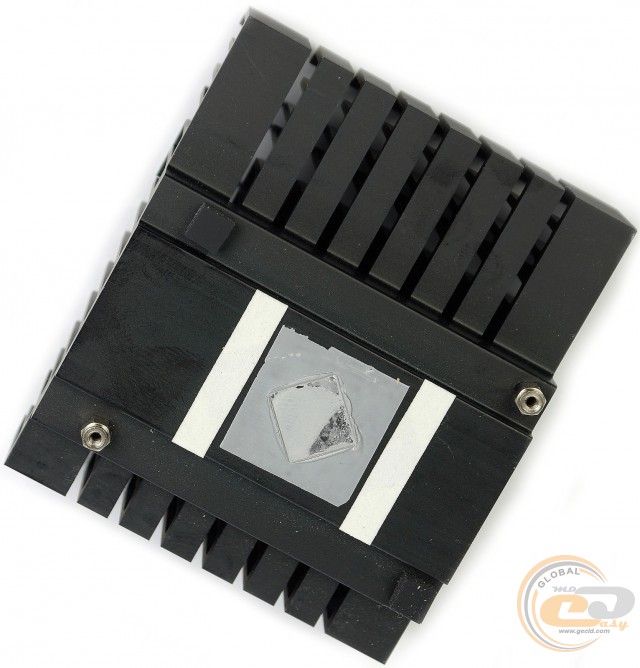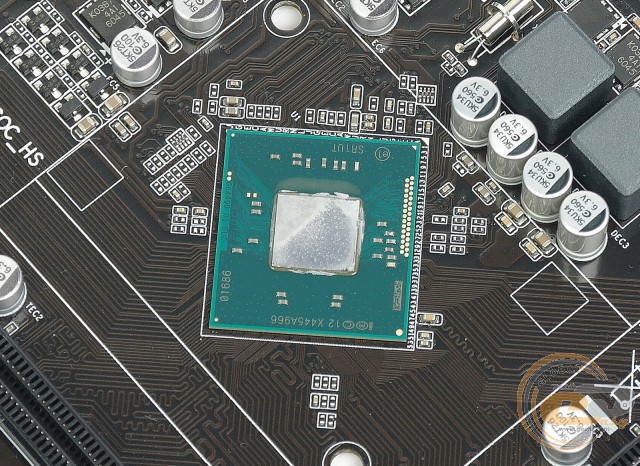 The cooling system consists of aluminum radiator painted in black color. It is in contact with the processor through a thin layer of thermal paste and does not require an active air cooling.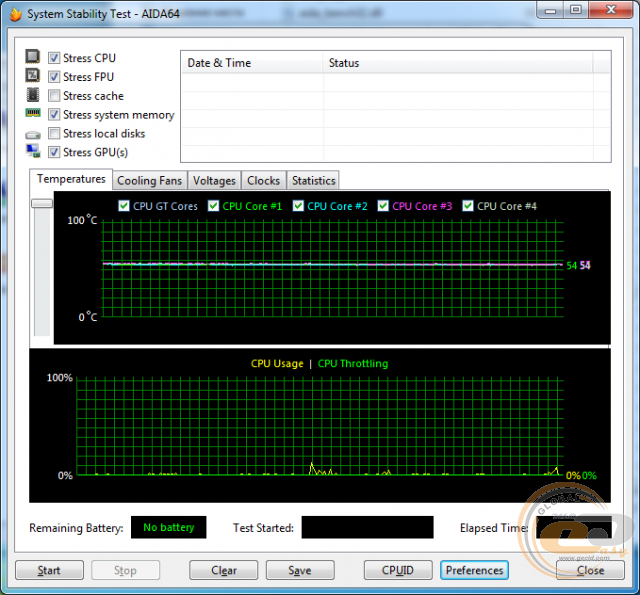 As indicated by the program AIDA64, in idle mode the CPU cores temperature did not exceed 54°C.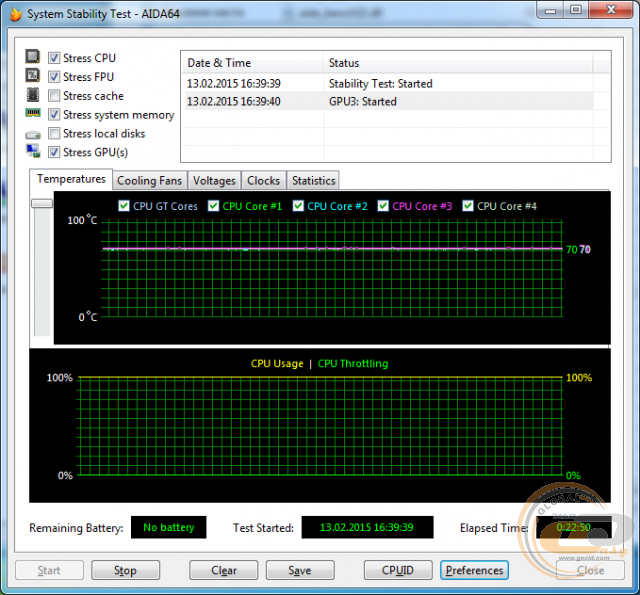 After working stress tests AIDA64 within 15 minutes, which corresponds to an extreme load, the CPU temperature rose to 70°C. The temperature of the radiator is at the level of 56.5°C. These figures are far from critical, indicating about a sufficient safety margin of installed cooling system.
Also we've measured the temperature of MOSFETs and chokes on power subsystem processor. Heating of the first was at 53.5°C, and of the second at around 51.5°C.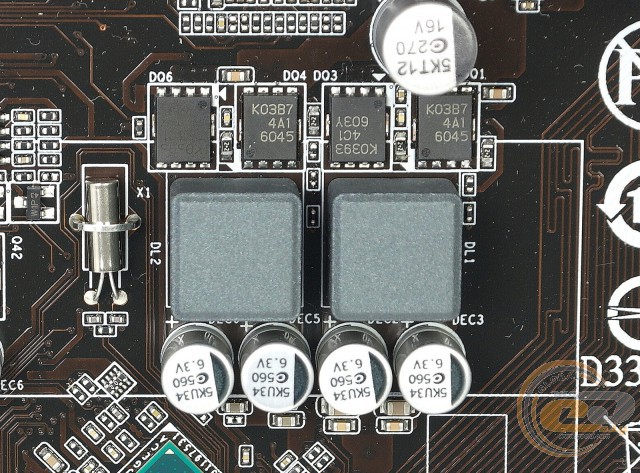 Processor power supply is performed via dual-phase scheme. According to the original concept of Ultra Durable, circuits use solid capacitors with increased service life and field-effect transistors with low on-resistance.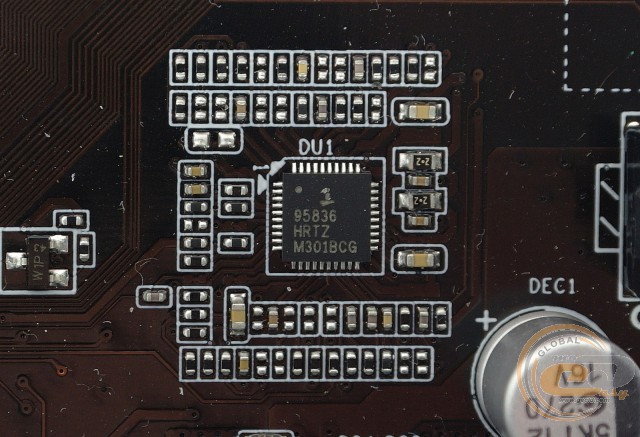 Chip Intersil ISL95836 is used as a controller. Power is supplied via the main 24-pin and an additional 4-pin connectors.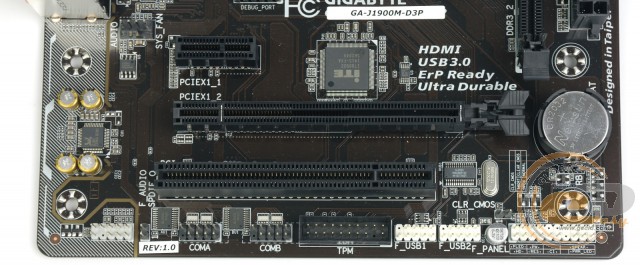 Expanding the functionality of the model GIGABYTE GA-J1900M-D3P is provided by three slots:
PCI Express 2.0 x1;
PCI Express 2.0 x16 (x1 mode);
PCI.
As you can see, the graphics card has a single connector, but for support it has only one line that calls into question the appropriateness of the installation of the graphics card. It is more logical to use it for audio, network, or other expansion card with interface PCI Express x1.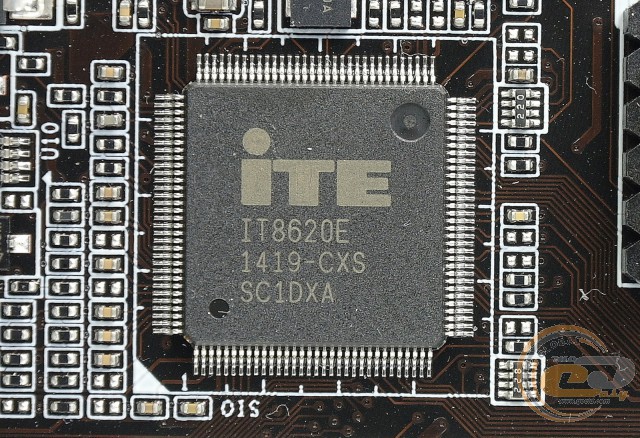 Support for the work of ports PS/2, LPT and COM, as well as the monitoring function provides chip ITE IT8620E.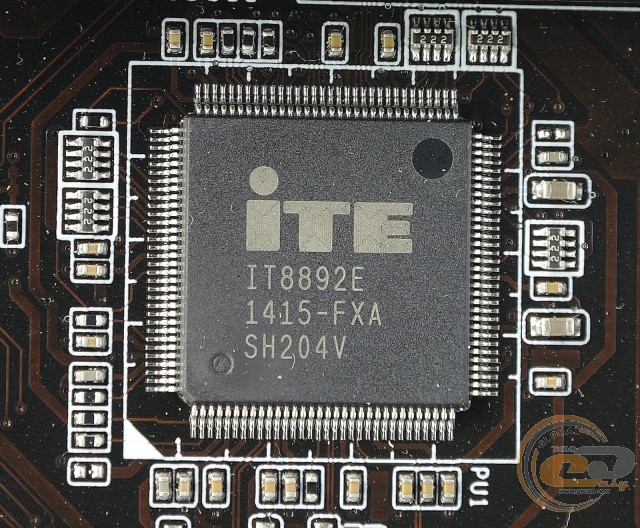 The functioning of the slot PCI is carried out thanks to the controller ITE IT8892E.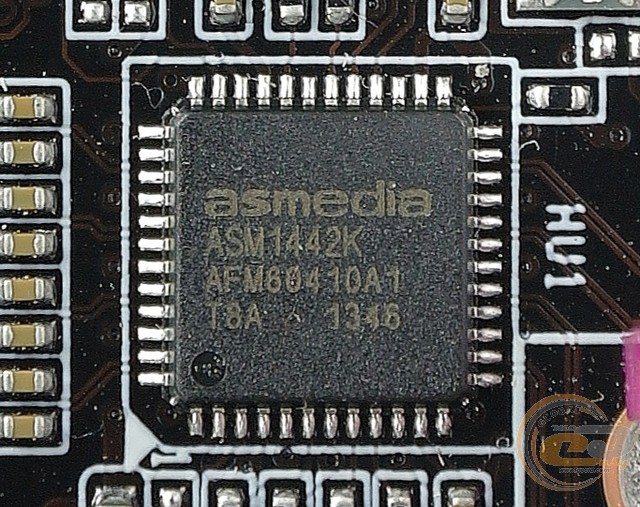 Correct operation of connectors D-Sub and HDMI is supported by the chip ASMedia ASM1442K.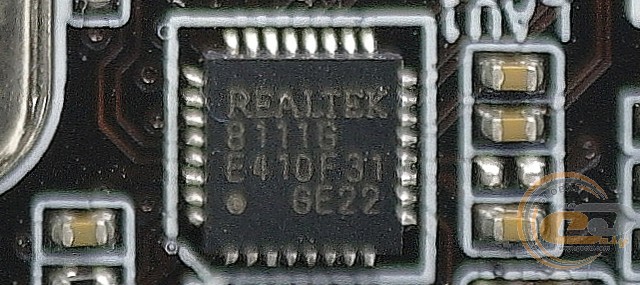 Support for network connections provides gigabit LAN-controller Realtek RTL8111G.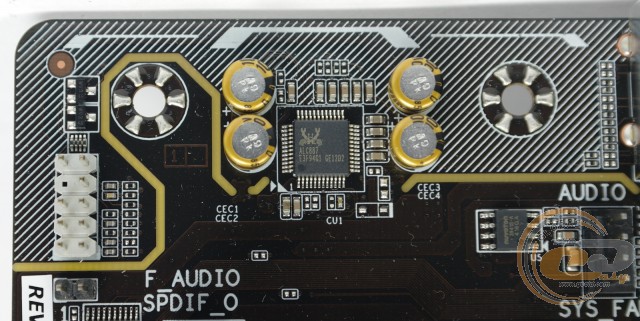 Sound subsystem of model is based on the 8-channel HAD-codec Realtek ALC887 which supports 2/4/5.1/7.1 audio systems. The codec uses high quality Japanese audio capacitors of series Nippon Chemicon ARE. The very audio path is physically separated from the other components on the PCB by special dividing strip. This minimizes the effects of noise and interference with audio playback.

Interface panel of the model contains the following ports:
1 x PS/2 (keyboard and mouse);
1 x LPT;
1 x D-Sub;
1 x HDMI;
1 x LAN (RJ45);
1 x USB 3.0;
4 x USB 2.0;
3 x audio jacks.
This set of connectors is quite diverse. Four USB 2.0 ports can be used to connect peripherals, and one USB 3.0 for fast external storage. The implementation of an analog (D-Sub) and digital (HDMI) video interfaces allow to use different monitors. The presence of ports PS/2, LPT and COM (via the connectors on the card) significantly expands the list of connected peripherals. In this respect, the novelty is perfect for office, industrial or commercial use.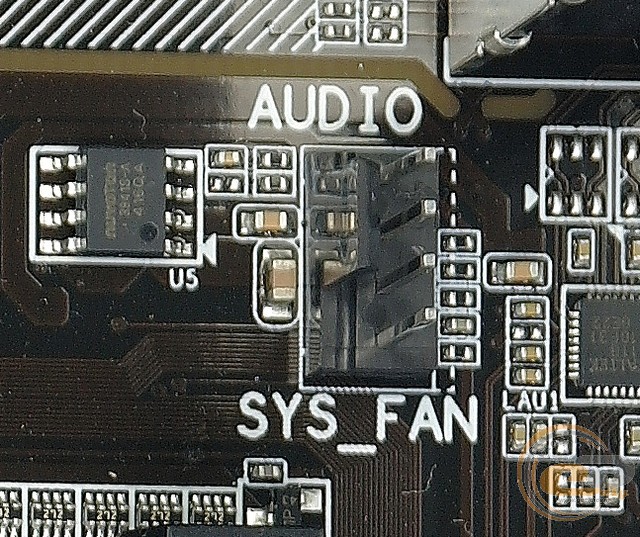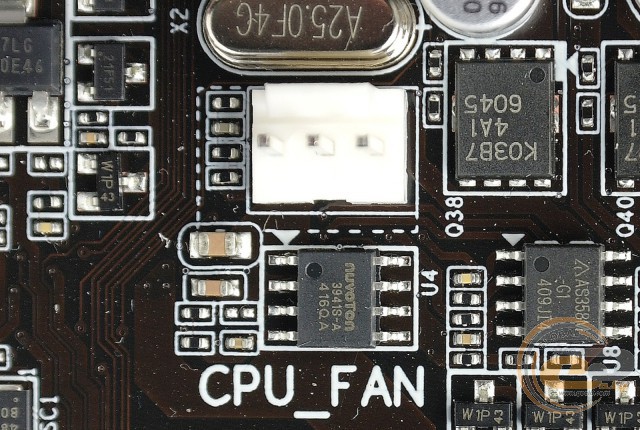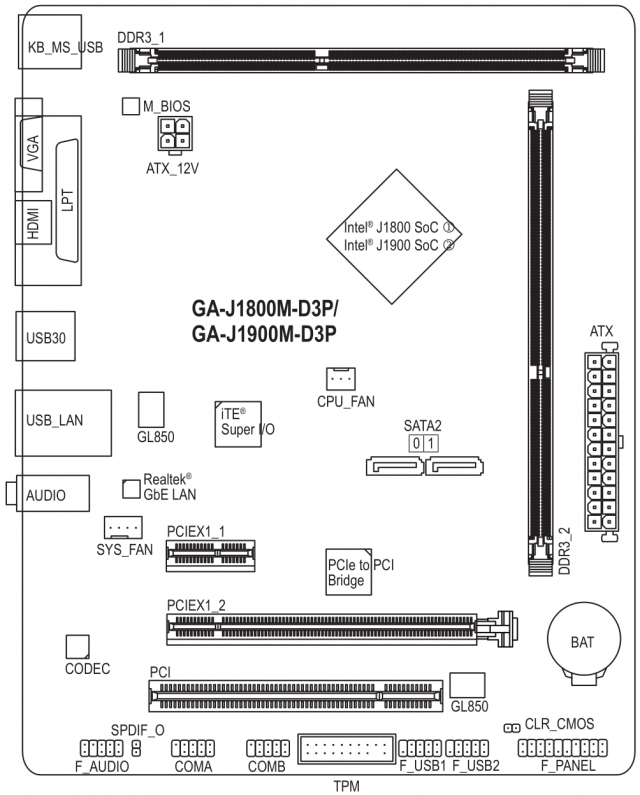 On the board there are two connectors for the organization of the cooling system: 4-pin for system fan and 3-pin for connector for additional cooling of the processor.
UEFI BIOS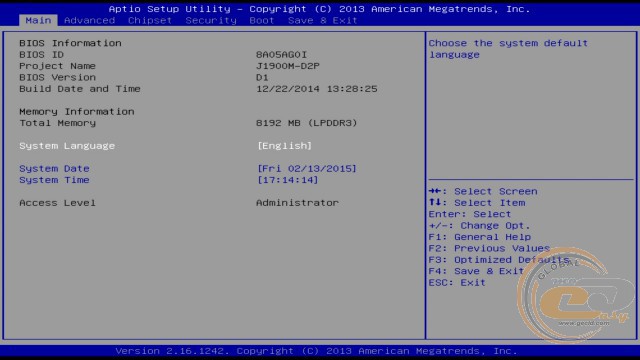 Motherboard GIGABYTE GA-J1900M-D3P is equipped with preloader BIOS Aptio from the company American Megatrends, Inc. The first is the section «Main», where you can set the system date and time, or change the language localization.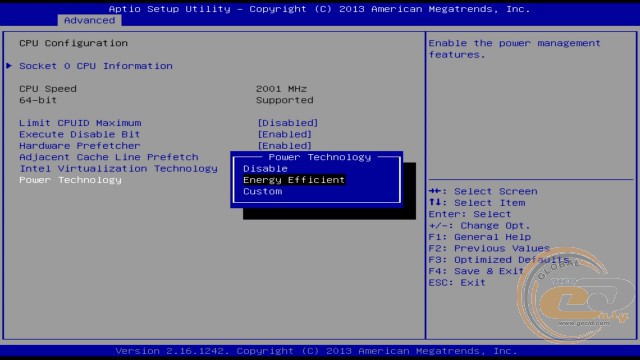 The section «Advanced» provides tools that are designed to optimize the performance of the main components of the system. Here you can change the profile of the processor: "Energy Saver" or "Normal".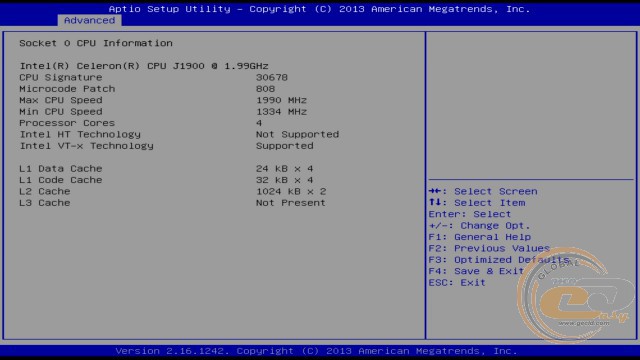 In this section you can learn about the CPU: cache size, frequency of operation and supported technologies.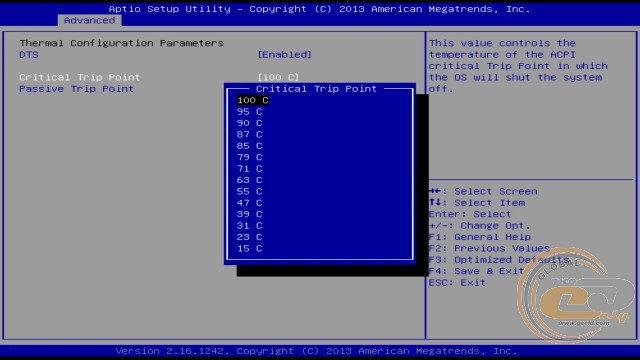 There is an option that allows you to set the maximum allowable temperature of CPU, beyond which the computer will turn off automatically. This will help protect equipment from damage.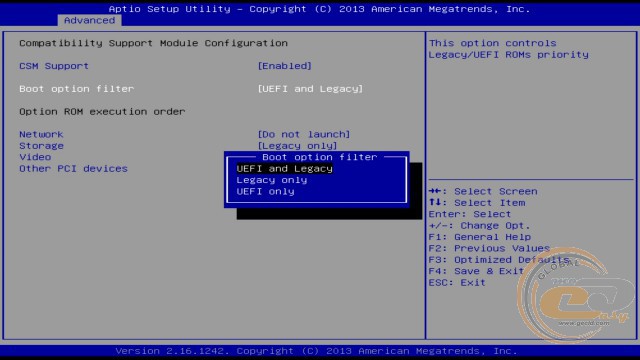 Also it is possible the compatibility mode with operating systems that do not support UEFI (Microsoft Windows 7 and below).
We have brought to the table most of the settings on the fine tune of the integrated graphics core, which are grouped in the section «Chipset» for convenience:
| | | | |
| --- | --- | --- | --- |
| Parameter | Menu | Range | Step |
| Reserved RAM value | Max TOLUD | 1 – 3 | 0,25 |
| Reserved video memory value | DVMT Pre-Allocated | 64 – 512 | 32 |
| Total amount of video memory | DVMT Total Gfx Mem | 128 – MAX | 128 |
| Max dimension of video memory area | Apperture Size | 128 – 512 | |
| Dimensions of table of graphics addresses | GTT Size | 1 – 2 | 1 |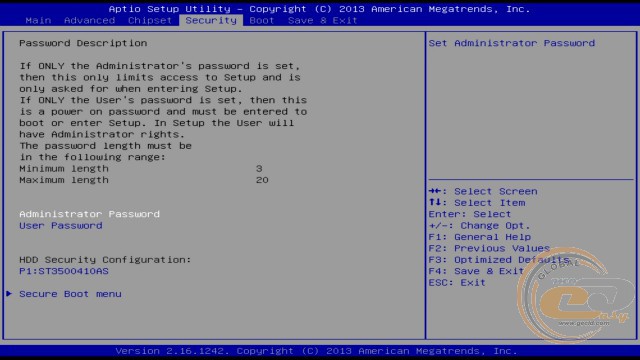 In the section «Security» you can set an administrator password or activate a separate password for the hard disk.
Социальные комментарии Cackle