Motherboard MSI A68HM-P33: review and testing
New product from MSI is the entry-level solution. It is made in a compact microATX board and combines a number of useful technologies, traditionally high quality and quite decent equipment for this price segment.
According to the title the basis MSI A68HM-P33 is a new chipset AMD A68H, which replaced the AMD A58, designed for entry-level motherboards. It is used to work with processors of series AMD Kaveri or solutions of lineups AMD Trinity / Richland.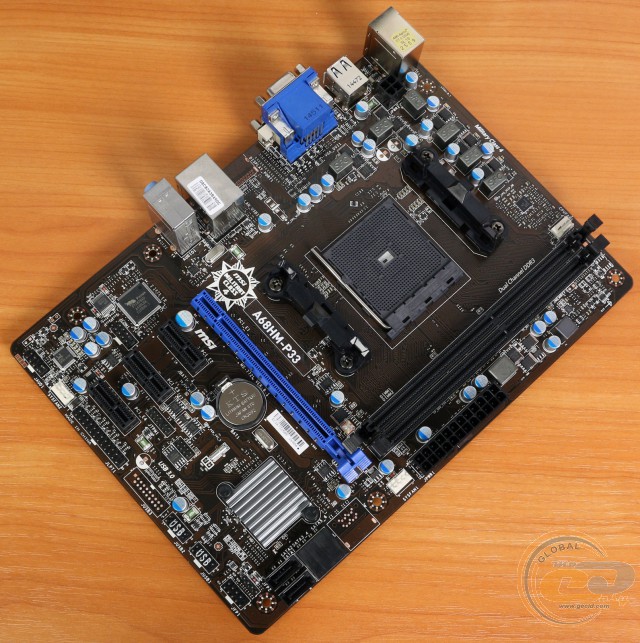 Let's take a closer look to the features of this motherboard with the price tag of about $ 50.
The specs:
Producer

MSI

Model

A68HM-P33

Chipset

AMD A68H

CPU socket

Socket FM2+

Supported CPUs

AMD A / AMD Athlon

Memory frequency

2133 / 1866 / 1600 / 1333 MHz

Memory support

2 x DDR3 DIMM- slot with memory support up to 32 GB

Expansion slots

1 x PCI Express 3.0 x16

3 x PCI Express 2.0 x1

Disk subsystem

AMD A68H chipset supports:

4 x SATA 6 Gb/s

RAID 0, RAID 1, RAID 10

LAN

1 x Realtek 8111G (10/100/1000 Мb/s)

Sound subsystem

Codec Realtek ALC887

2 / 4 / 5.1 / 7.1-channel sound

Power

24-pin ATX main power connector

8-pin ATX12V power connector

Fans

1 x CPU fan connector (4-pin)

2 x system fan connectors (4-pin)

Cooling

Aluminum radiator on chipset

Extenral I/O

1 x DVI-D

1 x D-Sub

1 x LAN (RJ45)

2 x USB 3.0

4 x USB 2.0

3 x audio jacks

1 х PS/2 (for mouse or keyboard)

Internal I/O

2 x USB 2.0 each with support of two USB 2.0

4 x SATA 6 Gb/s

1 x socket COM

1 x socket TPM

1 х socket LPT

1 x connector of audio output to front panel

1 x set of front panel connectors

1 x CMOS

BIOS

64 Mb Flash ROM UEFI AMI BIOS

PnP 1.0а, ACPI 5.0, SM BIOS 2.8, DMI 2.8

Packaging

User's manual

Warranty description booklet

Driver and utility disc

2 x SATA cables

1 х interface panel plug

Form-factor, dimensions

microATX

244 х 174 mm

Producer website

MSI
Updated versions of BIOS and drives are available on support page
Package and content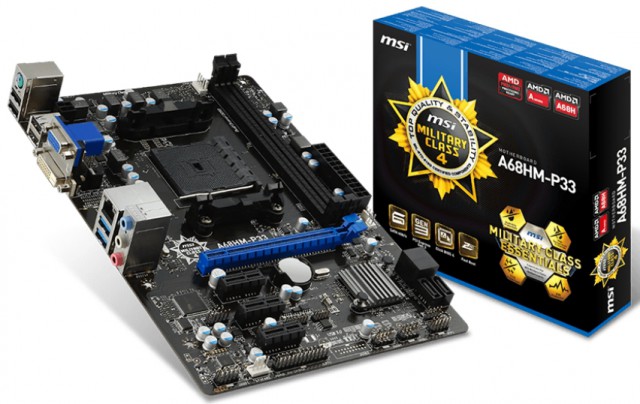 Since the motherboard MSI A68HM-P33 came to us for testing unpackaged, we can evaluate its design only according to the official photos. As you can see, there is a standard cardboard box with black and blue colors corresponding to the product. The front side contains the key advantages of new item:
Military Class 4 - the design uses only Solid CAP with increased lifetime (more than ten years at the game loads) and chocks Super Ferrite Chokes with increased stability and energy efficiency.
Military Class Essentials - in addition to high-quality circuitry, the concept of Military Class 4 implies a higher degree of protection against adverse factors. This is achieved by using a multilayer printed circuit board of a special structure and a number of additional components. This reduces the negative impact of humidity, electrostatic discharge, high temperature and electromagnetic interference in the internal components.
Fast Boot - using the included software you can significantly speed up the loading of the operating system.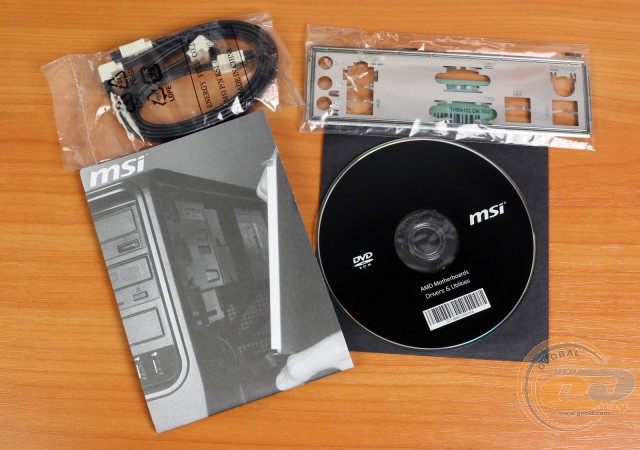 Supplied set of motherboard, in addition to standard documentation and disk with drivers and utilities, includes two SATA cables and plug the interface board, which is enough for the available models.
Design and board features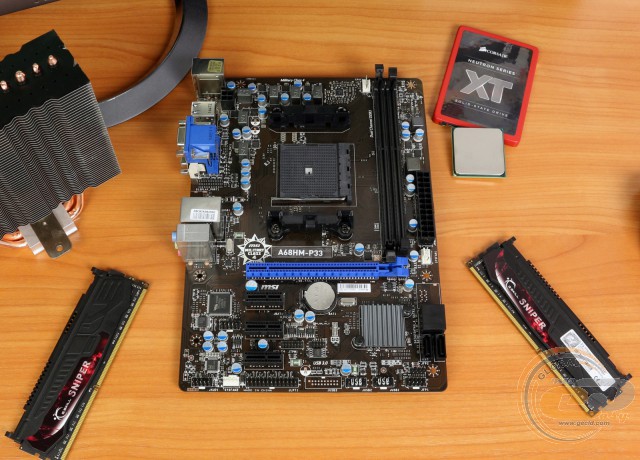 The test new product is performed on the dark brown PCB in format microATX. Its strict appearance is diluted by some of the elements of blue color, which makes the whole design very attractive. As for the layout of MSI A68HM-P33, it is compact with slightly non-standard dimensions (244 x 174 mm), and quite a thoughtful arrangement of the key elements.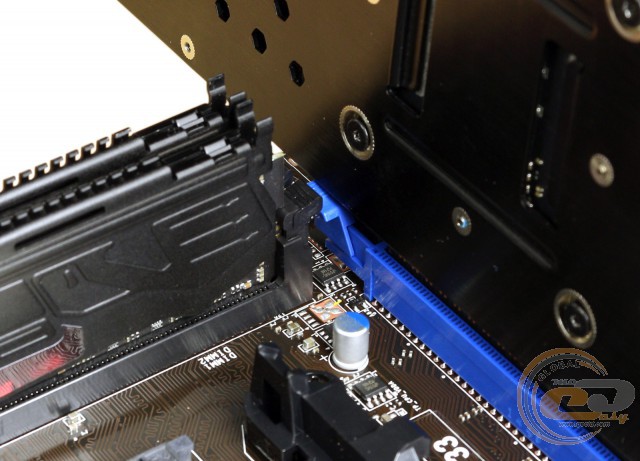 The only discomfort may cause the close proximity of DIMM-slots and socket PCI Express 3.0 x16, and then to extract the RAM you have previously disable the graphics card (if it is used in the system).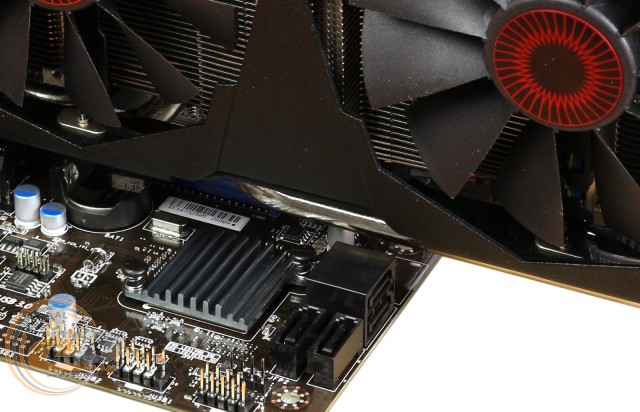 But thanks to the parallel arrangement of two of the four SATA ports, even the overall graphics card will not discomfort the connection of drives.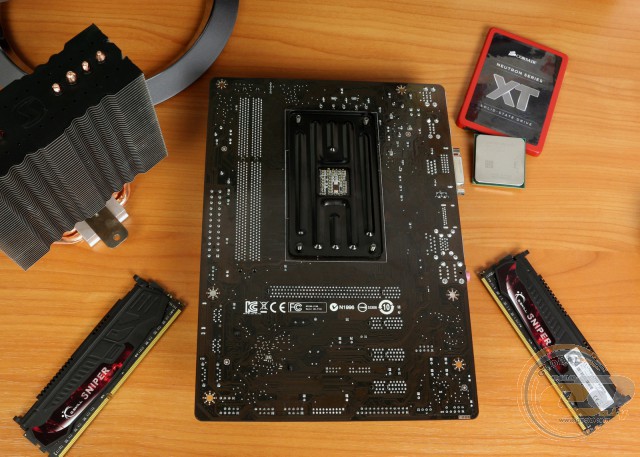 The reverse side of new product has the standard base plate of the socket and plastic fastening clip of a single radiator, which is responsible for cooling the chipset.

At the bottom of the board there are the following connectors: front panel audio leading-in socket, COM, LPT and TPM, as well as two modules to connect interfaces USB 2.0. Total number of USB 2.0 sockets is eight: four are internal and four on the interface panel. The quantity of USB 3.0 ports is two and both of them are on the interface panel. All sockets operate due to the set of system logic.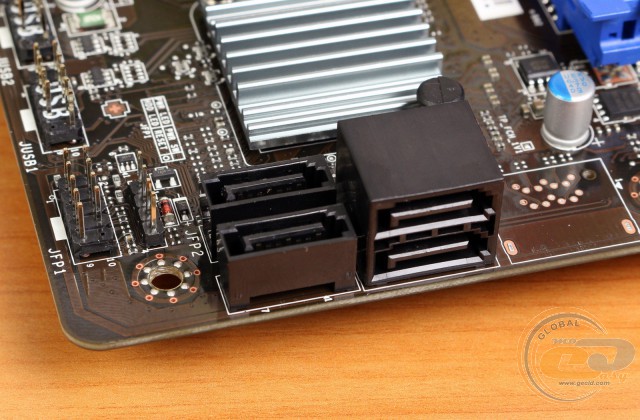 The organization of disk subsystem is presented by four SATA 6 Gb/s ports. All of them operate due to chipset. There is a support for arrays SATA RAID 0, RAID 1 and RAID 10.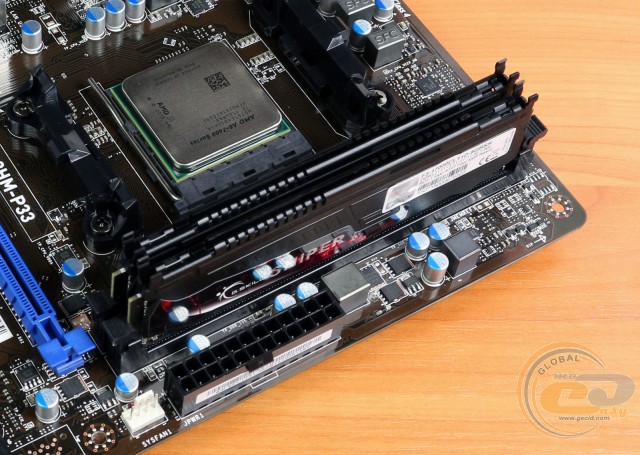 The tested model is equipped by two DIMM-slots for memory modules of DDR3 standard. Modules operating at frequencies from up to 2133 MHz in the nominal mode are supported. Despite the stated support for 32 GB of RAM, the actual maximum amount will not exceed 16 GB due to the absence of modules larger than 8 GB. However, this is more than enough to handle all the tasks set by the user to a compact system.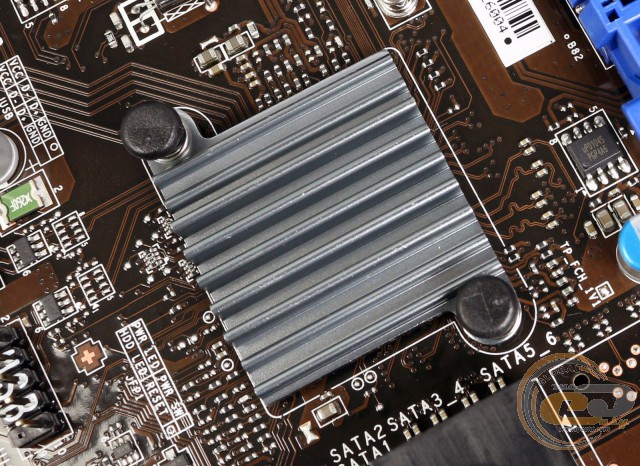 Cooling system of the product includes one aluminum radiator that provides heat removal from chipset AMD A68H. In the process of testing the following temperature indices were fixed:
radiator for chipset cooling – 49.7°C;
chokes for power subsystem – 40.3°C;
field-effect transistors of power subsystem – 44.4°C.
Demonstrated results tell us that the overheating is not threatened for key components as there is a large margin to the critical temperature.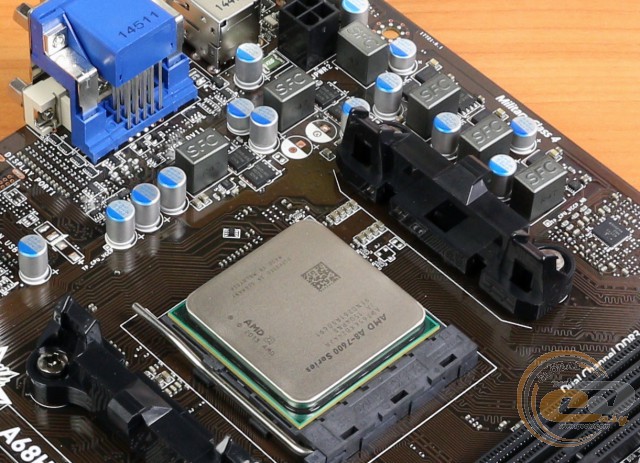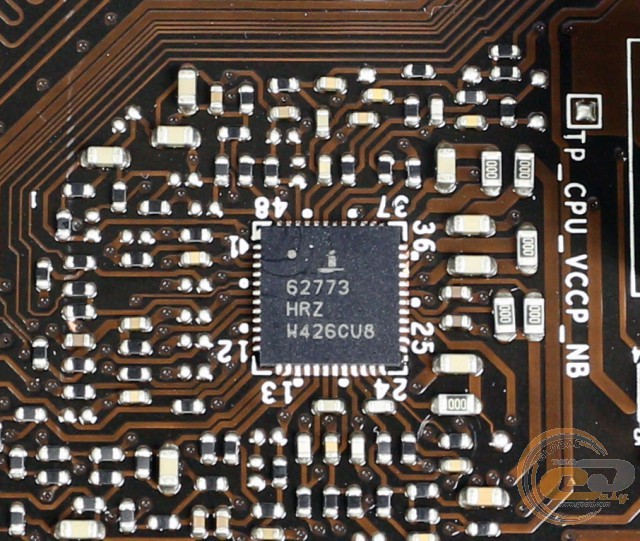 Processor power supply is performed via 5-phase scheme for computational cores and additional joints. The transformer is based on PWM controller Intersil 62773. The circuitry is made by high quality components that correspond to proprietary design Military Class 4 and certified according to standard MIL-STD-810G. They include solid capacitors Solid CAP, chokes Super Ferrite Choke. Basic 24-pin and additional 8-pin connectors are use for power feeding.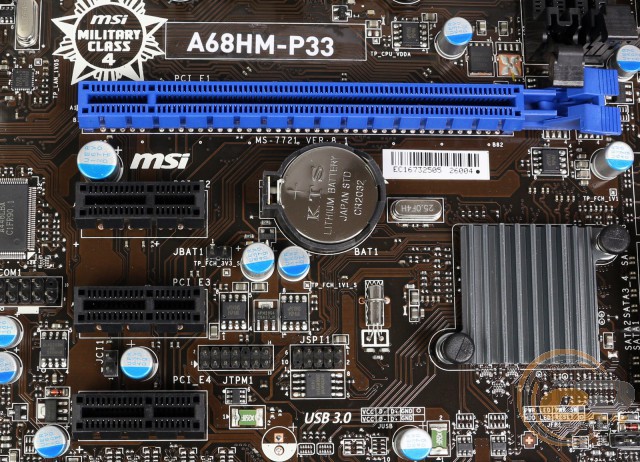 To extend the functionality of MSI A68HM-P33 user has four slots:
PCI Express 3.0 x16;
PCI Express 2.0 x1;
PCI Express 2.0 x1;
PCI Express 2.0 x1.
As you can see, there is a possibility of installing only one graphics card, which can operate in mode AMD Dual Graphics with an integrated graphics core. Separately we note that when installing a graphics card with dual-slot cooling system you will still have free access to two slots PCI Express 2.0 x1.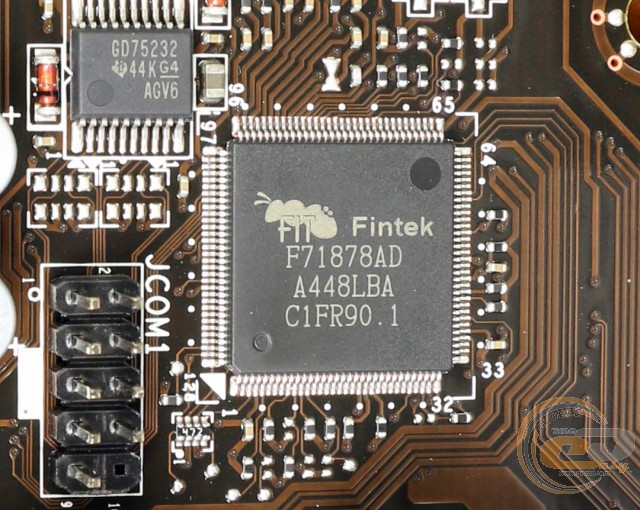 Multi I/O capabilities are based on chip Fintek F71878AD which controls the operation of the system fans, COM, LPT and PS/2 ports, as well as provides the monitoring.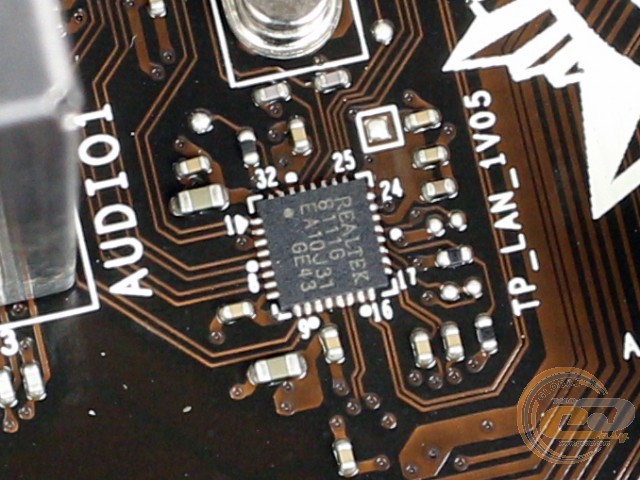 To support network connections there is a Gigabit LAN-controller Realtek RTL8111G.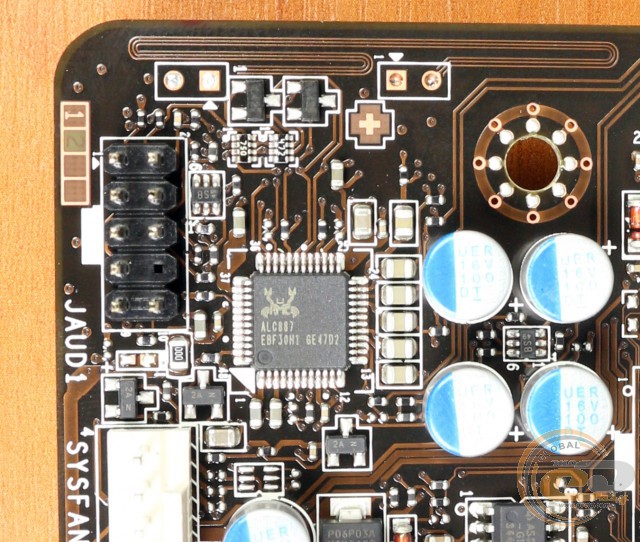 Sound subsystem of model is based on the 8-channel codec Realtek ALC887 which supports 2/4/5.1/7.1 audio systems.

Interface panel of the model contains the following ports:
1 x DVI-D;
1 x D-Sub;
1 x LAN (RJ45);
2 x USB 3.0;
4 x USB 2.0;
3 x audio ports;
1 x PS / 2 (keyboard or mouse).
Do note sufficient number of ports USB, there are two video outputs, as well as the opportunity to bring ports the COM and LPT to the rear side using the appropriate pads on the PCB. The features include an uncomfortable connection of multichannel speakers and the lack of interface HDMI.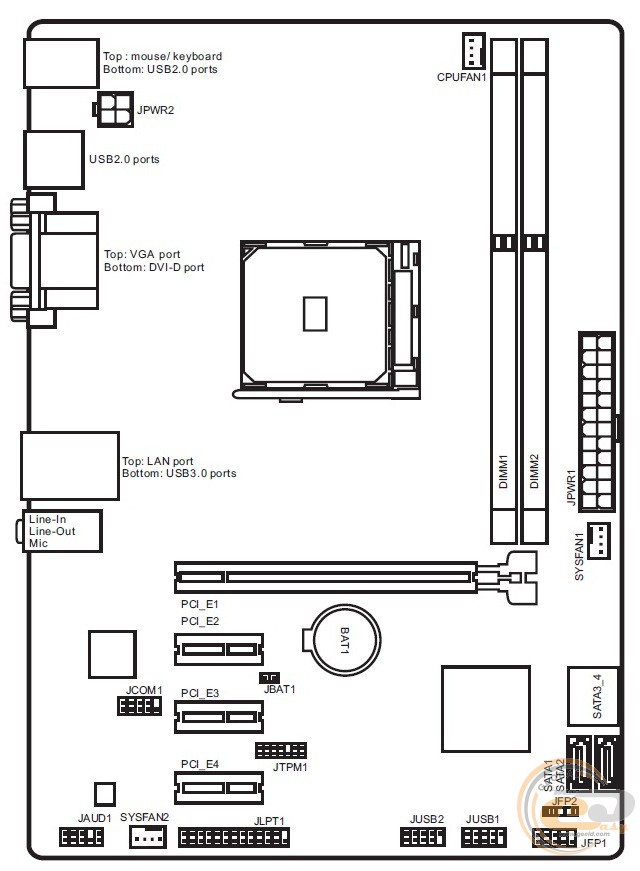 Motherboard MSI A68HM-P33 is equipped with three fan connectors: one 4-pin is used to power the cooling system of the processor, and two 4-pin are used to connect the system propellers.
UEFI BIOS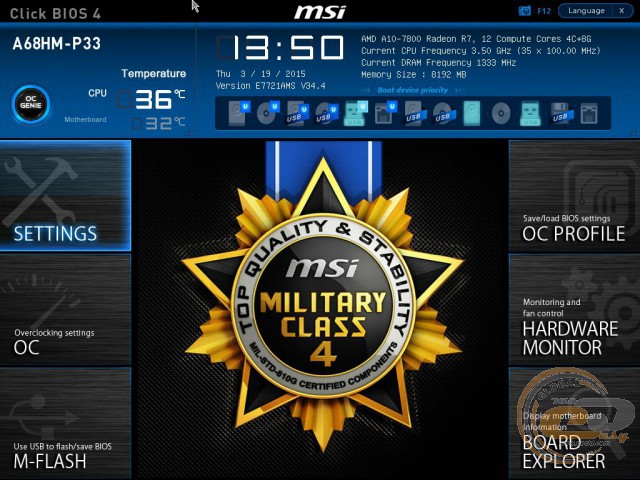 The tested model uses preloader ClickBIOS 4 based on interface UEFI. It has an attractive graphical interface, stylized in accordance with overall design of the motherboard, and ease the process of making changes to the settings.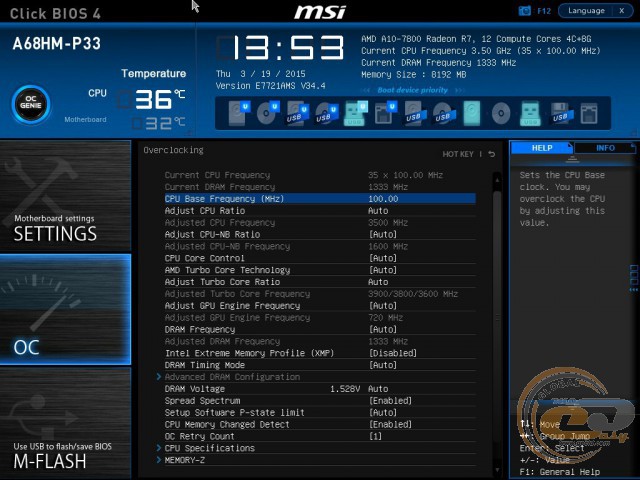 Options required for fine tuning of the system are grouped in section «OC».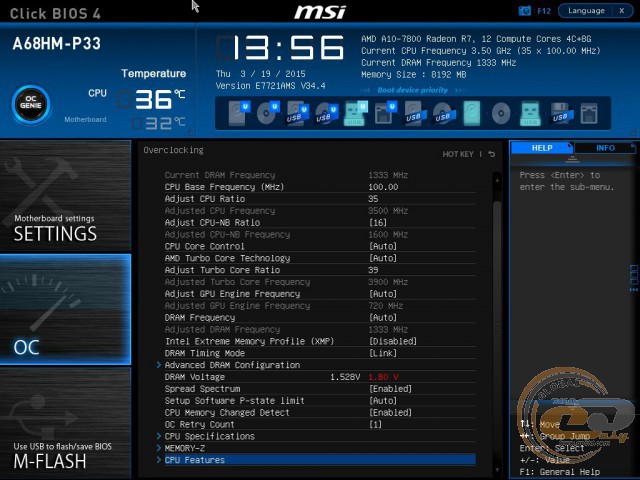 If necessary, it is possible to gain access to the adjustment of the stress on the various components.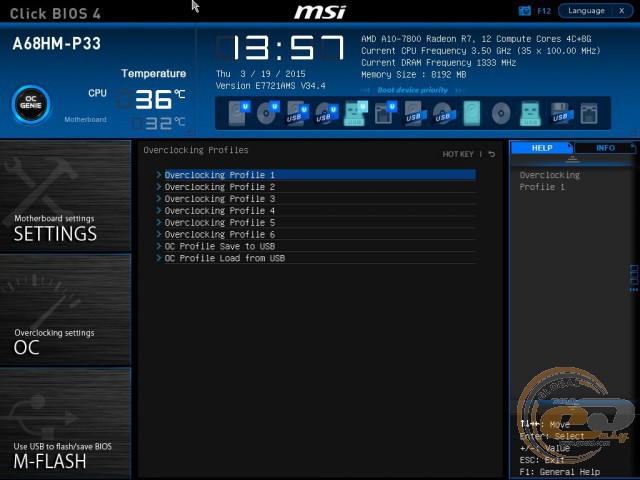 As you can see, there is an ability to preserve the custom BIOS settings in six different profiles in a section "M-Flash", as well as an option to download the desired profile with the USB-drive.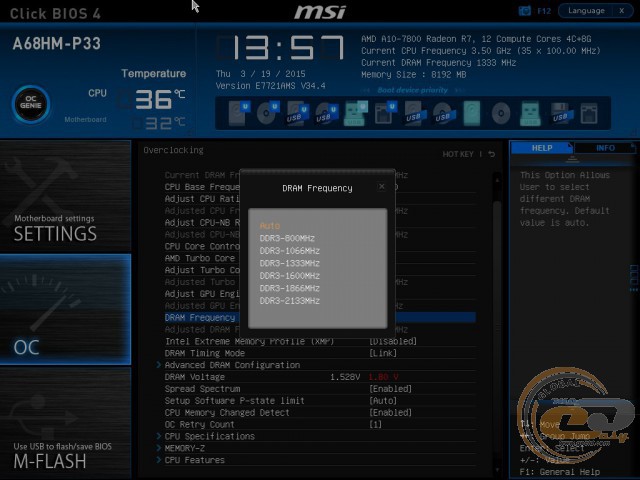 RAM frequency can be changed in the range from 800 to 2133 MHz.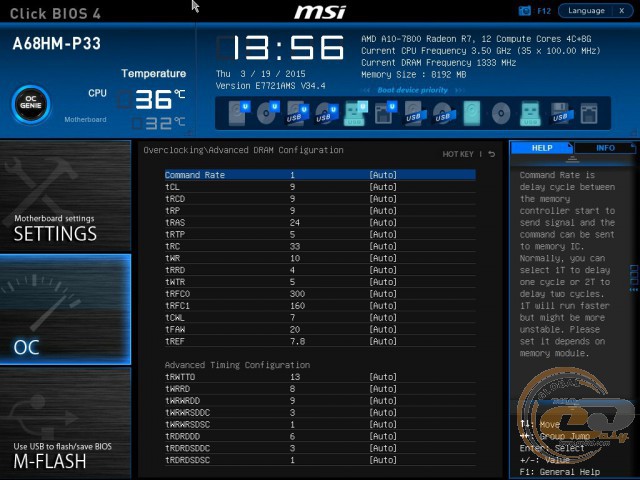 And if necessary, you can access the memory latency adjustments.
Settings required for optimizing the system are summarized in the table:
| | | | |
| --- | --- | --- | --- |
| Parameter | Menu | Range | Step |
| Support bus frequency | CPU Base Frequency (MHz) | 100,00 – 105,00 | 1 |
| CPU multiplier | Adjust CPU Ratio | 8 – MAX | 1 |
| CPU turbo multiplier | Adjust Turbo Core Ratio | 8 – MAX | 1 |
| GPU frequency | Adjust GPU Engine Frequency | 400 − 1800 | |
| RAM frequency | DRAM Frequency | 800 – 2133 | |
| RAM timing | Timing Configuration | tCL, tRCD, tRP, tRAS, tRFC, tREFI, tWR, tWTR, tRRD, tRTP, tFAW, tWCL, tCKE | |
| RAM voltage | DRAM Voltage | 1,35 – 1,80 | |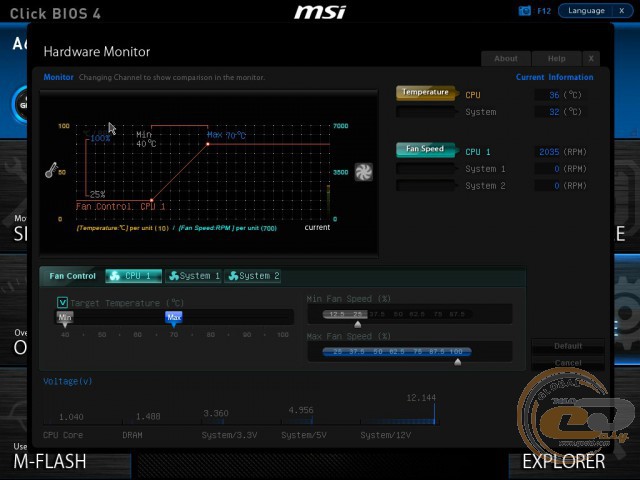 The section « Hardware Monitor » open access for monitoring the temperature of the processor and chipset, as well as speed of installed fans. Here you can manually set the required blade rotation speed.
Additionally you can monitor the voltage at the processor core, memory modules and power supply lines +12V, +5V and +3.3V.
Социальные комментарии Cackle