MSI Z97S SLI Krait Edition motherboard: review and testing
«Dare to be different» these words can be found on the official page of the MSI new motherboard MSI Z97S SLI Krait Edition. Nominally, it belongs to a series of MSI Z97 Classic is the midrange solution. It has two key advantages: support for two slots PCI Express 3.0 x16 with lines distribution according to scheme x8+x8 for ligament AMD CrossFireX/NVIDIA SLI and original design in white and black colors, perfectly suited to fans of modding. You can also note an excellent opportunity for the organization of the disk subsystem, a large number of USB 3.0 ports and high-quality sound system. But let's look at its detailed technical specifications.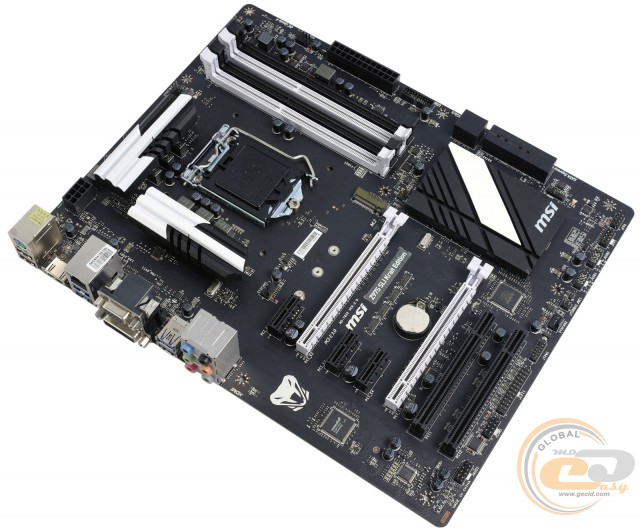 The specs:
Producer

MSI

Model

Z97S SLI Krait Edition (rev 2.0)

Chipset

Intel Z97

CPU socket

Socket LGA1150

Supported CPUs

Intel Core i7 / Core i5 / Core i3 / Pentium / Celeron of 4th and 5th gen: Intel Haswell, Intel Haswell Refresh, Intel Devil`s Canyon, Intel Broadwell

Memory frequency

3200* / 3100* / 3000* / 2800* / 2666* / 2600* / 2400* / 2200* / 2133* / 2000* / 1866* / 1600 / 1333 / 1066 MHz

(*OC)

Memory support

4 x DDR3 DIMM- slot with memory support up to 32 GB

Expansion slots

2 x PCI Express 3.0 x16

х16

х8+х8

3 х PCI Express 2.0 x1

2 x PCI

Disk subsystem

Intel Z97 chipset supports:

1 x M.2 (M.2 2242, M.2 2260, M.2 2280)

1 x SATA Express (compatible with 2 х SATA 6 Gb/s)

4 x SATA 6 Gb/s (RAID 0, RAID 1, RAID 5, RAID 10)

LAN

1 x Realtek 8111G (10/100/1000 Mb/s)

Sound subsystem

Codec Realtek ALC892

7.1-channel sound

Power

24-pin ATX main power connector

8-pin ATX12V power connector

Fans

2 x CPU fan connector (4-pin)

3 x system fan connectors (4-pin)

Cooling

Aluminum radiator on chipset

Aluminum radiator on CPU power system elements

Extenral I/O

1 x HDMI

1 x D-Sub

1 x DVI-D

1 x LAN (RJ45)

4 x USB 3.0

2 x USB 2.0

6 x audio jacks

1 x PS/2 (for mouse or keyboard)

Internal I/O

1 x USB 2.0 each with support of two USB 3.0 (19-pin)

2 x USB 2.0 each with support of two USB 2.0

1 х socket TPM

1 х socket COM

1 х socket LPT

1 x connector of audio output to front panel

1 x set of front panel connectors

1 x CMOS

BIOS

64 Mb Flash ROM UEFI AMI BIOS

ACPI 5.0, PnP 1.0a, SM BIOS 2.7, DMI 2.0

Packaging

User's manual

Warranty description booklet

Driver and utility disc

2 x SATA cables

1 х interface panel plug

Form-factor, dimensions

ATX

305 х 244 mm

Producer website

MSI
Updated versions of BIOS and drives are available on support page
Package and content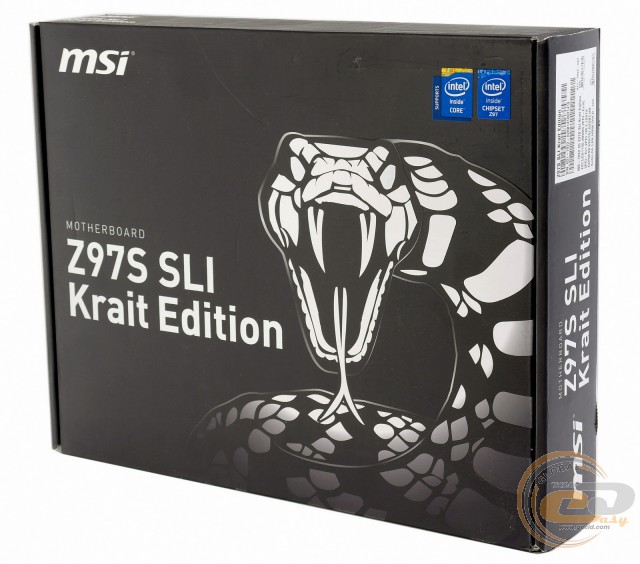 Package of motherboard MSI Z97S SLI Krait Edition traditionally is made of thick and qualitative cardboard, decorated with the image of the stylized Krait snake. As you can see, the design is minimalist because in addition to the name of the manufacturer and model of the device, on the right side you can find only logos of chipset and processors Intel.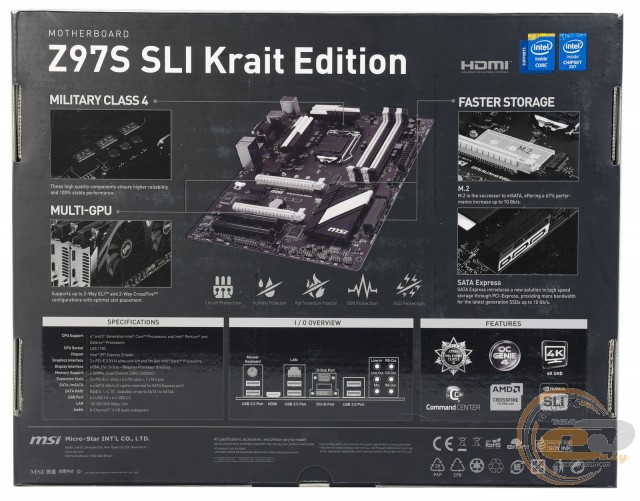 The back side of the box contains a description of the key features and supported technologies:
Military Class 4 - the new product uses only high quality components such as solid capacitors with extended up to 10 years of life, SFC chokes with ferrite core and chokes Dark Choke with a special core that allows to demonstrate improved stability and efficiency.
Multi-GPU - motherboard offers support for technologies AMD CrossFireX and NVIDIA SLI for combining computing power of two graphics cards to the distribution lines PCI Express 3.0 according to the scheme x8+x8.
SATA Express & M.2 - interfaces SATA Express and M.2 support data rates up to 10 Gb/s.
Military Class Essentials - in addition to high-quality element base, the concept of Military Class 4 implies protection from moisture, heat, electromagnetic interference and electrostatic discharge. This is achieved by using a multi-layer printed circuit board, special fuses and selected components that allow you to not worry about the reliability of new item.
OC Genie 4 - automatic overclocking function which is activated by pressing a button on the PCB or in the bundled software.
4K UHD - interface panel of the motherboard has a video output HDMI to output image with resolution of 3840 x 2160 pixels (4K Ultra HD).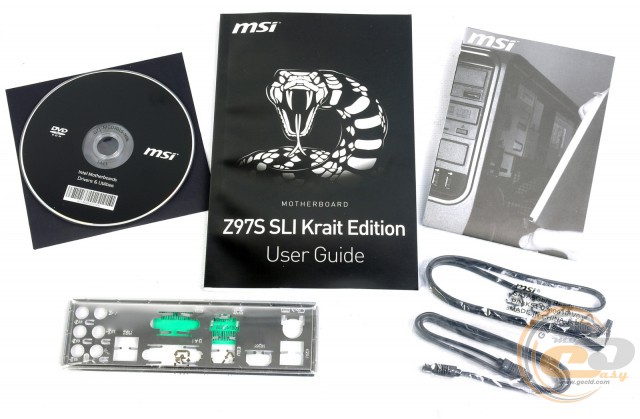 Supplied set of MSI Z97S SLI Krait Edition includes standard documentation, CD with drivers and utilities, two SATA cables and interface board plug, which is enough to not the most expensive motherboard.
Design and board features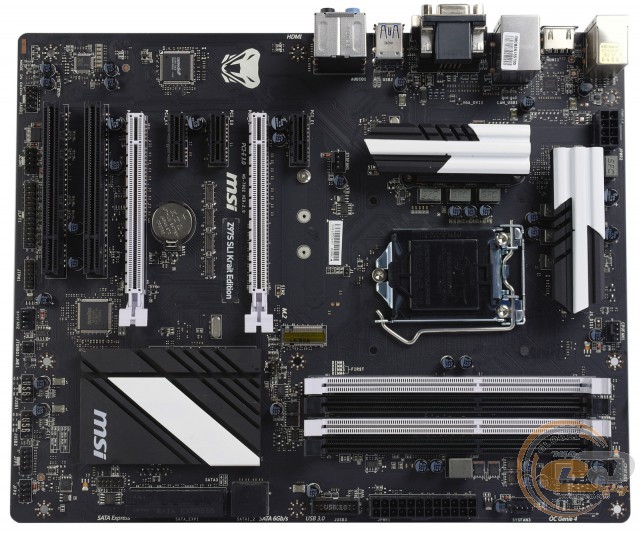 Motherboard MSI Z97S SLI Krait Edition - is primarily a device for building modding systems or for those who like black and white or unusual colors. Thanks to the combination of black PCB with white patches in the design of the radiator and expansion slots the novelty will look great in white case with transparent side panel.
The layout of on-board components and ease of building of system does not cause any claims: all is performed at the highest level since the manufacturer has taken care of a competent arrangement of the most commonly used ports and connectors.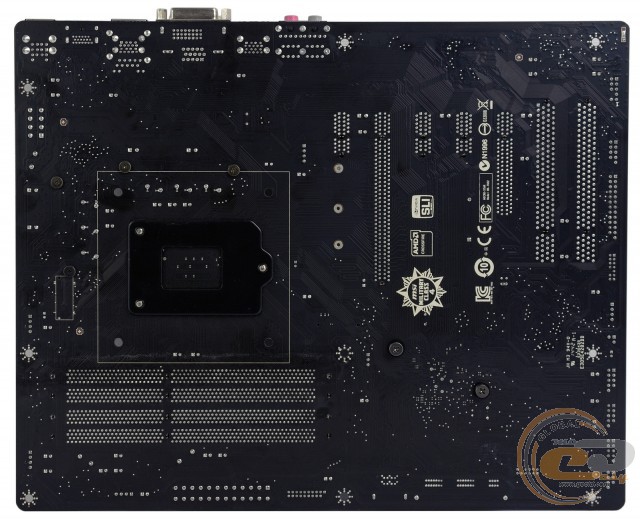 In addition to traditional CPU socket plate, the reverse side of the printed circuit board contains fixing screws of three radiators cooling system.

At the bottom of the board there are the following connectors: front panel audio leading-in socket, COM, LPT and TPM, one socket to connect system fans as well as modules to connect interfaces USB 2.0. Total number of USB 2.0 sockets is six: four are internal and two on the interface panel. Closer to the right side there are two pads to connect the front panel, as well as a socket for identification sensor of PC case opening.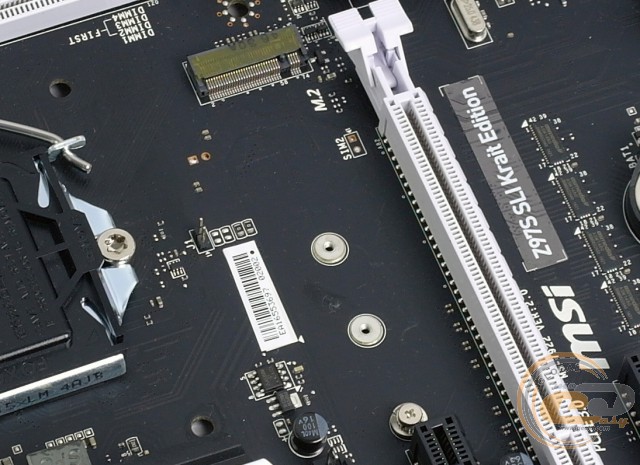 The organization of disk subsystem is presented by four SATA 6 Gb/s ports, one SATA Express which is compatible with two SATA 6 Gb/s and socket M.2 that supports SSD-drives M.2 2242, M.2 2260 и M.2 2280. There is a support for arrays SATA RAID 0, RAID 1, RAID 5 and RAID 10. The operation of sockets is realized due to the chipset Intel Z97. It is important to note that due to the lack of free lines chipset, socket M.2 (NGFF) shares bandwidth with SATA Express, therefore their simultaneous operation is not possible.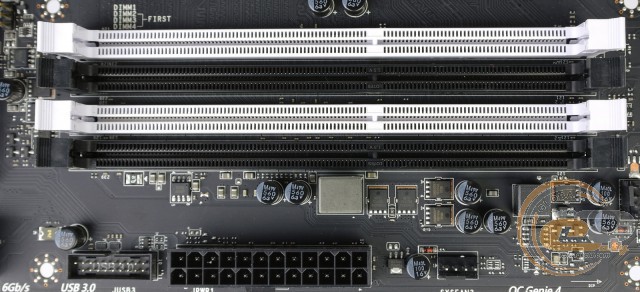 The tested model is equipped by four DIMM-slots for memory modules of DDR3 standard that can operate in dual mode. The modules should be placed in first and third or second and fourth slots. Modules operating at frequencies from 1333 to 1600 MHz in the nominal mode and up to 3200 MHz in overclocked mode are supported. The maximum amount of memory can be up to 32 GB, which is enough for almost any tasks.
Module for connecting remote panel with USB 3.0 ports is also traditionally located on the right side of the PCB. Amount of ports USB 3.0 is six: two are internal and four on the interface panel. Their correct operation is provided by chipset.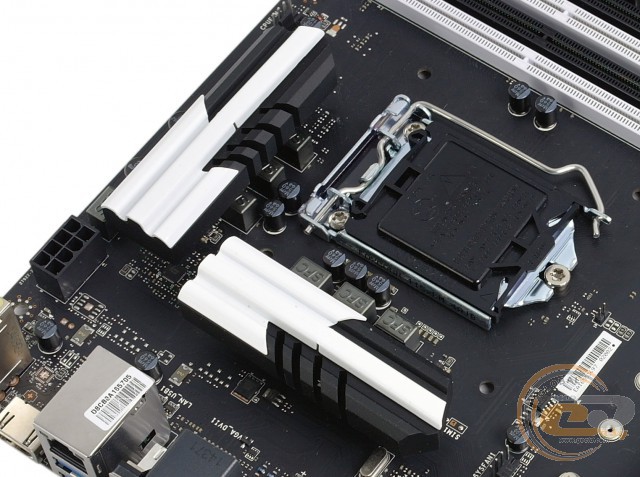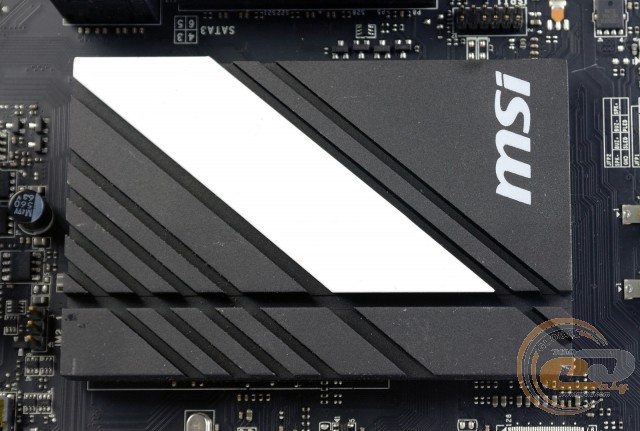 Cooling system of the product includes three radiators: the first provides heat removal from chipset Intel Z97, while the second and the third cover CPU power system elements. In the process of testing the following temperature indices were fixed:
radiator for chipset cooling – 34.5°C;
top radiator of CPU power system elements – 36.1°C;
side radiator of CPU power system elements – 37.5°C
As you can see, the preset cooling system is highly efficient, thus creating a good base for overclocking.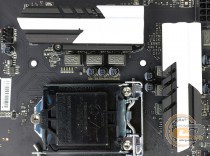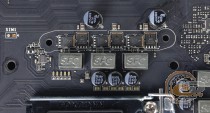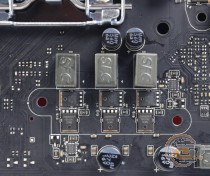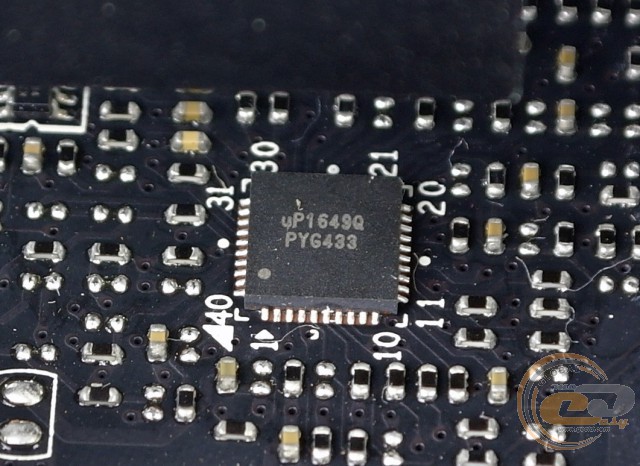 Processor power supply is performed via 6-phase scheme for computational cores and additional joints. The transformer is based on PWM controller uP1649Q. The circuitry is made by high quality components that correspond to proprietary design Military Class 4 and certified according to standard MIL-STD-810G. They include solid capacitors, chokes SFC and Dark Choke. Basic 24-pin and additional 8-pin connectors are use for power feeding.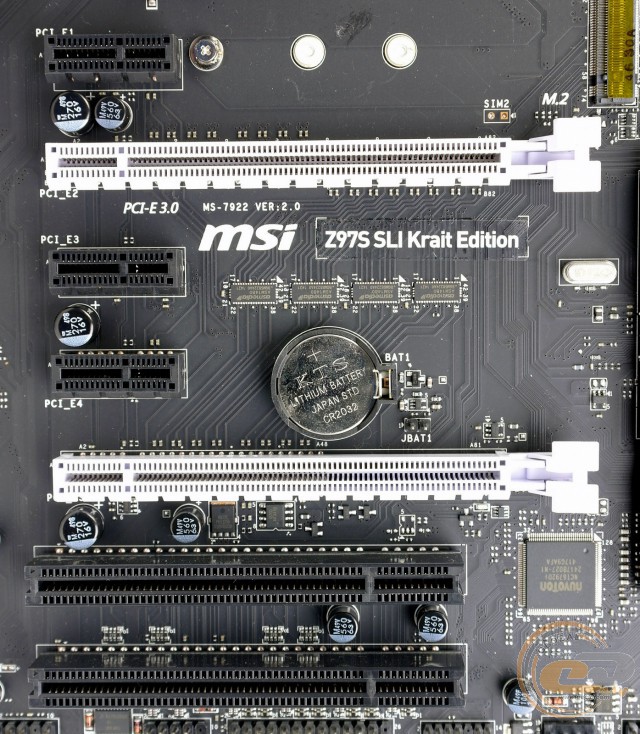 To extend the functionality of MSI Z97S SLI Krait Edition user has seven slots:
PCI Express 2.0 x1;
PCI Express 3.0 x16 (in mode х16 or х8);
PCI Express 2.0 x1;
PCI Express 2.0 x1;
PCI Express 3.0 x16 (in mode х8);
PCI;
PCI.
Since both connectors to install graphics cards are connected to the processor, they share all 16 available lines of the standard PCI Express 3.0. Therefore, if you install two graphics cards the lines will be distributed under the scheme x8+x8, which would be sufficient for realizing the potential of this bunch. Also note that you can easily install two graphics cards with three slot overall cooling system. In this case, you would have single slot PCI Express 2.0 x1.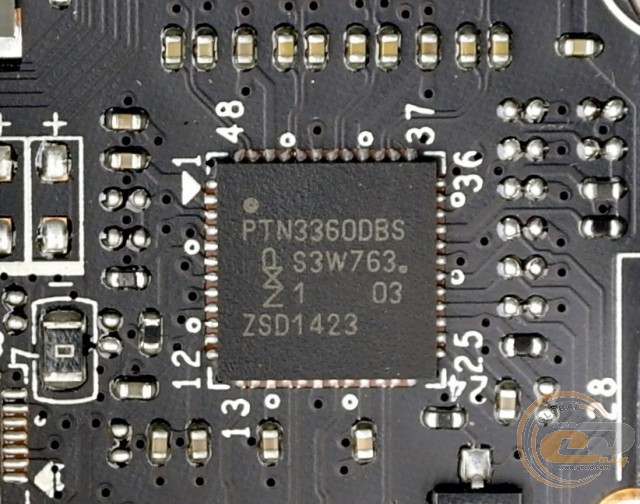 If you decided to take advantage of the integrated graphics core, then you have three video outputs: HDMI, DVI-D and D-Sub, navigated by the chip PTN3360DBS.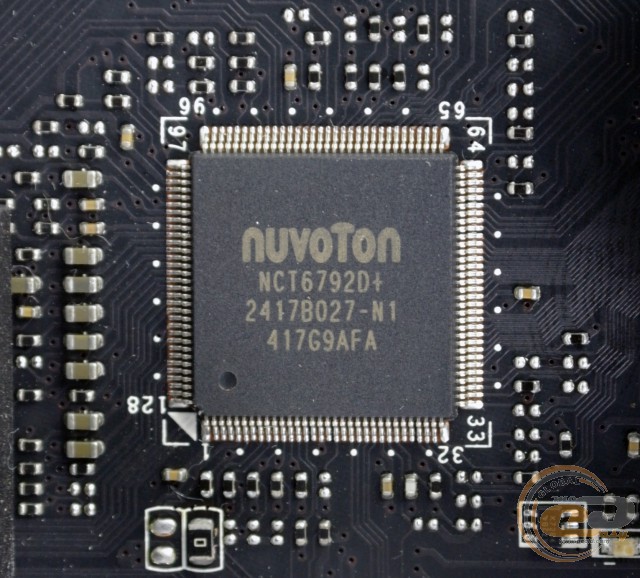 Multi I/O capabilities are based on chip NUVOTON NCT6792D which controls the operation of the system fans, COM, LPT and PS/2 ports, as well as provides the monitors.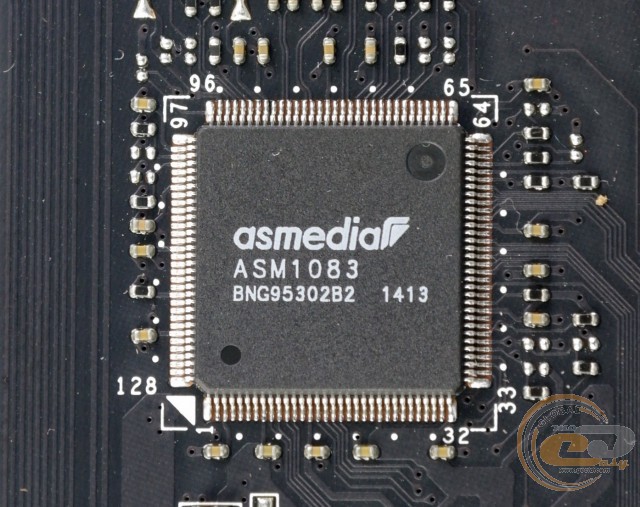 Since the chipset Intel Z97 does not support slots PCI, two corresponding interfaces are implemented via the bridge PCIE-PCI, based on the controller ASMedia ASM1083.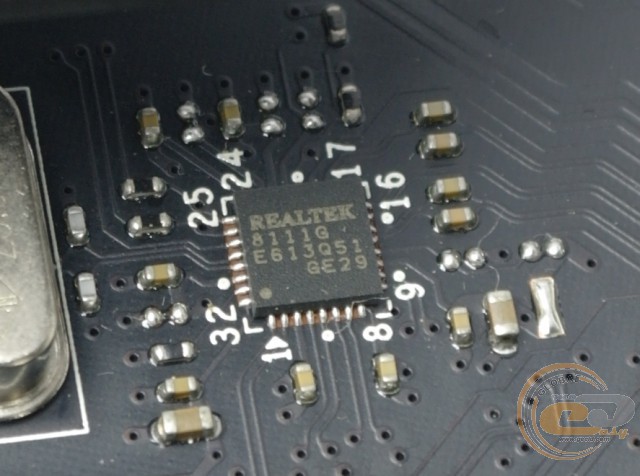 To support network connections there is a GB LAN-controller Realtek RTL8111G.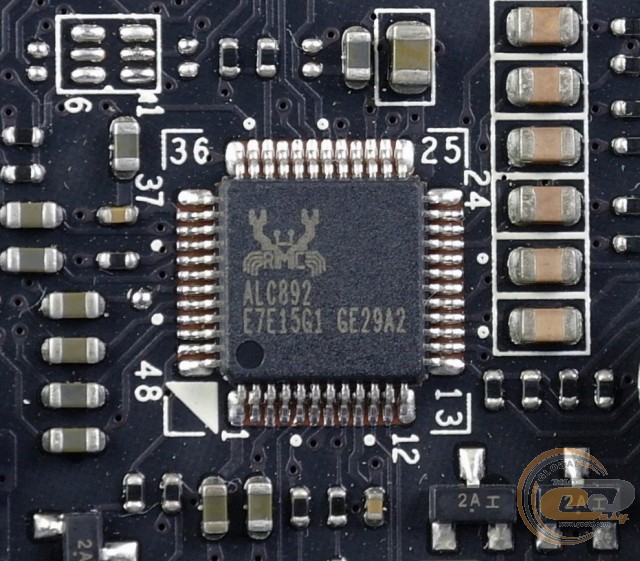 Sound subsystem of model is based on the 8-channel codec Realtek ALC892which supports 2/4/5.1/7.1 audio systems.

Interface panel of the model contains the following ports:
1 x HDMI;
1 x DVI-D;
1 x D-Sub;
1 x LAN (RJ45);
4 x USB 3.0;
2 x USB 2.0;
6 x audio ports;
1 x PS/2 (keyboard or mouse).
This configuration can be safely described as very successful, as it combines a sufficient number of USB ports, and the presence of the most relevant video outputs, including HDMI to output image with resolution of 3840 x 2160 pixels (4K Ultra HD). Do note convenient connection of multi-channel speakers and the ability to bring up COM and LPT ports to the rear panel using the appropriate modules on the PCB.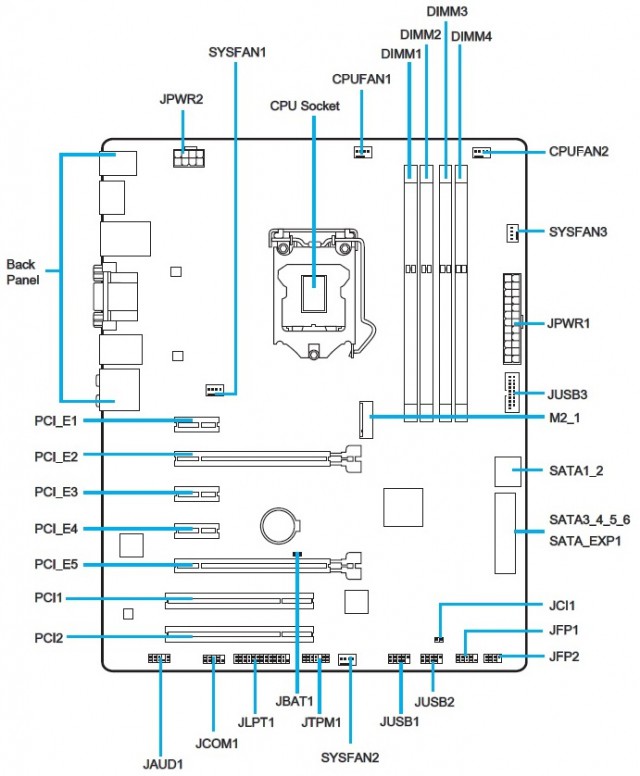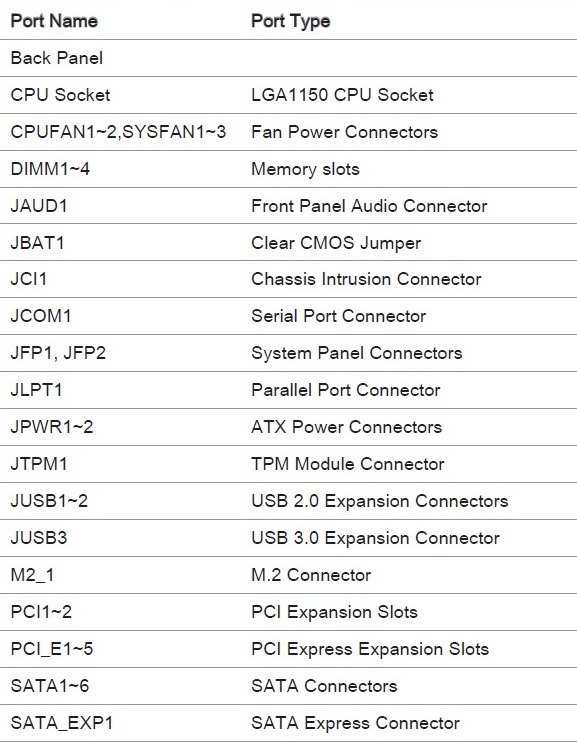 Motherboard MSI Z97S SLI Krait Edition is equipped with five fan connectors: two fans are used to power the cooling system of the processor, and the other three are used to connect the system propellers. All connectors are in accordance with the requirements of modern 4-pin, which will control the speed of the connected fan by PWM method.
UEFI BIOS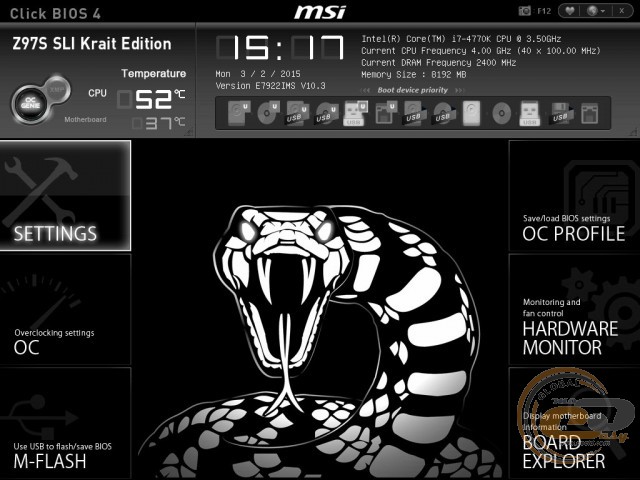 The tested model uses preloader ClickBIOS 4 based on interface UEFI. It has an attractive graphical interface, stylized in accordance with overall design of the motherboard, and ease the process of making changes to the settings.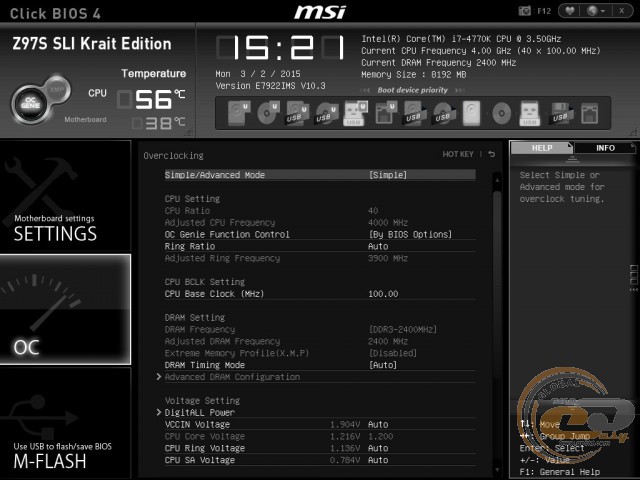 Options required for fine tuning of the system are grouped in section «OC».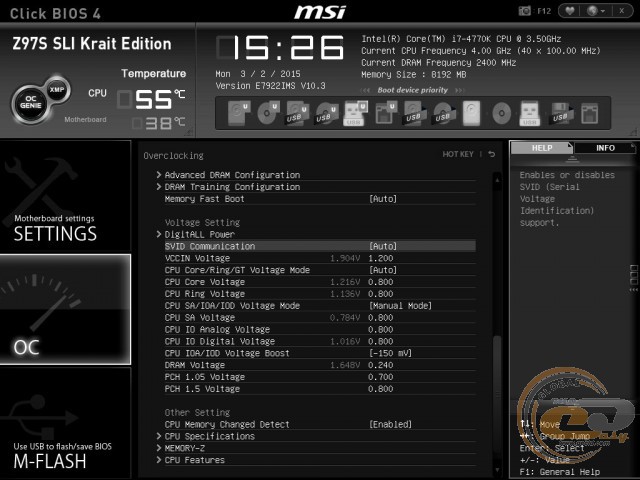 If necessary, it is possible to gain access to the adjustment of the stress on the various components.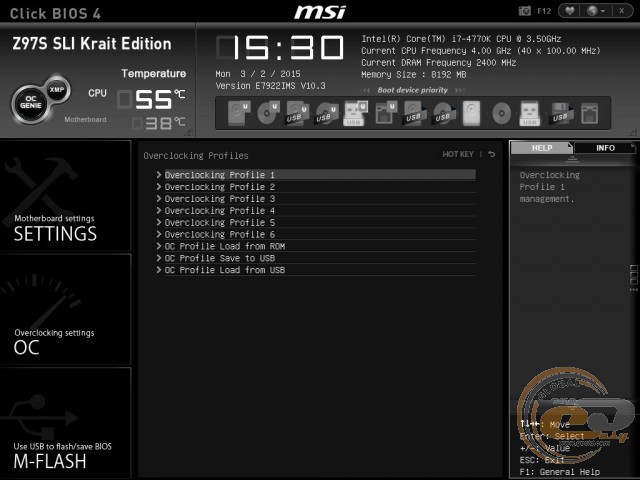 As you can see, there is an ability to preserve the custom BIOS settings in six different profiles, as well as an option to download the desired profile with the USB-drive.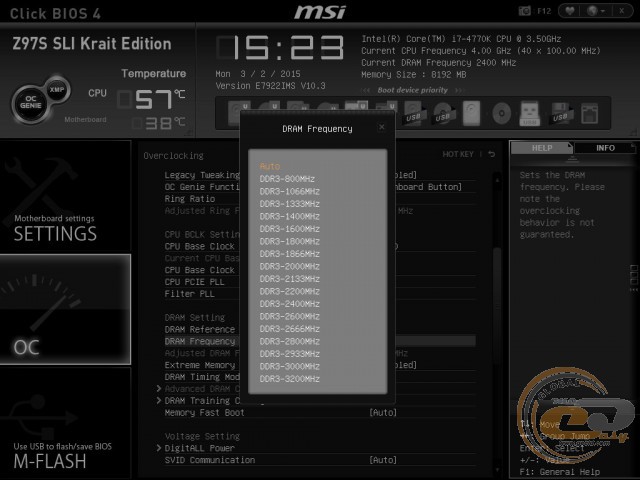 RAM frequency can be changed in the range from 800 to 3200 MHz.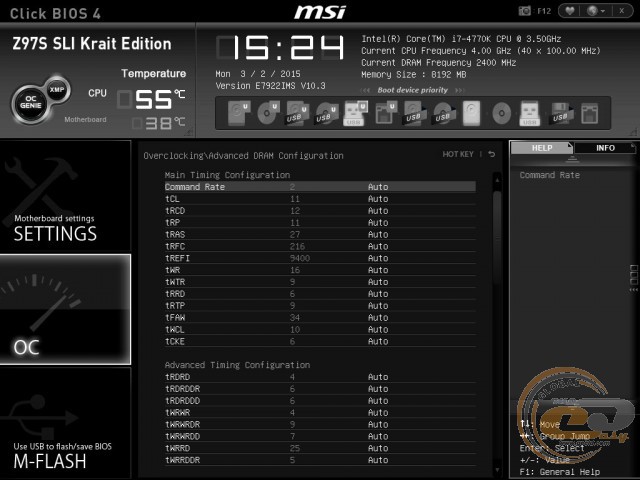 And if necessary, you can access the memory latency adjustments.
Settings required for optimizing the system are summarized in the table:
Parameter

Menu

Range

Step

System bus frequency

CPU Base Clock

90,0 – 300,0

0,04

CPU Base Clock Strap

1,0 – 2,5

0,25

CPU multiplier

CPU Ratio

8 – MAX

1

Ring Ratio

8 – MAX

1

RAM frequency

DRAM Frequency

800 – 3200

RAM timing

Timing Configuration

tCL, tRCD, tRP, tRAS, tRFC, tREFI, tWR, tWTR, tRRD, tRTP, tFAW, tWCL, tCKE

CPU Vdroop Offset Control

+12,5% - +100%

12,5%

CPU Over Voltage Protection

400 – 700

100

CPU Under Voltage Protection

400 – 700

100

CPU Over Current Protection

110% – 200%

10%

CPU Switching Frequency

260 – 740

70

Digital Compensation

x0,9 – x1,2

0,1

CPU VRM Over Temperature Protection

Enabled / Disabled

CPU VRM Over Temperature Shutdown

Enabled / Disabled

VCCIN Voltage

1,200 – 3,040

0,001

CPU voltage

CPU Core Voltage

0,800 – 2,100

0,001

CPU Ring Voltage

0,800 – 2,100

0,001

System agent voltage

CPU SA Voltage

0,800 – 1,850

0,001

CPU IO Analog Voltage

0,800 – 2,000

0,001

CPU IO Digital Voltage

0,800 – 2,000

0,001

RAM modules voltage

DRAM Voltage

0,240 – 2,770

0,075

Chipset line 1.05 V voltage

PCH 1.05 Voltage

0,700 – 2,320

0,050

Chipset line 1.5 V voltage

PCH 1.5 Voltage

0,800 – 2,770

0,050

Long Duration Power Limit

1 – 4096

1

Long Duration Maintained

1 – 128

1

Short Duration Power Limit

1 – 4096

1

CPU Current Limit

30 - 1024

1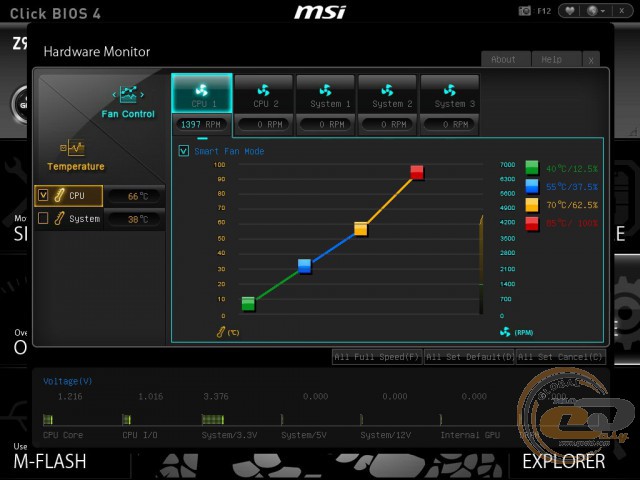 The section « Hardware Monitor » open access for monitoring the temperature of the processor and chipset, as well as speed of installed fans. Here you can manually set the required blade rotation speed.
Additionally you can monitor the voltage at the processor core, memory modules and power supply lines +12V, +5V and +3.3V.
Социальные комментарии Cackle