Sound card ASUS Essence STX II 7.1: review and testing
Currently the most of PCs are equipped with integrated audio controller with enough features for casual users. However, if you own high-quality multi-channel speakers being an audiophile, these solutions are clearly not for you. The abilities of integrated audio controllers have some limits. The only way out of this situation is to install a Hi-End-discrete sound card that can perform all the tasks.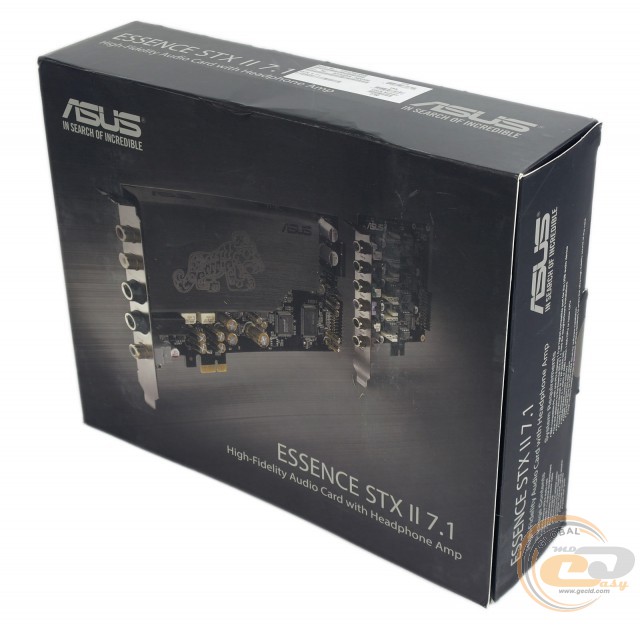 ASUS, which has the sound cards for customers with different requirements, is a relatively young party to this market segment. Its product range includes devices for even the most demanding customers. This category includes a model ASUS Essence STX II 7.1. It is a modernized version of ASUS Essence STX.
The specs:
Model

ASUS Essence STX II 7.1

Audio parameters

Output signal/noise ratio (front output)

124 dB

Output signal/noise ratio (headphones)

120 dB

Coefficient of nonlinear distortion + noise (THD+N) per 1 kHz (front output)

>0,0003% (-110 dB)

Coefficient of nonlinear distortion + noise (THD+N) per 1 kHz (headphones)

>0,001% (-100 dB)

Frequency response (-3 dB, 16 bit/4401 kHz input)

10 – 90 000 Hz

limit stress for linear output (RCA; 3.5)

2 ВRMS (5,65 Вp-p)

limit stress for linear headphones

7 ВRMS

Connection interface

PCI Express x1

Audio processor

ASUS AV100 (max 192 kHz / 24 bit)

Digital-to-analog converter

TI Bur-Brown PCM1792A

Sampling frequency and capacity

Analog playback/record

44,1 / 48 / 96 / 192 kHz @ 16 / 24 bit

Digital output S/PDIF

44,1 / 48 / 96 / 192 kHz @ 16 / 24 bit

Support for ASIO

44,1 / 48 / 88,2 / 96 / 176,4 / 192 kHz @ 16 / 24 bit

Analog outputs

1 х 6,35 mm (headphones)

8 х RCA

Analog inputs

1 x 6,3 mm jack (1/4") (linear input / combined microphone)

Digital inputs

1 x S/PDIF out (1 x Coaxial)
1 х to connect case front panel

Features

Dolby Digital Live
Dolby Headphone
Dolby Virtual Speaker
Dolby Pro-Logic II

Packaging

daughter board ASUS Essence H6

set of removable operational amplifiers

cable 3.5 mm↔RCA

adapter 6.3 mm↔3.5mm

S/PDIF-adapter

CD with drivers and documentation

OS compatibility

Windows XP / 7 / 8 / 8.1 (32 / 64-bit)

Dimensions

107 x 168 mm

Company page

Product page
The specification of this solution is really impressive. After studying the element base, it becomes clear that we face with not an ordinary device. Full-size dimensions and excellent equipment only reinforce the general impression that for testing we have Hi-End device. By the way, the market has a model of the twin - ASUS Essence STX II, which does not have a daughter board ASUS Essence H6 and thus doesn't have the ability to connect 7.1 analog connection.
Package and content
Sound card comes in a sufficiently thick cardboard that will prevent damage during transport. External design has a good level of information.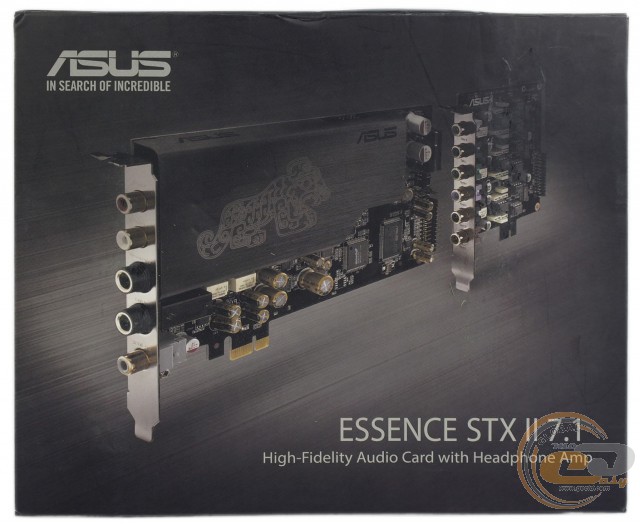 A key place on the front takes the card and a daughter board ASUS Essence H6.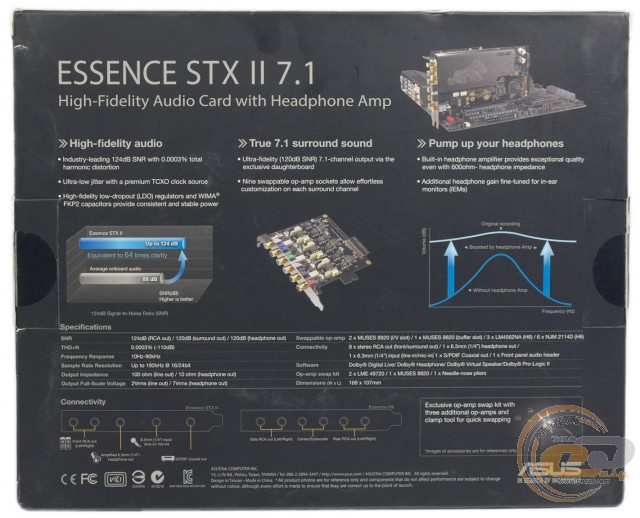 The back side reveals the main features of sound card. Here we consider the appointment of the terminal connector, highlights opportunities (presence of headphone amplifier that supports models with impedance up to 600 Ohms and sound quality). Do note the possibility of implementing a real 7.1-channel surround sound system. Traditionally, the back side reveals a number of parameters and specifications.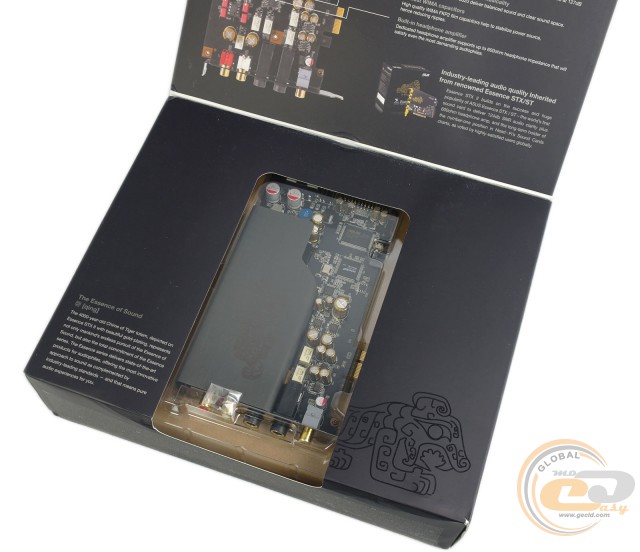 Most premium devices come in stylish boxes with opening the front panel. ASUS Essence STX II 7.1 is not an exception. On the one hand, it gives the opportunity to learn it, and on the other - there is another fairly large surface area where you can reveal structural features.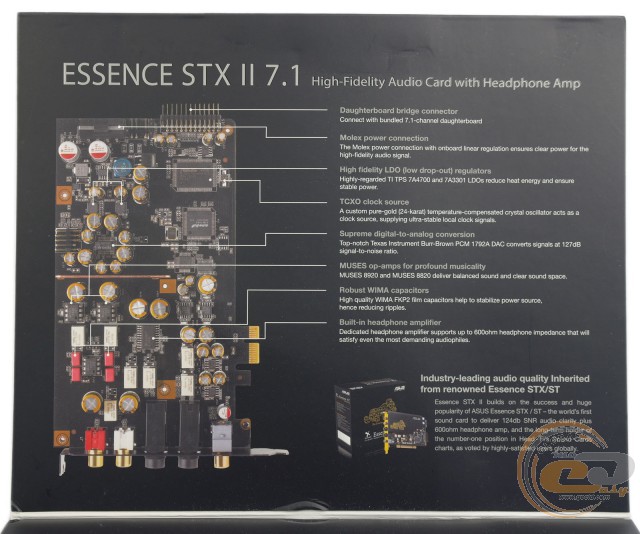 For example, the manufacturer provides data about some elements of the board:
availability of the connector for the daughter a 7.1 board;
use of connector Molex (PATA);
use of voltage stabilizers TI TPS 7A4700 and 7A3301;
use of the DAC TI Burr-Brown PCM 1792A, which provides a signal/noise ratio at the level of 127 dB;
availability of replacement of operational amplifiers MUSES 8920 and MUSES 8820 to provide high quality sound;
use of capacitors WIMA FKP2 to stabilize the signal;
a built-in headphone amplifier with an impedance up to 600 Ohms.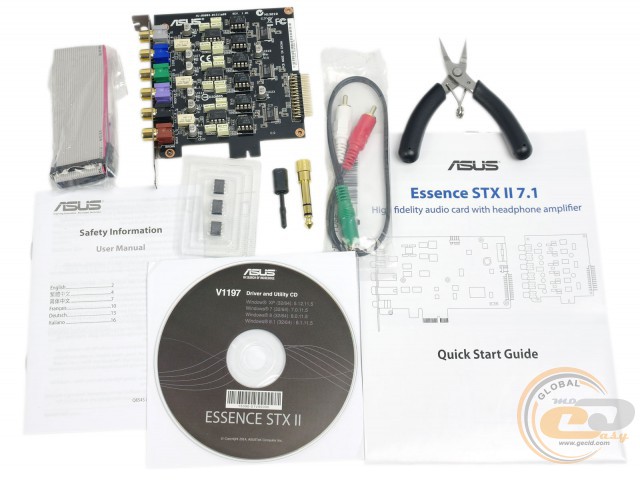 Together with a sound card and daughter card the supplier set includes:
S / PDIF-adapter;
adapter mm↔3,5 6.3 mm;
installation Guide and CD with software;
Y-shaped cable 3.5 mm↔RCA;
cable for connecting a daughter module;
a set of replacement of operational amplifiers, which includes two chips Texas Instruments LME49720 and one MUSES 8820, as well as a tool for their removal / installation.
So the package is more than impressive.
Design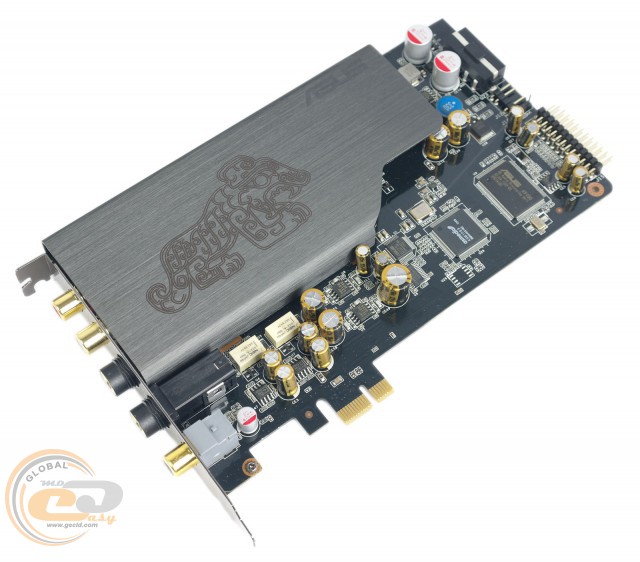 The appearance sound card is a stylish and very please. We see that the designers used proprietary design elements unique to the lineup ASUS Essense - a stylized image of a tiger. It is applied to the metal screen, which serves as protection from various noise and electromagnetic interference within the system unit.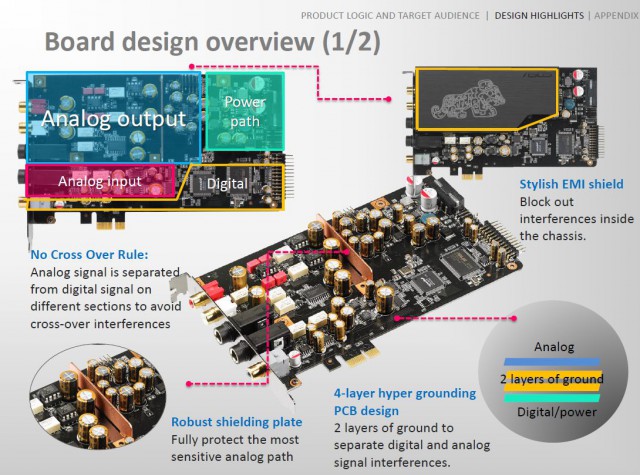 Particular attention should be paid to a number of design features:
separation of analog and digital circuits;
multilayer PCB design, which allows you to separate audio signals from noise sources;
implementation of special measures for the filtering power.
We also note that the size of the sound card is not small. Therefore, the owners of compact case before buying should pay special attention to this issue.

The central charge includes the following ports:
RCA (left and right);
headphone output (6.35 mm);
microphone input (line-in) (6.35 mm);
S / PDIF Out.

On the opposite side there are connectors Molex (PATA) and terminals for connection of the daughter board.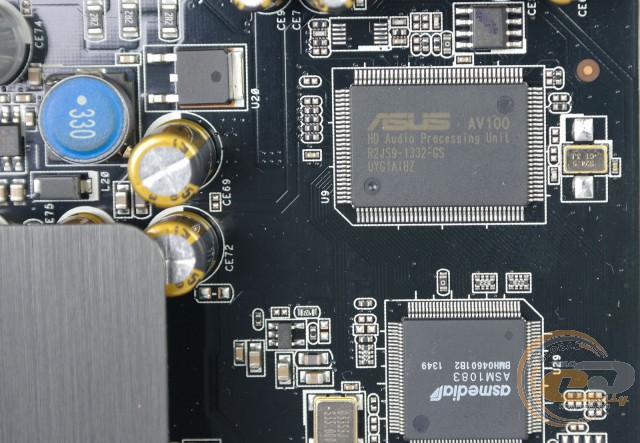 The core of ASUS Essence STX II 7.1 is audio processor ASUS AV100 based on Oxygen HD CMI8787 of the company C-Media. The solution is not new and is found in a number of branded products of Taiwanese company. To ensure compatibility with bus PCI Express the bridge ASMedia ASM1083 is used. Also there is a temperature-compensated oscillator, which reduced jitter.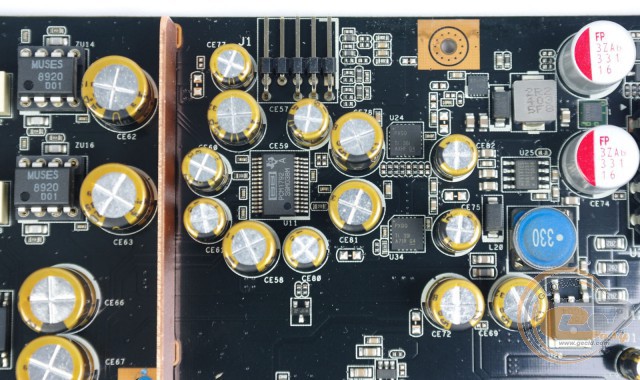 A DAC is presented by high-quality chip Burr-Brown PCM1792 of company Texas Instruments. It has good characteristics: nonlinear distortion ratio + noise is less than 0.0004%, and the S/N ratio reaches 127 dB. In this case, the output operational amplifiers are MUSES8920 are applied.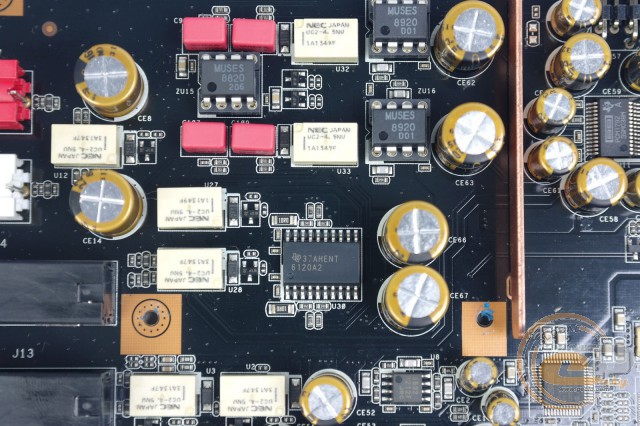 The headphone output is supported by the amplifier TPA6120A2 from Texas Instruments, which provides compatibility with professional headphones with an impedance of up to 600 ohms.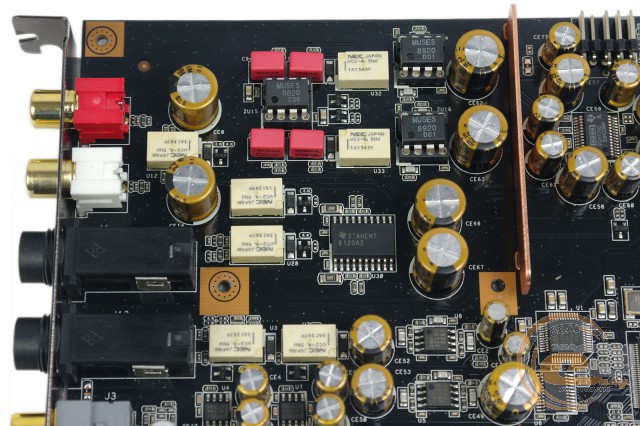 For low-pass filter there are amplifiers MUSES8820 with low noise and voltage gain of 110 dB.
As we reported earlier, in order to stabilize the signal there are professional film capacitors WIMA FKP2.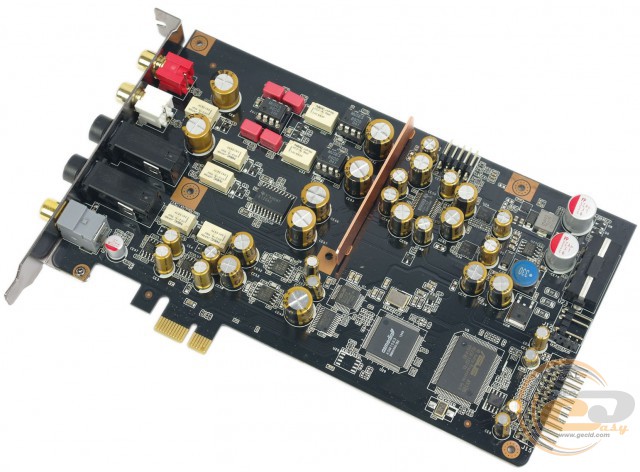 To process analog signal there is a dual-channel ADC Cirrus-Logic CS5381, and for signal processing with microphone there is AC'97 codec ASUS DJ100.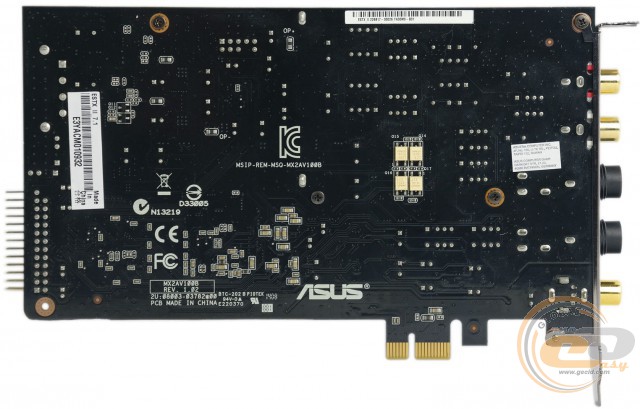 Several components are also placed to the back side of the board.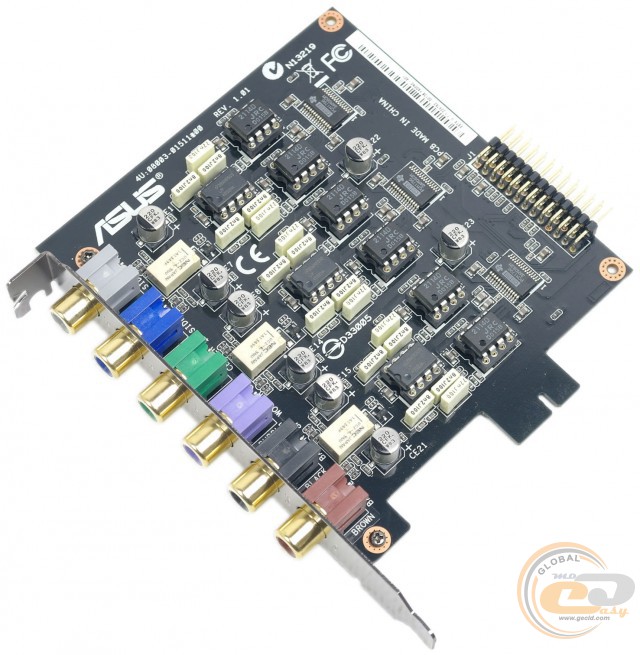 Daughter Card ASUS Essence H6 is made as an expansion card with interface PCI Express x1, and its power is provided by wired loop. Connector PCI Express x1 is used as an element of fixing devices in the system unit. If the owner does not imply a connection of full 7.1-channel surround sound system, there is no point to install ASUS Essence H6.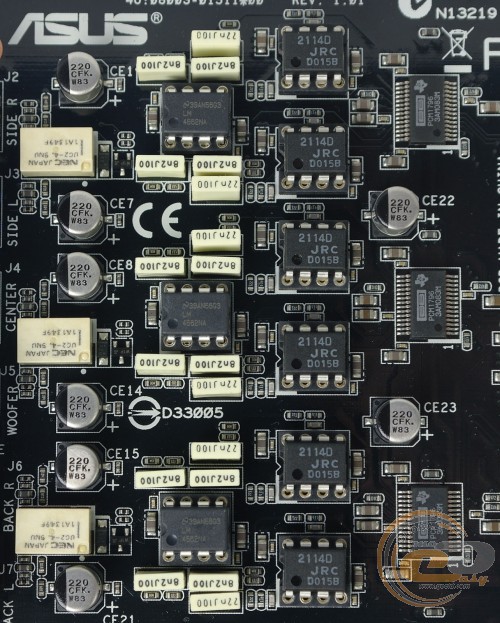 The formation of a low-frequency signal for the audio output is provided by RCA TI Burr-Brown PCM1796. The conversion current/voltage is realized on the basis of NMJ2114D. Low-frequency filters are made using LM4562NA.
And do note that if for any reason the specifications of this card are not proper for you, the enthusiasts and connoisseurs of electronics can easily perform its modernization. There is the possibility of replacing the operational amplifiers to own or that are supplied in the delivery kit. They are made in DIP8-cases, which would be replaced without soldering. Ultimately, this will allow for a series of experiments with the sound depending on the items and choose the most comfortable for you.