IP-camera COMPRO TN95W: review and testing
We are glad to introduce you to the new IP-camera COMPRO TN95W. The devices of this class can be very useful in everyday use due to its functionality. In particular, they are often used as baby monitors, helping to look after the child. Due to the presence of motion and sound sensors the device monitors the safety of the house, promptly reporting about suspicious activity.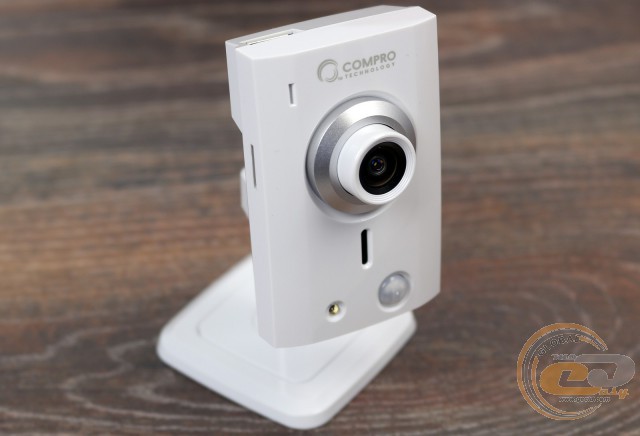 Model COMPRO TN95W has also additional features. The most important is the support for cloud service C4Home. This software allows you to remotely control the camera using a smartphone or through a web interface, which significantly expands the scope of the new item.
Specification:
Producer

COMPRO

Model

TN95W

Camera

Matrix

1/3″ CMOS with progressive scanning

Lens

Focal length: 1,96 mm

Fixed diaphragm, F2.0

Horizontal viewing angle

105°

Focusing range

from 1 m ad infinitum

Minimal illuminance

IR mode: 0 lk with illumination and built-in IR LED

(IR- illumination effective at distance up to 8 m)

Color mode at 1 lk

Exposure

1/5...1/16000 s

Zoom

Digital, 10х

Network interfaces

10/100 Мb/s Fast Ethernet

Optinal module USB Wi-Fi Compro WL150 (802.11n)

Specification of Wi-Fi connection of Compro WL150 module

Standards

IEEE 802.11b, IEEE 802.11g, IEEE 802.11n

Modulation

DQPSK, DBPSK, DSSS, CCK

Antenna

Built-in

Data transfer rate

Up to 150 Мb/s

Protection algorithms

64/128-bit WEP, WPA, WPA2

Video setting

Video compressions

M-JPEG and H.264 (MPEG-4 Part 10)

Resolution

160 x 120 (QQVGA), 320 x 240 (QVGA), 640 x 480 (VGA), 1280 x 720 (HD)

Max frame frequency

30 fps at 1280 × 720 (HD)

Settings

Pixel size and quality

AGC, AWB, AES

Brightness, sharpness and saturation

Sound signaling

Built-in all-directional microphone

Audio compressions

AAC (G.711 PCM 64 Кb/s)

Audio input/output

-

Security

Login/password

Requirements

Control browser via Web-interface

Internet Explorer 8.0 or newer, other browsers require the installation of built-in VLC-plagin

OS for operation with software

Windows XP SP3, Vista SP1, Windows 7, Windows 8, Mac OS 10.6 (only in mode M-JPEG)

Network reports

TCP/IP, HTTP, UDP, FTP, ICMP, ARP, DHCP, NTP, DDNS, UPnP, RTP, RTSP, RTCP, SMTP, IGMP, 3GPP, IPv4

Memory cards

microSD

Dimensions

64 х 82 х 110 mm

Weight

-

Temperature

0…+40°C

Power

Input: 100 − 240 V; 50/60 Hz; 0,2 А

Output: 5 V 2 А by external poser unit

Producer website
Package and content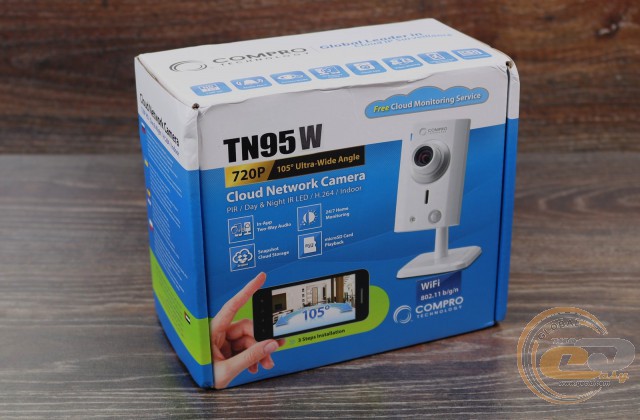 IP-camera comes in a small cardboard package. The front side has the model name and its image. Also, there are icons indicating the main advantages of COMPRO TN95W:
wide-angle lens (105°);
two-way audio communication (due to microphone and speaker);
automatic save photos to the cloud storage;
the ability to work 24/7;
support for memory cards microSD.
The side faces of the box are reserved for the description of the additional features in different languages:
the ability to record in HD-resolution with compression M-JPEG and H.264;
support for shooting in complete darkness (due to infrared light);
update function over the air without connecting to a computer;
cloud application C4Home for smartphones and tablets.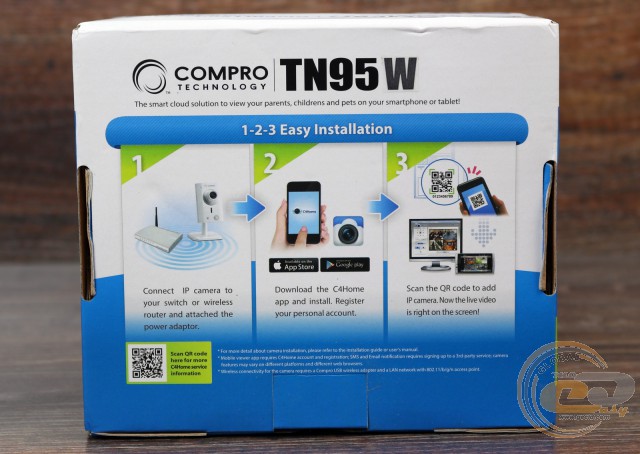 The reverse side of the package has icons providing the information about the use of three simple steps to configure the IP-camera and organize control with your smartphone. As you can see, the procedure is quite simple: it is only necessary to install the application C4Home and scan QR-code on the back of the camera.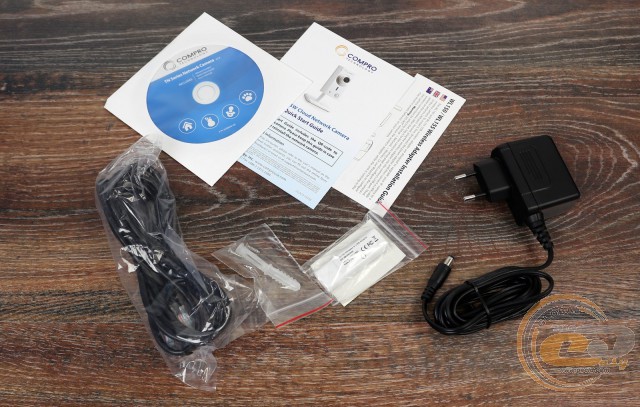 The package includes the following accessories:
the power supply;
USB-module of wireless Wi-Fi;
cable Ethernet;
wall mount;
CD with software and drivers;
quick installation guide.
Design and features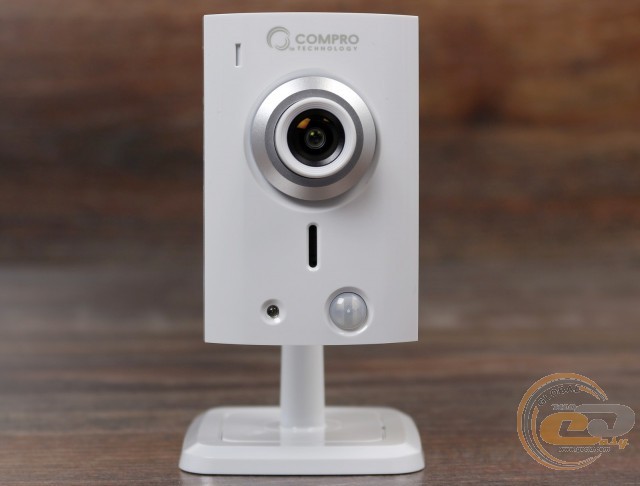 Camera COMPRO TN95W is made of white plastic case. The design is very similar to the previously presented model COMPRO TN60W. Its face side has the most important functional elements:
operation indicator (lights in red during shooting and can be deactivated);
camera lens with a large horizontal viewing angle (105°);
speakerphone;
infrared LED illuminator;
light sensor.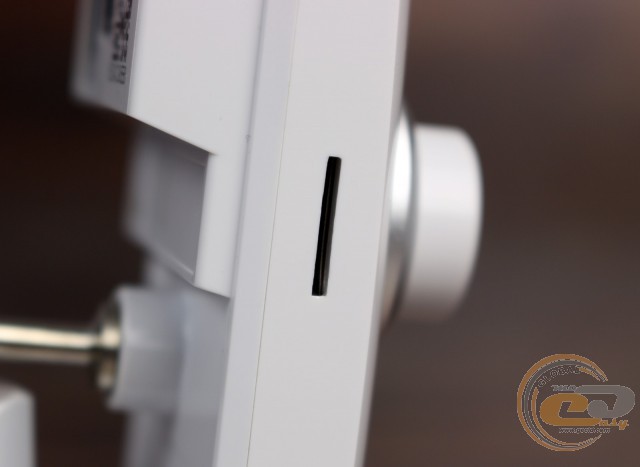 One of the side faces contains a slot for memory cards microSD. It can be used to store the captured video, which is useful for low-speed internet connections.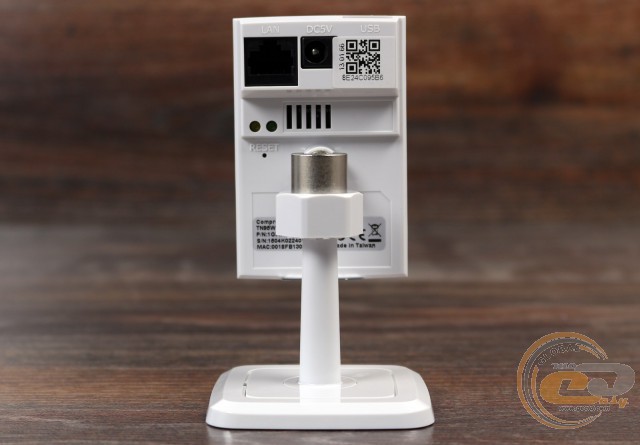 The back of IP-cameras has:
network connector RJ45;
power connector;
QR-code to connect service C4Home;
two indicators of network activity;
button «RESET»;
hinge for attaching the stand.
Special attention is given to stand. It is equipped with a rotary joint that allows you to set the camera in almost any direction.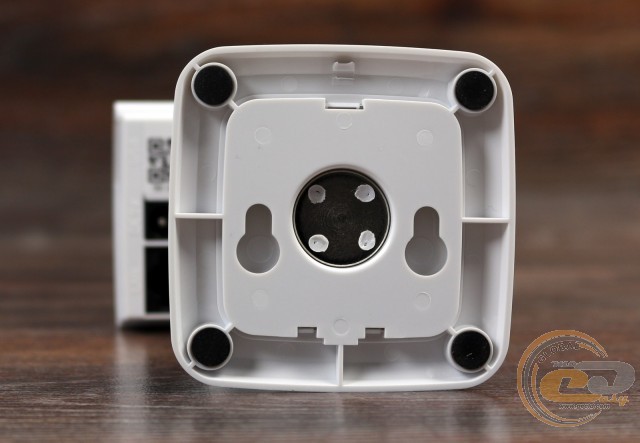 Stand also has a dual functionality. Due to soft non-slip legs it can be safely placed on the table. In addition, there are openings for fixing to the wall using the provided screws.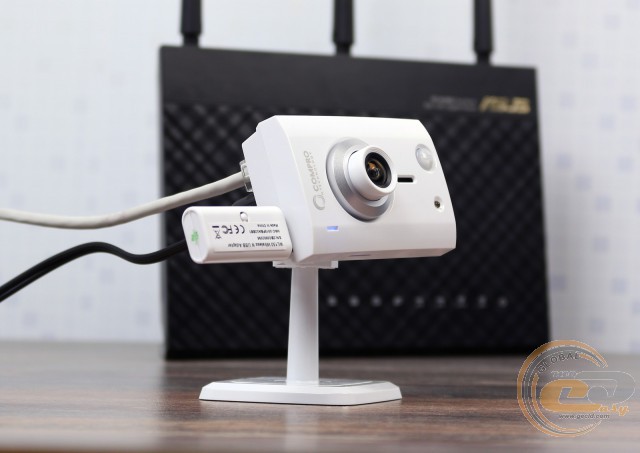 Another feature of COMPRO TN95W is the use of the supplied Wi-Fi-module. It connects to USB-port on the top and has the support of the standards IEEE 802.11b/g/n. In this case, the camera module Compro WL150 was completed with a maximum data rate of 150 Mb/s, but, according to the specification, the kit may also include a module Compro WL160 with maximum data rate of 300 Mb/s.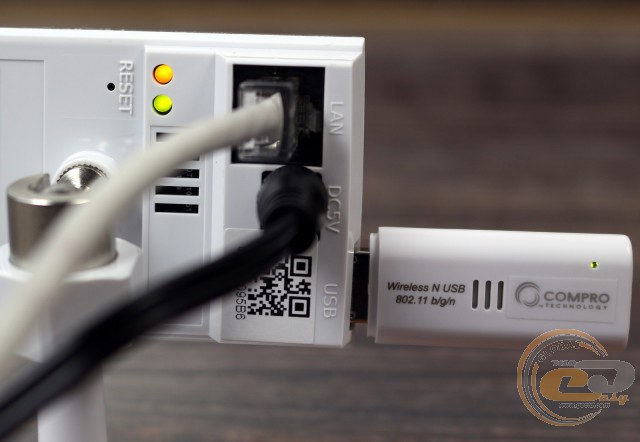 On the reverse side of the device you can monitor the operation of the indicator of the network interface, which is very useful in identifying possible problems.
Software installation
Now let's examine the possibility of firmware and the specificity of its setting.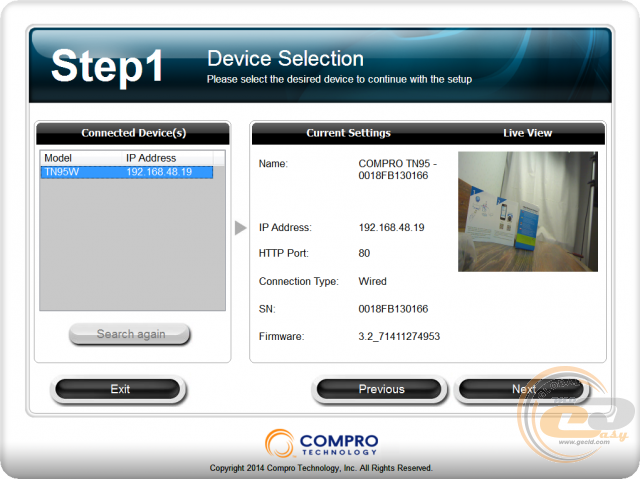 After running a complete utility, we have the installation wizard of interface. First of all there is search for all connected IP-based cameras that are compatible with this software.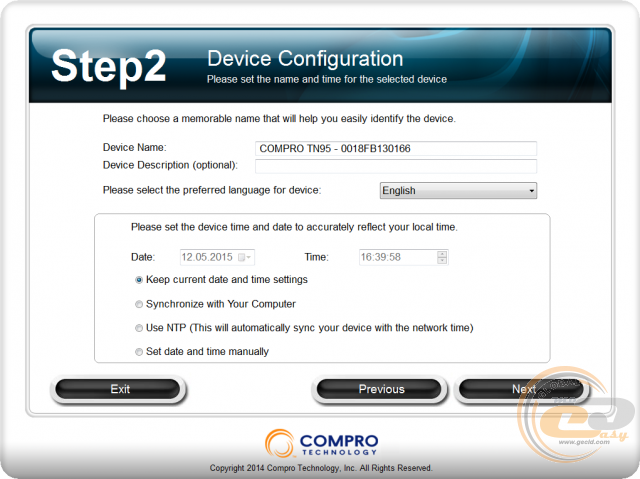 Then you can assign the name of the detected pattern, set the date, time and language.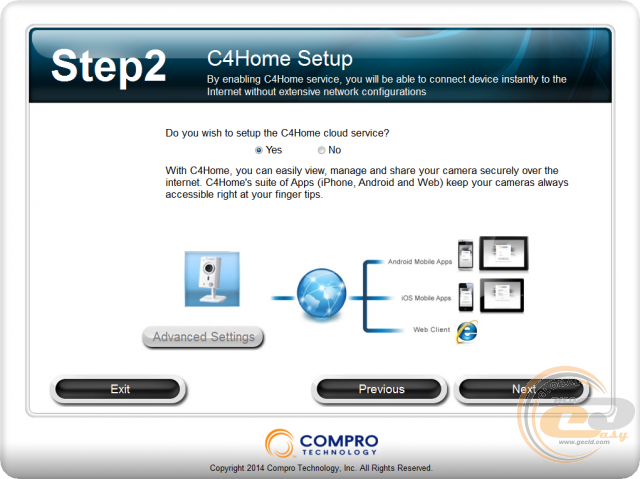 The next step allows you to activate the service C4Home, which greatly facilitates the interaction with IP-based cameras via a web interface or mobile app.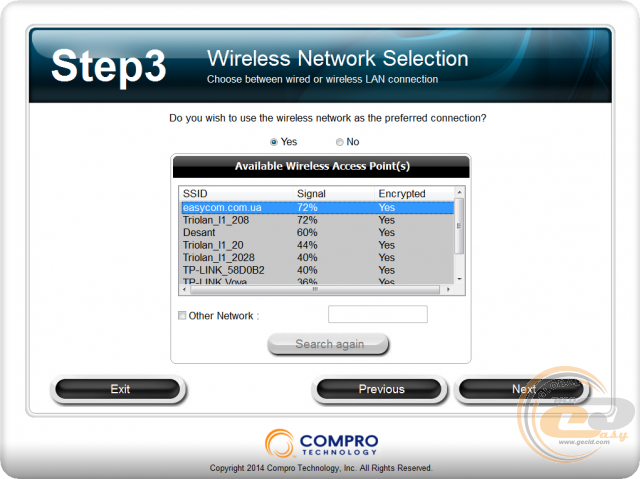 The third stage is devoted to the choice of wireless or wired network.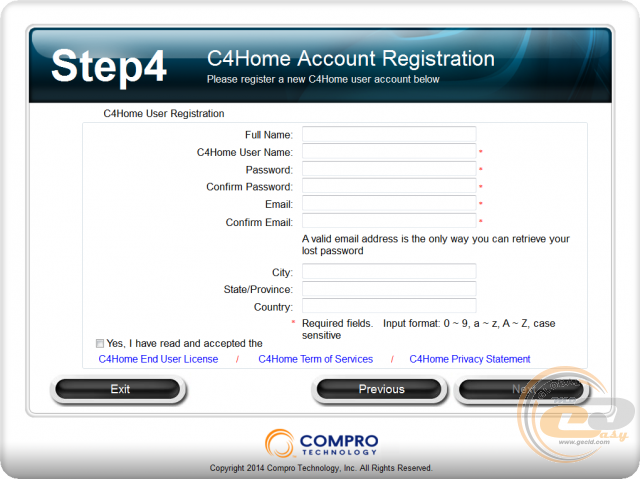 Then follow a registration procedure in service C4Home (only if it has been activated previously).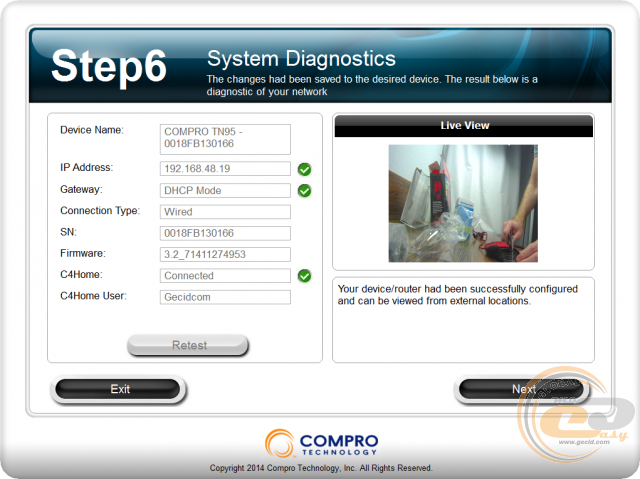 One of them provides the final diagnosis of the connected equipment and start setting up additional cameras, if they are available.
Социальные комментарии Cackle