Mini-PC ECS LIVA X: review and testing
Company ECS (Elitegroup Computer Systems) is a major manufacturer of motherboards of high quality. In addition to motherboards this manufacturer specialized in the production of laptops, tablets, monoblocks and nettops.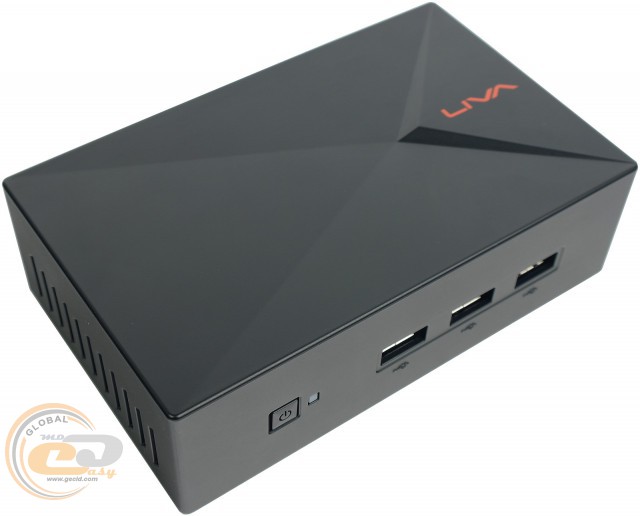 Last yea, ECS has introduced a miniature mini-PC ECS LIVA with a passive cooling system that was the most compact in the world for that period. Now it has presented the updated model - ECS LIVA X. The novelty has an improved design, the updated processor, increased RAM and built-in storage. Also the list of external connectors, which significantly increases comfort when using the device, was expanded.
The specs:
Producer

ECS

Model

LIVA X

CPU

Intel Celeron N2808: SoC-design, 2 cores (2 threads), basic frequency - 1580 MHz, max clock frequency with technology Intel Turbo Boost 2.0 – 2250 MHz, L2 cache – 1 МB, TDP – 4,5 W

Chipset

Intel Celeron N2808

RAM

4096 МB DDR3L-1333 MHz (soldered on board)

Graphics adapter

Intel HD Graphics: core frequency – 311 MHz (max up to 792 MHz); capacity of video memory is allocated from dynamic by means of RAM

Disk subsystem

SanDisk SDIN8DE4-64G eMMC 64 GB (soldered on board))

Drive bays

1 х mSATA SSD

Optical drive

-

Card-reader

-

Expansion slots

1 х mini-PCIe (installed module Wi-Fi/Bluetooth)

Interfaces

1 x USB 3.0
2 x USB 2.0
1 х combine audio jack
1 х HDMI
1 х D-Sub
1 x RJ45
1 x power socket
1 х lock Kensington

Multimedia

Speakers

-

Audio codec

Realtek ALC283

Connectivity

Nework adapter

10/100/1000 Мb/s (Realtek RTL8111G)

Wi-Fi/Bluetooth

mini-PCIe Wi-Fi/Bluetooth-module

Wi-Fi

802.11 b/g/n

Bluetooth

Bluetooth 4.0

HSPA

-

PSU

Output parametrs: 12 V DC, 3 А, 36 W

Input parameters: 100~240 V AC 50/60 Hz

Other

Wall or monitor mounting using supplied VESA 75/100 mm

Motherboard dimensions

115 х 75 mm

Case dimensions

135 x 83 x 40 mm

Weight

-

Color

Black

OS

No (support for Linux, Windows 7 / 8 / 8.1)

Warranty

-

Producer website

Product page
Hardware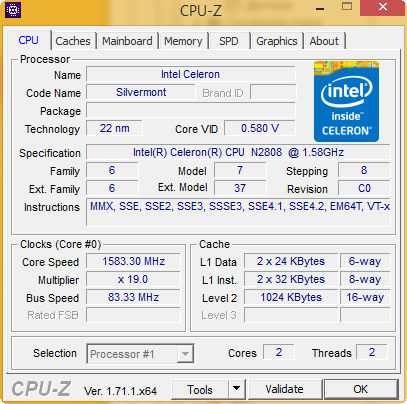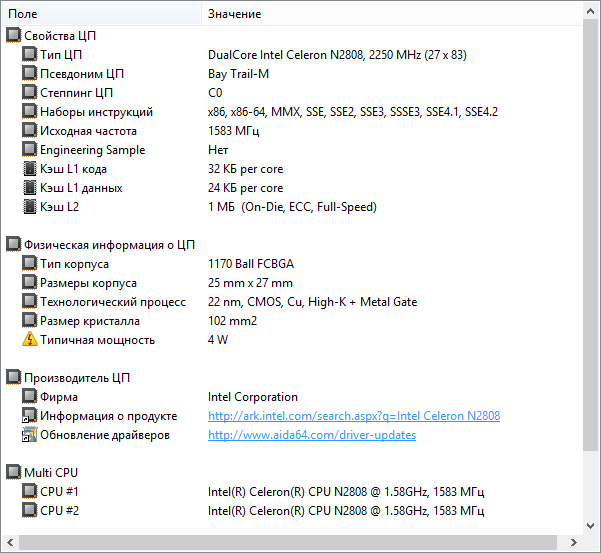 The heart of ECS LIVA X is a dual-core 64-bit processor Intel Celeron N2808, which can perform tasks in two-threaded mode. It is made according to 22-nm microarchitecture Intel Silvermont using design SoC (System-on-a-Chip). This means that its chip houses not only the usual CPU and GPU cores, but also memory controller and chipset. This approach is entirely justified in such compact systems, since it simplifies the layout of the motherboard, reduces power consumption, reduces the number of additional controllers, and reduces the overall cost of production. In nominal mode Intel Celeron N2808 operates at 1580 MHz at a voltage of 0.580 V.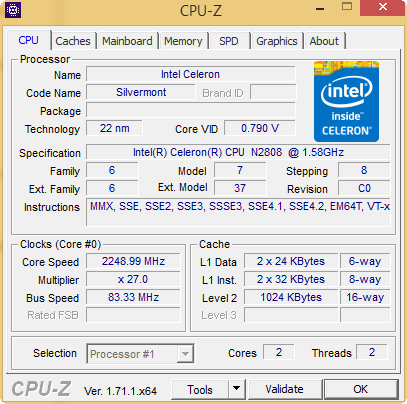 After activation the technology Intel Turbo Boost 2.0, its frequency rises to 2250 MHz at a voltage of 0.790 V. Even in this mode, the maximum level TDP of the processor does not exceed 4.5 W.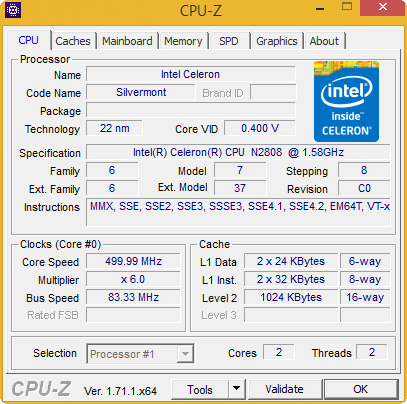 After activation of Power Saver the core frequency drops to 500 MHz at a voltage of 0.400 V.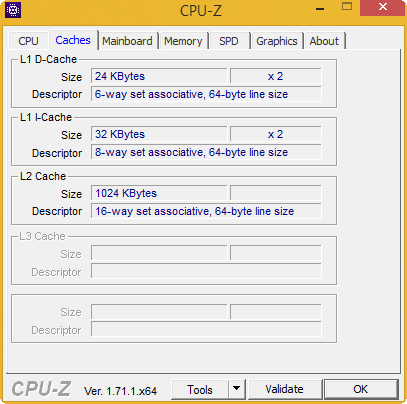 Distribution of cache memory of processor Intel Celeron N2808 is as follows. 24 KB of L1 cache per core with 6 channels of associativity is allocated for caching data. For instructions there is 32 KB of L1 cache with 8 channels of associativity for each core. Also there is 1024 KB of total L2 cache with 16 channels of associativity.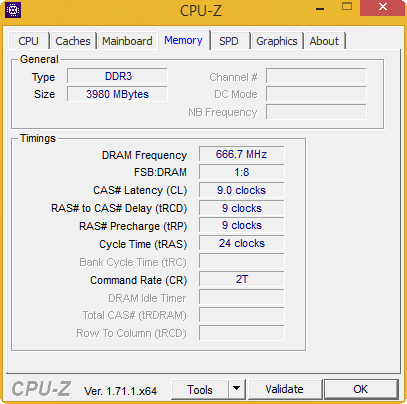 Built-in memory controller operates in single-channel mode, and supports a maximum of 4 GB of standard DDR3L-1333. That is capabilities of the ECS LIVA X CPU are involved to the maximum. The entire RAM is soldered on the board that does not provide its replacement.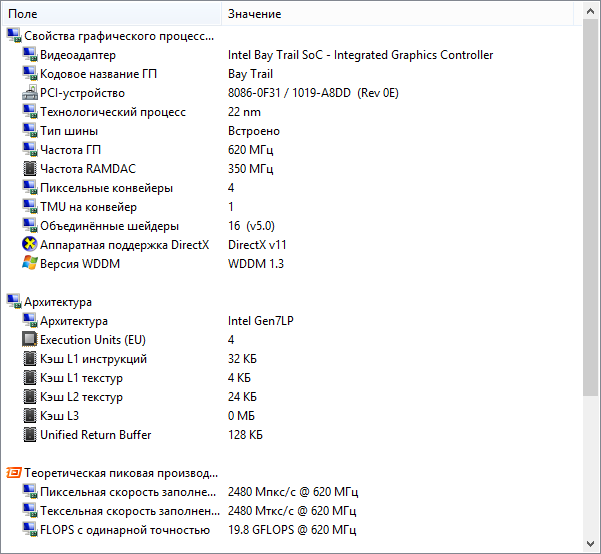 Integrated graphics core Intel HD Graphics operates at frequency of 311 MHz in the nominal mode and accelerates up to 792 MHz in the dynamic. There is support for two simultaneous displays and two useful technologies: Intel Quick Sync Video and Intel Wireless Display. The first is responsible for the rapid conversion of video, online broadcast and its processing. The second allows you to use a wireless network to broadcast multimedia content.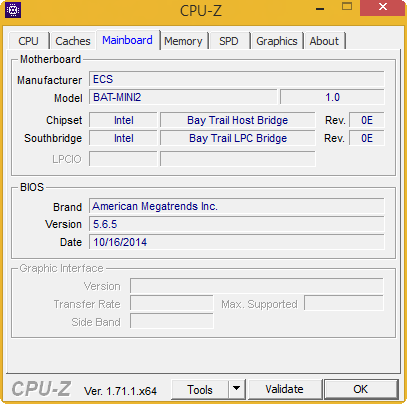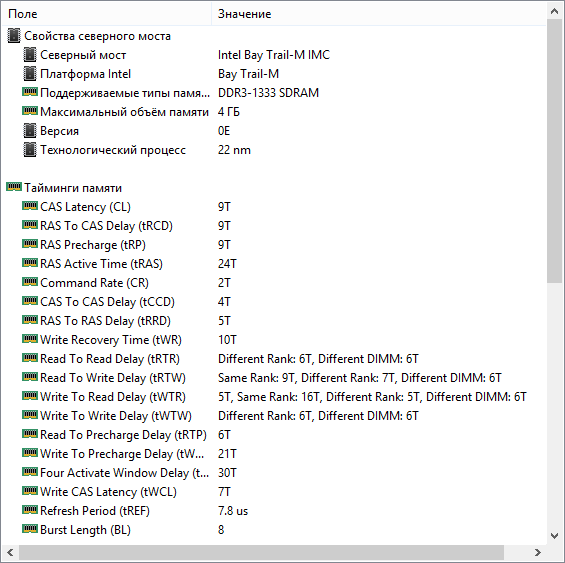 There is a motherboard of own production «ECS BAT-MINI2».
Package and content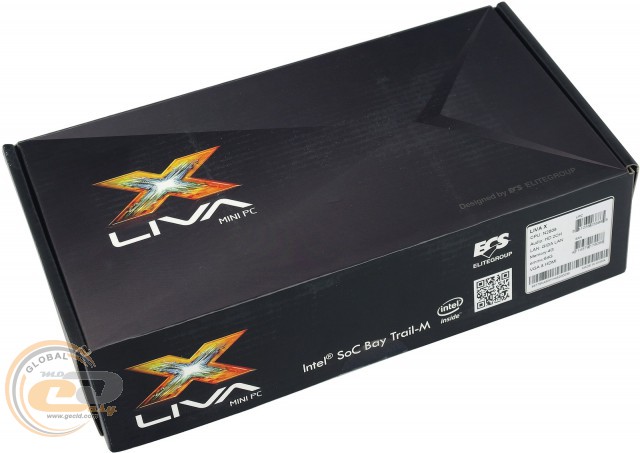 Nettop ECS LIVA X comes in a small black cardboard box. The front side has only a stylized model name and logo of the manufacturer.

The side of the box contains a brief specification of mini-PC. You can see that we have tested a more productive model, but there are version with lower level of RAM (2 GB) and built (32 GB) memory.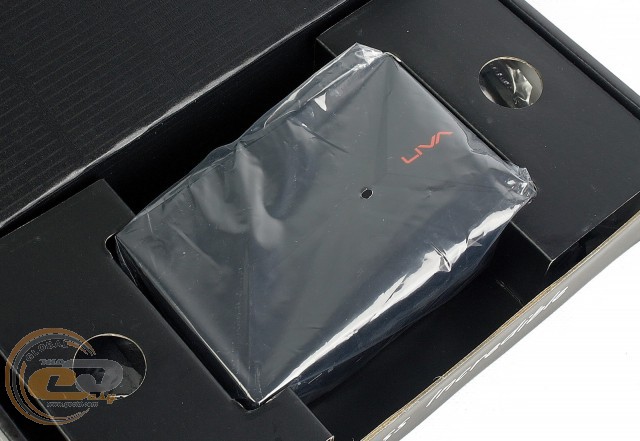 Inside the package the device securely in place by a cardboard shape that is designed to protect it against damage during transportation and storage of accessories.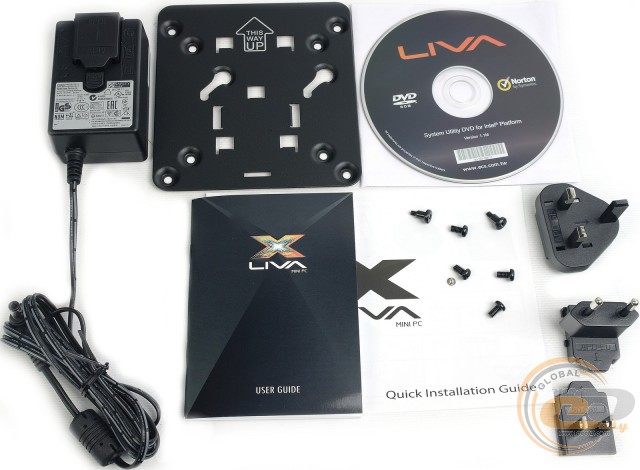 Supplied set of ECS LIVA X includes:
power supply;
VESA mount and screw kit;
CD with software and drivers;
plug sockets for different types;
User's Guide.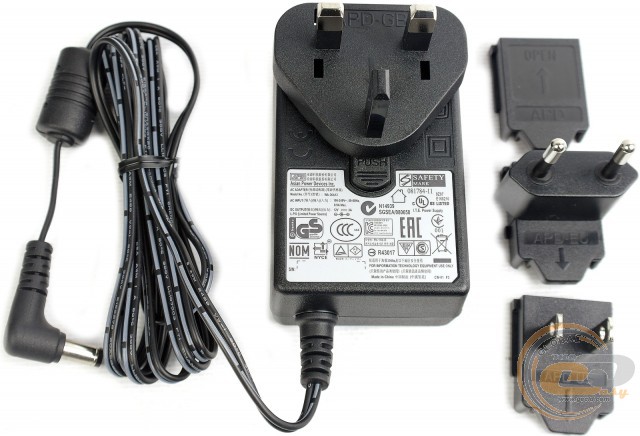 Power supply is universal and can be used in many countries by connecting the corresponding plug. It is produced by APD company and has an output power of 36 W at a voltage of 12 V and a current of 3 A.
Design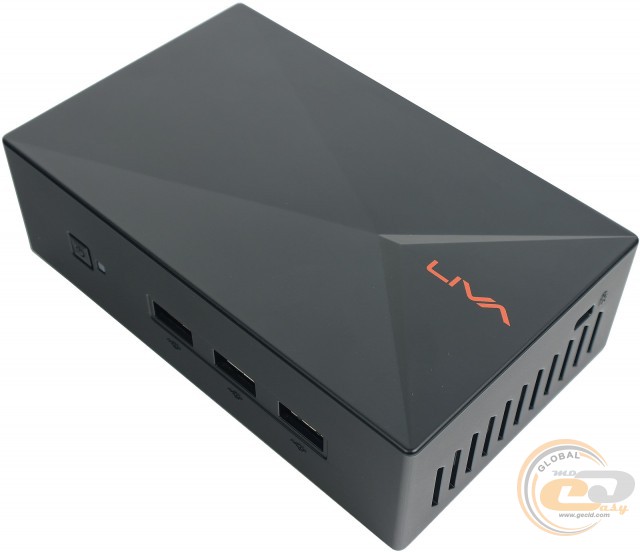 Mini-PC has a compact housing with dimensions of 135 x 83 x 40 mm. The top cover has an original shape with asymmetrical edges and a matte finish, and also contains a series of stylized logo ECS LIVA.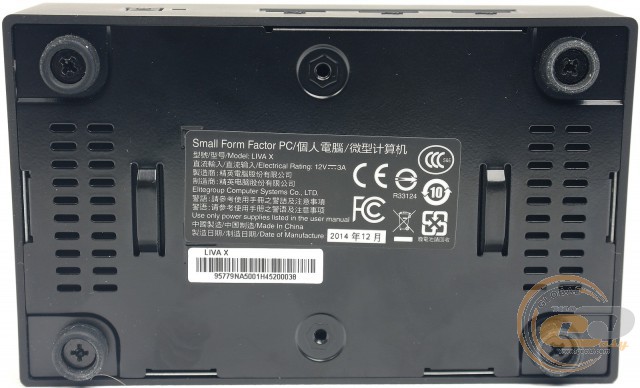 The bottom cover is secured by four non-removable screws, which are presented as legs. There is a label that indicates the country and date of manufacturing. The central part has two holes of complete mounting VESA. Thanks to it, nettop can be placed on the back of the monitor or on the wall.

The front side of the new item contains power button with LED indicator, two USB 2.0 ports and one USB 3.0 connector.

The opposite side is occupied by the power connector, HDMI connector and RJ45, combined audio jack for headphones and microphone, as well as video output D-Sub.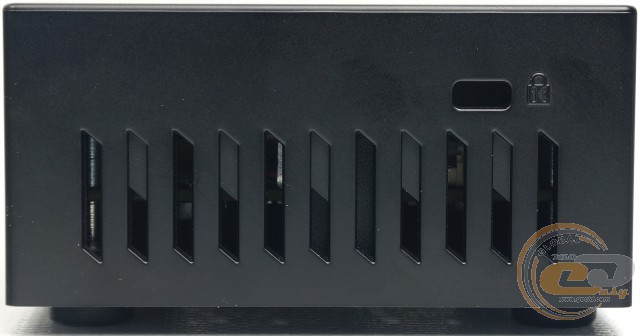 One of the side faces has a lock Kensington and ventilation grille.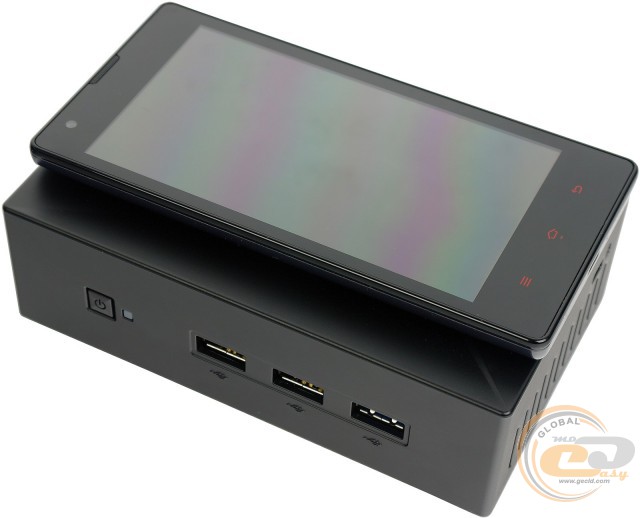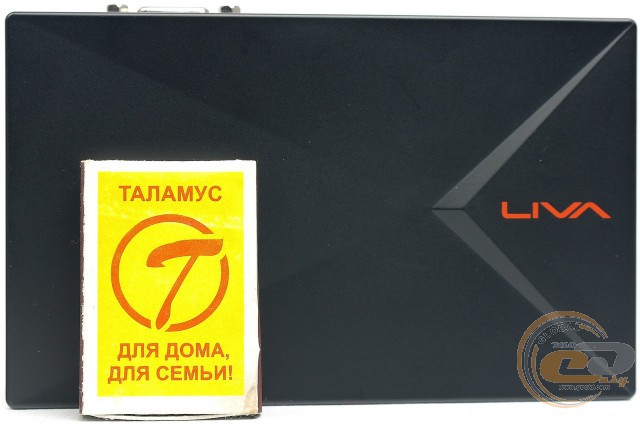 The above photos provide the ability to learn the small size of ECS LIVA X. And you won't have problems with placements on the desktop or near the TV in the living room.
Inside composition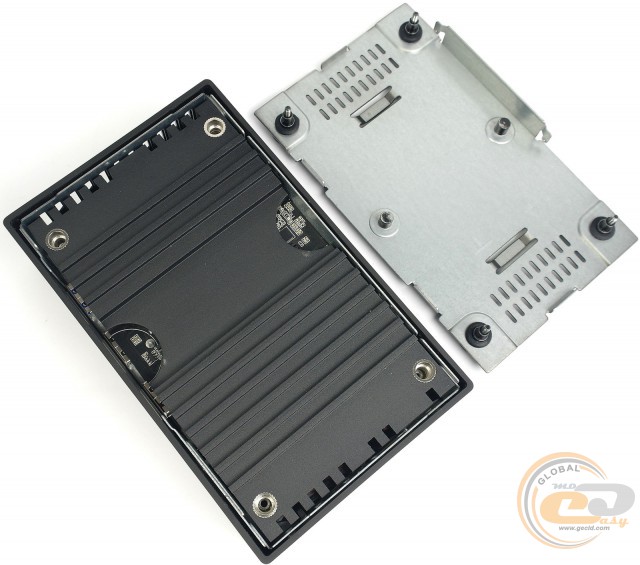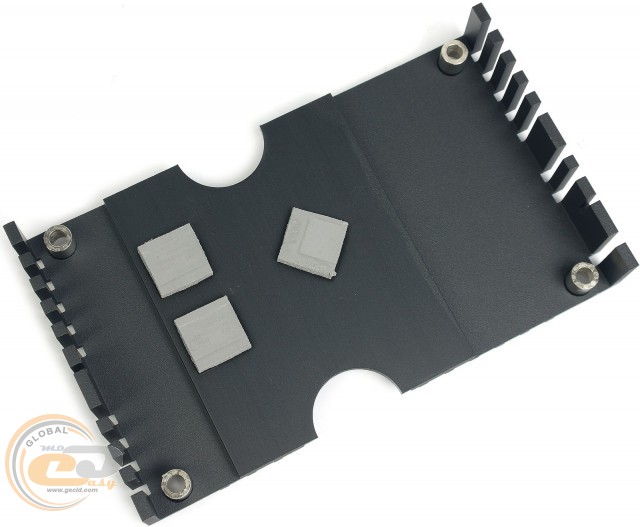 After removing the protective cover, you can find a large aluminum radiator, which occupies the entire space of the case. It is in contact with the CPU and memory chips through special thermal pads.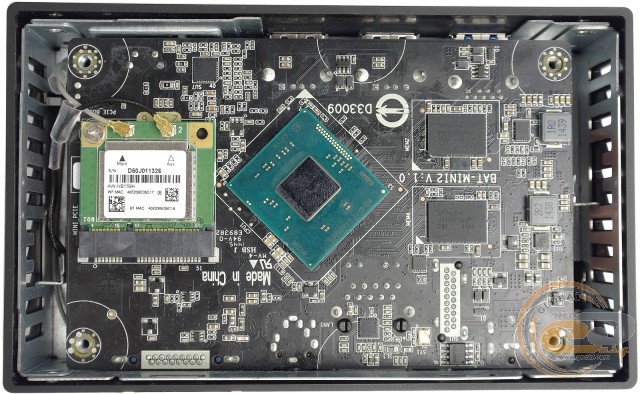 The front side of the motherboard accommodates two RAM chips, processor and a removable combined wireless module Wi-Fi + Bluetooth.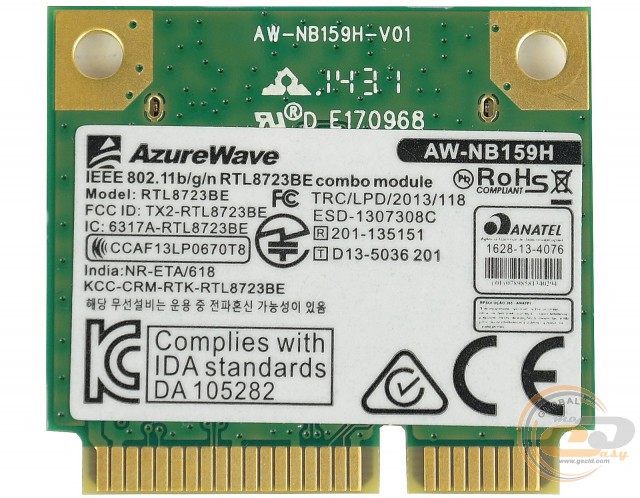 In this case the controller is presented by chip Realtek RTL8723BE that supports the standard 802.11 b/g/n Wi-Fi and Bluetooth 4.0.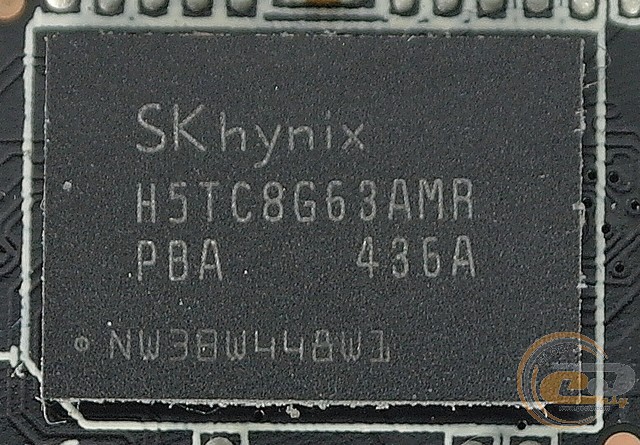 RAM is taken from four chips DDR3L SK Hynix H5TC8G63AMR with total volume of 4 GB.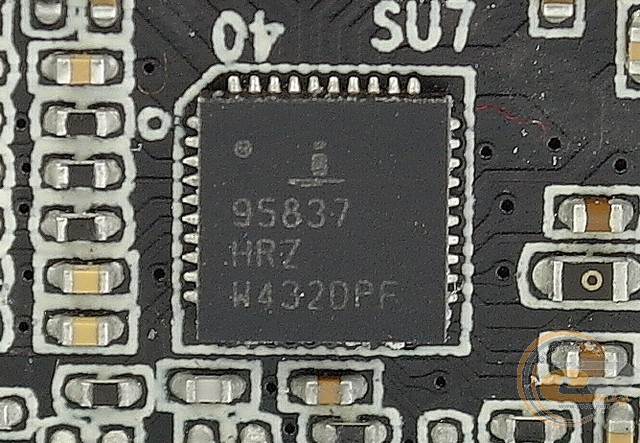 The power subsystem of the processor is running under the controller Intersil ISL95837. It supports independent control by up to three phases.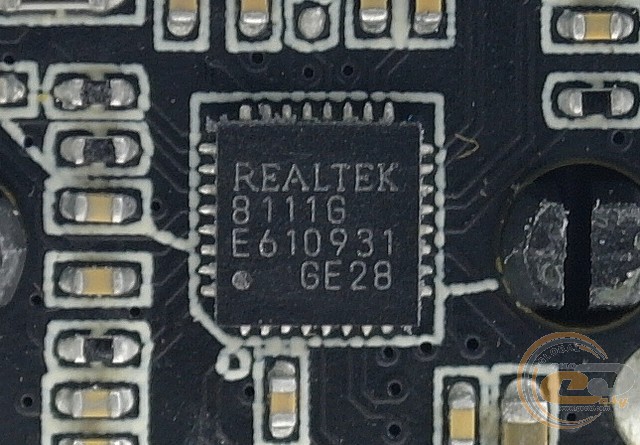 Network connections are provided by Gigabit LAN-controller Realtek RTL8111G.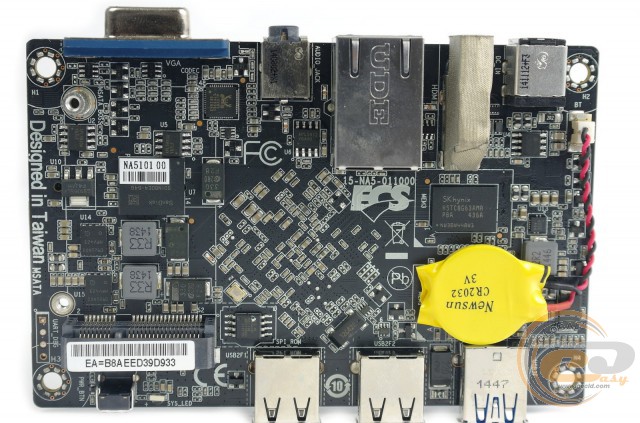 The back side of the motherboard has additionally placed eMMC-drive, slot mSATA for SSD-drive and a number of controllers. There is a qualitative curcuitry, consisting of ferrite chokes and tantalum-polymer capacitors.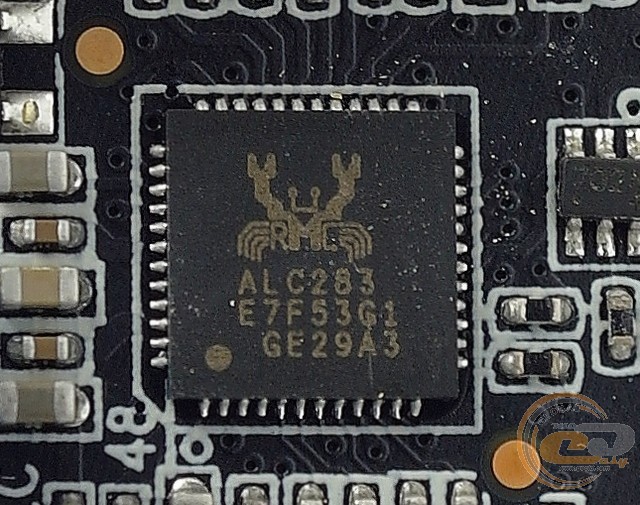 The audio subsystem of ECS LIVA X is based on audio codec Realtek ALC283. In order to output audio here is a combined headphone and microphone jack. But don't forget that the HDMI interface can be used for the simultaneous transmission of video and multi-channel audio.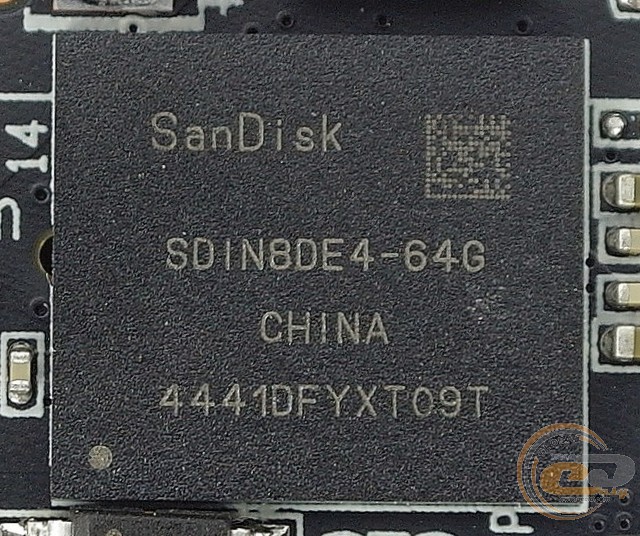 eMMC-drive SanDisk SDIN8DE4-64G with capacity of 64 GB is soldered on the PCB. According to the marking it is made in China.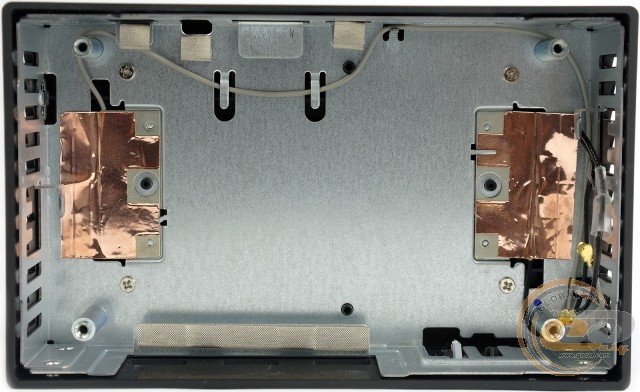 At the top of the inside part of the body there is Wi-Fi/Bluetooth antenna. It is not recommended to cover case by materials that can cause interference in order to keep high signal quality.
Социальные комментарии Cackle