Speaker Edifier E25 Luna Eclipse: review and testing
Edifier speakers are often characterized by the usual forms and classic design. Rectangular MDF case does not provide fastidious look, but combined with high-quality speakers, amplifier and a part of the competent internal content (struts, padding polyester, etc.) provide a good sound.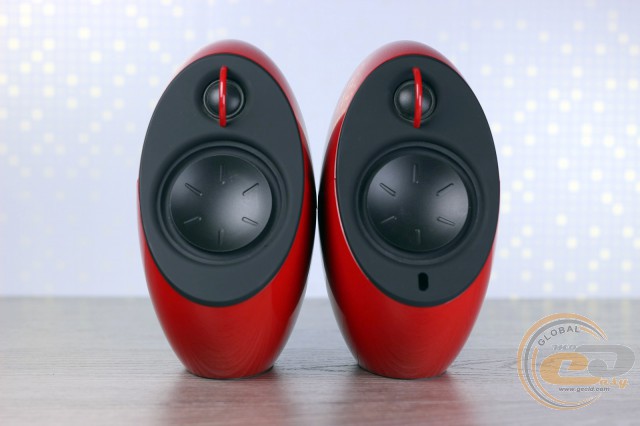 In this review, we are going to test stereo speaker Edifier E25 Luna Eclipse, which will become a recreation for interior designers, forced to put up with the dominance of "monotonous boring boxes" in the flats. The speaker of the original shape and unusual design are painted in red, which makes them memorable. And now let's learn how they were reflected in the sound.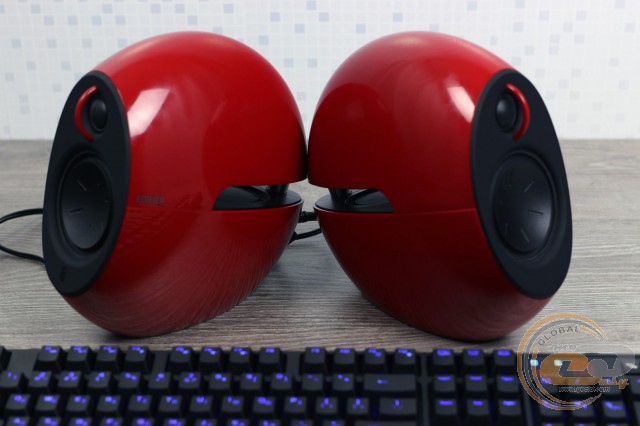 The specs:
Model name

Edifier E25 Luna Eclipse

Speaker type

Two-band stereo speaker with two passive radiators

Speaker section and impedance

HF-speaker

19 mm / 6 Оhm

LF/MF-speaker

3 in / 6 Оhm

Secondary radiator

3 in

Frequency range

50 – 20 000 Hz

Total specified output capacity

74 W (15 W x 2 (tweeters) + 22 W x 2 (LF-speakers))

Harmonic distortion and noise

Up to 10%

Signal/noise ratio

≥85 dBA

input sensitivity

600 mV ± 50 mV

Connecting of signal sources

3,5-mm jack, Bluetooth

Delivery set

Power adapter and connection cable, cable 3.5mm jack and cable for connection of the speakers, remote control

Dimensions

122 x 212 x 222 mm

Weight

3,6 kg

Producer website
Package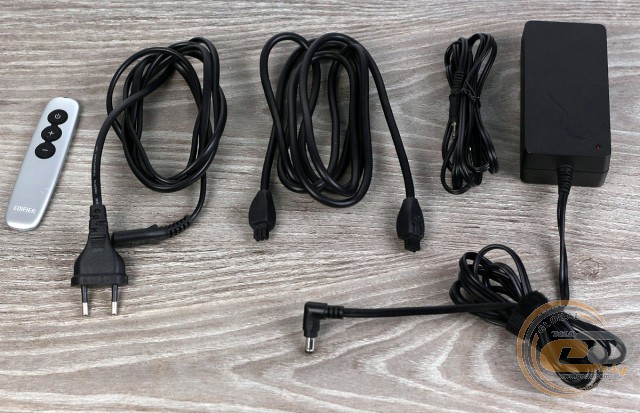 Package Edifier E25 Luna Eclipse includes an external power adapter with a detachable power cable, remote controller, a cable for connecting the speakers to the active and passive speaker, cable 3.5mm jack↔3,5-mm jack.
The remote controller is very small and perfectly fits the hand due to its streamlined shape. The buttons are pressed with a little effort and with a clear fixation. Silver remote looks spectacular, but it not too good combines with the red speakers. The device is powered by a single cell CR2025.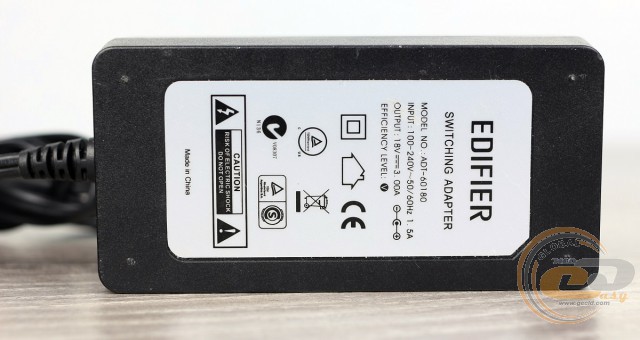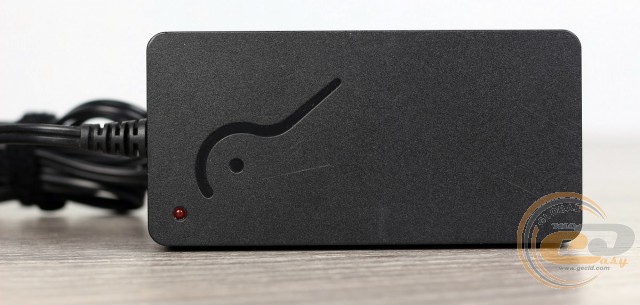 External power adapter operates in a wide input voltage range (100-240 V). Its output parameters are 18 V and 3 A. That is the maximum output power is 54 W or 27 W to each speaker. For Edifier E25 Luna Eclipse manufacturer specifies a power for each satellite: 15 W for the tweeter and 22 W for the MF/LF parts. The capacity of HF speaker is much less of the specified value.
Design and structure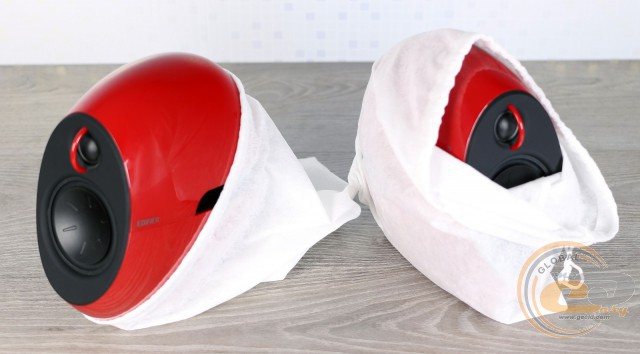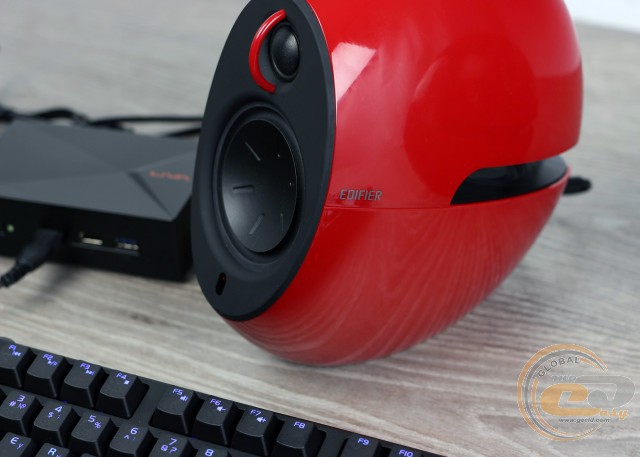 The model looks impressive due to its unusual shape and location of the speakers. Visual associations are different: from a motorcycle helmet to the turret of novels Portal or the futuristic drone from the movie Oblivion with Tom Cruise. Oval, elongated speakers with deep notch in the rear part for two passive speakers attract by an aggressive color and gloss trim.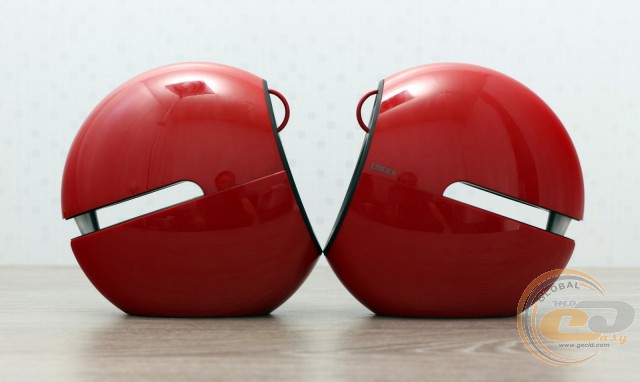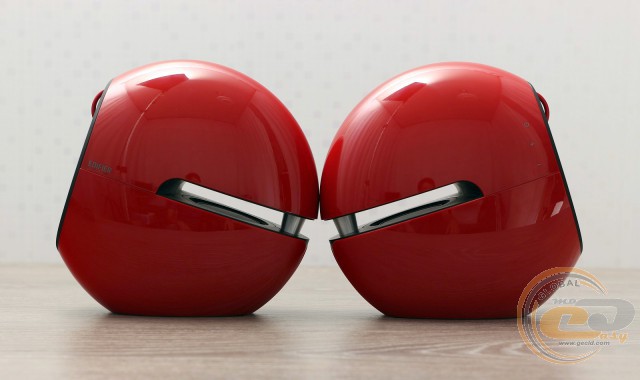 On the front face of the speakers you can find a tweeter and woofer. Under it the active speaker contains the signals receiver from the remote control. Protective mesh s absent, so the speakers should be handled carefully. Engineers have placed the touch controls on the left side of the active speaker: they can be used to adjust the volume and turn off the power.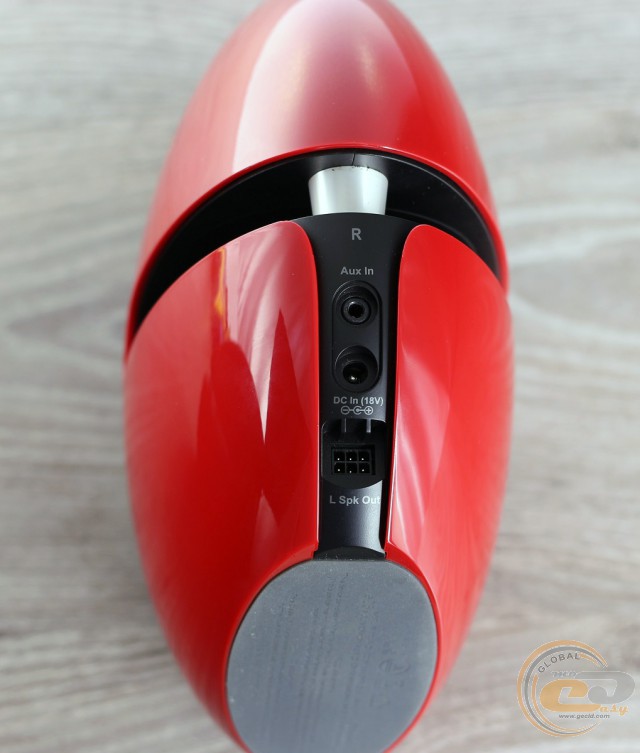 The back of each satellite has a side designation (left and right) and a connector for connecting active speakers with passive one. The active speaker has a 3.5 mm input jack and a connector for the power adapter.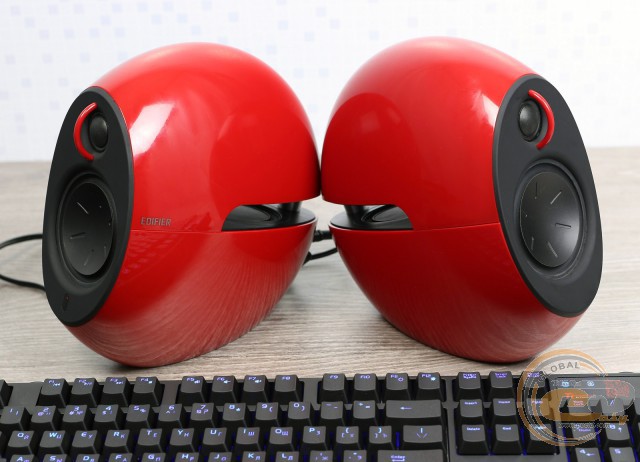 Speakers Edifier E25 Luna Eclipse doesn't have phase inverter. To extend the low-frequency range a special recess has two three-inch passive radiators, working in tandem with the main three-inch LF/MF speaker.

The lower part of each speaker is completely covered with a porous rubberized material that eliminates slippage on the table.
Социальные комментарии Cackle