Edifier Studio R2000DB Multimedia Speaker: review and testing
The range of speakers Edifier contains a variety of solutions: starting from miniature plastic speakers for auding of workplace up to multi-channel stereo kits that come very close to the top mark of the segment "multimedia speakers."
But there are exceptions that could to overcome the attraction of its multimedia cradle and enter the segment of the entry level Hi-Fi-systems. These exceptions include a model Edifier S2000, which for many years leads the lineup of stereo kits of this manufacturer.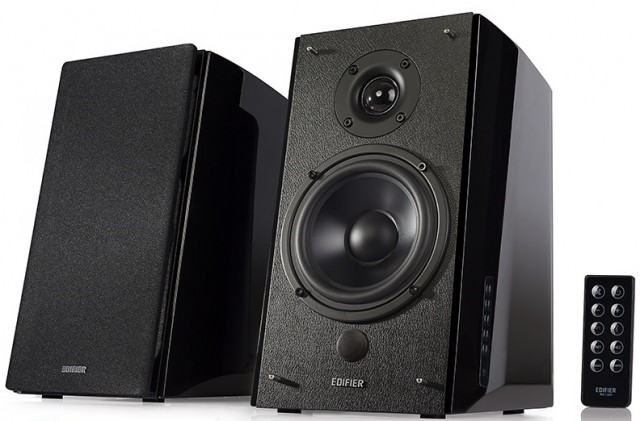 It is important to note at the end of last year Edifier announced Edifier Studio R2000DB, aimed at the upper multimedia segment. It is not a direct replacement for Edifier S2000 and is significantly cheaper. In addition, the novelty has lost an external amplifier, but has got Bluetooth and more powerful digital amplifiers for each speaker, which is consistent with the spirit of modernity. In this review we will look and listen to it, and will share our experiences with you.
The specs:
Model

Edifier Studio R2000DB

Type

2-way 2.0 speaker with rear location of the phase inverter

The frequency range at unevenness of +/- 3 dB, Hz

50 − 20000

Output capacity RMS, W

HF

2 x 24

MF-LF

2 x 36

Distortion, %

<0,5

Separation between the channels, dB

>45

Signal/noise ration, dBA

>85

Amplifier type

Digital, D class

Speakers diameter

HF, mm

25

MF-LF (including collar), mm

132

Connections

Optical S/PDIF, 2 x stereo-RCA, IR receiver for the remote control, Bluetooth receiver

Dimensions, mm

Active speaker

174 х 289 х 252

Passive speaker

174 х 289 х 238

Cable length, cm

For speakers connection

292

3,5-mm jack ↔ 2 RCA

160

2 RCA ↔ 2 RCA

160

optical S/PDIF

145

Network cable

160

Kit total weight, kg

9,72

Producer website
Package and content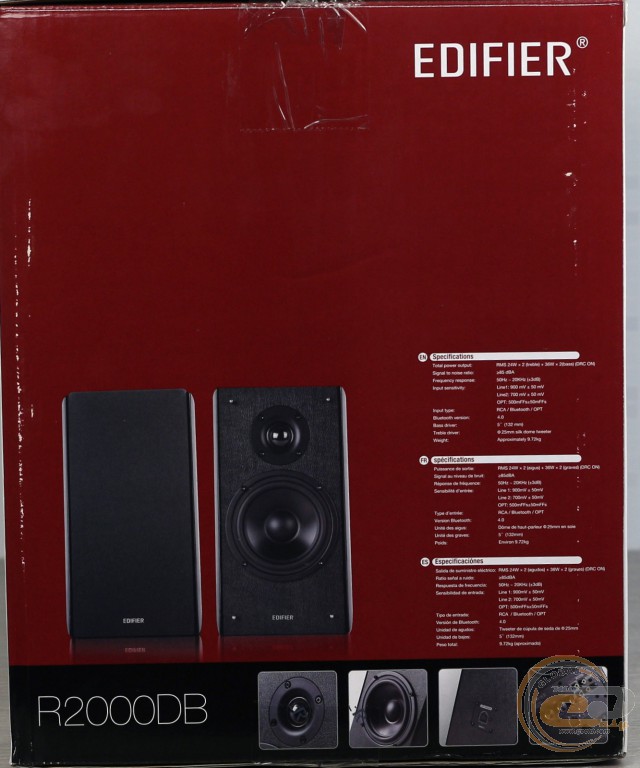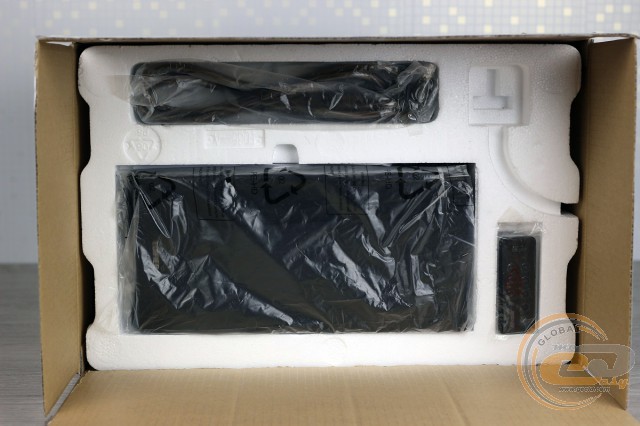 Package of the models Edifier Studio R2000DB is quite large and has a qualitative printing. Even without opening the box you can learn about the characteristics and features of the system and speakers are securely fixed within foam forms.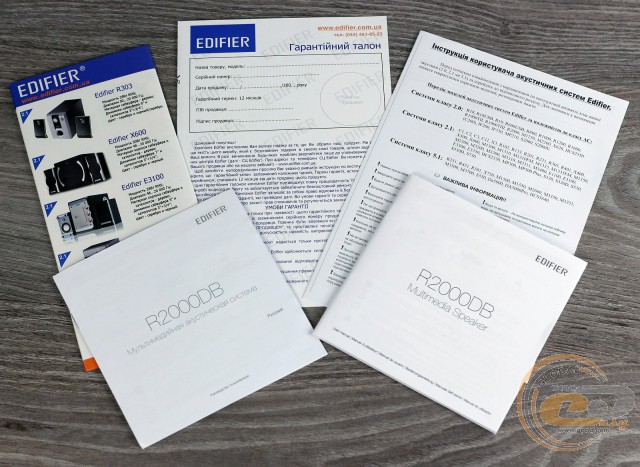 The manufacturer has added the set of Edifier Studio R2000DB by extensive list of paper documentation: user manual in Russian and English languages, operating rules, the warranty card and a brochure with a list of other models of speaker system.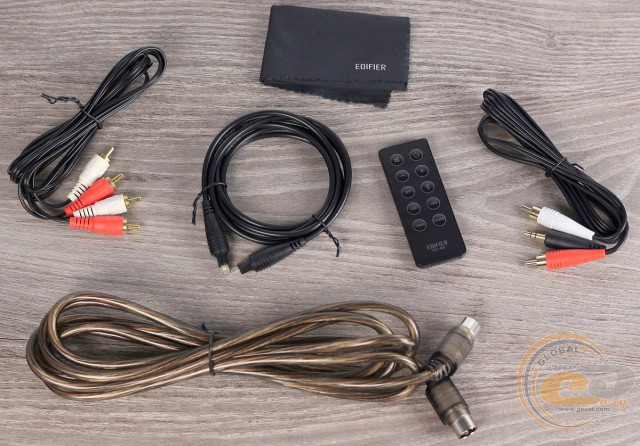 Cable items include everything you need: a cable 2 RCA ↔ 2 RCA, one 3.5 mm jack ↔ 2 RCA, optical S/PDIF-cable and cable to connect active and passive speakers. The kit also contains remote controller and even a microfiber cloth with the logo Edifier.
Design and structure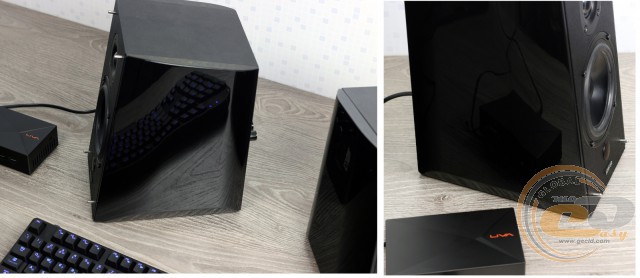 Stereo speakers Edifier Studio R2000DB looks restrained, but quite presentable. The sidewalls are covered with several layers of lacquer to achieve a mirror effect, and body panels have mimic leather texture on its surface. The application of glossy lacquer is a spectacular move, but on the desktop the novelty will collect only to collect fingerprints, but also scratches and foreign objects. A radical solution to the problem is the location of the speakers on stands. By the way, the manufacturer hints this idea calling Edifier Studio R2000DB «bookshelf speaker», rather than «desktop speaker».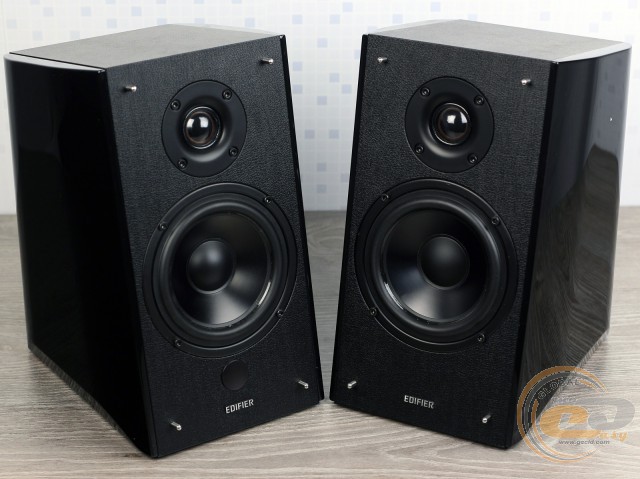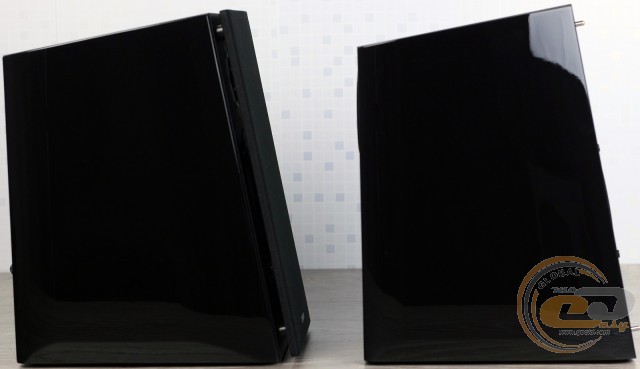 The front panel is skewed, which improves orientation of the speaker to the listener and optimizes the sound waves reflected from the walls of the room.
Audio system Edifier Studio R2000DB uses two-way design. The high-frequency segment is provided tweeter with silk dome and 25 mm cross section and the rest of the frequency range is provided by LF-speaker with section of 132 mm. Its cone is made of aluminum, with improved heat removal (important for high power) and high mechanical strength. Certainly, some users have a situation when a pet pets climbing on homemade speakers had pressed an expensive cellulose cap of the speakers. So for this model the Edifier engineers took into account the requirements of cats and their owners. Under the woofer of the active speaker we found IR receiver of remote control. Note pretty metal fittings for protective grid.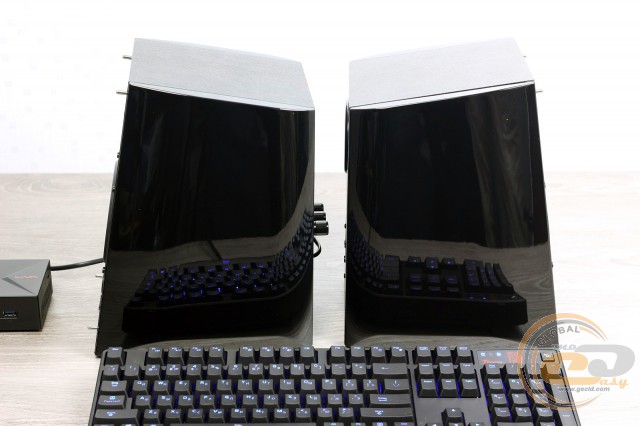 The side walls do not carry any useful items, but have an important aesthetic role.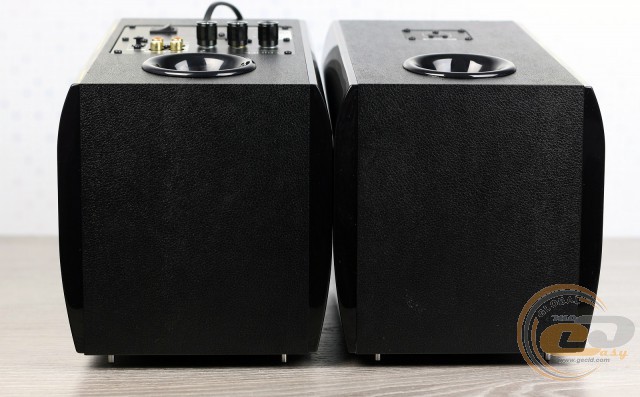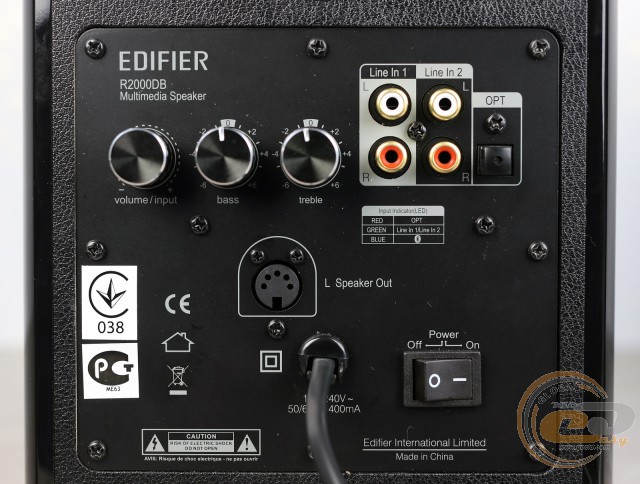 All controls and connectors are located on the rear panel of the active speaker. They include controls of volume, medium and high frequencies, toggle switching, two inputs 2 RCA, one optical S/PDIF output and a passive speaker. Phase inverter is also on the back panel, so it is not recommended to put speakers close to the wall.

The base of the body contains only four legs, lifting the product above the table.
Edifier Studio R2000DB case is made of fiberboard. Inside we found a small amount of padding polyester, reducing the probability of standing waves and enhancing the acoustic volume.
Tweeter and subwoofer are equipped with sealing rings, preventing parasitic air movement. The woofer basket is stamped; magnetic system looks quite large in comparison with the overall size of the speaker.
The circuitry includes an eight-channel digital audio PWM processor TI TAS5508C, receiver S/PDIF PCM9211 and 4-channel multiplexer/demultiplexer ST HCF4052. Amplifying part is based on the chip TI TAS5342 with output power up to 100 W per channel at 4 Ohm load. Heat is removed by rather large heatsink. Electrolytic capacitors close to much-heated elements are designed for temperatures up to +105°C.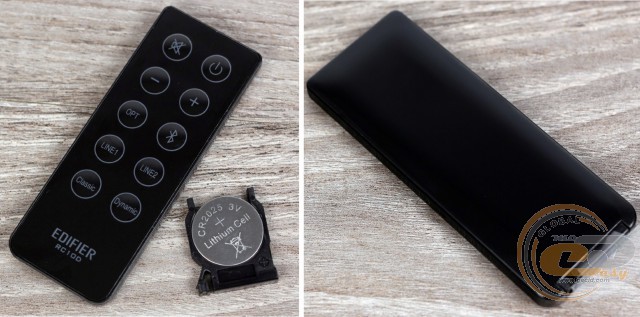 Remote controller of the model Edifier Studio R2000DB is familiar to previous speakers of the manufacturer. It duplicates all the controls placed on the active speaker. In addition, there are two sound profiles: "Classic" and "Dynamic".
Социальные комментарии Cackle