2.0 speaker system SPEEDLINK IMPACT (SL-8144-BK-01): review and testing
Not all owners of a PC or other devices capable of reproducing an acoustic signal require a powerful and expensive Hi-Fi-sound system. In many cases, even the price doesn't play important role. For example, the office systems use the integrated speakers into monitor for audio output. Or subjective comfortable sound of individual user does not imply joint listening music all the house.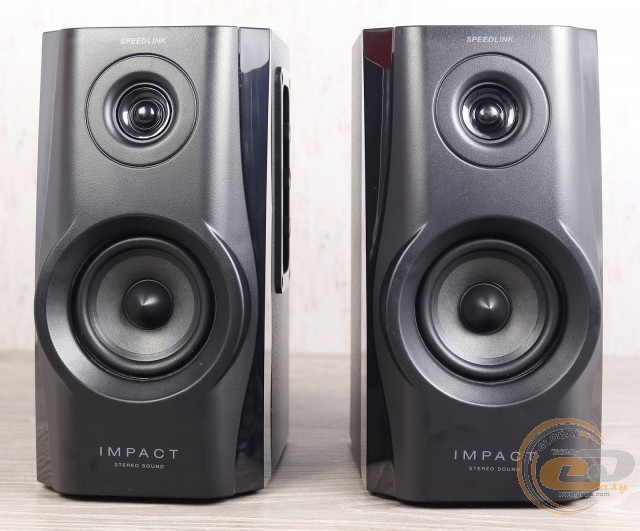 In this case, budget option will be sufficient. One of the representatives of this class among the speakers will be discussed in this review. So, 2.0 speaker system SPEEDLINK IMPACT (SL-8144-BK-01).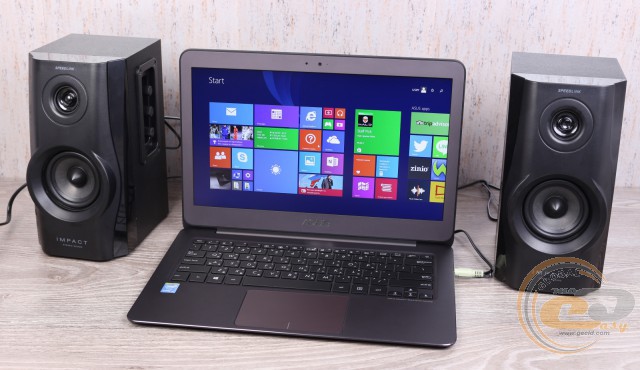 The specs:
Producer and model

SPEEDLINK IMPACT (SL-8144-BK-01)

Type

Stationary

Speaker system

2.0

Material

Wood (MDF)

Total input capacity (RMS), W

6 (2 х 3)

Interface

3,5 мм mini-jack

Frequency range, Hz

80 – 18 000

Speaker diameter, in

HF

1,2

LF

3

Speaker impedance, Ohm

4

Feature

Three controllers for volume, bass and timbre

Control

low frequencies and timbre

Packaging

Flexible cable Cinch/RCA between speakers

Audio cable with length 1,92 m

Satellite dimensions, mm

118 x 148 x 225

Weight, kg

2,5

Producer website

Product page
Package and content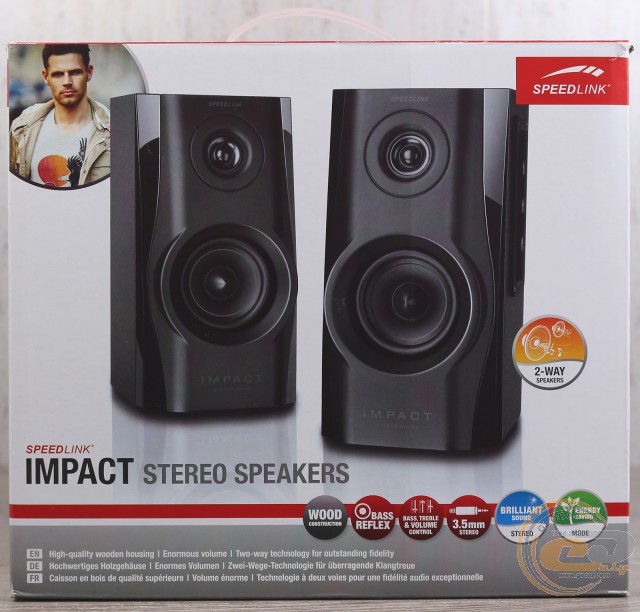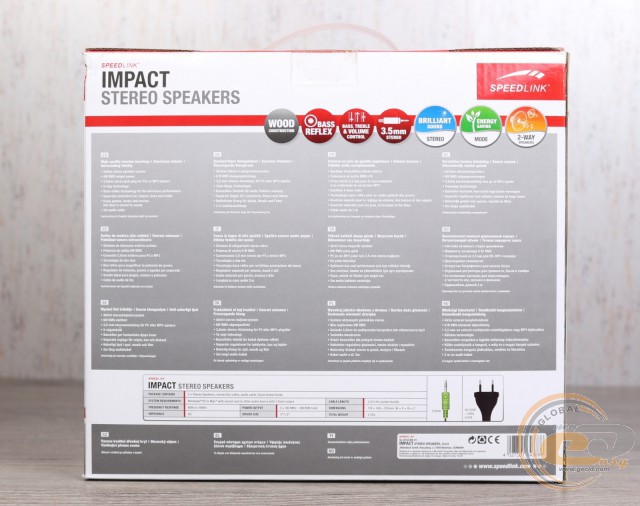 SPEEDLINK IMPACT model comes in a colorful cardboard box with a convenient carrying handle. Box is decorated in red and white colors, with a large picture of the speaker on the front part. Also there is an information about the main characteristics of the device:
presence of holes bass reflex for active bass;
compatibility with all devices with a 3.5mm audio jack;
use of separate controls for volume control, bass and timbre;
use of two-way sound technology (2-Way Technology), which improves the accuracy of sound reproduction.
On the reverse side you can find a description of the key advantages of the tested model and the table as its characteristics.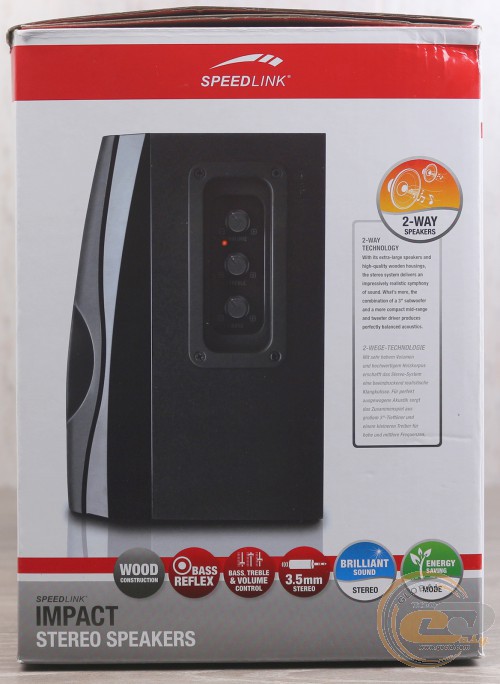 On the side of a short text reveals the principle of technology 2-Way Technology. In short, it is a special combination of three-inch woofer, a wooden hull and reduced midrange. As conceived by the manufacturer, this technology is to provide a more realistic and balanced sound.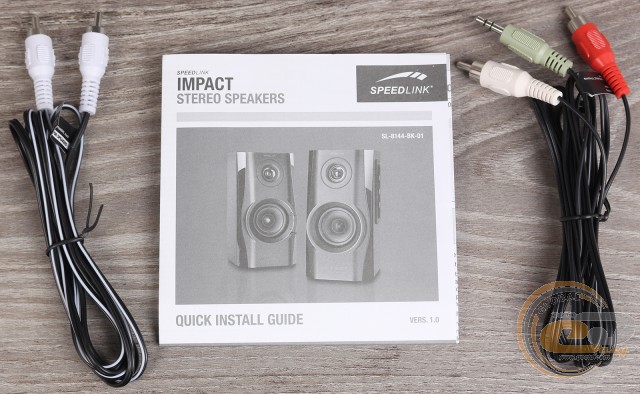 Complete set of SPEEDLINK IMPACT contains user manual and two cables to connect the audio cable to the audio source (1.92 m) flexible cable Cinch/RCA (1.48 m) for communication between speakers. The length of the cord is 1.8 m.
Design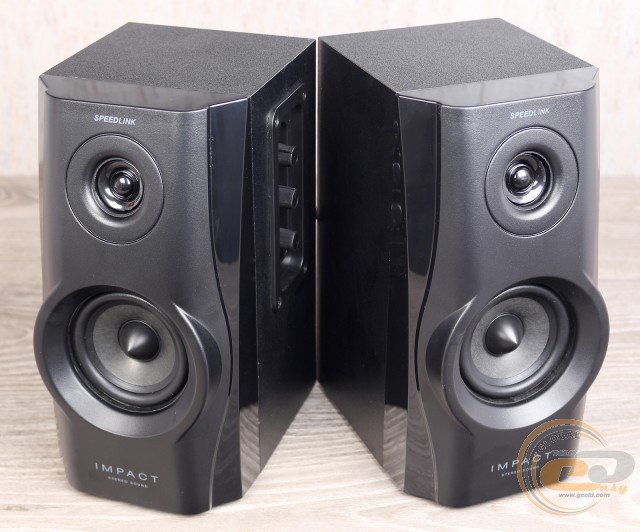 Speakers SPEEDLINK IMPACT (SL-8144-BK-01) is quite extended along the vertical axis and is similar to a kind of narrow towers. This satellite is enough light so that their placement on the work surface should provide problems.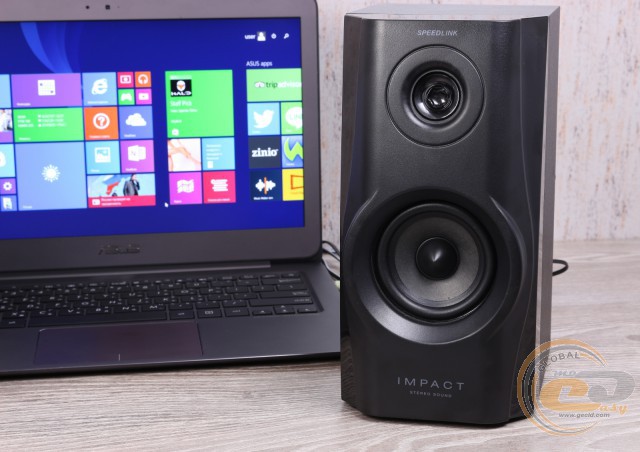 Externally, the system looks quite modern. The corners on the plastic front panel (in contrast to the rest of the body) are concave, which gives the device a more aggressive form. The body of satellites is assembled from MDF, which is good for the consumer as active material is relatively inexpensive, and absorbs vibrations, which beneficially affects the overall sound.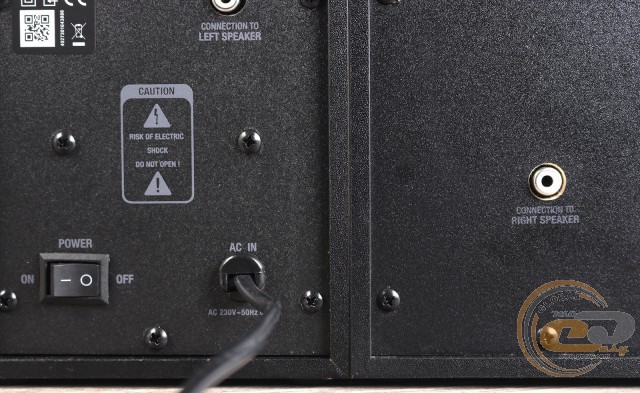 Case of SPEEDLINK IMPACT is carefully plastered with vinyl film: no peeling, no streaks of glue on it are noticeable.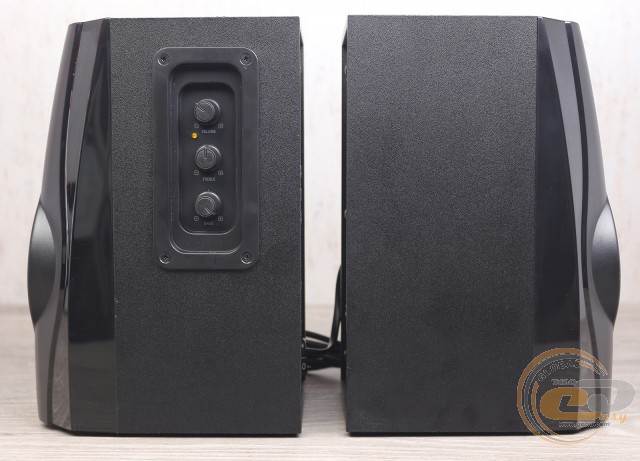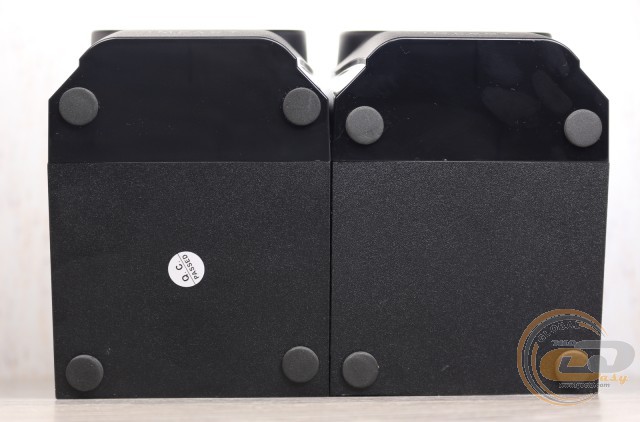 The side wall has three controls: a volume (switch), bass and treble controls. The basis of the speaker has the special legs that accompany a more reliable placement of speakers on the table and do not allow to scratch the surface in case of sharp move.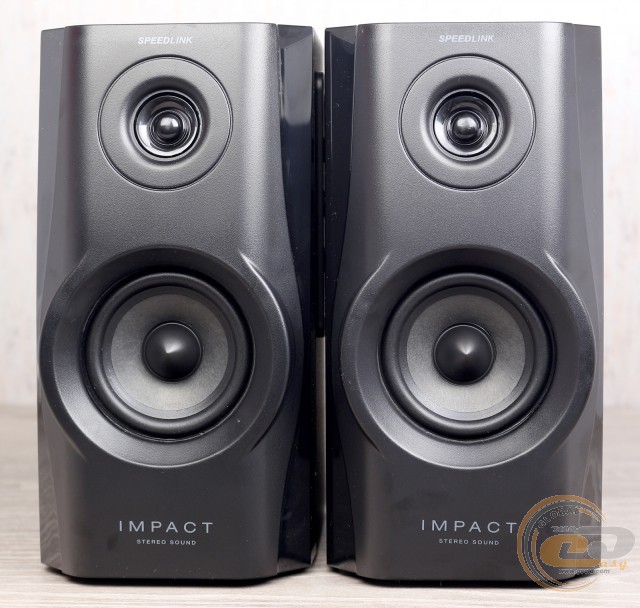 A three-inch speaker in the bottom of the front panel is responsible for the reproduction of medium and low frequencies, and the top inch speaker is a tweeter. Both diffusers have a concave form and do not have any means of protection against mechanical damage.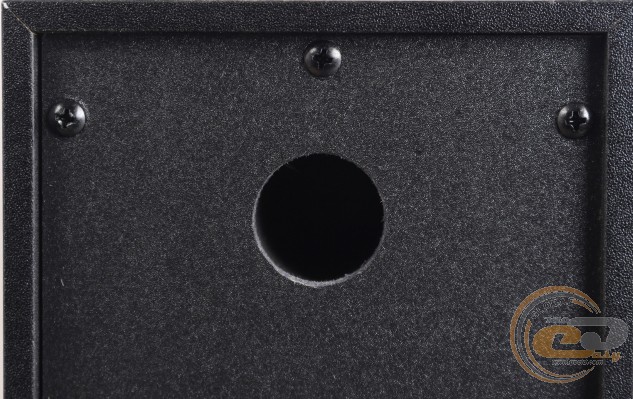 The back of the SPEEDLINK IMPACT (SL-8144-BK-01) has a phase inverter in the form of round pipes. The pipe is made of pressed paper. Such a solution is typical for the more expensive models, since it is difficult to implement, but is good for transmission of low frequencies. In such an arrangement is not suitable to lean satellites against the wall in order to avoid audible distortion.
Internal layout is organized on a decent level. The transformer is mounted on the rear of the active satellite. Input voltage is 230 V at 50 Hz; output is 9 with a current of 1 A.
Социальные комментарии Cackle