Functionality of ASUS networking equipment
First of all let's remember what is "networking equipment" and its purpose. Of course, many are familiar with the materiel, but anyway it is useful to refresh knowledge.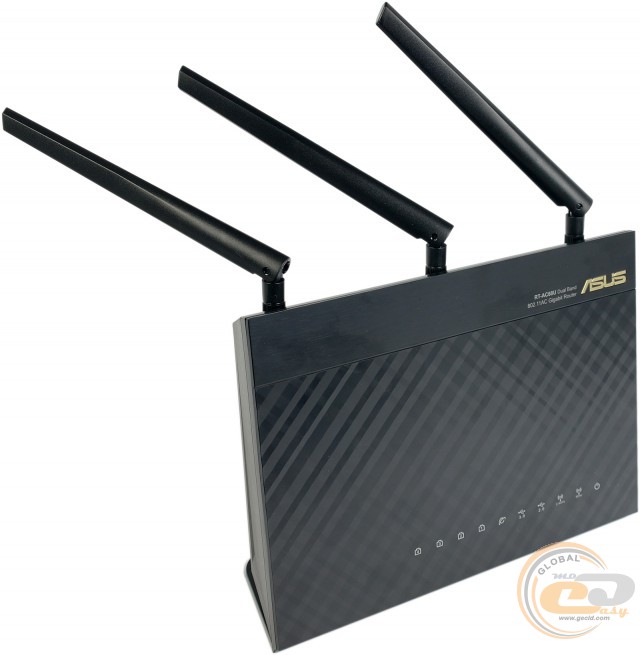 So the networking equipment is divided into active and passive, and the second has only the toggle and switches. We are not talking about it in this review but ASUS produces it. Nevertheless, noticeable functionality and controllability is suitable only for the active equipment, which we will analyze.
Networking equipment classification
According to Wikipedia: "... active equipment is the equipment containing circuits are powered from the mains or other sources, and performs the functions of amplification, signal conversion, etc." It refers to the ability to process signals by special algorithms. The package data transfer is realized network. Also each package contains technical information: information about its source, purpose, integrity of information, etc. Active networking equipment not only detects and transmits a signal, but processes the technical information, redirecting and spreading the incoming streams in accordance with embedded algorithms in the memory device. This "smart" feature, along with the mains, is a sign of active equipment. For example, the active equipment includes the following types of devices:
AC adapter is a board installed in computer and provides a connection to the LAN (local area network);
repeater is the unit with 2 ports, designed to replicate the signal in order to increase the length of the network segment;
hub (active hub, multiport repeater) is a device with 4-32 ports, used to group users into the network;
bridge is a device with 2 ports, usually used to connect multiple LAN groups that allows filtering of network traffic, analyzing network MAC-address;
switch is a device with a few (4-32) ports commonly used to combine several working LAN groups (otherwise known as a multiport bridge);
router is used to connect multiple LAN groups and allows filtering of network traffic, analyzing network IP-address;
media converter is a device with 2 ports normally used to convert the data transmission medium (coaxial↔ twisted pair, twisted pair ↔ optical fiber);
network transceiver is a unit with 2 ports normally used to convert the data interface (RS232↔V35, AUI↔UTP).
Note that some experts do not include repeater and hub, as these devices are repeating the signal to increase the distance of connection or topological branching and do not provide its processing. But the controlled hubs are active network equipment, as may have a certain "intellectual aspect."
In general, the most important signs of active network equipment is its ability to control and be controlled from outside.
The review of active networking is quite extensive aspect, so we'll start our approach from the most required by modern equipment allowing to save on GPRS and 3G, connect your favorite tablets and get the most free and fast internet. Today we look at current networking features of Wi-Fi-routers.
Actual devices must be able to function in multiple topologies and communicate over different protocols often not only the latest but also obsolete.
Networking devices of company ASUS not only follow the established standards but introduce new aspects that claim to be widely accepted.
Useful functions and features
Protection ASUS AiProtection uses network monitoring in real-time to detect malware, viruses, or other sources before they reach your computer or connected devices. Database for ASUS AiProtection is provided by Trend Micro. Furthermore, this technology allows to schedule a time when the connected device can have access to the Internet. You can restrict unwanted websites and applications.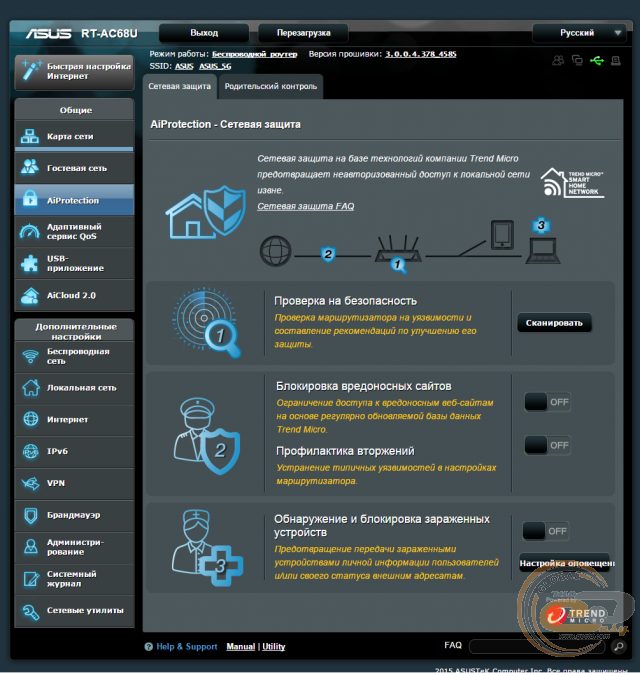 Many users set up their routers for easy login or to allow remote access from the external network. This allows a cracker to gain access to the network equipment, and then to steal confidential information from the client devices. Router protection increases the confidence that it is on the highest level of protection and will avoid the invasion of hackers, even at low levels of security to your network segment.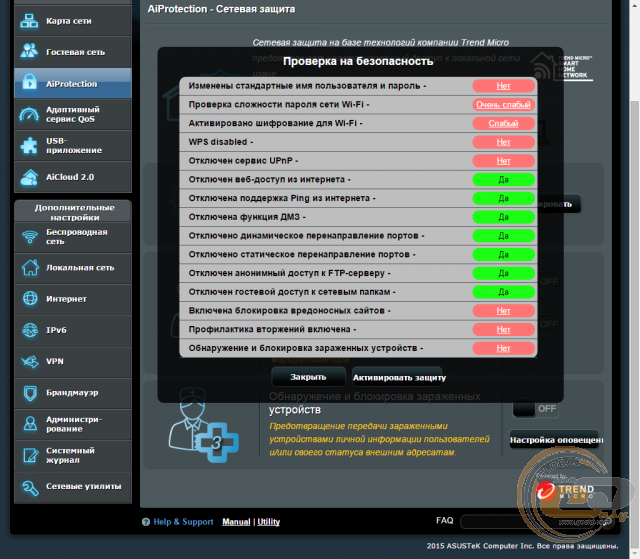 Some malware programs infect the client device during an active connection to the Internet. For example, a user visited a suspicious website and the malware has infected the client device during this connection. Otherwise, invasion or infection of device occurs because of the vulnerability of the software or router. After activating the items "Blocking of malicious sites" and "Intrusion Prevention", you will be able to prevent this situation.
We can control the client device for secure connection to a malicious Web site only by the network device. If the client device had visited less secure network, such as at work or school, it might be connected to a potentially dangerous site. Using the "detection and blocking of infected devices," the owner of the router ASUS will block suspicious connections between the C&C-servers and routers, if the client device is infected and remotely controlled. In this case, the router sends a message to the user to warn him about the remote control of a third person (hacker).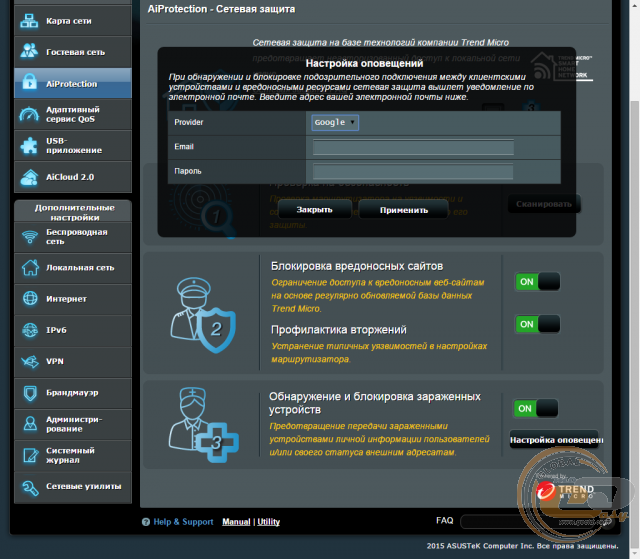 "Parental controls" based on a standard concept that is built into routers ASUS. According to its internal algorithms, the entire content of the Internet is divided into four main categories: "Adult", "Send instant messages», «P2P and file transfer" and "Streaming".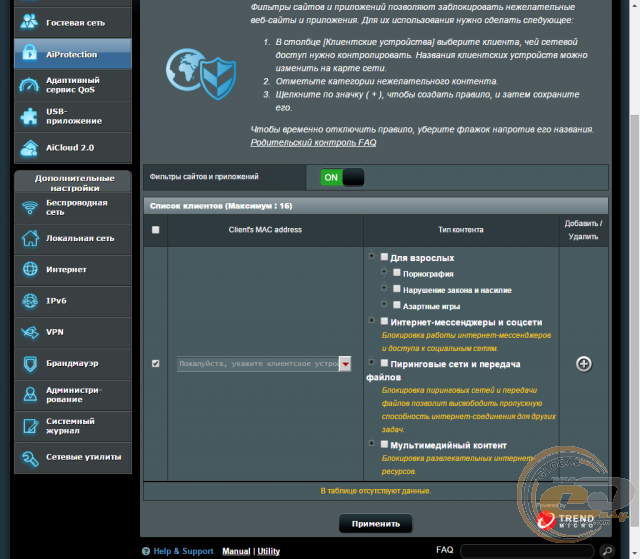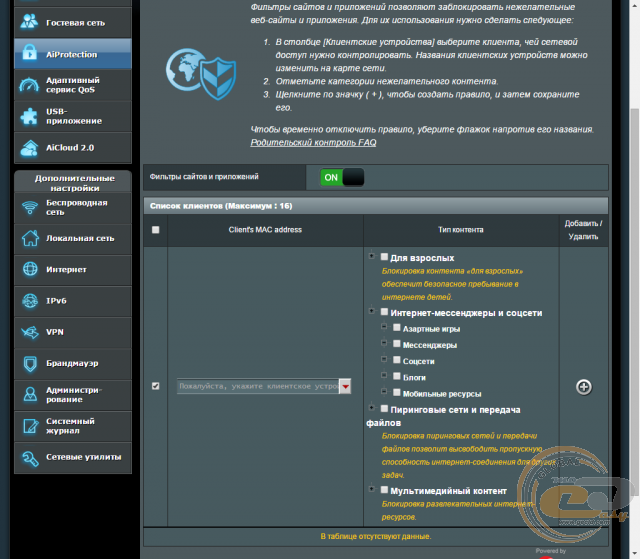 Filters of websites and applications allow the administrator of ASUS router to block access to websites and used applications with the content corresponding to the selected category. When you try to visit these Web resources, the user will see a blocked page.
Scheduling allows you to set the permitted use of the Internet.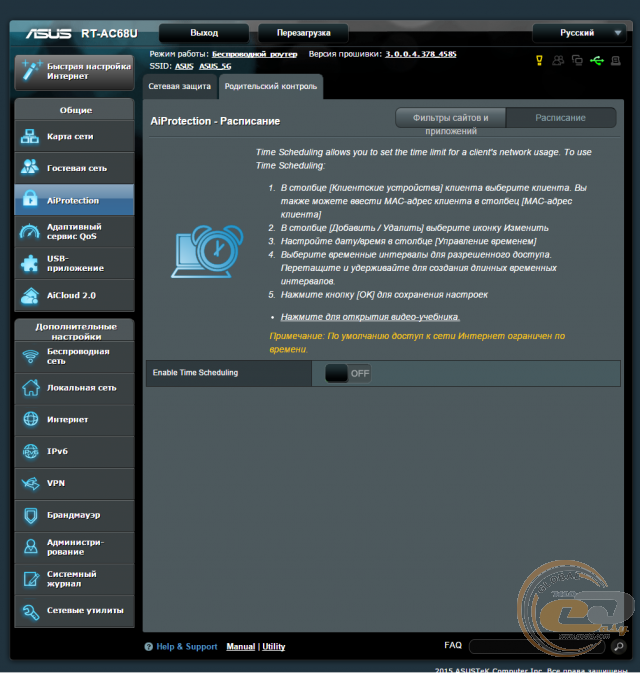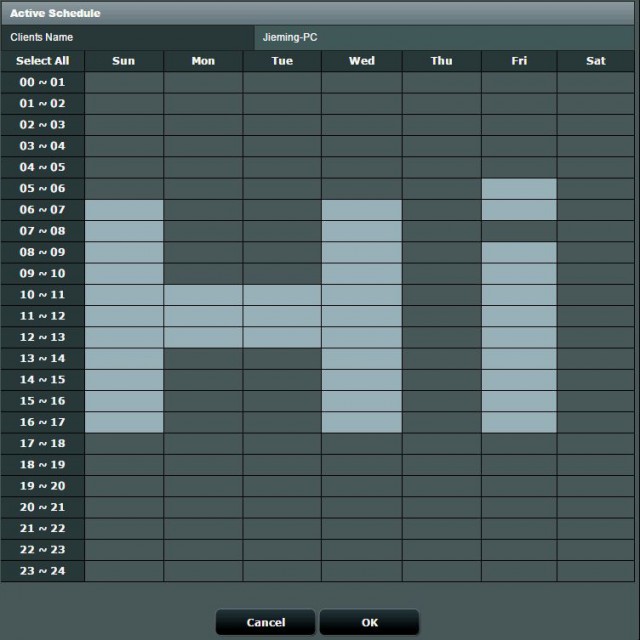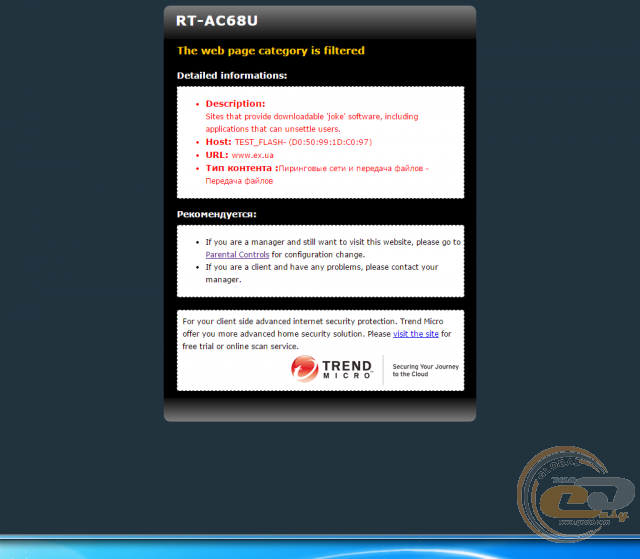 Quality of Service (QoS) regulates the speed of the network connections. According to Wikipedia, this term refers to the probability that communication network corresponds to a given traffic agreement. The Quality of Service (QoS) guarantees a certain type of connection at a certain speed. It is used, for example for audio or video call without interference from loaded channel or for online games.
The highest priority of ASUS routers is set for online games and web surfing that will not depend on the P2P-applications (eg, BitTorrent). To enable QoS open tab «QoS» and move the switch to [ON], then fill in the "Speed of outgoing connection" and "Speed of incoming connections." Accurate information about the connection speed you can get from your provider.
If you want to set the priority for specific applications or devices, use the "User-defined rules of QoS».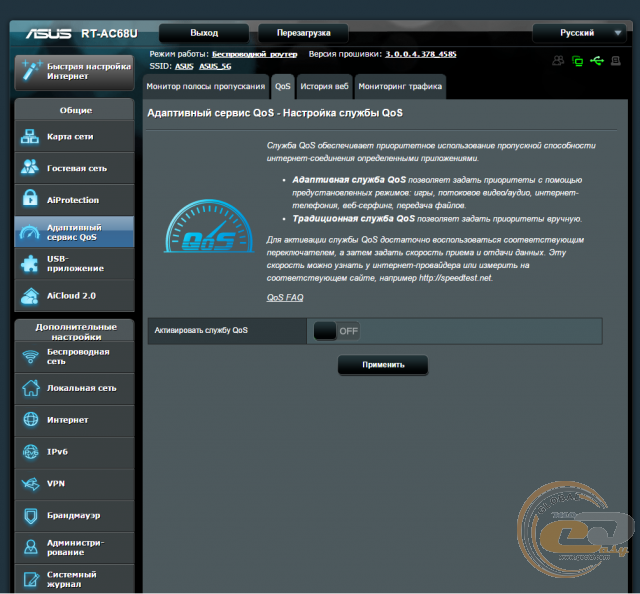 In most cases, the communication quality of controlled QoS is determined by four parameters:
bandwidth describes a nominal bandwidth of medium, and determines the width of the channel. It is measured in bit/s (bps), kbit/s (Kbps), Mbit/s (Mbps), Gbit/s (Gbps).
delay in packet transmission is measured in milliseconds.
fluctuations of delays in the transmission of packets - jitter.
packet loss specifies the number of packets lost in the network during transmission.
As you can see, one of the most important factors is bandwidth. If you do not know it, the ASUS devices have a built-in tester. Speedometer shows the current speed of outgoing and incoming router connection to the Internet, and Monitor of bandwidth shows and allows you to adjust the speed of the connection for each device. Users can manage their gadgets if the total width of the channel is limited.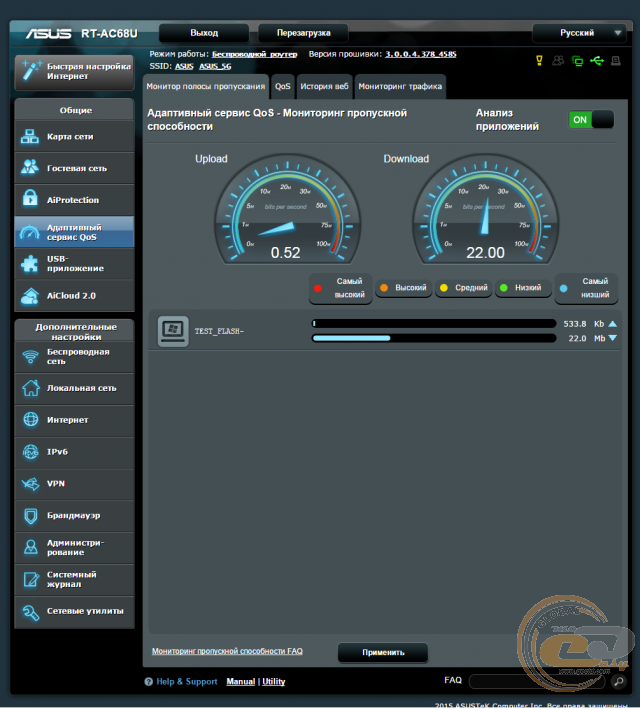 Manual Setting is quite easy: determine the protocols with a top and minimum priority.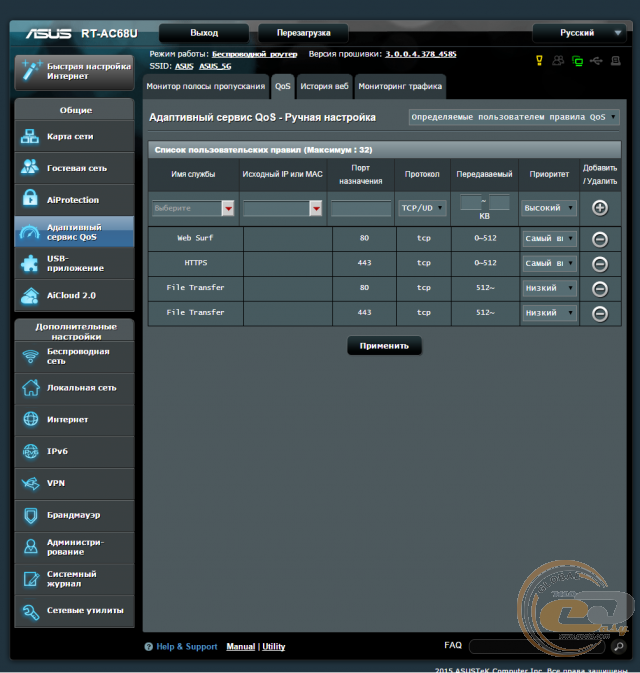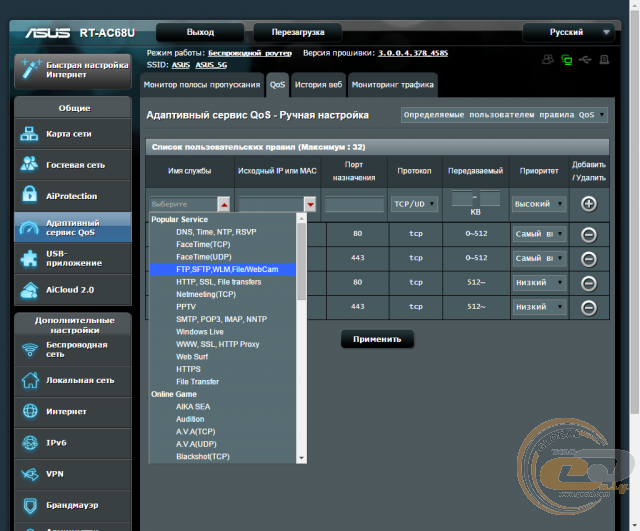 Service QoS - Web History allows you to view the history of web page visiting.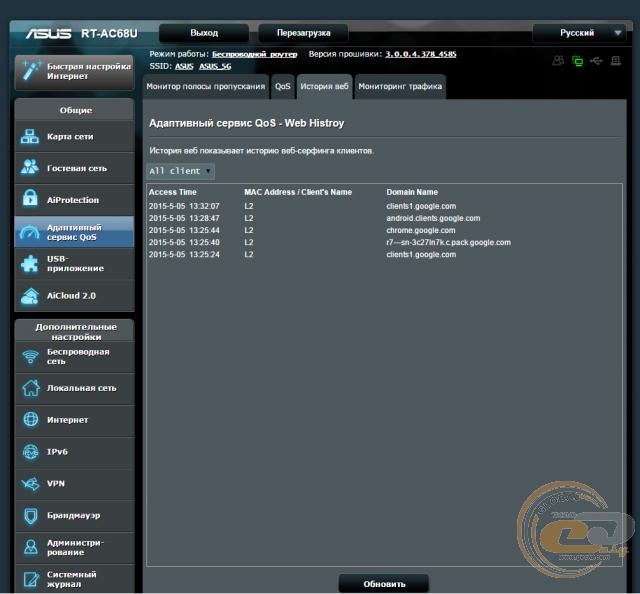 Traffic Monitor displays the current load and change the history of traffic over time through various channels and networks in a convenient graphical extent.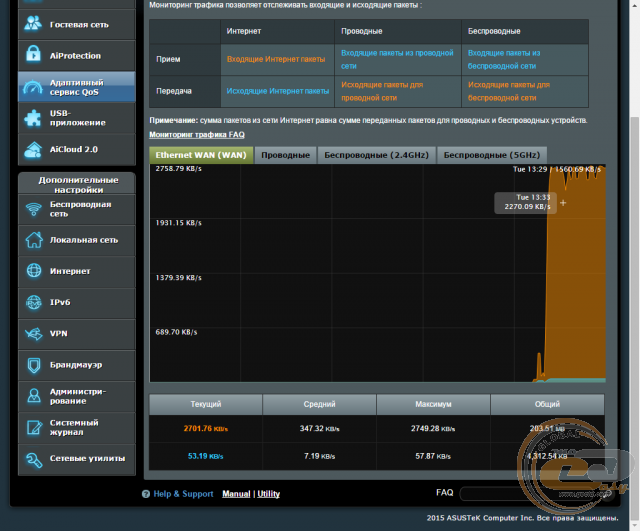 Often modern routers are equipped with the previously unusual functions. For example, ASUS routers contain work with connect USB-devices.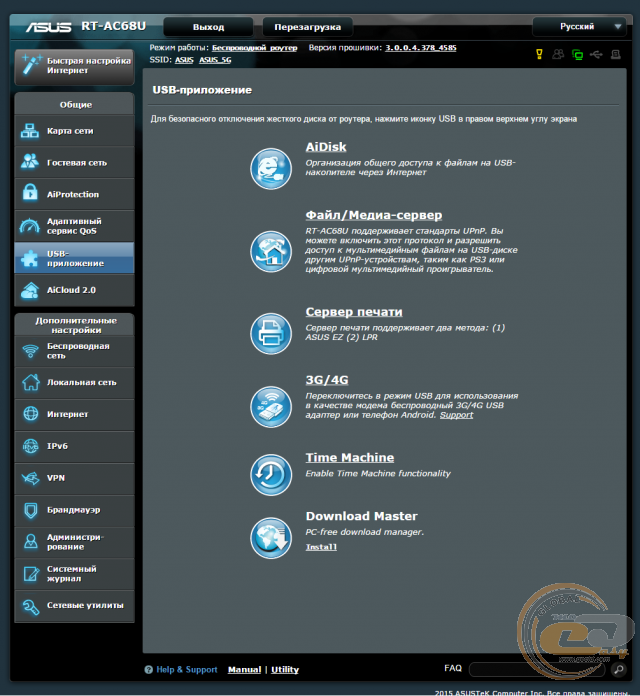 ASUS AiDisk is an FTP-server that is the program that provides full or limited access to the flash drive connected to the router. However, the key feature is the possibility of providing a unique name to device by which you can access it even from home, even from Antarctica. You can give permission to read, read and write or a full-fledged access, as well as to identify server name for easy access to it through the Internet connection.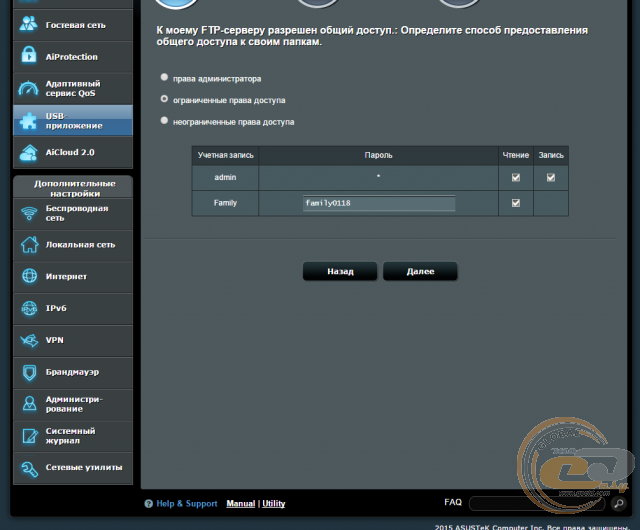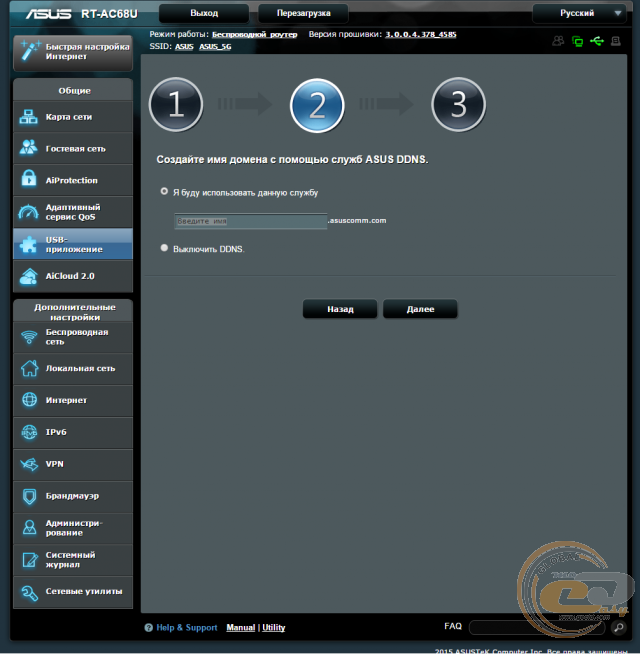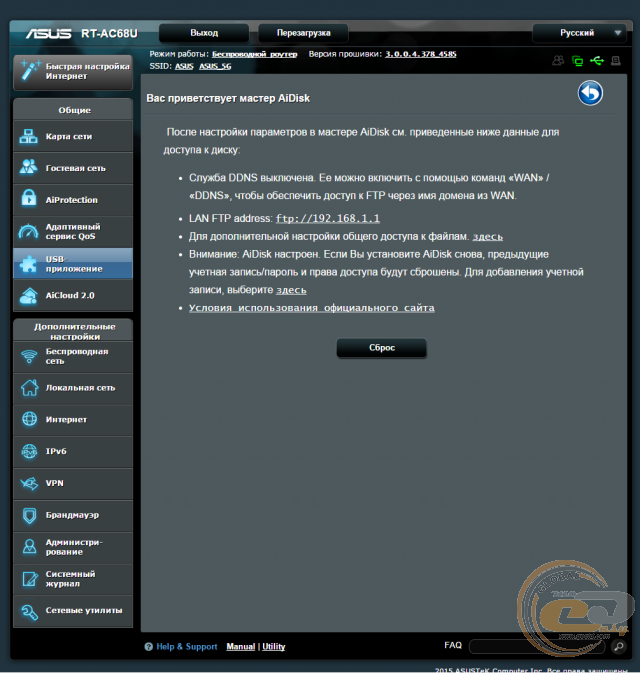 Media Server according technology DLNA is a quite interesting thing. DLNA (Digital Living Network Alliance) is a set of standards that allow to transmit and receive different media content (images, music, video) over a home network, and display it in real time. That is the technology to connect home computers, mobile phones, notebooks and consumer electronics into a single digital network. Devices that support DLNA specification can be configured and networked in the automatic mode.
Media of content transmission is the home local network area (IP-network). Connect DLNA-compatible devices to your home network can be either wired (Ethernet), or wireless (Wi-Fi).
In general, the thing is necessary in today's world, as it allows to look account with your smartphone via the screen Smart TV.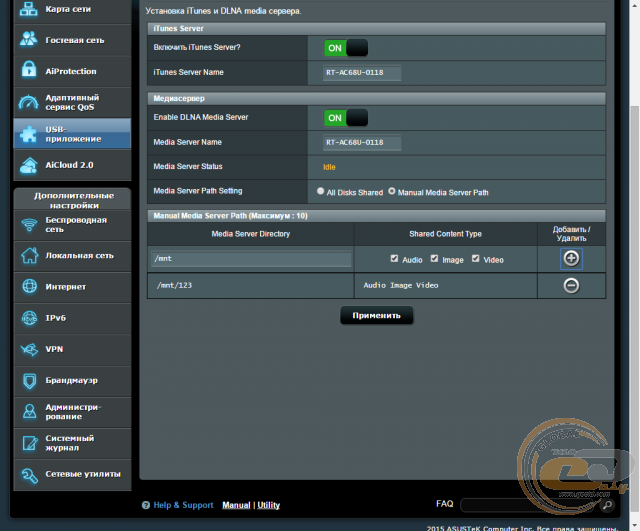 Application "Print server" allows you to configure your printer connected to the router as a network, with two different protocols: for Windows there is protocol ASUS EZ and LPR, and for Apple products only possible is the protocol LPR.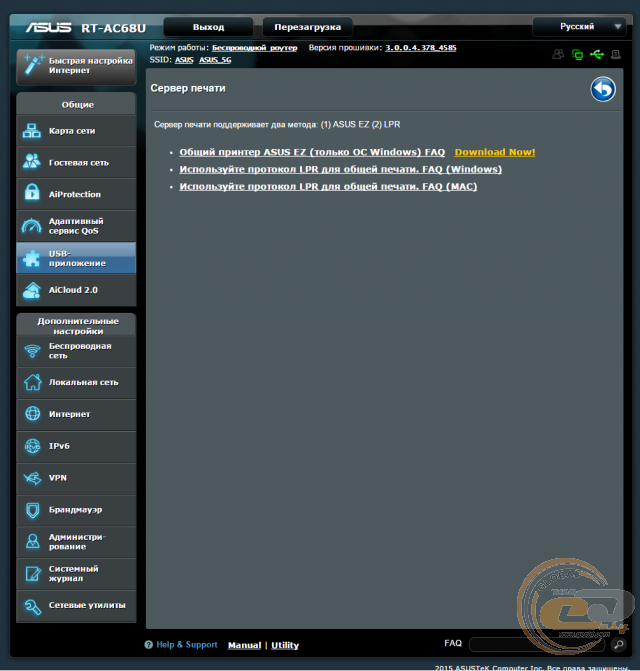 The menu item «3G/4G» gives the ability to connect modern smartphones or modems as the main source of Internet traffic. More simply, you can connect USB 3G modem to routers ASUS and provide Internet to everyone.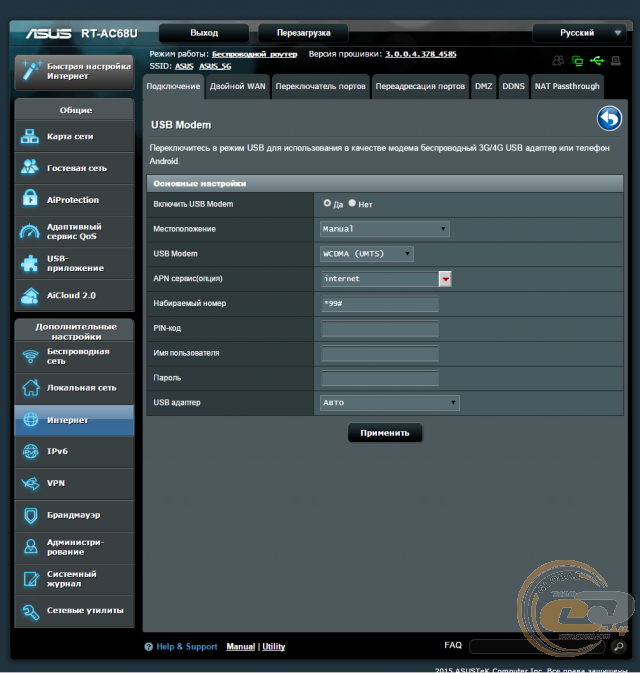 The Time Machine is a very niche product. Time Machine is backup system from Apple, built directly into Mac OS X 10.5 «Leopard» and later versions. It is positioned as a simple tool for data backup.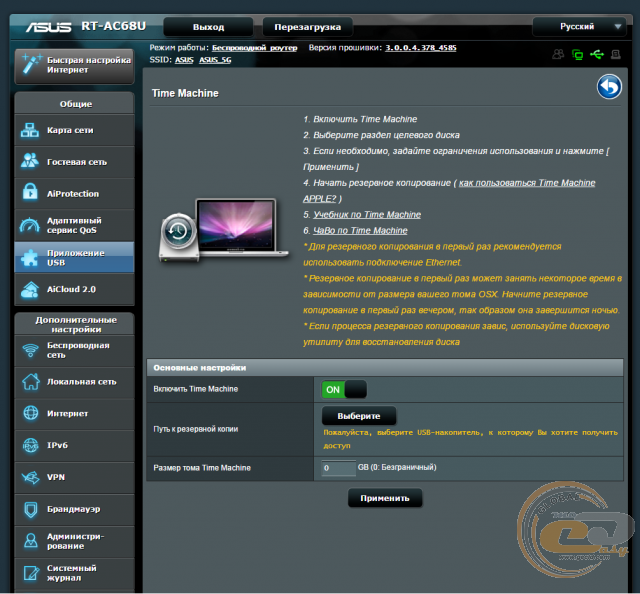 The implementation of server "Time Machine" allows you to backup from Apple-devices to external disks connected to router ASUS.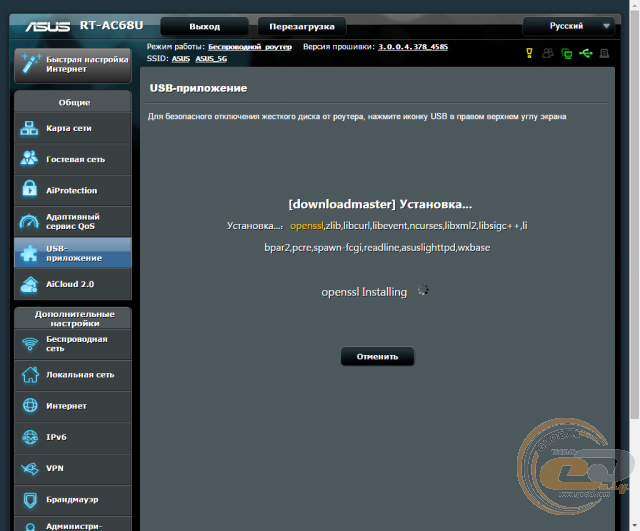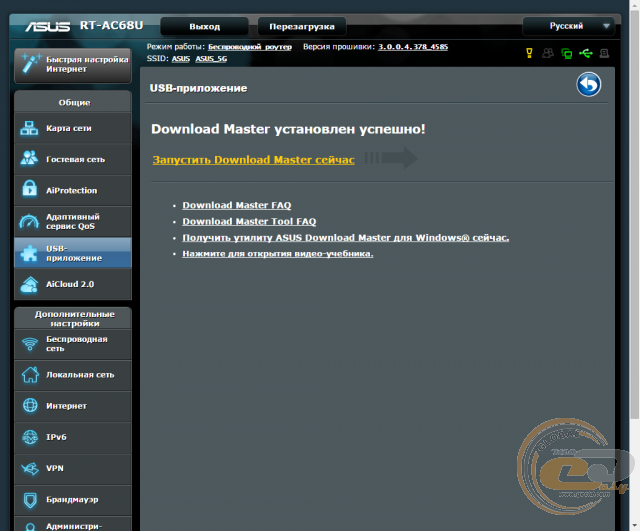 Социальные комментарии Cackle