Tablet Lenovo TAB A8-50: review and testing
Competition among the available tablets is gaining more and more every day. The model range of any self-respecting manufacturer includes more than one device, which cover a wide segment of the market. The company Lenovo being one of the leading developers in the field of computer technology, also could not stay away and presented to the public its vision of a relatively inexpensive, but at the same time multi-functional tablet.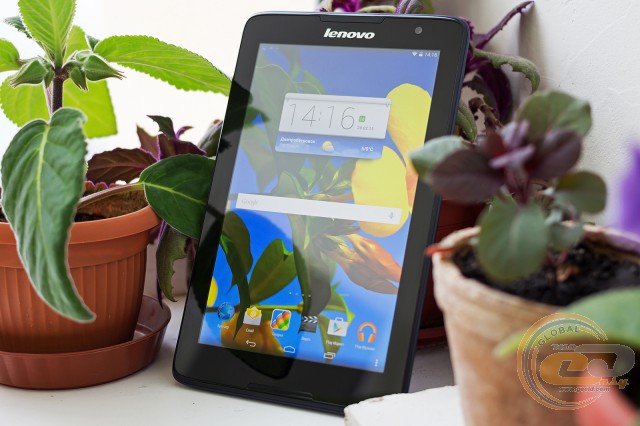 In this article we will look at the model Lenovo TAB A8-50. Accroding to the price and capabilities, it should appeal to almost everyone judgment and demanding users. Is it really possible you learn from our further review.
The specs:
Producer

Lenovo

Model

TAB A8-50 A5500F

CPU

MediaTek MT8121: quad-core (ARM Cortex-A7), up to 1,3 GHz,

L2 cache – 1 МB, 28 nm process

GPU

IT PowerVR SGX544, up to 156 GHz

Display

8", IPS, 1280 x 800 p (188 ppi), Multi-touch up to 10 presses

RAM

1 GB

Drive

16 GB

SIM-card support

microSD (up to 32 GB)

SIM-card socket

No

Interfaces

1 x micro-USB (support for function USB OTG)

1 x audio mini-jack 3,5 mm

Multimedia

Speaker system

Mono with support for Dolby Digital Plus

Microphone

Mono

FM-radio

–

Camera

Main

5 МP, aperture f/2.8, fixed focus, video recording in format 1080p

Front

2 МP, aperture f/2.8, fixed focus, video recording in format 480p

Connectivity

Wi-Fi

802.11 b/g/n

Bluetooth

4.0

DLNA

+

IrLED

–

GPS/GLONASS

+/–

GSM/3G

–/–

4G LTE

–

Sensors

Accelerometer, gyroscope

Battery

Lithium-pol cell, 4200 mА·h

PSU

Input: 100~240 V AC at 50/60 Hz

Output: 5 V DC 1,5 А

Dimensions

217 x 136 x 8,95 mm

Weight

360 g

Color

White, red, yellow, dark-blue

OS

Android 4.4.2 KitKat with brand skin Lenovo Launcher HD 1.4

Warranty

12 months

Producer website
Package and content
Lenovo TAB A8-50 tablet comes in a relatively large white box of a dense and high-quality cardboard. According to strict corporate style, it is absolutely devoid of any bright printing, and has only the most necessary technical and legal information.
Thus, the front of the box is almost entirely occupied by a huge image of the tablet, and the back side has attached a small information sticker that lists the main technical characteristics of the device, several bar codes and data about the manufacturer.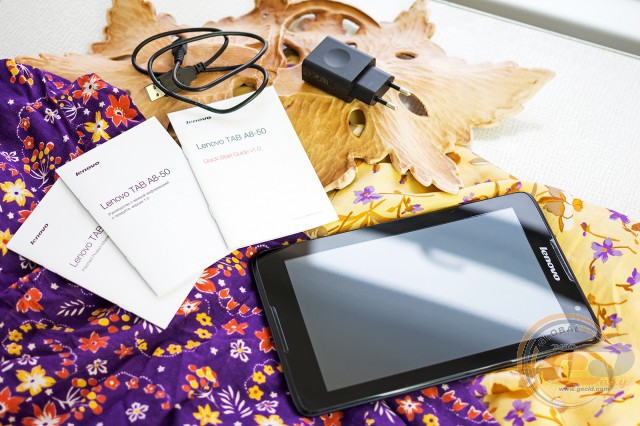 Supplied set of Lenovo TAB A8-50 also differs by modesty and contains the minimum accessories required for a comfortable start. In addition to the tablet, the box contains the charger, USB-cable, user documentation and warranty card.
Design and elements layout
According to the title tablet Lenovo TAB A8-50 is made in quite handy and very popular 8-inch form factor. The device has a classic rectangular design with slightly rounded edges. It looks quite respectable and slightly conservative. Difficult choice between style and practicality was made in favor of the latter, which completely fits into the concept of the low-cost system.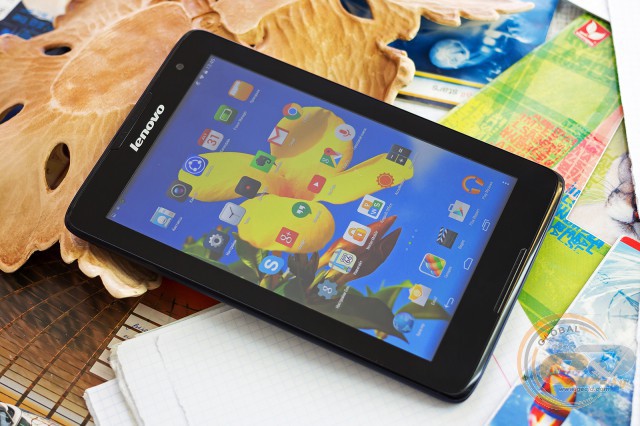 The basis of the case is high quality matte plastic with a pleasant soft-touch coating. It gives the tablet a sense of reliability and solidity, but has one major drawback and collects fingerprints. Fortunately, this is easily offset using the available tools and a simple microfiber cloth.
Having a compact size (217 x 136 x 8,95 mm) and lightweight (360 g), the new product is perfect for the role of the mobile companion as it easily fits in almost any pocket or a small bag. Also, due to the modest size and soft touch coating the tablet fits nicely in the hands, allowing you to use it for quite a long time without much fatigue and discomfort.
There are two models: Lenovo TAB A8-50 A5500H and Lenovo TAB A8-50 A5500F. Except for the color schemes, they are virtually identical and differ only by slightly different functionality. There are four options color: white, red, yellow and dark blue. Refusal to black, in our opinion, is quite conscious and logical choice, since most tablets are focused on the youth audience, which mostly prefers bright and eye-catching colors. Due to this diversity even the most demanding user will be able to choose the device according own taste.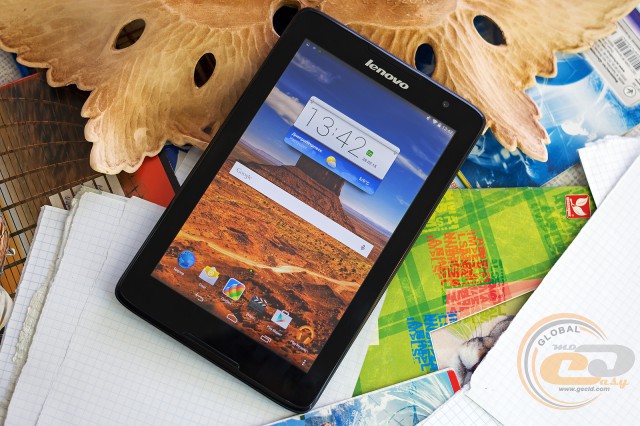 The front side of the tablet is completely covered by a simple mineral glass without protective properties and oleophobic layer. Arond its contour rhere is a small black border made of glossy plastic. In addition to ornamental purposes, it provides protection from damages. The frames around the screen have average dimensions: 20 mm at the top, 24 mm at the bottom and 14 mm at the sides. They allow quite comfortably interact with the device, holding it in both portrait and landscape orientation.
Above the display you can find front camera lens and a large logo of the manufacturer, while at the bottom there is oblong grille of multimedia speaker. Conventional proximity and light sensors, the touch buttons "Back", "Home" and "Menu" are absent in this model. The latter were replaced by software versions, which are located directly on the screen of the tablet.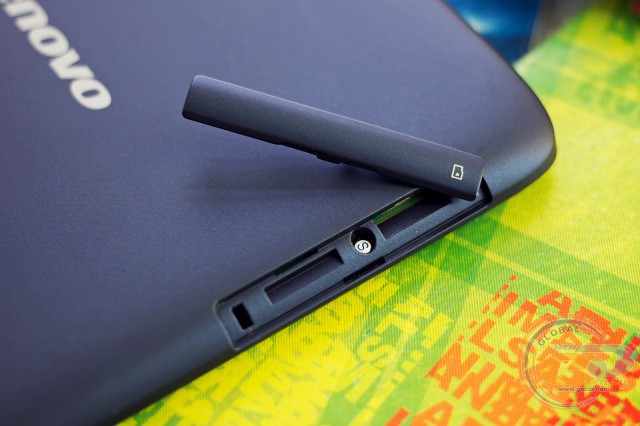 Model Lenovo TAB A8-50 has rather standard elements layout. The right side has power button and the volume rocker switch, while the left contains the microSD card tray (a model supporting 3G - for more cards Micro-SIM), which is covered by a dense plastic plug.
The top of the unit has a 3.5mm audio jack for a headset and a standard micro-USB port which supports for function USB OTG. The lower bound of the gadget contains only a small, almost invisible microphone hole.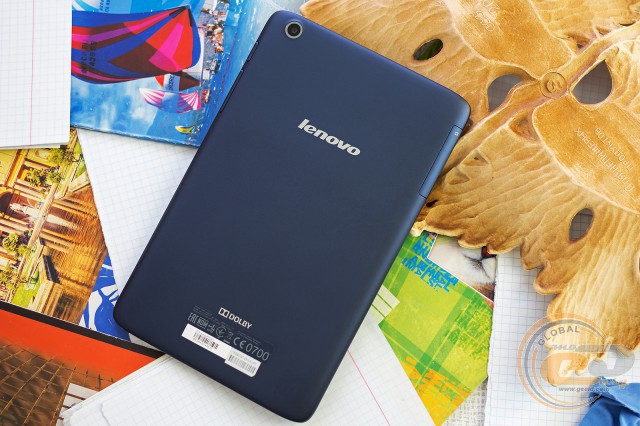 The back side of the tablet is made of high-quality dark blue plastic with a "spark", which has a nice matte texture. It blends in the side faces of the device, thereby completing its construction and appearance.
The upper left corner has the main camera lens, framed by a small ring of metallic colors. Below the center there is another manufacturer's logo. At the very bottom is the emblem of company Dolby Digital, indicating about the use of an appropriate sound technology. Under it there are several small stickers with bar codes and other useful information.
Despite the budget orientation, Lenovo TAB A8-50 has a good build quality. Body parts and structural components fit pretty tight: no visible backlash or gaps. Also we were pleased by good level of stiffness. Except the slight creaking under moderate pressure the other special claims were absent. Under more active attempts to twist the device its geometry was not changed, but the display remains without noticeable stains or other artifacts.
Display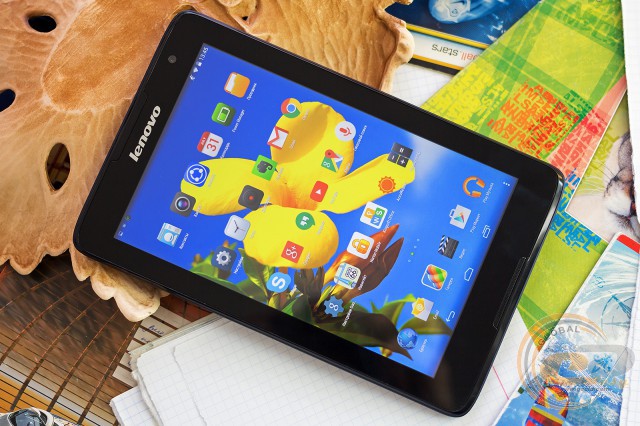 The tested model is equipped with an 8-inch IPS-screen with a resolution of 1280 x 800 pixels. The pixel density is 188 ppi. The level of detailing is not a record, but it is quite enough for comfortable use in undemanding daily routine.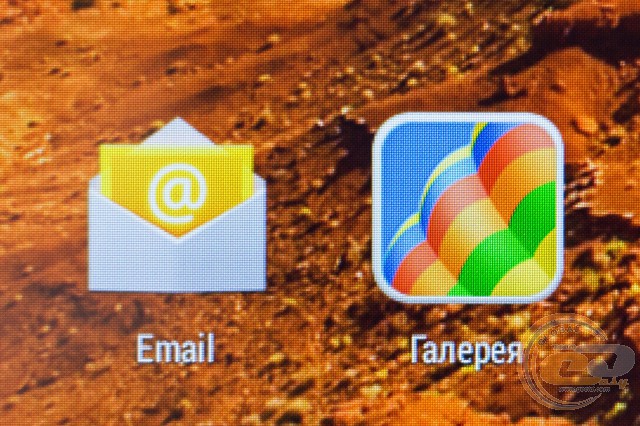 The device display has a high contrast and wide viewing angles are sufficient, which is traditional for this type of matrices. With horizontal and vertical angle the picture on the screen does not change and keeps good readability. Only under the diagonal view you can notice a noticeable color shift toward yellow and purple tones. The overall color reproduction of the screen is characterized by bright and saturated colors, and enough uniform white balance, without noticeable shift in warm or cool colors.
Since the device does not have a light sensor, backlight has only manual adjustment range. As well as other characteristics of the display, it is also on a fairly good level and makes it comfortable to use tablet as in bright daylight and in low light conditions. It is necessary to avoid a direct sunlight.
Display of Lenovo TAB A8-50 is covered by ordinary mineral glass without protective properties that require the user to a more attentive and careful handling. Unfortunately, it doesn't have any oleophobic coating, so quickly collects fingerprints and other dirt. Also in the display unit there is a small air gap, which in most cases slightly increases the reliability of the design.
Built-in sensor substrate detects the up to 10 simultaneous key presses and is highly sensitive. During test time any delay or false activations were not observed. Finger sliding on the protective glass is fairly comfortable and pleasant. But gloves operation is not supported.
Sound
As already stated above, the range of Lenovo TAB A8-50 is presented by two devices. For testing we have a version with index «F», which is equipped with only one multimedia speaker on the front panel. Due to the front landscape location and support for technology Dolby Digital Plus, it provides quite loud and high-quality sound.
By default, the frequency range of the speaker is limited and cannot boast of a particular depth and volume. However, you should activate the above function and the sound is instantly transformed. There are well-developed middle frequencies, detailed high frequencies, and noticeable very nice bass. In this regard, the tablet can be used for games, watching movies and listening to music without additional hardware.
However, this does not mean that you can not connect the gadget to external audio devices. Since the device is equipped with a 3.5-mm audio connector, it is perfectly paired with a variety of wired headsets and headphones. For example, in our testing Kingston HyperX Cloud the sound was not a special. As is the case with built-in multimedia speakers, the activation of technology Dolby Digital Plus also has bright enough positive effect, adding to the range of available audio tangible definition, richness and depth.
Социальные комментарии Cackle