Tablet PocketBook SURFpad 4 M: review and testing
The company PocketBook International, in our opinion, does not need any special presentation. Starting from 2008 (when the first electronic reader PocketBook 301 was released) and to present day professional development team never stopped to please loyal fans of the brand by qualitative multimedia devices and e-books. And more recently the company is actively gaining new market segment - the multimedia tablet PCs.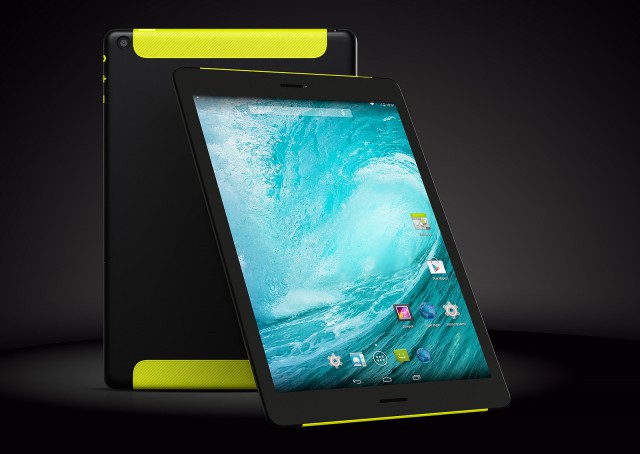 Regular readers, who are closely watching the daily news of our information portal, certainly know about the start of sales of the new series of tablets - PocketBook SURFpad 4. Therefore, we could not miss the opportunity to test one of these rather interesting devices. And for testing we have a model of the lineup PocketBook SURFpad 4 M, equipped with Retina-display with a diagonal of 7.85 inches and a resolution of 2048 x 1536 pixels. In addition, the tablet has a number of additional features, which you can learn from our further review.
The specs:
Producer

PocketBook

Model

SURFpad 4 M

CPU

MediaTek MT8392: 8 cores (ARM Cortex-A7), up to 1,7 GHz,

L2 cache – 1 МB, 28 nm manufacturing process

GPU

ARM Mali-450 MP4: up to 700 MHz, support for OpenGL ES 2.0, OpenVG 1.1

Display

7,85", IPS, 2048 x 1536 p (326 ppi), Multi-touch up 5 presses

RAM

2 GB

Drive

16 GB

Memory card

microSDHC / microSDXC

SIM-card socket

1 x Micro-SIM

Interfaces

1 x micro-USB (OTG)

1 x audio mini-jack 3,5 mm

Multimedia

Speaker

Stereo (2 x 0,5 W)

Microphone

Mono

FM-radio

+

Camera

Main

8 Мp, aperture f/2.2, autofocus, video recording in format 1080p 30 fps

Front

2 Мp, aperture f/2.4, fixed focus, auto run, video recording in format 480p 30 fps

Connectivity

Wi-Fi

802.11 b/g/n (2,4 / 5 GHz; Wi-Fi Direct)

Bluetooth

4.0

DLNA

+

IrLED

–

GPS/GLONASS

+/–

3G (HSDPA / UMTS)

+

4G LTE

–

Sensors

Accelerometer, gyroscope

Battery

lithium-pol cell 4000 mА·h

PSU

Input: 100~240 V AC 50/60 Hz

Output: 5 V DC 2 А

Dimensions

203,7 x 136,9 x 8 mm

Weight

380 g

Color

Black

OS

Android 4.4.2 KitKat

Warranty

12 months

Producer website
Packaging and content
Tablet PocketBook SURFpad 4 M is shipped in a small but tight-fitting box of high quality cardboard. It is completely painted in matt black and has a concise and attractive graphic arts painting.
The front side of the box shows only the tablet and its name, while the back side of the package provides a summary of the technical characteristics of the device, a few icons and standard legal information from the manufacturer.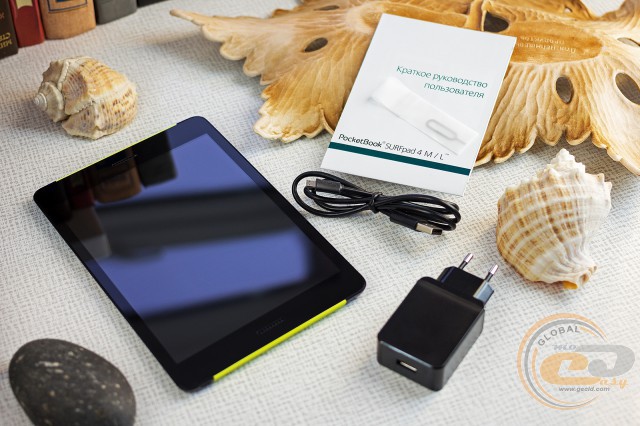 Supplied set of PocketBook SURFpad 4 M also differs by modesty and contains only a necessary set of accessories. So, box with the device has battery charger, USB-cable, clip for the removal of the tray with the card Micro-SIM, and a quick start guide and warranty card.
Design and elements layout
Despite the fairly classic and recognizable design, the tablet PocketBook SURFpad 4 M looks fresh and very attractive. Due stylish rounded edges, smooth convex shapes and attractive color scheme (coal-black with bright yellow accents), the gadget stands out on the background of direct competitors.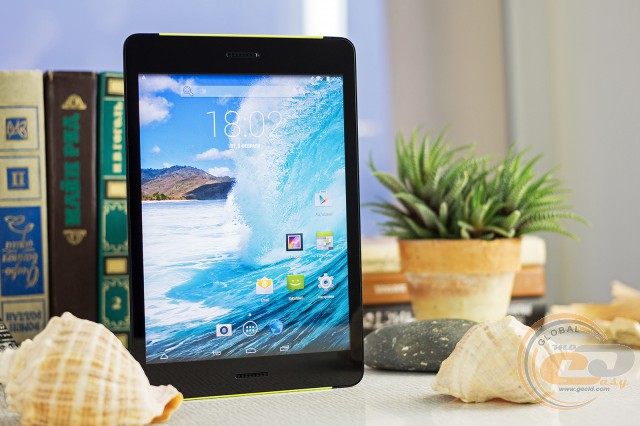 The heart of the housing is a high-grade anodized aluminum, which is slightly diluted by small patches of opaque plastic and tempered glass. 8-inch device has modest dimensions (203,7 x 136,9 x 8 mm) and light weight (380 g). The tablet is suitable for transportation, allowing it to be a good multimedia companion during a brief walk around the city or the park, and for more than a long journey. Due to the small mass the device fits comfortably in your hand.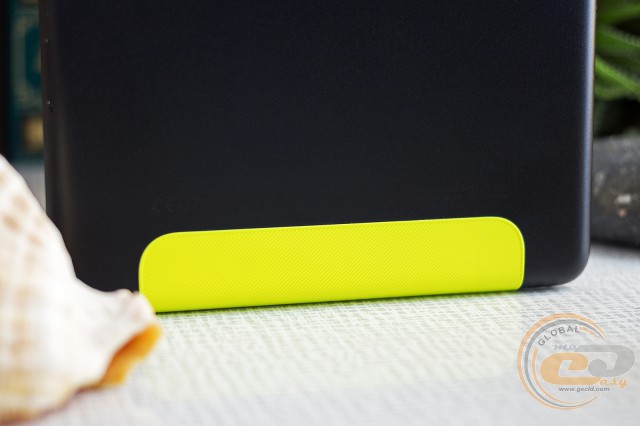 Also important comfort factor is small textured inserts of yellow matte plastic. They looks not only stylish, but also allows you to securely hold the device (especially in portrait orientation), without fear of dropping it or accidentally damaged.
The tablet PocketBook SURFpad 4 M has one color - black. It limites the selection of potential buyers when searching for a suitable device, but in general has absolutely no effect on the overall popularity of the gadget. The black color in combination with metal housing is still quite popular design and looks very attractive.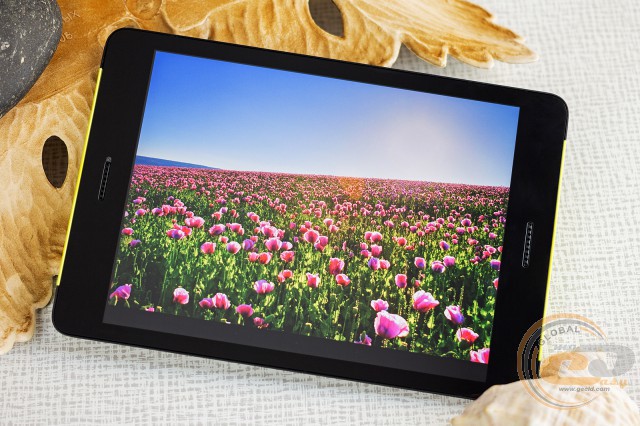 The front side of the tablet is completely covered with tempered glass without a specific name and oleophobic coating. Though it has some good protection properties, but pretty good collects fingerprints and other dirt. Fortunately, the glass is easily clean by a simple swipe of microfiber. Along the contour of the front panel is framed with slightly raised sides, which flows smoothly into the rear of the housing. In addition to decorative purposes, they provide additional protection against external influences and possible damage during the drop. The frame around the display looks quite modest. They are about 21 mm on top and bottom, and 7.5 mm at the sides.
On top of the screen is a multimedia speaker grille, which is closely placed near the front camera lens, while on the bottom under the display is the second multimedia speaker hole. Other elements, LED or conventional touch buttons ("Back", "Home" and "Menu") are not available. Latest are replaced with software version brought directly to the screen of the gadget.
The top face of the tablet has a 3.5mm audio jack for a headset and a slot for memory cards of format microSD. The bottom bound has a micro-USB connector and a small microphone hole. Do note the successful placement of the port micro-USB, as a connected USB-cable does not stop the comfortable interact with the product.
The right side wall of the gadget you can find two volume buttons, power button and tray of Micro-SIM cards. Despite the quite original design of these controls, they have a fairly small contact part, so the usability is greatly inferior to unique appearance. As for the left side of the device, it is free of any connectors and components.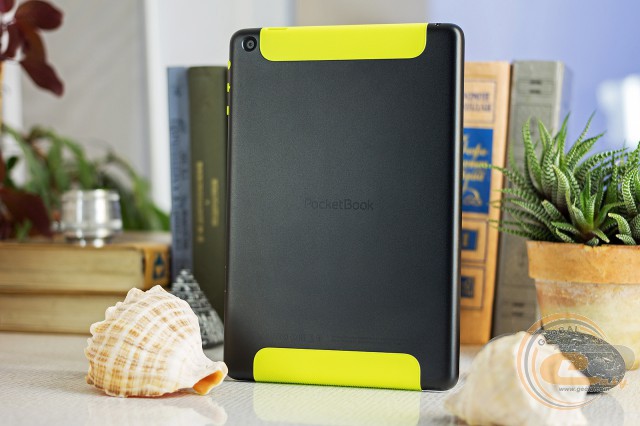 The back side of the tablet is almost completely made of anodized aluminum with a pleasant texture. In addition to stylish appearance, it gives palpable rigidity and practicality features. Two plastic inserts, painted in bright yellow color are also present. All the technical and decorative elements include only engraved logo of the manufacturer and the main camera lens, which is located in the upper left corner of the back of the unit.
Major complaints about the build quality of the tablet PocketBook SURFpad 4 M are not available. Except for small gaps along the contour of the protective glass, all the body parts fit tightly and securely. Also pleasant is excellent level of rigidity, thanks to which the medium pressure cannot change the device geometry, and the picture remains on the screen without strains or other noticeable artifacts.
Display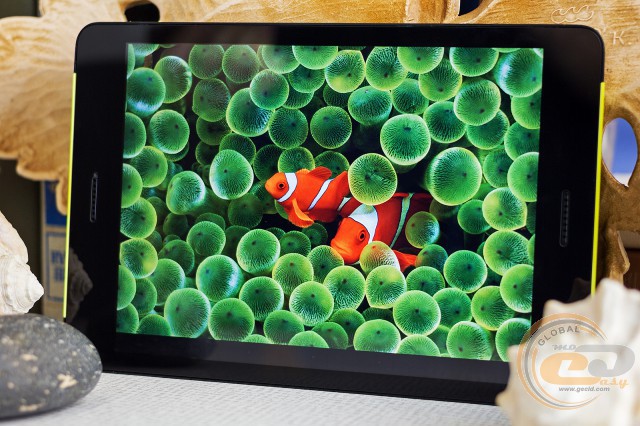 The tablet is equipped with an excellent 7.85-inch IPS-screen with a resolution of 2048 x 1536 pixels and a pixel density at 326 ppi. Thanks to these specifications the device display boasts of excellent image detail and the ability to qualitatively show the smallest fonts.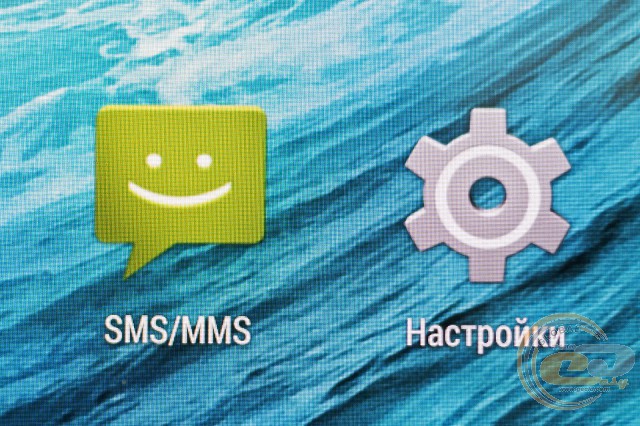 Traditionally IPS-matrix screen has good contrast and maximum viewing angles. Even at an acute angle picture does not fade and is rich and well-read. Color reproduction is also nice. It is characterized by regular and fairly bright colors and shades.
Despite the lack of light sensor, the display backlight has a good range of adjustment in manual mode and has a high maximum level. In general, it is enough to use the device in case of sufficiently bright light and in total darkness. However, under direct sunlight the picture is glared.
The integrity and security of the display is provided by tempered glass. The manufacturer did not specify the name of such glass. Unfortunately, it does not have oleophobic coating and collects fingerprints. Between the protective glass and matrix there is a small air gap, which increases the reliability of the design.
Built-in sensor detects up to 5 simultaneous keystrokes. It is very sensitive and reacts instantly to even the slightest touch. Fingers sliding on the protective glass is easy and pleasant. It absolutely does not cause any discomfort. However, support for the glove touch operation is not provided.
Sound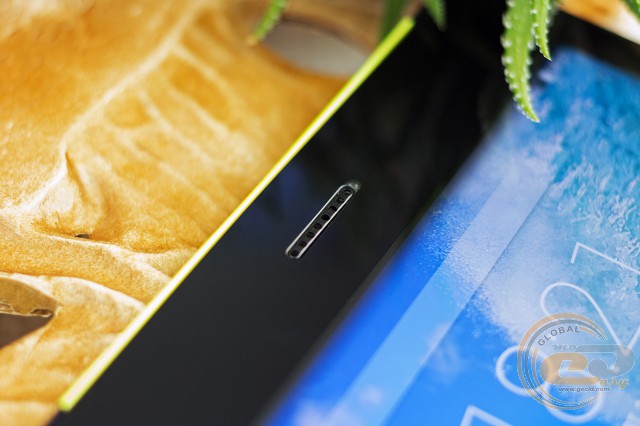 Unlike most tablets on the market, PocketBook SURFpad M 4 is equipped with two multimedia stereo speakers with a total capacity of 1W. Thanks to a careful arrangement of the edges of the display, they are able to provide good sound. The range contains high and medium frequencies, but bass is not available. But in general, it does not prevent to use the tablet for games and other purposes without additional equipment.
Also, the device has a 3.5mm audio jack that allows you to connect external audio devices. For example, in testing gaming headphones Kingston HyperX Cloud sound was much better with a significant margin volume.
In addition there is a built in radio module that lets you listen to FM-broadcasting stations operating in the frequency range from 87.5 to 108 MHz. In it is not necessary to use a wired headset as an antenna acts as a metal case.
Camera
The arsenal of PocketBook SURFpad 4 M includes two good digital cameras.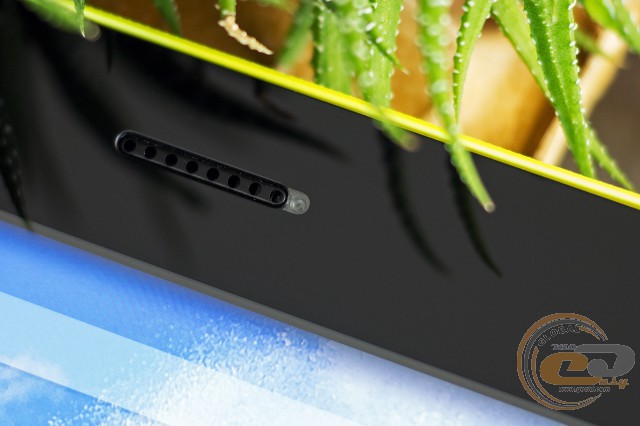 The front has a 2-megapixel module with an aperture of f/2.4, fixed focus and self-timer function. It can record video at resolutions up to 480p at 30 fps, which is more than enough for web conferencing and video calls. And when choosing a suitable shooting conditions and quality lighting you can completely rely also on the quite good pictures.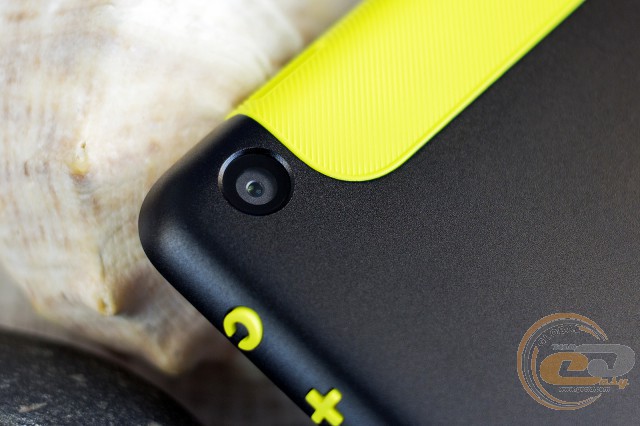 The main camera supports 8-megapixel module with an aperture of f/2.2 and autofocus lens, which can shoot video with a maximum resolution up to 1080p at 30 fps.
In general, the photos and videos have a good quality and do not cause major complaints. The captured images have a nice natural color and color saturation. In addition the benefits of the main camera include a good contrast and good image detail. Unfortunately, due to lack of LED flash, the camera requires sufficient ambient light. Otherwise, pictures lose sharpness.
Software that is responsible for the operation of cameras, has a simple and intuitive interface. It has a minimal set of features and is primarily intended for quick taking photos and videos. Its features include only the fact that the software does not support high resolution of the display, so the picture while shooting looks a bit faded. But as for the rest, the operation of the camera does not cause any complaints and is perfect for undemanding user or a beginner.
according to test results, the performance of the tablet is at a high level. eight cores paired with a good graphics accelerator is more than enough to meet almost all daily tasks, including to launch advanced mobile games. the device can easily cope with playback of various hd-content, as has the support of an impressive number of video and audio formats "from the box".
Социальные комментарии Cackle