Sony SmartBand SWR10: review and testing
In everyday life we are surrounded by a huge variety of gadgets that help in use, study and even on vacation. For some time past, there is a tendency to produce accessories, which are able to monitor the performance of our life - the so-called fitness trackers or activity trackers. Some models also boast of a number of additional functions that can elevate interaction with your smartphone or tablet to a new level. Such interesting accessory is a smartband Sony SmartBand SWR10.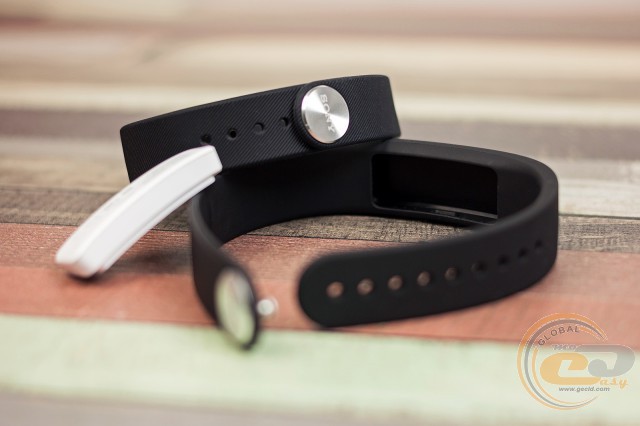 The product is made in a modern style using qualitative materials. In this review we will try to deal with all the functions and features of the band, evaluating them from a practical standpoint. Let's start from the technical characteristics:
Producer

Sony

Model

SmartBand SWR10

Type

Smartband

CPU

Single-core ARM Cortex-M0 (ARMv6-M)

Memory

16 КB RAM + 256 KB flash

Display

−

Vibration motor

+

Indication

3 white LED-indicators

Interface

micro-USB

Connectivity

NFC, Bluetooth 4.0 LE

Additional capabilities

Pedometer, Control of distance and burned calories,
Monitoring of time and phases of sleep, intellectual awakening, Missed event alert, Music player control

Dust and moisture protection

IP58

Operating temperature

-20…+60°C

Sensors

accelerometer, gyroscope

Battery

Lithium-pol cell: 35 mА·h (0,133 W·h, 3,8 V)

Charger

micro-USB (PC or PSU)

Dimensions

40,7 x 15,3 x 7,8 mm (size of main module)

214 и 250 mm (circle of supplied straps)

Weight

6 g (main module), 21/20 g (large/small strap)

Material

Plastic, rubber, metal

Color

Black

Compatible mobile OS

Android 4.4 or next

Warranty

12 months

Producer website
Package and content
Accessory Sony SmartBand SWR10 comes in a small pleasant-looking box. Structurally, it is made of two rectangular parts. The top container is made of clear plastic, which not only protects the gadget, but also gives the opportunity to learn it directly before buying. In addition, you can see the logo of the manufacturer and model name. In addition, there are icons that tell about the key features of new item: Bluetooth, NFC, protection against dust and moisture according to the standard IP58 and support for interface micro-USB.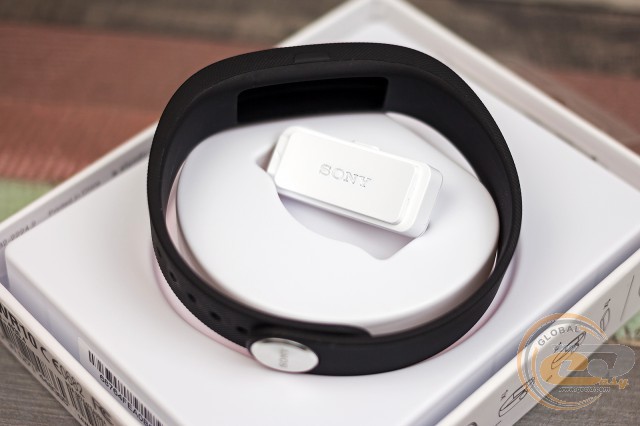 The lower part of the package is made of a rather thick cardboard and is the basis for the top of the container. On its side faces you can see the technical information (device model, serial number, color and country of production) and the delivery set. The reverse side contains the image of a band in nine color variations, as well as corporate application Lifelog, which can be easily downloaded by using the QR-code on the package.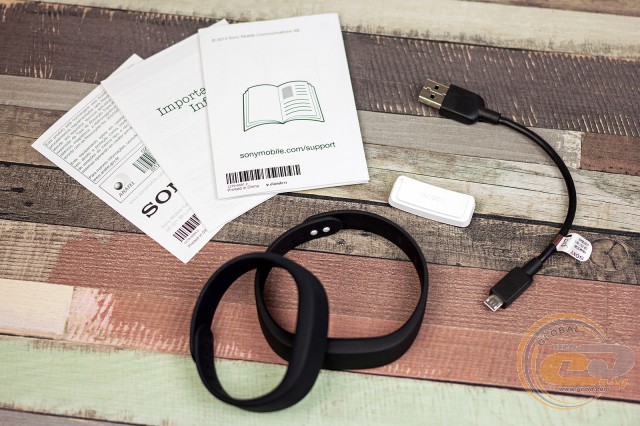 Package of smartband includes everything needed to complete the work:
documentation;
basic module SmartCore (or Core);
two straps (small and large - M and L) and a fastener;
short cable micro-USB↔USB.
Design and construction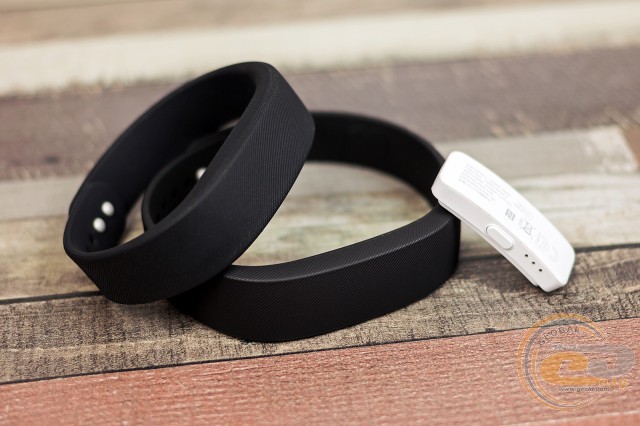 A quick glance at Sony SmartBand SWR10 shows that this is a modern accessory, designed in a minimalist stylish with all the canons of the genre. The device consists of two parts: a main module SmartCore and a strap.
The main module of smartband, which houses a hardware component, is made of high quality white opaque plastic, and is characterized by excellent rigidity. The case has the interface micro-USB (for charging only), key control, triple LED-indicator and logo Sony. On the upper part you will notice the arrangement of the logo module NFC, as well as technical information. It should be noted a good opportunity charging through widespread interface micro-USB, while some other manufacturers use a proprietary connector that may cause some inconvenience.
Core module is integrated directly into the strap. It is easily inserted, but tight and secure. Moreover, the entire assembly is protected from moisture and dust according to the standard IP58. Due to this gadget you can safely immerse it in fresh water to a depth of 1.5 m for duration of up to 30 minutes. Also, it is protected from the dust or transpiration.
As for the strap, the manufacturer prudently put in the box two options with different lengths (214 mm and 250 mm), so the use won't have problems with the selection of the necessary size. They are made from high quality silicone, do not stretch, do not deform and are characterized by excellent flexibility. The inside part is completely smooth. It causes a pleasant tactile feel and prevents skin irritation after prolonged use. The external part has a diagonal embossing pattern, which actively collects dust and small particles, although it's easy to wash. Fixation of the device on the arm is provided by the metal buckle with logo Sony, which is designed in the form of the Power/Lock key on smartphones and tablets. The clasp has two pins which are inserted in any of the six (or seven, depending on the length) holes on the strap.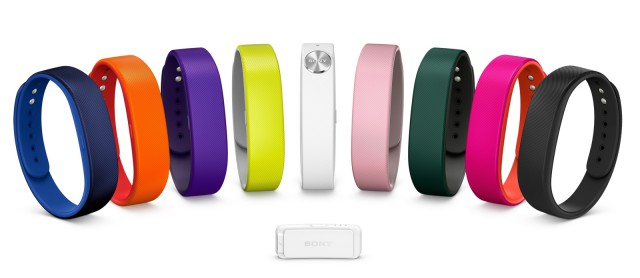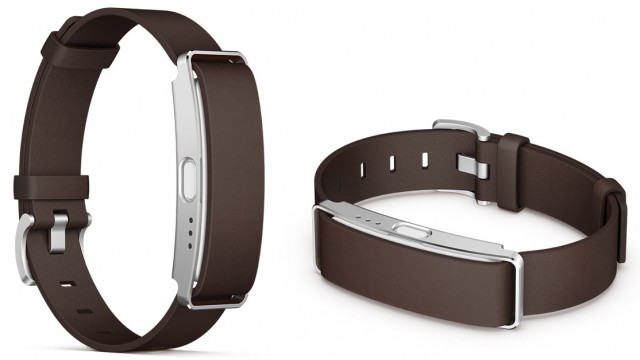 The manufacturer offers a wide range of bracelets of different colors, from restrained black to a more loud green, which was created after the last World Cup in Brazil, where Sony has been an official sponsor. Furthermore, there is an elegant leather strap of brown color. Such a variety of colors allows you to choose the option according to your style and taste.
Sony SmartBand SWR10 has a nice look and good ergonomics. The bracelet fits well on the hand and does not cause any discomfort, even after a long period of wear, including through modest weight (27 g with a long strap) and the use of high quality materials.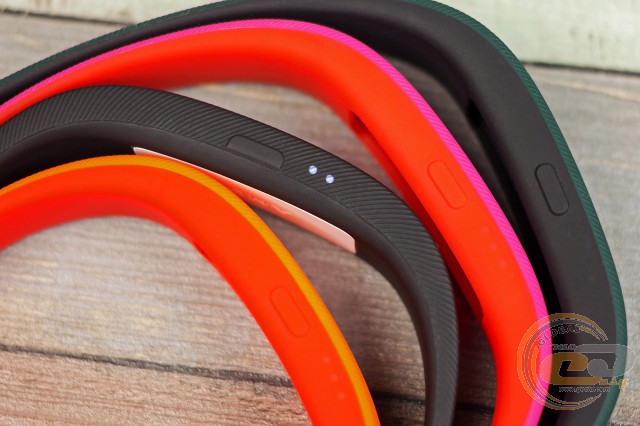 Gadget doesn't have a display, so all the information is displayed by indicator lights and built-in tactile feedback vibration motor. Firstly, such an option seems inconvenient, but you get used to and everything is quite simple and intuitive.
As you can see, smartband is quite simple visually and at the same time elegant and comfortable for everyday use in all conditions. Accessory is characterized by high quality workmanship and the selection of good materials.
Социальные комментарии Cackle