SPEEDLINK DECUS mouse: review and testing
Every modern gamer faces with the moment when available computer peripheral is no longer satisfied by basic functionality and as a result starts to hinder the development of professional skills. There is a question about the choice of a more advanced game manipulator, which can fully reveal existing capacity and would allow to move forward. However, not all users can pay money for gaming accessories from famous brands. Despite the high specifications and 100% level of quality, such a purchase is not always an available product.
However there is good and more than a compromise solution. You should pay attention to less advertised producers who can offer a high quality product for a very reasonable price.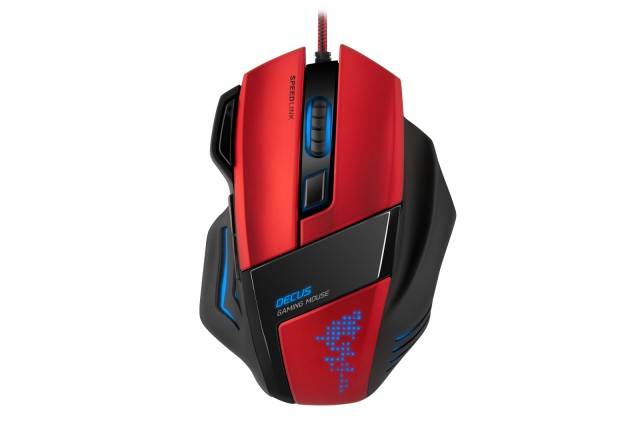 In this article we will look at very interesting gaming mouse SPEEDLINK DECUS, which together with all the technical characteristics and capabilities can boast of a very nice price. In this article you can learn the interesting features of the mouse.
The specs:
| | |
| --- | --- |
| Producer | SPEEDLINK |
| Model | DECUS (SL-6397-BK) |
| Interface | USB |
| Connection | Wire |
| Sampling rate, Hz | 1000 |
| Sensor | Laser (DIN EN 60825-1) |
| Resolution, dpi | 400 – 5000 |
| Capacity of internal memory, KB | 128 |
| Start height, mm | < 1,0 |
| Quantity of buttons/ programmed actions | 6 + 1 (button-wheel) / 7 |
| Base | Plastic / Teflon |
| Cable length, m | 1,8 |
| Additional capabilities | 7 programmable buttons; 6-color LED backlight; cable with braided fabric, a ferrite ring and a gold-plated USB-plug; button to quickly change the resolution of the sensor; software and hardware modes (5 profiles); automatic activation of a preset profile when the game starts |
| Color | Black with red inserts |
| Dimensions, mm | 130 х 90 х 40 |
| Weight, g | 162 |
| Software | + |
| Supported OS | Windows ХP / Vista / 7 / 8 |
| Warranty | 12 months |
| Producer website | |
Package and content
Like most game controllers on the market, the mouse SPEEDLINK DECUS comes in a traditional box-case, which has a relatively large size and stylish black design. It is made from high quality medium density cardboard, and has a bright, intense and highly informative graphic industry. You can not only learn a lot of useful information about hidden inside the device, but also to get acquainted with its looks and design features.
Like the front side of the box and its side walls are decorated with several high quality images of the gaming mouse and lots of colorful icons and labels with information about the key advantages of new product: multifunctional proprietary software, 6-color LED illumination and high-precision laser sensor with a resolution up to 5000 dpi. The back side of the package contains a small table with a list of the minimum system requirements for free connection of the manipulator, as well as very useful information about the main gaming capabilities of a mouse.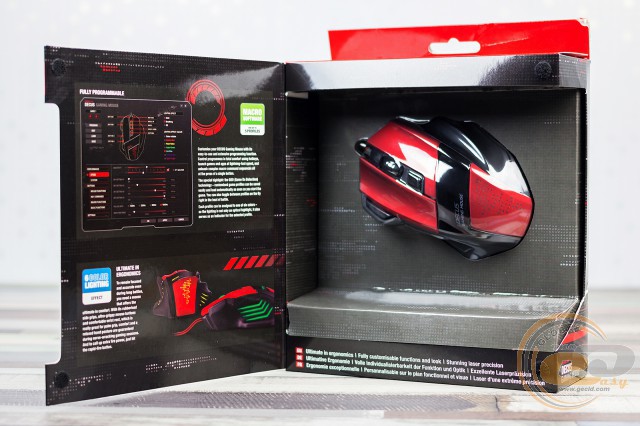 The front door of the box is held by two small round tapes. After opening it, we find a clear plastic window. Due to convenient sidecut you can learn the ergonomics of the manipulator (attach hand, to measure the value and comfort grip), without having to open the packaging.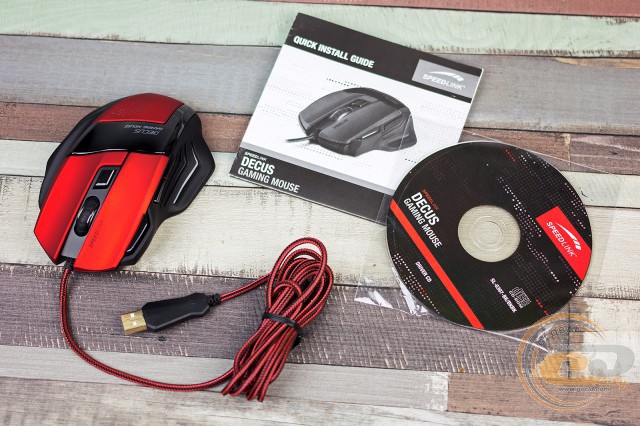 Set of delivery of SPEEDLINK DECUS is quite standard. It contains a set of required elements: a CD with drivers and software, as well as a quick start guide for fast and comfortable start.
Design and elements layout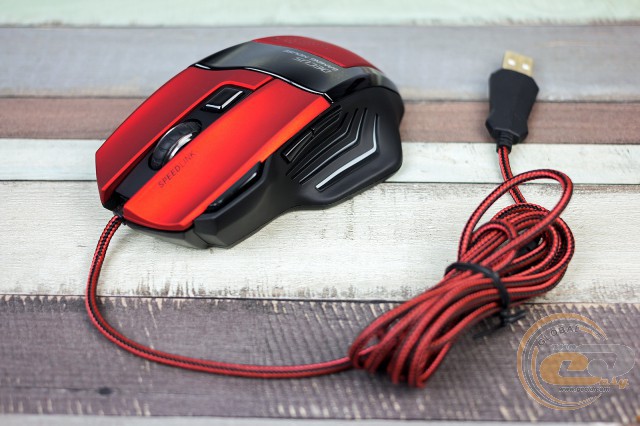 The novelty has very interesting and aggressive appearance. It fully fits into the modern concept of gaming design and will certainly taste the active gamers. This is provided by relief case (abundance of curves, recesses and grooves), as well as the contrast of red and black paint, which looks not only very stylish and attractive, but also gives the device a very menacing look. However, for some users the presence of a considerable number of small details can seem a bit clumsy and not very practical, but in most cases the design will enjoy a wide range of consumers.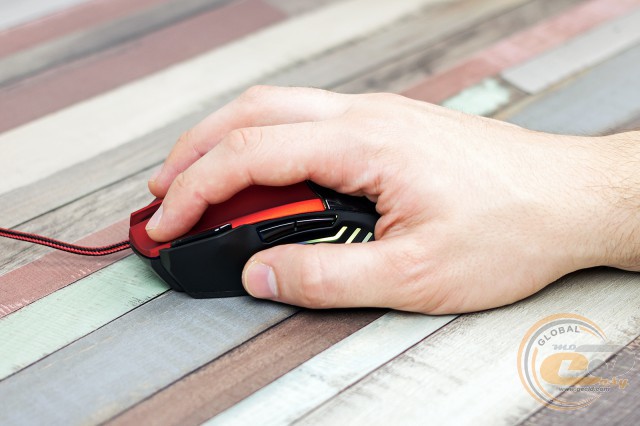 Base of the case is made of durable and high-quality matte plastic. It not only provides a good rigidity, but at the same time has pleasant tactile sensations. Thanks to a well thought-out ergonomics (notches on the sides, back arched, small holes on the buttons), as well as a convenient proportional to size (130 x 90 x 40 g) and a relatively low weight (162 g), the manipulator is excellent in almost any size and palms It allows you to play your favorite games for a long time, without noticeable fatigue or discomfort.
The upper part of the mouse is in the form of several cut plates that fit tightly enough together and are a single unitary construction. The two main buttons and the back are pleasant to the touch matte finish and painted red, while the small black insert is made from a glossy and highly easy soiled plastic. It emphasizes the benefit design of the manipulator, but quickly collects fingerprints. In addition, by careless action this box may be scratched.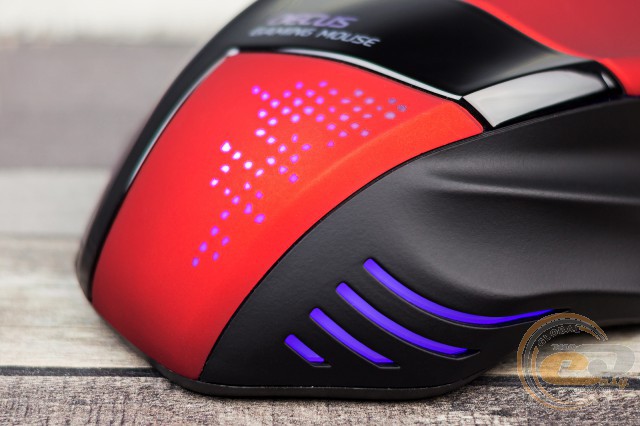 The additional decorative elements include a small logo of the manufacturer, as well as small point perforation, through which the LED light is illuminated. The latter has six independent colors and can work both in standard and in the flickering mode.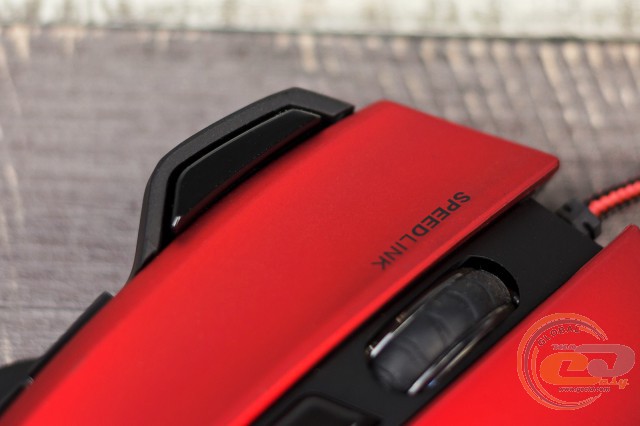 In addition to the two traditional buttons with a slightly curved shape for easy placement and contact of fingers, at the top SPEEDLINK DECUS has a special function keys that can be programmed to perform certain actions that will be very useful during active gaming battles.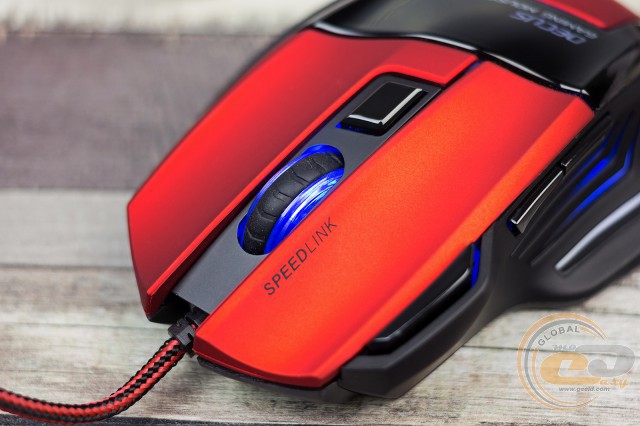 Between the cut of the left and right buttons there is a button switch resolution sensor and a rather convenient scroll wheel. It also has a nice uniform illumination (blue, permanent) and has a clear, well-defined way.
The sides of the mouse are made of soft-touch plastic and painted in matt black. They provide a reliable contact with the manipulator and can actively interact with the device.
In addition to the two soft keys on the left side and longitudinal grooves, there are few decorative cuts illuminated uniformly pleasant glows or blink, depending on the mode of illumination.
The back side of the manipulator has not any structural elements, while the pasted to the front side has a 1.8 m USB-cable which deserves special mention.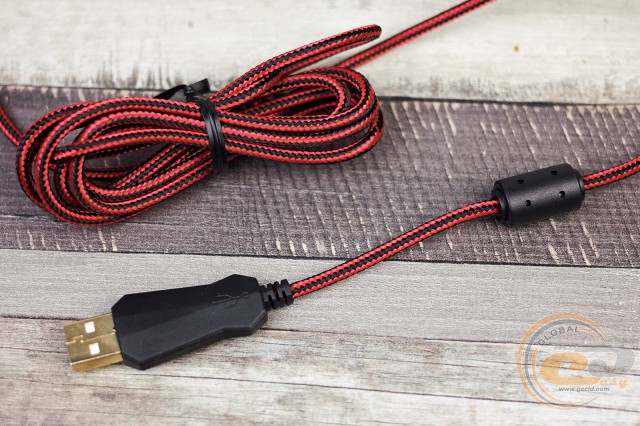 It has a solid fabric braid and a small ferrite ring, reducing the negative impact of electromagnetic waves. At the end of the cable has a gold-plated USB-connector, which provides reliable contact and free data transfer.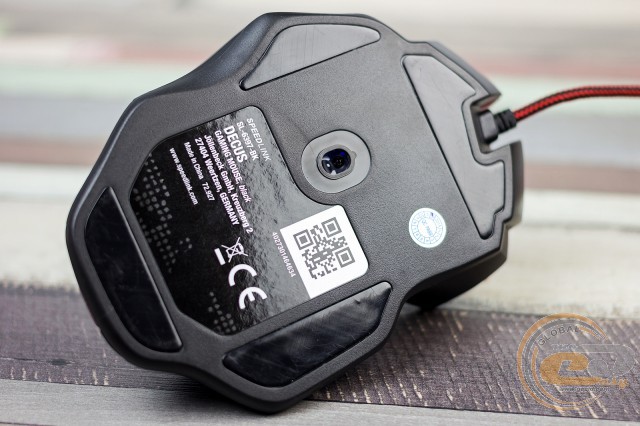 Bottom of the mouse is made of high-quality matte plastic. It is characterized by a slightly rough texture and good durability. In the center there is a small oval hole of the laser sensorwith the standard technical information. To ensure fast and accurate sliding of the manipulator over the surface, the edges have four large Teflon legs.
Build quality of SPEEDLINK DECUS causes no any significant claims. All components fit tightly enough and have no visible backlash or gaps. The total hardness of the device is also pleased. Under the moderate pressure or trying to twist creaks or flex were not observed, and the integrity of the mouse body is not changed.
Социальные комментарии Cackle