Canon PowerShot SX530 HS compact digital camera: review and testing
Canon PowerShot is one of the most famous and most popular lineups of compact digital cameras since 1996. It includes devices of different series to meet the needs not only of beginners or experienced users, but also for the professionals of digital photography. For testing we have a model came Canon PowerShot SX530 HS, which refers to the super zoom category and was presented at the beginning of this year during the Consumer Electronics Show in Las Vegas.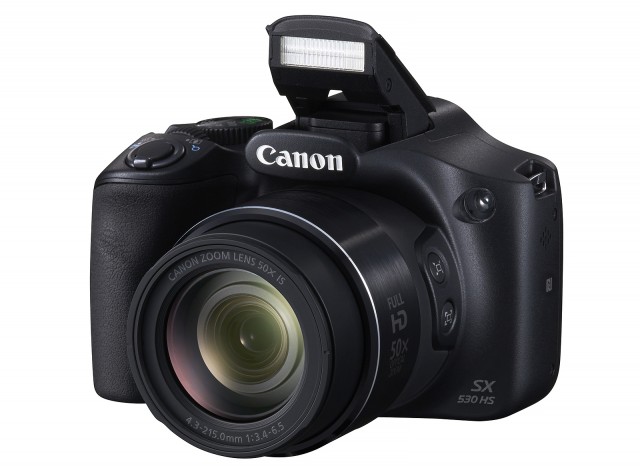 Novelty has classic look with high quality materials, non-removable lens with 50x optical zoom, image sensor BSI CMOS with a resolution of 16 megapixel, high functionality and a number of other interesting features, which will be described in this material. Let's start from specification:
Producer

Canon

Model

PowerShot SX530 HS

Type, class

Digital camera, super zoom

Light receiving element

Matrix BSI CMOS with dimensions 1/2,3" (6,16 x 4,62 mm); effective number of pixels − 16 Мp

CPU

DIGIC 4+ with technology iSAPS

Lens

Non-removable, f = 4,3 − 215,0 mm, (equivalent of 35-mm film: 24 − 1200 mm), 50-times optical zoom, light intensity f/3.4 − f/6.5

Lens structure

13 elements in 10 groups (3 lens UD and 1 double-sided aspherical lens)

Image stabilization

5-axis optical based on lens shift

Focusing type

TTL (via lens)

System/point focusing

Intellectual autofocusing (facial recognition/9 p), 1-point AF (fixed in center)

Exposure change mode

Evaluable, Center-weighted, point

Photosensitivity

ISO 100 – 3200

Shutter

Electronic

Exposure range

1 – 1/2000 s (default value)
15 − 1/2000 s (general range depends on mode)

Flash

Built-in, range 50 cm − 5,5 m

Flash compensation

±2,0 EV (with step 1/3 EV)

Continuous shooting

1,6 fps (with max resolution)

10 fps (High speed continuous shooting at 4 Мp)

Image storing format

Photo

Compression JPEG, (compitability with Exif 2.3 [Exif Print]) / Design rule for Camera File system, 1.1 compatibility with [DPOF] 1.1

Video

MP4 [video: MPEG4-AVC (H.264), audio: MPEG-4 AAC-LC (stereo)]

Resolution

Photo

4:3 − (L) 4608 x 3456, (M1) 3264 x 2448, (M2) 2048 x 1536, (S) 640 x 480
16:9 − (L) 4608 x 2592, (M1) 3264 x 1832, (M2) 1920 x 1080, (S) 640 x 360
3:2 − (L) 4608 x 3072, (M1) 3264 x 2176, (M2) 2048 x 1368, (S) 640 x 424
1:1 − (L) 3456 x 3456, (M1) 2448 x 2448, (M2) 1536 x 1536, (S) 480 x 480

Video

1920 х 1080, 1280 x 720, 640 х 480 up to 30 fps

Display

LCD, 3" (7,5 cm), resolution 461 000 p

Video finder

–

Audio

Microphone

Built-in stereo microphone

Speaker

Built-in, mono

Storage medium

SD, SDHC, SDXC

Interface

mini-HDMI, mini-USB

Connectivity

802.11b/g/n Wi-Fi (2,4 GHz), NFC

Battery

Lithium-ion cell, removalbe, Canon NB-6LH (1060 mАh)

Charging device

Input: 100 − 240 V AC at 50/60 Hz

Output: 4,2 V DC at, 0,7 А

Dimensions

120,0 x 81,7 x 91,9 mm

Weight

442 g (including battery and media)

Color

Black

Warranty

12 months

Producer website
Package and content
The camera comes as a test sample for the press. It is packed in a black cardboard box without any detection printing. And the package includes only the battery, external battery charger with mains cable and the lens cover with a strip. Retail version will be more extensive. In addition, the manufacturer offers optional accessories described on the official page of the device.
Design and elements layout
Traditionally for super zoom, Canon PowerShot SX530 HS is very similar to junior series of mirror cameras Canon EOS: black case, strict forms, grip, pseudo prismatic ledge with built-in flash, a wealth of controls and large lens. The case is made of rough plastic, and the contact with the hand (the handle and the area under the thumb) is lined with rubber coating. Due to this the new is not slippery and provides a pleasant tactile feel and is highly resistant to the appearance of prints. Dimensions of the camera (120,0 x 81,7 x 91,9 mm) are not compact. The length and width is quite comparable with mirror Canon EOS 700D (133,1 x 99,8 x 78,8 mm). The body of the camera is thinner and lighter (138 grams) of the older brother by a simple structure. But we advise to get a camera bag. Taking into account the versatility of the device (a wide range of focal lengths without the need to change the lens), a priori is not very compact and lightweight. It is enough to imagine the weight and dimensions of a mirror or a system camera in a pair of multiple lenses that can block such a wide focal range.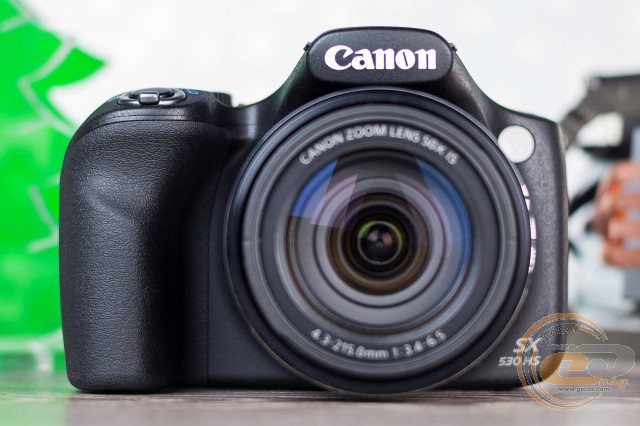 The front of the case has interchangeable lens, surrounded by a metal ring with a facet in the front part, and the AF assist lamp of white color, which serves as an indicator of automatic shutter. Nearby you can find a comfortable ergonomic handle with a recess under the middle finger.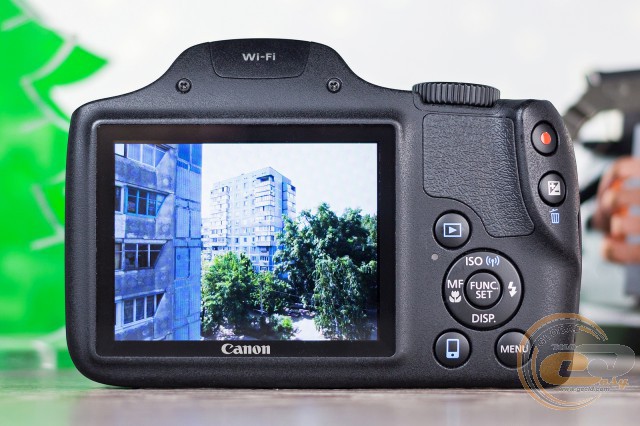 The main part of the rear side is reserved for the LCD screen. To the right there is a traditional four-way joystick with input button («FUNC/SET») at the center, as well as LED memory indicator. In addition, there are the keys of the mobile device connection, the menu and return to preview mode. At the top right there is a convenient platform for the thumb. At the junction of the back and the side face (sloping site) you will notice the key to activate video recording (with the red spot in the center), and exposure compensation, which also triggers the removal of the footage.
On the side faces of the Canon PowerShot SX530 HS you can find strap fixing. In addition, on the right side (under the hinged cover) there are interface connectors: mini-HDMI and mini-USB (MTP, PTP). On the left there is speaker system and contact platform for NFC with antenna. In addition, it should be noted the presence of the zoom key framing and camera shake compensation at the telephoto end, designed to simplify the photographing process of distant objects.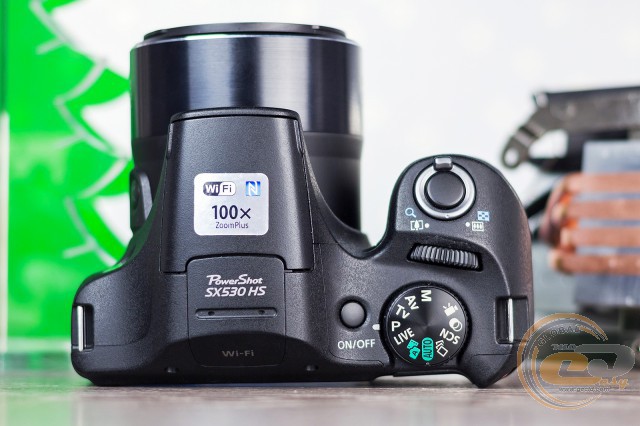 The upper end is filled with a considerable number of elements. In the central part you can in flash flip with two stereo microphones and a sign Wi-Fi, with antenna. Here is the inscription «PowerShot SX530 HS», informing the camera model. As you can see, the "hot shoe" is not available, but you can use an optional accessory in the form of a portable flash Canon HF-DC2. On the right side there is a button on/off and mode dial. Toward the end of the handle you can the shutter key, zoom control, and the control dial.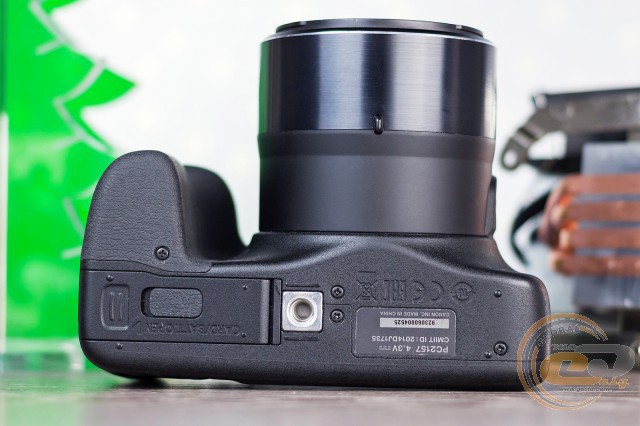 On the bottom there are: a compartment for the battery and memory card (with a hole for the network adapter Canon ACK-DC40), metallic thread for stand mount (offset from the optical axis), and a sticker with the service information. Note that during installation the camera on a stand the compartement with a memory card slot and a battery is available for replacement of the necessary elements.
Build quality of Canon PowerShot SX530 HS is a very good level: details a well fitetd, without any hint of a backlash. The camera body does not bend or change its geometry in torsion, but even tapping you can hear unpleasant echo.
The ergonomics of the device is very well thought out and is strongly associated with high-grade SLR camera. Controls are enough and because of their strategic location (everything is within reach of the thumb and index finger) can be easily operated with just one hand. You need to use the second hand for additional support (to reduce shaking), or by pressing two keys on the lens. Dials (with a notch, spinning on all 360) are characterized by moderately taut and smooth running. And thanks to the handle the camera lies in your hand like a glove. Some complexity may cause a small space between the grip and the lens.
Display, video finder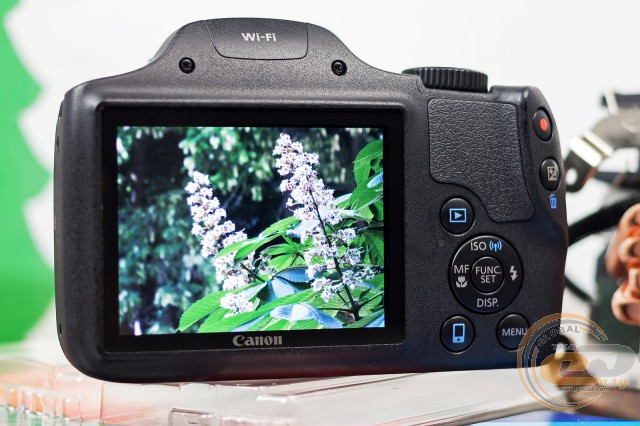 Camera Canon PowerShot SX530 HS is equipped with a 3-inch (7.5 cm) TFT-display based on the matrix TN+film. Its resolution is 461,000 pixels. The screen is characterized by a good detail, nice color reproduction with a sufficient level of saturation and contrast. However, there are specific shortcomings, as in most of this type of matrices. They are low viewing angles. When viewed from a horizontal image is almost non-replaceable, at vertical deviation (about ±45° from normal) the picture starts to be inverted (becomes overexposed or, conversely, too dark). The level of brightness is good. It allows you to view information on a bright sunny day (in this case, provided the function Quick-bright), although the image is noticeably fade. In addition, there is a good anti-glare filter. The display unit is fixed. It is securely fastened, so that the glass is not pressed.
It camera doesn't have viewfinder due to lack of "hot shoe", which is the privilege of the older model.
Interface, setting
Camera Canon PowerShot SX530 HS has a simple and intuitive interface that has remained almost unchanged from the previous models of the manufacturer.
Visually we have a nice black and pale-orange design. The settings menu is presented in two forms (main camera mode) or three (playback mode) vertical tabs. Despite the relatively large number of functions and settings menu, even a beginner can quickly find out, without the need to look into the instruction. And thanks to the "Quick menu settings" (called the enter button («FUNC/SET») on the navigation joystick), presented in the form of a matrix on the left side of the display, you can quick access to the main settings. Given the presence of the modes and control, as well as four-way joystick, you don't need to picked on the menu in search of the necessary parameters.
To transfer the footage it is enough to press «ISO» on the navigation joystick that causes the menu to connect to your devices.
For complete control of the process the user can use four types of the main screen (by pressing the switch «DISP» on the navigation joystick), which can display primary and secondary information. In the mode «Live View» you can display the grid, histogram, shutter speed dial and aperture, as well as activate the mode "Zebra". But the horizon level is absent.
Социальные комментарии Cackle