Nikon 1 V3 Mirrorless camera: review and testing
After the announcement of a new class of mirrorless cameras, a considerable number of manufacturers of photographic equipment quickly filled the market with own solutions. Instead, Nikon had a three-year break, and only then presented cameraы Nikon 1 J1 and V1. Mirrorless camera got a new matrix CX format and its own bayonet called Nikon 1, which allowed to take an intermediate between reflex (not only with the full-frame, but APS-C-matrices) and compact. Furthermore, it excluded the possibility of competition of adjacent lines. Solutions with index «V» are aimed to the most demanding users. They have a high functionality, the electronic viewfinder and a rich set of controls. Models with an index «J» have received simplified construction and are designed for everyday use. Currently lineup of mirrorless cameras took several generations and was supplemented by younger models with index «S», and in recent years with secure the camera Nikon 1 AW1.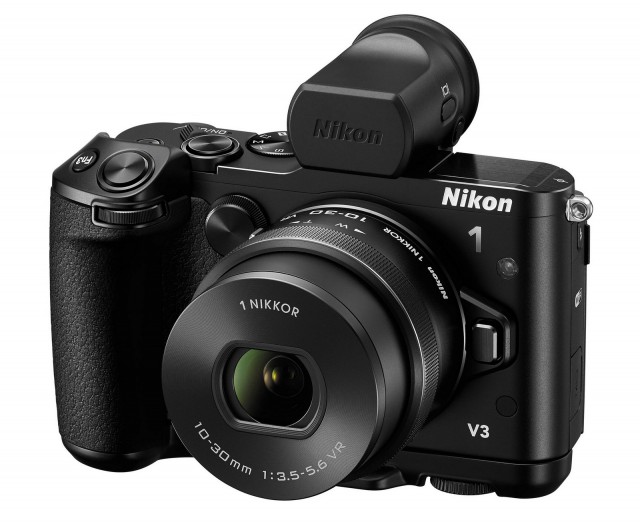 For testing we have a flagship mirrorless camera Nikon 1 V3. Compared to its predecessor, it has received significantly updated design and construction, the sensor with 18.4 megapixel resolution, fast hybrid AF, corporate processor EXPEED 4A and a number of other interesting features. According to a good tradition, we offer to start the review of the camera from technical specifications:
Producer and model

Nikon 1 V3 (VVA231K001)

Type, class

Digital camera, mirrorless

Light receiving element

CMOS matrix CX (13,2 x 8,8 mm); effective number of pixels – 18,4 МP

Picture format

Photo

JPEG (DCF version 2.0, Exif version 2.3), NEF (RAW): 12-bit

Video

MOV (video: H.264/MPEG-4, sound: PCM)

Bayonet joint

Nikon 1

Resolution

Photo

5232 x 2936, 3920 x 2616, 2608 x 1744

Video

1920 х 1080, 1280 x 720, 768 x 288, 416 x 144

Photosensitivity

ISO 160 – 12 800

Exposure range,

mechanical shutter: 1/4000 – 30 s;

electronic shutter: 1/16 000 – 30 s;

Exposure

TTL measurement with image sensors

Light meter mode

Multi-segment, Center-weighted, point

Exposure compensation

±3,0 EV (with step 1/3 EV)

Focus

Hybrid autofocus (autofocus with determination of phase/contrast): 171 P (autofocus with determination of phase) / 105 P (autofocus with determination of phase)

Shutter

Vertical mechanical focal plane shutter electronically controlled; electronic shutter

Continuous shooting

6, 10, 20, 30 or 60 fps

Picture stabilization

Not supported (image stabilization is supported by lens)

Display

Swivel, LCD touchscreen, 3", resolution 1037 of pixels, an aspect ratio of 3:2

Viewfinder

–

Audio

Microphone

Built-in stereo microphone

Speaker

Built-in, monophonic

Flash

Built-in (proper number is 5/6,3 (ISO 100/160))

Data carrier

microSD (micro Secure Digital), microSDHC, microSDXC

Interfaces

micro-HDMI (Type D), micro-USB, mini-jack 3,5 mm

Connectivity

802.11b/g Wi-Fi

Battery

lithium-ion cell, removable, Nikon EN-EL20a (1020 mАh)

Charger

Input: 100~240 V AC 50/60 Hz

Output: 8,4 V DC 0,8 А

Lens

1 NIKKOR 10-30 mm f/3.5-5.6 VR PD-Zoom

Dimensions

110,9 x 65,0 x 33,2 mm

Weight

282 g (only case) / 324 g (including battery with data carrier)

Color

Black

Warranty

12 months

Producer website
Package and content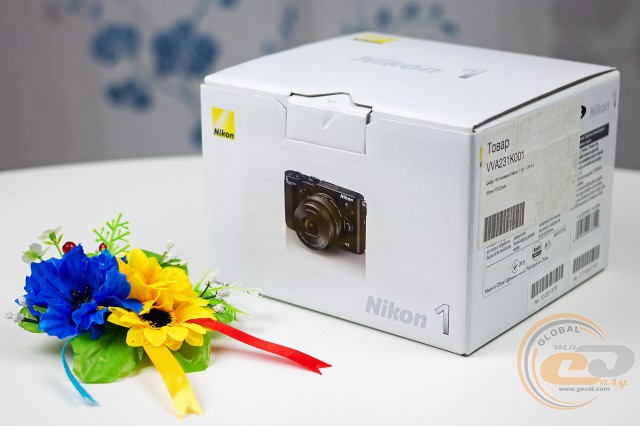 Camera Nikon 1 V3 comes in original square box of medium size. It has a nice bright design and is characterized by a minimum informative content.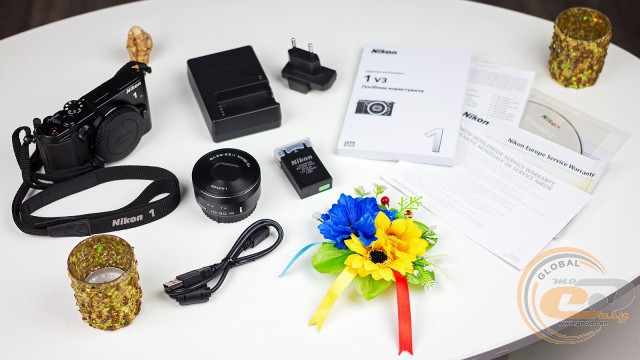 Supplied set contains everything you need to complete the work with the camera:
user's guide
warranty certificate;
CD with proprietary software ViewNX 2;
lens 1 NIKKOR 10-30 mm f/3.5-5.6 VR PD-Zoom;
charger Nikon MH-29 (5 W: 8.4 V at 0.8 A) with removable European plug;
USB-cable UC-E20;
battery Nikon EN-EL20a;
two covers (on the lens mount and the lens);
strap.
Also there is an additional number of accessories that can be purchased separately. Their full list is available on the manufacturer's website.
Design and elements layout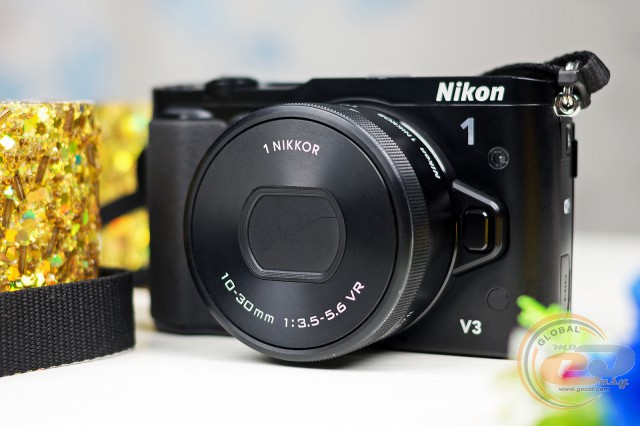 Design Nikon 1 V3 is provided by a modern and stylish way. Before our hi-tech rectangle with sharp edges, rounded sides and a wealth of controls. In contrast to the colorful patterns with index «J» and «S», the new product has only black design options. Camera chassis is made of metal. Externally, it is complemented by plastic elements and lined with rubber that mimics the skin.
In comparing the dimensions (110,9 x 65,0 x 33,2 mm) and weight (324 g) with the model Nikon 1 V2 (107,8 x 81,6 x 45,9 mm and 338 g), it is possible to notice some miniaturization, which has been achieved by refusal of the electronic viewfinder (available as an accessory Nikon DF-N1000) and solid handle. In terms of the compactness the camera can be compared to Sony A5100. That is, the Nikon 1 V3 will take up minimal space in your backpack.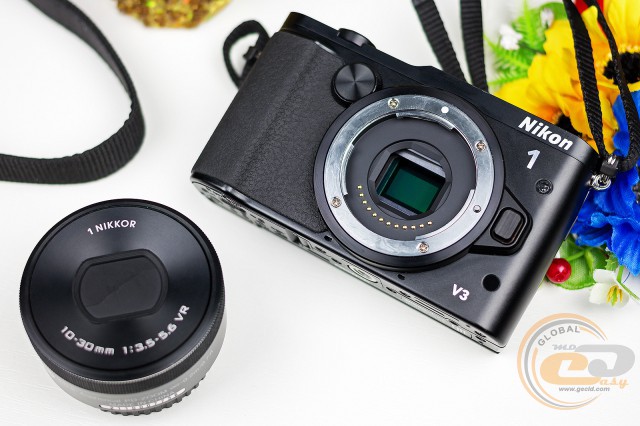 On the front panel you can find: bayonet (Nikon 1) with lens release button, command dial (default controls the diaphragm), the AF lamp illumination, the IR receiver for the remote control, stereo microphones, the manufacturer's logo and the model name. There is a small ergonomic ledge with textured finish.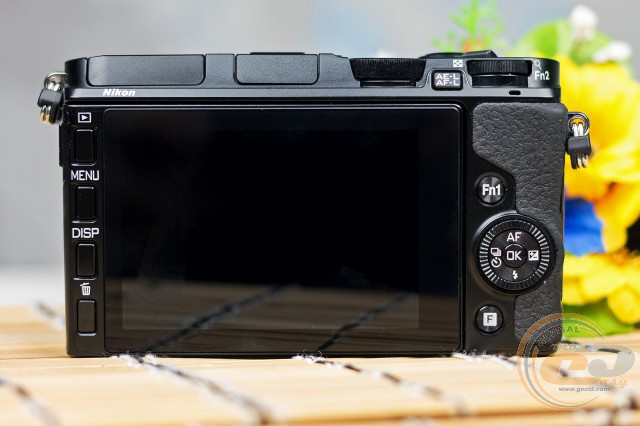 The main part of the back side is the hinged display with keys unit on the left side. They allow you to change the view mode, open the menu, control the display of information and delete the footage. To the right of the screen there are keys «Fn1» (programmable, default - white balance) and «F» (quick menu), the access indicator of memory and four-way (AF, drawing, flash mode and compensation) drive selector with button input (or «OK») in the center. In the upper right corner you can find a speaker system, lock button, (AEL/AFL), as well as the control dial, which, when pressed performs the role of key «Fn2» (programmable, default - value change ISO). There is also a convenient platform for the thumb.
On the side faces the Nikon 1 V3 has eye strap. In addition, the right side (under the hinged cover) contains the interface connectors micro-HDMI, micro-USB and memory card slot, and the left - a key release flash logo Wi-Fi and a 3.5mm audio jack for connecting an external microphone. Note a convenient location of card. In many mirrorless cameras it is at the bottom, along with the battery, which complicates access to it during operation (such as a tripod). A particular surprise was the use of the microSD format instead of the normal SD, which makes this solution more uniform with other common gadgets that mainly use this type of card.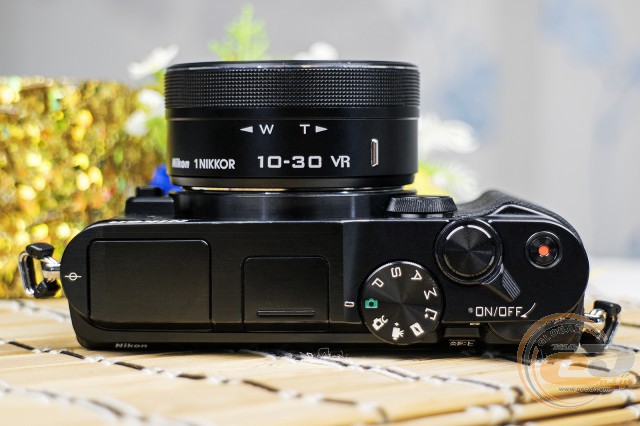 The upper end includes a flip flash accessory connector (under cover), the mode dial, shutter release button, surrounded by a lever on/off with indicator and activation key of video recording (nearly drowned) with characteristic red spots in the center. A few words should be said about the lever on/off that even with a slight shift could be activated.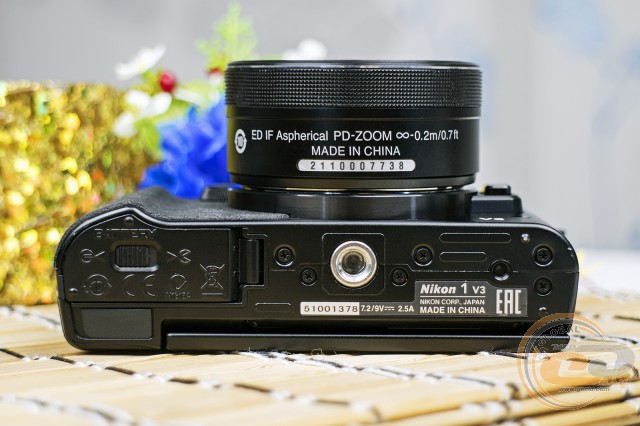 On the bottom there is the battery compartment (with a hole for the network adapter Nikon EH-5b), the connector (under cover) to connect the handle Nikon GR-N1010, sticker with service information, as well as metallic thread for tripod mount, which is available on optical axis.
The build quality of Nikon 1 V3 is at the highest level: you won't find backlash and creaking; all the elements fit tightly to each other, and attempts to torsion and pressure on the construction defects were not found. Metal body is well painted. The case doesn't have dust and water protection, it is not recommended to be used in case of rain.
The ergonomics of the device is good and fairly well balanced, so should appeal to beginners and professionals. Controls are enough (some of them can be reprogrammed to suit your needs), and everything is in convenient and easily accessible. The keys have a comfortable size and a clear keystroke. Dials (with a notch, spinning on all 360) are characterized by moderately taut and smooth running, and easily found. The grip is quite good. For better application you can buy a removable handle.
Display and viewfinder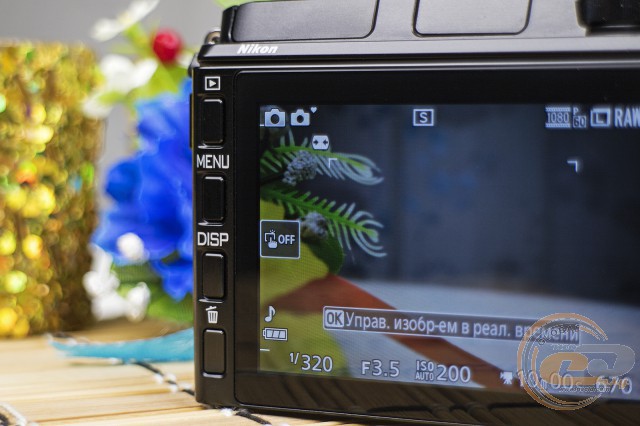 The Nikon 1 V3 is equipped with a 3-inch (7.6 cm) LCD screen with a conventional aspect ratio of 3:2. Its resolution is 1037000 pixels (ie 720 x 480 pixels). The picture is characterized by relatively high details, pleasant colors and a good level of saturation and contrast. The brightness level allows you to work on a sunny day, but did not have enough anti-glare filter. Viewing angles are wide, without noticeable color deviations from the normal.
The display unit has a hinged structure in the vertical plane (90° downward and about 150-160° upward), which allows convenient enough to be removed from the upper and lower positions. There is no possibility of full deployment of the display, which might disappoint some fans of self-portraits. But the manufacturer has taken care of the possibility of touch control that allows shooting or select focus point with one touch. In addition, you can scroll, zoom and play filmed content to navigate through the menu and change the settings, which is an excellent feature of the new item, which increases the ease of use. During the tests, the shortcomings of the touch screen were not fond - everything works properly. Recall that the previous model (Nikon 1 V2) had a fixed display and did not have touch control.
Built-in camera lacks a viewfinder, but it is available as an accessory Nikon DF-N1000, which can be purchased separately.
Interface, setup
Camera Nikon 1 V3 got a convenient and intuitive interface, designed in pleasant light colors. The setup menu is made in the form of a column with icons that are located on the left side of the screen. They have a considerable size, which gives the convenience of using the touch screen, which can be turned off if desired. The total number of functions and settings is very large, which opens the user's access to all features of the camera. Note three dials and two programmable buttons («Fn1» and «Fn2»). This allows you to change the basic settings (shutter speed, aperture, exposure, ISO and white balance) without the need to use the menu. A good habit is the availability of the pop-up menu in the center of the screen quick settings.
In the mode «Live View» the screen has mesh, the basic parameters and volumetric virtual horizon. To change the type of information displayed on the main screen by pressing the key «DISP» on the left side of the display unit. The only feature is that in the process of shooting you can not display a histogram that makes it impossible for more detailed assessment of the exposure level to produce the frame, so you have to be guided by the exposure indicator. In playback mode histogram is available.
It should be noted that the camera and the lens tested with firmware versions 1.0 and 1.0, respectively. Upgrade can be downloaded from the official website of the manufacturer.
Lens
Социальные комментарии Cackle