Mirrorless digital camera Sony α6000 (ILCE-6000L): review and testing
In a new millennium the popularity of digital photography is caused by an extremely wide surge in the development of social networks, blogs, etc. And if most of the modern user use the capabilities of smartphone camera for capturing moments of everyday life, for a truly artistic pictures in high quality this is not enough. Therefore, users who have an idea about the principles of modern digital photographic equipment and some experience with it are looking for more interesting options. One of them is mirrorless digital camera with interchangeable lens that can offer high functionality and a wide range of accessories. In addition, the benefits of these solutions include the relative compactness and reliability of the design, a more affordable price (in many cases), fast autofocus, the ability to view images using all the settings and effects before you press the shutter, a rapid transition to video mode and a number of other advantages. All this causes a relatively high popularity of mirrorless (system) cameras not only among the amateurs but the professionals of art and digital photography. Also this is contributed by a large variety of solutions available on the market from different manufacturers. One of them is the Japanese company Sony, which has extensive experience in designing and manufacturing various photo and video equipment.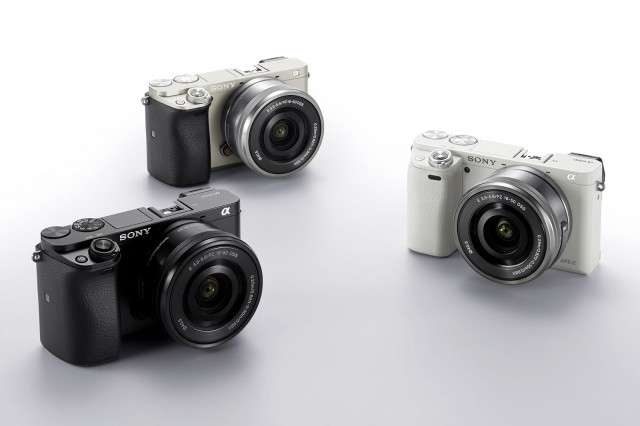 For testing we have a mirrorless digital camera Sony α6000 (ILCE-6000L). It is part of the lineup Sony Alpha which brings together all the cameras with interchangeable lens. The novelty has a modern appearance, corporate sensor Exmor APS HD CMOS with resolution of 24.3 megapixel, fast hybrid autofocus, high functionality and a number of other equally interesting features, which will be discussed in the course of the review. Let's start from the technical specification:
Producer

Sony

Model

α6000 (ILCE-6000L)

Type, class

Digital camera, mirrorless

Light receiving element

Matrix Exmor APS HD CMOS of APS-C type (23,5 x 15,6 mm);

effective number of pixels - 24,3 MP

Picture format

Photo

JPEG (DCF version 2.0, Exif vesion 2.3, compatibility with MPF Baseline), RAW (format Sony ARW 2.3)

Video

AVCHD 2.0, MPEG-4 AVC (H.264)

Bayonet joint

Sony E-mount

Resolution

Photo

6000 x 4000, 4240 x 2832, 3008 x 2000, 6000 x 3376, 4240 x 2400, 3008 x 1688

Video

1920 х 1080, 1440 x 1080, 640 х 480 до 60 fps

Photosensitivity, ISO

100 – 25 600

Exposure range, s

1/4000 − 30

Exposure

1200- zone evaluative dimension

Light meter mode

Multi-segment, Center-weighted, point

Exposure compensation

+/- 5.0EV (with step 1/3 EV, 1/2 EV for choice)

Focus

Hybrid autofocus (autofocus with determination of phase/contrast): 179 P (autofocus with determination of phase) / 25 P (autofocus with determination of contrast)

Shutter

Focal-plane with electronic control and vertical transition

Continuous shooting, fps

11 (in mode high speed continuous shooting)

Picture stabilization

Is not supported (picture stabilization is supported by lens)

Display

rotary, LCD, 3", resolution 921 600 P, aspect ratio 16:9

Viewfinder

Electronic, color, OLED-matrix, 0,39", resolution 1 440 000 P, aspect ratio 3:2

Audio

Microphone

Built-in stereo microphone

Speaker

Built-in, monophonic

Flash

+

Data carrier

Memory cards Memory Stick PRO Duo, Memory Stick PRO-HG Duo, Memory Stick XC-HG Duo, SD, SDHC, SDXC

Interfaces

micro-HDMI (Type D), micro-USB, Multi Interface Shoe

Connectivity

Wi-Fi, NFC, DLNA, IR

Battery

Lithium-ion, interchangeable, Sony NP-FW50 (1080mAh)

Charger

Input: 100~240 V AC at 50/60 Hz

Output: 5 V DC 0,5 А

Lens

Sony E PZ 16-50mm F3.5-5.6 OSS

Dimensions

120 x 66,9 x 45,1 mm

Weight

285 g (only case) / 344 g (including battery and data carrier)

Color

Black / Silver

Warranty

12 months

Producer website
Package and content
Sony α6000 camera comes in a medium-size cardboard box. It has a nice and quite informative design with a predominance of orange and white colors. The front side of the package contains the logo of the manufacturer, model name, and a picture of camera with a complete lens. Here you can see several icons that tell about the key features of the new item: matrix Exmor APS HD CMOS APS-C type with a resolution of 24.3 MP, fast hybrid autofocus, continuous shooting at a rate of 11 fps, OLED-viewfinder, corporate processor BIONZ X, support for a number of communication interfaces (Wi-Fi, NFC, DLNA) and shooting videos in 1080p. In addition, on the sides you can find a list of supplied set and supported accessories and technologies.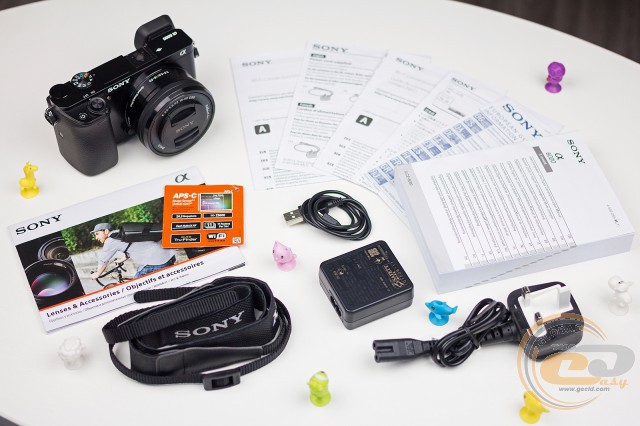 The set contains everything you need to complete the work with the camera:
User's Guide
warranty card;
lens Sony E PZ 16-50mm F3.5-5.6 OSS;
power supply (2.5 W 5 V at 0.5 A) with a power cord;
cable micro-USB↔USB;
battery Sony NP-FW50;
small strap.
Also there is an additional number of accessories that can be purchased separately. The full list of them can be found on the manufacturer's website.
Design and elements layout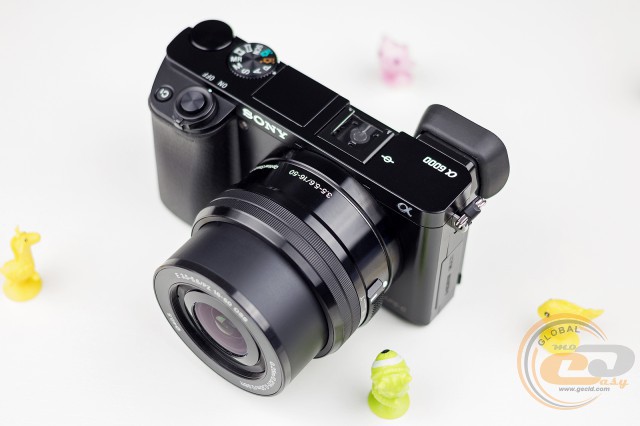 Sony α6000 (ILCE-A6000 or A6000) is the direct successor of Sony NEX-6 with a lot of improvements in almost all respects. Despite this, the design, dimensions, case materials are identical to precursor. We have the same stylish rectangular case with beveled edges which looks quite modern and nice. In the market you can find classic color variations: silver body with black handle or completely black or silver. Camera chassis is made of metal and the outer by some slippery plastic. Due to this the new product is quite lightweight, (460 g including battery and lens). In addition, the camera is pretty compact (120 x 66,9 x 45,1 mm), including complete lens. It easily accommodated not only in a small bag, but almost easily fit in a wide pockets of coat/ jacket or even trousers, making it a truly versatile solution for everyday use.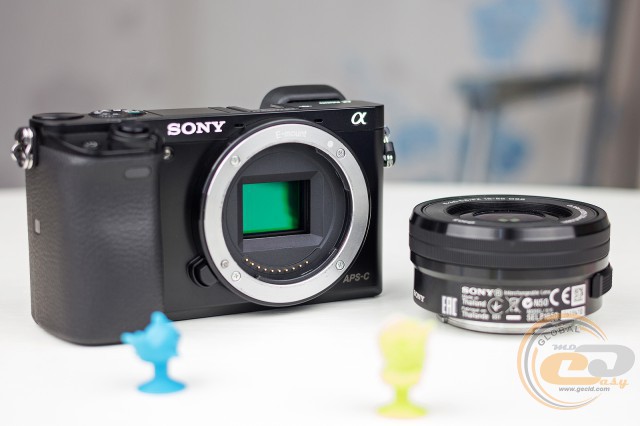 The front panel has: bayonet joint (Sony E-mount) with lens release button, stereo microphones, autofocus illumination lamp and logos of devices and products. Near there is a considerable handle with rubber lining that mimics the texture of the skin and provides a secure grip and pleasant tactile sensations. Do note that it has an ergonomic recess under the middle finger. Also here is IR receiver for the remote control.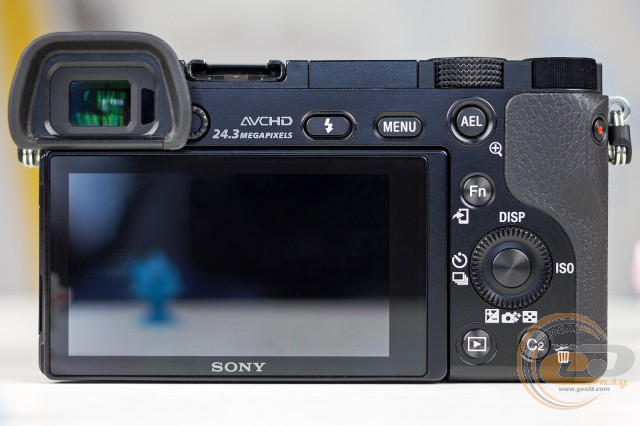 The back side is filled with a large number of functional elements. Most of it takes a folding screen with the logo «Sony». Above it you can find a viewfinder with diopter adjustment and proximity sensor, flash activation key and the menu. To the right of the screen are AE lock button (AEL), call the quick menu (Fn) and playback mode, four-position disc-selector with input button on the center and the button "C2" (deletes files in the mode "Preview"). Also there is a convenient platform for the thumb. At the junction of the back and the side face you can find a in-depth key for video activation with a characteristic red spot in the middle.
The side faces of Sony α6000 contain a small hole for strap. In addition, the left (under the front flap) you can find interface connectors micro-HDMI and micro-USB, and on the right side - pad for NFC, with hidden antenna.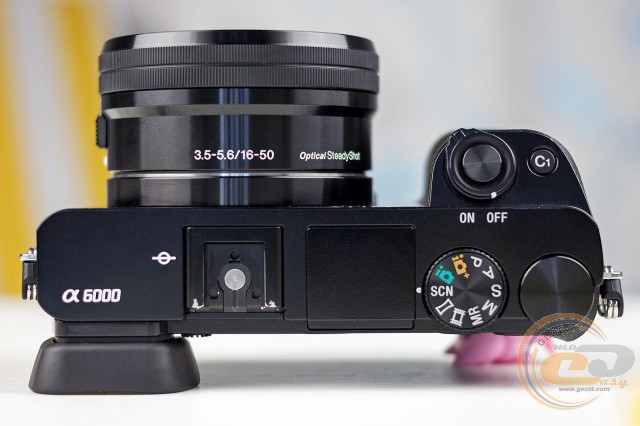 The upper end has universal connector (Multi Interface Shoe) with support for function of "hot shoe" and branded accessories Sony, flip the flash and two control disks with textured notch for mode selection and navigation (switching is fairly clear and tight, which prevents accidental actuation). Here you can see the inscription «α6000», informing the camera model and icon of matrix arrangement. Closer to the edge of the handle there is the shutter key, belted by a ring on/off, and the soft key "C1".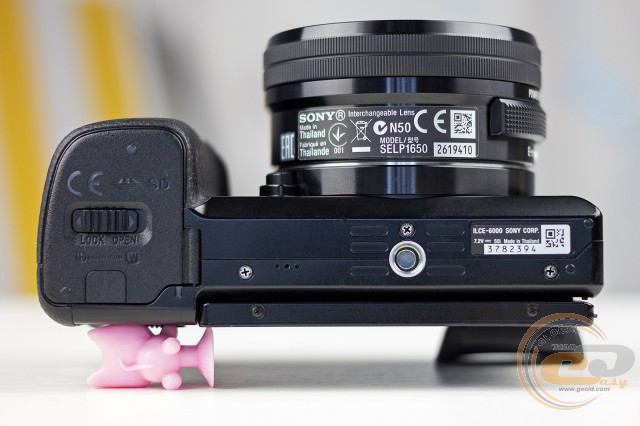 The bottom side has the usual elements: a compartment for the battery and memory card (with the spring lid closed with a bolt), the access of memory, system speaker and thread for tripod mount, and a sticker with the service information. It should be noted that when installing the camera on a tripod, a memory card slot and battery remains available to replace the necessary elements (the process is quite inconvenient and requires some skill).
Sony α6000 build quality is very good, except that the flash module (closed) creaks when pressed, and the display (when folded) has a small gap. Most likely, these are the features of only the test model. The body does not have dust and moisture protection.
Ergonomics of the product is good enough, but it requires to get used especially after prolonged use mirror camera Canon EOS 650D. Location of the majority of the controls does not cause complaints: everything is in place, only the key to activate the video is out of the general picture (located at the junction of two faces). It requires a change in grip or use the second hand to avoid dropping the unit. Perhaps more appropriate would be the arrangement on the key "C1". However, this arrangement can hardly be called completely uncomfortable. In addition, it prevents unwanted tripping.
Some discomfort may occur only in people with large hands/fingers due to the small distance between the lens and the handle. In any case, operate the camera with both hands is quite convenient.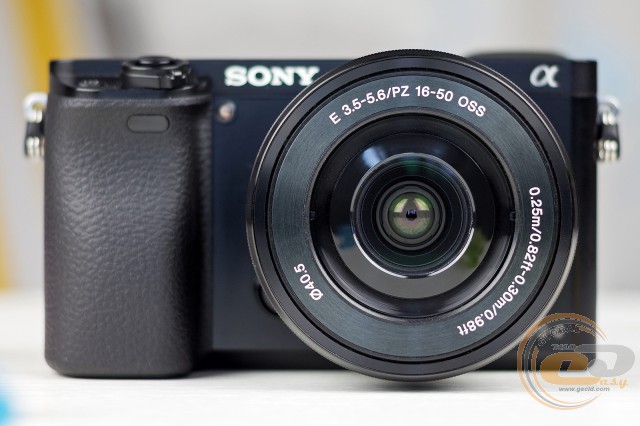 In general, the camera Sony α6000 has a sophisticated appearance and comfortable ergonomics. It is quite compact, lightweight and absolutely does not feel bulky. The controls are located on the successful places. The quality of execution, as well as most materials does not cause significant complaints, if you do not take into account the relatively high soiled body in a black version.
Display, viewfinder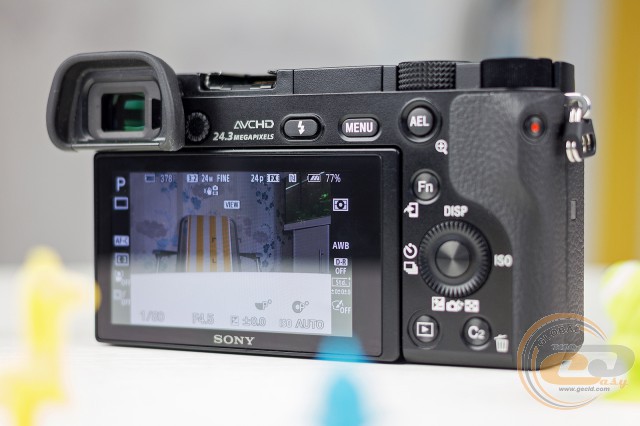 Camera Sony α6000 is equipped with 3-inch LCD widescreen with an aspect ratio of 16:9 (commonly used ratio 3:2, so when taking pictures with a maximum resolution at the edges you can notice black strips). Its resolution is 921,600 pixels (i.e. 640 x 480 pixels). This is a fairly mediocre figure, because Sony has a more clear display. Although the screen is characterized by rather high detail with a nice color and a sufficient level of contrast. The level of brightness is pretty good. It allows you to review the information even on a bright sunny day. The screen has wide viewing angles without noticeable deviations.
The main feature of the display unit is its folding design, but only in the vertical plane (approximately 90° up and 45° down), which allows comfortably to shoot from the top and bottom positions. For example, you need to make a shot over a crowd of people or at waist level or near the ground - this display will allow easily control the whole process of shooting. What is missing is the possibility of touch controls, which would accelerate the access to certain functions.
Digital 0.39-inch viewfinder with a zoom coefficient 0,7x is based on OLED-matrix with a resolution of 1.44 million pixels (i.e. 800 x 600 pixels) with the traditional ratio of 3:2. It should be noted that in the previous model Sony NEX-6, the viewfinder had significantly better specifications: resolution of 2 359 269 pixels (1024 x 768 pixels) and zoom 0,73x. However, the resulting picture is characterized by a rather pleasant quality with balanced colors and the absence of failures in light or dark areas. Viewing angles are quite sufficient. Traditionally OLED-matrix has a perfect level of contrast, as a result, deep black color. The brightness level in manual mode is excellent, but auto mode reduces it. The setting has an option to change the color temperature in the range of 5 units (range ±2). You can also implement diopter adjustment for the clearest picture (corresponding controller is nearby). Due to the proximity sensor automatic switch between the display and viewfinder is performed (can be turned off in the options menu).
Interface, adjustability
Camera Sony α6000 has fairly simple and visually pleasing interface with black and pale red colors in the design. The main menu is presented in the form of matrix icons (6 pieces). It is filled with a huge number of features and capabilities. So at first meeting the beginners may face with some difficulties in finding the right settings. Especially many functions have additional sub-menus that are change with the help of two dials. However, after a few days of active work with the device troubles regarding finding the necessary functions or settings almost disappear.
It should be noted the capability of personalization "quick settings menu" («Function Menu»). It is represented in a matrix form at the bottom of the display, where 12 parameters are displayed, which can be reprogrammed as desired. This denies the need to dig into the menu settings in search of the necessary items. For complete control of the process of shooting the user can display four types of main screen (by pressing the switch «DISP» on the disk selector), one of which is perfect to fans of sight through the viewfinder. The screen displays all the basic and advanced options. In the mode «Live View» you can display the grid, histogram, shutter speed and scale of the aperture value and activate the mode "Zebra". But the horizon leveler is not available.
Special attention should be given to the service Playmemories, which is a store of applications that extend the functionality of the camera using specially designed programs. The choice is wide and constantly updated from all sorts of effects to manual image correction.
Социальные комментарии Cackle