PSU be quiet! DARK POWER PRO 11 1200W: review and testing
In May this year a new line of high-performance power supply be quiet! DARK POWER PRO 11 was announced. Using this link you can read the corresponding news. And now, after a few months we managed to get one of its representatives to be tested. And this is a very top-end model be quiet! DARK POWER PRO 11 1200W (be quiet! P11-1200W) with capacity of 1200 W. A new series includes two devices with capacity for 1000 and 850 W, respectively. They all share a great performance, very high efficiency (compliance with 80 PLUS Platinum), the presence of a modular cabling system and the use of low-speed fan that makes the power supplies quite interesting solutions for enthusiasts of computer equipment.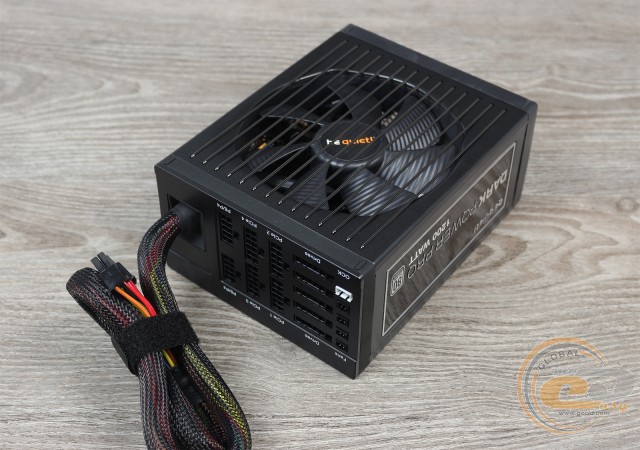 The specs:
Model

be quiet! DARK POWER PRO 11 1200W

(be quiet! P11-1200W)

Type

ATX12V v2.4 / EPS12V v2.92

Rated capacity, W

1200

Peak power, W

1300

Rail 12V capacity, W

1188

Rails +3,3V and +5V capacity, W

150

Quantity of rails +12V

4 (can be replaced by one)

Outputs, А

+3,3V

25

+5V

25

+12V1, +12V2

35

+12V3, +12V4

45

-12V

0,5

+5VSB (stand-by power line)

3

Input voltage, V

110 – 240

Frequency, Hz

50 – 60

Input current, А

9 – 15

Efficiency, %

> 92,4

Certifies 80 PLUS

Platinum

Power factor (PF), %

> 99

Method of Power Factor balancing

Active

Configuration of system output cables

Partially modular cables

PCIe-sockets

8 (6+2-pin)

1 (6-pin)

Fan dimensions, mm

135 х 135 х 25

Fan speed controller

Yes

Noise level, dB

10,7 − 27,9

Support for energy saving states C6 / C7(Intel Haswell Ready)

Yes

Correspondence to environmental standards, electromagnetic safety and compatibility (EMI/EMC)

CB, CE, TUV, FCC, cTUVus, RCM, CU, ErP, WEEE, RoHS, Energy Star 6.0

Protections

OVP, UVP, OPP, SCP, OCP, OTP

Dimension, mm

193 х 150 х 86

Warranty, years

5

Mean time before failure, h

150 000

Producer website

Product page
Package and content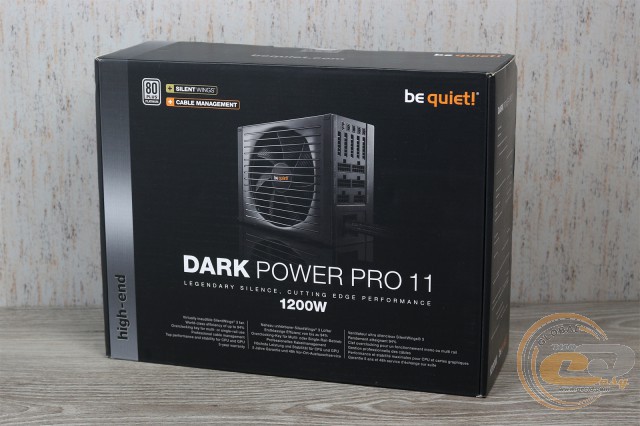 Power supply be quiet! DARK POWER PRO 11 1200W comes in a box of medium size decorated in black traditional for be quiet! On its front side you can find an image of the device, as well as its main features: nominal power (1200W), compliance with energy efficiency standard (80 PLUS Platinum), the modular cables and support for proprietary technology Silent Wings. For those who do not want to learn such details, the manufacturer has added the inscription «high-end», which clearly hints that inside the box is a top-level power supply.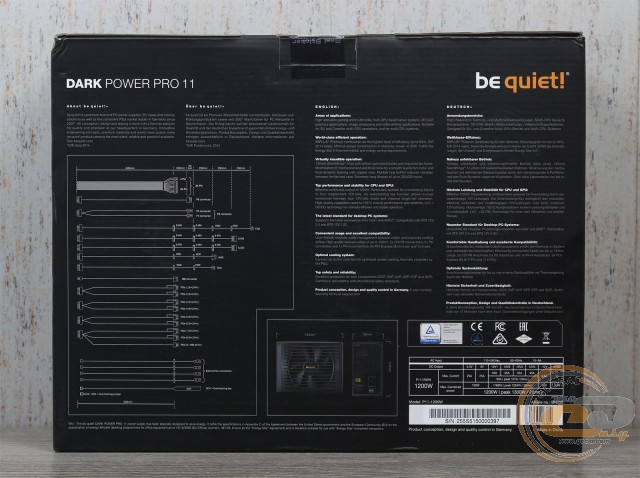 Before proceeding to the description of the contents of the package we would like to mention its excellent information content. The ends and back side contains a lot of useful information about the features of power supply used in its circuitry, the protection system, fan, output cables, and much more.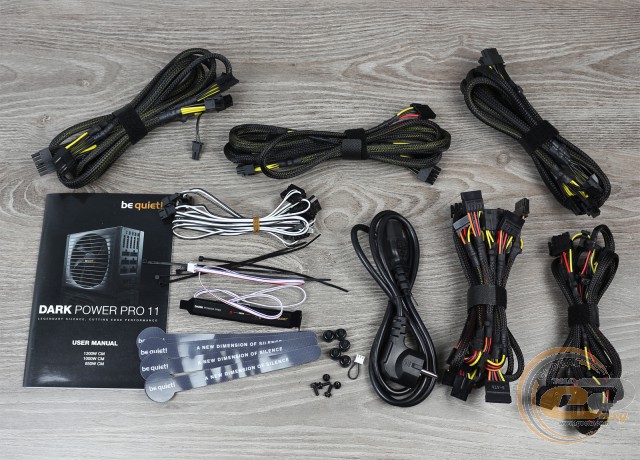 Delivery set is fully consistent with the status of the device. In addition to the traditional power cord, instructions and screws for mounting in a box, we also found a set of modular cables, wires to connect the fan, switch OCK as a jumper, switch OCK as a toggle on the remote panel, clamps, reusable ties with adhesive tape and one set of screws for mounting (with the usual head).
Some of these components are relatively rare for the supplied set, and some are even unique in its kind. We describe them in more details. Now move on to the appearance of the model be quiet! DARK POWER PRO 11 1200W.
Design
It is made in steel elongated body with a black ventilation grille in the form of thin rods. This structure will create a minimum obstruction for the flow of air injected into the power supply. The front panel has more than the usual type. Here is a perforated mesh with a power outlet and a button to turn off the power. The remaining walls of the housing are continuous.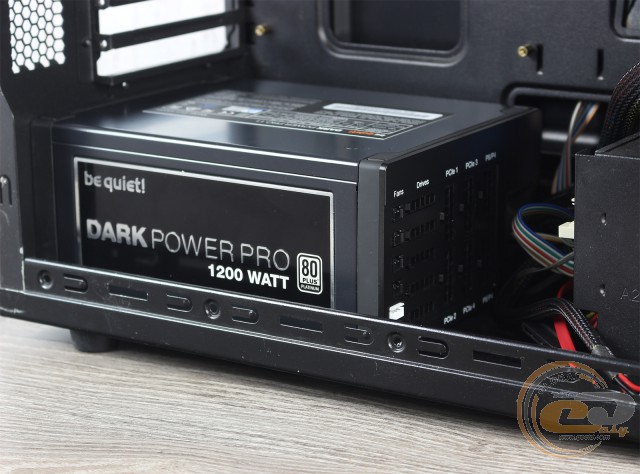 Model be quiet! DARK POWER PRO 11 1200W has slightly larger dimensions (193 x 150 x 86 mm). This fact should be taken into account when choosing the system unit for further configuration. System of cables output is modular. However, not all of them are detachable. Cable with connector ATX to power the motherboard is put directly from the power supply case. Although you won't face with special inconveniences during system assembly.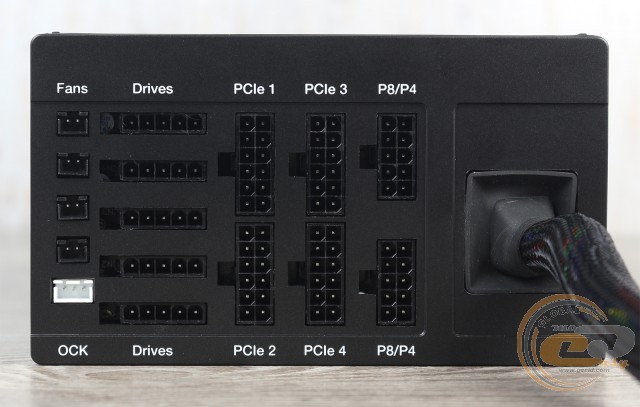 The rear panel has all kinds of connectors. Despite the fact that they are signed and have a different configuration, it is important to clarify the purpose of each of them:
two 10-pin («P8/P4») - for an extra CPU power;
four 12-pin («PCIe 1-4») - for an extra power of video card;
five 5-pin («Drives») - to supply the periphery;
four 2-pin («Fans») - to supply the fans connected to the power supply;
one 3-pin («OCK») - for connecting remote panel OCK.
The first three items in this list are quite standard, but the last two should be described in more detail.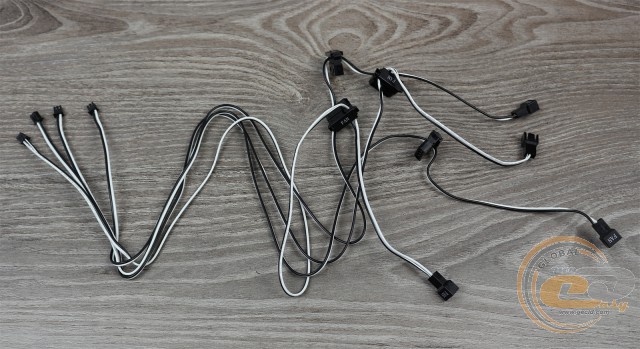 Model be quiet! DARK POWER PRO 11 1200W provides the user with a unique opportunity to connect fans directly to it. For these purposes the supplied set contains special cables with PATA and FAN sockets (i.e. type of used fan plays no role). This feature may be useful, for example, during overclocking experiments where it is often necessary to quickly cool any component or blow off condensation. Also, this solution can be used within a standard PC, especially if it is a multi-function assembly. Since in such circumstances it is not always possible to provide easy access to the relevant connectors on the motherboard.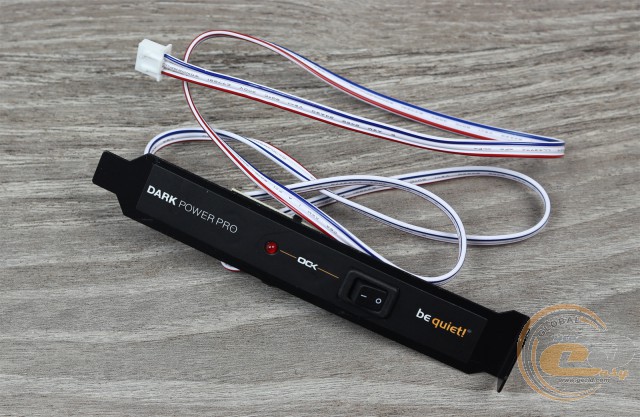 Connector OCK is primarily designed for enthusiasts of computer equipment. Due to a special toggle on the remote the user can control the channel +12V, or rather choose its configuration: one powerful 99-voltage line or 4 "virtual" with the current limit.
All output cables for connecting the components are made in the form of a wire braid. However, we would like to notice a ribbon type of cables for the power supply of this level. At the very least, this structure is used by most of its competitors in the "platinum" solutions.
As for the configuration of the system cables, it is a high level. For the needs of the user there are two 8-pin ATX12V (for additional CPU power) and eight 6+2-pin PCIe (additional power of video cards). It should be noted that they are all located on different cables. There is also a 12-volt line connected to one 6-pin PCIe. It is designed to take stock of the power to the slot PCI Express, located on the motherboard, and helps reduce the load on its track in the case of a part of a system of three or more graphics cards.
The number of peripheral connectors is also impressive: ten SATA and eight PATA (excluding four on cables to connect fans). So be quiet! DARK POWER PRO 11 1200W is suitable not only for gaming or overclocking configuration, but also fit perfectly into the productive file server.
All available types of connectors and wiring length on which they are located are given in the table below:
Socket

Quantity

Cable length to socket (connectors), cm

Cables from PSU

20+4-pin ATX connector

1

60

Modular (detachable) cables

4+4-pin ATX12V connector

1

70

8-pin ATX12V connector

1

70

two 6+2-pin PCIe connectors

3

60

two 6+2-pin PCIe + one 6-pin PCIe

1

60

four SATA

2

60-75-90-110

two SATA + twi PATA + FDD

1

60-75-90-105-115

three PATA

1

60-78-95

two PATA + FDD

1

60-75-90

PATA connector

1

60

PATA + 3-pin FAN

4

60-75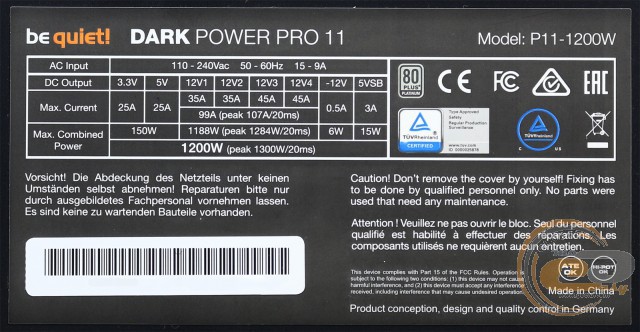 Before moving to the analysis of the hardware platform, we offer to look at the characteristics of electrical power supply specified on the label. Its nominal capacity is 1200 W, also short-term overloads up to 1300 W are permitted. Rail +12V is designed as a 99-voltage line (99% of the total power of the device), but it is divided into four "virtual" lines with the restrictions in the current 35 A and 45 A. However, it does not affect the ability to connect "gluttonous" components to the power supply. Firstly, 35 A and 45 A are very high values, and secondly, can you always switch to the selected one 12-volt line. For rails +3.3V and +5V combined load should not exceed 150 W.
Note that quiet! P11-1200W can operate over a wide input voltage range (110 – 240 V). That is in an unstable power supply you don't need to use external voltage regulators.
Internal device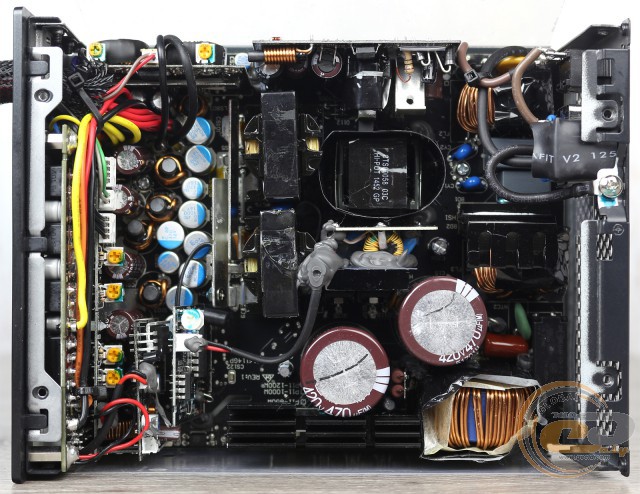 In a new lineup be quiet! DARK POWER PRO 11 the experts of the brand be quiet! decided to refuse the platform Sea Sonic Electronics. As a result, internal power supply unit has undergone significant changes, although conceptually differences are minimal. be quiet! DARK POWER PRO 11 1200W still uses full-bridge topology on the basis of full bridge LLC-converter with synchronous rectifier in the low voltage part. Such scheme allows to achieve high efficiency and at the same time provides a good state of output voltage. As you can see from the pictures, engineers of be quiet! have also started to actively use a modular concept that greatly simplifies and reduces the cost of development and production of future models of different power, built on the same platform.
Now we propose to consider the circuitry in more detail. We begin from the cooling system.
Here it is presented with three massive radiators in the high part and two modest in low-voltage plates. Note the dimensions of the cooler (located directly behind the power transformers), which removes heat from the transistors on the +12V rail. On the other hand, it is placed in the immediate blowing area of quite productive 135 mm fan (6.72 W). So for now, let's not jump to conclusions. The installed fan is marked «be quiet! SILENT WINGS BQ-SIW3-13525-HF» and has a member of the famous series of be quiet! Silent Wings, and representatives have a very low noise level (in this case it does not exceed 27.9 dBA). This result was achieved by using a special aerodynamic impeller and advanced fluid dynamic bearing. Further, the maximum fan speed is limited to 1800 rpm.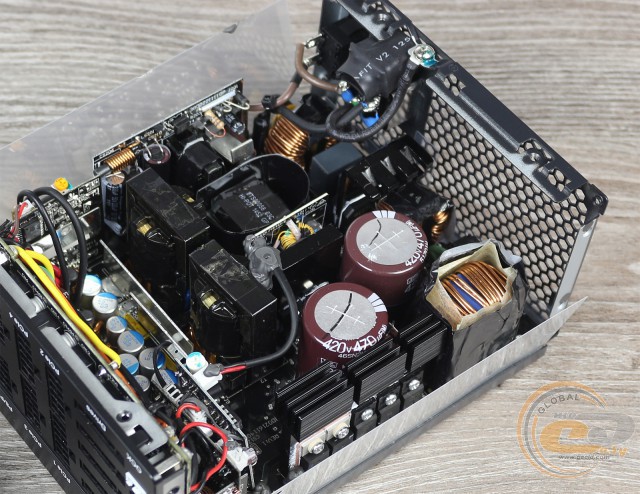 EMI filter is installed in the input of the power supply. It includes the full list of required components: four Y and three X capacitors, two chocks and varistor. Diode bridge consists of two assemblies. Behind there is the module Active Power Factor Correction (APFC) and the power component: two diodes CREE C3D06060 and three transistors STMicroelectronics 31N65M5. PWM controller of APFC is on the back side of the PCB.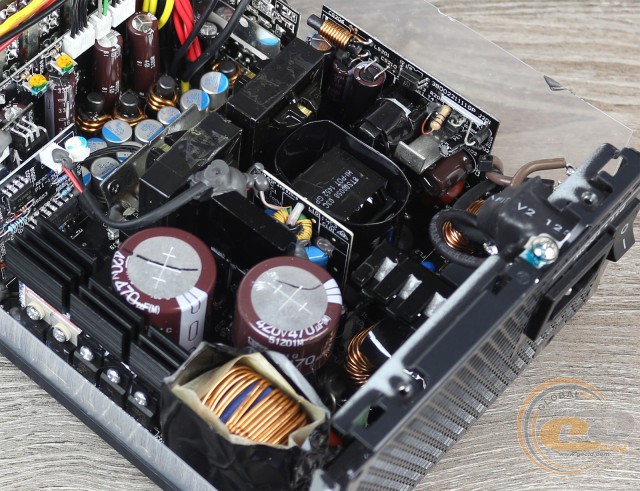 Central part in the power supply is given for the main converter, which is built on the high resonance circuit and includes two pairs of power switches STMicroelectronics 26NM60N (full bridge). Instead of a power transformer manufacturer decided to use two pieces. Also, a converter control unit is modified: a PWM controller CM6901 is added by a pair of drivers and a dual operational amplifier TS358CD.
Using such an arrangement the stand-by power supply on the main PCB is excluded. It is put on the daughter card. It works under the control of the chip TNY279PN.
Capacitors of high-voltage circuit (420 V x 470 uF, 105°C) are represented by two elements of the Japanese company Nippon Chemi-Con. Their total capacity reaches 940 uF, which is an excellent indicator for the power supplied of 1200 W.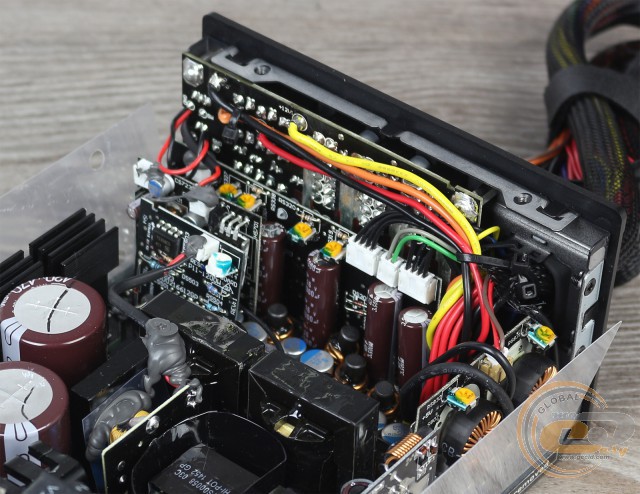 Low-voltage part of model be quiet! DARK POWER PRO 11 1200W is a synchronous rectifier: the power transistors located on the rear side of the main printed circuit board form a line +12V that provides the voltage +3.3V and +5V.
Suitable DC/DC-converters are separate unit with the power elements and the LC-filter. To stabilize the voltage there is a separate principle and noise filtering on the power supply outputs is carried out via a huge number of polymer capacitors (16 V x 330 uF, 16 x 560 uF, 16 Vx 470 uF and 16 V x 1000 uF). Also, in order to provide further smooth out of ripple the line +12 has several elements with liquid electrolyte of high capacity (16 Vx 3300 uF). In all cases, they are produced by the Japanese companies Nippon Chemi-Con and Rubycon, which are renowned for high quality of its products.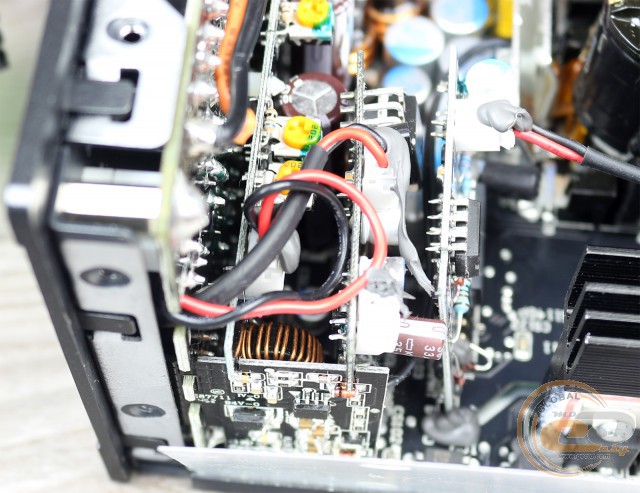 be quiet! DARK POWER PRO 11 1200W provides a full list of necessary protection:
overvoltage protection (OVP);
undervoltage protection (UVP);
short-circuit protection (SCP);
overload power (OPP);
protection against over-current of each channel (OCP);
overtemperature protection (OTP).
The corresponding node is running due to chip SITI PS232S. The features of the internal device include the presence of a module for controlling the operation of connected fans. It is equipped with a separate sensor, so their speed will be set by own algorithm.
Социальные комментарии Cackle