PSU be quiet! STRAIGHT POWER 10 600W CM: review and testing
The German company Listan GmbH & Co. KG, better known under the brand be quiet! is a leader in the European market of power supplies. And in other countries its products are very popular. Let's learn the range of offered solutions. And this trend is typical for all lineups of power supplies, starting from cheap devices aimed at the mass user (a series of be quiet! PURE POWER) and to the top-level model designed for enthusiasts of computer equipment (series be quiet! DARK POWER PRO).
However, in this review we want to talk about the "golden mean" - representative of the ruler be quiet! STRAIGHT POWER. In our opinion, they are the most balanced solution to the model number of the company and certainly appeal to many users.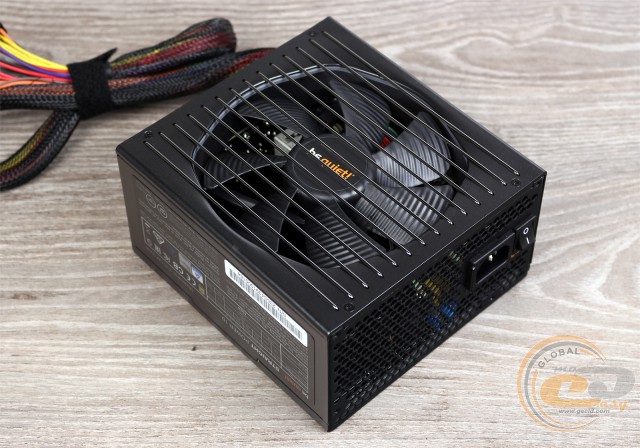 It seems that this opinion is shared by the manufacturer, because this series includes just 8 solutions and covers a fairly large segment of the market of power supply from 400 to 800 W. Moreover, the customer can save money and buy a model with the traditional configuration of cables or spend a little more money and get the version with detachable cables. In the second case, in the name of the power supply has the prefix «CM» (Cable Management). One of such devices will be described in the review, to be more precise a 600 W model be quiet! STRAIGHT POWER 10 600W CM which is also titled as «be quiet! E10-CM-600W».
The specs:
Model

be quiet! STRAIGHT POWER 10 600W CM

(be quiet! E10-CM-600W)

Type

ATX12V v2.4 / EPS12V v2.92

Rated capacity, W

600

Peak power, W

670

Rail 12V capacity, W

576

Rails +3,3V and +5V capacity, W

140

Quantity of rails +12V

4

Outputs, А

+3,3V

24

+5V

24

+12V1, +12V2

18

+12V3, +12V4

20

-12V

0,5

+5VSB (stand-by power line)

3

PCIe-sockets

4 (6+2-pin)

Modular

Yes (partially detachable cables)

Efficiency, %

> 87

Certifies 80 PLUS

Gold

Power factor (PF), %

> 97

Method of Power Factor balancing

Active

Input voltage, V

100 − 240

Frequency, Hz

50 − 60

Input current, А

4 − 8

Fan dimensions, mm

135 х 135 х 25

Fan speed controller

Yes

Noise level, dB

10,6 − 20,2

Support for energy saving states C6 / C7(Intel Haswell Ready)

Yes

Correspondence to environmental standards, electromagnetic safety and compatibility (EMI/EMC)

CB, CE, TUV, FCC, cRUus, cTUVus, BSMI, ErP, WEEE, RoHS, Energy Star 6.0

Mean time before failure, h

100 000

Protections

OVP, UVP, OPP, SCP, OCP, OTP

Dimension, mm

160 х 150 х 86

Packaging

Power cord, set of modular cables, cable holders, installation screws, manual

Warranty, years

5

Producer website

Product page
Package and content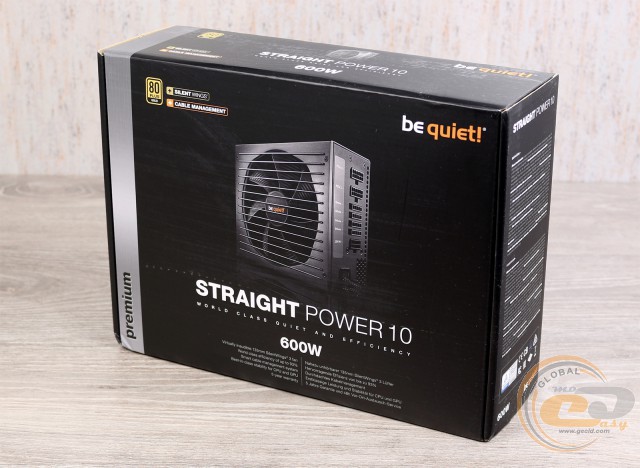 Power supply be quiet! STRAIGHT POWER 600W CM 10 comes in a box with colorful printing and excellent informative aspect. The front side contains the picture of device and its main features.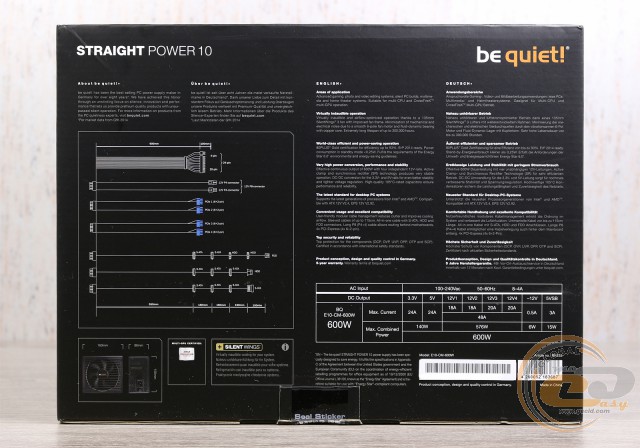 Detailed information is given on the back of the packaging. In addition to the tables and charts that describe the configuration of cables and electrical characteristics of the power supply, it also provides a detailed list of features. Let's briefly learn it:
Areas of application - supply unit aims to use as a part game of the efficient systems and workstations, as well as in assemblies, with a low level of noise;
Virtually inaudible operation - very quiet operation of the device, by using a 135-mm fan based on FDB-bearing with long life up to 300 000 hours;
World class efficient and power-saving operation - compliance with standards of efficiency 80 PLUS Gold, ErP 2014 and Energy Star 6.0;
Very high power conversion, performance and stability - the basis of the power supply is a modern platform with advanced single-cycle forward converter with active damping and the synchronous rectifier, which guarantees a good performance at the output;
The latest standard for desktop PC systems – here is the whole series of energy-saving technologies, embedded in modern AMD and Intel processors, as well as full compatibility with standard ATX12V v2.4 and EPS12V v2.92;
Convenient usage and excellent compatibility - cable system is modular, and the number of available slots lets you connect components without adapters;
Top security and reliability - the device meets the international electrical safety certificates, as well as a whole range of necessary protections (OVP, UVP, OPP, SCP, OCP and OTP);
Product conception, design and quality control in Germany. 5-year warranty - the development and quality control of the power supply is carried out in Germany, while it is subject to a 5 year warranty.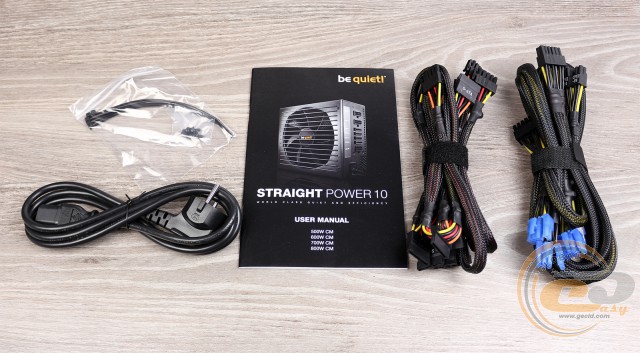 Scope of delivery of model be quiet! STRAIGHT POWER 600W CM 10 is as follows:
power cord;
set of modular cables;
installation screws;
cable holders;
manual.
Design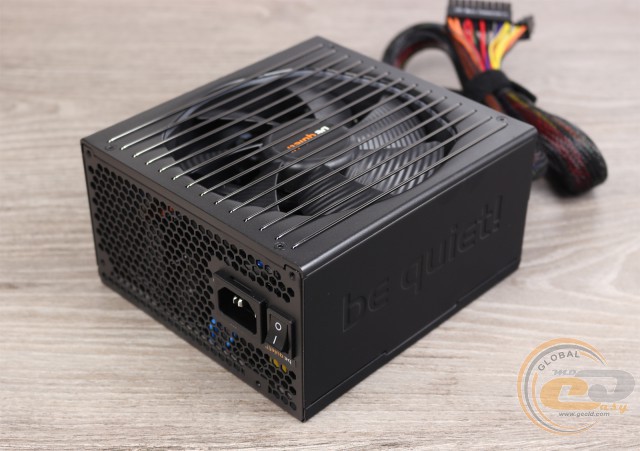 The first thing we paid attention is excellent quality of its building and attention to detail. No defects such as bad-treated panels, large gaps or bad braid were not noticed. The body is made of thick steel and is additionally painted in stylish black color.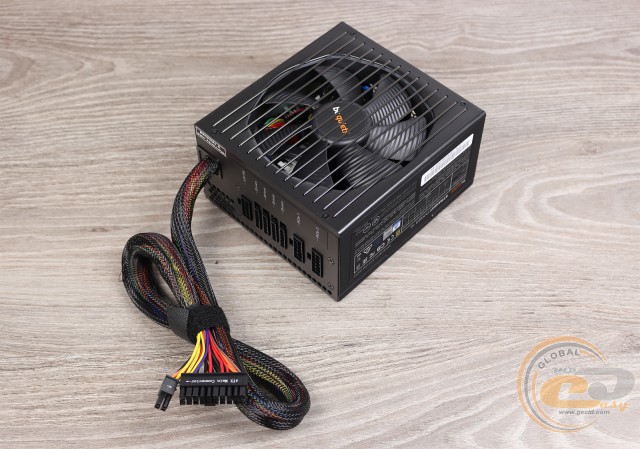 A notable feature of this model is a non-standard fan mesh on the cover: the traditional grill is replaced by a series of metal rods. Note that this configuration does not affect the placement of the power supply inside the computer case. The front panel has a more familiar look as a perforated mesh with the power outlet and the button to turn off the power.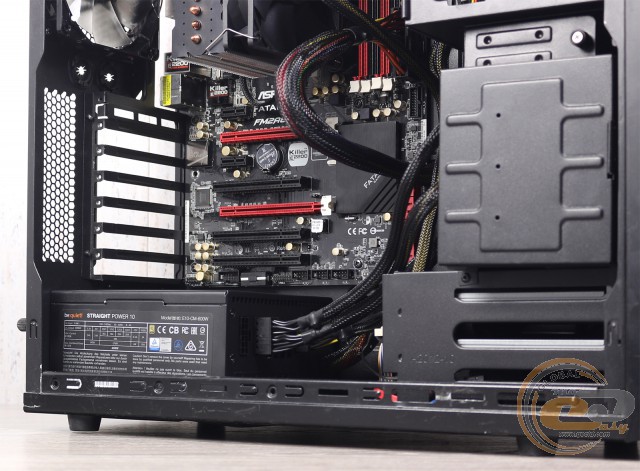 be quiet! E10-CM-600W is equipped with partially modular cables: cable to power the motherboard is put directly from the device, while the rest cables are detachable. As a result, the building process is greatly simplified and you can organize as hidden cable management.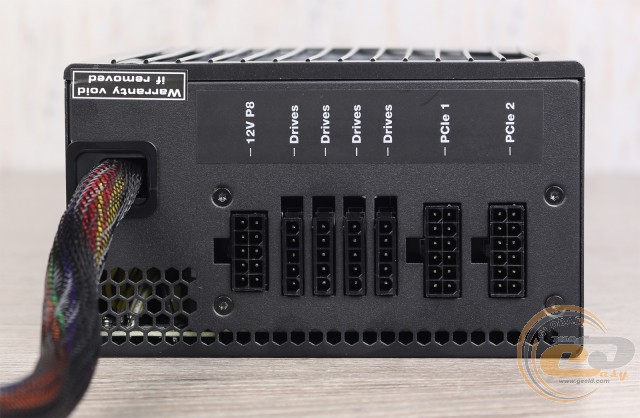 On the rear panel you can find seven connectors, which have the following purpose:
one 10-pin («12V P8») - for an extra CPU power;
four 5-pin («Drives») - for connecting peripherals;
two 12-pin ("PCIe 1 PCIe and 2") - to power graphics cards.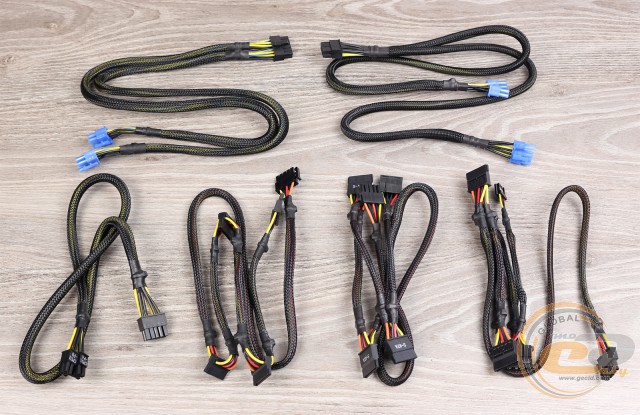 All cables including detachable have a nylon braid. In comparison with similar strips as they are more rigid, therefore the system building in a compact package can be difficult and require more time, and to use various holders and clamps. Under standard conditions you won't face with any difficulties.
The main power connectors are presented by detachable 20+4-pin ATX and 4+4-pin ATX12V. We were pleasantly surprised by the number of PCIe connectors to connect video cards - they are 4 pieces, all in the 6+2-pin version. In other words, be quiet! 10 STRAIGHT POWER 600W CM could theoretically be used as a part of gaming computer with two top-end graphics cards.
By the way, the configuration of cables for connecting peripherals also provided only good impressions. There are a lot of SATA and PATA connectors. In most cases only one cable is enough to connect the power supply to the drives and system fan.
Socket

Quantity

Cable length to socket (connectors), cm

Length from PSU

20+4-pin ATX connector

1

60

Modular (detachable) cables

4+4-pin ATX12V connector

1

60

6+2-pin PCIe connector

4

60

four SATA

1

55-70-85-100

three SATA and one PATA

1

55-70-85-100

two SATA, two PATA and one FDD

1

55-70-85-100-110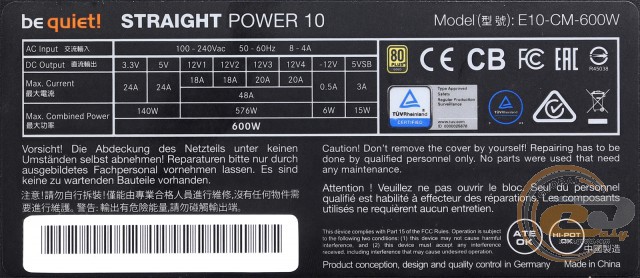 Now let's take a closer look to the technical features of the model be quiet! E10-CM-600W. Its rated capacity is 600 W, and the peak according to the official website can reach 670 W. +12V rail is designed for relatively large load of 576 W, which corresponds to approximately 96% of the total power. However, it is divided into four lines - two 18 and two 20-ampere. In our opinion, it is more appropriate to use a standard chart with a powerful dedicated +12V rail. Rails +3.3V and +5V have a maximum total power of 140 W. In addition, each can withstand current up to 24 A. It is quite enough to power drives and other peripherals.
Model be quiet! 10 STRAIGHT POWER 600W CM complies with standard 80 PLUS Gold. According to its requirements, the efficiency of the power supply for loads of 20%, 50% and 100% of the nominal power must not fall below 88%, 92% and 88% respectively (for supply voltage 230 V).
Also note a wide input voltage range (100 – 240 V), which eliminates the external voltage regulators in an unstable power supply.
Internal device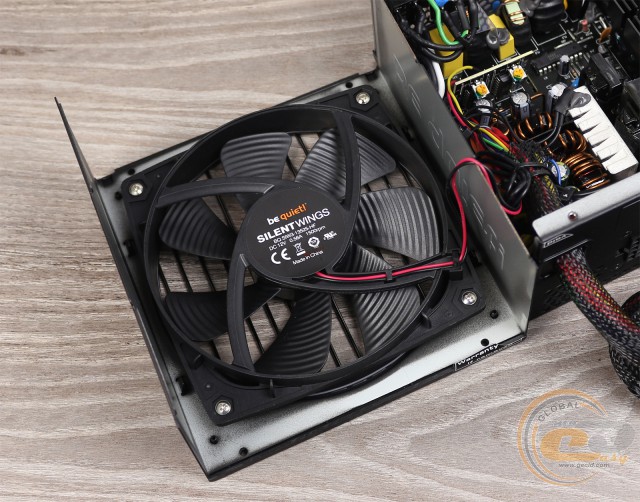 In order to cool the internal components there is a 135mm 7-blade fan be quiet! SILENT WINGS BQ-SIW3-13525-HF based on the fluid dynamic bearing (FDB). Its maximum speed is 1500 rpm, which should provide a minimum level of noise under the entire load range. Thus it has a fairly high efficiency indicating the power of 6.72 W. Thus according to the combination of characteristics it is one of the best fans that we met in the power supply.
| | |
| --- | --- |
| Fan | be quiet! SILENT WINGS BQ-SIW3-13525-HF |
| Bearing | FDB |
| Supply voltage, V | 12 |
| Current, А | 0,56 |
| Capacity, W | 6,72 |
| Max rotation speed, rpm | 1500 |
| Air flow, CFM | − |
| Noise level, dB | 10,6 − 20,2 |
| Dimensions, mm | 135 х 135 х 25 |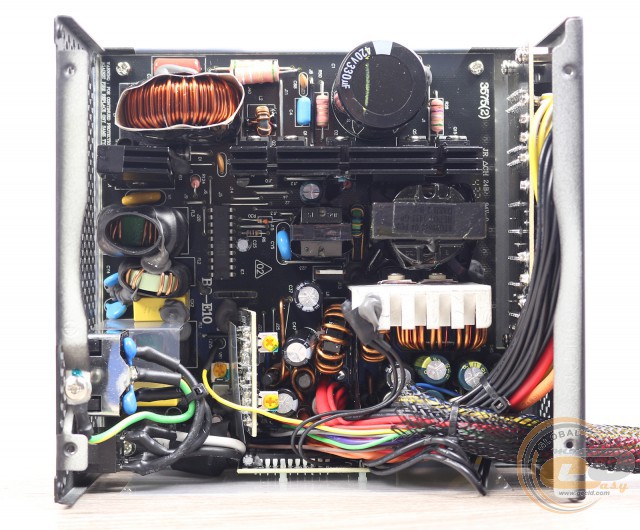 OEM-manufacturer of platform that formed the basis of the power supply be quiet! 10 STRAIGHT POWER 600W CM is a famous company FSP. A feature of this circuitry is the type of converter: instead of the traditional high-end solution for the resonance circuit there is a single-ended set of a forward converter with active damper (Active Clamp Forward). Low-voltage part has a standard form of synchronous rectifier. However, they are some nuances. And now let's go directly to detailed analysis.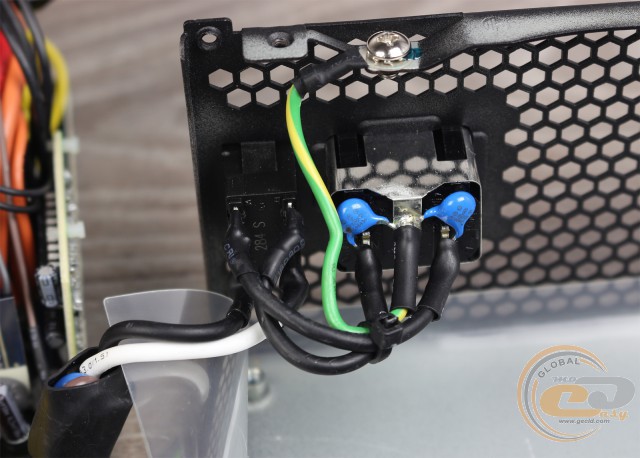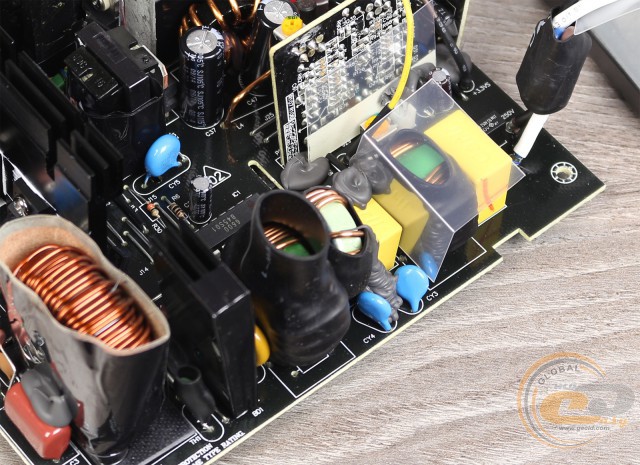 Let's start from a high-voltage part, which is mounted at the input of high-grade EMI-filter. This unit is responsible for smoothing high-frequency noise emitted by power supply, as well as bears the function of lightning protection. You won't face with problems of elemental base (two X- and Y-four condenser, three chocks and varistor) and the isolation of the individual components of the filter.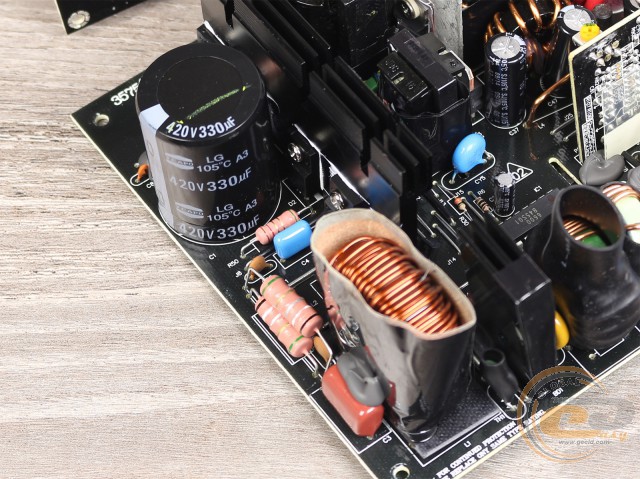 The bridge for rectifying the input voltage is represented by a diode assembly, which is equipped with own radiator. Also here is the module Active Power Factor Correction (APFC) and high voltage capacitor (330 uF x 420 V). The manufacturer of the last is a Taiwanese company Teapo wiht average quality of products. Note that the capacitor belongs to a series of up to 105°C.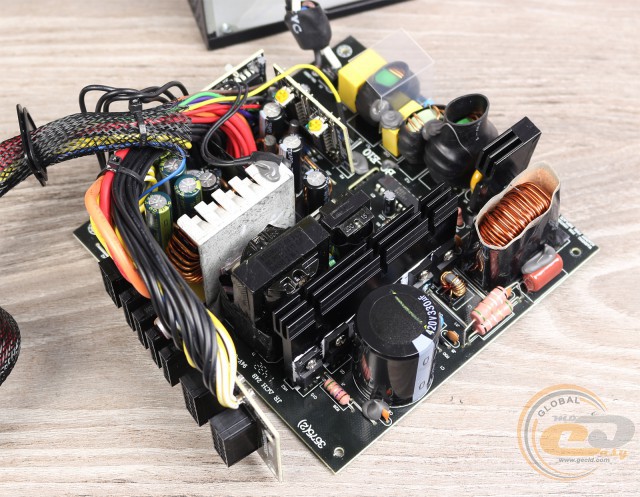 In the center of the board we found a source of standby power (+5Vsb) and the main converter. As mentioned above, it is a single-cycle forward converter with active damper (Active Clamp Forward). The main advantages of this topology are to reduce energy losses in case of transformer demagnetization and switching power switches, as well as a significant reduction in noise and interference. In addition, it makes it quite easy to arrange the direct management of synchronous keys on the secondary side (in the low-voltage side).
The disadvantages of this scheme include the need of use the PWM controller of a higher level, as well as complicated design of the transformer.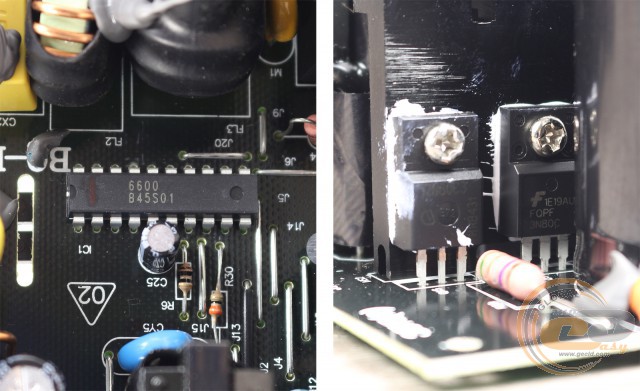 As for the model be quiet! 10 STRAIGHT POWER 600W CM, chip FSP6600 is responsible for the correct operation of the main unit. It is a PWM controller of APFC module. Power switches of the converter are a pair of transistors Infineon 17N80C3 and Fairchild FQPF3N80C.
Low-voltage part is a synchronous rectifier with a DC-DC-voltage converters of +3.3V and +5V, power elements are brought to the back side of the PCB. They work under the control of two chips FSP6601.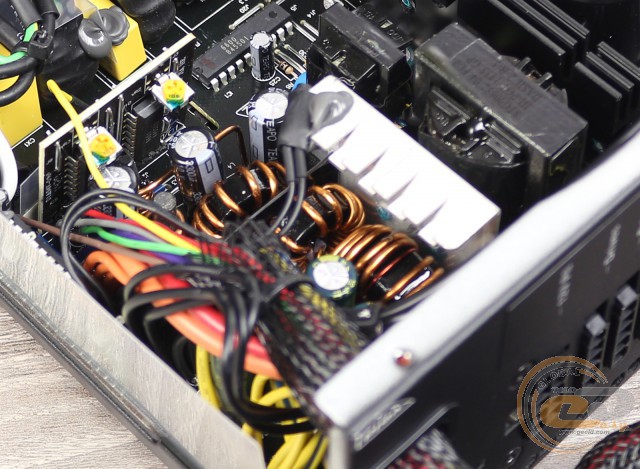 In order to rectify voltage +12V the manufacturer used more powerful transistors that respectively require more cooling. In this regard, they are positioned directly in the airflow of the fan, and have an additional aluminum radiator. It has a temperature sensor. It is important to note that the model be quiet! E10-CM-600W uses the principle of separate voltage stabilization.
In the output of the power supply we found capacitors with liquid electrolyte of the above-mentioned companies Teapo.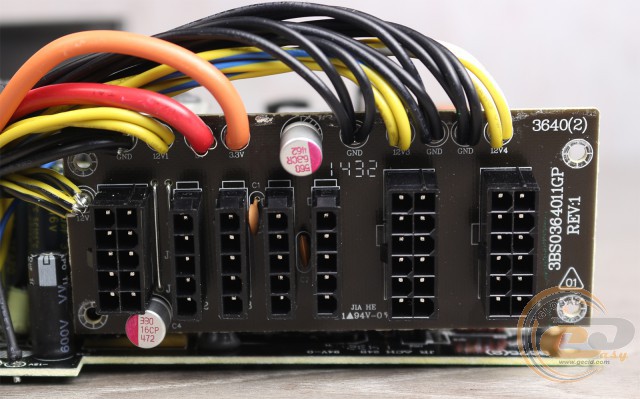 Also here are few solid capacitors: two on the main board and two near the modular connectors.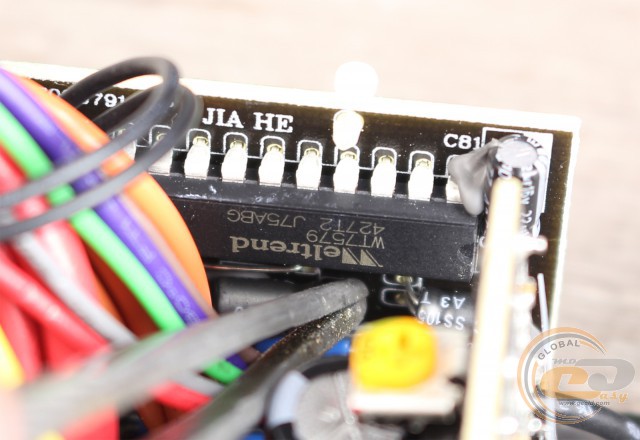 According to the technical specifications, be quiet! STRAIGHT POWER 600W CM 10 has a whole series of protections (OVP, UVP, OPP, SCP, OCP, and OTP), including protection against overload and overheating. The node based on the chip Weltrend WT7579 and implemented on a separate printed circuit board.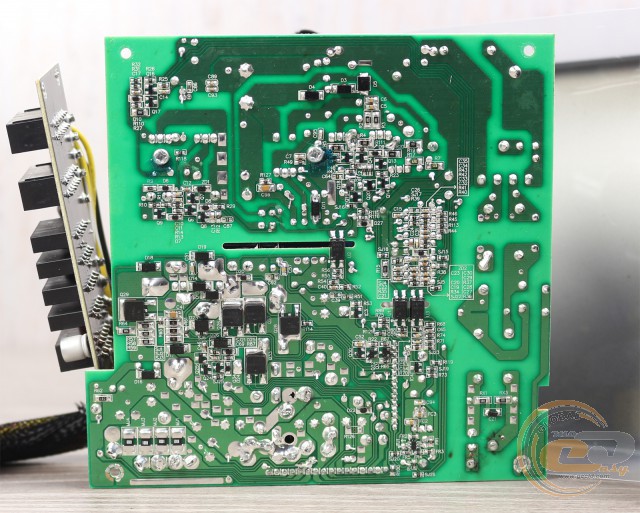 The quality of board layout and assembly of components is very high: sagging of flux, soldering defects or other specific deficiencies are absent. And it is not surprising, since to the quality control of products produced by the German company.
Социальные комментарии Cackle