PSU Seasonic G-550: review and testing
Having tested the flagship Seasonic G-750 and Seasonic G-650 from updated series Seasonic G, it would be unfair to ignore the less powerful representatives. In particular, we are talking about power supply Seasonic G-550 (Seasonic SSR-550RM). Perhaps its performance at the level of 550 W does not sound so proudly as 750 or 650 W. On the other hand, today more important are maximum performance and capabilities, and their combination on the background of the price tag of the device. And in this regard, the hero of the review looks more interesting, especially if we consider it as a power supply for usual home PC.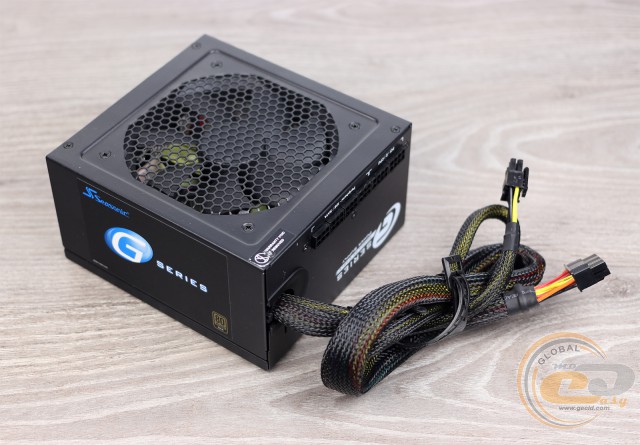 The specs:
Model

Seasonic G-550

(Seasonic SSR-550RM)

Type

ATX12V / EPS12V

Rated capacity, W

550

12V channel capacity, W

540

+3,3V and +5V rail capacity, W

100

Q-ty of +12V rail

1

Outputs, А

+3,3V

20

+5V

20

+12V

45

-12V

0,3

+5Vsb (stand-by power line)

2,5

Input voltage, V

100 − 240

Frequency, Hz

50 − 60

Input current, А

4 − 8

Efficiency, %

> 88

Certified 80 PLUS

Gold

Power factor, %

99

Method of Power Factor balancing

Active

Output cables

Partially modular

PCIe-sockets

2 (6+2-pin)

Fan dimensions, mm

120 х 120 х 25

Fan speed controller

Yes (S2FC)

Noise level, dB

−

Support for energy saving states C6 / C7(Intel Haswell Ready)

Yes

Correspondence to environmental standards, electromagnetic safety and compatibility (EMI/EMC)

CB, CCC, TUV, GOST-R, BSMI, CE, FCC, RCM, RoHS, WEEE, ErP Lot 6 2013

Protections

OVP, UVP, OPP, SCP, OCP, OTP

Dimension, mm

160 х 150 х 86

Warranty, years

5

Producer website
Package and delivery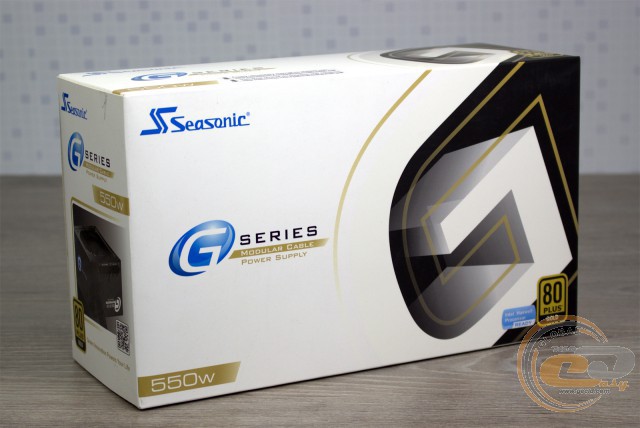 PSU Seasonic G-550 comes in a cardboard box, decorated in black and white colors of the series Seasonic G. As always, it has good informative aspect and can provide the user with all the necessary information about the characteristics of the device, used technologies, as well as the configuration of the output cables. Detail list of features can be found on the back side of the package, and we got to know one of the previous reviews, so will not be repeated, and immediately proceed to analyze its contents.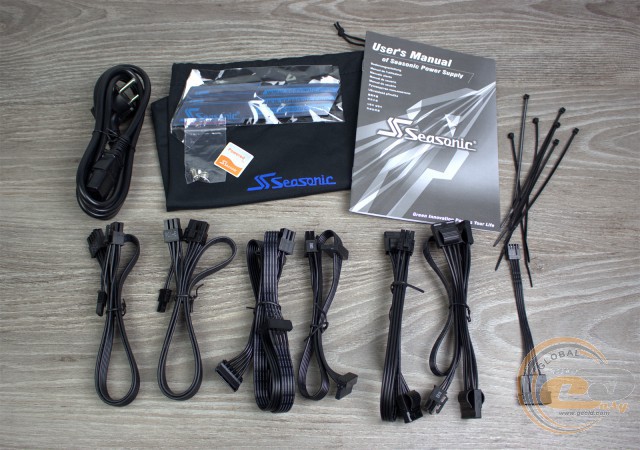 Besides the traditional components (power cord, installation screws and manual), supplied set of Seasonic SSR-550RM also includes holders, some strips with adhesive tape and a set of detachable cables. Also there is a special storage bag with the company's logo.
Design and cabling system
Externally, the model Seasonic G-550 is virtually identical to the other "box" solutions, sold under the brand Seasonic. As we have reported, this is quite standard practice. The build quality is at high level: case is built without any defects, and the painting is made at the appropriate level. Ventilation holes have a standard location: on the front and on top of the power supply. In both cases, there is a perforated grid with honeycomb cells, which theoretically should create fewer obstacles during air flow.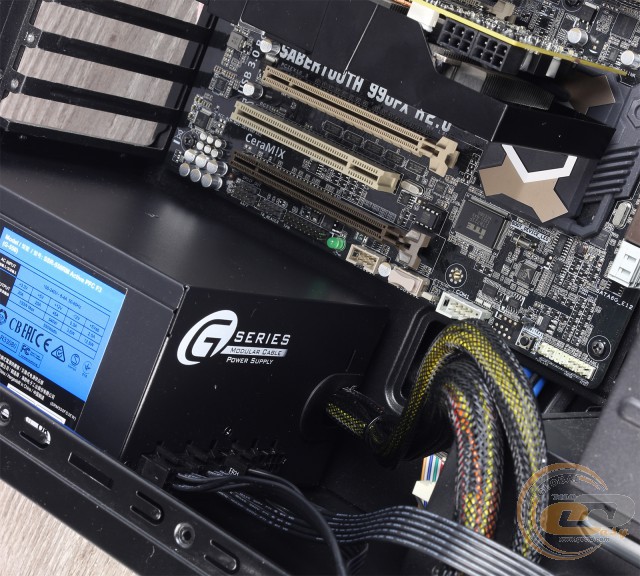 Cabling system of Seasonic G-550 has a semi-modular design: basic cables are directly put from the power supply output (in this case, to power the motherboard and CPU), and the rest is detachable. This design simplifies the building of the system and allows to avoid unnecessary clutter of cables inside the computer. Thus it is possible to save on the development and production of hardware platform of power supply, because some cables can unsolder directly on the PCB.
The detachable cables are made in the form of flexible cables. Therefore, in case of hidden cabling the user should not have any problems, even if the building of the system is planned to be carried out in the outdated model of the case.
To power the motherboard there are the following standard ATX (20+4-pin) and ATX12V (4+4 pin) sockets. Both have a folding design. Connecting a video card is made by a pair of 6+2-pin PCIe, located on different cables. To power the peripherals there are six SATA connectors and five PATA, that is more than enough. Also note that FDD connector is made in the form of an adapter PATA-FDD.
All available types of connectors and wiring length are given in the table below:
Sockets

Quantity

Cable length up to socket (sockets), cm

Cables from PSU

20+4-pin power ATX

1

55

4+4-pin power ATX12V

1

55

Modular (detachable) cables

6+2-pin power PCIe

2

60

two PATA

1

30-40

three PATA

1

40-50-65

four SATA

1

40-50-65-75

two SATA

1

30-40

adapter PATA-FDD

1

10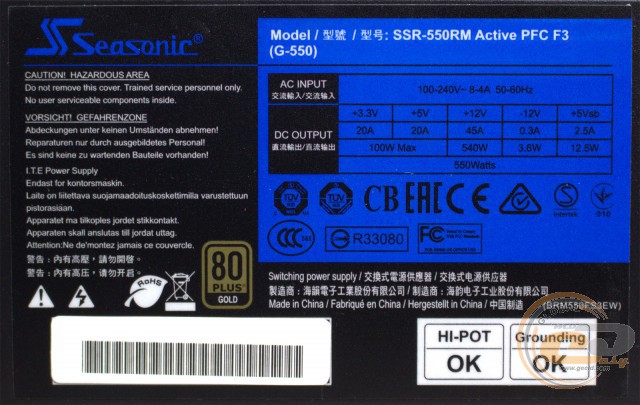 Before moving to the analysis of the hardware platform, we offer a look the characteristics of electrical power supply specified on the label. Like other high-quality solutions model Seasonic SSR-550RM has +12V rail with a high load capacity - up to 45 A or about 98% of the nominal power. This configuration 12 V line will eliminate any problems related to the use in the system CPU and video card, and will easily provide experiments with their overclocking. For rails +3.3V and +5V combined load should not exceed 100 W.
Seasonic G-550 is capable of operating over a wide input voltage range (100 – 240 V).
Internal device
The tested model is based on a popular platform Seasonic RM, which has been successfully used in the "gold" solution of Seasonic. Its modification can be found in power supplies sold under other brands. It is quite logical that a new revision of Seasonic G-550 has improvement of individual units.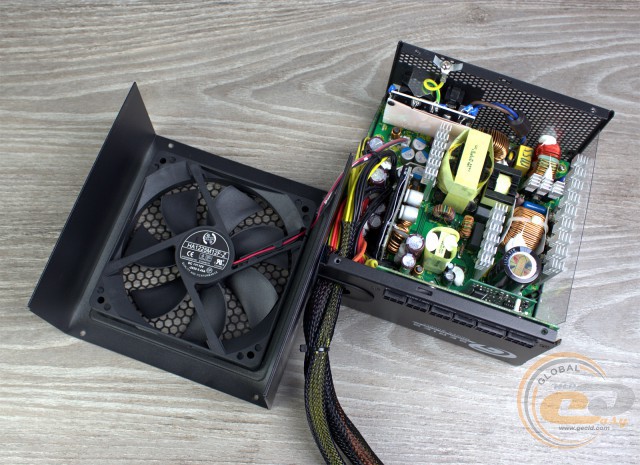 First of all modernization was made for the cooling system, or rather, its active part. Instead of fan based on ball bearing, now it uses anoption, which is based on a hydrodynamic bearing (FDB). And the new fan is also more productive (5.4 W vs. 3.96 W), which should positively affect the efficiency of cooling. Available specifications of installed fan is provided in the table below:
| | |
| --- | --- |
| Fan | Hong Hua HA1225M12F-Z |
| Bearing | FDB |
| Supply voltage, V | 12 |
| Current, А | 0,45 |
| Capacity, W | 5,4 |
| Max rotation speed, rpm | 2050 |
| Air flow, CFM | − |
| Noise level, dB | − |
| Dimensions, mm | 120 х 120 х 25 |
Also note that each group of power elements has a separate aluminum radiator with branched tip. Also here are low-voltage transistors lines (+3.3V and +5V) for better heat dissipation using a metal plate, which is located in the area of direct blowing fan.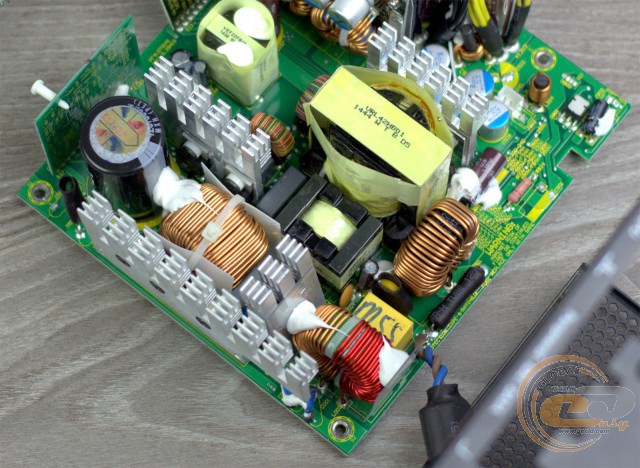 Now let's briefly go over the structural nodes of PSU Seasonic SSR-550RM. Let's start from the high-voltage part. EMI filter is installed with a rather impressive kit of components: two X- and Y-six capacitors, varistors and three chocks. Also here is a bridge for rectifying an input voltage consisting of one diode assembly, and module of active power factor correction (APFC). The main converter is based on a highly resonant circuit with two power switches.
It is controlled by controller Infineon ICE2HS01G. The correct operation of the module APFC is provided by chip Infineon ICE3PCS01. Both chips are located on a separate board which after minor changes can be used in other solutions, built on the same platform.
The high-voltage circuit condenser (330 uF x 420 V) is produced by the Japanese company Rubycon and belongs to the high-temperature series (up to 105°).
Low-voltage part is a synchronous rectifier: two transistors PSMN2R6-40YS and a pair of high-performance diodes SBR10U45 form a dedicated rail +12V that provides others voltage. Unfortunately, it is impossible to learn the design DC-DC-converters due to dense arrangement. We can only say that their power is part of the transistors, and voltage regulation is carried out on separate lines.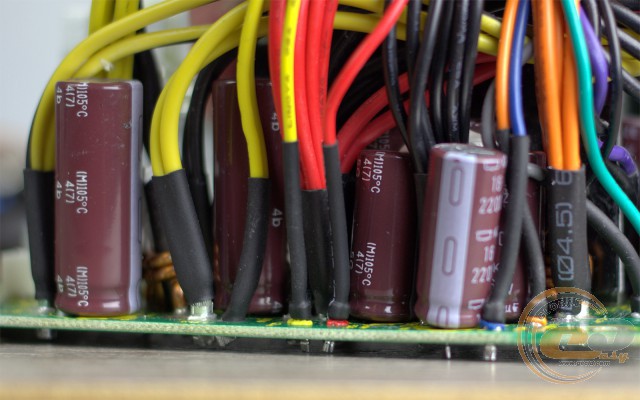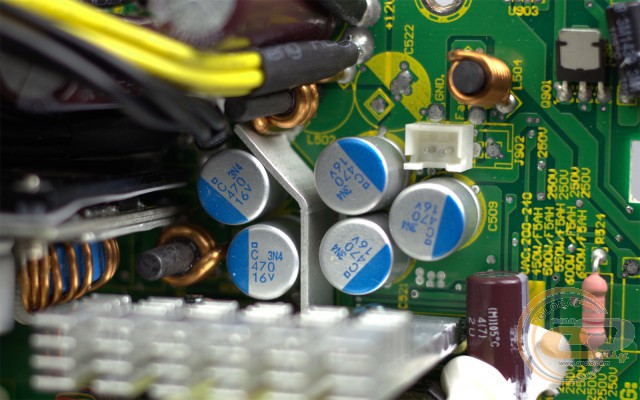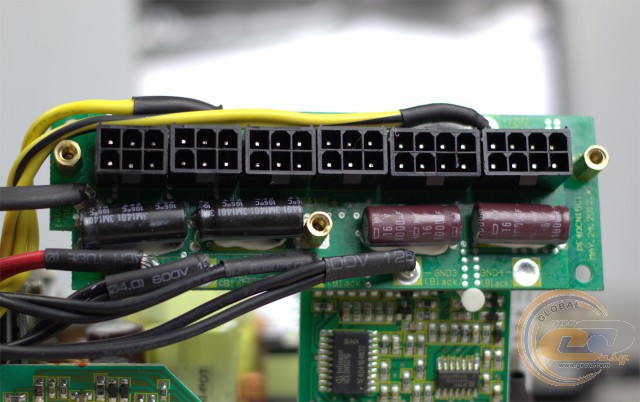 A large number of capacitors are used to filter the output ripple for power supply. Some of them belong to the solid-state type and other part ahs the liquid electrolyte. But all of them have native Japanese origin (companies Nippon Chemi-Con and Rubycon), and accordingly, and the highest quality.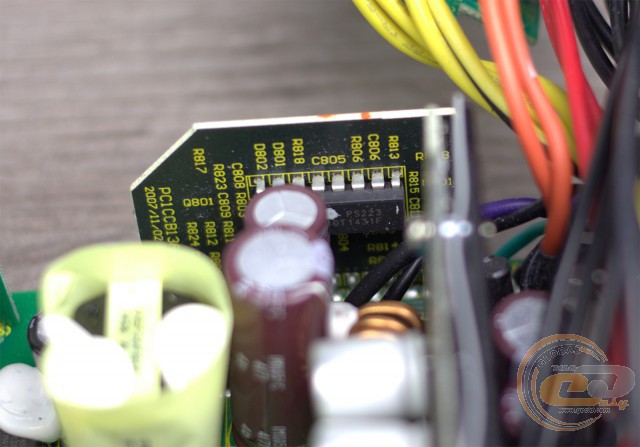 The Seasonic SSR-550RM has a full list of necessary protection:
overvoltage protection (OVP);
undervoltage protection (UVP);
short-circuit protection (SCP);
overload power (OPP);
protection against over-current of each channel (OCP);
overtemperature protection (OTP).
The corresponding node is running due to chip SITI PS223 and also designed as a separate module. Two different temperature sensors are used to implement the protection against overheating (OTP) and efficient operation of the cooling system.
Testing
Cross-load characteristics
According to the norms of the standard ATX12V, the permissible range of voltage deviations for all supply lines is ± 5% of their value.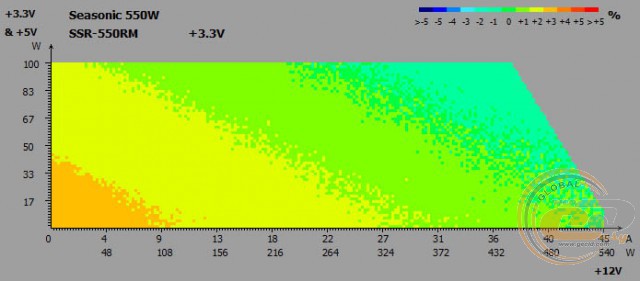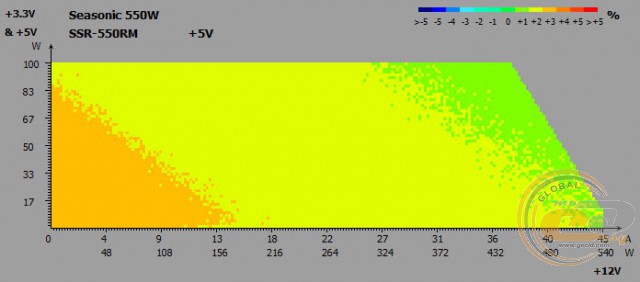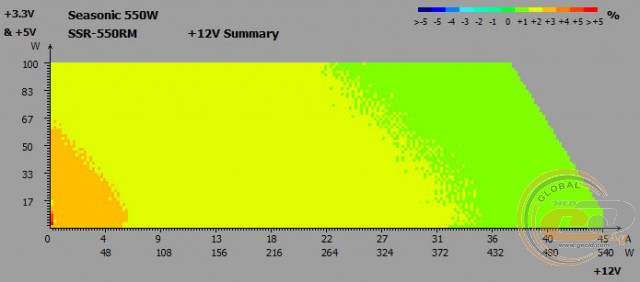 Following the voltage deviations were fixed during cross-load tests on the main supply lines:
rail +3.3V from -1% to + 3%;
rail +5V from + 1% to + 3%;
rail +12V from + 1% to + 3%.
Node of voltage stabilization coped well with the task: voltage fluctuated in a much narrower range than required by the standard ATX12V. As for the most loaded and the most required rail +12V, regardless of the value of power consumption, no lags were noticed.
Социальные комментарии Cackle