PSU Seasonic G-750: review and testing
Series Seasonic G is one of the most balanced power supply lineups in the range of the Sea Sonic Electronics products. On the one hand, you can get a high performance, advanced technology and good electrical values, and on the other - good consumer quality as a partially modular cabling configuration and quiet cooling system. And most importantly you do not have to pay fabulous sums of money, especially after the release of new revisions of the power supplies. Don't forget that recently the company Sea Sonic Electronics realized a global update almost entire model range, which positively affected the cost of the devices. Naturally, this procedure is affected to the representatives of series Seasonic G. Therefore, when we had the opportunity to test the new version of the model Seasonic G-750 (Seasonic SSR-750RM), we were happy to respond to such a proposal.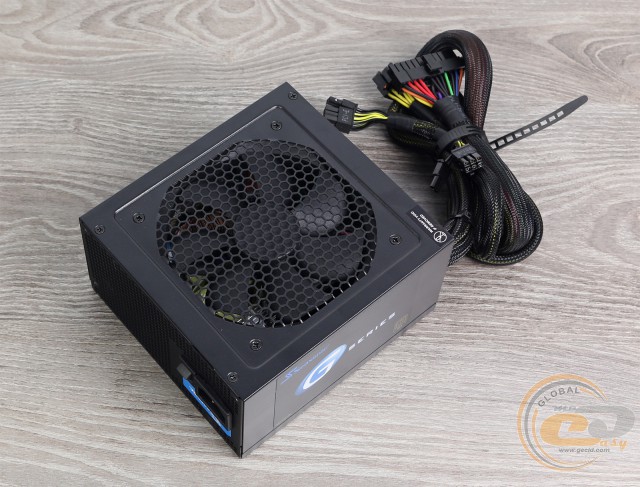 The specs:
Model

Seasonic G-750

(Seasonic SSR-750RM)

Type

ATX12V / EPS12V

Rated capacity, W

750

12V channel capacity, W

744

+3,3V and +5V channel capacity, W

100

Q-ty of +12V lines

1

Outputs, А

+3,3V

20

+5V

20

+12V

62

-12V

0,3

+5Vsb (stand-by power line)

2,5

PCIe-sockets

6 (6+2-pin)

Modular

Yes

Efficiency, %

> 88

Certified 80 PLUS

Gold

Power factor, %

99

Method of Power Factor balancing

Active

Input voltage, V

100 − 240

Frequency, Hz

50 − 60

Input current, А

5 − 10

Fan dimensions, mm

120 х 120 х 25

Fan speed controller

Yes (S2FC)

Noise level, dB

−

Support for energy saving states C6 / C7(Intel Haswell Ready)

Yes

Correspondence to environmental standards, electromagnetic safety and compatibility (EMI/EMC)

CB, CCC, TUV, GOST-R, BSMI, CE, FCC, RCM, RoHS, WEEE, ErP Lot 6 2013

Protections

OVP, UVP, OPP, SCP, OCP, OTP

Dimension, mm

160 х 150 х 86

Packaging

Power cord, fastening screws, modular cables, holders, ties with adhesive tape, manual, bag and sticker with company logo

Warranty, years

5

Producer website
Package and content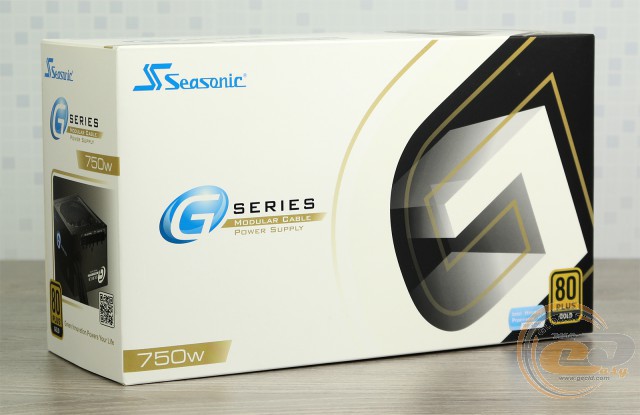 Model Seasonic G-750 comes in cardboard box of medium size, which protects the device from damage during transportation. It is framed in white and black colors and has plenty of information aspect. It is not necessary go to the official website of the company, because all the relevant information is focused on the package.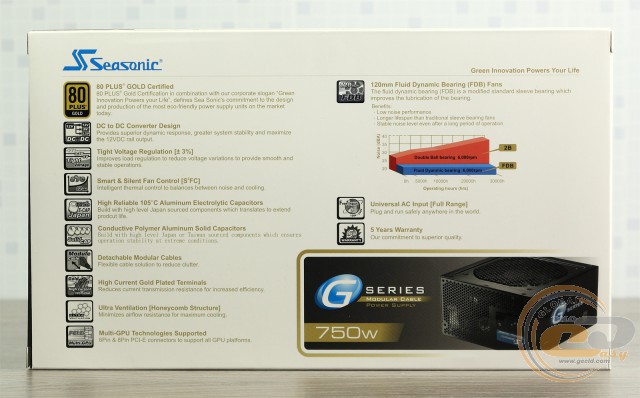 Power, load capacity of the output lines and other parameters can be seen in the table specification. But take a closer look to the list of distinctive features of Seasonic SSR-750RM as it immediately gives an idea about the device level, we are dealing:
80 PLUS Gold Certified - a high level of efficiency, compliant with standard 80 PLUS Gold;
DC to DC Converter Design – there is an advanced circuitry with a strong output line + 12V, which forms remaining nominal;
Tight Voltage Regulation [± 3%] - high stability of output voltages (deviations from the nominal line shall not exceed ± 3%, while the standard ATX12V allowed values in the range of ± 5%);
Smart & Silent Fan Control [S2FC] – application of "smart" cooling system, the operation of which depends on the heating of the internal components;
Highly Reliable 105°C Aluminum Electrolytic Capacitors – PSU has high-quality components, such as Japanese capacitors from high temperature series;
Conductive Polymer Aluminum Solid Capacitors - to improve the ripple filter solid capacitors are used;
Detachable Modular Cables - availability of a modular system of cables;
High Current Gold Plated Terminals - all connectors are gold plated;
Ultra Ventilation [Honeycomb Structure] – application of honeycomb ventilation grille, which creates less resistance to air flow;
Multi-GPU Technology Support - presence of 6+2-pin PCIe connectors for additional power connection to the graphics card of any level of multi-graphics configurations simplifies the creation;
Universal AC Input [Full Range] - ability to work in a wide range of input voltages (100 – 240 V);
120mm Fluid Dynamic Bearing (FDB) Fans - the presence of a low-speed fan, based on hydrodynamic bearings;
5 Years Warranty - 5 year warranty.
Most of these items were displayed on the back of packages from the power supplies of series Seasonic X.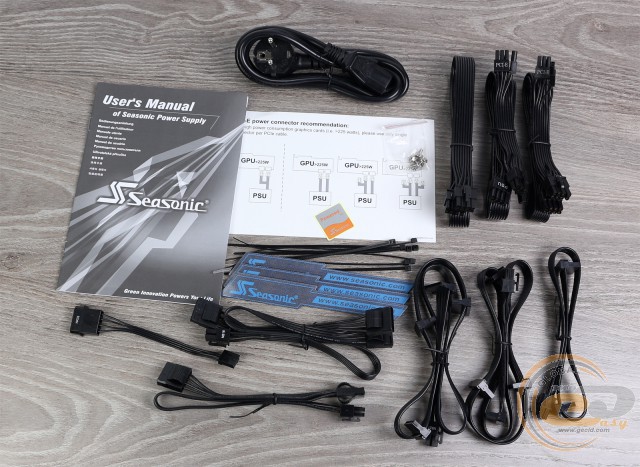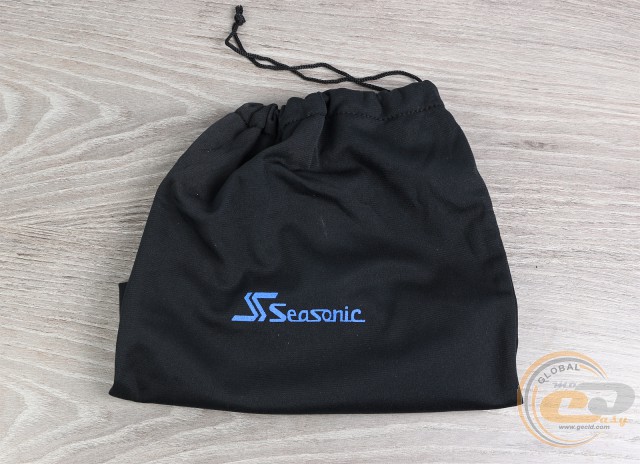 In addition to the traditional components in the box were also found additional clamps and reusable ties with adhesive type, which will be useful for accurate placement of cables in the computer chassis. The package is as follows:
AC power cord;
screws to secure;
modular cables;
clamps and reusable ties with adhesive tape to secure the wires;
sticker with the logo of the company;
User Manual;
bag to store unused cables.
Design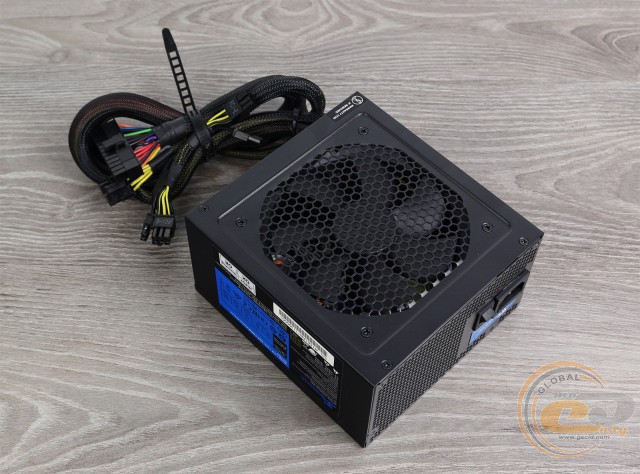 Power supply case is made of thick steel and painted in matt black. The quality of its assembly is at the highest level: all panels are well treated and fit tightly to each other. Location of vents is standard: perforated grating can be detected only on the cover and the front wall of the case. Air flows into the power supply through the first, and through the second it is removed. They have a honeycomb structure, which should theoretically decrease resistance to airflow and positively affect the acoustic properties of the power supply.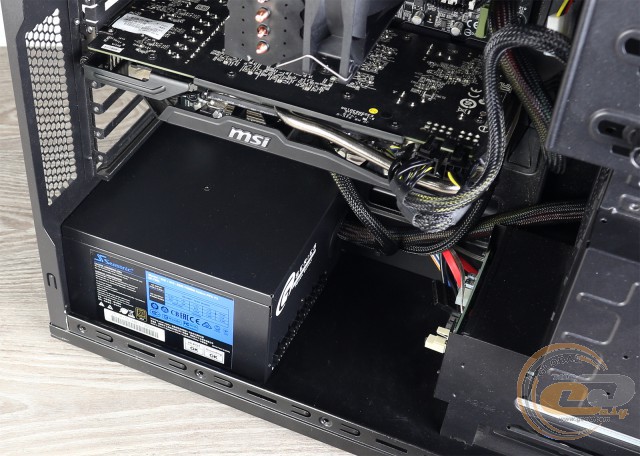 Model Seasonic G-750 has a standard size (160 x 150 x 86 mm), making it easily fits into any modern computer case. In this case vent located on its bottom won't be overlapped.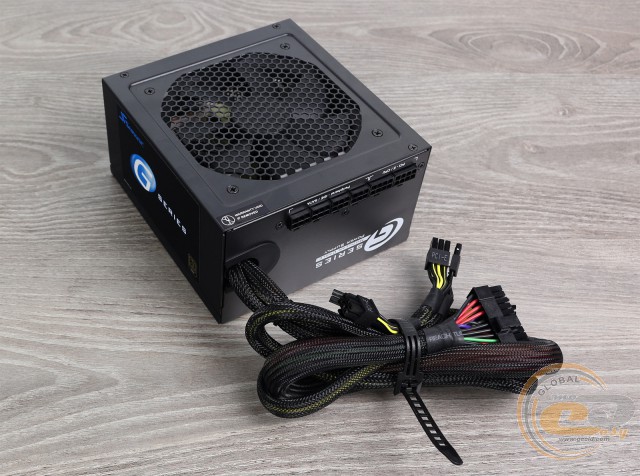 Output cables system has semi-modular configuration: wires for power main components (motherboard, processor, and in this case also the graphics card) are derived directly from the power supply, while the rest are made detachable. This design does not provide maximum flexibility in the building of the PC (as in the case of a fully modular option), but still greatly simplifies this process. Especially if we are talking about a hidden cable management in the modern computer housings.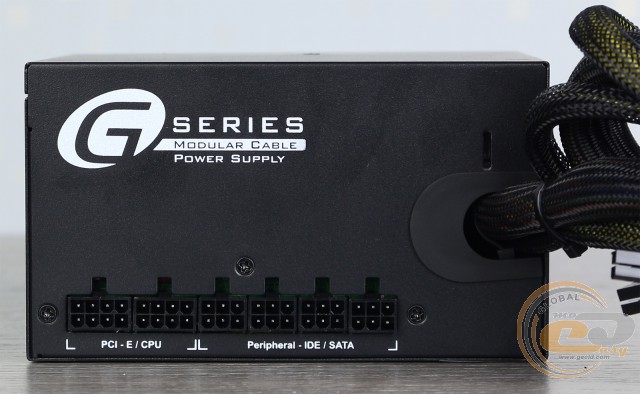 The rear panel contains six connectors, which have the following purposes:
four 6-pin («Peripheral IDE / SATA») - to power the periphery;
two 8-pin («CPU / PCI-E») - for additional power of processor and graphics card.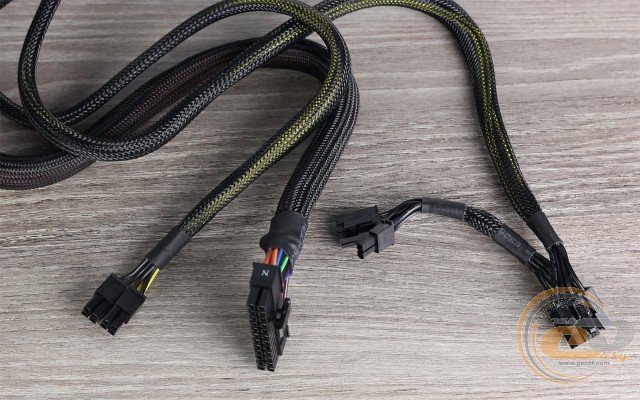 Cables, derived directly from the power supply, are dressed in a nylon braid and have thermocontracting. You won't find protruding threads or wires as all is done very efficiently and accurately. Main power connectors have a standard configuration: 20+4-pin ATX and 4+4-pin ATX12V. Both are made collapsible. If you need a second 8-pin ATX12V (for example, in the case of Seasonic SSR-750RM composed of dual-processor systems), it can be found on a separate detachable cable from supplied set.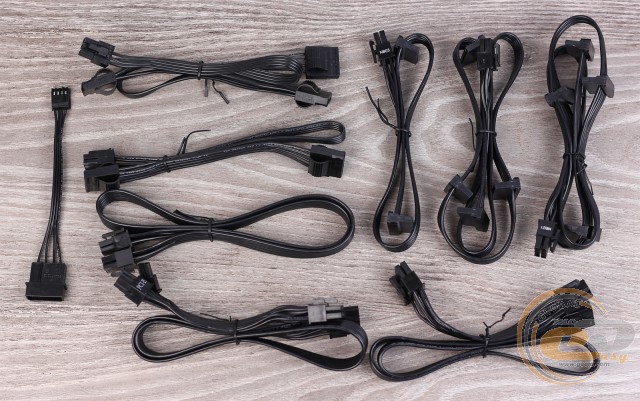 As for connectors PCIe, there are 6 pieces, all in the 6+2-pin version. Thus, Seasonic G-750 can power 3 top graphics cards without any additional adapters.
We did have any comments to the configuration of cables for power supply of the periphery. Available connectors are enough to connect multiple drives, as well as power the other components requiring connector PATA. Moreover, it will be possible to make the most optimal manner using a minimum of cables. Do note that all the wires are modular form of strip, which makes them quite flexible.
Available types of connectors and cable lengths are given in the table below:
Socket type

Quantity

Cable length to socket (connectors), cm

Cables from PSU

20+4- pin power socket ATX

1

55

4+4- pin power socket ATX12V

1

55

two 6+2- pin socket PCIe

1

60-70

Modular (detachable) cables

two 6+2- pin socket PCIe

2

55-65

8- pin power socket ATX12V

1

65

two sockets PATA

1

30-40

three sockets PATA

1

40-50-65

four sockets SATA

2

40-50-65-75

two sockets SATA

1

30-40

adapter PATA-FDD

1

10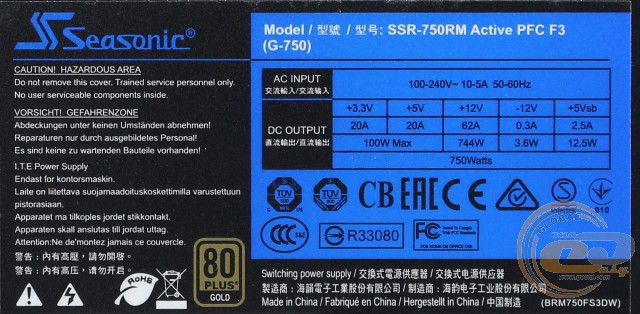 Now let's take a closer look at the technical characteristics of the model Seasonic G-750. Its nominal power is 750 W, while the channel + 12V is designed for very large load of 744 W. In other words, it is possible to have a little more than 99% of the total power that is quite popular option today. Recall all the modern "gluttonous" components, such as the video card and processor, have power consumption at a level of + 12V line. And we are not talking about overclocking. During the optimization of the parameters of components, the presence of a dedicated +12V line plays an even greater role than a high power rating. Lines + 3.3V and + 5V have a maximum total power of 100 W and are designed for a load of 20 A each.
Model Seasonic SSR-750RM complies with standard 80 PLUS Gold. According to its requirements, the efficiency of the power supply unit under loads of 20%, 50% and 100% of the rated capacity should not fall below 88%, 92% and 88%, respectively (for supply voltage 230 V). And we'll check this value later during testing.
Do note a wide input voltage range (100 – 240 V), which eliminates the external voltage regulators in an unstable power supply.
Internal device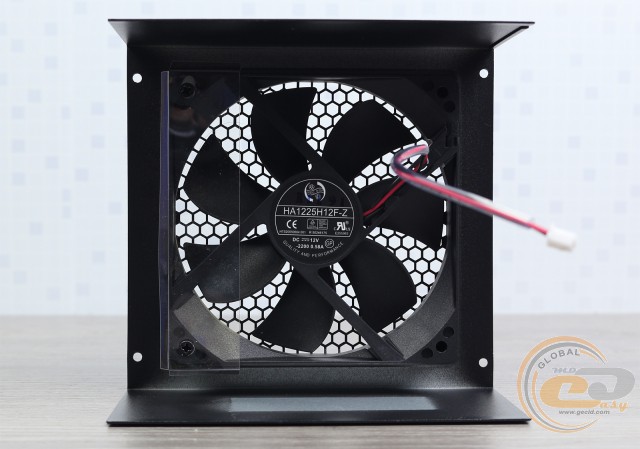 To cool internal components there is 120mm 7-blade fan Hong Hua HA1225H12F-Z. Perhaps, this brand is not so well known as ADDA or SANYO DENKI, but it does not affect the quality of its products, as we have already convinced personally during testing PSU Seasonic M12II-520 Bronze Evo Edition. It is important to note that the fan Hong Hua HA1225H12F-Z is based on a hydrodynamic bearing (FDB). Compared with conventional bush analogues, such a solution is more reliable and quiet, especially when it comes to long life.
| | |
| --- | --- |
| Fan | Hong Hua HA1225H12F-Z |
| Bearing | Hydrodynamic (FDB) |
| Supply voltage, V | 12 |
| Current, A | 0,58 |
| Capacity, W | 6,96 |
| Max rotation speed, rpm | 2200 |
| Air flow, CFM | − |
| Noise level, dB | − |
| Dimensions, mm | 120 х 120 х 25 |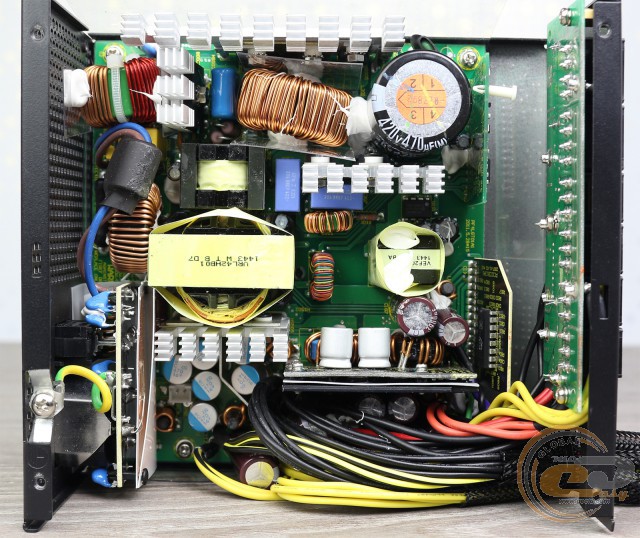 Updating of lineup Seasonic G passed without changing the platform, at least for the model Seasonic G-750. It uses the same circuitry as in the previous revisions. In addition this platform uses modern principles of power supply.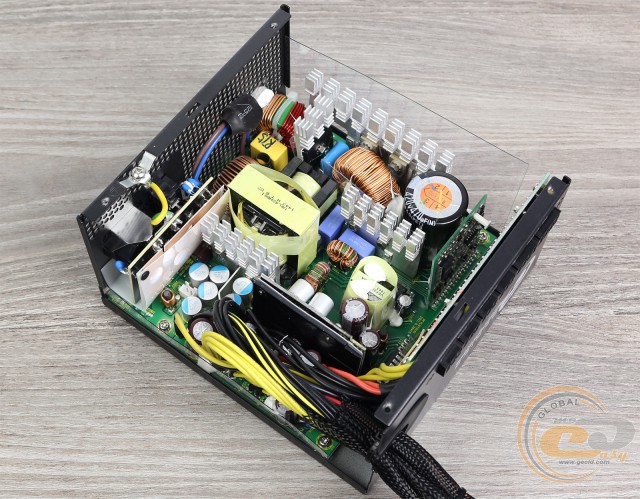 We would like to start a detailed analysis of the internal structure of the power supply from the cooling system, rather its passive part. As can be seen from the photos, all the groups of power elements are equipped with separate aluminum radiators. Even in the low-voltage side relatively "cold" transistors on the lines of + 3.3V and + 5V and covered with thick metal plate.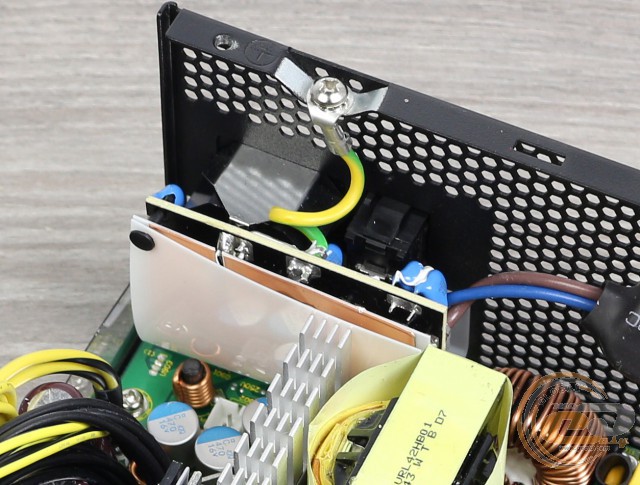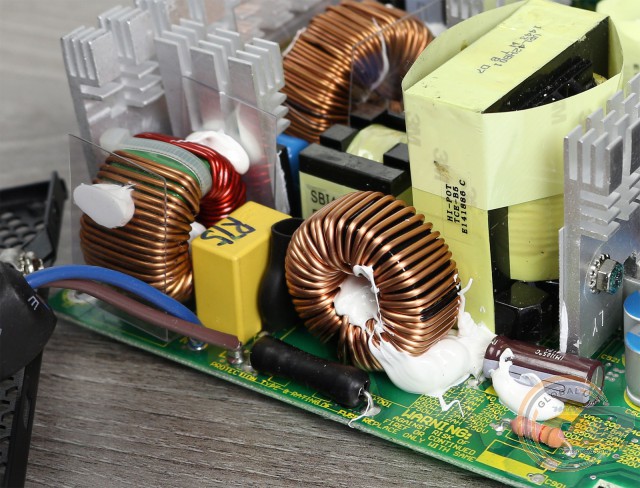 There is EMI-filter, which is responsible for smoothing high-frequency noise emitted by the power supply into network. It also bears the function of lightning protection. All the necessary components of circuitry are in the right quantity and in place (two X- and Y-six capacitors, three chockes and varistor).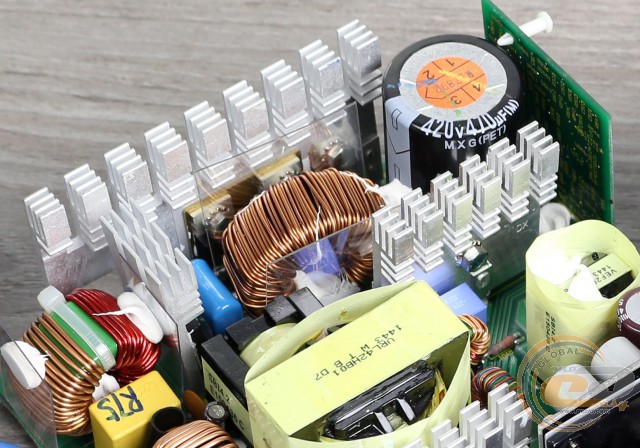 Bridge for rectifying the input voltage consists of a single diode assembly. Next are the active power factor correction unit (APFC) and the radiator, with a pair of keys of the main converter. Unfortunately, the dense layout of nodes in the high-voltage circuit did not allow to find out the marking of force elements.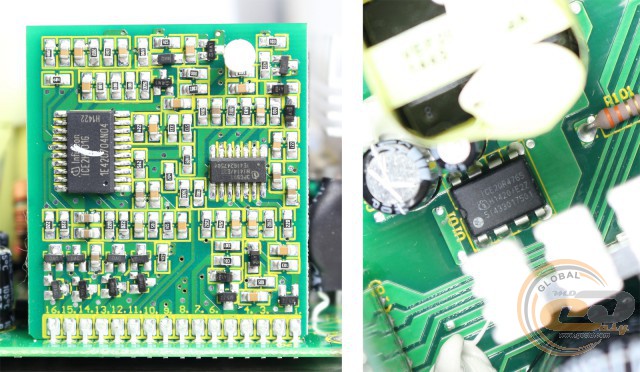 We can only say that they are controlled by the combination of two chips: Infineon ICE3PCS01 and Infineon ICE2HS01G. The first is responsible for the correct operation of the module APFC, and a second is PWM controller of main inverter. Stand-by power supply (+ 5Vsb) based on the chip Infineon ICE2QR4765.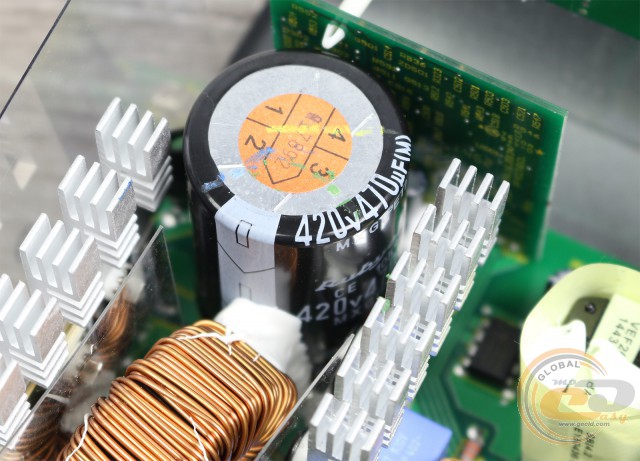 Capacitor of high voltage circuit (470 uF x 420 V) is produced by the Japanese company Rubycon, whose product quality is at the highest level. And belonging to the element high-temperature series (up to 105 ° C) only confirms these words.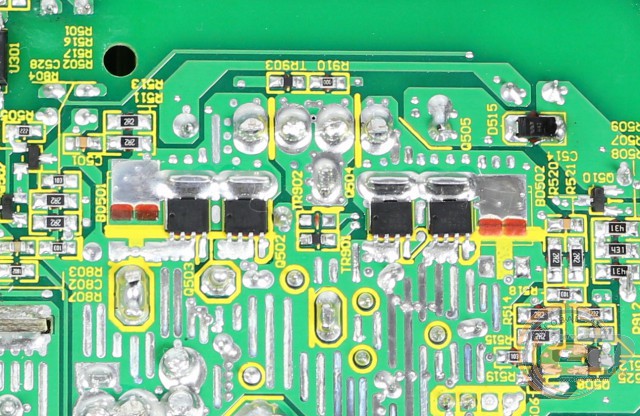 Low voltage part of the power supply Seasonic G-750 is built on a progressive scheme based on the synchronous rectifier with DC-DC-converters: with four transistors (located on the back side of the PCB) formed at the output dedicated line + 12V with a large load capacity that provides voltage + 3.3V and + 5V. As we have said above, this topology is the most relevant to modern components and allows you to not worry about a possible overload of +12V channel after installing of the efficient graphics card and processor, as well as their further acceleration. And here is an appropriate protection (OCP), and it is implemented on all lines.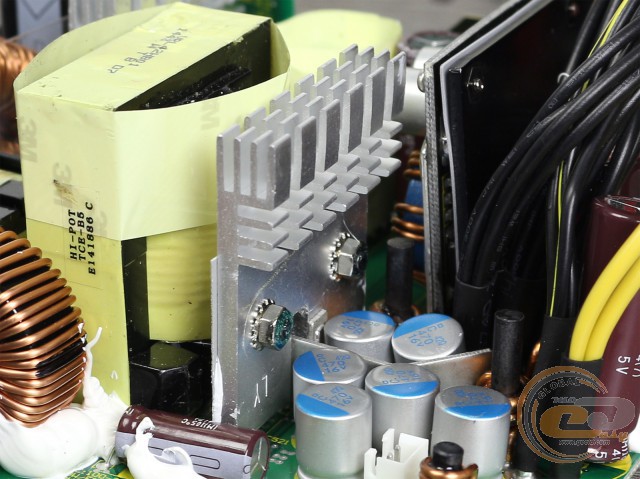 Separately we want to pay attention to the cooling of transistors on channel + 12V. Through the tracks on the board the emitted heat is transferred to a huge aluminum radiator installed near a power transformer, and is removed outside the power supply by a fan. Although it is Sea Sonic Electronics! Only they have such interesting design solutions.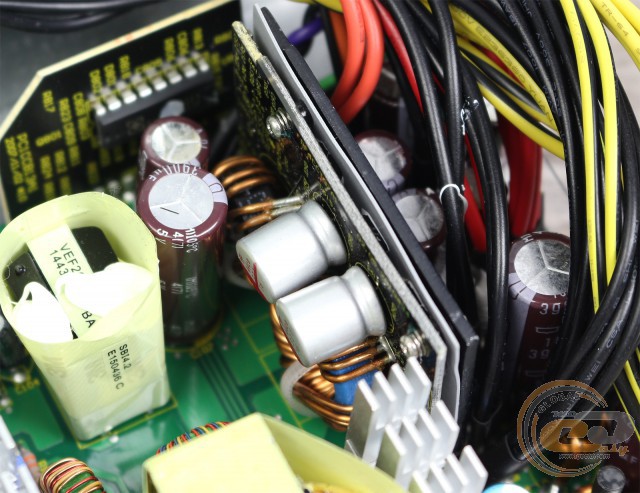 The node with the DC-DC- converter of voltage + 3.3V and + 5V has a more traditional look. It is designed as a separate circuit board from one side of which is the power section, and the other - the components of LC-filters. Note that the Seasonic SSR-750RM has a separate power supply output voltage stabilization.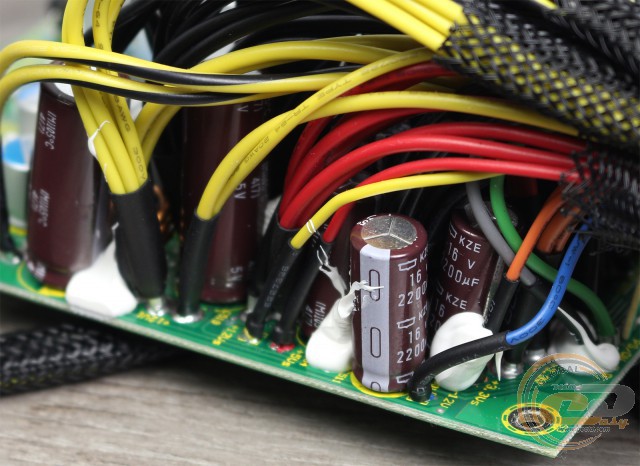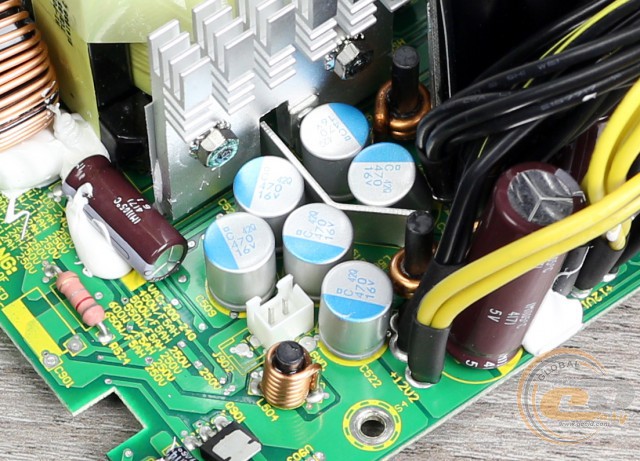 Their filtration is carried out using as a solid capacitor (470 uF 16 V x 330 uF x 16 V), and liquid electrolyte elements (2200 uF x 16 V). The manufacturers are exclusive Japanese companies (Nippon Chemi-Con, Rubycon and FCCAPS), so in this case the quality and reliability of the capacitors also have no issues. And 5-year warranty period for the power supply indirectly hints that owner of Seasonic G-750 does not have to worry about premature failure of any component.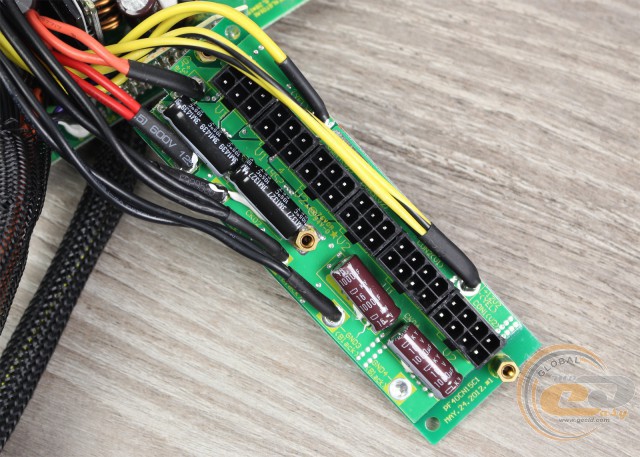 Several additional smoothing elements (1000 uF x 16 V) are located directly next to modular connectors. Other manufacturers tend to "forget" solder them.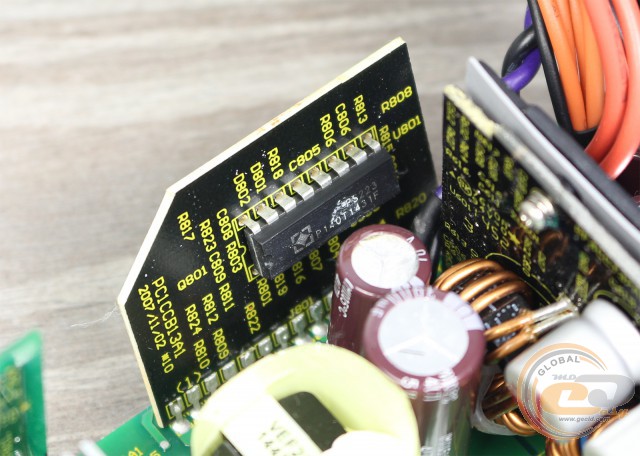 According to the technical specifications, model Seasonic G-750 has a full range of protection (OVP, UVP, OPP, SCP, OCP and OTP), including protection against overload and overheating. That is, in this respect the hero of the review is no different from the devices of the top series Seasonic X and Seasonic Platinum. The node is based on the chip SITI PS223 and implemented on a separate circuit board.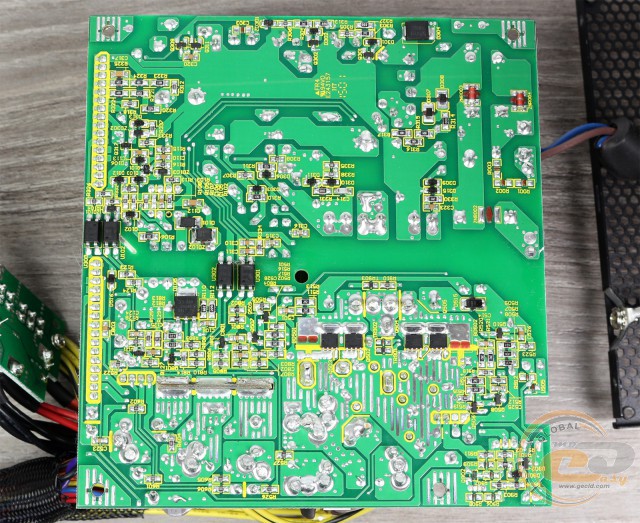 The quality of the soldering and assembly of components is always impeccable. In this regard, the Sea Sonic Electronics products can be considered as a reference.