PSU Seasonic M12II-520 Bronze Evo Edition: review and testing
Recently we have often paid attention to the power supply from Seasonic X series and Seasonic Platinum. However the arsenal of Sea Sonic Electronics also includes cheaper solutions, which are primarily targeted at mainstream users. For example a model Seasonic M12II-520 Bronze Evo Edition (Seasonic SS-520GM2) with capacity of 520 W. Its notable feature is the use of a completely modular system of cables and low-speed fan. In other words, it has the consumer features which are lacking in many of the power supply of the middle price segment.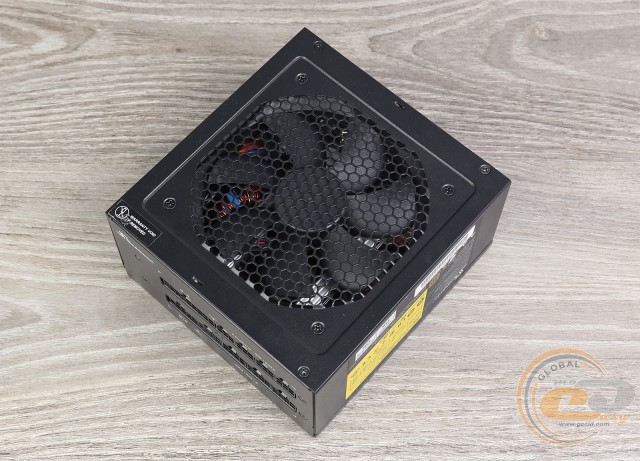 The specs:
Model

Seasonic M12II-520 Bronze Evo Edition (Seasonic SS-520GM2)

Type

ATX12V

Rated capacity, W

520

12V channel capacity, W

480

+3,3V and +5V channel capacity, W

130

Q-ty of +12V lines

2

Outputs, А

+3,3V

24

+5V

24

+12V1, +12V2

20

-12V

0,8

+5VSB (stand-by power line)

2,5

PCIe-sockets

2 (6+2-pin)

Modular

Yes

Efficiency, %

> 81

Certified 80 PLUS

Bronze

Power factor (PF), %

99

Method of Power Factor balancing

Active

Input voltage, V

100 − 240

Frequency, Hz

50 − 60

Input current, A

4,5 − 9

Fan dimensions, mm

120 х 120 х 25

Fan rotation controller

Yes (S2FC)

Noise level, dB

−

Support for energy saving states C6 / C7(Intel Haswell Ready)

No

Correspondence to environmental standards, electromagnetic safety and compatibility (EMI/EMC)

CB, CUL, SEMKO, TUV, GOST-R, BSMI, CE, FCC, RCM, RoHS, WEEE, ErP Lot 6 2013

Protections

OVP, UVP, OPP, SCP

Dimensions, mm

160 х 150 х 86

Packaging

Power cord, fastening screws, modular cables, manual, logo sticker, bag to keep the cables

Warranty, years

5

Producer website
Package and content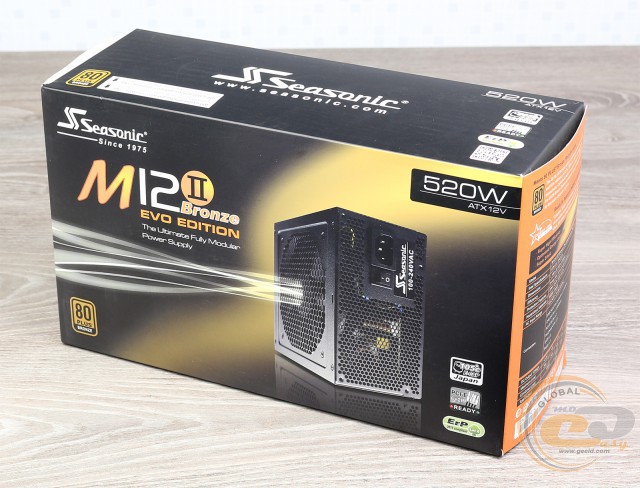 Power supply Seasonic M12II-520 Bronze Evo Edition comes in a colorful box, decorated in orange and black colors typical of the series Seasonic M12II Bronze Evo Edition. Traditionally, the packaging differs by good informative aspect. On the front side and the ends there is information about electrical characteristics of the device, the features of the power cable system, as well as correspondence to various international safety certifications.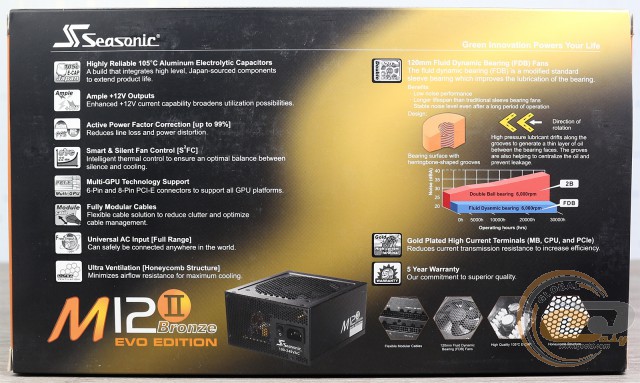 If this information is not enough for you, look at the backside of the box, which contains the description of the main features of the model Seasonic SS-520GM2. We have to admit, the list is quite impressive for a model oriented to a mass audience. Here are main points:
Highly Reliable 105°C Aluminum Electrolytic Capacitors - power supply has installed the high-quality components, such as Japanese capacitors from high temperature series;
Ample +12V Outputs – channel +12V has an increased load capacity, which will allow to connect modern productive components;
Smart & Silent Fan Control [S2FC] – there is a "smart" cooling system, the operation of which depends on the heating of the internal components;
Multi-GPU Technology Support - presence of 6+2-pin PCIe connectors for additional power connection to the graphics card of any level;
Fully Modular Cables - fully modular cables;
Universal AC Input [Full Range] - ability to work in a wide range of input voltages (100 – 240 V);
120mm Fluid Dynamic Bearing (FDB) Fans - the presence of a low-speed fan, based on hydrodynamic bearings;
5 Years Warranty - 5 year warranty.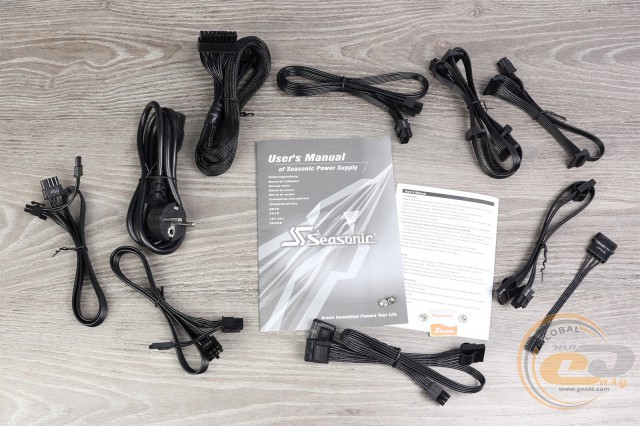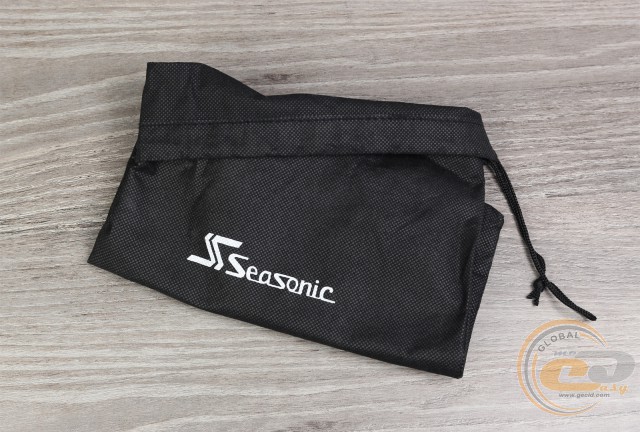 Supplied set of model Seasonic M12II-520 Bronze Evo Edition contains:
AC power cord;
screws to secure;
modular cables;
bags to keep detachable cable;
sticker with the logo of the company;
manual.
Design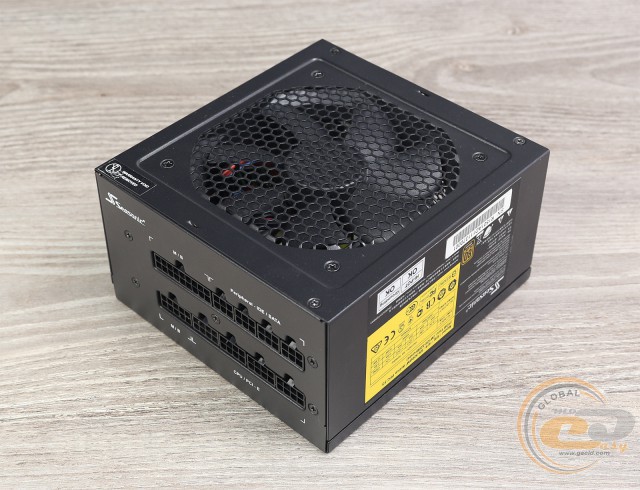 Despite the fact that representatives of the series Seasonic Seasonic M12II Bronze Evo Edition belong to the middle price segment. Thus, the case of the model Seasonic SS-520GM2 is made of thick steel, coated with an extra layer of black paint and has excellent build quality. In general, in this respect, the model is not inferior to more expensive solutions.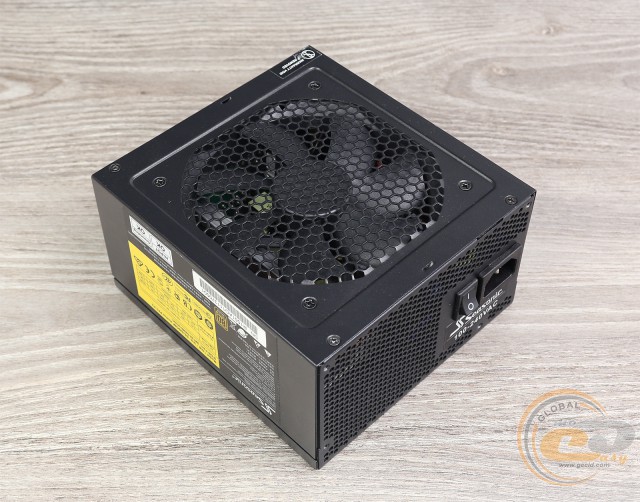 The arrangement of vents is standard: perforated grates can be detected only on the cover and the front wall of the case. Through the first the air flows into the power supply, and through the second - is removed. We draw your attention to the structure of the cells which are made in the form of a honeycomb. According to the manufacturer, this design provides less air resistance than a standard grill option. At least the top devices (not only from the Sea Sonic Electronics) very often have such a mesh.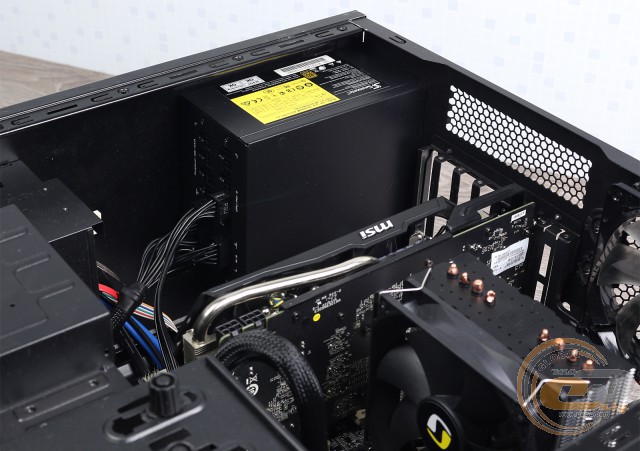 Power supply Seasonic M12II-520 Bronze Evo Edition has standard dimensions (160 x 150 x 86 mm), making it easily fits into any modern computer case. In this case the vent located on its bottom will be not overlapped.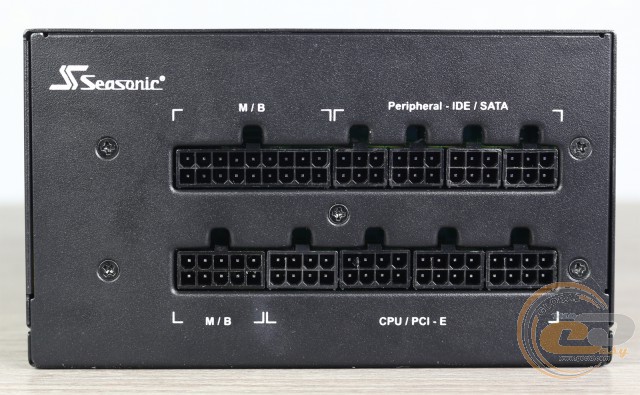 A distinctive feature of this model is the use of a fully modular cable system. None of competitive solutions can boast of such a feature. It is commendable that the company Sea Sonic Electronics does not make a clear distinction between market segments and devices for mass use technologies that are typical of the more expensive power supplies. We can add that such technical performance allows to make the process of components connection and routing of cables as simple and convenient.
On the rear panel you can notice 10 connectors that are signed and have a different design. The following is the purpose of each of them:
18-pin and 10-pin («M / B») - to power the motherboard;
four 6-pin («Peripheral IDE / SATA») - to power the periphery;
four 8-pin («CPU / PCI-E») - for additional power processor and graphics card.
Obviously, such connector configuration is a universal for multiple models, so in this case, some of them may remain untapped. The application of the identical components reduces the cost of development and production process of the device, that has a positive impact on the cost.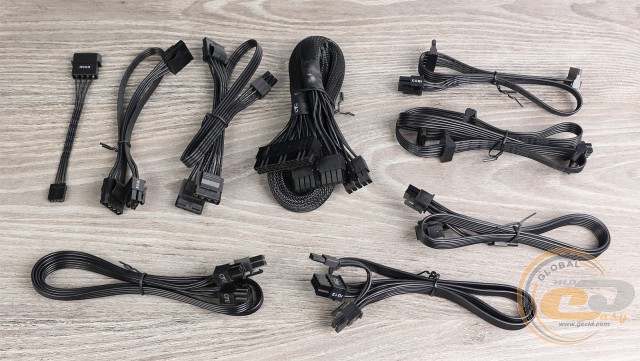 All wires used except for the motherboard power, have the form of strips. This makes them more flexible than traditional execution using braiding, which in turn considerably facilitates the laying hidden in computer cases.
Main power connectors are configured as follows: 20+4-pin ATX and 4+4-pin ATX12V. Both are collapsible. To connect the graphics card there are two 6+2-pin PCIe connectors. So, when you install some "voracious" graphics adapter you should not use third-party adapters.
Configuration of cable for power supply of the periphery is also at high level. Despite the average level of the device, available connectors SATA and PATA are quite enough. So it is not necessary to buy expensive high-powered solutions, if you are going to organize a home store files or torrent client. Power supply Seasonic M12II-520 Bronze Evo Edition is suitable for this purpose.
Socket type

Quantity

Cable length to socket (connectors), cm

Modular (detachable) cables

20+4-pin power socket ATX

1

60

4+4-pin power socket ATX12V

1

65

one 6+2- pin socket PCIe

2

60

three sockets PATA

1

40-50-65

two sockets PATA

1

30-40

four sockets SATA

1

40-50-65-75

two sockets SATA

1

30-40

adapter PATA-FDD

1

10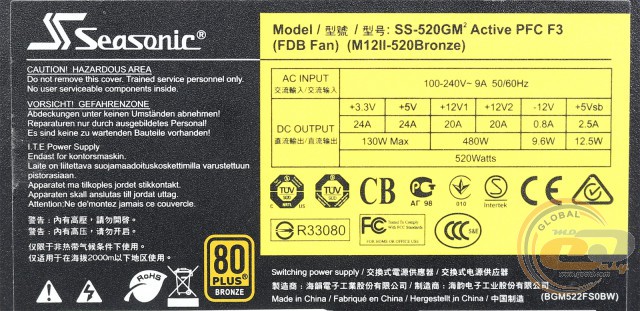 Now let's take a closer look to the technical characteristics of the model Seasonic SS-520GM2. Its nominal power is 520 W, while the channel +12V is designed for relatively large load of 480 W. The label indicates that it is made in the form of two 20-ampere lines, nut not one 40-ampere. Although, apparently, this separation is only nominal. Lines +3.3V and +5V have a maximum total power of 130 W and are designed for the load of 24 A each. This is quite enough to power drives and other peripherals.
Model Seasonic M12II-520 Bronze Evo Edition conforms to certificate 80 PLUS Bronze. According to its requirements, the efficiency of the power supply unit under loads of 20%, 50% and 100% of the rated capacity should not fall below 81%, 85% and 81%, respectively (for supply voltage 230 V).
Also do note a wide input voltage range (100 – 240 V), which eliminates the external voltage regulators in an unstable power supply.
Internal device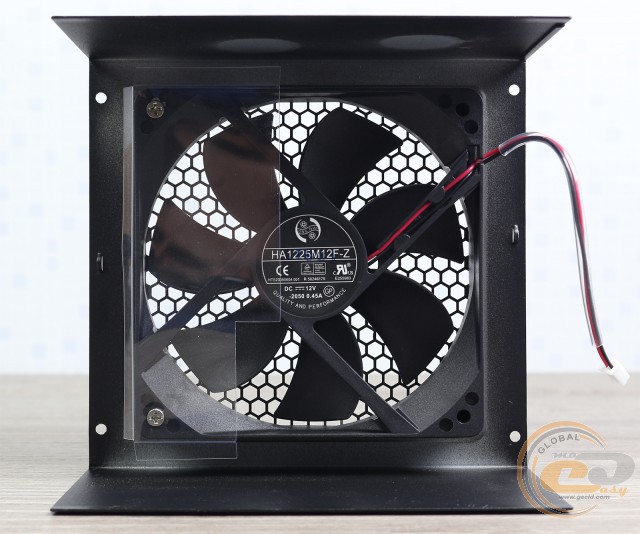 In order to cool internal components there is 120mm 7-blade fan Hong Hua HA1225M12F-Z, based on hydrodynamic bearing (FDB). Compared with conventional bush analogues, such a solution is more reliable and quiet, especially when it comes to long life. Unfortunately, we could not find the full specifications of the fan. However, according to the specified power (5.4 W), it should provide more airflow and easily cope with their immediate task.
| | |
| --- | --- |
| Fan | Hong Hua HA1225M12F-Z |
| Bearing | Hydrodynamic (FDB) |
| Supply voltage, V | 12 |
| Current, А | 0,45 |
| Capacity, W | 5,4 |
| Max rotation speed, rpm | − |
| Air flow, CFM | − |
| Noise level, dB | − |
| Dimensions, mm | 120 х 120 х 25 |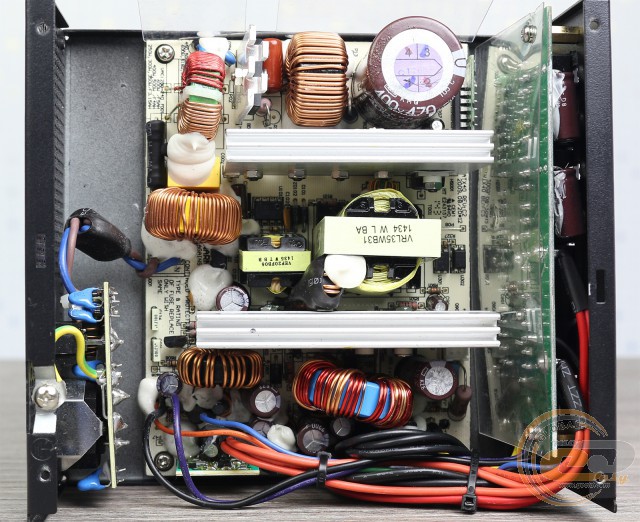 Regardless of the device type, the company Sea Sonic Electronics uses proprietary circuitry. Model Seasonic M12II-520 Bronze Evo Edition is no exception. It is based on the platform Seasonic GM2, which is a further development of circuitry Seasonic GM. Recall that a variation of the last was successfully used in low power supply from the "bronze" series Seasonic M12II Bronze and Seasonic S12II Bronze.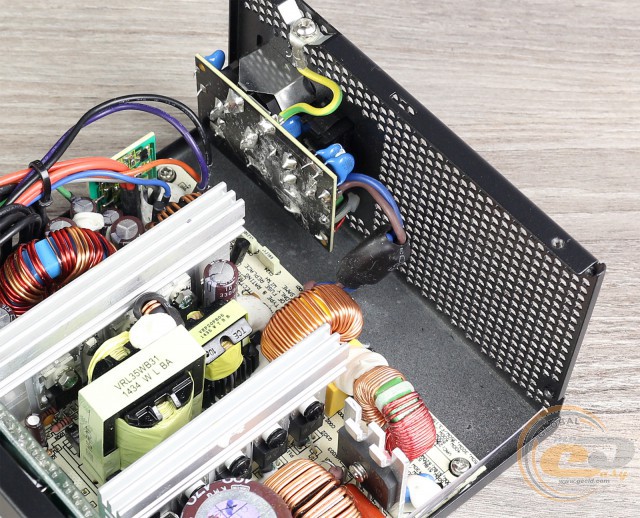 Despite the fact that the model Seasonic SS-520GM2 is focused to the mass audience, it is not a budget solution. Do note that the circuitry, of course, is much plain than that of the lineups Seasonic G / X / Platinum. However, the components are of a very high quality. And the platform includes all necessary components.
Thus, there is a complete EMI-filter (two X- and Y-six capacitors, and three chokes and varistor), which is responsible for smoothing high frequency noise emitted from the power supply. It also bears the function of lightning protection. We liked the approach the manufacturer to isolate individual elements, not only as a part of the filter, but also in other structural modules of Seasonic M12II-520 Bronze Evo Edition.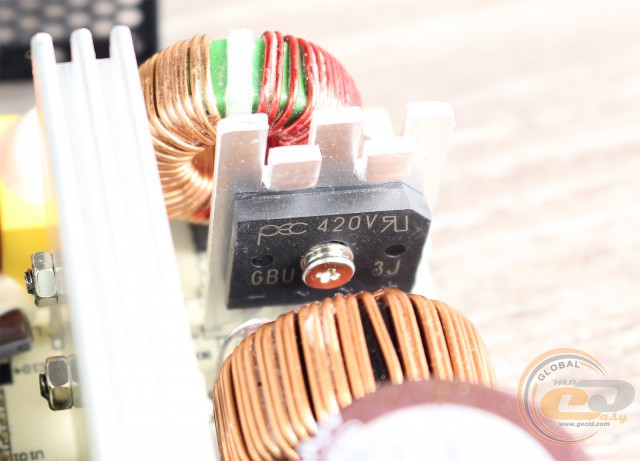 Bridge for rectifying the input voltage consists of a single diode assembly, which is equipped with a separate aluminum radiator.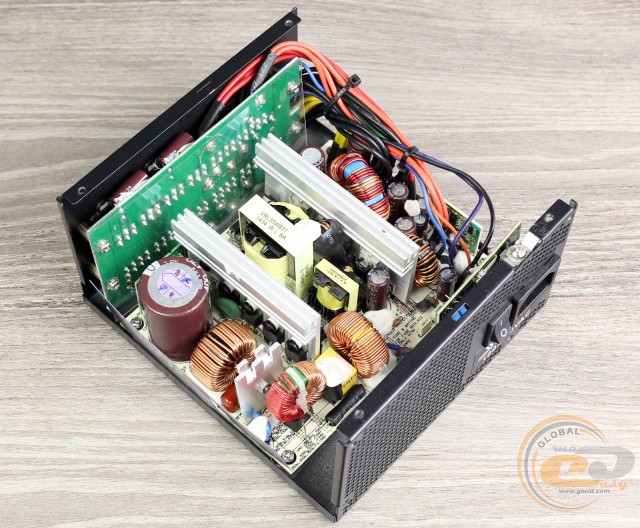 Also here you can find two radiators, but much larger. The first is installed in high-voltage parts and cools the power switches of the active power factor in correction module (two transistors Infineon 5R250P and diode STTH8S06D) and the main converter (pair of transistors Infineon 5R250P). The second part is situated in the low voltage and therefore dissipates heat from the elements involved in the rectification of output voltage.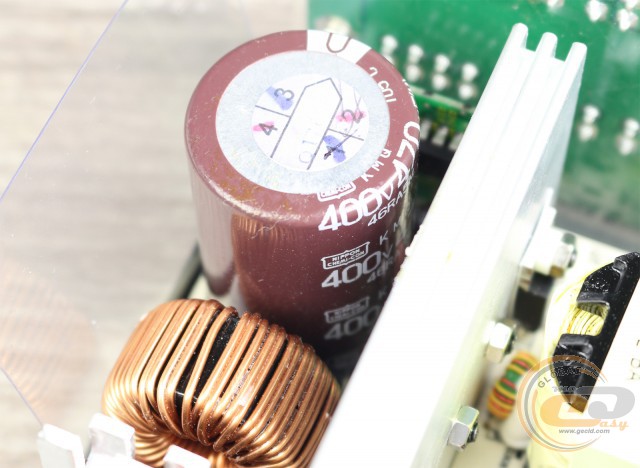 High-voltage capacitor circuit (470 uF x 400 V) is produced by known Japanese company Nippon Chemi-Con and belongs to a series of high-temperature (105°C). By the way, all the other nodes, including in the composition of standby power source have capacitors from the manufacturer.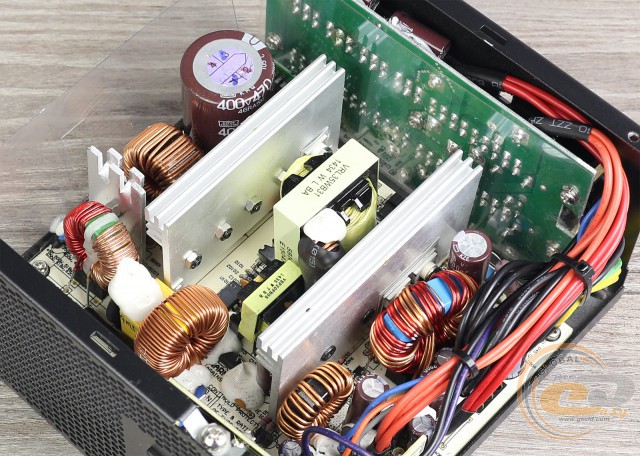 The Seasonic M12II-520 Bronze Evo Edition uses forward converter: simple to implement and at the same time it is an effective scheme. Chip that controls its operation (it is a part-and PWM controller APFC) is mounted on a separate board near the condenser. And it is another good example of the application of the principle of modular blocks for power. The correct functioning of standby power supply (line +5VSB) is provided by chip Fairchild FSQ0165R.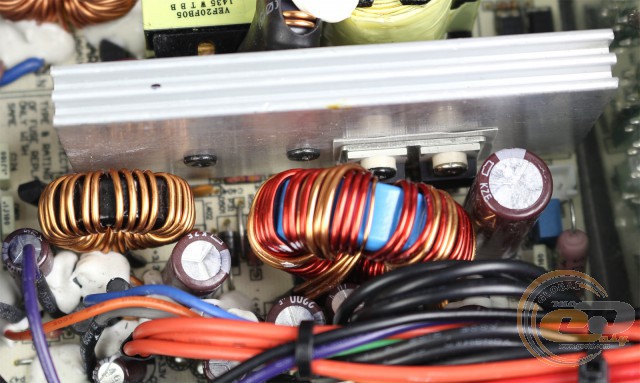 There are three diode assemblies to rectify the output voltages. One of them is labeled as PFC PFR30L50CT. It was impossible to find out the name of the other two elements without dismantling. Voltage stabilization is organized on the group principle. This approach affects the final characteristics of the power supply, but significantly reduces its cost.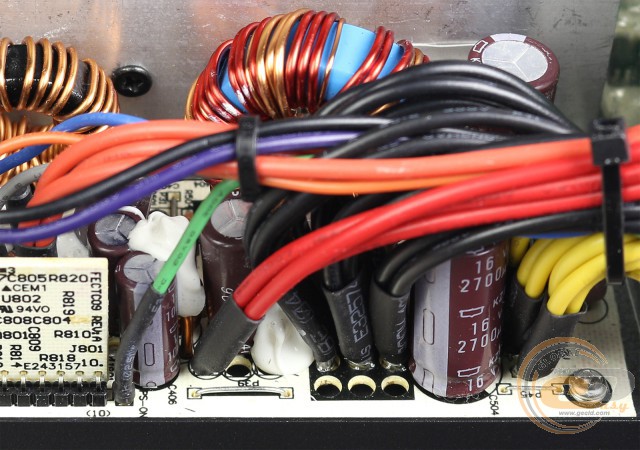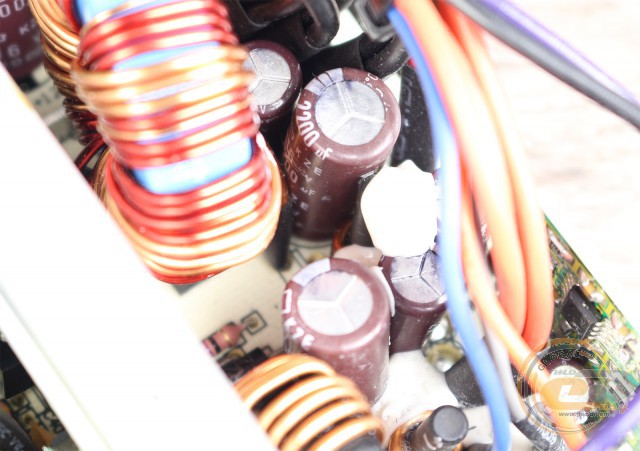 As we reported above, the smoothing of the output supply voltage is providing by electrolytic capacitors by Japanese production (Nippon Chemi-Con), and also from a series of high-temperature (up to 105°C). This should ensure a long service life, as well as a positive effect on the magnitude of the noise at the output supply lines.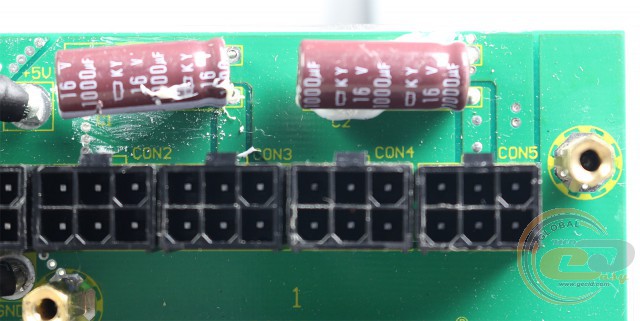 Several additional smoothing elements (1000 uF x 16 V) are located directly next to modular connectors.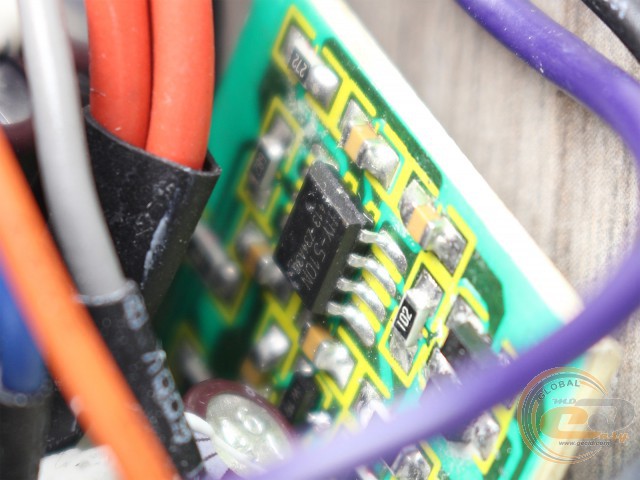 According to the specifications, the Seasonic M12II-520 Bronze Evo Edition has the following a series of protection: OVP, UVP, OPP and SCP. The node is based on the chip HY-510N and implemented on a separate circuit board.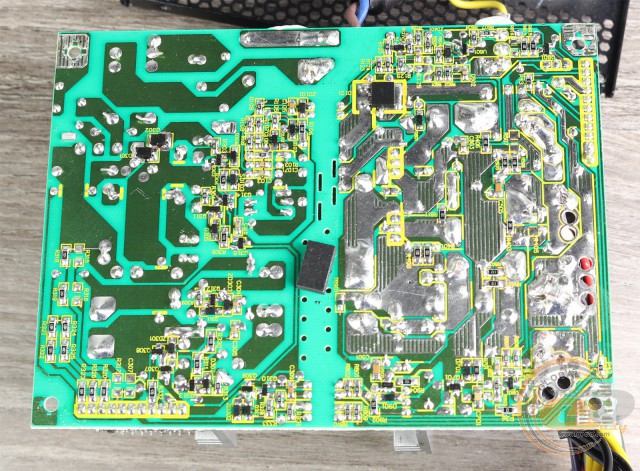 On the back side of the main PCB you can see the fine quality of soldering.