PSUSeasonic Platinum 1050: review and testing
In this review we will continue to meet with the "platinum" products of the company Sea Sonic Electronics. And this time we will learn the PSU Seasonic Platinum 1050 (Seasonic SS-1050XP3) with nominal capacity of 1050 W. It is built on a new platform Seasonic XP3, therefore has the same advantages as the flagship 1200W model Seasonic Platinum 1200, but it is cheaper. The latter fact should primarily be interested for owners of productive gaming systems and workstations, as well as all those for whom the main criterion for buying the power supply is not the maximum capabilities, but a balance between performance and cost.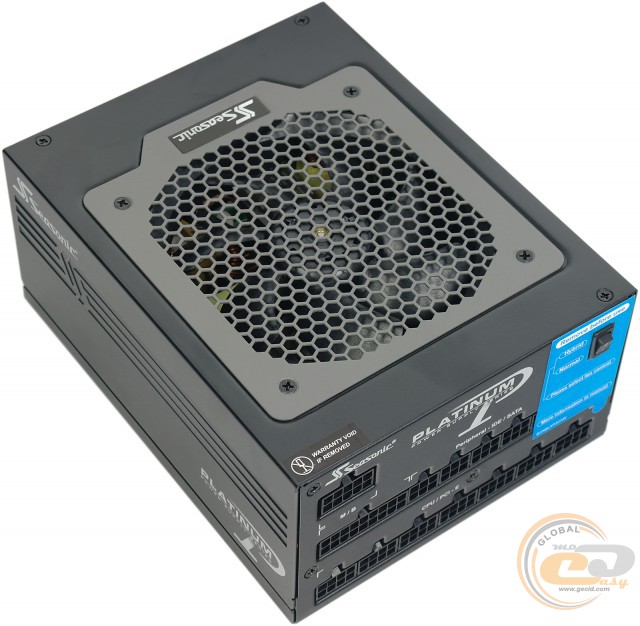 The specs:
Model

Seasonic Platinum 1050

(Seasonic SS-1050XP3)

Type

ATX12V / EPS12V

Rated capacity, W

1050

12V channel capacity, W

1044

+3,3V and +5V channel capacity, W

125

Q-ty of +12V lines

1

Outputs, А

+3,3V

25

+5V

25

+12V

87

-12V

0,5

+5VSB (stand-by power line)

3

PCIe-sockets

8 (6+2-pin)

Support for technologies NVIDIA SLI / AMD CrossFireX

Yes

Modular

Yes

Efficiency, %

> 91

Certified 80 PLUS

Platinum

Power factor, %

99

Method of Power Factor balancing

Active

Input voltage, V

100 − 240

Frequency, Hz

50 − 60

Input current, А

6,5 − 13

Fan dimensions, mm

120 х 120 х 25

Fan speed controller

Yes (hybrid cooling system)

Noise level, dB

-

Support for energy saving states C6 / C7(Intel Haswell Ready)

Yes

Correspondence to environmental standards, electromagnetic safety and compatibility (EMI/EMC)

CB, CUL, CCC, TUV, GOST-R, BSMI, CE, UKR, FCC, RCM, RoHS, WEEE, ErP Lot 6 2013

Protections

OVP, UVP, OPP, OTP, OCP, SCP

Dimension, mm

190 х 150 х 86

Packaging

Power cord, fastening screws, modular cables, cable holders, straps with adhesive tape, manual, logo sticker

Warranty, years

7

Producer website
Package and content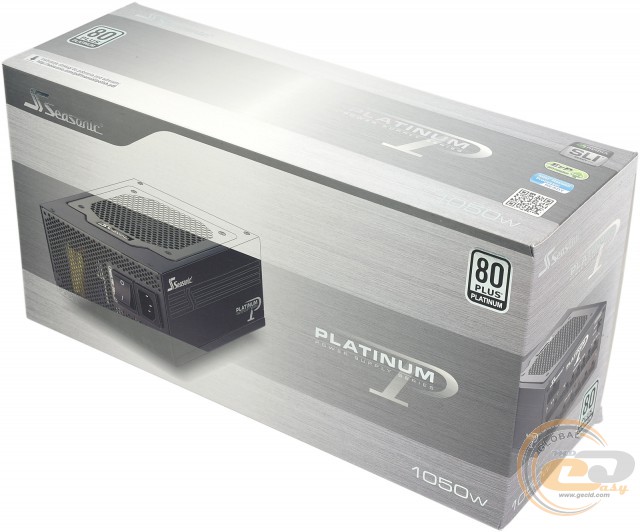 Power supply Seasonic Platinum 1050 comes in a colorful box, which, as always, has a very good informative aspect. In addition to traditional technical characteristics, you can find a complete list of features of the device, as well as a detailed description of applied technologies.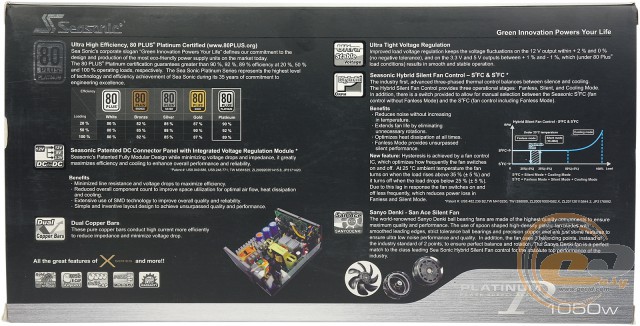 We select the most important points:
Ultra High Efficiency, 80 PLUS Platinum Certified is a very high level of energy efficiency, compliant with standard 80 PLUS Platinum;
DC-to-DC - advanced circuitry based on DC converters is applied;
Seasonic Patented DC Connector Panel with Integrated Voltage Regulation Module - patented design of module with inverters DC-DC, which can reduce the energy loss in the low-voltage side, to improve the quality of installation and cooling elements, as well as to simplify the structure of the entire assembly;
Ultra Tight Voltage - excellent stability of output voltages (deviations on +12V channel are in the range 0% ... + 2% and on +3.3V and + 5V within 1% ... + 1%);
Seasonic Hybrid Silent Fan Control S2FC & S3FC - availability of advanced hybrid cooling system, thanks to which the fan at low loads doesn't rotate;
Sanyo Denki San Ace Silent Fan - the use of high-quality turntables, based on ball bearings;
Highly Reliable 105°C Aluminum Electrolytic Capacitors, Conductive Polymer Aluminum Solid Capacitors - all installed nodes have high-quality Japanese capacitors belonging to the high-temperature series;
7 Years Warranty - 7 years warranty.
Without opening the box, we can understand that this is a high quality solution equipped with the best developments in the field of power supplies.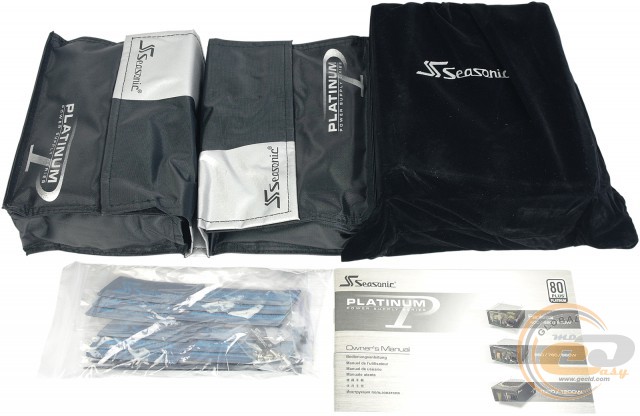 Supplied set of model Seasonic Platinum 1050 is as follows:
AC power cord;
screws to secure;
modular cables in a special bag;
clamps to secure the wires;
reusable ties with adhesive tape;
sticker with the logo of the company;
manual.
Besides the traditional components in the box were also found additional holders and ties with adhesive tape, which will be useful for accurate management of wires output. There is a two-piece bag to keep the cables.
Design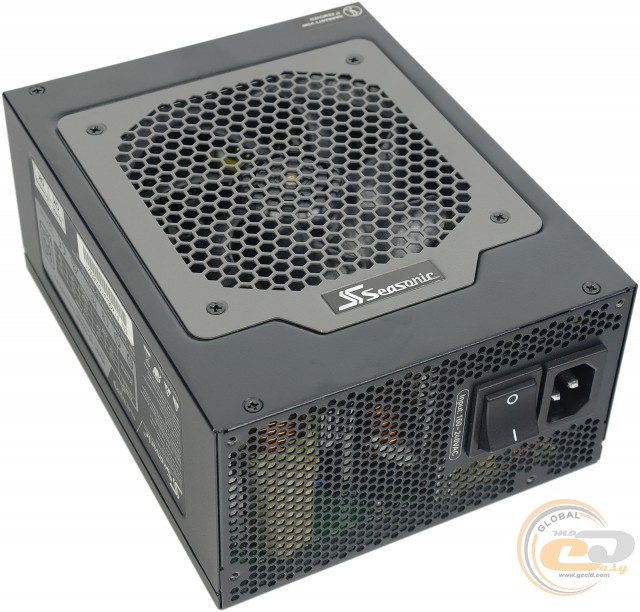 Model Seasonic Platinum 1050 is made in strict black case. As always, the quality of its assembly and painting doesn't have any complaints, because everything is done at the highest level. Arrangement of vents is standard: perforated grating can be detected only on the cover and the front side of the case. Through the first air flows into the power supply, and through the second is removed outside. In general, the scheme is quite familiar, not for fanless solutions from the same series.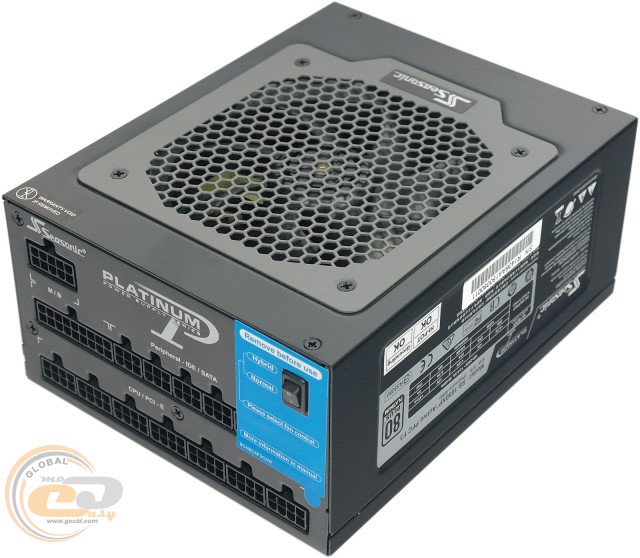 Model Seasonic SS-1050XP3 has slightly larger dimensions (190 x 150 x 86 mm vs. 160 x 150 x 86 mm at the less powerful devices) that should be considered when choosing the computer case.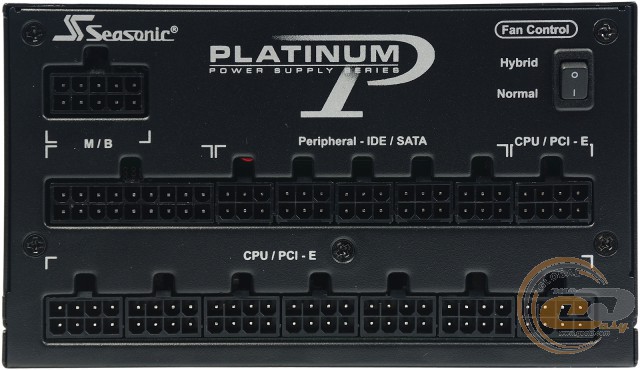 The system output cable has completely modular configuration which fully corresponds to the concept of Sea Sonic Electronics of high-power units. This technical performance allows to make the process of components connection and routing of cables as simple and convenient. The rear panel contains 15 connectors that are signed and have different designs:
18-pin and 10-pin («M/B») - to power the motherboard;
five 6-pin («Peripheral IDE / SATA») - to supply periphery;
eight 8-pin («CPU / PCI-E») - for additional power of processor and graphics card.
Since Seasonic Platinum 1050 belongs to the top-end series of Seasonic Platinum, it has a hybrid cooling system. Operation mode control is relized by means of a switch, designated as «Fan Control». Readers who are watching our reviews, probably already know how it works. But for other we recommend to learn the concept of "hybrid cooling system" via the graph below.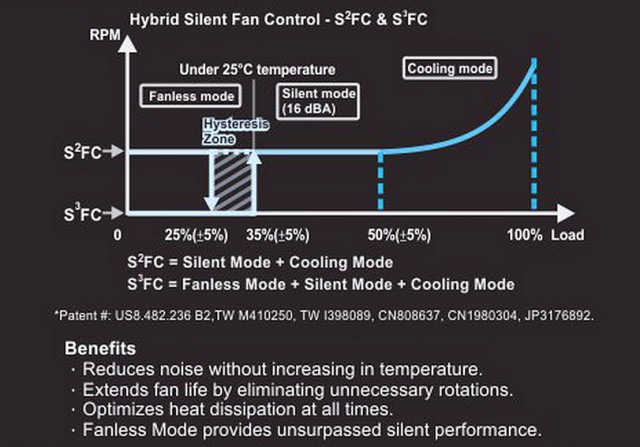 As seen from the graph, its main advantage is that till a certain temperature the fan does not rotate, and then its rotational speed is determined by heating the blades to internal components. We can add that the better organized air circulation in the computer case, the later starts turntable.
Compared with other models in the series Seasonic Platinum, a Seasonic SS-1050XP3 has slightly improved algorithm of the hybrid cooling system by adding a so-called hysteresis band (25% - 35%). This innovation allows you to avoid the situation with constant on/off the fan at low loads. This should further improve the acoustic properties of the power supply and won't affect the efficiency of cooling, as well as extend the life of the fixed fan.
If the Seasonic Platinum 1050 is planned to operate in an environment of high temperature, then the technology can be turned off (switch «Fan Control» in position «Normal»). In this case, the fan will rotate immediately after starting the PC, that is, even at minimum load.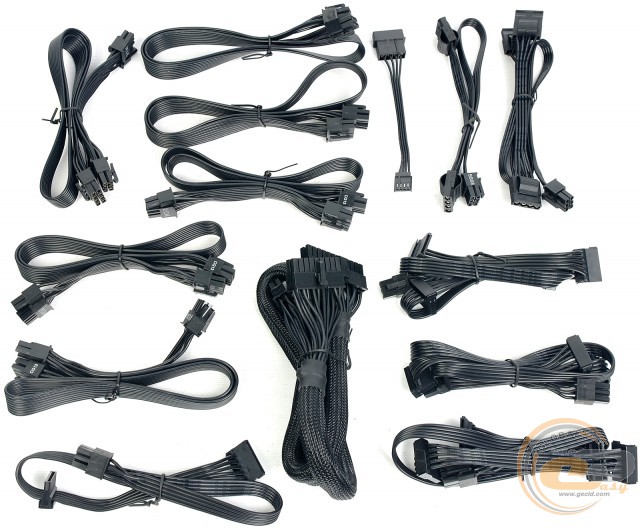 All wires except used for the motherboard power, have the form of strips. This makes them more flexible than traditional using braiding, which considerably facilitates the hidden laying in modern computer cases.
Main power connectors have the following configuration: collapsible 20+4-pin ATX and two 8-pin ATX12V (one of which is also collapsible). To connect the graphics card there are eight connectors PCIe of the 6+2-pin version. Thus, even the top-end gaming system with four graphics cards will not be a problem for Seasonic Platinum 1050, and any third-party adapters are not required.
Configuration of cable designed to power the periphery also are at the highest level. Drives, fans, and other devices that require connectors SATA and PATA - all this without any problems will be connected to the power supply, with the best possible way, using a minimum of cables.
Socket type

Quantity

Cable length to socket (connectors), cm

Modular (detachable) cables

20+4-pin power socket ATX

1

60

4+4-pin power socket ATX12V

1

65

8-pin power socket ATX12V

1

65

two 6+2-pin power sockets PCIe

4

55-65

three sockets PATA

1

40-50-65

two sockets PATA

1

30-40

four sockets SATA

3

40-50-65-75

two sockets SATA

1

30-40

adapter PATA-FDD

1

10

Now let's take a closer look to the technical characteristics of the model Seasonic SS-1050XP3. Its nominal capacity is 1,050 W. Canal +12V is designed as a single line with a load capacity of up to 87 A. In other words, if necessary, it will be possible to take virtually 100% of the total power that is quite popular option today. Even if the optimization of their parameters is not planned, the presence of a dedicated line +12V still significantly simplifies the life of the user when building productive configuration. Since it won't allow to provide a situation with premature activation of OCP protection on this channel. Lines +3.3V and +5V have a maximum total power of 125 W and are designed for a load of 25 A each. It is quite enough to connect the drive, drives and other peripherals.
Model Seasonic Platinum 1050 complies with standard 80 PLUS Platinum, which imposes rather high requirements to the level of efficiency of the power supply. Thus, the voltage to 230 V at a load of 20%, 50% and 100% of the nominal power, this figure should not fall below 90%, 94% and 91% respectively.
Also do note a wide input voltage range (100 - 240), which eliminates the external voltage regulators in an unstable power supply.
Internal device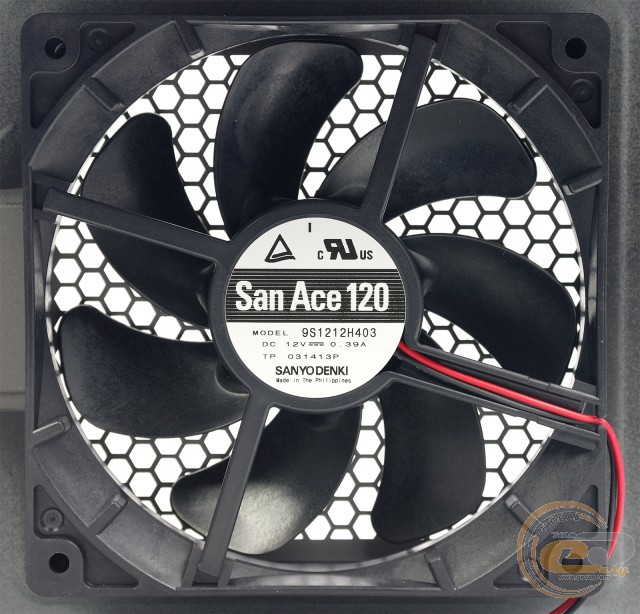 In order to cool internal components 120mm 7-blade fan SANYO DENKI 9S1212H403 is applied. It is based on two ball bearings. Unfortunately, we could not find its complete specification. However, we have testing results of more powerful solutions (Seasonic Platinum 1200 and Seasonic X-1250) that use the same fan. So we can say that this capacity will be enough.
| | |
| --- | --- |
| Fan | SANYO DENKI 9S1212H403 |
| Bearing type | Dual Ball |
| Supply voltage, V | 12 |
| Current, A | 0,39 |
| Capacity, W | 4,68 |
| Maximum rotation speed, rpm | − |
| Air flow, CFM | − |
| Noise level, dB | − |
| Dimensions, mm | 120 х 120 х 25 |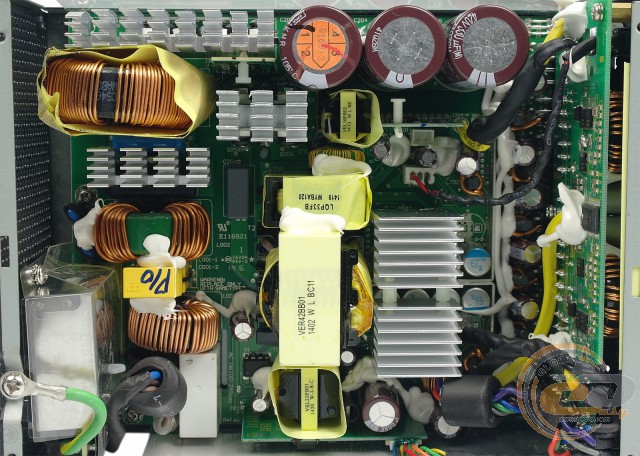 Since the power supply Seasonic Platinum 1050 is released relatively recently, it was based on the most modern development of company Sea Sonic Electronics - circuit design «Seasonic XP3». This platform is installed only for kilowatt solutions and allows to achieve very high performance, as we saw on the models Seasonic Platinum 1200 and the Seasonic X-1250.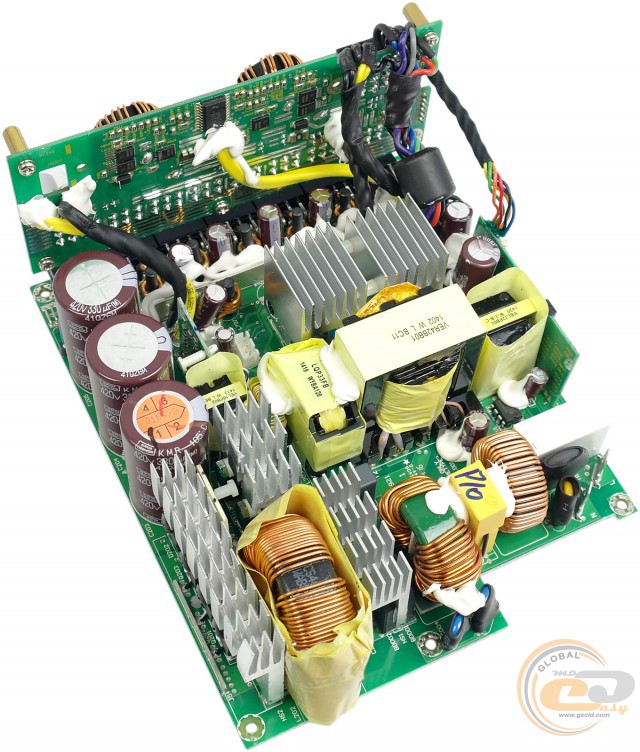 The distinguishing feature of all members of the series Seasonic Platinum is developed passive cooling system. The photograph clearly shows that each group of power elements is equipped with own aluminum radiator with a large surface area for heat dissipation.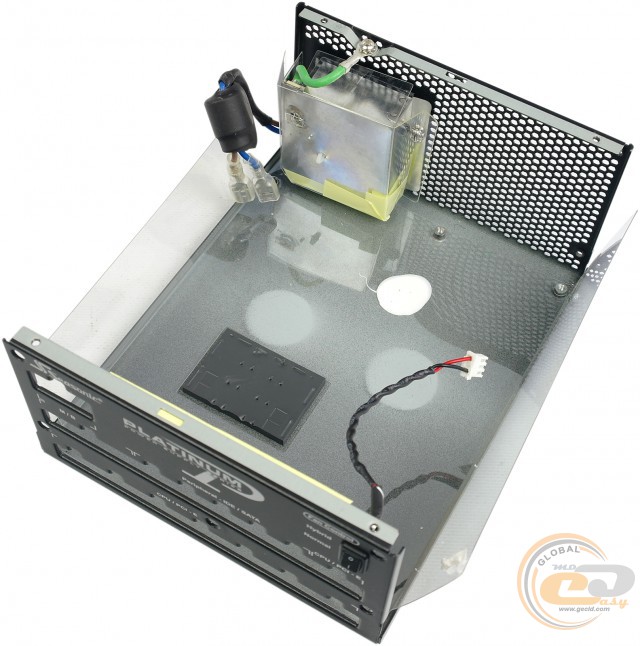 Furthermore, even the case takes part in the cooling of components (in this case, the transistors forming the line +12V). This original design was used for accurate purpose. Recall that to a certain load the product can work with inactive fan, so rapid removal of heat here is one of the most important tasks.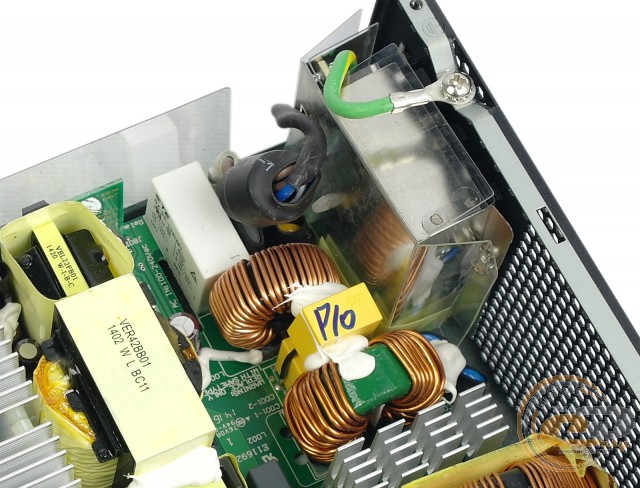 The input of the high-voltage side has an EMI-filter for smoothing the high-frequency noise emitted by the power supply. Also it bears the function of lightning protection. The practice realization of this site has no complaints, because there are all the necessary components (three X- and six Y-capacitors, three chokes and varistor), which is the key to its efficient and stable operation.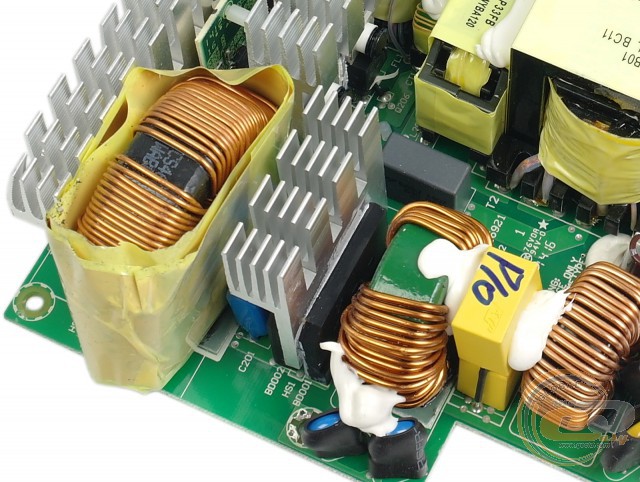 Rectification of the input electrical current is carried by two diode arrays. Unfortunately, we could not find its marking, but there is no doubt that these elements are selected with a very large margin of safety. Behind the diode bridge is a huge choke of active power factor correction (APFC) and its power section, consisting of three field-effect transistors Infineon 6R125 and Schottky diode STPSC806D.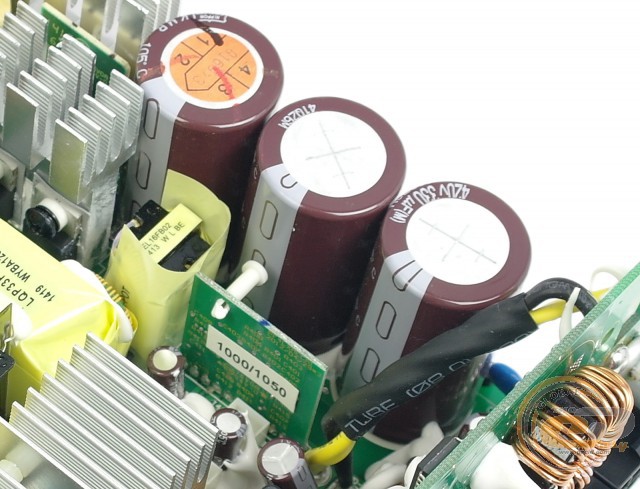 High-voltage capacitors are represented by three elements (330 uF x 420 V, operating temperature up to 105°C) produced by the Japanese company Nippon Chemi-Con, which guarantees their high quality and long service life even under constant heavy loads. Since they are connected in parallel, their total capacity is 990 uF and we can say that it is an excellent figure for 1050 W device. Note that the rest sites of the power supply units also use only Japanese origin capacitors.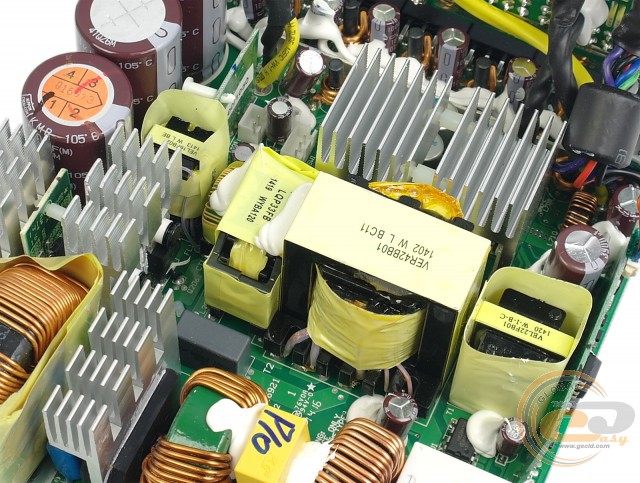 The inverter is built on a efficient resonant circuit with a full bridge. Its keys are the four transistors Infineon 5R250P operating in pairs under the control of the PWM controller CM6901. The correct functioning of the APFC subsystem and stand-by power supply source (forms a line +5Vsb) is provided by chips NCP1654 and ICE2QR4765 respectively.
Note that most of the above units are modular, which simplifies the design of power supplies and their assembly and significantly improves maintainability.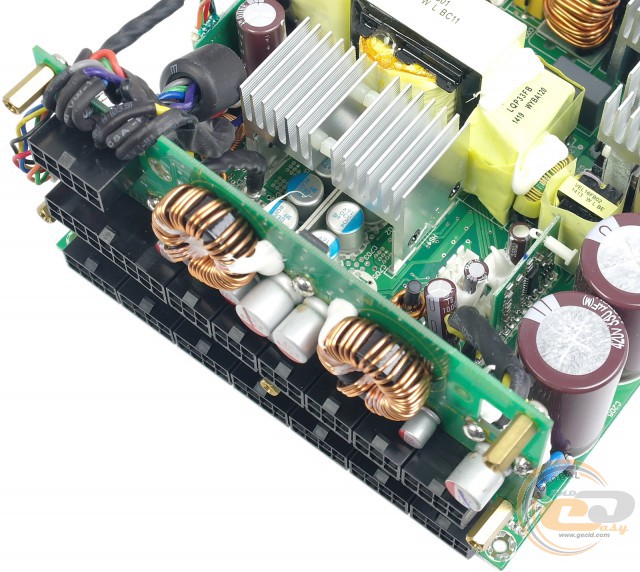 Low-voltage part of the new item is a synchronous rectifier: in the output there is a powerful line +12V that forms voltage +3.3V and +5V. This is a fairly progressive method to achieve high performance, primarily relating to energy efficiency and major deviations of supply voltages. In addition, the presence of a dedicated +12V line has a lot of advantages, which we have already mentioned in the analysis of electrical characteristics of Seasonic Platinum 1050.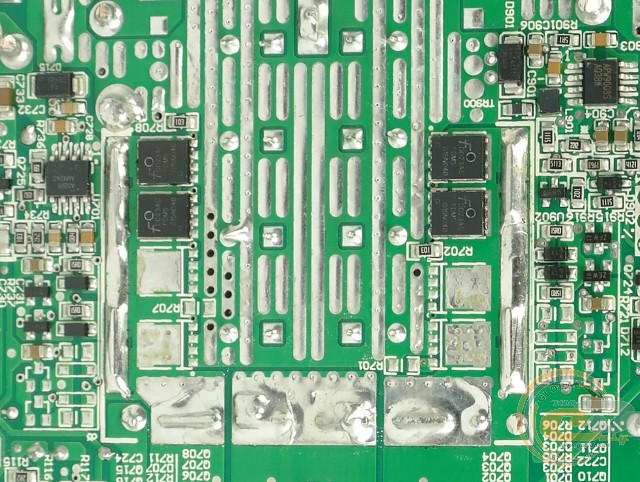 The formation of the line +12V is provided by four transistors Fairchild FDMS015N04B, located on the rear side of the PCB, while the model 1200-W Seasonic Platinum 1200 used twice elements for these purposes. But there the channel +12V is designed for heavy load: 100 And instead of 87 A.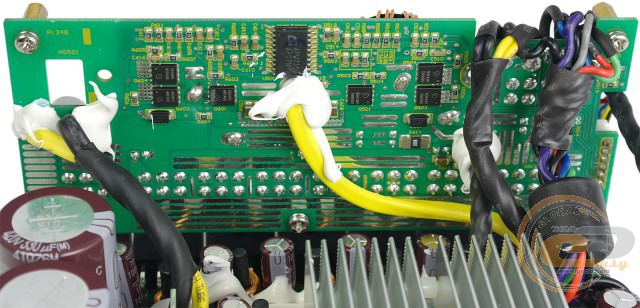 Converters remaining voltages are wired on a separate board. In the formation of lines + 3.3V and + 5V attended six transistors Infineon BSC0906NS (three for each channel), running PWM controller APW7159.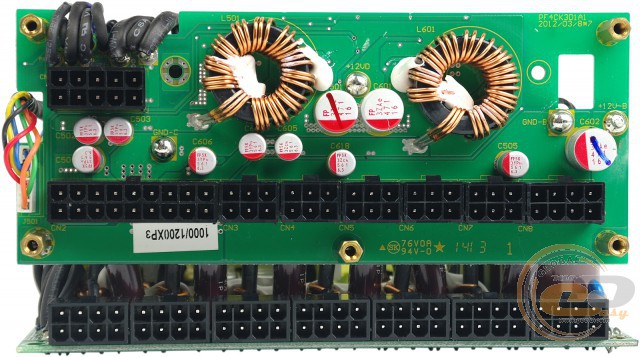 On the reverse side of the card is part of the modular connectors and filters on channels +3.3V and +5V: two coils and polymer type capacitors (470 uF x 16 V and 560 uF x 6.3 V). The manufacturer of the latest is Japanese company FPCAPS.
The design in a one board with multiple nodes not only fully consistent with specified above the modular concept of building power supplies, but also has practical benefits: allows you to give up part of the underwater paths, thereby minimizing energy losses and noise on the outputs of Seasonic SS-1050XP3.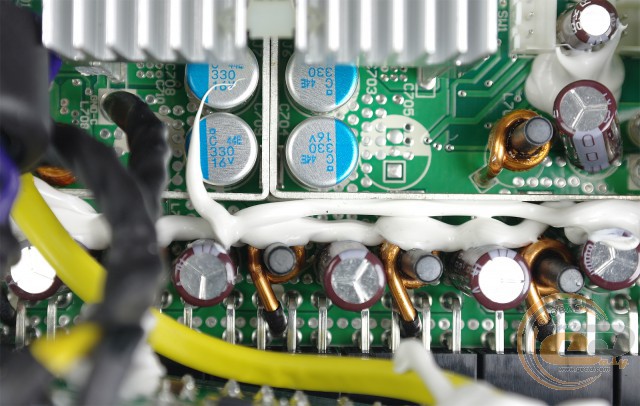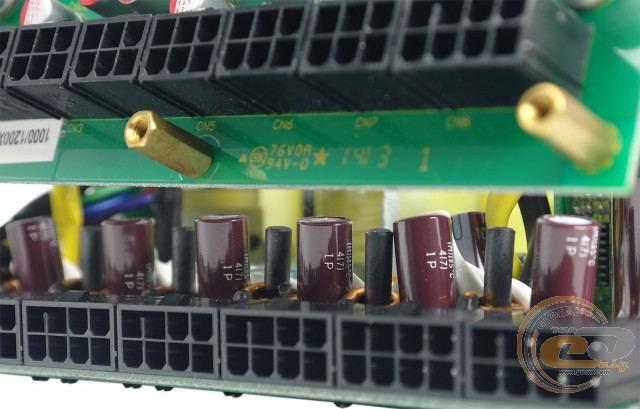 The smoothing of noise on the channel +12V is provided by the elements with solid (330 uF x 16 V) and a liquid electrolyte (1000 uF x 16 V), which are produced by no less authoritative Japanese brand Nippon Chemi-Con.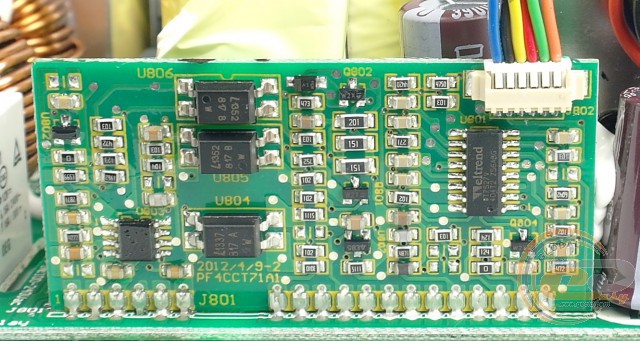 According to the technical specifications, model Seasonic Platinum 1050 has the whole series of protections (OVP / UVP / OPP / SCP / OCP / OTP), including protection against overload and overheating. Last in the power supply, which till a certain load can work with inactive fan, is quite important. The node is based on chip-supervisor Weltrend WT7527V.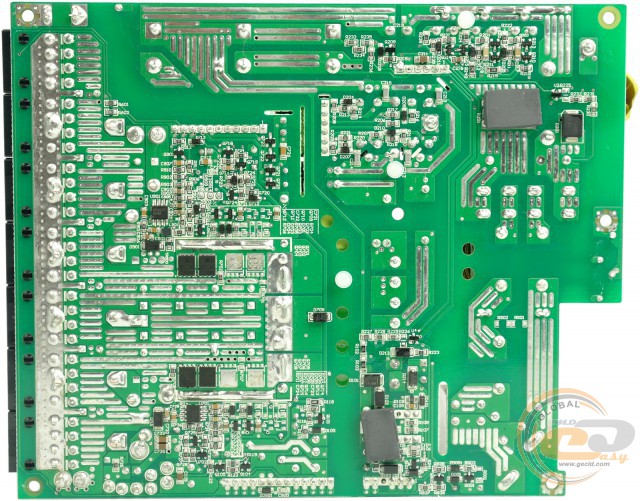 Turning the board, you can understand why the Sea Sonic Electronics products are reference in the field of computer electronics. Perfectly straight track, excellent soldering, absence of flux - all done very efficiently and professionally.
Социальные комментарии Cackle