PSU Seasonic Platinum 400 Fanless: review and testing
Many users have a dream to build completely silent PC. At first glance this problem seems to be simple. It is enough to select the processor and graphics card of energy-efficient series, to equip them with massive radiators, put it all into the case with a proper system of vents and at the outlet we have a silent building. But what about the power supply? Indeed, in most cases, it is equipped with a separate fan, and not always of high quality. You can certainly try to improve the design of cooling power, removing the fan and attaching the additional radiators. But you won't be sure that this modernization will give the desired effect. Moreover, it can lead to bad consequences, and, of course, you will lose the warranty.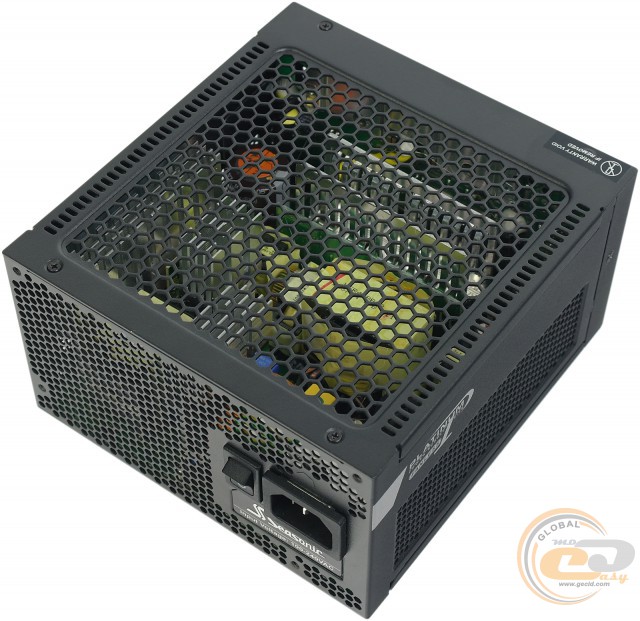 So what is to be done? The company Sea Sonic Electronics has the answer to this question in the face of energy-efficient fanless solution that can operate in a completely passive mode for all types of loads. They are three representatives of "platinum" series: Seasonic Platinum 520/460/400 Fanless, where the number refers to the rated power of the device. We are already meet in practice the 520-watt model and were very pleased with the results. Now we will learn other versions of fanless power supplies. This review will focus on the junior model Seasonic Platinum 400 Fanless (Seasonic SS-400FL2) with power of 400 W. Like the rest of the series Seasonic Platinum, it is subjected to some modernization, which primarily positively affects the final cost of the device. After all, the price issue is always an important factor in the choice of computer accessories.
The specs:
Model

Seasonic Platinum 400 Fanless

(Seasonic SS-400FL2)

Type

ATX12V / EPS12V

Rated capacity, W

400

12V channel capacity, W

396

+3,3V and +5V channel capacity, W

100

Q-ty of +12V lines

1

Outputs, А

+3,3V

20

+5V

20

+12V

33

-12V

0,5

+5VSB (stand-by power line)

2,5

PCIe-sockets

1 (6+2-pin)

Support for technologies NVIDIA SLI / AMD CrossFireX

No

Modular

Yes

Efficiency, %

> 91

Certified 80 PLUS

Platinum

Power factor, %

99

Method of Power Factor balancing

Active

Input voltage, V

100 − 240

Frequency, Hz

50 − 60

Input current, А

3 − 6

Fan dimensions, mm

No

Fan speed controller

No (passing cooling system)

Noise level, dB

0

Support for energy saving states C6 / C7(Intel Haswell Ready)

Yes

Correspondence to environmental standards, electromagnetic safety and compatibility (EMI/EMC)

CB, CCC, cUL, TUV, GOST-R, BSMI, CE, FCC, RCM, RoHS, WEEE, ErP Lot 6 2013

Protections

OVP, UVP, OPP, OTP, OCP, SCP

Dimension, mm

160 х 150 х 86

Packaging

Power cord, fastening screws, modular cables, cable holders, straps with adhesive tape, manual, logo sticker

Warranty, years

7

Producer website

Product page
Package and content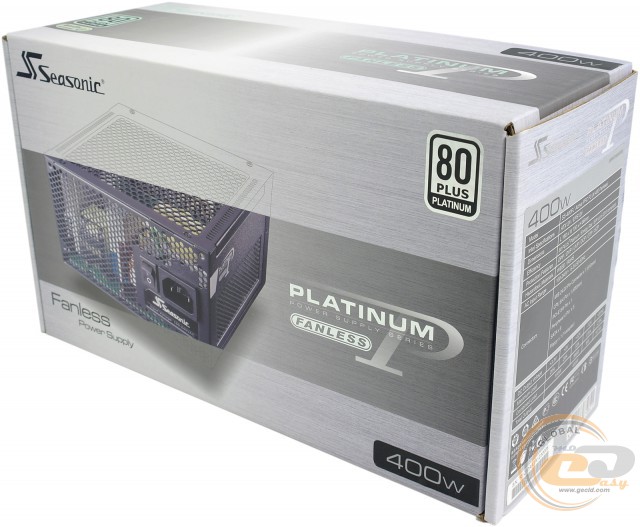 Power supply Seasonic Platinum 400 Fanless comes in a cardboard box, which provides protection from shock and possible mechanical damages. According its design it is easy to guess the family of the model. Naturally, this is Seasonic Platinum, i.e. fanless series, as indicated by the inscription «Fanless» on the packaging. Also the front side contains the information about other features of the power supply: its rated power 400 W; it complies with energy efficiency 80 PLUS Platinum and has the support of energy-saving states C6/C7, characteristic for processors Intel Haswell.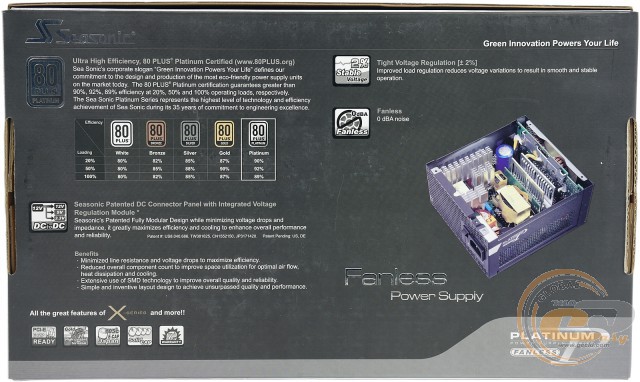 More technical information can be found traditionally on the back of the box. We offer a brief look on the list to better understand the device:
Ultra High Efficiency, 80 PLUS Platinum Certified - very high level of energy efficiency, compliant with standard 80 PLUS Platinum;
DC-to-DC - advanced circuitry based on DC converters is applied;
Seasonic Patented DC Connector Panel with Integrated Voltage Regulation Module - patented design of module with inverters DC-DC, which can reduce the energy loss in the low-voltage side, to improve the quality of installation and cooling elements, as well as to simplify the structure of the entire assembly;
Tight Voltage Regulation [±2%] - high stability of output voltages (deviations from the nominal line shall not exceed ± 2%);
Fanless 0 dBA noise - fanless cooling system, so under any load the power supply works in a totally silent mode;
PCI-E 6 + 2P READY - the presence of 6+2-pin PCIe connectors for additional power connection to the graphics card;
Gold High Current Terminal - gold plating is applied to terminals for connecting components;
Highly Reliable 105°С Aluminum Electrolytic Capacitors, Conductive Polymer Aluminum Solid Capacitors - all nodes has high-quality Japanese capacitors belonging to the high-temperature series;
7 Years Warranty - 7 years warranty.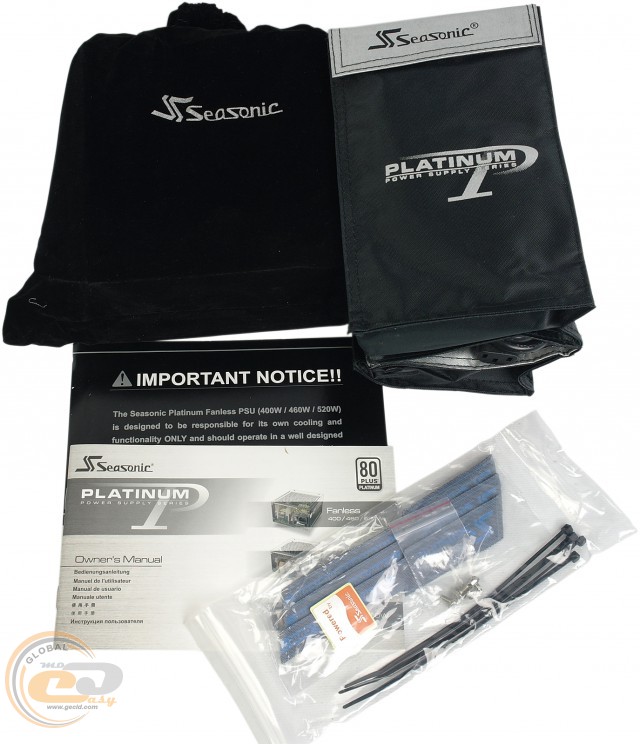 Supply set is rich enough, and includes all the necessary components, namely:
AC power cord;
screws to secure;
modular cables, which are in a special two-piece bag;
five holders and three straps with adhesive tape to secure the wires;
sticker with the logo of the company;
instructions.
A set of modular cables is not shown in the photo, but it will be discussed in more details later. Also the box has a leaflet with a reminder that the power supply belongs to the fanless type, so it is strongly dependent on the cooling air distribution inside the computer case.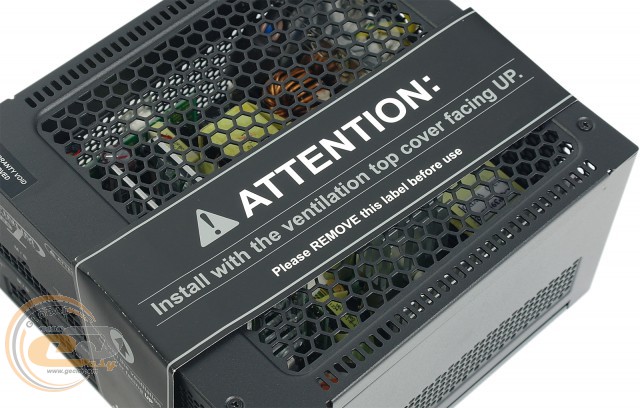 For those who deal with this kind of devices for the first time, we strongly recommend to pay attention to the installation option. In this case, Seasonic Platinum 400 Fanless is attached by grille upward, whereas conventional solutions, on the contrary, grille down. Do note that this is applied to all modern buildings with lower position of power
Design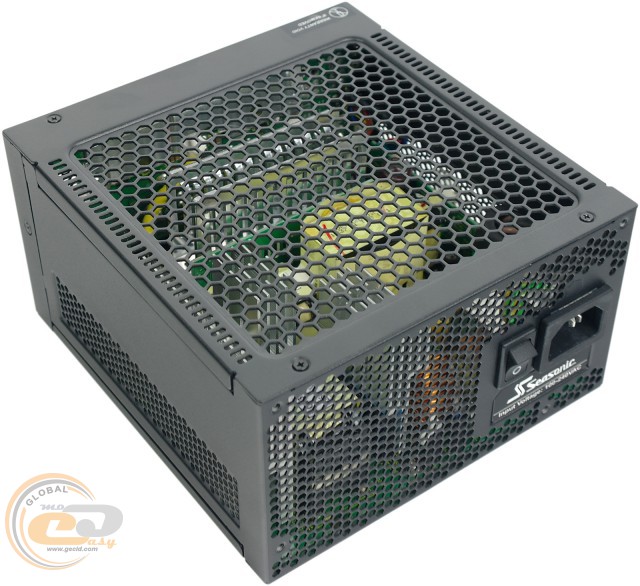 Model Seasonic SS-400FL2 is performed in a black casing with excellent build quality and handling of the panels. We did not expect another option from such producer as Sea Sonic Electronics. Since the power supply doesn't have a fan, the engineers did their best to improve the natural convection of air. Thus, the perforations can detect almost all of the case. But the largest mesh is on the top cover, so it is very important to keep it free during the operation of the device.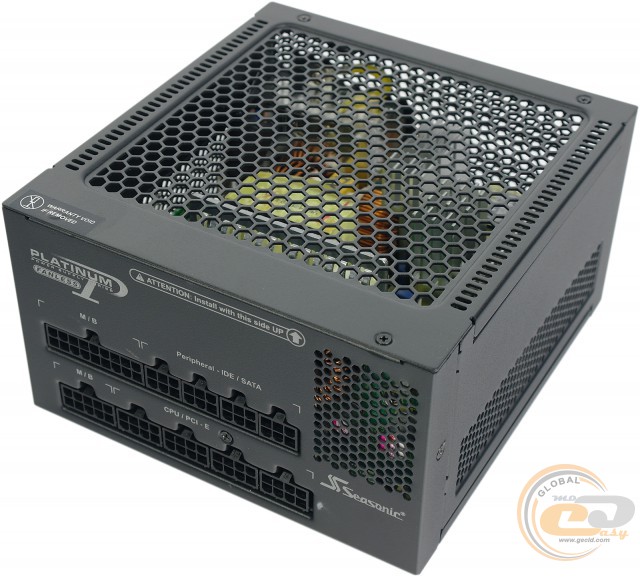 Despite all this, the case has not lost its rigidity, and its dimensions have not changed and still are 160 x 150 x 86 mm. So you won't have any problems with the placement of Seasonic Platinum 400 Fanless inside the system and its further exploitation, especially in the presence of a modular cable system.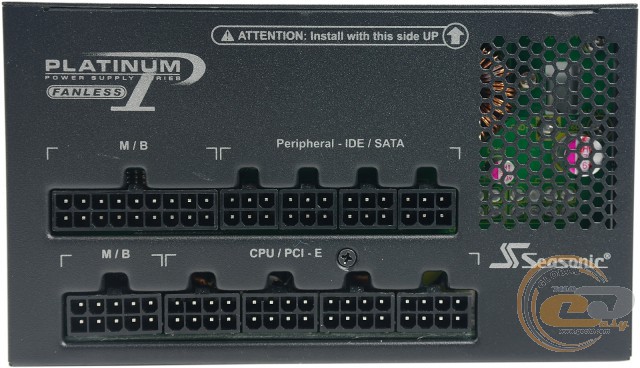 By the way, it has not just a modular configuration but fully modular one. That is cords are detachable, even those that are designed to supply the motherboard and processor. This approach makes the process of components connecting and cable management as simple as possible, especially if we are talking about some kind of multi-functional building. All connectors are signed and have a different design, so there should be no difficulty. We would like to specify the purpose of each of them:
18-pin and 10-pin («M/B») - to power the motherboard;
four 6-pin («Peripheral IDE/SATA») - to power the periphery;
four 8-pin («CPU/PCI-E») - for additional power of processor and graphics card.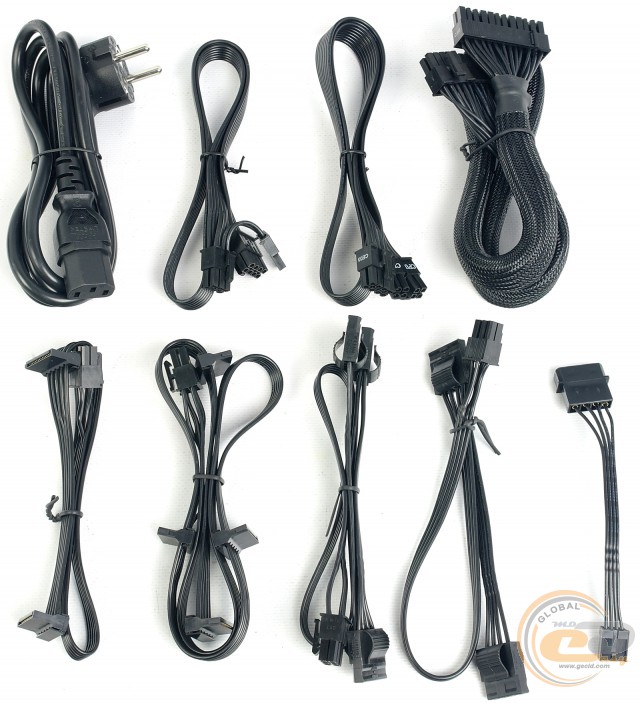 Almost all of the cables are in the form of strips that positively affects their usability. Main power connectors are made collapsible and have the following configuration: 20+4-pin ATX and 4+4-pin ATX12V. Power is supplied to the video card via one 6+2-pin PCIe and that is a standard practice for low-power solutions.
The configuration of cables for connecting peripherals also doesn't have any issues. Available connectors are enough to connect multiple drives, as well as to power the other components requiring PATA connector. Moreover, it will be possible to make the most optimal manner using a minimum of cables.
Socket type

Quantity

Cable length to socket (connectors), cm

Modular (detachable) cables

20+4-pin power socket ATX

1

60

4+4-pin power socket ATX12V

1

65

one 6+2-pin power socket PCIe

1

60

three sockets PATA

1

40-50-65

two sockets PATA

1

30-40

four sockets SATA

1

40-50-65-75

two sockets SATA

1

30-40

adapter PATA-FDD

1

10

Now let's take a closer look at the technical characteristics of the power supply Seasonic SS-400FL2. Its nominal power is 400 W. Channel +12V is formed as a single line with a loading capacity of up to 33 A, which corresponds to 99% of the total power. For modern components it is a very important factor, because it allows the use of a part of the system components with high power consumption, without fear of a situation with premature activation of protection OCP on the channel +12V. Lines +3.3V and +5V have a maximum total power of 100 W and are designed for a load of 20 A each. It is quite enough to connect multiple drives and other peripherals.
As you might guess from the title, according to the energy efficiency Fanless Seasonic Platinum 400 complies with standard 80 PLUS Platinum. Lets' recall that they have very high requirements to the level of efficiency of the power supply. Thus, for the voltage to 230 V at a load of 20%, 50% and 100% of the nominal power, this figure should not fall below 90%, 94% and 91% respectively.
Also do note a wide input voltage range (100 – 240 V), which eliminates the external voltage regulators in an unstable power supply.
Internal device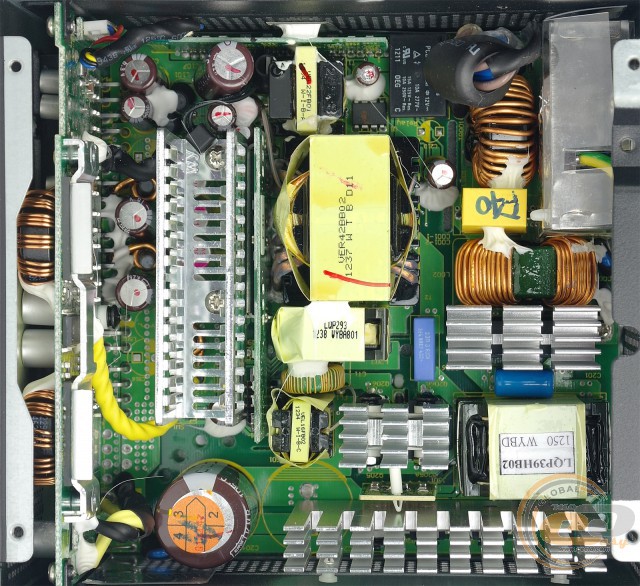 Since the construction of Seasonic Platinum 400 Fanless does not include a fan, after removing the cover you can immediately see the model circuitry. It is based on familiar to us due to the platform Seasonic KM3. It is unlikely that it needs no special introduction. Just look at the test results of Seasonic Platinum 760 / Seasonic Platinum 860, to understand its real capabilities. However, in the case of the Seasonic SS-400FL2 the task is a bit complicated: it is necessary to achieve the same high performance, but without active cooling. Lets' look how the engineers of Sea Sonic Electronics managed to cope with it.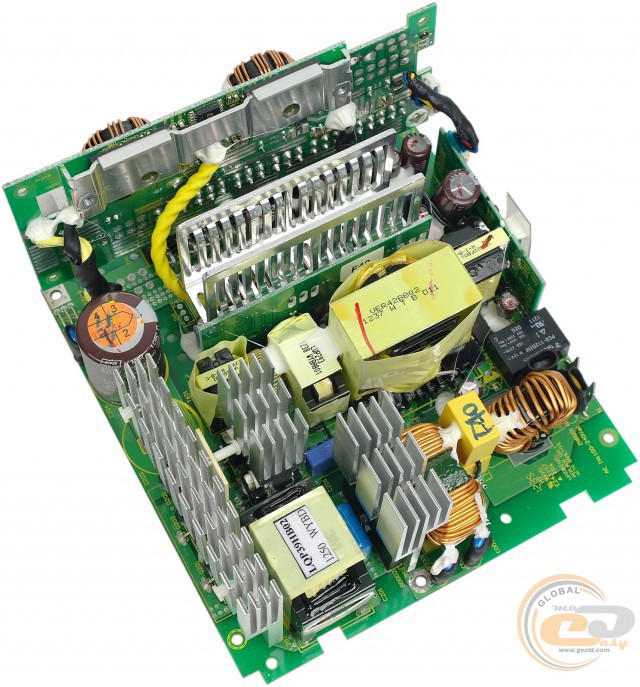 First of all, there are heat sinks. Each group of load-bearing elements has its own aluminum cooler, even in the low-voltage side.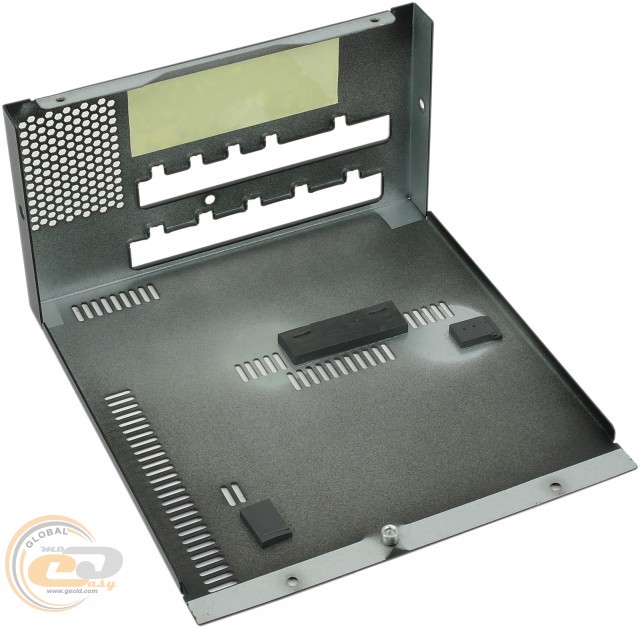 Furthermore, even the case takes part in the process of heat removing from the components of the power supply. The photograph clearly shows how it happens.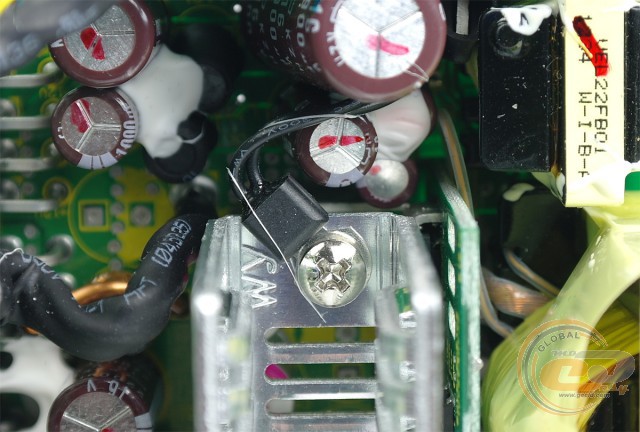 There is no doubt that the cooling system in the Seasonic Platinum 400 Fanless is performed at the highest level. However, even if you will to bring the temperature inside the power supply to a critical point, the overheat protection (OTP) will be activated. The corresponding sensor is mounted on the radiator, cooling transistor on the channel +12V.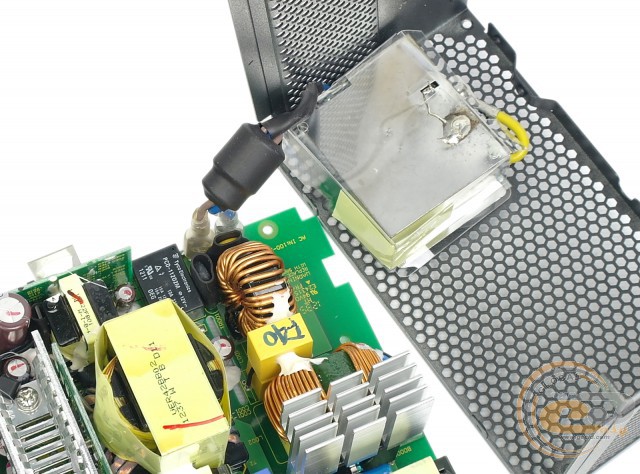 Now let's proceed directly to the analysis of the platform. At the output of the high-voltage side there is EMI-filter for smoothing the high-frequency noise emitted by the power supply. It also bears the function of lightning protection. Implementation of the input filter is at the highest level, as evidenced by the presence of all the necessary components, including a varistor, and thorough approach to their manufacturer isolation and shielding.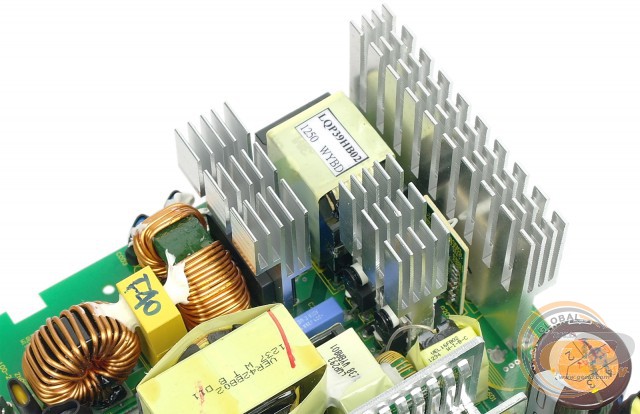 Due to dense layout, the characteristics for rectifying bridge of input voltage were not determined. We can only say that it includes two diode assemblies. The power module of the active power factor correction (APFC) is represented by a Schottky diode ROHM SCS106AG and two FETs Infineon 5R250P, built on technology CoolMOS and has a low on-resistance (at 250 milliohms).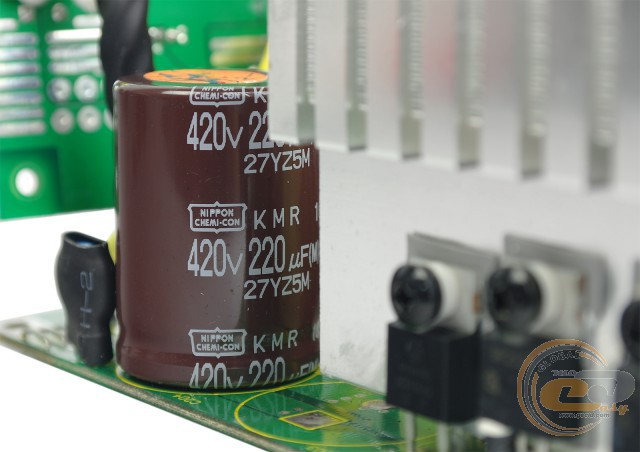 The capacitor of high-voltage circuit (220 uF x 420 V) is produced by known by Japanese company Nippon Chemi-Con and belongs to high-temperature series (105°C). Naturally under such characteristics its quality may not arise any complaints. By the way, in all the other nodes, including a standby power source composition, also are capacitors of this producer.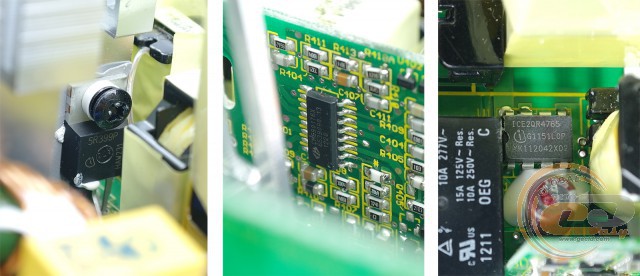 The main transformer is built on a highly resonant circuit with a full bridge. Its keys are the four transistors Infineon 5R399P, operating in pairs under the control of the PWM controller CM6901. The correct functioning of power supply (forms power line +5Vsb) is provided by chip ICE2QR4765.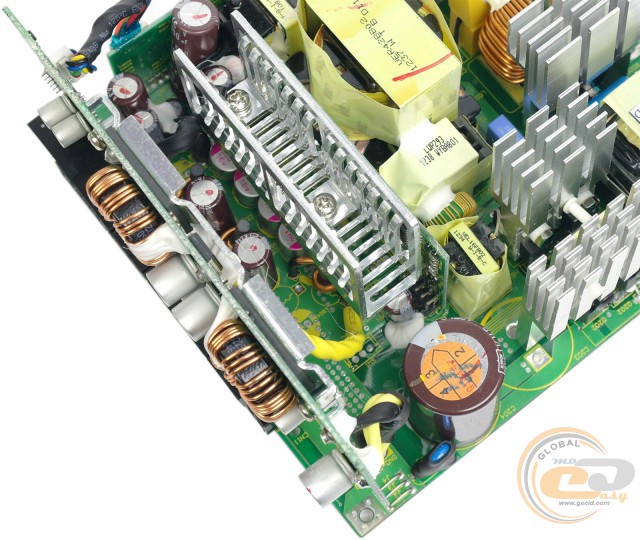 Low-part model Seasonic Platinum 400 Fanless is a synchronous rectifier: output another powerful line +12V that provides voltage +3.3V and +5V. This is a fairly progressive method, which allows to achieve high performance on several fronts - energy efficiency, load capacity of the channel +12V, supply voltage deviation in the output lines. Unfortunately, the label and the number of transistors involved in the formation of the voltage +12V was not known.

Power side of converters is a group of six elements Renesas RJK0332DPB, running by PWM controller APW7159.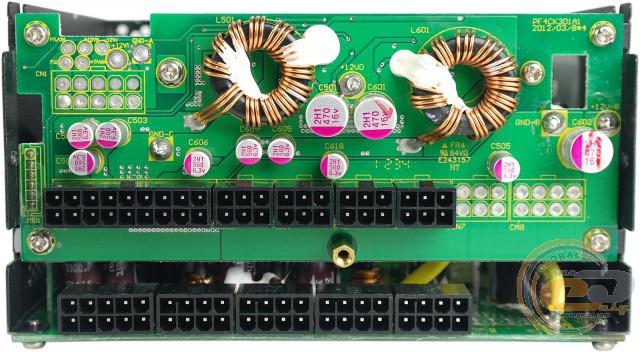 On the reverse side of the card is part of the modular connectors and other components converters: two coils and filter capacitors of polymer type (470 uF x 16 V and 560 uF x 6.3 V). Thanks to this arrangement is possible to minimize energy losses and noise on the power supply outputs and avoid clutter of additional components in the low-voltage side.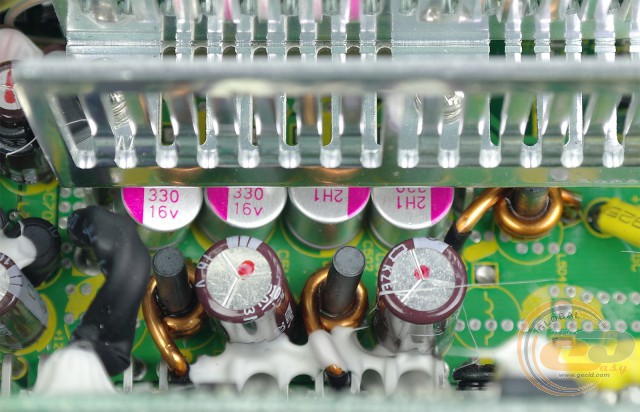 The process of ripple smoothing of the channel +12V is also provided by solid capacitors (330 uF x 16 V). Although there is also a pair of elements with a liquid electrolyte. As mentioned above, their producer is the Japanese company Nippon Chemi-Con, whose products are considered to be the standard in its field.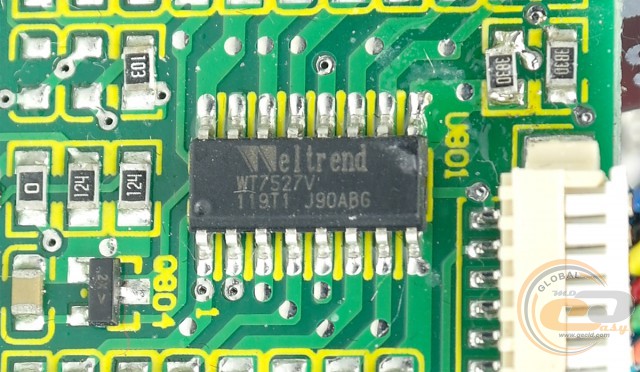 According to the technical specifications, model Seasonic SS-400FL2 has a whole range of protection (OVP / UVP / OPP / SCP / OCP / OTP), including protection against overload and overheating. Last in the fanless power supply is very important. The node is based on chip-supervisor Weltrend WT7527V.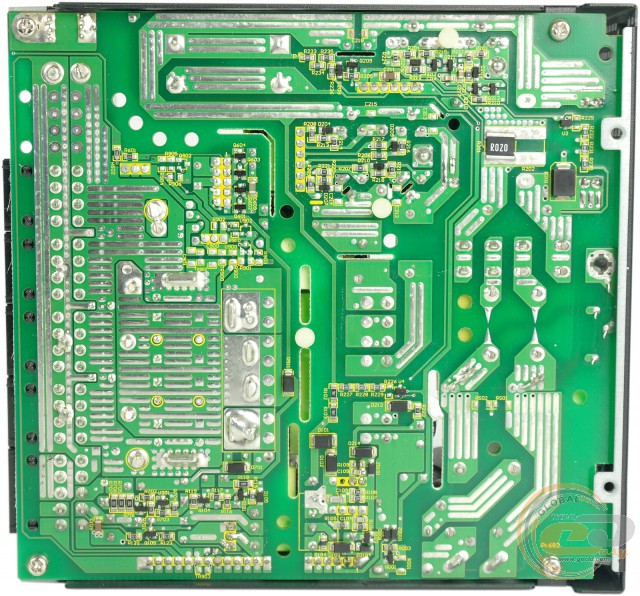 And finally lets' enjoy to the highest quality of performance of the board: no sagging, bad soldering or curved tracks. Everything is done at the highest level.
Социальные комментарии Cackle