PSU Seasonic S12G-550: review and testing
Model Seasonic S12G-550 (Seasonic SSR-550RT) is another solution of Sea Sonic Electronics to conquer the market of high-performance and at the same time available power supplies. Although this definition is suitable not only for the hero of this review. It is also true for other members of the series Seasonic S12G, in particular for the previously discussed models Seasonic S12G-650 and Seasonic S12G-750. But the capacity of 650 W, and that more than 750 W, is often superfluous for standard home PC, especially after the release of energy-efficient generation of processors and graphics cards. Therefore, we can understand the people who are not willing to overpay for the extra watts. And those who are trying to save on the purchase of components, without sacrificing productivity.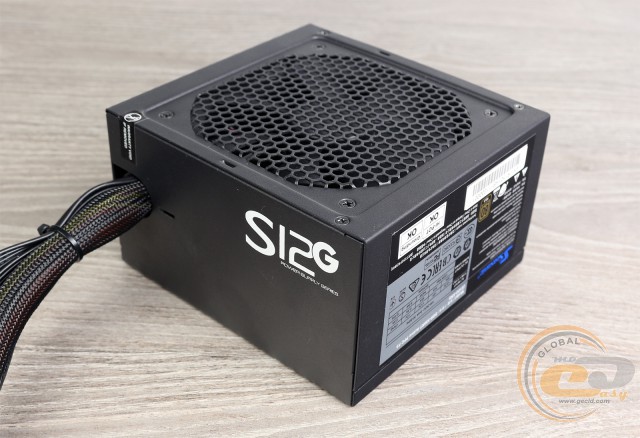 Such devices include model Seasonic S12G-550. It complies with the standard 80 PLUS Gold and more expensive "gold" solutions of comparable power, but they are cheaper. After the transfer of the power supply to a new revision, the balance between its features and a price tag improved.
The specs:
Model

Seasonic S12G-550

(Seasonic SSR-550RT)

Type

ATX12V / EPS12V

Rated capacity, W

550

Rail 12V capacity, W

540

Rails +3,3V and +5V capacity, W

100

Quantity of rails +12V

1

Outputs, А

+3,3V

20

+5V

20

+12V

45

-12V

0,3

+5VSB (stand-by power line)

2,5

Input voltage, V

100 − 240

Frequency, Hz

50 − 60

Input current, А

4 − 8

Efficiency, %

> 88

Certifies 80 PLUS

Gold

Power factor (PF), %

99

Method of Power Factor balancing

Active

Configuration of system output cables

All cables are led out from the PSU

PCIe-sockets

2 (6+2-pin)

Fan dimensions, mm

120 х 120 х 25

Fan speed controller

Yes (S2FC)

Noise level, dB

−

Support for energy saving states C6 / C7(Intel Haswell Ready)

Yes

Correspondence to environmental standards, electromagnetic safety and compatibility (EMI/EMC)

CB, CUL, CCC, SEMKO, TUV, BSMI, CE, FCC, RCM, RoHS, WEEE, ErP Lot 6 2013

Protections

OVP, UVP, OPP, SCP, OCP, OTP

Dimension, mm

140 х 150 х 86

Packaging

Power cord, straps with adhesive tape, cable holders, installation screws, logo with sticker

Warranty, years

5

Producer website
Package and content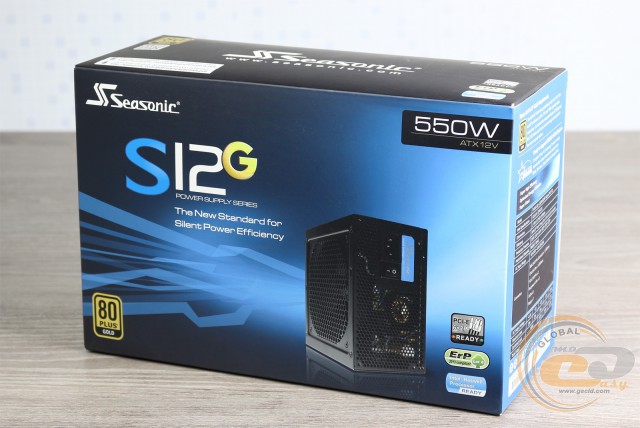 PSU Seasonic S12G-550 comes in a colorful box of medium size. The front panel has an image of the device as well as information about its key features: power (550 W), compliance with standards 80 PLUS Gold, ErP Lot 2013, the presence of 6+2-pin connectors PCIe, support for energy-saving technologies implemented in modern processors of family Intel Haswell.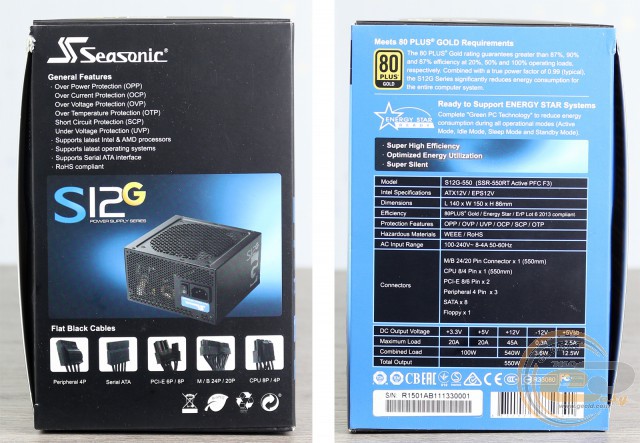 The information about the configuration of the output cables, electrical properties of the power supply and the types of protections can be found at the ends of the box.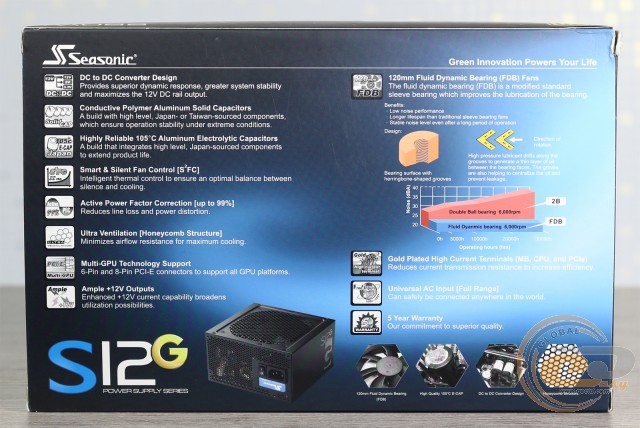 However the most interesting is the back side of the package. Here, the manufacturer put a detailed description of all the technologies and capabilities of a model Seasonic S12G-550:
DC to DC Converter Design - advanced circuitry with a strong +12V output, that forms remaining denominations based on the DC voltage converters;
Highly Reliable 105°C Aluminum Electrolytic Capacitors - high quality components such as Japanese capacitors from high temperature series;
Conductive Polymer Aluminum Solid Capacitors - solid capacitors are used to improve the ripple filtering;
Smart & Silent Fan Control [S2FC] - "intelligent" cooling system, the operation of which depends on the heating of the internal components;
Active Power Factor Correction [up to 99%] - the module APFC, which allows to get power factor correction at 99%;
Multi-GPU Technology Support - Support for several 6+2-pin PCIe connectors will allow you to connect graphics card of any level of performance;
Universal AC Input [Full Range] - ability to work in a wide range of input voltages (100 – 240 V);
120mm Fluid Dynamic Bearing (FDB) Fans - the use of low-speed fan based on hydrodynamic bearings;
5 Years Warranty - 5-year warranty.
It is important to note that many of these features are typical of the more expensive and productive solutions from series Seasonic G and Seasonic X.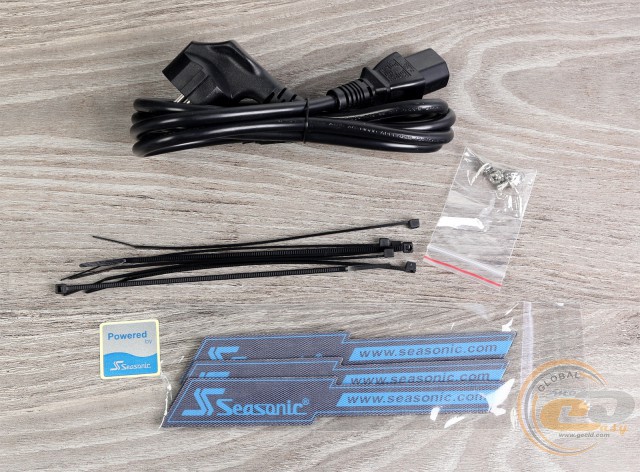 The package includes all the necessary components:
power cord;
installation screws;
straps with adhesive tape;
sticker with the logo of the manufacturer.
Design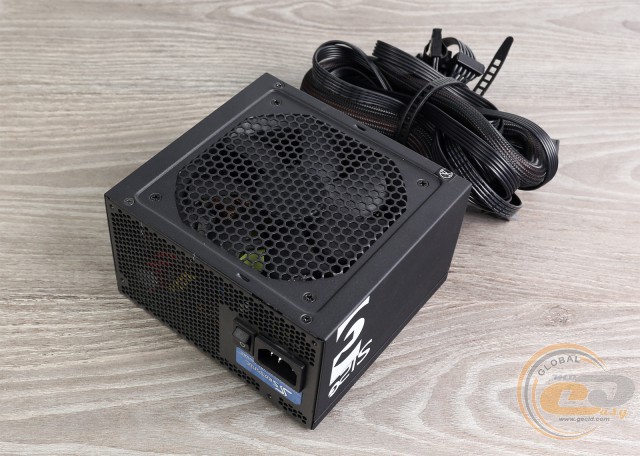 Externally Seasonic SSR-550RT is designed in the same sleek black case and with the same perforated grate on the cover. The build quality is at high level.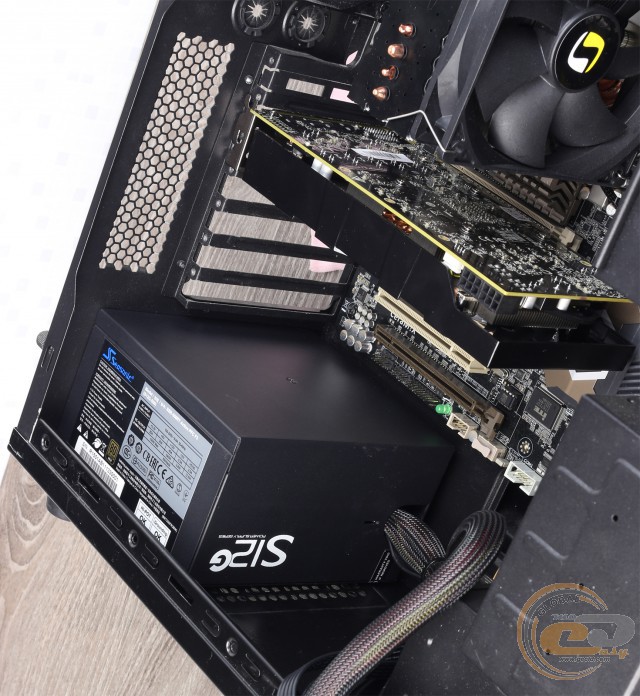 Since in this model all the cables are put directly from the case, its length was reduced from 160 mm to 140 mm. As a result, Seasonic S12G-550 will fit in most modern case (including non-traditional formats, such as Desktop or Cube Case), and won't cover vent located on the bottom.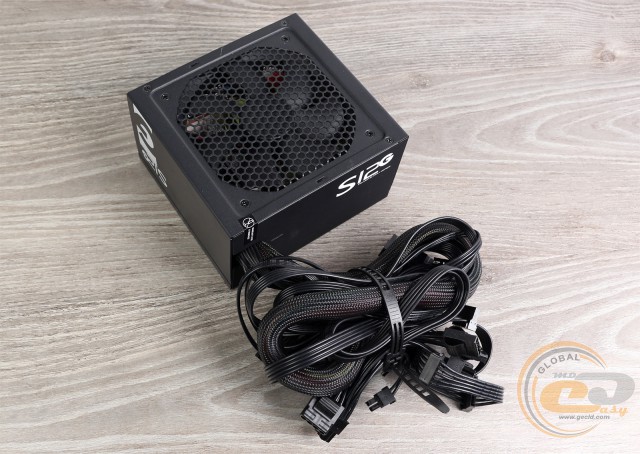 In addition, the lack of modular connectors is a possibility to reduce the price tag that makes the model more reasonable to the average user. But it is important to note that this is not the case when the savings are achieved at the expense of the properties of the power supply. As you can see, the company Sea Sonic Electronics tried to minimize the discomfort associated with the technical solution and made the cables in the form of long thin cables. Thus, the output cables have greater flexibility as compared to conventional option, and they are much easier to put inside the computer case.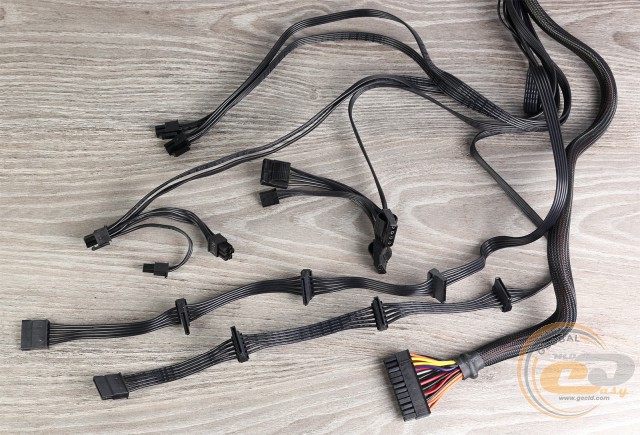 The main power connectors are presented by collapsible 20+4-pin ATX and 4+4-pin ATX12V. There are two 6+2-pin PCIe to connect the video card. So, when you install voracious graphics you should not use third-party adapters.
Configuration of cables designed to power peripherals is also at high level. There are eight SATA connectors and three PATA connectors. So if your home PC is a workstation or a file server, the model Seasonic S12G-550 is perfect for its structure. Also note that the connectors are put on different cables that should simplify the connection of the individual groups of devices.
All types of connectors and cable length are given in the table below:
Socket

Quantity

Cable length to socket (connectors), cm

Length from PSU

20+4-pin ATX connector

1

55

4+4-pin ATX12V connector

1

60

two 6+2- pin PCIe connectors

1

50-60

three PATA and one FDD

1

50-60-70-80

four SATA

1

50-60-70-80

four SATA

1

40-55-65-75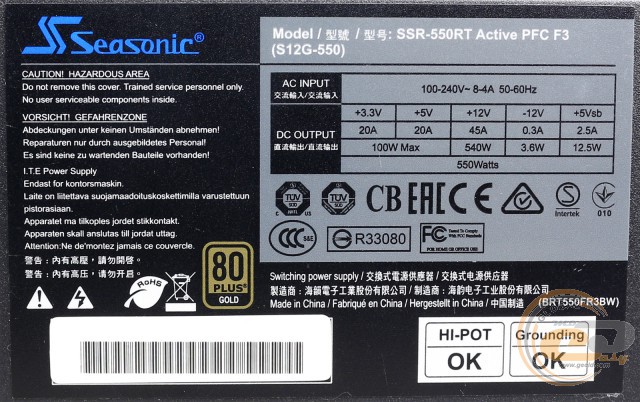 Now let's take a closer look at the technical characteristics of the model Seasonic S12G-550. Its rated output is 550 W, while the +12V rail is designed as a single line and is intended for a fairly heavy load of 540 W (slightly more than 98% of rated power). Recall that for modern components such a configuration is most preferred. Rails +3.3V and +5V have a maximum total power of 100 W. Each of them is able to withstand current up to 20 A. For power drives, drives, and other peripherals is quite enough.
Seasonic SSR-550RT is compliant with standard 80 PLUS Gold. According to its requirements, the efficiency of the power supply for loads of 20%, 50% and 100% of the nominal power should not fall below 88%, 92% and 88% respectively (for supply voltage 230 V). Also note a wide input voltage range (100 – 240 V), which eliminates the external voltage regulators in an unstable power supply.
Internal device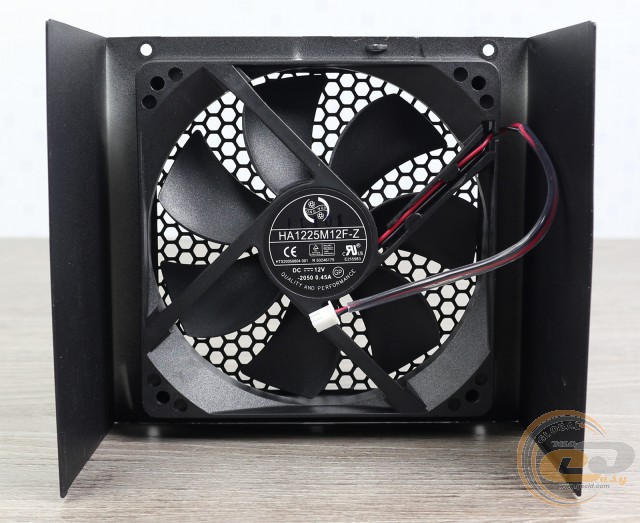 120mm 7-blade Fan Hong Hua HA1225M12F-Z is used to cool the internal components. It is based on hydrodynamic bearing (FDB). We have already faced with it in practice, so we can confidently say that in terms of "performance/noise" this model is one of the best among 120-mm solutions. Although much also depends on the settings of the cooling system.
| | |
| --- | --- |
| Fan | Hong Hua HA1225M12F-Z |
| Bearing | FDB |
| Supply voltage, v | 12 |
| Current, А | 0,45 |
| Capacity, W | 5,4 |
| Max rotation speed, rpm | 2050 |
| Air flow, CFM | − |
| Noise level, dB | − |
| Dimensions, mm | 120 х 120 х 25 |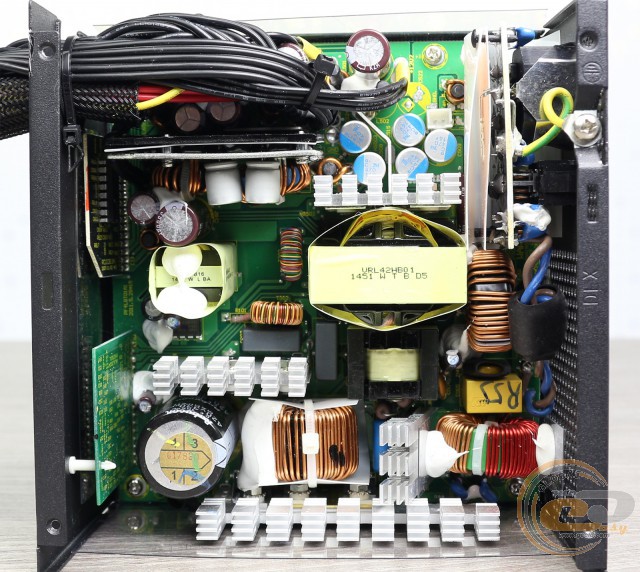 The basis of the power supply unit Seasonic S12G-550 is a slightly simplified version of the platform used in the "gold" series Seasonic G. Major changes were in the implementation of a low-voltage power lines. In principle we have the same main converter built on a highly resonant circuit, and the formation of the output voltages by using synchronous rectifier.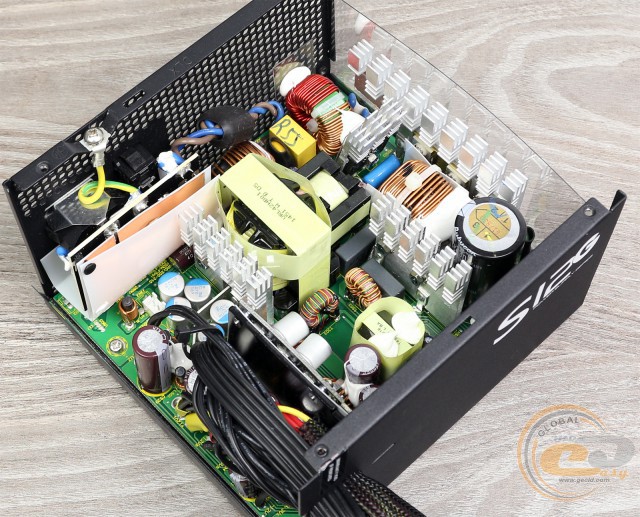 Much attention is paid to the manufacturer of the passive cooling system. As you can see in the pictures, all of the groups of power elements are equipped with individual aluminum radiators.
The configuration of the remaining nodes is also at the highest level. Despite the fact that the model Seasonic S12G-550 is primary oriented to the mass user, the company Sea Sonic Electronics did not save on the base component. So, EMI-filter is in the input (two X- and six Y-capacitors, three chokes and varistor), responsible for smoothing high-frequency noise, and a capacitor of high-voltage circuit (330 uF x 420 V) producer by the well-known Japanese company Rubycon and a member of the high temperature series (up to 105°C).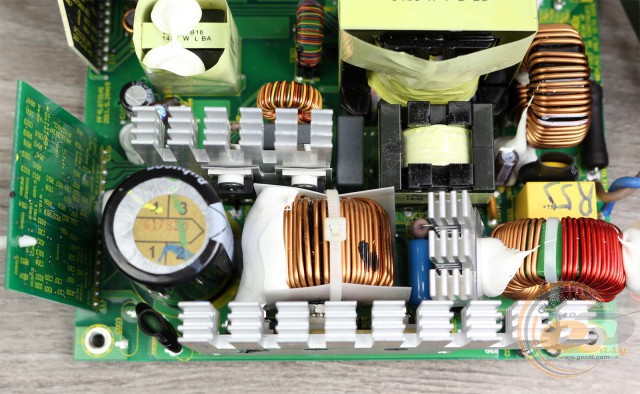 Naturally, the power supply of this level used module of active power factor correction.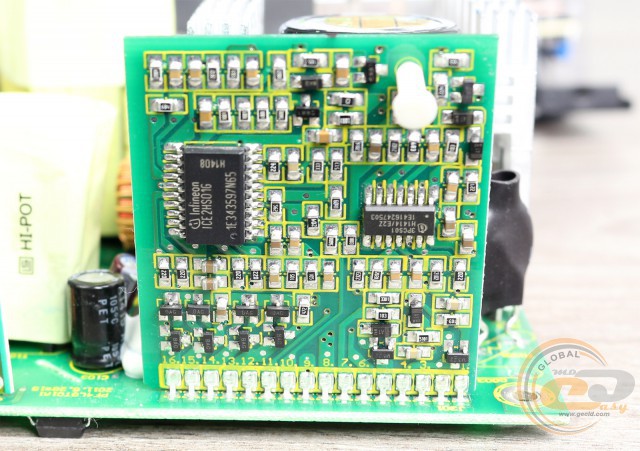 Its operation is carried out by chip Infineon ICE3PCS01. The correct operation of the main drive is provided by PWM controller Infineon ICE2HS01G. Both chips are on a separate card that cab be installed in other solutions, built on the same platform. It realizes modular design of power supplies that simplifies their design and manufacture, as well as reduce their final cost.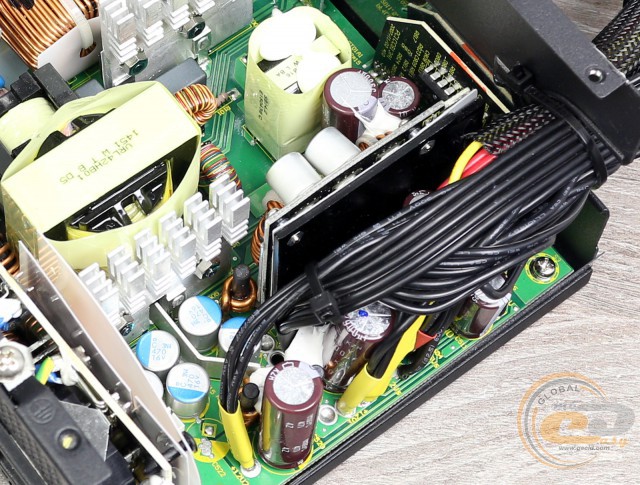 Low-voltage part of the Seasonic S12G-550 is a synchronous rectifier, which guarantees a lot of advantages compared to the traditional scheme: provides high load-carrying capacity of the rail +12V, and provides the use of high-performance components and separate voltage stabilization systems.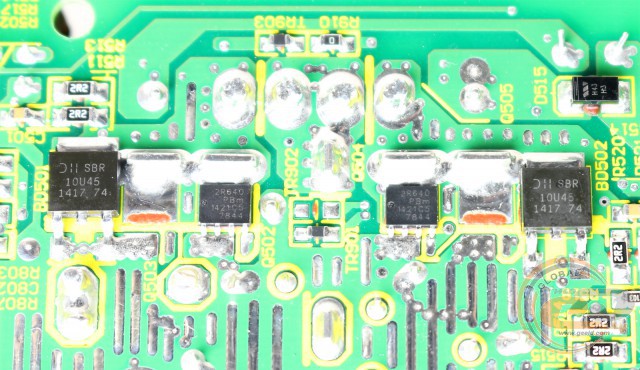 The formation of the rail +12V is carried out by means of two transistors PSMN2R6-40YS and a pair of high-performance diodes SBR10U45, soldered on the back side of the PCB.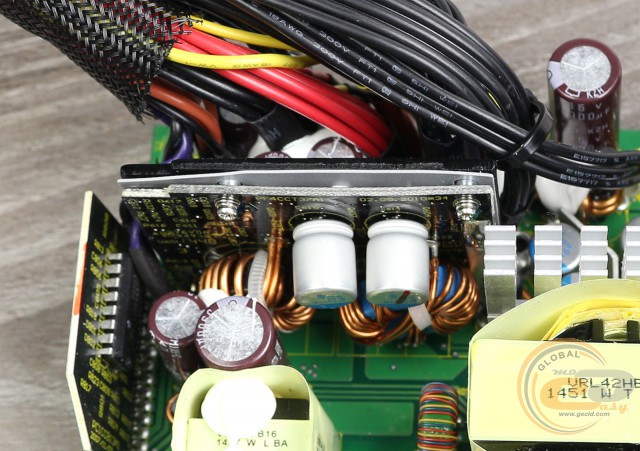 DC-DC-converters of voltages +3.3V and +5V are formed as a separate structural unit, which includes a power part and a LC-filter components.
Noise filtering in the output is realized by means of solid-state capacitors (470 uF x 16 V) and liquid electrolyte elements (2200 uF x 16 V, 3900 uF 16 x V). In all cases the manufacturer is the Japanese company Nippon Chemi-Con, which is one of the leaders. All this allows to expect for high quality of Seasonic SSR-550RT for a long period of time. And this is proved by the presence of a 5-year warranty.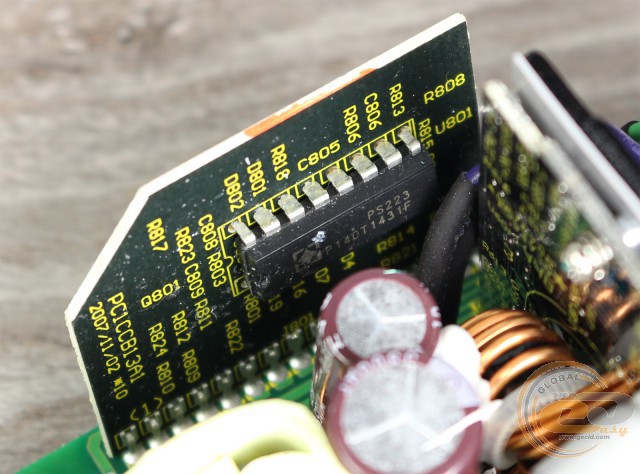 According to the technical specifications, the hero has all types of protections (OVP, UVP, OPP, SCP, OCP, and OTP), including protection against overload and overheating, which is rare for devices targeted at mainstream users. The assembly is based on the chip SITI PS223 and implemented on a separate printed circuit board.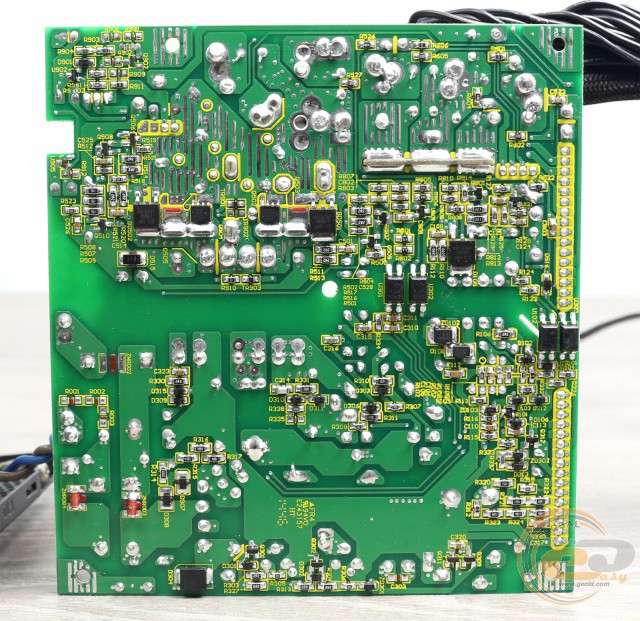 As always, the quality of the soldering and assembly of components is at the highest level.
Социальные комментарии Cackle