PSU Seasonic X-650: review and testing
Despite decrease in price for power supplies of series Seasonic Platinum, it is not reasonable for very buyer. But don't upset about this. After all, the manufacturer has a great alternative to the "platinum" solutions. It is a line of power supplies Seasonic X. In terms of the technical characteristics and consumer qualities they are not inferior to their top-end analogs, but at the same time their price is reduced. In other words they are more balanced in terms of indicator "price/performance." In addition, the range of the series Seasonic X, as Seasonic Platinum, covers quite a broad segment of the market, offering the user a choice of power solutions from 650 to 1250 W.
Not very long ago this series has undergone some updating, the main result of which was the reduction of the final cost of production. We, of course, could not pass by such an event and decided to evaluate new revision of "gold" PSUs in practice. And now we offer you to learn the capabilities of the solution Seasonic X-650 (SS-650KM3), because the entire lineup, in our opinion, is the most popular to date.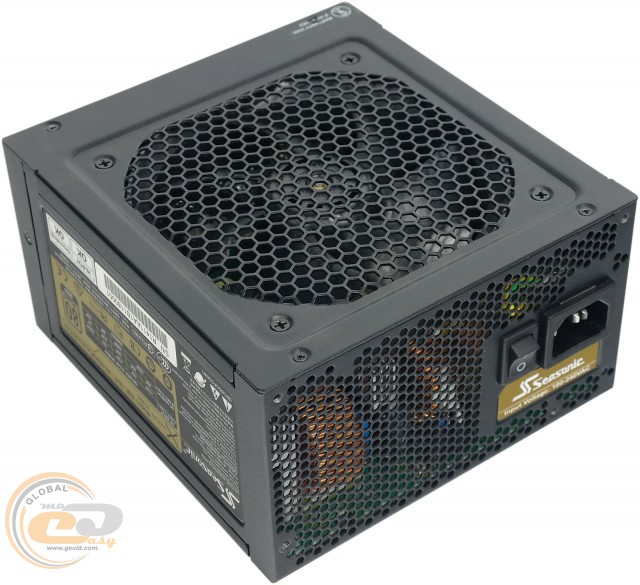 The specs:
Model

Seasonic X-650

(Seasonic SS-650KM3)

Type

ATX12V / EPS12V

Rated capacity, W

650

12V channel capacity, W

648

+3,3V and +5V channel capacity, W

125

Q-ty of +12V lines

1

Outputs, А

+3,3V

25

+5V

25

+12V

54

-12V

0,5

+5VSB (stand-by power line)

3

PCIe-sockets

4 (6+2-pin)

Support of technologies NVIDIA SLI / AMD CrossFireX

Yes

Modular

Yes

Efficiency, %

> 88

Certified 80 PLUS

Gold

Power factor, %

99

Method of Power Factor balancing

Active

Input voltage, V

100 - 240

Frequency, Hz

50 - 60

Input current, А

4 - 8,5

Fan dimensions, mm

120 х 120 х 25

Fan speed controller

Yes (hybrid cooling system)

Noise level, dB

Up to 30,0

Support for energy saving states C6 / C7(Intel Haswell Ready)

Yes

Correspondence to environmental standards, electromagnetic safety and compatibility (EMI/EMC)

CB, CCC, TUV, cTUVus, GOST-R, BSMI, CE, FCC, C-tick, RoHS, WEEE, ErP Lot 6 2013

Protections

OVP, UVP, OPP, OTP, OCP, SCP

Dimension, mm

160 х 150 х 86

Packaging

Power cord, fastening screws, modular cables, cable holders, straps with adhesive tape, manual, logo sticker

Warranty, years

7

Producer website

Product page
Packaging and content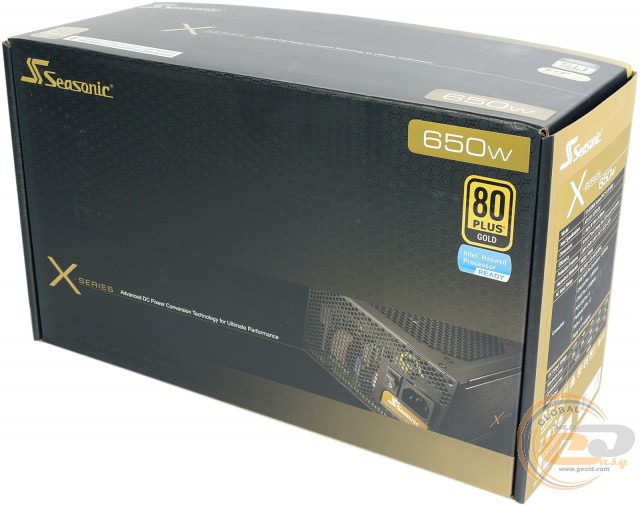 Power supply Seasonic X-650 is shipped in a cardboard box which provides protection against shocks and possible mechanical damages. The package is decorated in typical for series Seasonic X style and has good information content. The front side contains only the main features of the device, such as rated power (650 W), energy efficiency class (80 PLUS Gold) and support for energy-saving states C6/C7 characteristic of processors Intel Haswell.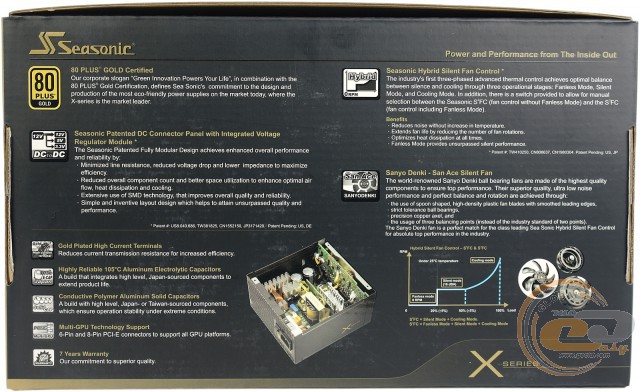 More detailed information about this model can be found in the back of the packaging. Based on the information, Seasonic X-650 is almost identical to top solutions in a series of Seasonic Platinum. Even the warranty period has not changed and is as much as 7 years.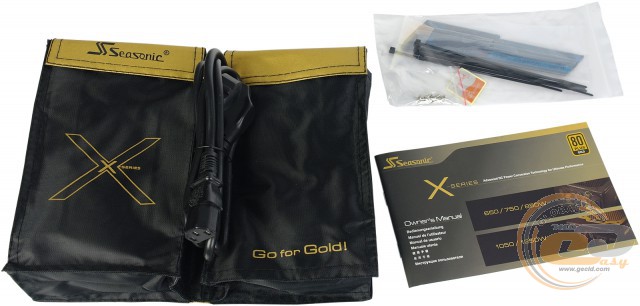 Supply set is rich enough and includes all the necessary components, namely:
AC power cord;
fastening screws;
modular cables, which are in a special two-piece handbag;
five holders and three ties Velcro to secure the wires;
sticker with the logo of the company;
manual.
Set of modular cables is not shown in the photo, but we will describe it little bit latter.
Design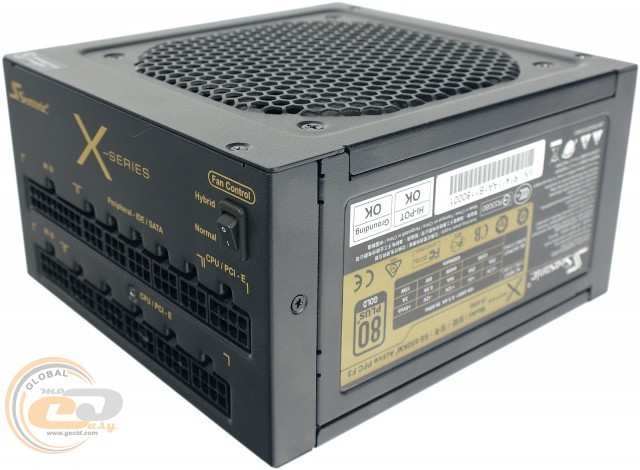 We have previously mentioned that Company Sea Sonic Electronics uses the universal cases for own solutions. In principle, it's not bad. The main thing is that the quality of the productions did not change. And you can be sure - here it is at a height level, as evidenced by the use of thick steel and an additional layer of paint, good panels handling, as well as the absence of large gaps.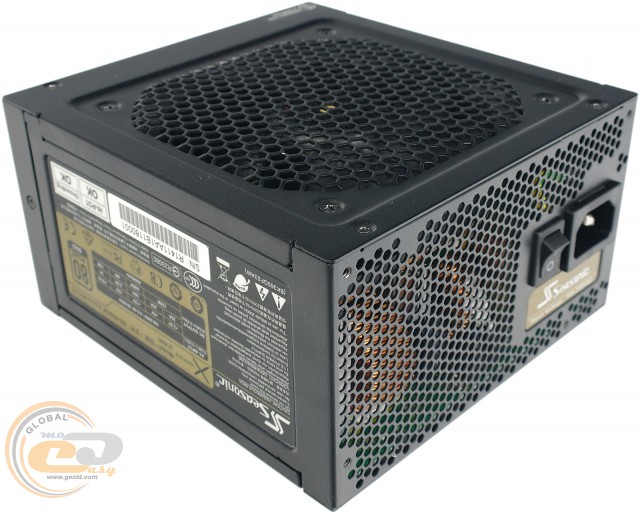 Dimensions of Seasonic X-650 are 160 x 150 x 86 mm, which is quite typical for modular solutions of similar capacity. As here is ordinary layout of vents. They can be found only on the cover and the front wall, while the other panels are continuous. Manufacturer has refused to use the traditional grill, replacing it with a mesh with honeycomb. According to the company Sea Sonic Electronics, this design should better effect on airflow resistance.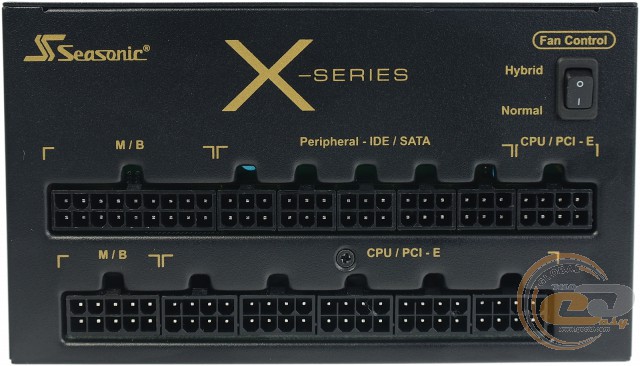 However, all of the same basic similarity of Seasonic X-650 with the high-end solution is to back panel configuration. As can be seen from the pictures, all connectors for output cables have a modular design, even those that are designed to supply the motherboard and processor. This technical performance allows to make the process of connection components and wiring as simple and convenient. Connectors are signed and have a different design, so even inexperienced users can easily deal with the connections and modular cables.
Intent readers apparently have noticed on the rear panel an additional switch, designated as «Fan Control». It is responsible for the circuit of the cooling system (hybrid or conventional), which again relates model Seasonic X-650 with the top power supplies.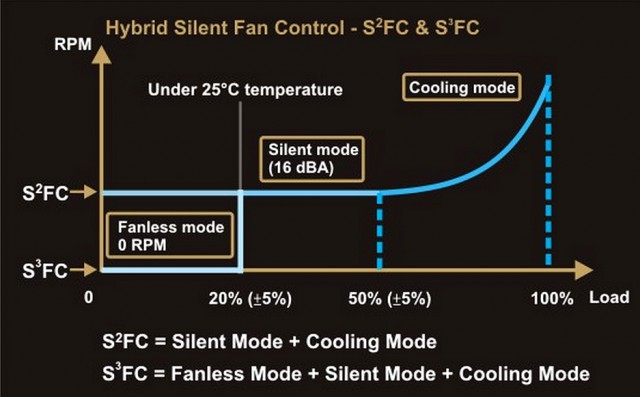 Don't forget that in case of the hybrid mode (position «Hybrid») until a predetermined temperature fan does not rotate, and then its rotational speed is determined by heating the component. That is, under low loads (in this case up to 20% (± 5%) of the nominal value) Seasonic X-650 runs completely silently. Although we have repeatedly seen that this threshold of fan is relative: in case of good organization of air circulation inside the computer case it can be shifted up to the level of 50% of the declared capacity.
The use the normal operation of the cooling system (position «Normal»), when the fan starts to rotate immediately after starting the PC, is reasonable in the case of operating the power supply under high temperatures. Such conditions may arise, for example of a poorly blown case of format Mini Tower.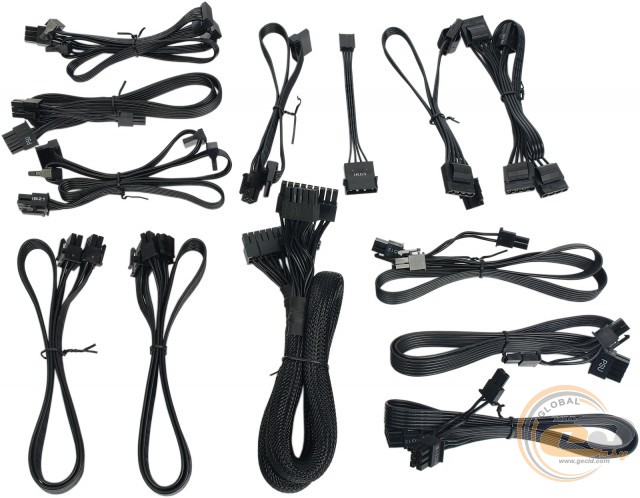 Organization of the cables inside Seasonic SS-650KM3 deserves only the highest evaluation. They are detachable and most of them have the form of strips (traditional braid was found only on the bundle of the wires leading to the motherboard). In this version they are more flexible, which greatly simplifies the building of multi-function systems.
The main power connectors have the following configuration: collapsible 20+ 4-pin ATX and two 8-pin ATX12V (one of which is also collapsible). That is theoretically model Seasonic X-650 can be used as part of dual-processor systems, and judging by the presence of four 6+2-pin connectors PCIe iti s suitable even for gaming configurations that include multiple graphics cards.
Available connectors are enough to connect some incredible amount of storage (just 10 units), as well as power the other components requiring connector PATA.
Socket type

Quantity

Cable length to socket (connectors), cm

Modular (detachable) cables

20+4-pin power socket ATX

1

60

4+4-pin power socket ATX12V

1

65

8-pin power socket ATX12V

1

65

6+2-pin power socket PCIe

4

60

three sockets PATA

1

40-50-65

two sockets PATA

1

30-40

four sockets SATA

2

40-50-65-75

two sockets SATA

1

30-40

adapter PATA-FDD

1

10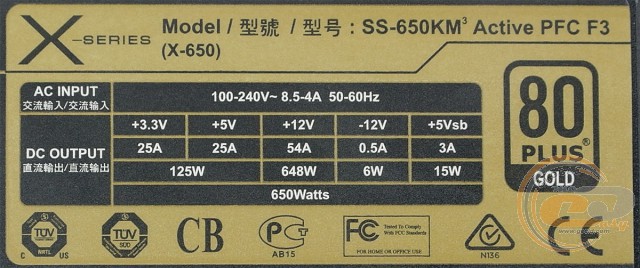 Now let's take a closer look at the technical characteristics of the power supply Seasonic SS-650KM3. Its nominal power is 650 W. Channel +12V is formed as a single line with a loading capacity of up to 54 A. In other words, if necessary, it is possible to take almost 100% of the total power, which is ideal for the modern components. Lines +3.3V and +5V have a maximum total power of 125 W and are designed for a load of 25 A each. As you can see, the manufacturer picked characteristics of the output supply lines in such a way they impose minimum restrictions when choosing a PC configuration.
Model Seasonic X-650 corresponds to energy efficiency class 80 PLUS Gold, which means fairly stringent requirements on the level of efficiency of the power supply. Thus, for the voltage of 230 V at a load of 20%, 50% and 100% of the nominal power this figure should not fall below 88%, 92% and 88% respectively.
Also do note a wide input voltage range (100 – 240 V), which eliminates the external voltage regulators in an unstable power supply conditions.
Internal device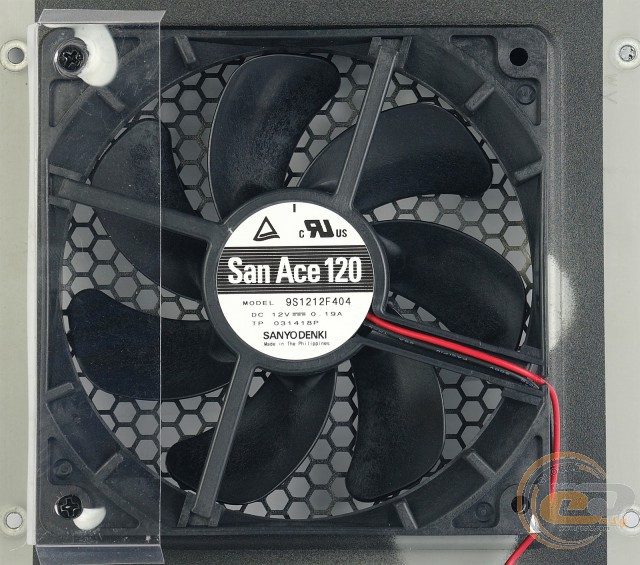 The process of dismantling the power supply Seasonic X-650 is standard: you need just unscrew the screws securing the top cover. We draw your attention to the presence of a special sticker with the inscription «Warranty void if removed».
120mm 7-blade fan SANYO DENKI 9S1212F404 is used to cool internal components. It is based on a ball bearing. This fan can be found in the units of Sea Sonic Electronics. According to own experience we can say that it is one of the most balanced 120mm propeller in terms of "performance/noise." And most importantly, the relationship between these characteristics is not changed after some period of time, as, for example, fans based on the plain bearings.
| | |
| --- | --- |
| Fan | SANYO DENKI 9S1212F404 |
| Bearing type | Ball |
| Supply voltage, V | 12 |
| Current, A | 0,19 |
| Capacity, W | 2,28 |
| Maximum rotation speed, rpm | 2200 |
| Air flow, CFM | 70,6 |
| Noise level, dB | up to 30,0 |
| Dimensions, mm | 120 х 120 х 25 |
In order to optimize air flow within the housing here is small transparent plastic plate.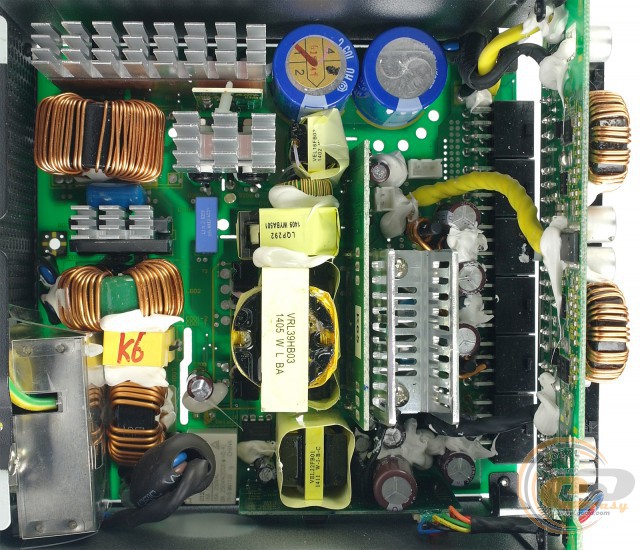 The heart of PSU Seasonic SS-650KM3is the same platform as the previous version - Seasonic KM3. It has demonstrated good performance during testing "platinum" PSUs Seasonic Platinum 760 and Seasonic Platinum 860, so we strongly endorse its use in this case.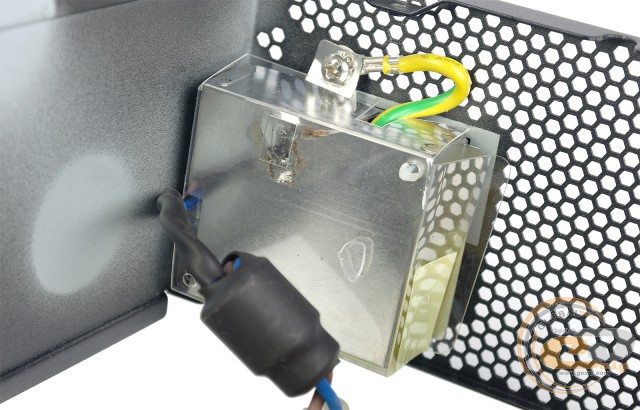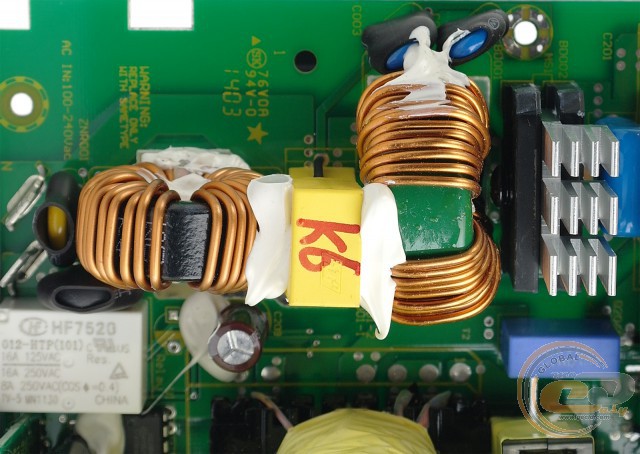 Let's start the analysis of the internal power supply unit with a high-voltage part. Behind the power outlet is a part of EMI-filter (chock, X- and two Y-capacitors) which is hidden behind the screen. The remaining components (varistor, two chokes, two X and two Y-capacitors) are arranged directly at the main PCB. Recall that the purpose of this site is to smooth high frequency noise emitted by the power supply. Also it bears the function of lightning protection. We really liked the approach the manufacturer to isolate individual elements, not only as a part of the filter, but also in other structural power supply module.
Bridge for rectifying the input voltage consists of two units that are equipped with a separate aluminum radiator. Since till the certain load the power supply can work with inactive fan, the manufacturer also took care of a good passive cooling of other security elements.
Despite the fact that the release price of the new revision of model Seasonic SS-650KM3 was decreased compared to the previous version, there is no hint of the economy. All nodes still use only Japanese capacitors and components of series of high-performance. At least take into account power part of the active power module factor correction (APFC), which includes a Schottky diode STPSC606D and a pair of field-effect transistors Infineon 5R250P. The latter are built according to the technology CoolMOS and have pretty low on-resistance (up to 250 mOhm).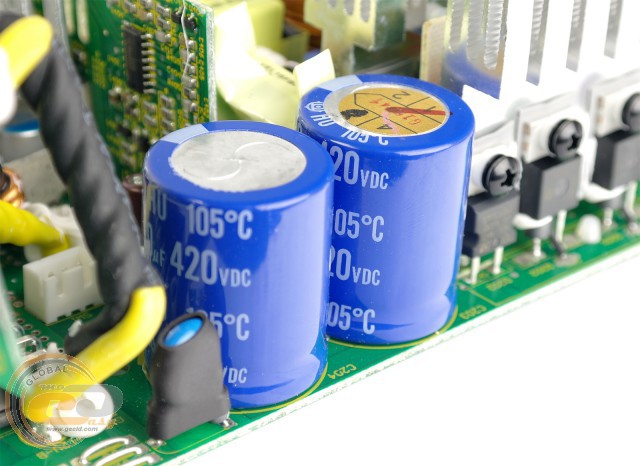 Or another example - capacitors of high-voltage circuit. The competitive solutions have small capacity elements with a maximum operating temperature up to 85°C. There is a pair of high-quality Japanese capacitors from Hitachi's with performance 220 uF x 420 V. Since they are connected in parallel, we obtain the total capacity of the node at the level 440 uF - an excellent result for the 650 W devices. We also note that their maximum operating temperature is increased to 105°C.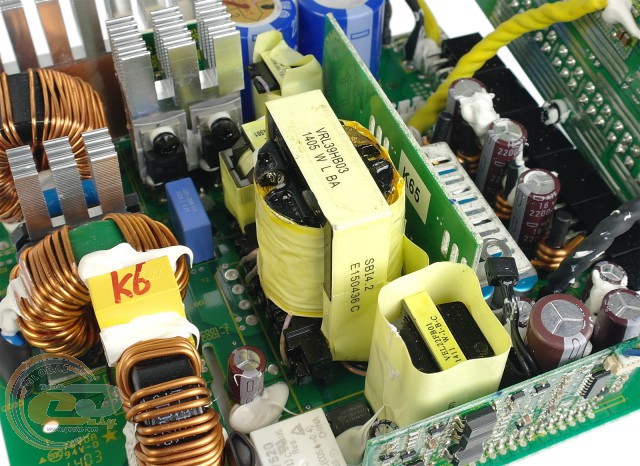 Like for most high-efficiency power supplies, the model Seasonic X-650 applies resonant converter with full-bridge. Its keys are the four transistors Infineon 5R250P that operate in pairs under the control of the PWM controller CM6901. Chip ICE2QR4765 is responsible for correct functioning of stand-by power supply (line + 5VSB).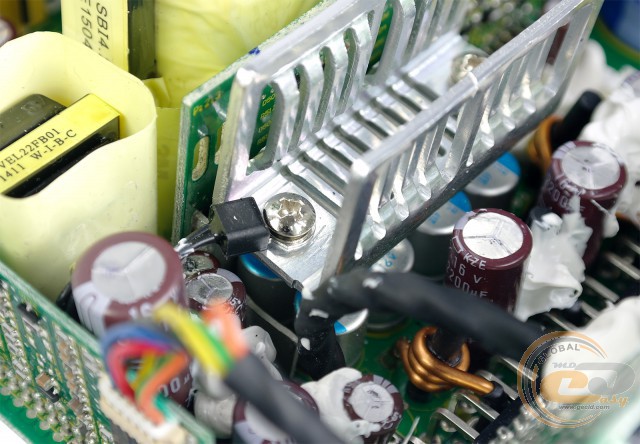 Low-voltage part is a synchronous rectifier with DC-DC-converters. Unfortunately, the rating of elements involved in the formation of the +12V, was established. They are completely closed by a large U-shaped heatsink. The edge has a thermal sensor, which is realized via the overheating protection (OTP).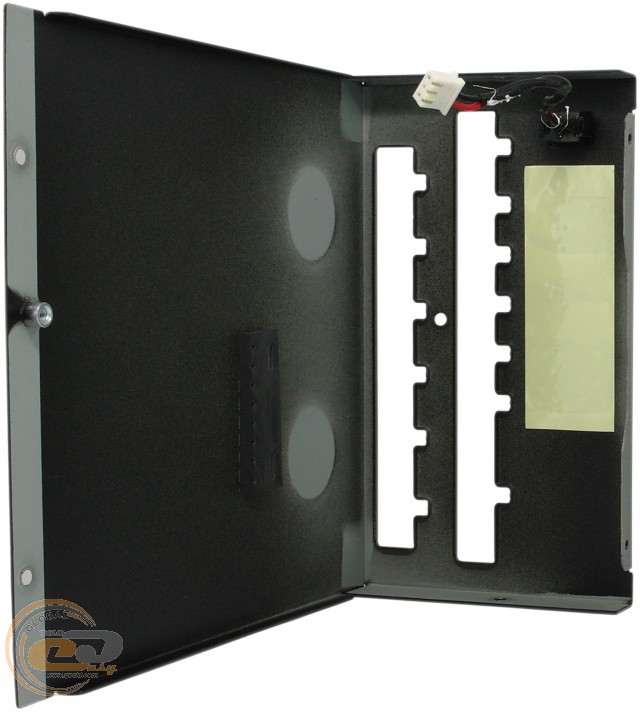 Like in "platinum" solutions, here PSU case also takes part in the cooling process. Through a layer of thermally conductive material it contacts with metal pads on a circuit board.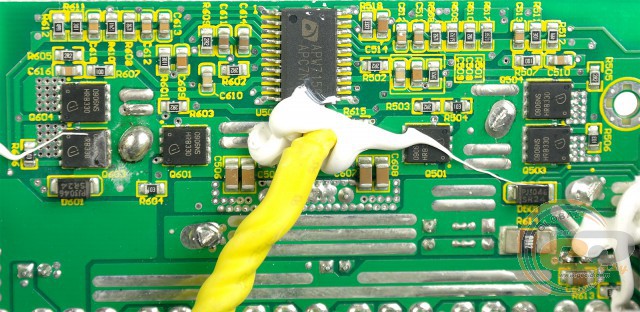 The Seasonic X-650 uses the well-familiar design of DC-DC-converters, when their power components and LC-filters are placed together with a part of the modular connectors on a single PCB. Thereby minimizing energy losses and noise on the power supply outputs.
The formation of lines +3.3V and +5V is responsible by six transistors Infineon BSC0906NS (three for each channel). Their heating during operation is so small (on-state resistance is only 4.5 milliohms), that means that blowing by preinstalled fan is enough. The control of DC-DC-converters lies on the shoulders of the PWM controller APW7159.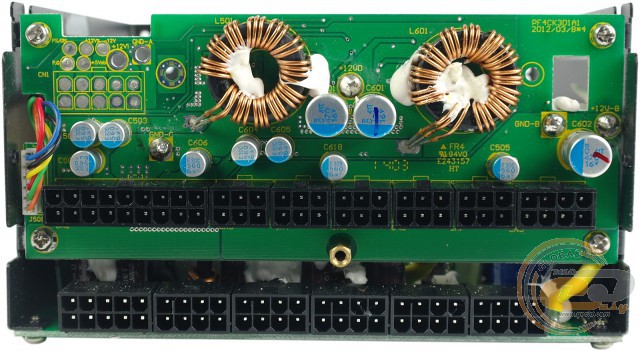 The remaining elements of the DC voltage converters are concentrated on the back side of the board. In particular, there are two chokes and abundance of filter capacitors of polymer type (470 uF x 16 V and 560 uF x 6.3 V).
Note that the outputs that bear a large load (for connecting additional power processor and graphics card) are located directly on the main PCB to reduce energy loss due to underwater lines.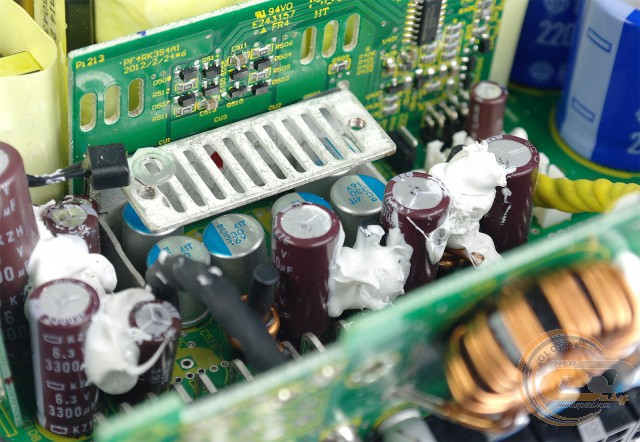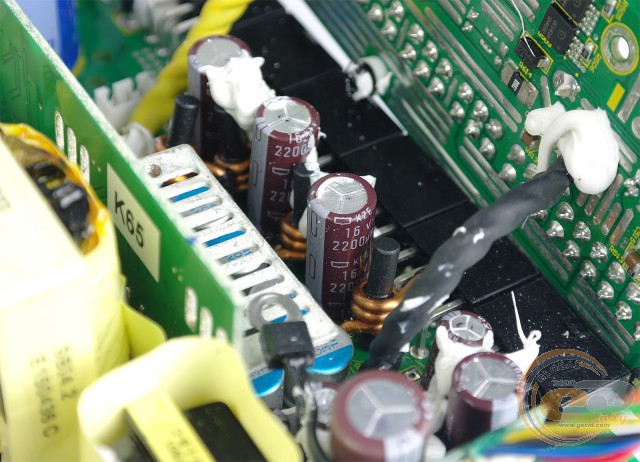 To smooth pulsations of the channel +12V uses capacitors with a solid (330 uF x 16 V), and liquid electrolyte (2200 uF x 16 V). Their manufacturer performs is well-known company Nippon Chemi-Con, the quality of products which is at the highest level.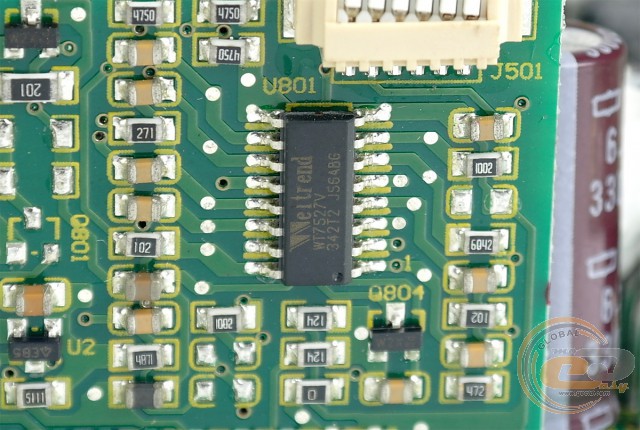 According to the technical specifications, model Seasonic X-650 has a full range of protection (OVP / UVP / OPP / SCP / OCP / OTP), including protection against overload and overheating. The node is based on chip-supervisor Weltrend WT7527V.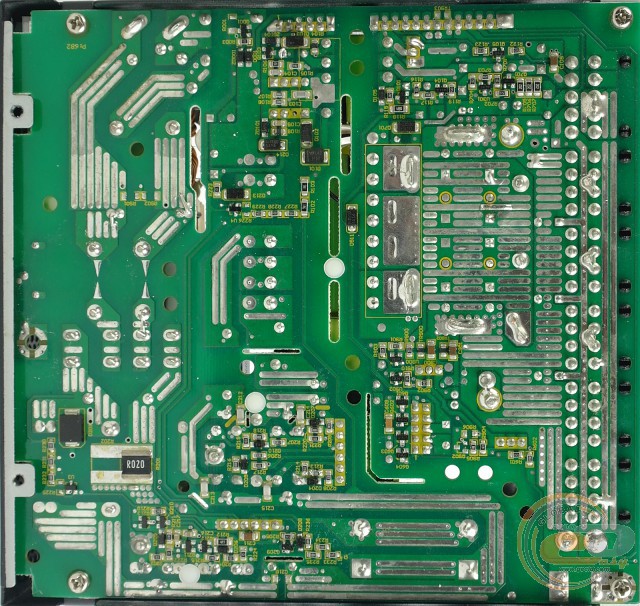 Mounting of elements, wiring paths and the soldering is performed without any flaws.