PSU Seasonic X-750: review and testing
Learned earlier PSU Seasonic X-650 although coped with gaming configuration based on two powerful graphics cards, but it worked with overload. This mode of operation is possible, but a constant use is undesirable. In the case of building the configurations with multiple "voracious" graphics card it is better to look in the direction of a more powerful version - 750 W and more. Especially the line of Seasonic X includes such models, for example, Seasonic X-750 (Seasonic SS-750KM3). Together with Seasonic X-650 it has undergone a small modernization and got a lower price tag.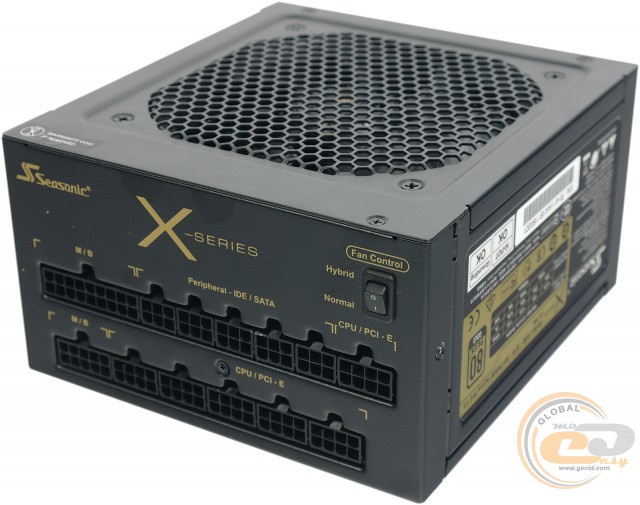 The specs:
Model

Seasonic X-750

(Seasonic SS-750KM3)

Type

ATX12V / EPS12V

Rated capacity, W

750

12V channel capacity, W

744

+3,3V and +5V channel capacity, W

125

Q-ty of +12V lines

1

Outputs, А

+3,3V

25

+5V

25

+12V

62

-12V

0,5

+5VSB (stand-by power line)

3

PCIe-sockets

4 (6+2-pin)

Support for technologies NVIDIA SLI / AMD CrossFireX

Yes

Modular

Yes

Efficiency, %

>88

Certified 80 PLUS

Gold

Power factor, %

99

Method of Power Factor balancing

Active

Input voltage, V

100 - 240

Frequency, Hz

50 - 60

Input current, А

4,5 - 9,5

Fan dimensions, mm

120 х 120 х 25

Fan speed controller

Yes (hybrid cooling system)

Noise level, dB

Up to 30,0

Support for energy saving states C6 / C7(Intel Haswell Ready)

Yes

Correspondence to environmental standards, electromagnetic safety and compatibility (EMI/EMC)

CB, CCC, TUV, cTUVus, GOST-R, BSMI, CE, FCC, C-tick, RoHS, WEEE, ErP Lot 6 2013

Protections

OVP, UVP, OPP, OTP, OCP, SCP

Dimension, mm

160 х 150 х 86

Packaging

Power cord, fastening screws, modular cables, cable holders, straps with adhesive tape, manual, logo sticker

Warranty, years

7

Producer website

Product page
Package and content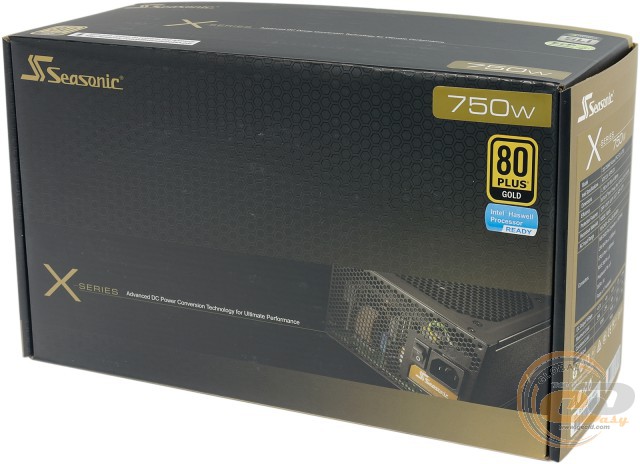 Power supply Seasonic X-750 is shipped in a cardboard box which provides protection against shocks and possible mechanical damages. As always, it has excellent printing and informative content.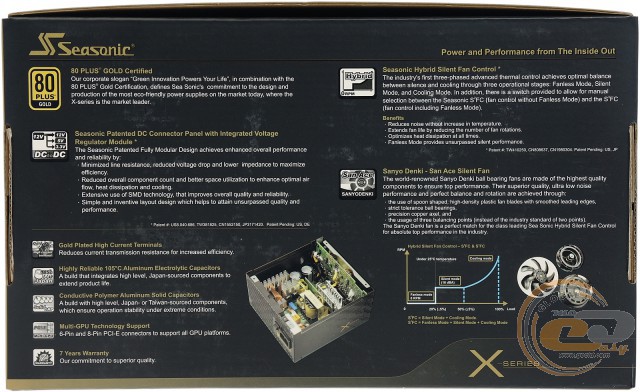 Especially it relates to the rear side of the package, where in addition to a list of technical features of the model, you can find a more detailed description of the technologies used and patented solutions. The main are the following:
80 PLUS Gold Certified - a high level of efficiency compliant with standard 80 PLUS Gold;
DC-to-DC - advanced circuitry based on DC converters is applied;
Seasonic Patented DC Connector Panel with Integrated Voltage Regulation Module – patented design of module with inverter DC-DC, which can reduce the energy loss in the low-voltage parts and improve the quality of mounting elements;
Highly Reliable 105°C Aluminum Electrolytic Capacitors, Conductive Polymer Aluminum Solid Capacitors - all nodes have high-quality Japanese capacitors belonging to the high-temperature series;
Seasonic Hybrid Silent Fan Control - hybrid cooling system, thanks to which the fan stops spinning at low loads;
Sanyo Denki San Ace Silent Fan - the use of high-quality low-speed fan based on ball bearings;
7 Years Warranty - 7 years warranty.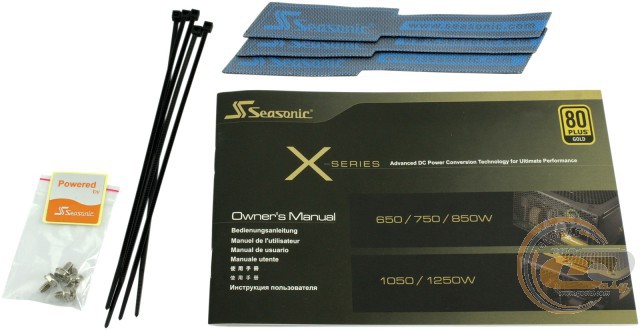 Supply set is rich enough, and includes all the necessary components, namely:
AC power cord;
screws to secure;
modular cables;
five collars and three holders to secure the wires;
sticker with the logo of the company;
manual.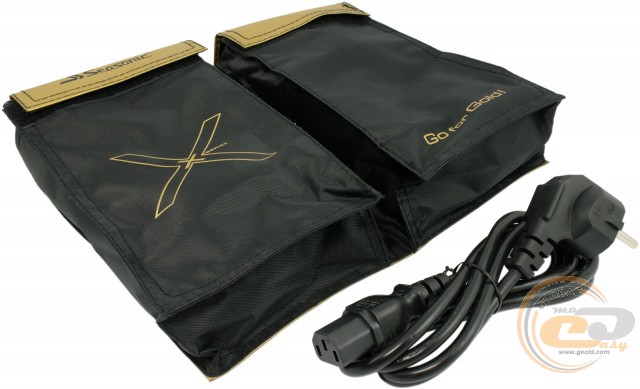 There is a special two-piece bag for storing cables. The set of modular cables will be considered later.
Design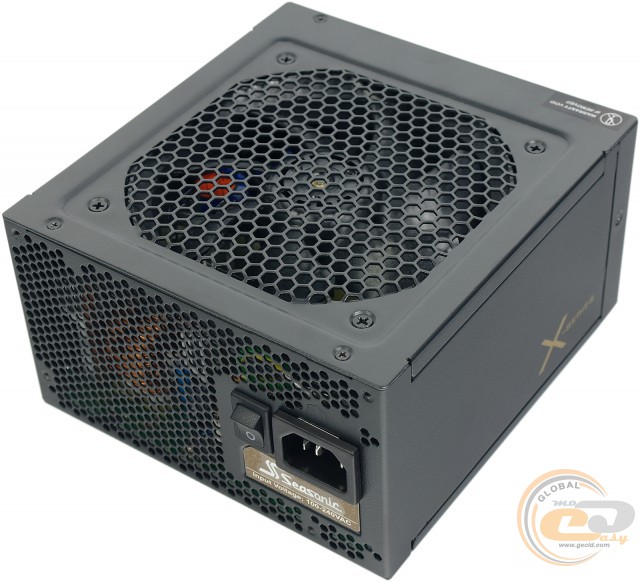 Power supply case is made of thick steel and painted in matt black. Despite the large rated power and the availability of modular connectors, it has pretty standard dimensions - 160 x 150 x 86 mm. Thus, if you install Seasonic X-750 at the bottom of the computer case, it will not cover the hole for an additional fan.
The distinctive design feature of all top solutions from the Sea Sonic Electronics is the absence of the traditional grill on their cover. Its place is taken with a mesh in honeycomb. According to practice and the experience of other manufacturers, this design better effects on the resistance to air flow, which reduces the noise of the power supply. The same perforation can be observed on the front panel with wall outlet and disconnect button of the external power.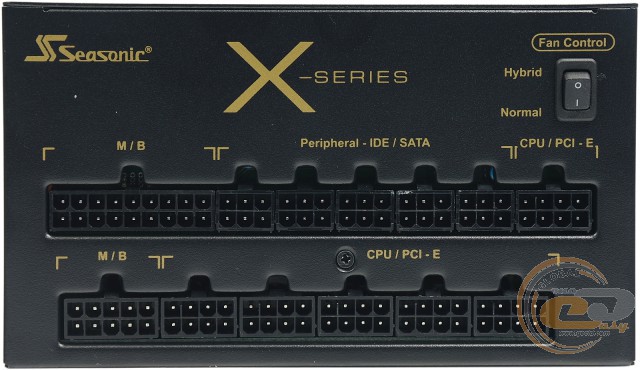 Since the model Seasonic X-750 belongs to a series of high-end Seasonic X devices, then the system output cables is organized in a modular way. And all the wires are detachable, even those that are designed to supply the motherboard and processor. This technical performance allows to make the process of connection components and routing of cables as simple and convenient. Connectors are signed and have a different design, so even inexperienced users can easily deal with the connection of modular cables.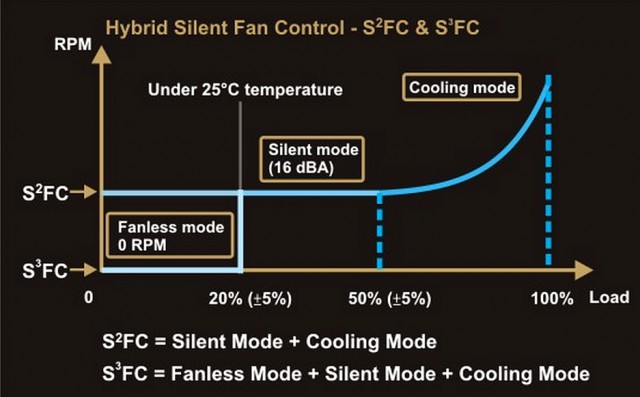 Another characteristic feature of the top solutions from Sea Sonic Electronics is a hybrid cooling system, which at low loads on the power supply is capable of operating in a completely passive mode. In other words, the fan does not rotate, and the device does not provide a single sound. And the better organized air circulation inside the computer case, the later fan starts to rotate. If the Seasonic X-750 is planned to operate in an environment of high temperature, the hybrid cooling system would be appropriate to transfer to normal operation. For this purpose, there is a special rear toggle labeled «Fan Control». In this case, the fan in the power supply will start to rotate immediately after turning on the PC, and it will continue to work regardless of the type of load.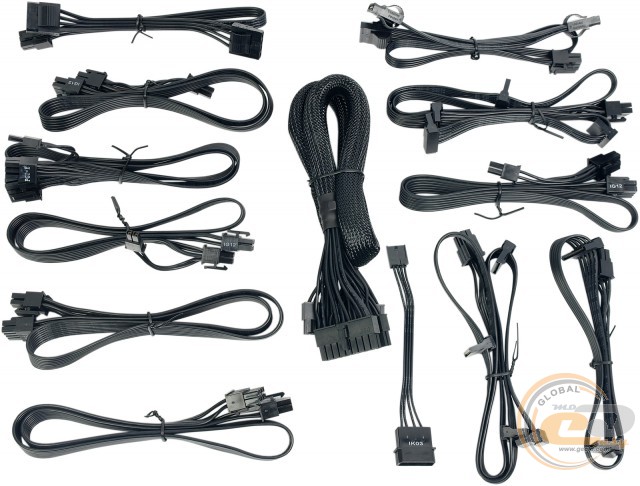 All cables except used to supply the motherboard, have the form of strips. This makes them more flexible than traditional ones using braiding, which considerably facilitates the laying in modern computer cases.
The main power connectors have the following configuration: collapsible 20+4-pin ATX and two 8-pin ATX12V (one of which is also collapsible). The additional power of graphics card is provided by four 6+2-pin PCIe. Thus, the model Seasonic X-750 can be used in the dual configurations or gaming systems, including multiple graphics cards.
We don't have any comments regarding configuration of cables with connectors for connecting peripherals. The number of available connectors will be enough to create a desktop based on a small file server or torrent client, as well as to power the fans and other devices requiring connector PATA.
Socket type

Quantity

Cable length to socket (connectors), cm

Modular (detachable) cables

20+4-pin power socket ATX

1

60

4+4-pin power socket ATX12V

1

65

8-pin power socket ATX12V

1

65

6+2-pin power socket PCIe

4

60

three sockets PATA

1

40-50-65

two sockets PATA

1

30-45

four sockets SATA

2

40-50-65-75

two adapters SATA

1

30-40

adapter PATA-FDD

1

10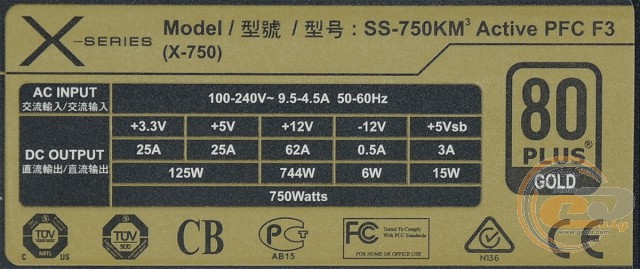 Now let's take a closer look to the technical characteristics of the power supply Seasonic SS-750KM3. Its nominal power is 750 W. Channel +12V is designed as a single line with a load capacity of up to 62 A. This solution is ideal for modern components and significantly expands the boundaries for experiments with overclocking. Lines +3.3V and +5V have a maximum total power of 125 W and are designed for a load of 25 A each. Model Seasonic X-750 corresponsa to 80 PLUS Gold class energy efficiency, which have fairly stringent requirements according to the level of efficiency of the power supply. Thus, in case of the voltage 230 V at a load of 20%, 50% and 100% of the nominal power this figure should not fall lower 88%, 92% and 88% respectively.
Also worth noting is a wide input voltage range (100 – 240 V), which eliminates the external voltage regulators in an unstable power supply.
Internal device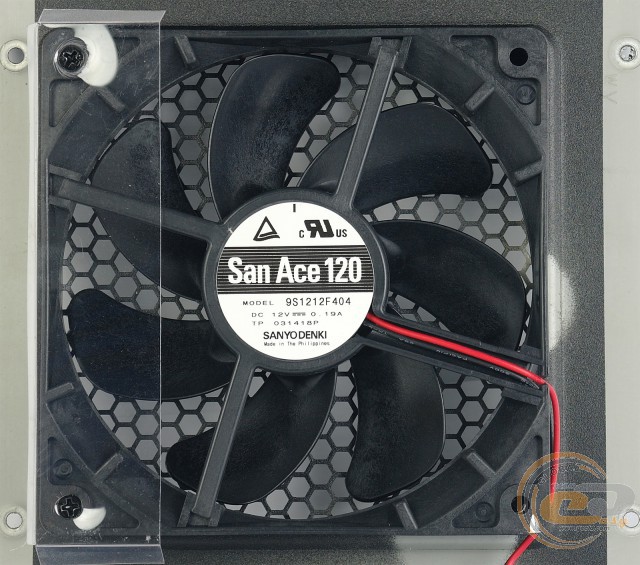 In order to cool internal components 120mm 7-blade fan SANYO DENKI 9S1212F404 is applied. It is based on the rolling bearing. In addition to reliability, this fan can also boast of and good performance at a relatively low level of noise. All this makes it one of the best in its class, as we have repeatedly seen in practice.
| | |
| --- | --- |
| Fan | SANYO DENKI 9S1212F404 |
| Bearing type | Ball |
| Supply voltage, V | 12 |
| Current, A | 0,19 |
| Capacity, W | 2,28 |
| Maximum rotation speed, rpm | 2200 |
| Air flow, CFM | 70,6 |
| Noise level, dB | Up to 30,0 |
| Dimensions, mm | 120 х 120 х 25 |
In order to optimize air flow within the housing here is small transparent plastic plate.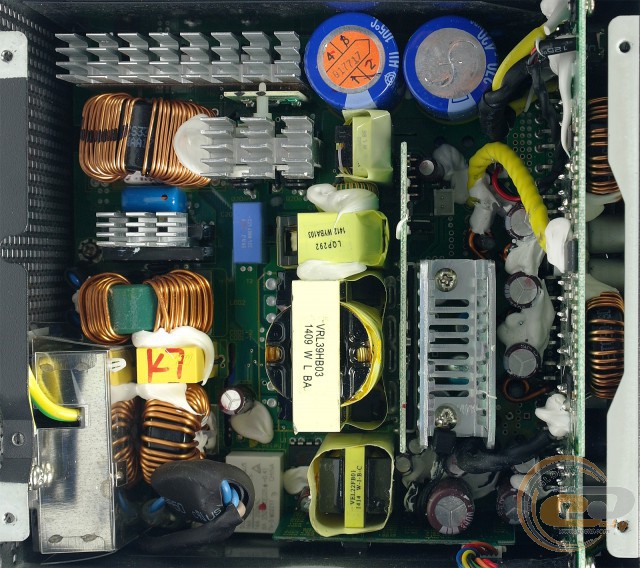 Sea Sonic Electronics company is one of the few manufacturers of power supplies, which independently develops its products. This approach allows the use of the most advanced developments in this area, and, if necessary, easy to upgrade ready version of the power supplies. Model Seasonic SS-750KM3 is an excellent example of this aspect. Having such a high-end platform Seasonic KM3, engineers could achieve the required level of performance, as well as compliance with the requirements of modern accessories. In particular, we are talking about the support of energy-saving conditions C6/C7 that are usual for processors Intel Haswell.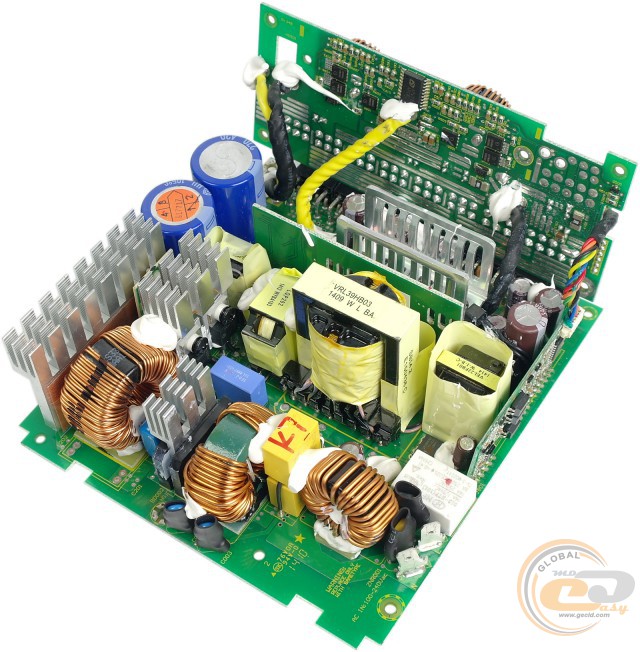 The first thing you'd notice after the opening of the power supply is a huge aluminum radiators. Each group of power components has its own cooler. Don't forget that until certain load Seasonic X-750 can operate with inactive fan, so fast heat removal is one of the most important tasks.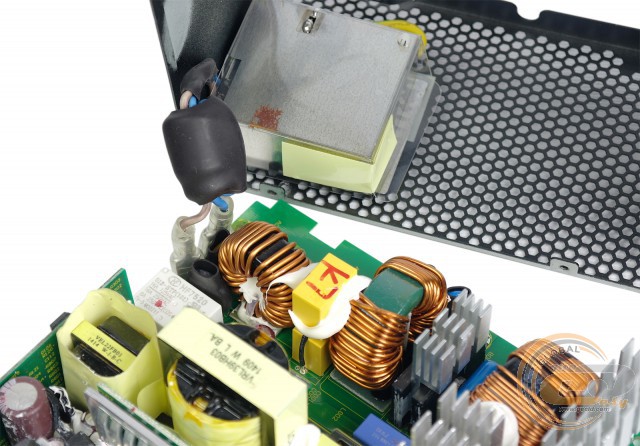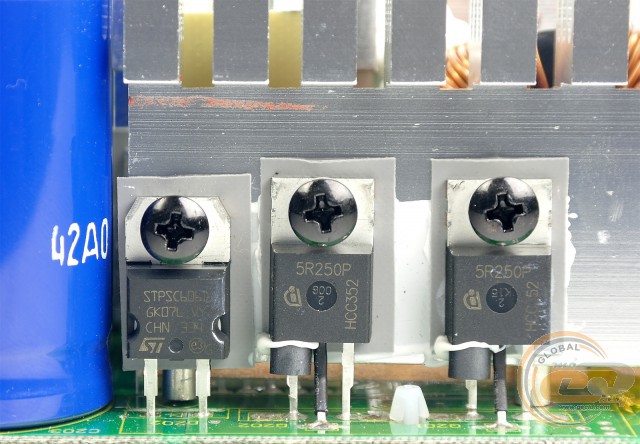 The layout of the other nodes in the Seasonic X-750 also deserves only the highest praise. You won't find the slightest hint of savings: EMI-filter for smoothing the high-frequency noise emitted by the power supply, includes the entire list of required components (three chokes, three X and four Y-capacitors, varistor); the bridge for rectifying the input voltage uses a pair of diode arrays; of the active power factor correction module consists of high-performance elements with high of power reserve (two field-effect transistors Infineon 5R250P and Schottky diode STPSC606D).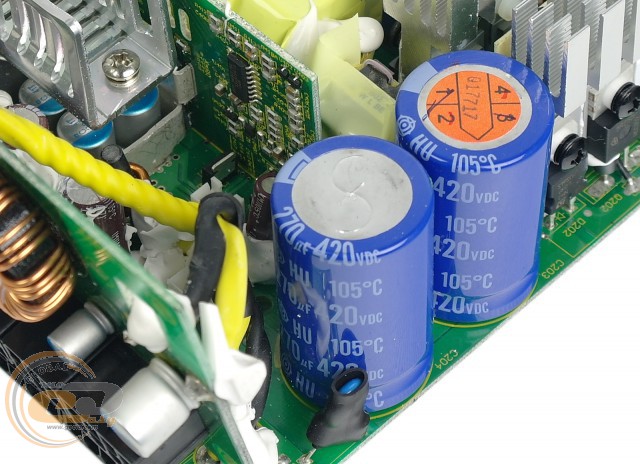 The manufacturer of high-voltage capacitors (270 uF x 420 V) is Japanese company Hitachi, whose products have the highest quality. Since they are connected in parallel, we obtain the total capacity of the node at the level of 540 uF and it is an excellent result for the 750 W device. Note also that the maximum operating temperature of the capacitor is 105°C, instead of 85°C, as foe the most analogues.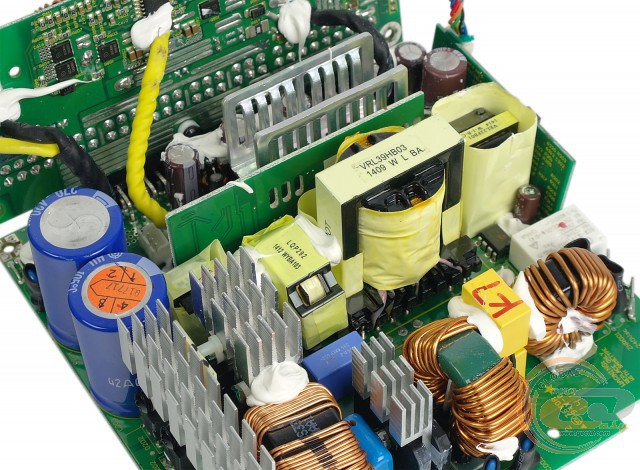 The inverter is built on a resonant circuit with a full bridge. Its keys are the four transistors Infineon 5R399P that operate in pairs under the control of the PWM controller CM6901. The correct functioning of stand-by power supply (line +5VSB) is provided by chip ICE2QR4765. Unfortunately we could not identify the title of APFC controller. But taking into account the topology of the platform, we can propose that it is a chip NCP1654.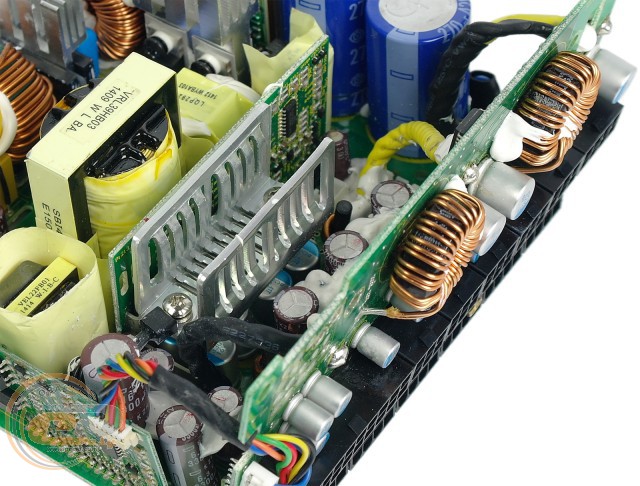 Also it is clear that the low-voltage part of the model Seasonic X-750 is a synchronous rectifier: there is one output powerful line +12V which further performs voltage +3.3V and +5V. As we mentioned above, this scheme is the most relevant to modern components and allows you to not worry about a possible overload of channel +12V after installing efficient graphics card or overclocked processor. While certainly the appropriate protection (OCP) is present here, and it is implemented on all lines.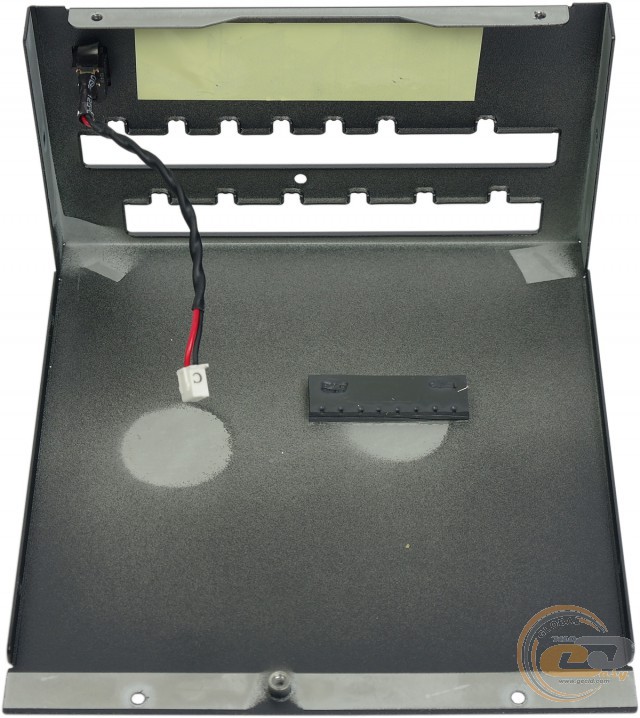 Like in "platinum" solutions here PSU case also takes part in the cooling process. It contacts with metal pads on a circuit board with П-shape heat sink that cools transistor on a line +12V through a layer of thermally conductive material.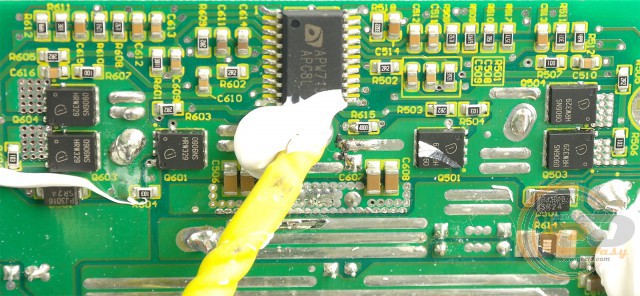 The Seasonic X-750 uses the well-familiar design of DC-DC-converters, when their power components and LC-filters are placed together with a part of the modular connectors on a single PCB. This allows to minimize energy losses and noise on the power supply outputs.
The formation of lines +3.3V and +5V is realized by six transistors Infineon BSC0906NS (three for each channel). Their heating during operation is so small (on-state resistance only 4.5 milliohms), that blowing by preinstalled fan is enough. Control of DC-DC-converters is provided by the PWM controller APW7159.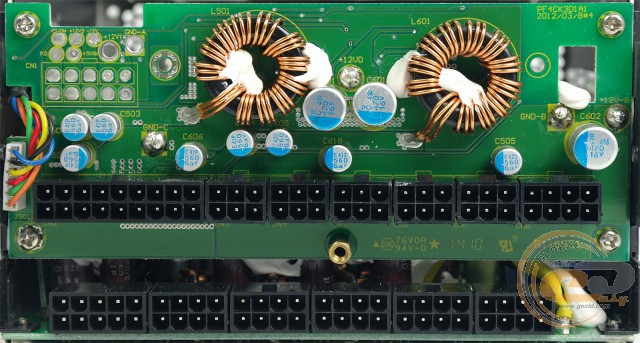 The remaining elements of the DC voltage converters are concentrated on the back side of the board. In particular, there are two inductors and polymer filter capacitors (470 uF x 16 V and 560 uF x 6.3 V).
Note that the outputs, which bear a large load (for connecting additional power processor and graphics card) are arranged directly on the main PCB to reduce energy loss due to underwater lines.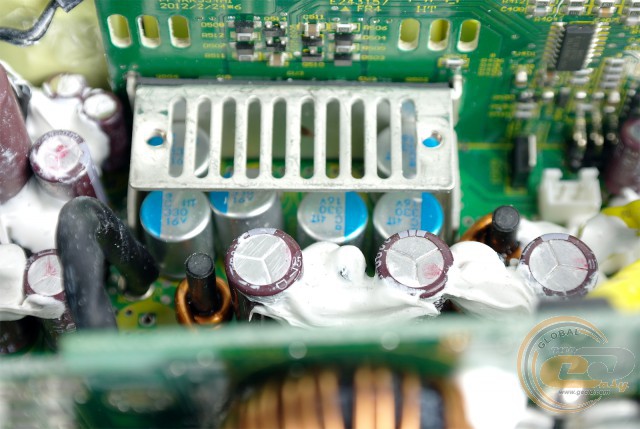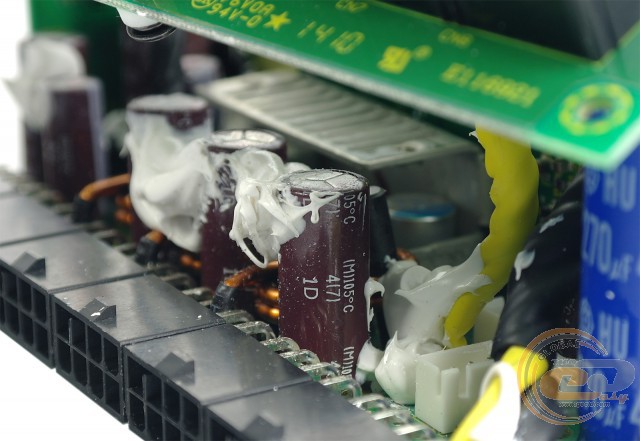 The smoothing the pulsations in the channel + 12V is provided by capacitors with solid (330 uF x 16 V), and liquid electrolyte (2200 uF x 16 V). Their manufacturer is a well-known company Nippon Chemi-Con, and the elements refer to high-temperature series (up to 105°C). All this indicates about high quality and provide long service life.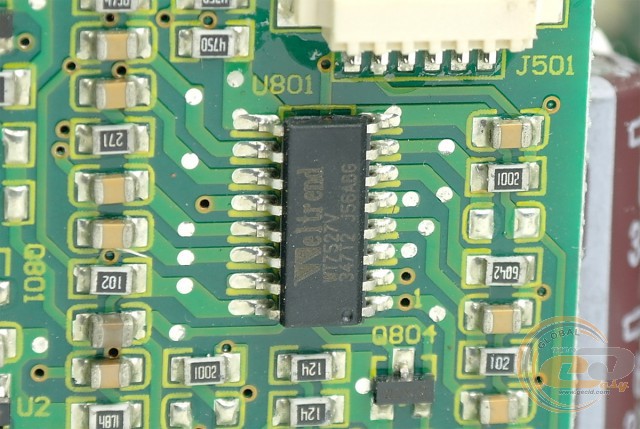 According to the technical specifications, model Seasonic X-750 has a full range of protection (OVP / UVP / OPP / SCP / OCP / OTP), including protection against overload and overheating. Last is quite important for the power supply, which until certain load can operate with inactive fan. The node is based on chip-supervisor Weltrend WT7527V.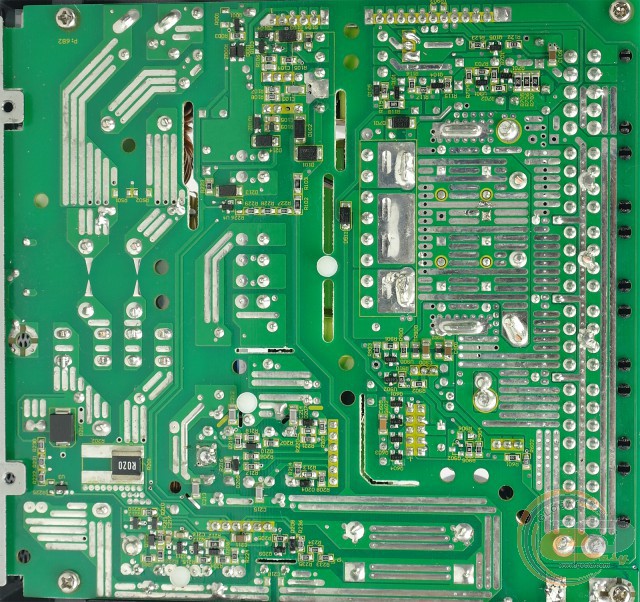 As always, the quality of the soldering is at the highest level. All tracks are smooth, stains and other defects were not found. In this regard, Sea Sonic Electronics products can be considered as a reference.
Социальные комментарии Cackle