Memory kit DDR4-2133 Transcend TS512MLH64V1H with capacity of 16 GB: review and testing
On the threshold of the release of available desktop platform Intel Skylake-S with support for standard DDR4, the producers of RAM decided to saturate the market with cheaper kits that would be affordable for the average user. Recall that a distinctive feature of budget DDR4 modules is relatively low operating frequency (2133 MHz) and the absence of any additional radiators. In other words, everything is done in order to reduce the cost of the final product. For example, today you can find the 4-gigabyte modules of standard DDR4, which cost around $ 60 - 80. A few months ago such price was impossible.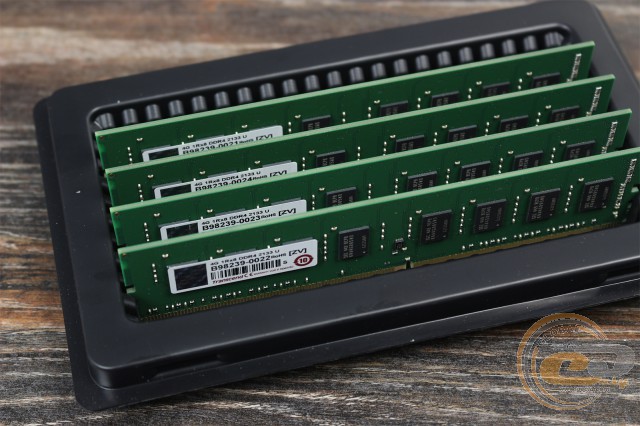 In this regard, we will focus not only on top-end DDR4 kits, but also to a more affordable option. One of them is a 4-channel kit DDR4-2133 Transcend TS512MLH64V1H with capacity of 16GB, which will be discussed in this review.
The specs:
Model

Transcend DDR4-2133

Module marking

TS512MLH64V1H

Memory type

DDR4

Form-factor

288-pin UDIMM

Quantity of modules in kit

4

Each module memory capacity, GB

4

Total capacity of memory kit, GB

16

Nominal supply voltage, V

1,2

DRAM configuration

512Mx8

Standard operation modes

DDR4-2133 16-15-15-36

DDR4-2133 15-15-15-36

DDR4-1866 14-13-13-31

DDR4-1866 13-13-13-31

DDR4-1600 12-11-11-27

DDR4-1600 11-11-11-27

DDR4-1333 9-9-9-22

Extended profiles XMP

–

Producer website

Product page
Package and design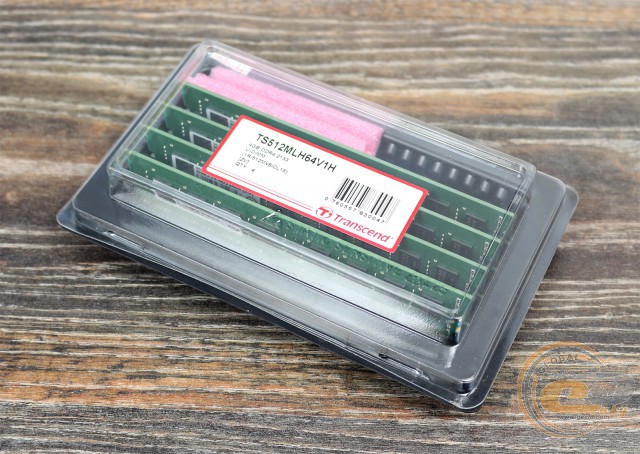 Kit DDR4-2133 Transcend TS512MLH64V1H comes in a compact plastic package, which protects the memory modules from damage and breakdown of static electricity. The cover of the box traditionally contains a sticker with technical information and a brief note about the number of modules in the kit.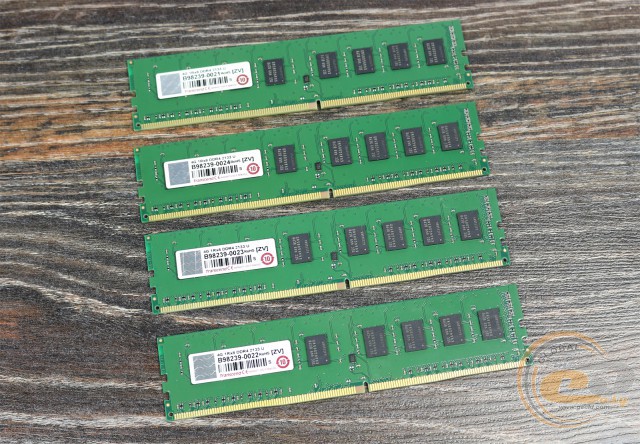 In this case we have four of them. But according to official information, they can be sold individually or in dual-channel kits. The memory modules are executed on the green PCB without additional cooling system. DDR4-2133 Transcend TS512MLH64V1H operates on a relatively small frequency (2133 MHz) and at a nominal supply voltage (1.2 V). During the stress test the chip temperature did not rise above the mark 40,3°C. Moreover, the absence of radiators ensures that during the installation of modules on the motherboard you won't have any problems in terms of compatibility with other components (especially with CPU cooler).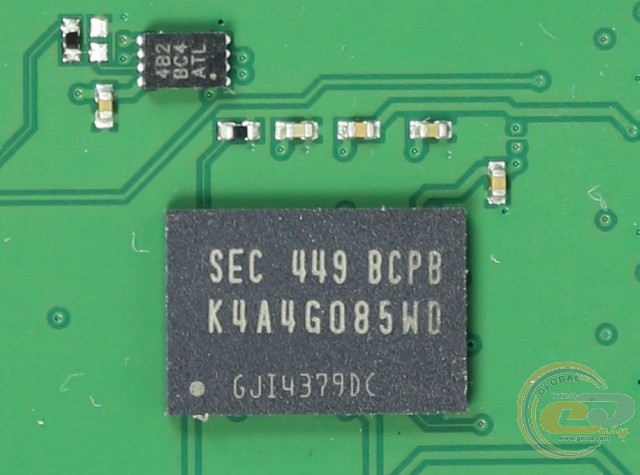 The modules of this kit are one-sided. Memory chips are presented by eight chips labeled «K4A4G085WD-BCPB» manufactured by Samsung. A closer examination of their technical documentation showed that the 2133 MHz is not the limit for these chips. They can function without problems at 2400 MHz, and without raising the voltage supply. So we can conclude that the set of DDR4-2133 Transcend TS512MLH64V1H should have a good overclocking potential. Chip SPD EEPROM IC is provided with the marking «4B2 BC4 ATL». According to the marking, we can only assume that this is a development of Atmel.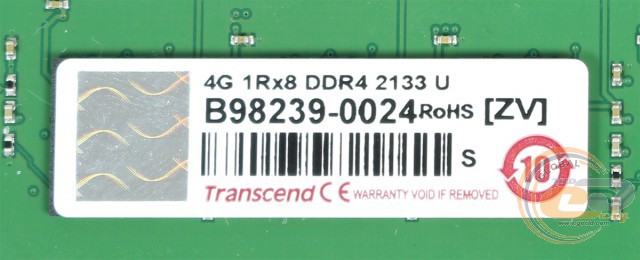 The sticker on the modules contains a minimum of information. It indicates the type of memory (DDR4 UDIMM), capacity volume of a single module (4 GB), its configuration (1R x 8) and rated speed (2133 MHz).
Technical features and operation modes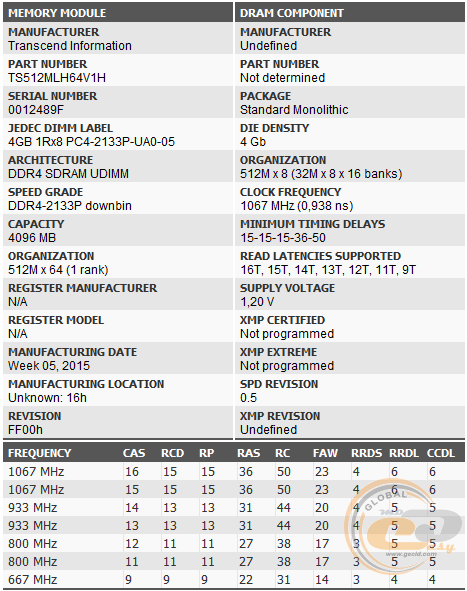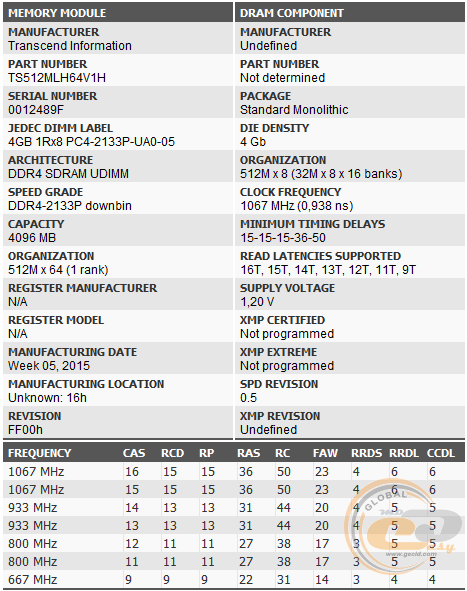 More technical information can be obtained using the utility Thaiphoon Burner, which is specifically designed for the diagnosis of RAM. Above you can find a brief and detailed report for the tested kit.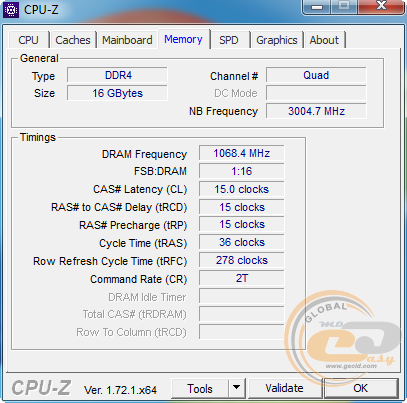 Since the kit DDR4-2133 Transcend TS512MLH64V1H does not claim to overclocking or gaming solution, additional XMP-profiles are absent. After turning on the PC, these modules are run with standard parameters for DDR4 memory: at a frequency of 2133 MHz and a delay set 15-15-15-36.
Testing
The following bench configuration was used to test the lit:
| | |
| --- | --- |
| CPU | Intel Core i7-5960X (Socket LGA2011-v3, 4-pin controller DDR4) @ 4,0 GHz |
| Motherboard | ASUS RAMPAGE V EXTREME |
| Cooler | Deepcool NEPTWIN V2 |
| Video card | ASUS GeForce GTX 980 STRIX OC |
| Hard disk | Seagate Barracuda 7200.12 ST3500418AS |
| PSU | Seasonic X-660 (660 W) |
| Case | Cooler Master COSMOS SE |
| OS | Microsoft Windows 7 (64 bit version) |
Opponent in the experiment was a set of memory DDR4-3000 GeIL EVO Potenza GPR416GB3000C16QC (4 x 4 GB). Both sets were tested in the following modes:
Model

Operation speed, MHz

Latency

Transcend TS512MLH64V1H

2133

15-15-15-36

2400 (OC)

15-15-15-36

3000 (OC)

17-16-16-36

GeIL EVO Potenza GPR416GB3000C16QC

2133

14-14-14-32

2400

15-15-15-35

3000

16-16-16-36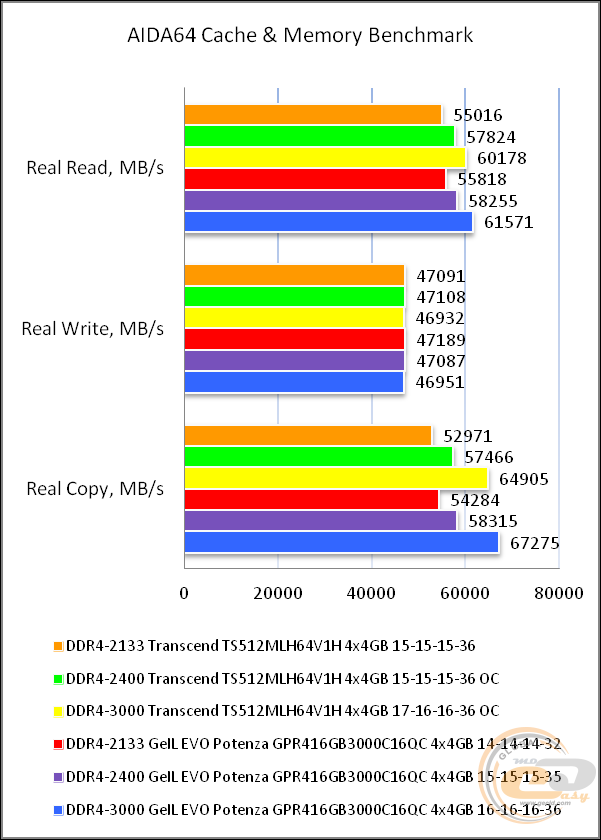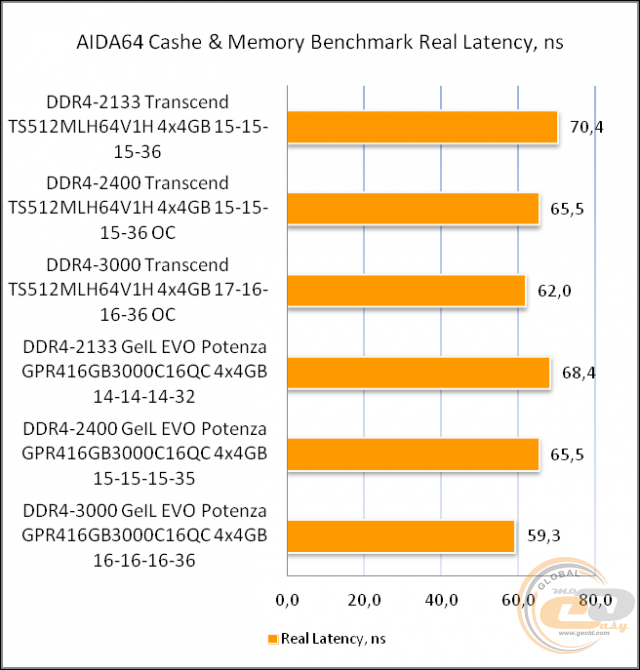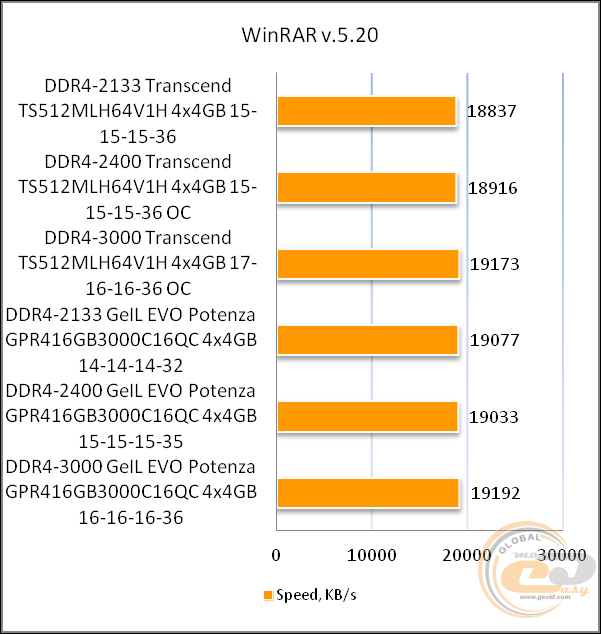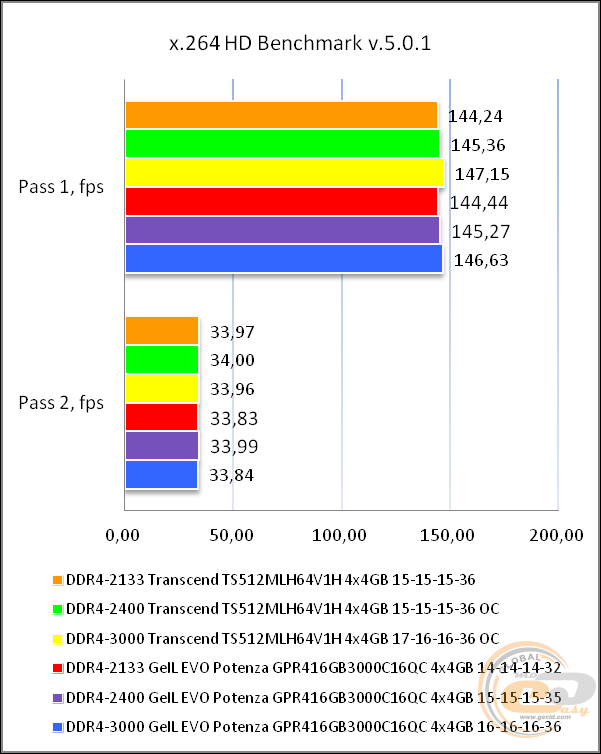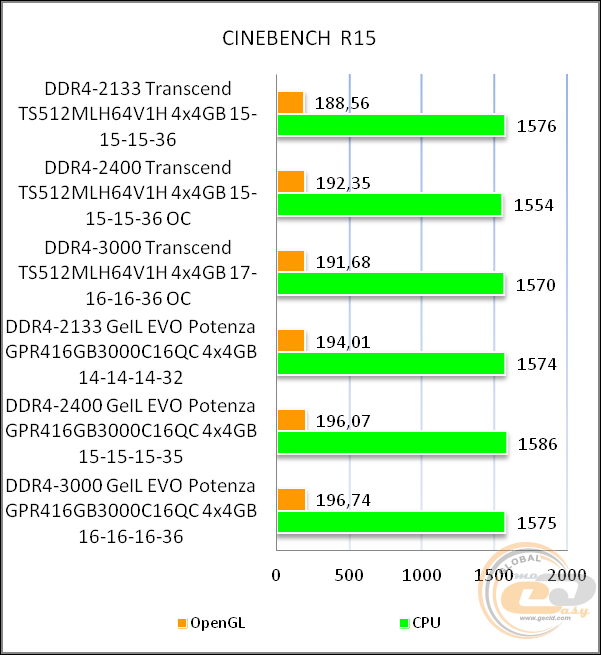 According to the graphs, we were able to significantly speed up the modules DDR4-2133 Transcend TS512MLH64V1H. And now let's better analyze how the applications react to changes in the main memory parameters.
The biggest performance gain from moving to higher frequencies is observed in the benchmark AIDA64. The value of 2400 MHz gives an increase of 5% to the rate of data reading and 8% speed copying. These figures are more significant for the frequency of 3000 MHz and are 9% and 23%, respectively. As for the other test packets, there increase in memory performance affected the final results - the speed of the PC improved by an average of 2%.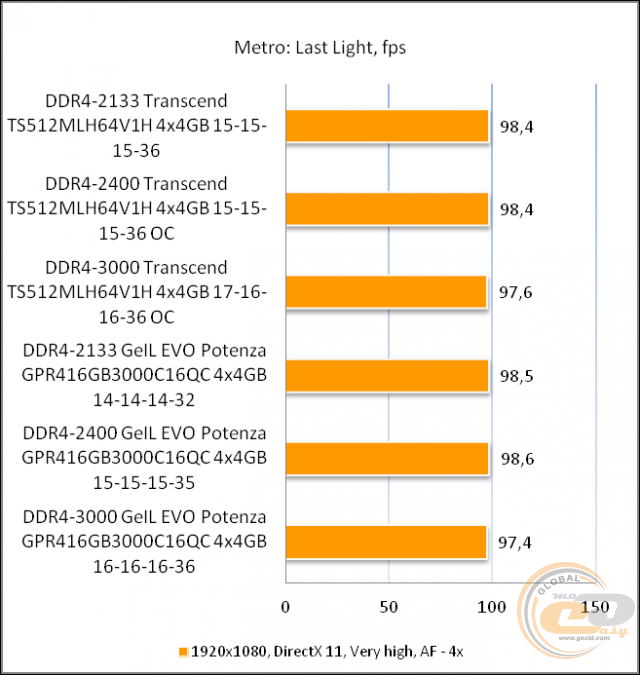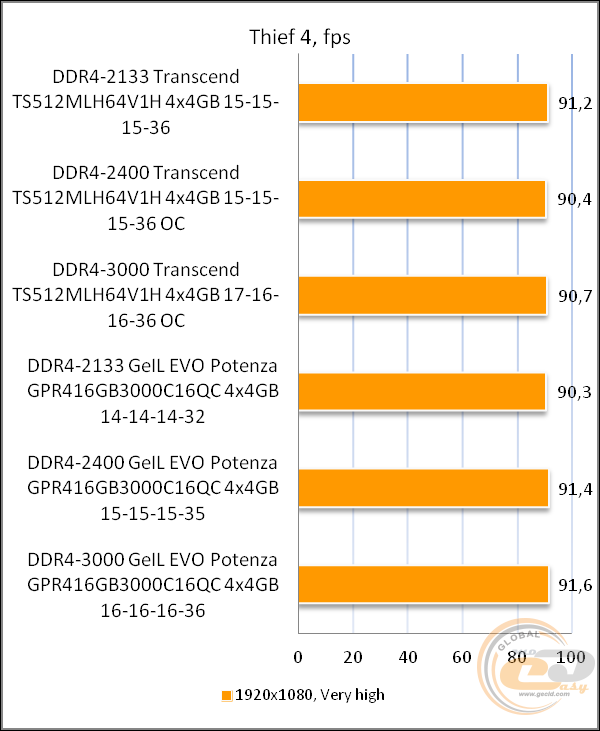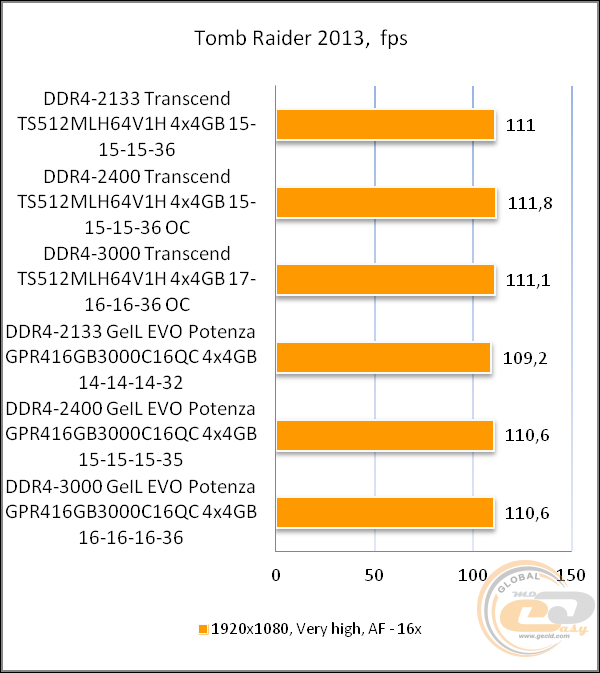 In the games we could not achieve even this increase. So we can conclude that during building the modern game system with support for DDR4 memory standard there is sense to pay for expensive high-speed kits. It is wise to invest the difference in the purchase of a more powerful processor or graphics card.
Социальные комментарии Cackle