RAM kit

DDR4-3000 GeIL DDR4 EVO POTENZA QUAD CHANNEL GPR416GB3000C16QC

(16 GB): review and testing
The lineup of RAM GeIL EVO POTENZA is the flagship for the eminent manufacturer. The key in its name is the Italian word «Potenza», which means "power." In this case it is the computing power, because series GeIL DDR4 EVO POTENZA is available with frequencies from 2133 to 3200 MHz. It aimed at gamers and enthusiasts of overclocking experiments, plans to disclose the maximum potential of the computer or to build configuration that will be relevant for several years.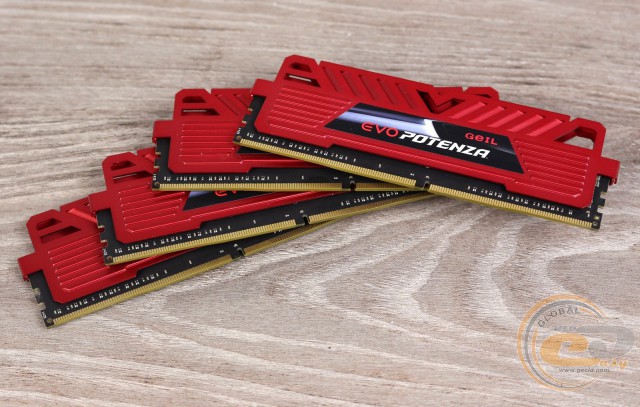 In this review we will study in detail a set of memory GeIL DDR4 EVO POTENZA QUAD CHANNEL GPR416GB3000C16QC. It consists of four modules, each of 4 GB. According to the specification, the memory is equipped with significant overclocking and can operate at a frequency of 2133 MHz to 3000 MHz in quad-channel mode.
The specs:
Model

GeIL DDR4 EVO POENTZA QUAD CHANNEL

Module marking

GPR416GB3000C16QC

Memory type

DDR4

Form-factor

DIMM

Quantity of modules in a kit

4

Capacity of each module, GB

4

Total capacity of kit, GB

16

Nominal supply voltage, V

1,35

Operation modes

DDR4-2400 16-15-15-35

DDR4-2400 15-15-15-35

DDR4-2133 14-14-14-32

Extended profiles XMP

DDR4-3000 16-16-16-36 (1,35 В)

Producer website

Product page
Package and design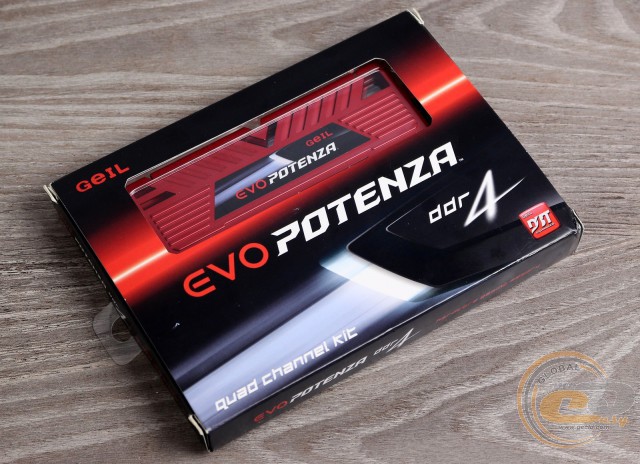 Memory kit comes in a small cardboard packaging, the design of which is dominated by black and red. Its front side has a transparent window which allows to evaluate the appearance of one of the modules. Below is the logo of series GeIL EVO POENTZA, designated note of memory (DDR4) and present the mark that this is a four-channel kit. In the lower right corner if the logo of the technology GeIL DBT (Die-hard Burn-in Technology). It involves a very severe testing of each module at elevated temperatures. This allows to select only the most stable and reliable designs.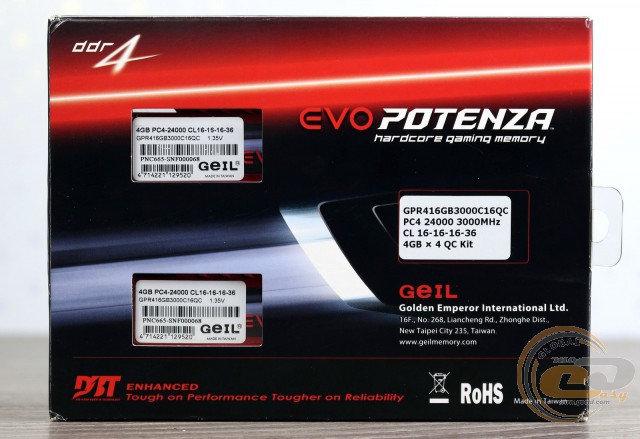 On the back of the box there are two transparent windows where you can see labels on radiators with technical information. In the lower right corner note an indication of the country of manufacture (Taiwan).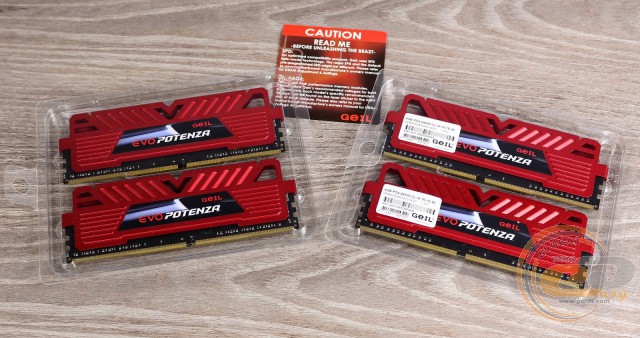 Inside the package, the memory modules are stacked in a special shipping form of transparent plastic. The package includes only brief instruction.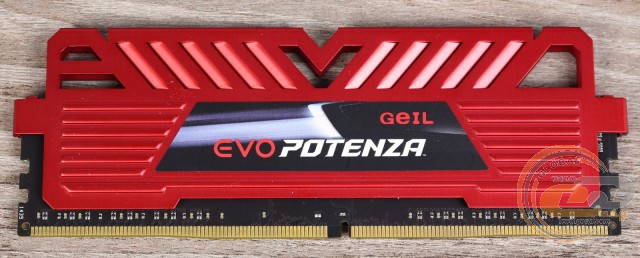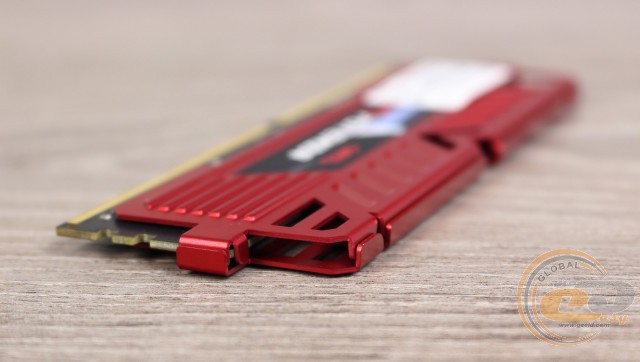 For cooling the memory chips and printed circuit boards use rather large aluminum radiators, painted in red. They not only give the whole system the original appearance, but also improve the process of heat dissipation. The effect of using them is bound to be noticeable when performing intensive tasks or during overclcoking.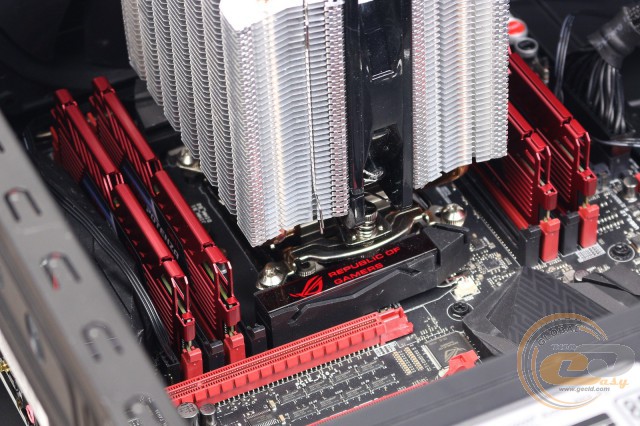 However the height of the RAM GeIL DDR4 EVO POTENZA QUAD CHANNEL GPR416GB3000C16QC was significantly increased, so the installation can cause compatibility issues with overall cooling system. For example, the photo shows that module is not fitin the first DIMM-slot. And if you would have a second fan, the best option would be to transfer all of the modules on the left side of the board.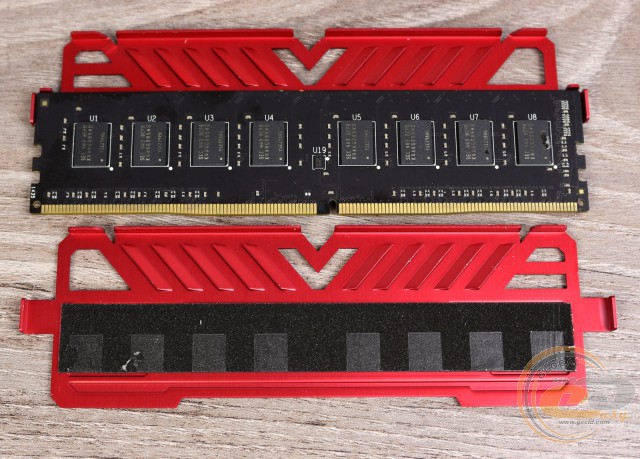 The cooling system is plain: two aluminum plates in contact with the memory chips using special thermal spacers. They are fastened by the latches.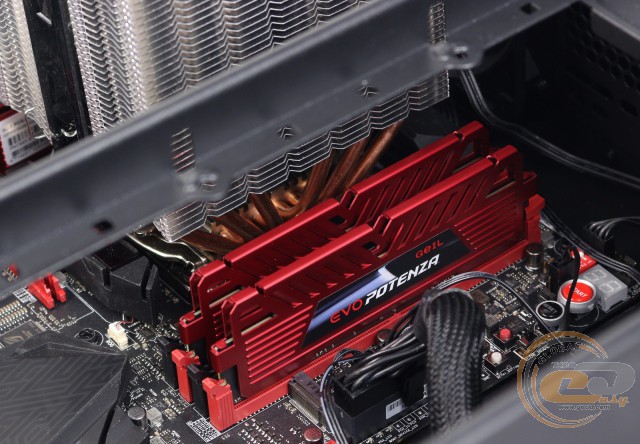 In nominal operation mode (3000 MHz), when the load test, the maximum temperature of memory radiators does not exceed 41,8°C. This figure is within the normal range, indicating about a good cooling system performance.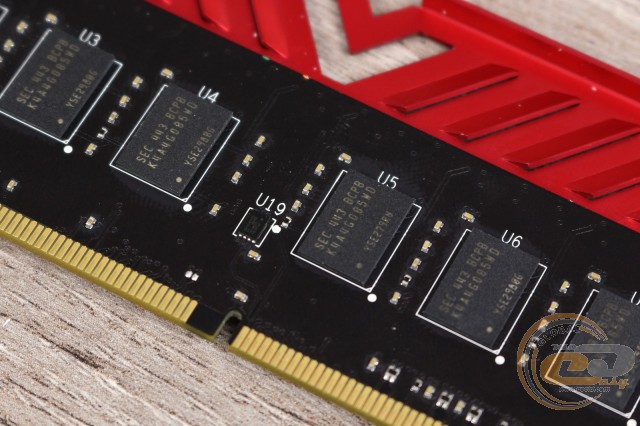 Each memory module has eight chips Samsung K4A4G085WD with capacity of 512 MB each. According to the documentation, their nominal operating frequency is 2400 MHz, and voltage is 1.2 V. As you can see, they have undergone a significant factory overclocking, in which the nominal frequency increased to 3000 MHz, and voltage is up to 1.35 V. The total capacity of module is 4 GB and the whole set is 16 GB.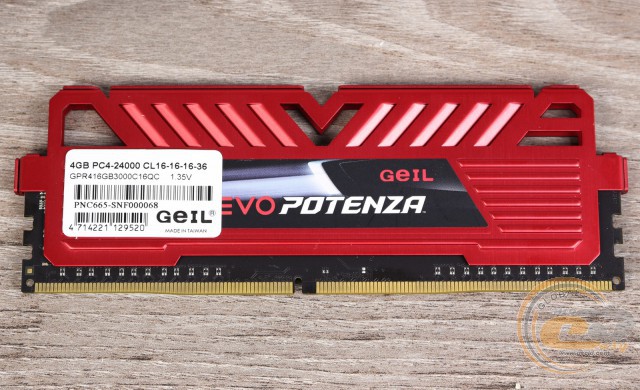 The stickers on the radiators of memory GeIL DDR4 EVO POTENZA QUAD CHANNEL GPR416GB3000C16QC, has the most important technical information: the volume of the module (4 GB), the peak data rate (24,000 MB/s), a set of timings (16-16-16-36) and operating voltage (1.35 V). Below is the country of manufacture (Taiwan) and applied the necessary barcodes.
Technical features and operation modes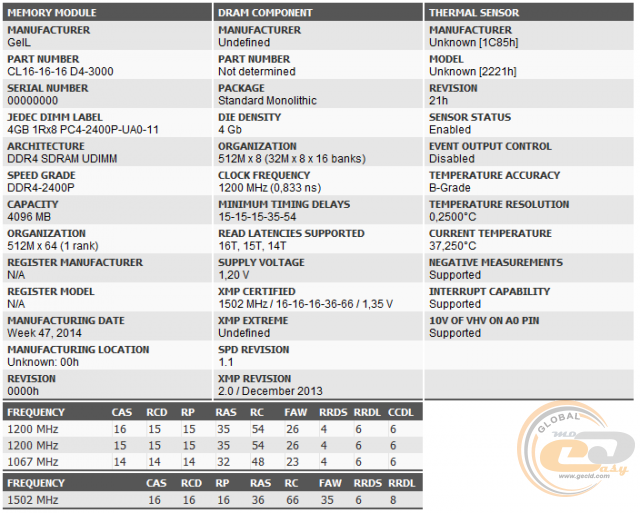 Using the utility Thaiphoon Burner we received detailed specifications of RAM. You can find them on the above screenshot.
CPU-Z utility confirmes the presence of one XMP-Profile with a frequency of 3000 MHz with voltage 1.35V and timings of 16-16-16-36. Its activation was without any problems.
Testing
The following bench was used for testing GeIL DDR4 EVO POENTZA QUAD CHANNEL GPR416GB3000C16QC:
| | |
| --- | --- |
| Motherboard | ASUS RAMPAGE V EXTREME (Intel X99, Socket LGA2011-v3, DDR4, E-ATX) |
| CPU | Intel Core i7-5960X (Socket LGA2011-v3, 3,0 GHz, L3 20 МB) @ 4,0 GHz |
| Graphics card | ASUS GeForce GTX 980 STRIX OC 4GB GDDR5 (GPU – 1178 MHz / RAM – 1279 MHz) |
| Cooler | Deepcool NEPTWIN V2 |
| Hard disk | Seagate Barracuda 7200.12 ST3500418AS, 500 GB, SATA-300, NCQ |
| PSU | Seasonic X-660, 660 W, Active PFC, 80 PLUS Gold, 120-mm fan |
| Case | Cooler Master COSMOS SE |
| OS | Microsoft Windows 7 64-bit |
Opponent in the experiment was a set of memory Kingston HyperX FURY HX424C15FBK4/32.
Model

Operation speed, MHz

Latency set

GeIL DDR4 EVO POTENZA QUAD CHANNEL GPR416GB3000C16QC

2133

14-14-14-32

2400

15-15-15-35

3000

16-16-16-36

HyperX FURY HX424C15FBK4/32

2133

14-14-14-32

2400

15-15-15-35

3000 (OC)

16-16-16-39
Note that to comply with the reporting capabilities of this set, memory HyperX FURY HX424C15FBK4/32 was overclocked to 3000 MHz. Also, during all the test frequency of the processor Intel Core i7-5960X Extreme Edition was recorded at around 4000 MHz in order to eliminate its effect on the final result and make an objective comparison with other samples.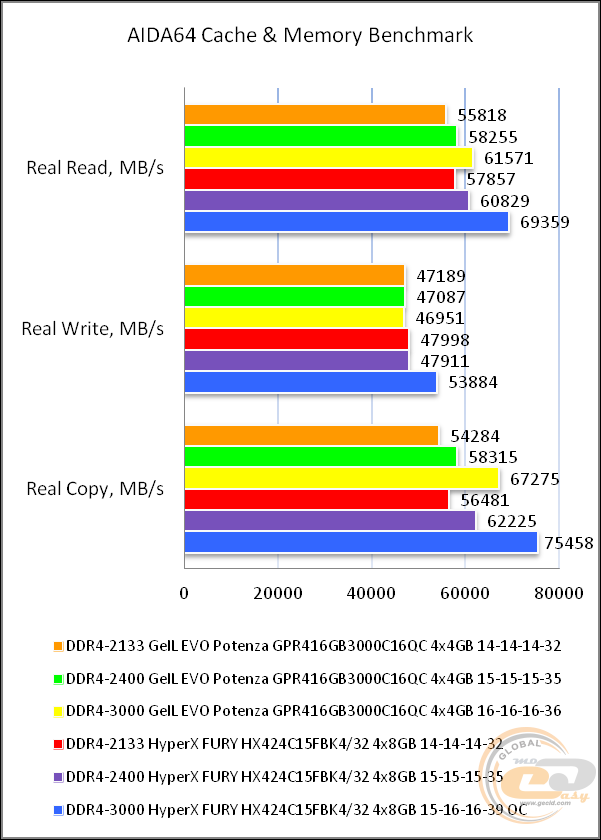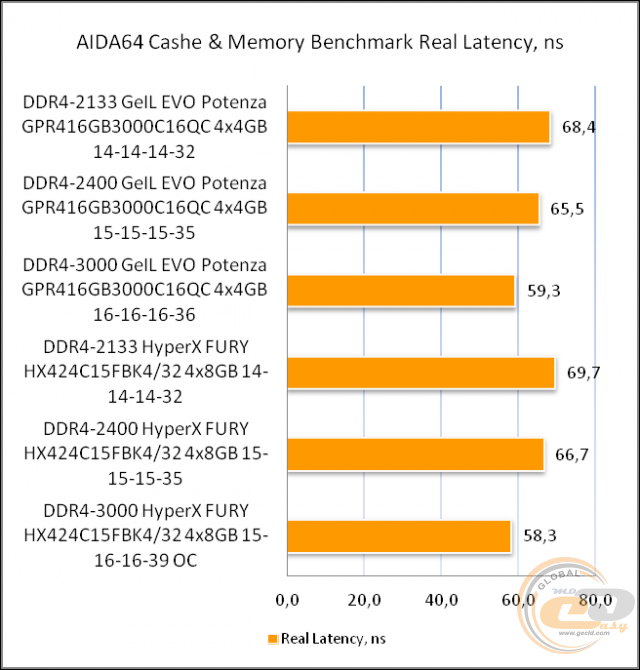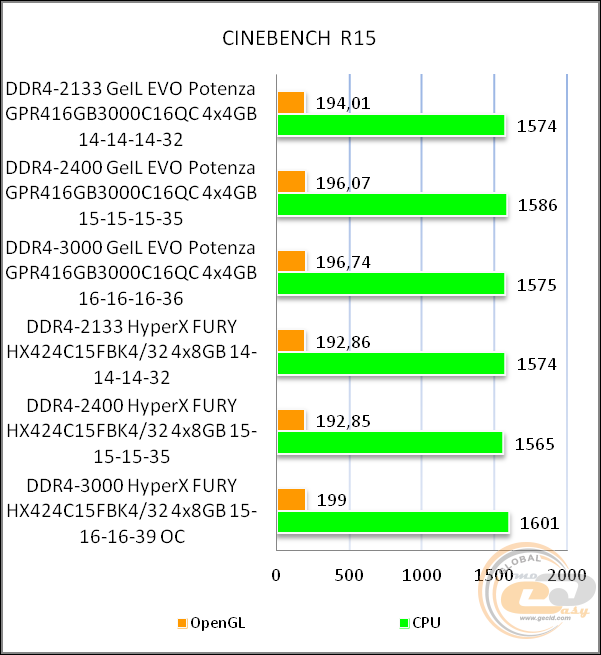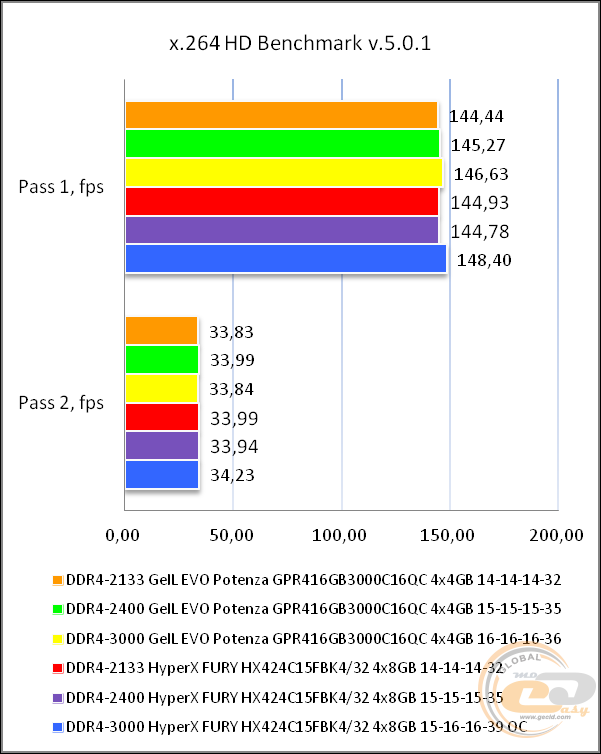 As you can see, the use of the maximum frequency of 3000 MHz provides a significantly better results in benchmarks utility AIDA64. Thus, when compared to the operating mode DDR4-2133, growth could reach 20%. A comparison with the mode DDR4-2400 shows that an increase in the average speed is 10%.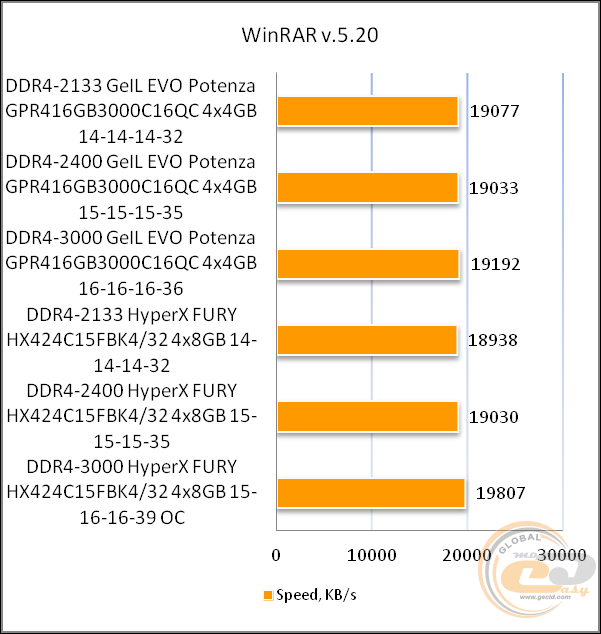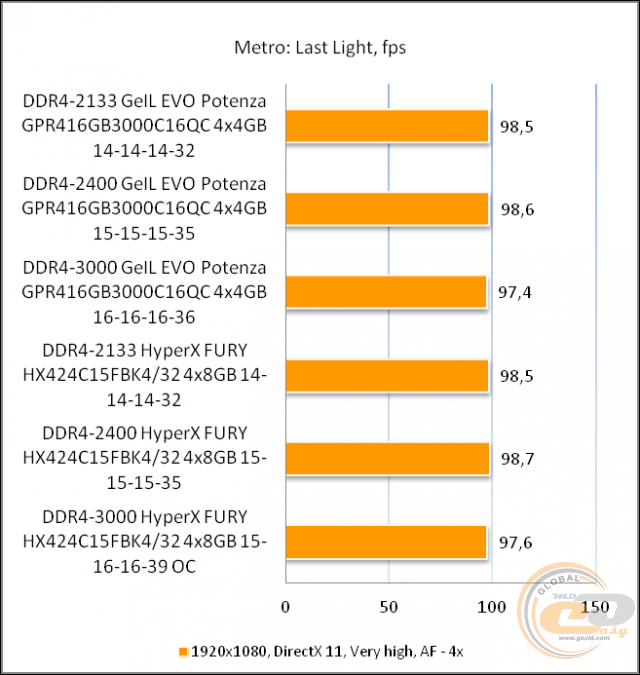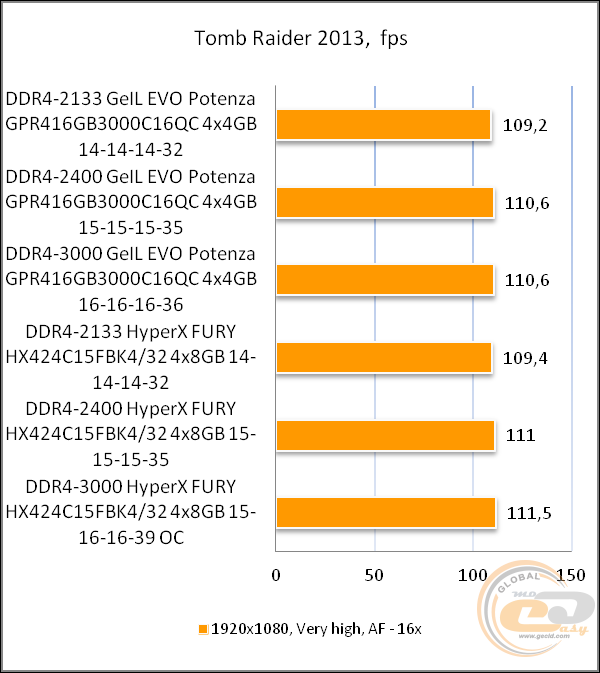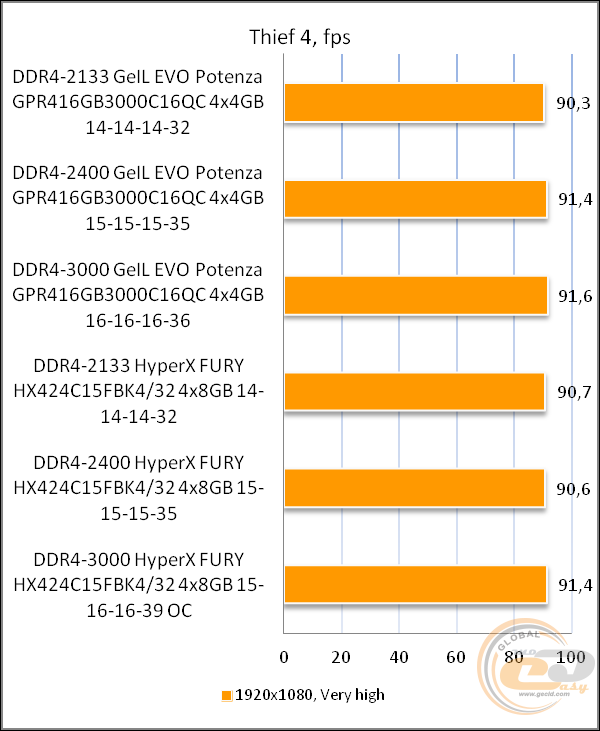 If we evaluate the difference in performance when playing modern games, the difference was not so significant. The average difference between DDR4-3000 and DDR4-2133 modes does not exceed 1%.
With regard to the comparison of the test kit with a set of HyperX FURY HX424C15FBK4/32, the synthetic benchmarks distinct advantage is mainly on production side of Kingston. In actual tests and games difference is practically absent.
Социальные комментарии Cackle