RAM kitDDR4-2400 Kingston HyperX FURY HX424C15FBK4/32: review and testing
According to series of tests, including our own, modern software is weakly optimized for fast memory standard DDR4. Rather, the developers have not yet learned to fully utilize its potential. Therefore, we can understand those users who do not want to overpay for overclocking kits, capable of operating at speeds of 3000 MHz and above, and look towards slower solutions. And the difference in cost between them is not a small and could reach $ 100-150.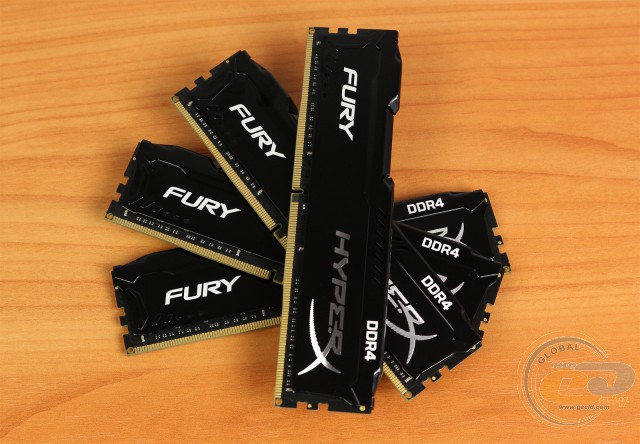 In anticipation of this development the leading manufacturers of RAM along with top kits had launched cheaper models. For Kingston such memory kits are arranged in the lineup HyperX FURY. Its range is quite large and includes both single modules and kits of 2, 4 and 8 modules. Variability of the other characteristics is also impressive: the frequency - from 2133 to 2666 MHz, the capacity - from 4 to 64 GB. Thus, everyone can pick out the set best suited to its configuration. We chose a medium variant, 4-channel Kit DDR4-2400 Kingston HyperX FURY HX424C15FBK4/32 with capacity of 32 GB.
The specs:
Model

Kingston HyperX FURY DDR4-2400

Module marking

HX424C15FBK4/32

Memory type

DDR4

Form-factor

288-pin DIMM

Quantity of modules in a kit

4

Capacity of each module, GB

8

Total capacity of kit, GB

32

Nominal supply voltage, V

1,2

Operation modes

DDR4-2400 16-15-15-35

DDR4-2400 15-15-15-35

DDR4-2133 14-14-14-32

DDR4-1866 13-12-12-28

DDR4-1866 12-12-12-28

DDR4-1600 11-10-10-24

DDR4-1333 9-9-9-20

Extended profiles XMP

DDR4-2400 15-15-15-35 (1,2 V)

Producer website

Product page
Package and design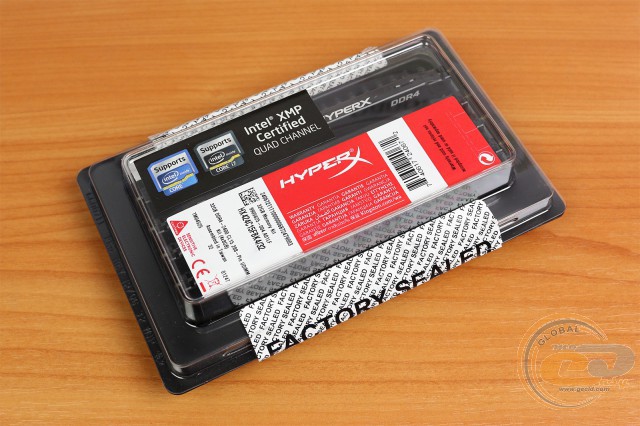 Kit DDR4-2400 HyperX FURY HX424C15FBK4/32 comes in a compact plastic package, which protects the memory modules from damage and breakdown of static electricity. The lid of the box has a label with brief technical information and details of the full compatibility with efficient CPU from Intel, supporting the four-channel memory.
In this case it's pretty important. According to practice, not all sets of standard memory DDR4, including 4 modules can be automatically launched on the stated frequency. Sometimes you need to enter the BIOS menu and manually configure the required settings. Here you don't need additional manipulation.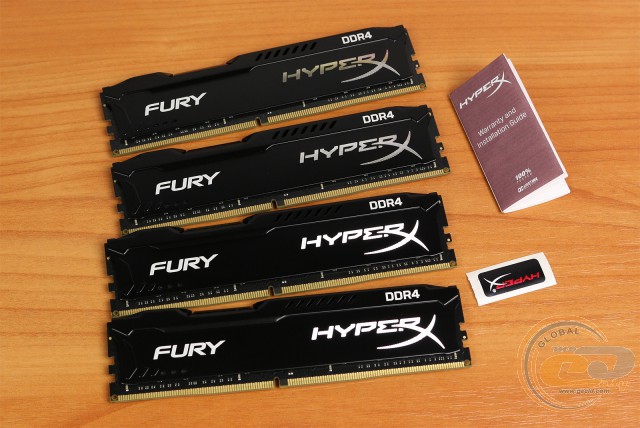 In addition to memory modules the package contains installing instructions and a sticker with the logo of the manufacturer. It is worth noting that for sets memory in a series of HyperX FURY, including DDR4-2400 HyperX FURY HX424C15FBK4/32 has a lifetime warranty. However, if the modules were bought or used separately, it will be canceled.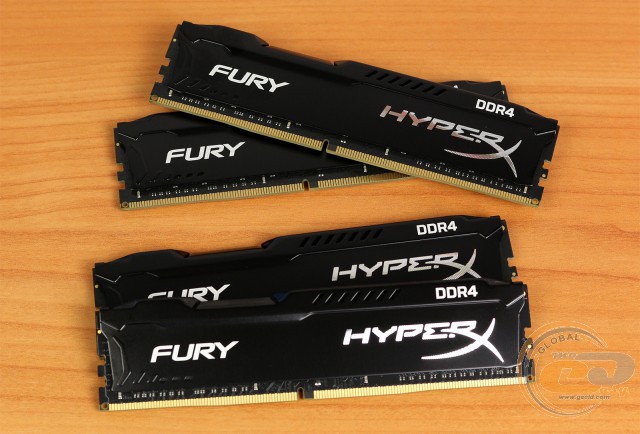 Memory modules are equipped with additional black radiators which provide them quite spectacular appearance. Owners of cases with side window and modding fans should like it. However, apart from the aesthetic function, this cooling system is also practical. In poorly blown system units, as well as during acceleration of modules DDR4-2400 HyperX FURY HX424C15FBK4/32, it will contribute to a more rapid removal of heat from the memory chips.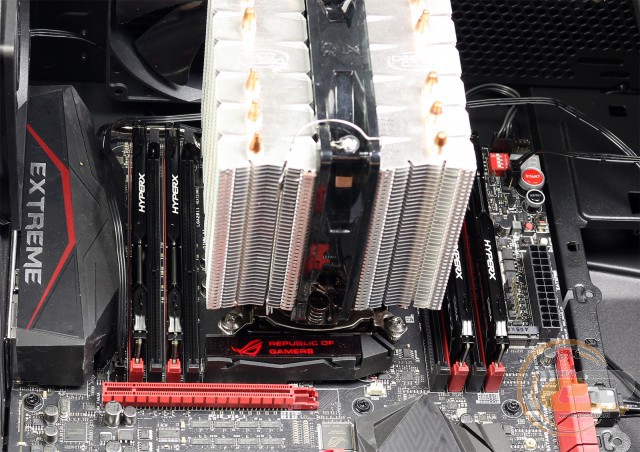 At the same time you won't face with compatibility problems with other components, since the upper part of the radiator extends above textolite only a few millimeters. By the way this is the main advantage of kit DDR4-2400 HyperX FURY HX424C15FBK4/32 over its more overall analogues. Do not forget that this memory will work in conjunction with the processors Intel Haswell-E that usually use rather massive air coolers for cooling aim. Therefore, the compatibility question here is very important.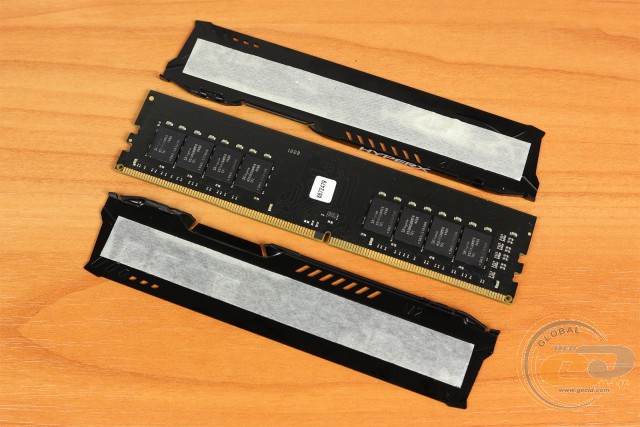 The cooling system of each module consists of two plates held together by clamps, so it is difficult to remove it. If you decided to do such an operation, remember that you will automatically lose the guarantee. In addition, there is a great risk of damage to the memory chips or it tear them away from the PCB. Intimate contact of chip and heat sink is provided with thin thermal pads.
Modules are made on black PCB. On both sides there are 8 memory chips with capacity of 512 MB each. Thus, the capacity of each module is 8 GB and the whole set is 32 GB.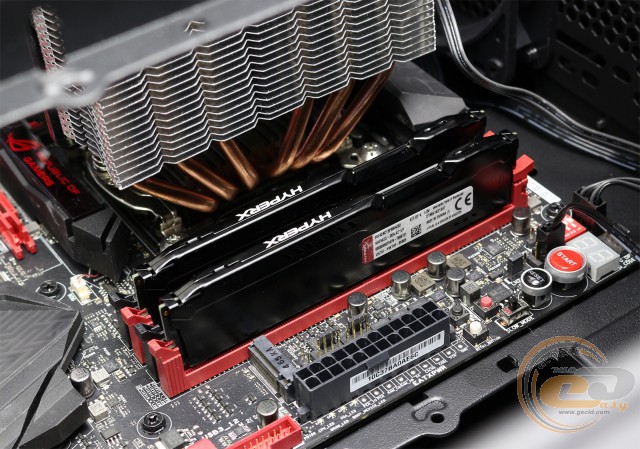 During testing under continuous load module temperature was about 44,1°C. This figure is quite good, especially considering the relatively small size of the radiator. In any case we would like to note that according to the specification the maximum temperature is 85°C.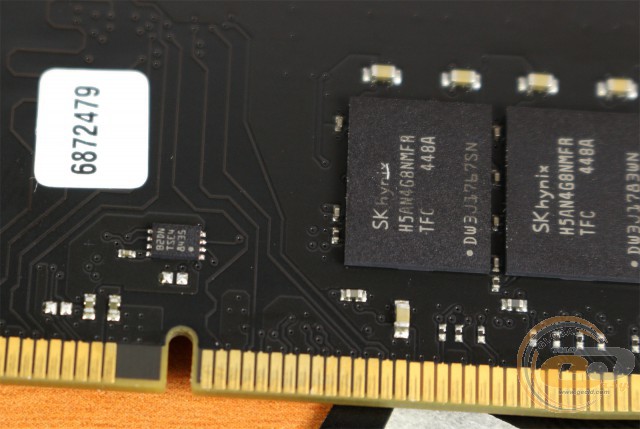 The memory chips are marked as SK hynix H5AN4G8NMFR-TFC and released by a well known company SK hynix. According to the documentation, they are able to operate at a nominal frequency of 2133 MHz with a delay CAS Latency 15 or 16 at a supply voltage of 1.2 V. There is no information about support of high-speed modes. However, we have repeatedly faced with these chips in practice and each time were convinced of their good overclocking potential. Moreover, the exact same chips are used in the overclocking memory kit DDR4-3000 HyperX Predator HX430C15PBK4/16 with a nominal frequency of operation at 3000 MHz. So the hero of our review has all the prerequisites for further successful optimization of parameters.
Chip SPD EEPROM is represented by 4-KB chip STTS2004 from STmicroelectronics. It is equipped with a special sensor to detect a temperature in the range -25°C ... +125°C, and also has a compatibility with dual interface I2C.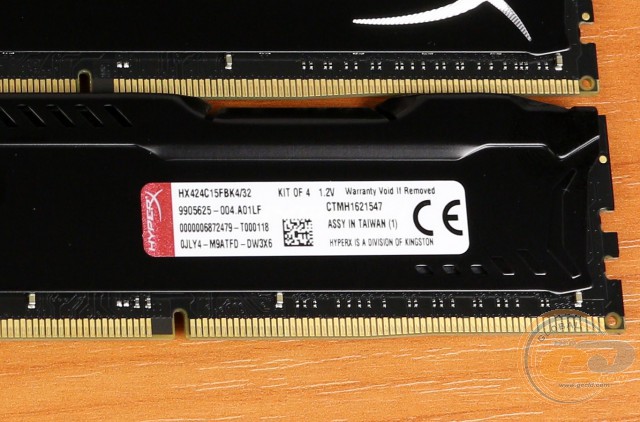 A label on the radiators provides only the most basic information: labelling (HX424C15FBK4/32), the operating voltage (1.2 V) and the number of modules in the kit (4). For more information about the kit we recommend to consult the official website of the manufacturer, where there is a marking scheme decryption. In our case, the interpretation of the code «HX424C15FBK4/32" is as follows:
HX - line of HyperX;
4 - DDR4 standard;
24 - effective memory frequency is 2400 MHz;
C - type modules UDIMM (desktop);
15 - the amount of delay CAS Latency is 15;
F - belonging to a series of modules FURY;
B - radiators are black;
K4 - kit consists of 4 modules;
32 - total capacity of set is 32 GB.
Technical features and operation modes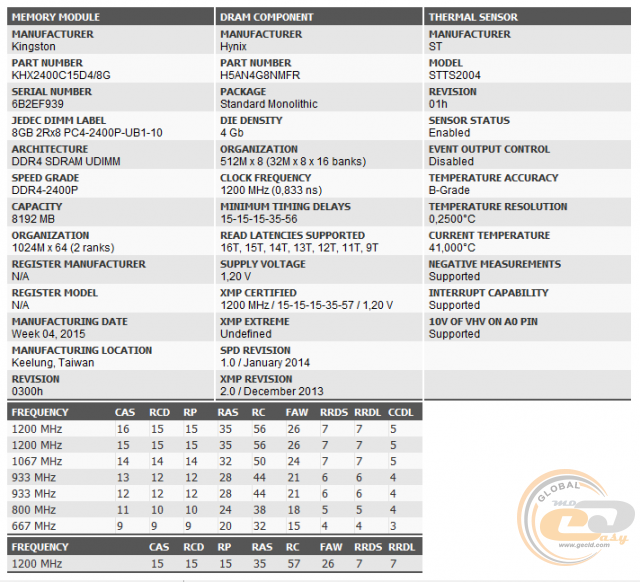 To analyze the specifications of the kit DDR4-2400 Kingston HyperX FURY HX424C15FBK4/32 we used the program Thaiphoon Burner, designed specifically for the diagnosis of RAM.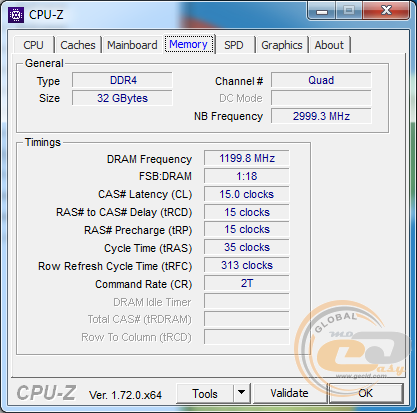 According to the reports of the utility, there is XMP-profile with the following parameters: frequency - 2400 MHz, timings - 15-15-15-35, supply voltage - 1.2 V. It is important to note that they are selected automatically. That is, as stated by the manufacturer, after installing the modules of memory on the motherboard user does not need any more additional manipulation. By the way, it is also quite an important point, since not all have the appropriate knowledge to fine-tune the configuration of the PC from the menu BIOS.
Testing
The following bench was used for testing:
| | |
| --- | --- |
| CPU | Intel Core i7-5960X (Socket LGA2011-v3, 4-channel memory controller DDR4) @ 4,0 GHz |
| Motherboard | ASUS RAMPAGE V EXTREME |
| Cooler | Scythe Mugen 3 |
| Graphics card | ASUS GeForce GTX 980 STRIX OC |
| Hard dick | Seagate Barracuda 7200.12 ST3500418AS |
| PSU | Seasonic X-660 (660 W) |
| Case | Cooler Master COSMOS SE |
Opponent in the experiment was a set of memory DDR4-3000 GeIL EVO Potenza GPR416GB3000C16QC (4 x 4 GB). Both sets were tested in the following modes:
Model

Operation speed, MHz

Latency set

HyperX FURY HX424C15FBK4/32

2133

14-14-14-32

2400

15-15-15-35

3000 (OC)

15-16-16-39

GeIL EVO Potenza GPR416GB3000C16QC

2133

14-14-14-32

2400

15-15-15-35

3000

16-16-16-36
Before proceeding to the analysis of the results, we want to make one small clarification. According to the table, we managed to overclock memory kit DDR4-2400 HyperX FURY HX424C15FBK4/32 to 3000 MHz. Therefore we also decided to include this mode in the comparative testing. All the nuances of the optimization of the parameters you can read in the next section. Note all stages of the experiment had the same speed of the processor Intel Core i7-5960X Extreme Edition at 4000 MHz (using the selection of appropriate values of the reference clock and multiplier). Thus, we excluded its impact on the final results, which eventually allowed to give a more accurate and objective assessment.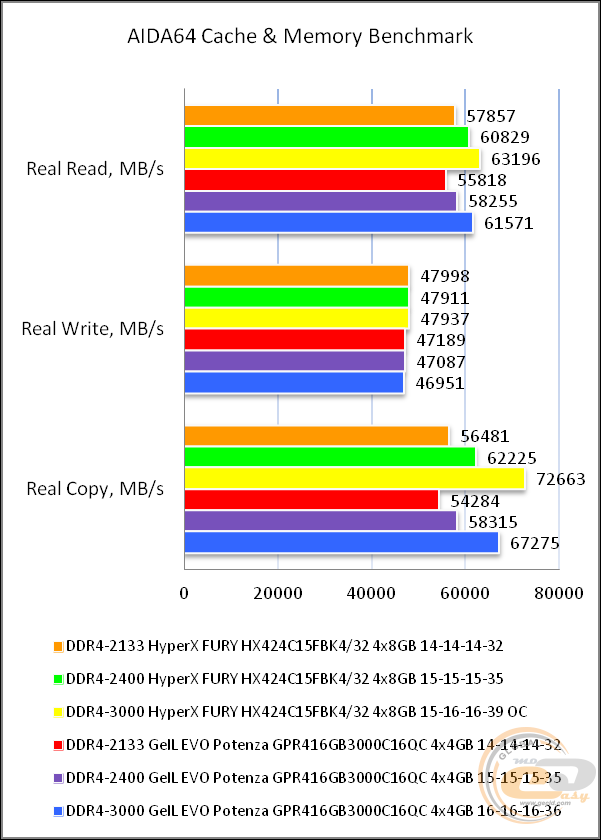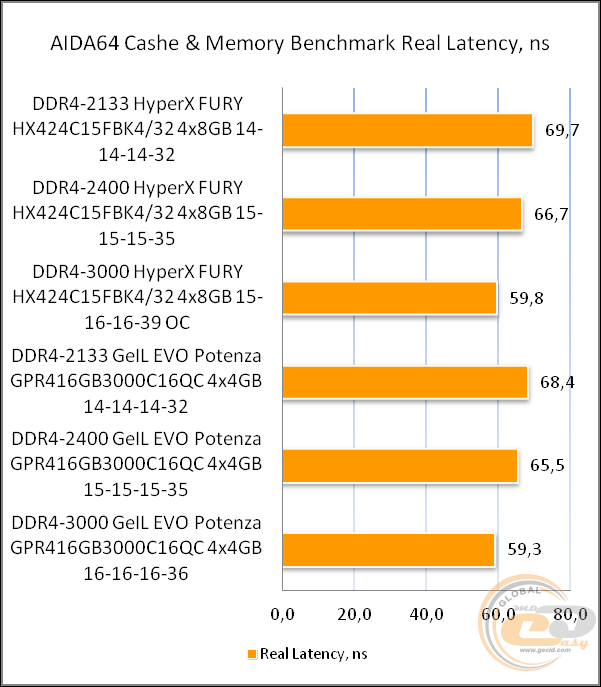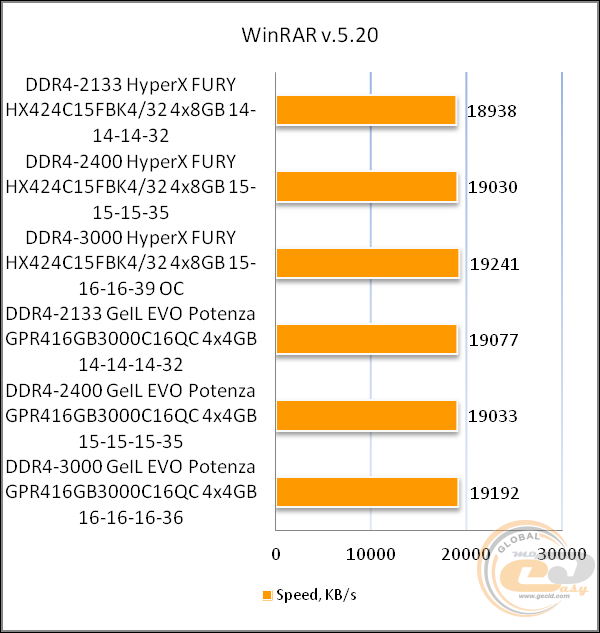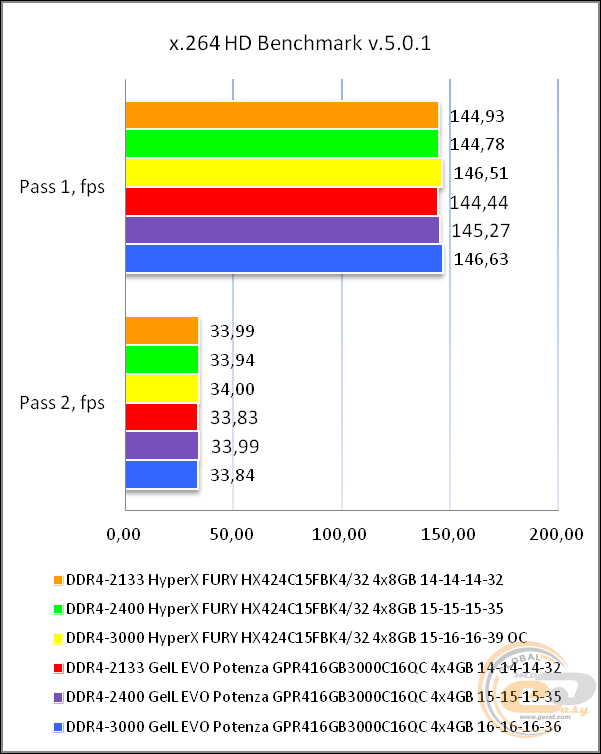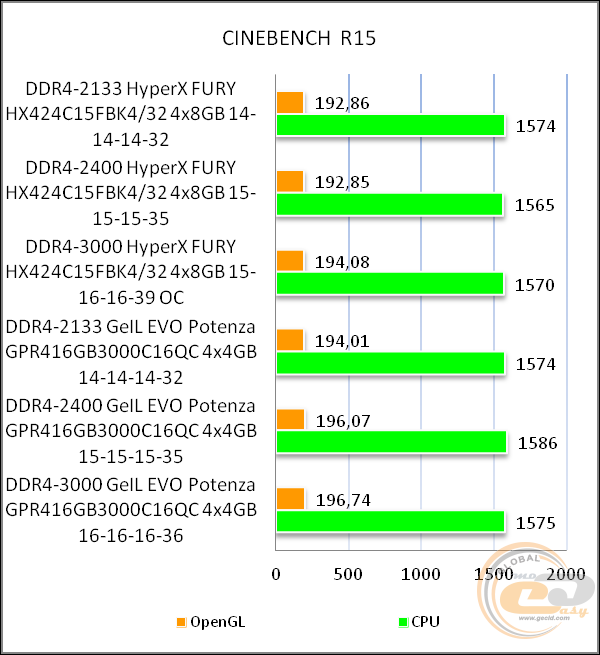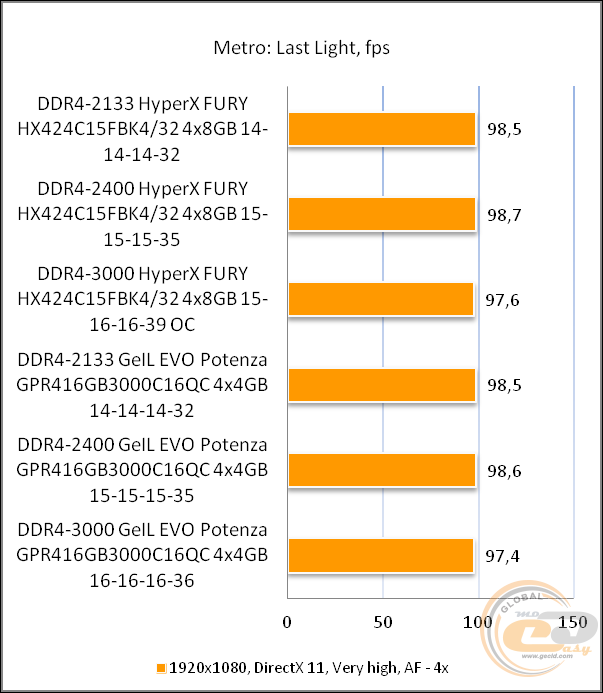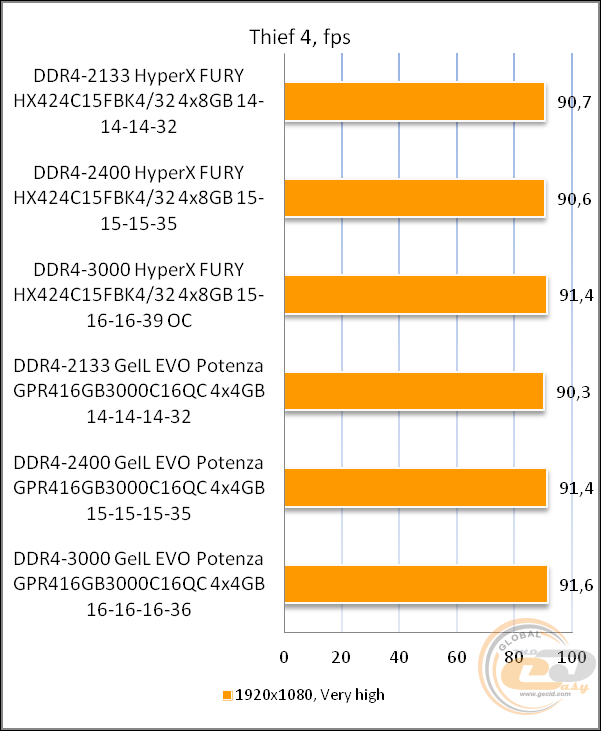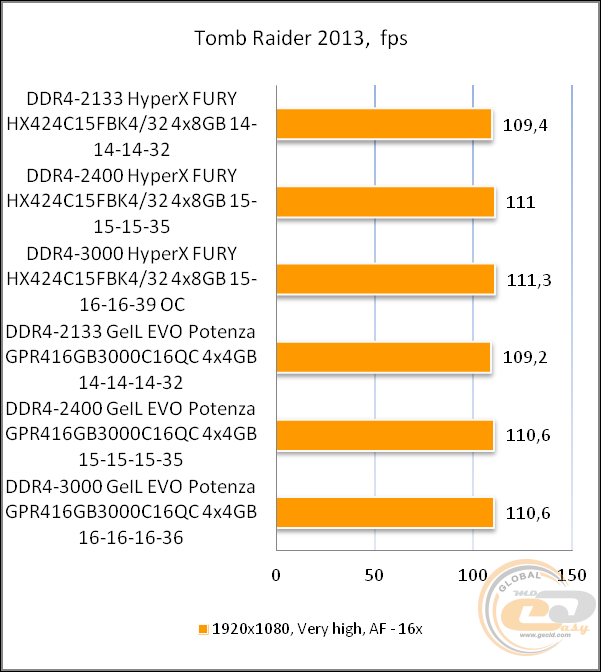 According to testing, the difference between the modes DDR4-2133 MHz, DDR4-2400 MHz DDR4-3000 MHz will be most noticeable in the synthetic benchmarks like AIDA64 or applications where the operation depends on the frequency of memory subsystem. Thus, increasing the frequency from 2133 MHz to 3000 MHz results in a 10% increase in read speed and 28% growth in copy speed.
However, if we talk about more mundane tasks, here you should not wait for particular increase of the PC speed. So we can conclude that modern games and programs are poorly optimized for the possibility of fast memory and their frequency potential remains slightly required.
As for the comparison DDR4-2400 HyperX FURY HX424C15FBK4/32 with his opponent, in similar modes both sets showed similar results. However, in pure synthetic (AIDA64) you will have a small advantage for the hero of the review (within 3-8% depending on the test).
Социальные комментарии Cackle