Review of RAM kit DDR3-2400Silicon Power Xpower SP008GXLYU240NDA (8 GB)
Series of RAM SiliconPower Xpower is designed primarily for enthusiasts of computer technology and overclockers. It contains kits with operation frequency from 1600 to 2400 MHz and a total capacity from 8 to 16 GB. The special charm is provided the red metal radiator that contributes to efficient removal of excess heat, which is very important for chips for higher clock speeds.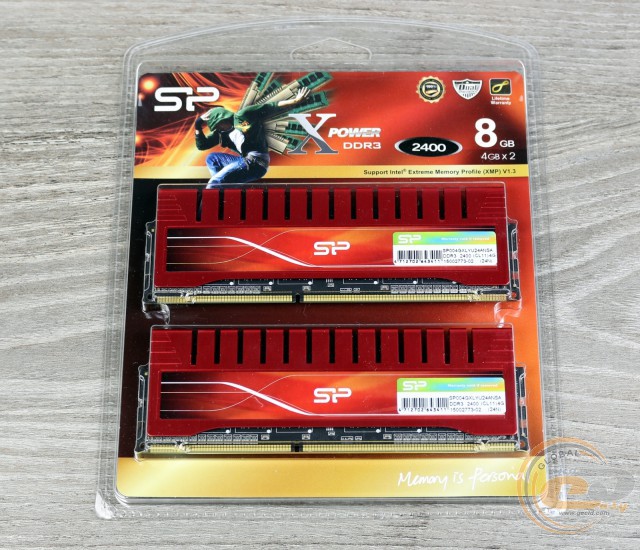 Tested RAM kit DDR3-2400 Silicon Power Xpower SP008GXLYU240NDA consists of two strips, with total capacity of 8GB. It runs at 2400 MHz in dual channel mode, therefore is ideal for a productive game or overclocking configuration.
The specs:
Producer and model

DDR3-2400 Silicon Power Xpower

Kit marking

SP008GXLYU240NDA

Module marking

SP004GXLYU24ANSA

Memory

DDR3

Form-factor

DIMM

Quantity of modules in a kit

2

Capacity of each module, GB

4

Total capacity of memory kit, GB

8

Organization

512М х 8

Rated supply voltage, V

1,50

Standard operation mode

DDR3-1600 11-11-11-28

DDR3-1333 10-9-9-24

DDR3-1333 9-9-9-24

DDR3-1066 8-7-7-19

DDR3-1066 7-7-7-19

DDR3-800 6-6-6-14

XMP profiles

DDR3-2133 11-12-11-30 @ 1,6

DDR3-2400 11-13-13-32 @ 1,65

Producer website
Package and design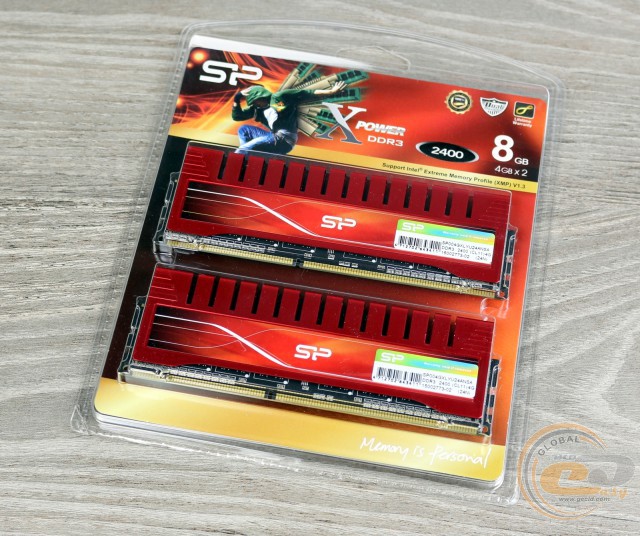 Memory kit DDR3-2400 Silicon Power Xpower SP008GXLYU240NDA comes in a plastic blister that protects modules against static electricity and mechanical damage.
The package has a cardboard mat with the basic technical information about the product: the operating frequency (2400 MHz), the total capacity of memory (8 GB) and the number of modules in a kit (2 pieces). Also, there is mention of a lifetime warranty.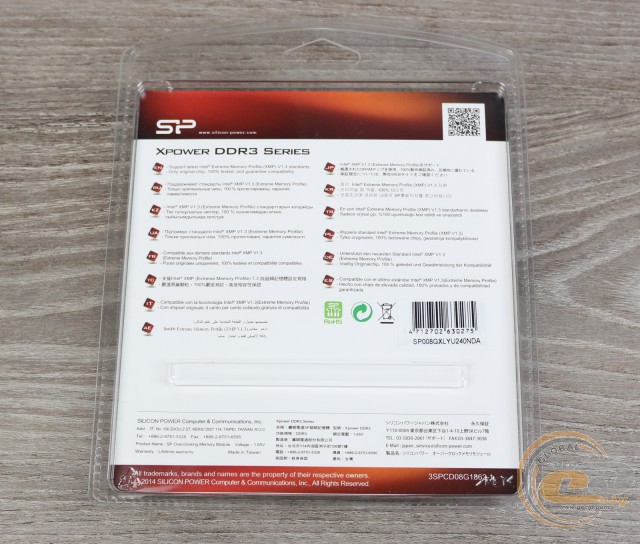 The back of the blister placed information about other features of DDR3-2400 Silicon Power Xpower SP008GXLYU240NDA: stock metal radiator support Intel XMP profiles and thorough testing of chips.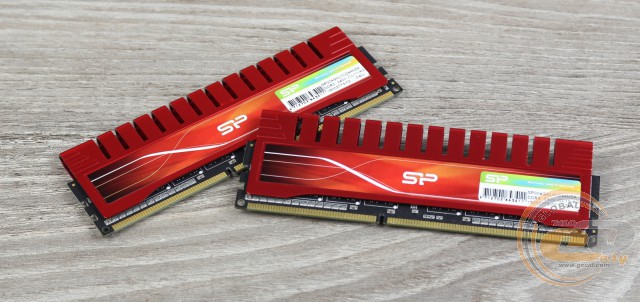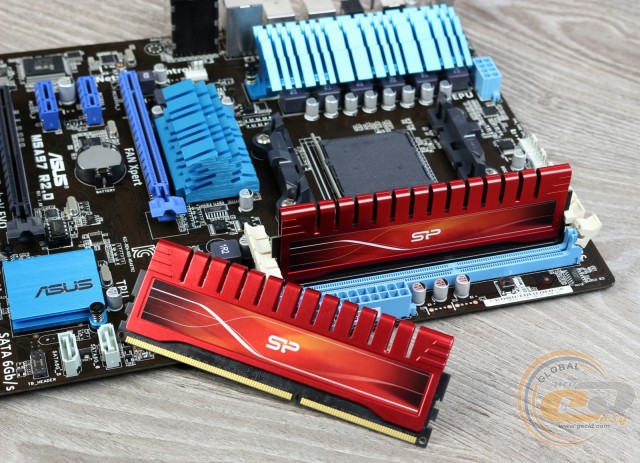 Radiators of the kit demonstrate aggressive red-spiked design indicating the focus on the audience of enthusiasts. The ridge rises significantly over the edge of the PCB (more than a centimeter), and this issue should taken into account if you plan to install the system with a massive tower cooler.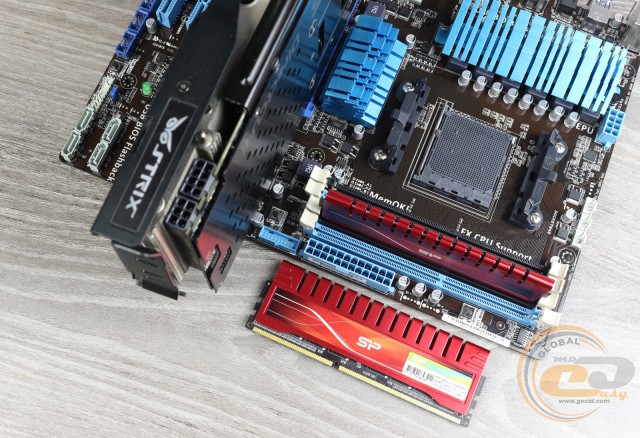 The cooler consists of two metal plates, which are very securely fastened together. If you decide to look inside, don't forget that it should be done very carefully to avoid damaging the memory chips.
Also we tested a cooling system, and the result did not disappoint us: under the normal load, the temperature of the modules was 39,3°C and overclocking only rose to 40,1°C. It is quite a decent result.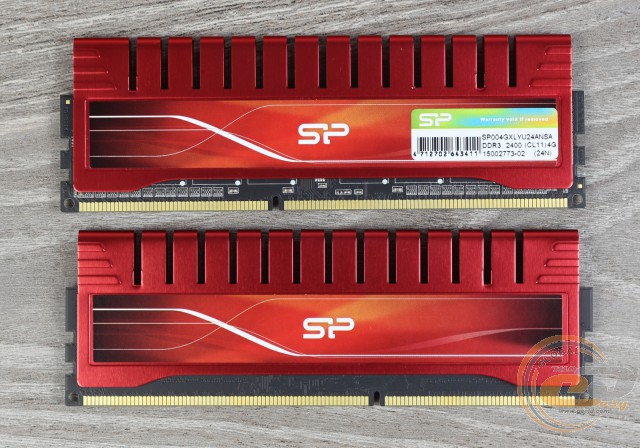 Each radiator has a sticker with information about a particular module: labelling (SP004GXLYU24ANSA), the operating frequency (2400 MHz), the amount of delay CL (11) and capacity (4 GB).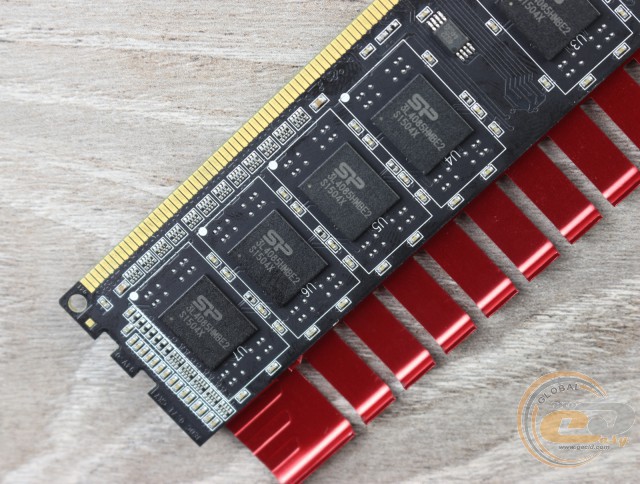 The memory modules have a one-sided arrangement, that is, the chips are placed on one side of the PCB, eight pieces and each with a capacity of 4 GB. And to provide improved heat dissipation they are in contact with the heat sink plate via a special thermal interface.
Indicated marking did not allow us to know any more information about chips. We can only assume that the chips were made to order, as the company Silicon Power does not have its own factory lines to create them. Nevertheless, they must undergo a thorough check, so their quality is no doubt. Confidence in the reliability is provided by lifetime warranty.
Technical features and standard operation modes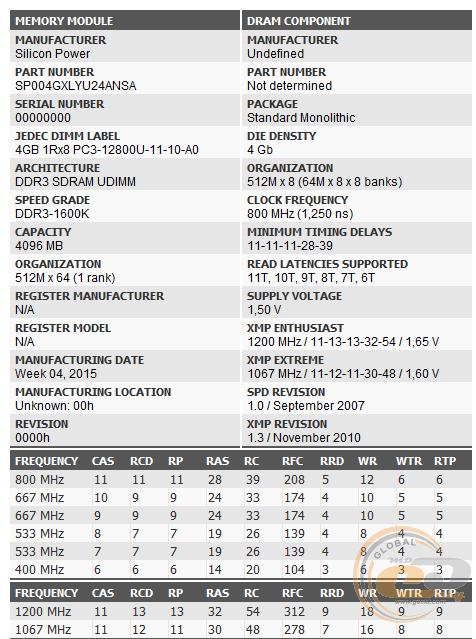 Using specialized software Thaiphoon Burner we could to receive detailed specifications about set DDR3-2400 Silicon Power Xpower SP008GXLYU240NDA. The concise and detailed reports are available in the screenshots above.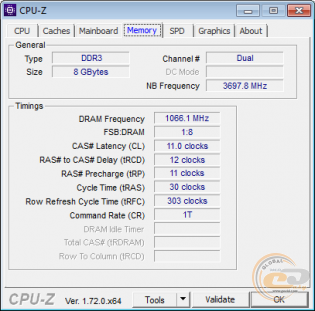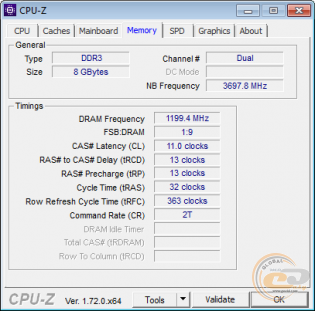 The SPD contains two XMP profiles with frequencies 2133 and 2400 MHz and voltage of 1.60 and 1.65 respectively. Their activation did not create any problem.
Testing
The following equipment was used to test the RAM kit DDR3-2400 Silicon Power Xpower SP008GXLYU240NDA:
CPU

Intel Core i7-4770K (Socket LGA1150, 3,5 GHz, L3 8 МB)
Turbo Boost: enable
C1E: enable

Motherboard

ASRock Fatal1ty Z97X Killer (Socket LGA1150, ATX)

Cooler

Scythe Kama Angle Rev.B

Video card

ZOTAC GeForce GTX 480 AMP! (NVIDIA GeForce GTX 480, 1,5 GB GDDR5, PCIe 2.0)

Hard disk

Hitachi Deskstar HDS721616PLA380 (160 GB, 16 МB, SATA 3 Gb/s)

Optical drive

ASUS DRW-1814BLT SATA

PSU

Seasonic SS-660KM (660 W, Active PFC, 80 PLUS Gold, 120-mm fan)
The opponent was used a kit DDR3-2400 HyperX Savage HX324C11SRK4/32 with capacity of 32 GB. The kits were tested in the following modes:
Model

Operation speed, MHz

Latency set

DDR3-2400 Silicon Power Xpower SP008GXLYU240NDA

1600

11-11-11-28

2133

11-12-11-30

2400

11-13-13-32

DDR3-2400 HyperX Savage HX324C11SRK4/32

1600

11-11-11-28

2133

11-13-13-30

2400

11-13-14-32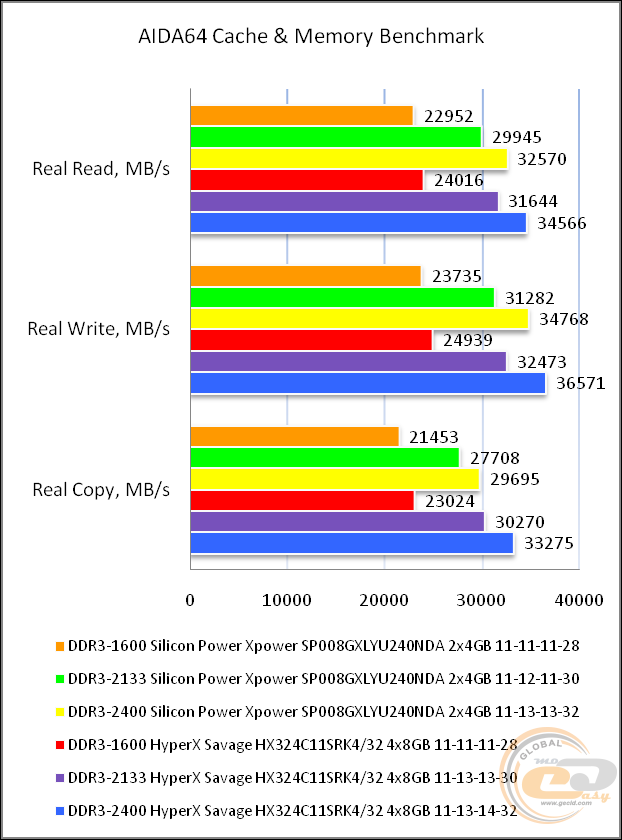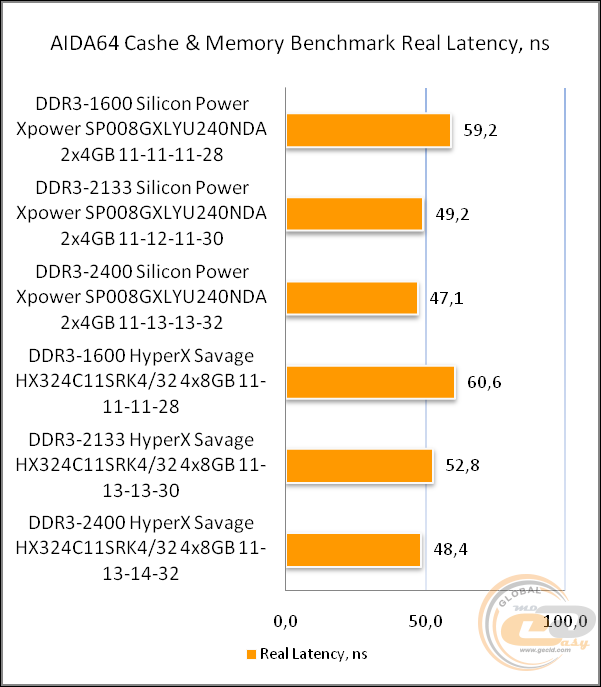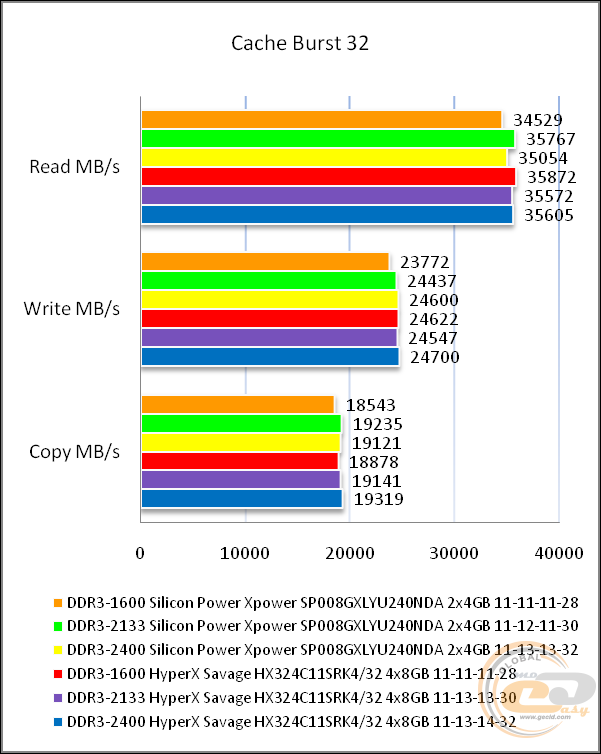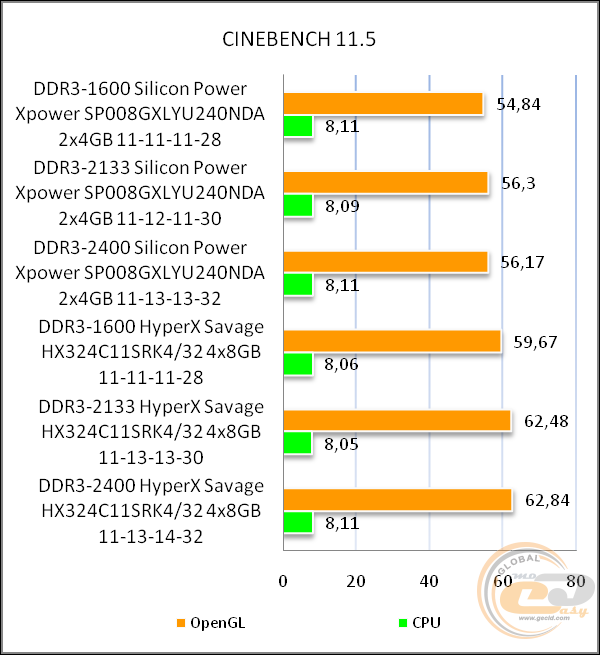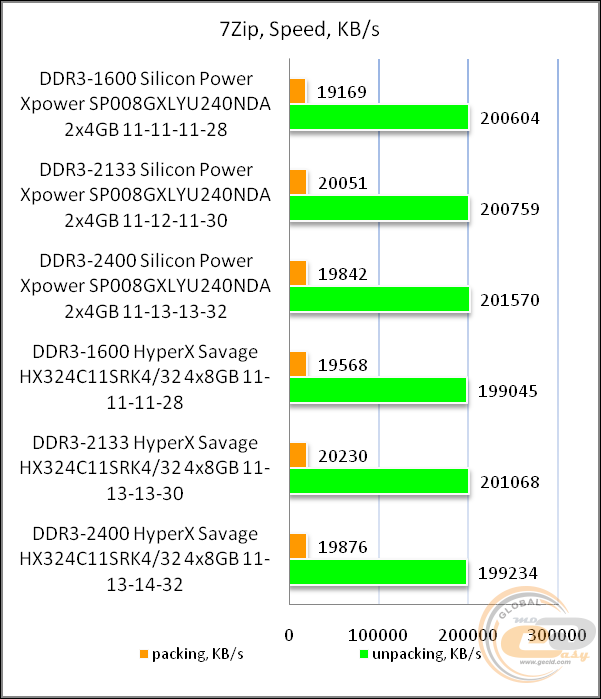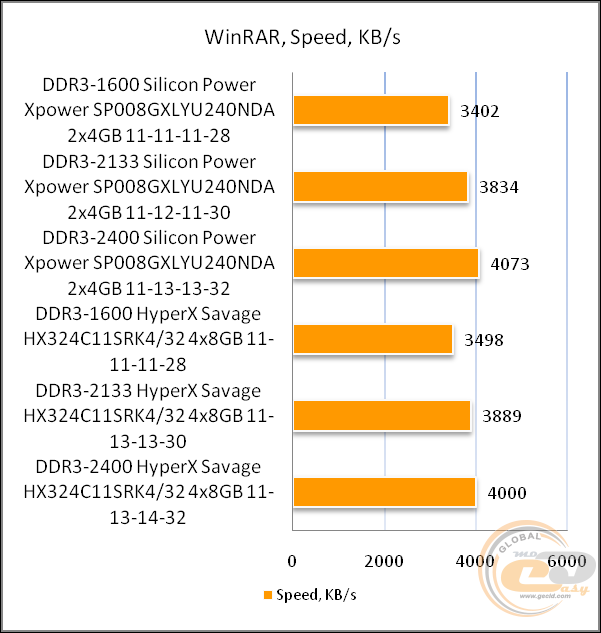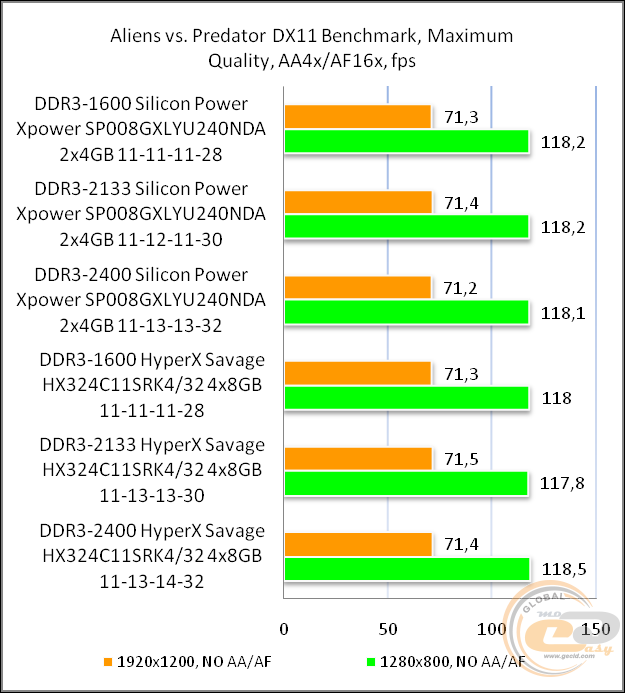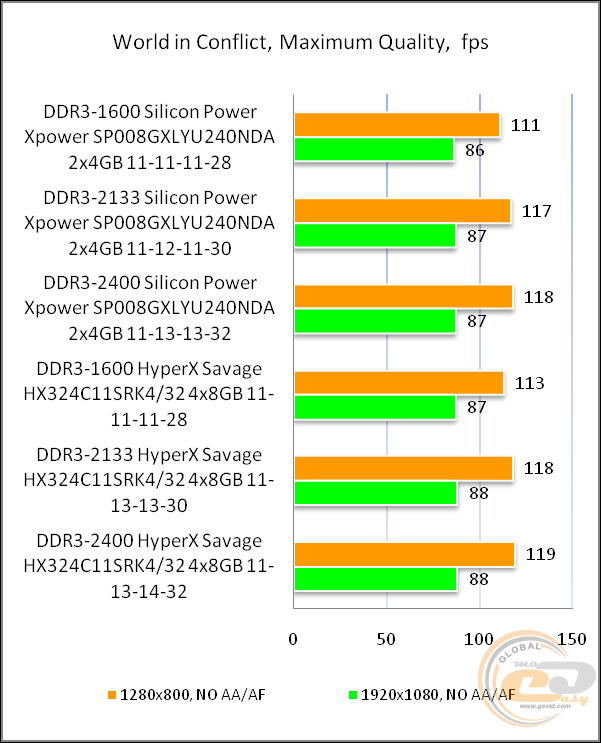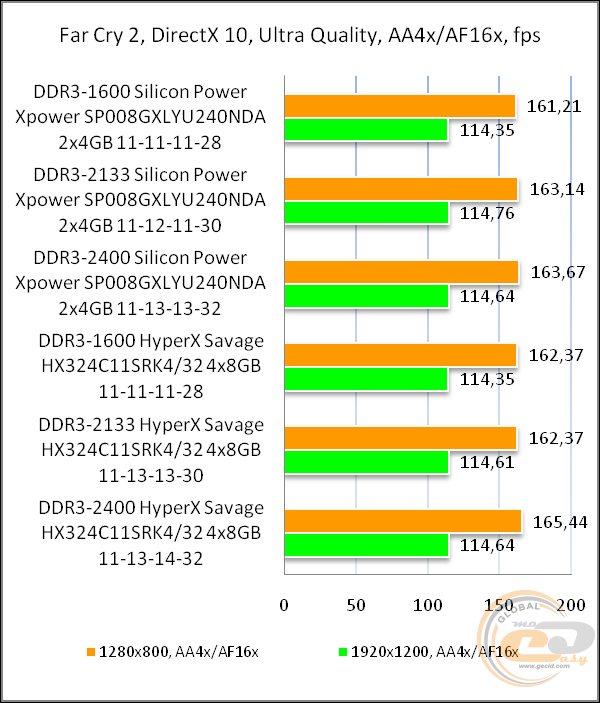 It is quite expected that a significant difference between the modes DDR3-1600 MHz, DDR3-2133 and DDR3-2400 MHz MHz is evident in synthetic tests, for example, AIDA64, and demanding to the frequency of the memory applications tied to reading and writing large amounts of data. In such case the performance increase was about 20-30%.
In most real everyday situations, such as playing games, multimedia applications and other programs, the difference in the frequency of the memory subsystem does not exceed 10%.
As for comparing the kits of memory, in general, they provided comparable results with situational advantage of one or the other kit in every benchmark.
Социальные комментарии Cackle