The most interesting software innovations and events. Release 145
Every day a huge amount of different software is produced and updated. To help you to sort out these updates our portal continue to provide a series of articles devoted to the most interesting events in the world of software industry. For ease searching all programs and utilities are divided into topics.
Software events
Windows 10: update details and minimal requirements
Omar Khayyam has written a perfect line that fully describes the latest events around the Windows 10: "That's the way it is! Light a fire and drop it into the water." This, of course, talking about information regarding free upgrade of illegal copies of Windows 7 and Windows 8.1 to Windows 10. This was said in a telephone interview by Head of Microsoft operating systems Terry Myerson.
According to the third law of Chisholm, any suggestions are understand differently than it is said by the speaker. The statement Myerson was seen as an opportunity to legalize the vast army of pirates. However, the euphoria about it did not last long. The next day, the official speaker of Microsoft said that there was a wrong interpretation: the illegal versions of Windows 7 and Windows 8.1 really can be upgraded to Windows 10 till 2016, but in this case, the user also gets inactivated version of the operating system. Licensed version of Windows 10 will receive only those who pre-purchased Windows 7 or Windows 8.1.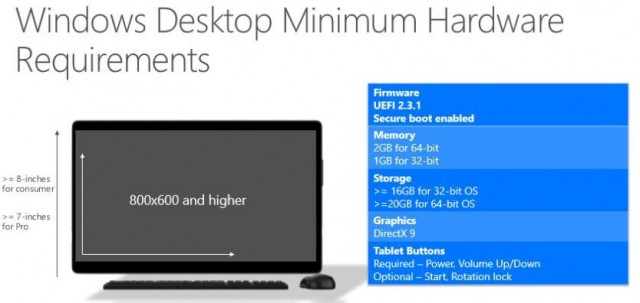 Also recently we learned the minimum system requirements for the desktop version of OS Windows 10. In particular, the 32-bit version will require 1 GB RAM and 16 GB of permanent memory. 64-bit versions requires at least 2 GB of RAM and 20 GB of permanent memory. Also, the imperative is graphics adapter with support for API DirectX 9. Diagonal of the display should not be less than 8 inches, and resolution below 800 x 600 pixels.
Setting of PC components
Thaiphoon Burner 9.4.3.0 Build 0316
Thaiphoon Burner is constantly used in testing the memory modules. Due to the progressive algorithms and modern methods it allows you to get complete information about the installed memory modules.
Overclockers can also use it to access the parameters SPD EEPROM, which allows you to overclock the RAM modules. Or vice versa, manufacturers can apply it to protect the SPD EEPROM from any action of the user.
Additionally Thaiphoon Burner has enhanced support for profiles Intel XMP, and built-in component SPD Browser allows to choose the most appropriate XMP-profile for a particular user's system.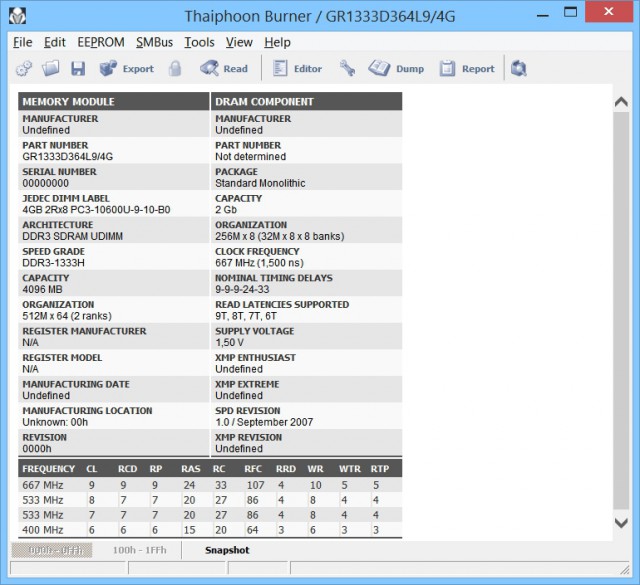 The new version of Thaiphoon Burner 9.4.3.0 Build 0316 boasts the following improvements:
The module SPD Browser has a new database of XMP-profiles containing detailed information about the components of a system. This greatly simplifies the search for maximum compatibility with a specific user system Intel XMP-profile.
Added support of the SMBus controller for platform Intel Bay Trail.
Access of controller SMBus server processor Intel Xeon D-1500 to the SPD EEPROM.
Improved methods of interpretation of SPD-information for the latest DDR4 SDRAM-products of company Micron Technology.
Developer: Vitaliy Jungle
Distribution mode: free demo version/paid version
Download: Thaiphoon Burner 9.4.3.0 Build 0316
GPU-Z 0.8.2
GPU-Z utility doesn't require special introduction, as it already deserved honor and respect among the users. We recall only that it is used to obtain the maximum possible information about the installed graphics card, monitor the changes in some of its parameters and diagnose certain problems. List of its key advantages can be supplemented by the following paragraphs:
does not require installation (optional installable package file is present);
cares for system resources;
allows the validation of video settings;
absolutely free.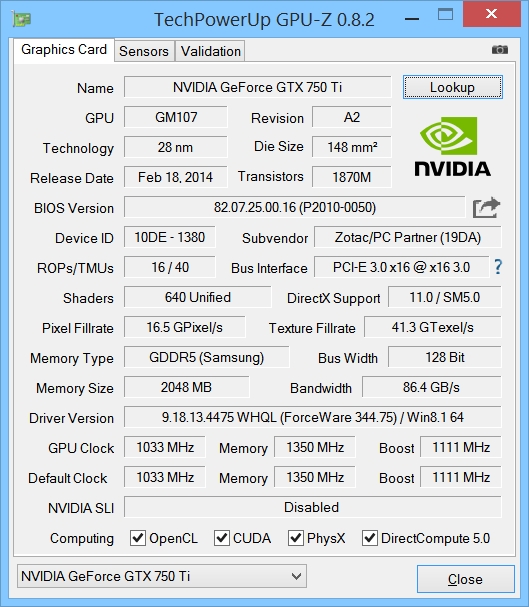 List of key changes in the program GPU-Z 0.8.2 is as follows:
added button «Lookup», which reflects a page of used graphics card in the site database Techpowerup.com;
supports for Windows 10;
added support for graphics cards NVIDIA GeForce GTX TITAN X, GTX 980M, GTX 970M, GTX 965M, GTX 845M, GTX 760 Ti OEM, GTX 660 (960 shaders), GT 705, GT 720, GT 745M, NVS 310, Grid K200;
added support for graphics cards AMD Radeon R9 255, FirePro W7100, HD 8370D, AMD R9 M280X, R9 M295X;
added support for integrated graphics processors of series Intel Broadwell;
improved support for adapter Intel GMA3600;
improved operation stability with APU AMD Kaveri;
added logo AMD APU and updated some of the other;
the correct reading of information from the sensor use the PCI Express graphics cards NVIDIA;
bugs recovery.
Developer: TechPowerUp
Distribution mode: free
Download: GPU-Z 0.8.2
HWMonitor 1.27.0
HWMonitor is a compact and necessary utility for monitoring system status. For this purpose it reads the key information from the sensors (temperature, power supply and fan speeds) and outputs it to the screen in a convenient form. The uniqueness of this program lies in its ability to read parameters from the sensors that are placed directly on a chip of some modern processors. In general, the utility is capable of displaying:
the temperature of the CPU;
temperature and supply voltage of certain motherboard components;
the status of key supply lines;
the internal battery of mobile computers;
graphics card GPU temperature;
clock frequency of the CPU and GPU;
the temperature of the memory modules (if equipped with appropriate sensors);
the percentage of CPU and GPU resources.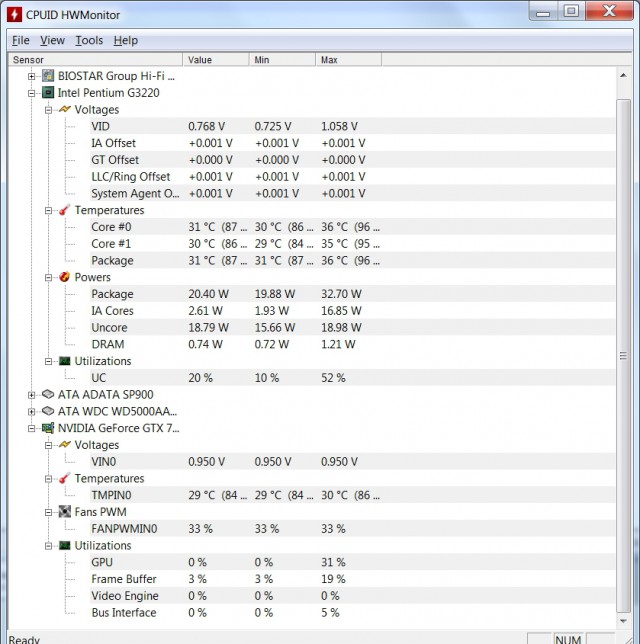 The version HWMonitor 1.27.0 contains the following changes:
added ability to display of the clock frequency of the CPU and GPU;
added preliminary support for processor Intel Core M of family Intel Skylake.
Developer: CPUID
Distribution mode: free
Download: HWMonitor 1.27.0
Setting and optimization of operating system
System Mechanic Free 14.5.0.345
System Mechanic Free is designed for integrated services of operating system Windows. Since this is a free version of a functional product, its set of capabilities is a bit limited. However, for undemanding users it will be enough. List of feature for System Mechanic Free includes the following:
Registry Tuner scans the registry for errors and fixes them;
Internet Connection Repair solves some popular problems that prevent access to the Internet;
Shortcut Repair repairs damaged shortcuts;
Memory Mechanic frees mistakenly used memory in real-time;
Startup Optimizer Basic optimizes the speed of loading the operating system Windows;
Drive Accelerator Basic provides defragmentation of drives;
PC Cleanup allows you to clean the system from unnecessary files.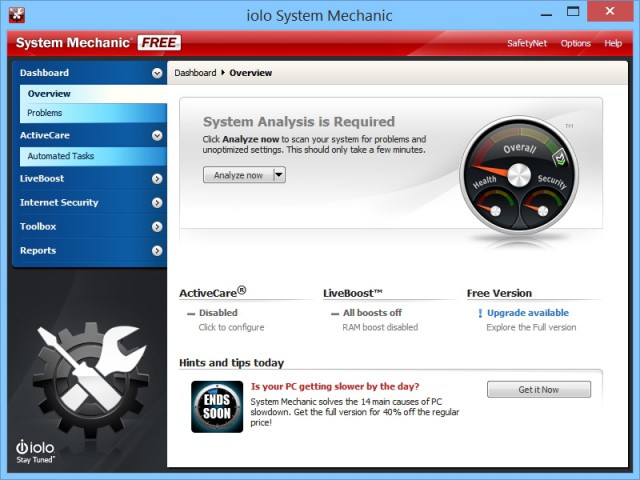 The new version of System Mechanic Free 14.5.0.345 has improved modules Memory Mechanic and Registry Tuner.
Developer: iolo technologies LLC
Distribution mode: free
Download: System Mechanic Free 14.5.0.345
IObit Unlocker 1.1
Probably every user faced with situations when you want to delete, move or rename a file or folder, but the system writes: "Can not delete (move or rename) the specified object, since it is used by another program." Often in such cases, even reboot does not help. But the program IObit Unlocker will cope with this problem.
Once installed it integrates into the context menu, so it can be activated in two ways: to run the main window and drag a necessary file to be deleted or click right click on the desired object. After that IObit Unlocker will determine the status of the file (locked or not) and will allow to realize a series of actions: "Unlock", "Unlock and rename", "Unlock and move", "Unlock and copy" and " Unlock and remove."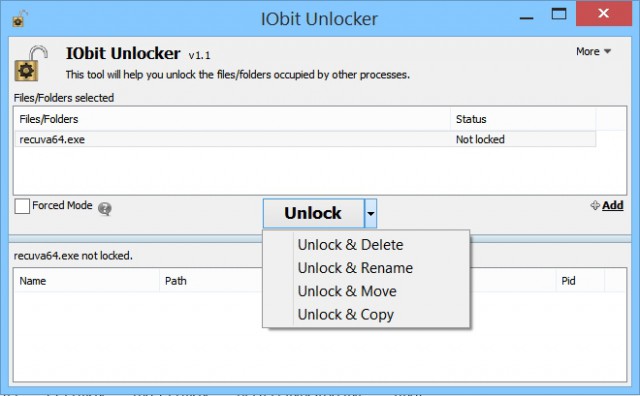 IObit Unlocker 1.1 version has the following changes:
support for Windows 8, 8.1, RTM;
improved graphical user interface;
toolbar is deleted;
bugs recovery.
Developer: IObit
Distribution mode: free
Download: IObit Unlocker 1.1
Defraggler 2.19.982
Each HDD and SSD-drive from time to time requires defragmentation operations to maintain optimal access speed. For this purpose there are many different programs. One of them is Defraggler, from the renowned Piriform.
The main advantage of this solution over its competition is the ability to defragment the drive as a whole, and individual files and folders. Defraggler list of advantages can be expanded by the following item:
the use of safe algorithms when working with data movement;
the presence of an interactive map of the disk, which visualizes the operation of the program;
support for the mode «Quick Defrag», which provides fast, but less efficient defragmentation;
availability of the scheduler of module defragmentation;
compact size and minimal consumption of system resources;
support for multi-language interface.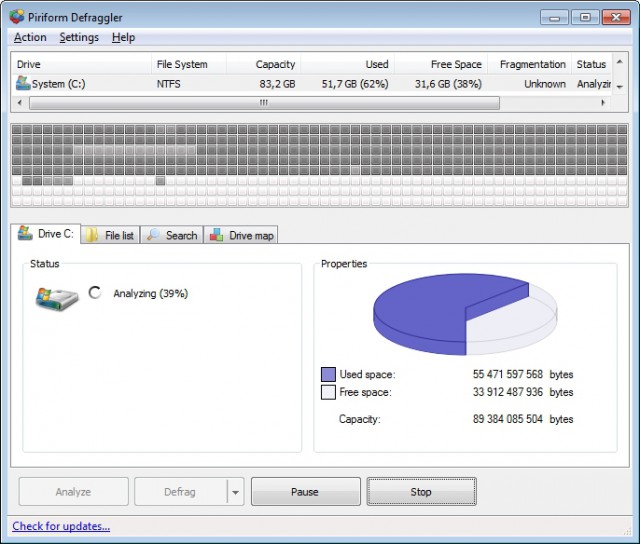 Defraggler 2.19.982 version has the following improvements:
the ability to transfer files or folders to the end of the disc;
improved functions SSD Optimize and Quick Optimize;
added option «/CHECKERRORS» to check the disk for errors by a script;
added ability to disable the option of testing the disk after defragmentation;
improved support for localization;
minor changes in the GUI;
bugs recovery.
Developer: Piriform
Distribution mode: free
Download: Defraggler 2.19.982
Wise Data Recovery 3.52.189
If you accidentally have deleted important files or folders, thus bypassing the recycle bin (combination [Shift] + [Delete]), do not rush to despair, because the situation will be improved by free program Wise Data Recovery. It is designed to scan sections of internal and external hard drives (including flash drives and memory cards), where the files can be restored. List of its advantages includes:
concise and user-friendly interface;
the ability to recover various file types;
presence of a special status of a color mark next to each file, informs how successful it will be restored.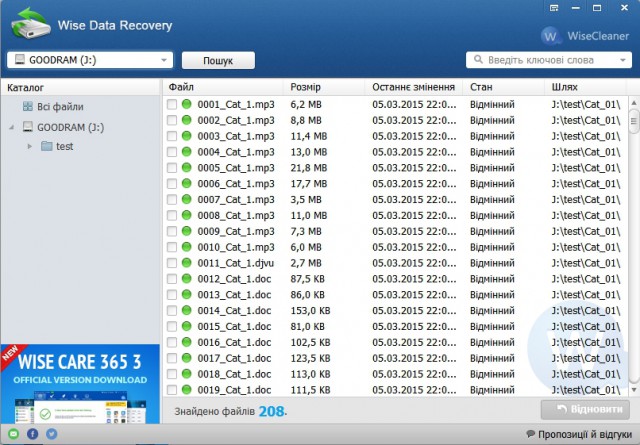 The new version of Wise Data Recovery 3.52.189 has the following changes:
optimized display of the names restored from the Recycle Bin files;
some language localization were updated.
Developer: WiseCleaner
Distribution mode: free
Download: Wise Data Recovery 3.52.189
Internet usable programs
it is a very comfortable and functional text editor. one of its key
Социальные комментарии Cackle