SmartphoneBenQ F5: review and testing
Probably for most users the Taiwanese company BenQ is primarily associated with monitors, projectors and various computer peripherals. Some may remember the mobile phones under the brand BenQ-Siemens, which were issued from 2006 to the second half of 2008. After five year break the company decides to return to the rapidly growing smartphone market with two models: BenQ F3 and A3, which received good specifications and were aimed at the local market. For now the arsenal of the Taiwanese manufacturer includes two current smartphones - BenQ T3 and BenQ F5, designed for the international market in the medium and high price range, respectively. The older model was tested in our test lab and we will try to understand how it is interesting to potential buyers.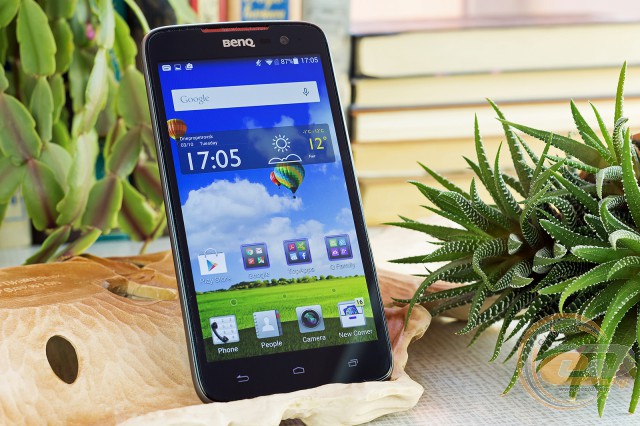 The novelty has a modern look with qualitative materials, 5-inch HD IPS-display, common quad-core processor Qualcomm Snapdragon 400, the main camera module 13-megapixel Sony Exmor sensor and a number of other equally interesting features.
The specs:
Producer

BenQ

Model

F5

Type, form-factor

Smartphone, monoblock

Communication standards

2G (GSM)

850 / 900 / 1800 / 1900 MHz

3G (UMTS)

850 / 900 / 1900 / 2100 MHz

4G (LTE)

800 / 1800 / 2600 MHz

Broadband data transfer

GPRS (32-48 Кb/s), EDGE (236 Кb/s), HSPA+ (up to 42 Мb/s), LTE Cat.4 (up to 150 Мb/s)

SIM-card

Micro-SIM

CPU

Qualcomm Snapdragon 400 (MSM8926): quad-core ARM Cortex-A7, up to 1,2 GHz, L2 cache 1 МБ, 28 nm process

GPU

Qualcomm Adreno 305: up to 450 MHz, support OpenGL ES 3.0, OpenVG 1.1, OpenCL 1.1 and Direct3D 11.1

Display

IPS, 5", 1280 × 720 точек (294 ppi), multi-touch (up to 5 presses), protective glass

RAM

1 GB

ROM

16 GB

Card-reader

microSD (up to 64 GB)

Interfaces

1 x micro-USB

1 x audio mini-jack 3,5 mm

Multimedia

Speaker system

Mono

Microphone

Stereo

FM-radio

+

Camera

Main

Sony Exmor: 13 Мp, aperture f/2.2, backward matrix lightning, autofocus, LED-flash, video recording in format 1080p (30 FPS)

Front

2 Мp, aperture f/2.8, , video recording in format 720p

Connectivity

Wi-Fi

802.11 b/g/n

(Wi-Fi Direct, Wi-Fi Hotspot)

Bluetooth

4.0

GPS/GLONASS

+/+

NFC

+

IR

–

DLNA

+

Sensors

Accelerometer, gyroscope, proximity sensor, light sensor, LED-indicator, magnetometer

Battery

lithium-ion cell, non-detachable: 2520 mАh

Charger

Input: 100~240 V AC at 50/60 Hz

Output: 5 V DC 1 А

Other

–

Dimensions

142,95 х 72,8 х 8,5 mm

Weight

125 g

Color

Black / White

OS

Android 4.4.2 KitKat + brand skin Q Home UI

Warranty

12 months

Producer website
Package and content
BenQ F5 comes in a nice white cardboard package, which is characterized by restrained and concise design. Its front side contains an image of the gadget indicating the model and manufacturer. The face side (in the form of icons) notes about the support of key advantages: mobile networks fourth generation, main camera module 13 megapixel, NFC module, the possibility of reducing the brightness of the blue sub-pixels processor, Qualcomm Snapdragon 400, the battery 2520 mAh and 5-inch HD IPS-display. The rear part of the box is devoid of any information.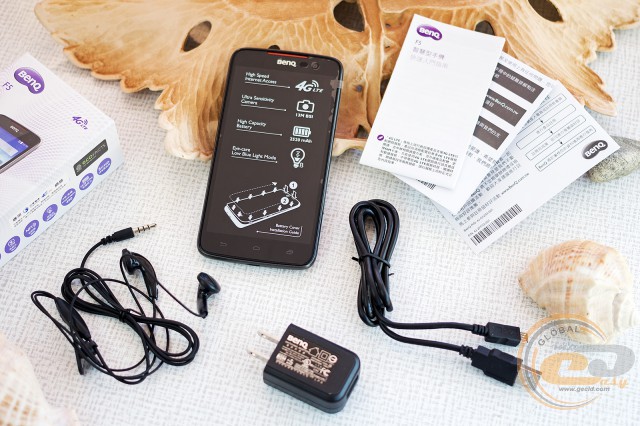 Together with the smartphone potential buyer will find in the box the following accessories:
User's Guide
warranty card;
charger 5W (5V, 1A);
cable micro-USB↔USB;
headset with in-ear headphones.
Design and elements layout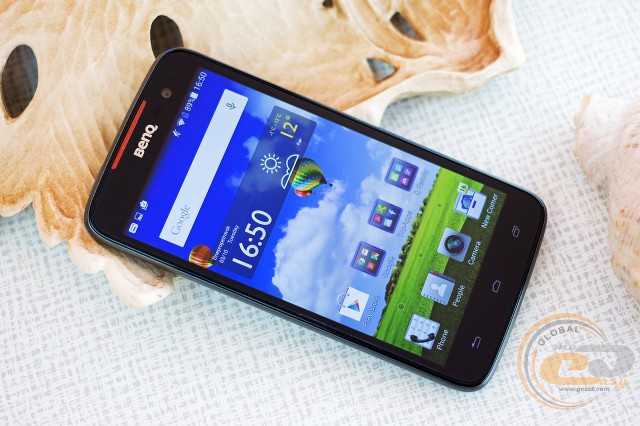 Smartphone BenQ F5 has a plain and concise design. The housing has a rectangular shape with slightly rounded ends and sidewalls. New product is available in the classic color variations black and white. In the first case, the strict design elements are successfully added by red (multimedia speakers framing the main camera), which are absent in the white version. Dimensions of the device (142.95 x 72.8 x 8.5 mm) are slightly larger than that of competitive analogues equipped with 5-inch display. The reason is rather wide frames around the screen, which is approximately 5 mm on each side, 17 mm at the bottom and 15.5 mm at the top. Despite this, the smartphone is quite comfortable in your hand and it seems smaller than it actually is, including by rounding and modest weight (125 g).
Most of the front panel is taken by the display, covered with mineral glass (the manufacturer does not report about the marking), which has a glossy black contour edge. Above the display are: considerable earpiece grille, the manufacturer's logo, light and proximity sensor, front camera, as well as an indicator of events (can be turned off in the settings). If you have missed calls or events it flashes in green, if there's no charge – red, during charging - lights red, and at the end of charging - lights up by green. Under the display there are three touch keys: "Menu", "Home" and "Back". They are applied by a translucent white paint.
Edging smoothly expands laterally and enters the rear of the top and bottom. It is made of gray semi-gloss plastic. The quality is high, but there are small gaps between the main body and the edging, which can collect dirt and dust.
The top side has a the key "Power On/lock", optional microphone and a universal audio jack (mini-jack 3,5 mm). Note not the best arrangement of the keys "power/lock" because due to the size of a smartphone it is necessary to drag or use the second hand. Partially the manufacturer has simplified this task, laying the ability to unlock the smartphone by double-tapping the screen (see "Gestures setup"), but you won't lock it in such a way. The bottom end sheltered micro-USB interface and an opening of microphone.
Volume rocker is on the right side. The left side is devoid of any controls. On both sides (toward the lower side) there are protrusions for removing the back cover.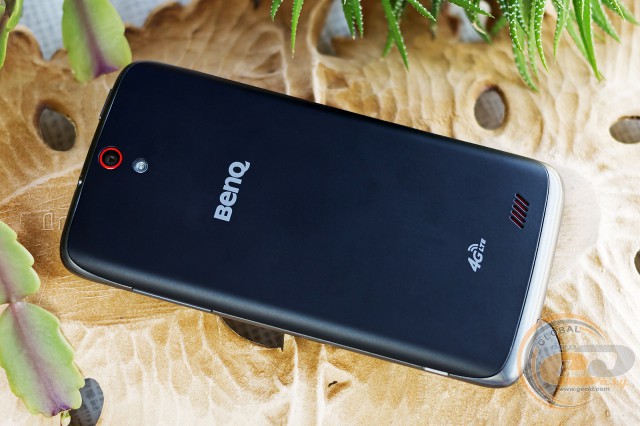 The back side of BenQ F5 is made from dark-gray matte soft-touch plastic with small inclusions. Plastic is pleasant to the touch, but rather easily soiled, as evidenced by the remains of a fingerprint. At the top is located the main camera (framed in red ring) and single LED-flash (the software of flashlight is present). Below, in the central part you can find a considerable logo BenQ. Closer to the bottom there is a designation «4G LTE». In the bottom right there is a multimedia speaker grille.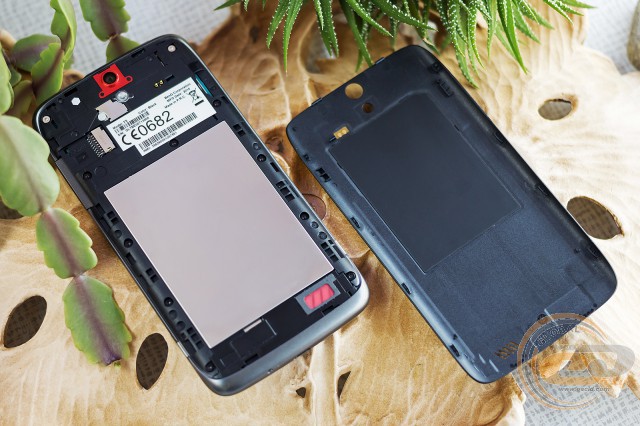 The back cover is fixed by several catches, but can be removed without much effort, providing access to the slot SIM (Micro-SIM), jack microSD, as well as to the battery. The latter is a non-replaceable. In addition, do note the sticker with service information (IMEI, S/N, Model, Color) and the country of production («Made in PRC»), which is another way to refer to the well-known China (Made in People's Republic of China).
The build quality of the smartphone is at a decent level. Under moderate pressure the body is deprived of backlash and creaking, but the screen reflects the stains. Moreover there are several small gaps between rim and the main body. In general BenQ F5 is pretty nice gadget with good ergonomics, but with some flaws.
Display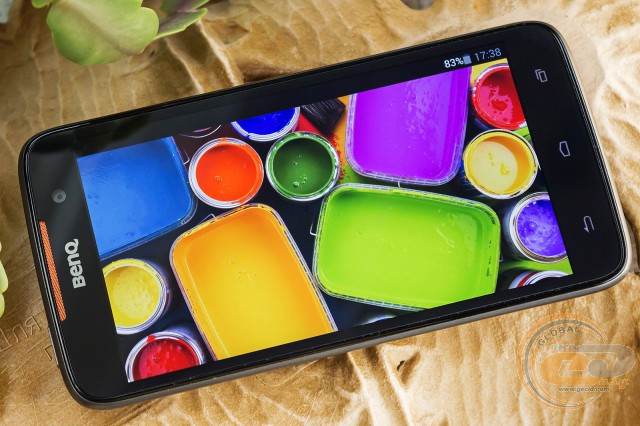 BenQ F5 is equipped with a high-quality 5-inch screen based on IPS-matrix with a resolution of 1280 × 720 and pixel density at 294 ppi. The index can be considered as good and quite sufficient to create a rather detailed picture and display the fine fonts.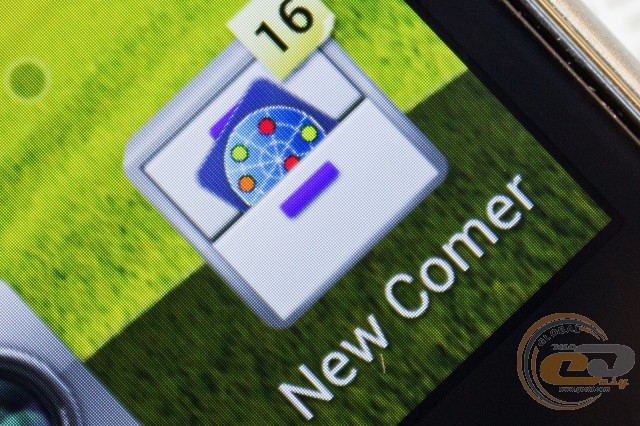 The matrix is protected by mineral glass from the influence of the surrounding (manufacturer doesn't indicate the marking). Between them there is a layer of air. This approach has its advantages and disadvantages. The first includes the relative ease and low cost of replacement in case of damage. But in direct sunlight the panel can be pale. Oleophobic (grease repellent) coating is absent, so constant care is required in order to maintain the purity of the screen.
In general, the subjective impressions of the display are quite positive, which was made possible through the use of IPS-matrix. The image is characterized by a pleasant color rendering (though with some deviation in cool shades) and a good contrast, but not very high saturation. Viewing angles (horizontal and vertical) are wide enough, but at the diagonal look there is color shift and fading of pictures. An interesting feature is an opportunity to reduce the brightness of the blue sub pixels (mode «Low blue light» in the screen settings). According to the manufacturer, it reduces eye strain. After applying this function, the image has a pronounced variation in shades of red.
The screen brightness can be changed manually or use automatic adjustment (there is a light sensor). Brightness range is sufficient to look the information on a sunny day, though the picture is significantly faded, so for a more comfortable work it is necessary to find a shade. Index of the minimum brightness is quite comfortable to work in complete darkness. Proximity sensor locks the screen when held the smartphone close to the ear. Multi-touch technology can handle up to 5 simultaneous touches. Its work does not cause any complaints.
Sound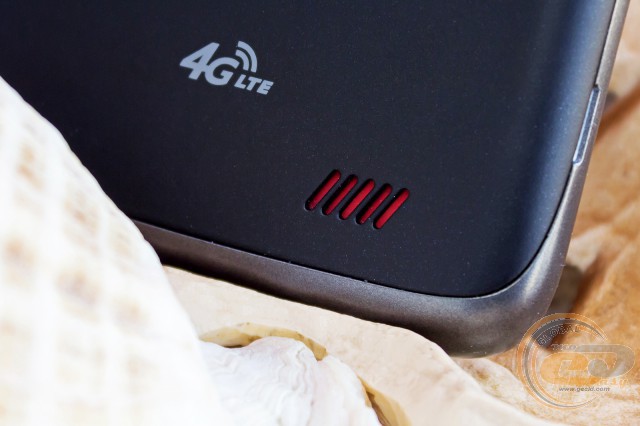 Model BenQ F5 is equipped with a multimedia speaker, which is located at the bottom rear of the case. This area is devoid of any protruding, so the sound is noticeably muted when the gadget is on a soft horizontal surface in position of the screen up. The volume level is above average, but when approaching the maximum value you can hear a slight creaking. The sound is characterized by a good detail of medium and high frequencies. Occasionally here is even small bass. In general this capacity is enough for video games and calls. You can also use a universal audio jack (mini-jack 3.5 mm) for headphones or external speakers.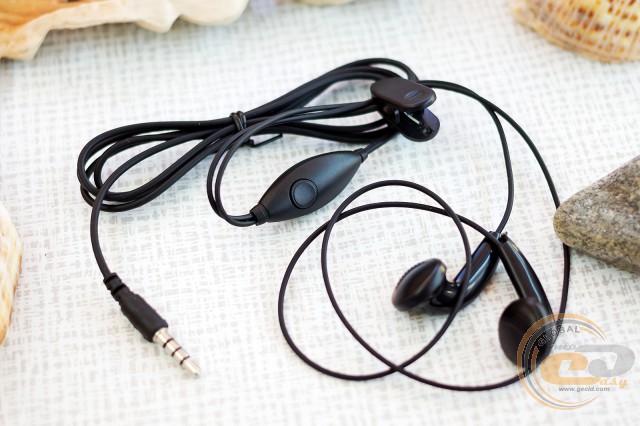 Complete headset with headphones of ear insert type is very plain, so we advise to music lovers to purchase a higher quality version. The sound in the foreign headphones was tested using gaming Kingston HyperX Cloud (impedance 60 Ohms) and vacuum Vivanco HS 200 WT (impedance 16 Ohms). In both cases the sound is pleasant and balanced, and the volume is loud enough, even with a minimum reserve. However, during testing noises were noticed that can be neutralized by the replacing the regular audio player by the alternate version.
The smartphone contains built-in radio module, which allows you to listen to FM-radio stations broadcasting in the frequency range from 87.5 to 108 MHz. Traditionally the connection of headset is required to turn on the radio. THe recorder is only useful for creating audio notes because it cannot record telephone conversations.
Camera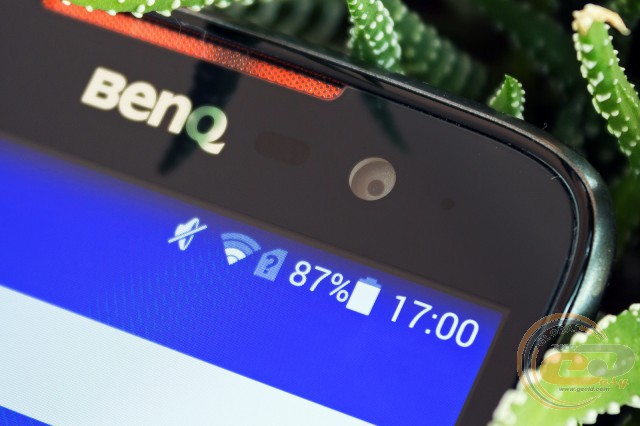 Novelty is equipped with two modules of digital cameras. Front has a sensor on the 2 megapixel, fixed focus and aperture f/2.8. Pictures and videos have a resolution of 1600 x 1200 and 720p respectively.
Camera features are enough for video, and under favorable conditions it is enough for acceptable self-portraits. Also here is software for processing texture of the skin, which smoothes out its features and drawbacks. In low light you can find noise and blur of fine details. For added convenience the manufacturer added the possibility to start shooting by the word «Cheese».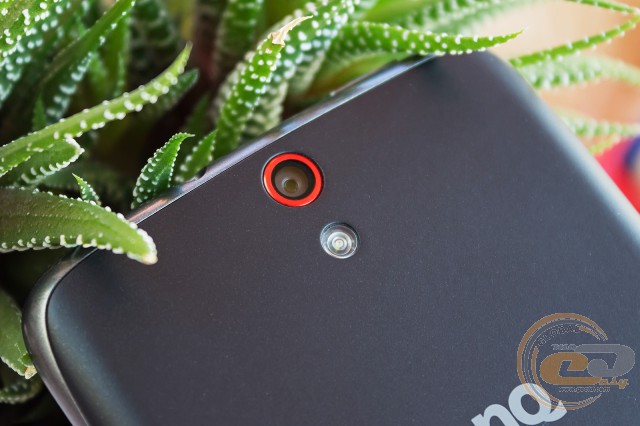 The main camera has received a 13-megapixel Sony Exmor and lens with aperture f/2.2. Here is autofocus, single bright LED-flash, and digital image stabilization (only for video recording). Maximum photo resolution is 4208 × 3120 at a ratio of 4:3. Video is taken at 1920 × 1080 (30 FPS) and has the format mp4.
Module of main camera pretty good. It allows you to get high-quality images, but only under conditions of sufficient light. Overall details are high, especially for close objects. When light levels falls there is not only lack in detail, but the appearance of artifacts and noise. In the mode "Noise Reduction" you can adjust such option. Mode «HDR» regularly helps to get a more vivid and contrasting pictures in dark scenes. Macro shooting has pleased with some good photos with pleasing color and in sufficient detail. During testing, it was observed that the camera can focus at a distance of 6 cm, but sometimes refuses to do so even with 10 cm, that can affect the level of illumination and shooting mode. The video quality is very good: the image is smooth and quite detailed. Sound is stereo.
The main menu of the camera is quite functional as has a large number of settings and modes, but looks a bit overloaded. In addition to the above mentioned mode «HDR», here are "Auto shooting", "Heightened sensibility", "Smile detection", "Serial shots", "Panorama", "Timer shooting," "Noise reduction", "Exposure compensation" and "Special effects". The video recording has the possibility of recording interval and delayed video. Independently you can adjust the resolution and aspect ratio, white balance, flash mode, shooting mode, additional lines and the value of ISO (100 - 400).
Социальные комментарии Cackle