Smartphone GIGABYTE GSMART Rome RX: review and testing
Despite the huge advertising budgets and very productive marketeers, not every user is willing to pay a significant amount of money for the advertised brand or invest in a completely uncalled range of options. Often, for such a category of people the main criteria for selection of new mobile devices are reasonable price and practicality that cover all of the advanced functionality.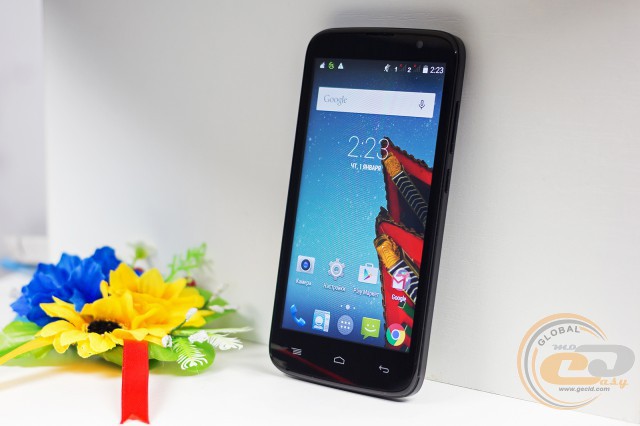 In this article we will talk about a relatively inexpensive, but quite required smartphone - GIGABYTE GSMART Rome RX, which is due to the classic design, good hardware platform and a very reasonable cost can be a good option. And we begin our review from a detailed review of the technical characteristics.
Producer and model

GIGABYTE GSMART Rome RX

Type, form-factor

Smartphone, monoblock

Communication

2G (GSM)

850 / 900 / 1800 / 1900 MHz

3G (WCDMA)

2100 MHz

4G (LTE)

−

Broadband data transfer

GPRS (32-48 Kb/s), EDGE (236 Kb/s), HSUPA (up to 5,76 MB/s), HSDPA (up to 21 MB/s)

SIM-card

Mini-SIM + Micro-SIM

CPU

MediaTek MT6582: quad-core (ARM Cortex-A7), up to 1,3 GHz,

L2 – 512 КB, manufacturing process 28 nm

GPU

ARM Mali-400 MP2: до 500 MHz,

Support for OpenGL ES 2.0, OpenVG 1.1

Display

5", 854 x 480 p (195 ppi), IPS, touch (capacitive),

multi-touch up to 2 presses, protective glass

RAM

512 МB

ROM

4 GB

Card-reader

microSD (up to 32 GB)

Interfaces

1 x micro-USB

1 x audio mini-jack 3,5 mm

Multimedia

Speaker

Mono

Microphone

Mono

FM-radio

+

Camera

Main

5 Мp, aperture f/2.8, fixed focus,

Video recording in format 720p 30 fps

Front

0,3 Мp, VGA-module, aperture f/2.8, fixed focus,

Video recording in format 480p 30 fps

Connectivity

Wi-Fi

802.11 b/g/n (2,4 GHz)

(Wi-Fi Direct, Wi-Fi Hotspot)

Bluetooth

4.0

GPS / A-GPS

+/+

NFC

−

IR

−

DLNA

+

Sensors

Accelerometer, proximity sensor, light sensor

Battery

Lithium-ion cell, removable: 2000 mАh

Charger

Input: 100~240 V AC 50/60 Hz

Output: 5 V DC, 1 А

Other

−

Dimensions

142 х 73 х 9,5 mm

Weight

155 g

Color

Black, white

OS

Android 4.4.2 KitKat

Warranty

12 months

Producer website
Package and content
Smartphone GIGABYTE GSMART Rome RX is packaged in a small, well-fitted box, which is made of high-quality high-density cardboard. It has a very pleasant and concise design and boasts a pretty good informative content. Here you can see the main features of the purchased device, and view a detailed list of specifications.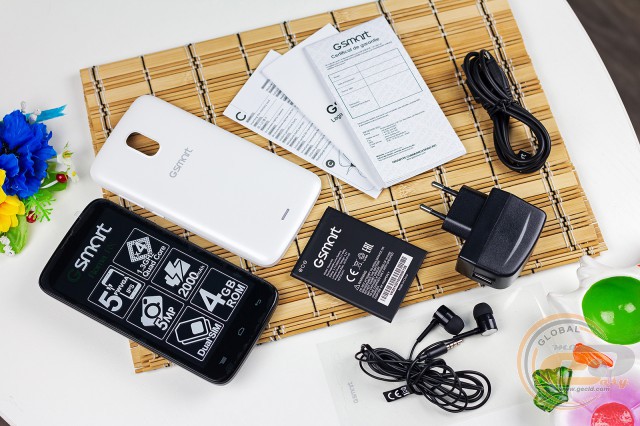 In addition to the usual elements the package of GIGABYTE GSMART Rome RX contains some useful additional accessories. So, in a box with a smartphone user will find the charger, USB-cable, a wired headset with headphones of vacuum type, additional removable white rear panel, protective film on the screen, a brief paper manual and warranty card.
Design and elements layout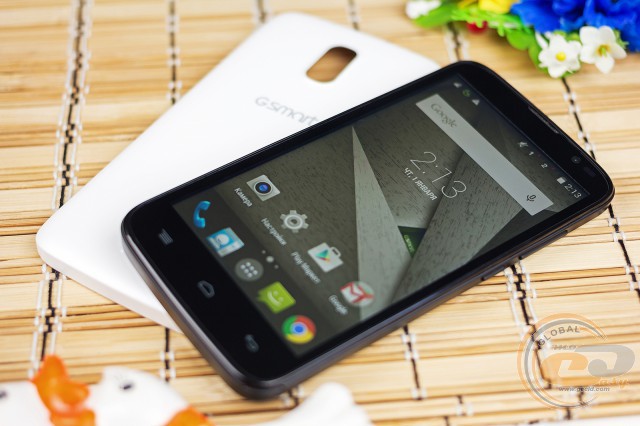 The appearance of GIGABYTE GSMART Rome RX is the embodiment of a fairly simple and classic design that is found everywhere in the market of affordable smartphones. We have a standard rectangular monoblock with slightly rounded edges and a typical arrangement of the controls.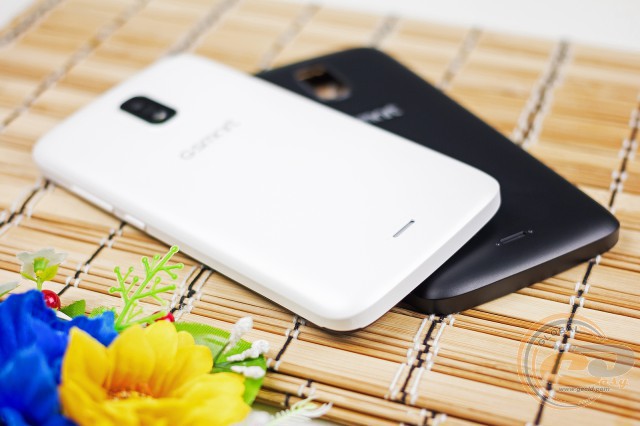 Like most other 5-inch devices, the device has a considerable size (142 x 73 x 9.5 mm) and a palpable weight (155 g), which does not prevent to be good in the hand and delight by their functionality. Also this is provided by enough high-quality plastic material of the body of the smartphone. On the one hand, it provides a pleasant tactile feel and on the other protection against fingerprints and dirt.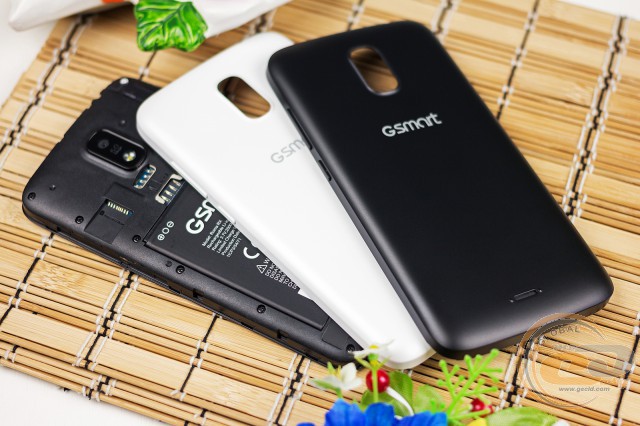 In the market the gadget is available in two colors: black and white. And the user can use one of two removable panels.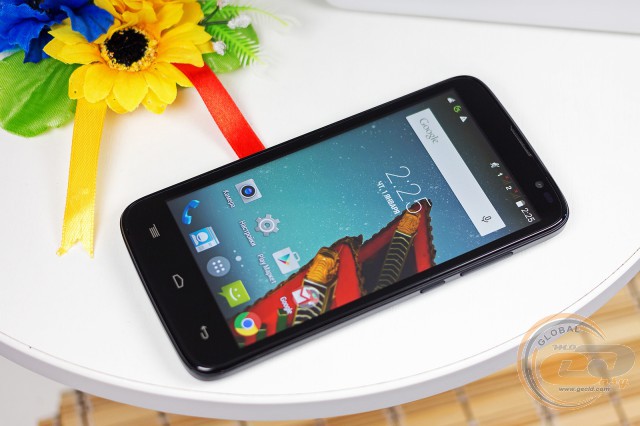 The front side of GIGABYTE GSMART Rome RX fully is covered by safety glass. It has a small border contour of glossy plastic, which in addition to decorative purposes, serves as additional protection against external influences. By modern standards, the frame around the display has average size of 13.5 mm at the top, 19 mm bottom and 5.5 mm on each side. However, this did not significantly affect the ergonomics of the device, but on the contrary.
Over the display of the smartphone contains proximity and lighting sensors, multimedia speaker grille and the front camera lens, under it - the three touch-sensitive buttons ("Back", "Home" and "Menu"), which are devoid of illumination.
The top part of the unit has a 3.5mm audio jack for the headset and port micro-USB, and on the bottom there is a small microphone hole.
The right lateral side contains the power button and volume rocker, while the left is completely free of any functional elements and connectors.
The back side of GIGABYTE GSMART Rome RX is made of soft-touch matte plastic. There is a classic set of elements: the main camera module, LED flash, the manufacturer's logo and the grill of media speaker. The back cover is kept fairly reliably in multiple latches. Also here is the access to the removable battery, two slots for card format Mini-SIM and Micro-SIM and memory card microSD.
Although the budget positioning, the smartphone has a good build quality. Body parts and structural components fit tightly enough. Only the back panel has a barely noticeable gap on the side. It is also has a good level of rigidity. Even under the more active attempts it is impossible to twist the geometry of the device, and the display doesn't have visible stains and other artifacts.
Display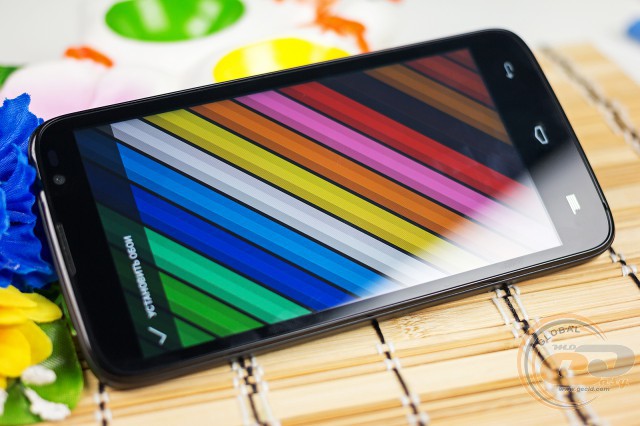 Smartphone GIGABYTE GSMART Rome RX is equipped with a 5-inch IPS-screen with a resolution of 854 x 480 pixels and a pixel density 195 ppi that is rather low value taking into account such a diagonal size. Under closer look at the display, it becomes apparent that the picture slightly lacks clarity, and system fonts (such as the smallest) seem a little blurry. Also, if desired, you can notice the pixel grid. However, under normal conditions of everyday use, for typical applications, the lack of detail in the image does not appear.
In addition, the display has a good color reproduction, high contrast and good viewing angles. Only under a diagonal deviation you can notice color shift in the direction of yellow and purple hues. However, this is a typical "disease" of low-cost IPS-matrix, which is often used in most devices of the budget segment.
The tempered glass protects the screen. It does not oleophobic coating, but there is a good anti-glare filter. A small air gap is noticed between the glass and the screen. Also for extra screen protection you can use supplied factory film.
With regard to illumination, it is at a fairly high level and has a good range of adjustment, including automatically mode. This allows you to use your smartphone in a bright sunny day and in low light conditions. The minimum brightness is slightly overstated, so in total darkness, light from the display a little affect on your eyes.
Built-in touch plate supports recognition of only two simultaneous key presses. In general, the screen is quite sensitive and responsive even at bad light touch. Also, in case of a long holding time periodically appears erratic reading of area, which is especially noticeable in games.
Despite the lack of oleophobic coating, finger sliding on the protective glass is quite pleasant. Operation in gloves is not supported.
Социальные комментарии Cackle